I did this project back in January, but I definitely wanted to post it for all to see! I have always been drawn to the elegant, sophisticated, & dramatic headboards. However, I got bills to pay and splurging on a $300-$400 headboard isn't in the budget.
After, sooooooo much research on the multitude of ways you can make your own DIY headboard I found this blog called
"Dooley Noted Blog"
. This girl really broke it down and made this project wayyyy less intimidating. So I decided to go for it!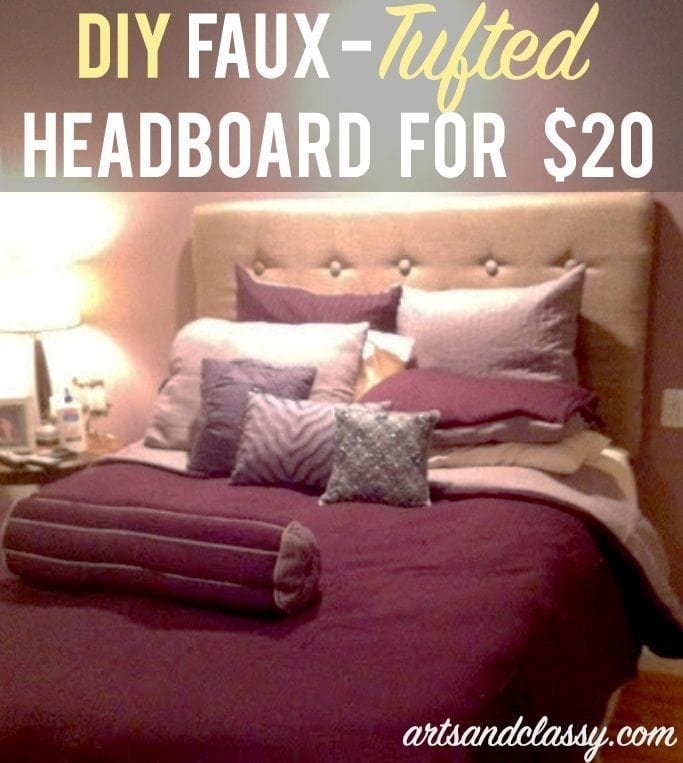 Here is the Finished product:
Since I did this project before I started this blog, I will borrow a couple step photos from "
Dooley Noted Blog
" to help explain the process. Thanks Ok so lets get started…
1. Fabric (at least 3 yds)
2. Plywood – (I have a queen size bed so I had it cut at Home Depot to  60″x30″ – you decide how tall or short or wide you may want it)
3. Two pieces of 2×4 (so they can be the legs of your headboard to mount to your bed frame)
4. Foam (I had a piece of foam that was a memory foam topper that I never use anymore) or Batting
5. Cardboard (cut it into circles- these will be your buttons)
6. Spray Adhesive
7. Glue Gun
8. Glue Sticks
9. Drill Gun
10. Circular Saw (Handheld is probably easiest)
11. Staple Gun
12. Staples
13. Push Pins
14. Tape Measure
15. Needle
16. Neutral Thread
17. Wood Screws
First you will lay down your piece of Foam or Layers of Batting under your piece of Plywood.
Use spray adhesive on this layer to help secure the foam or batting to plywood. With your staple gun you will begin to pull the and wrap the Foam or Batting around the edges of the plywood and to the back and staple to secure.
Source
Once you have secured that Foam or Batting, you will lay down your chosen fabric and do the same thing as a layer before. Make sure to use spray adhesive on this layer to help secure the fabric. Staple and secure (Make sure  to pull the fabric to avoid puckering and
 wrinkles – so you don't have to do it again) 🙂
Turn Headboard over and measure out where you will want your buttons to be (mark with push pins). Once you measure out all your button marks you will go back with your staple gun and staple x marks in each spot. It will begin to create a tufted look!
Now the Faux Buttons. Cut cardboard in to circles (whatever size you want) and use your extra fabric and foam or batting to create your upholstered buttons. Sew the backs of each covered circle to secure fabric.
Adding the Buttons to the Headboard… This is where your glue gun will be your BEST friend! Just cover the back of each button and secure over the staple marks.
The last few steps are cutting (with your circular saw) and securing (with your drill gun) the 2×4 to the back of your Headboard. I did not take photos unfortunately!! Its a lot of measuring (based on how high your bed rises). But after all that FUN you will secure it to your bed, UNLESS you are planning to mount to your wall. If thats the case then disregard that last step! 🙂
Hope this helps! Enjoy! I would love to get feedback on this also. Please leave a comment below.