Hello Readers! Welcome to my 1st post on my blog EVER!
I want to just dive right into it…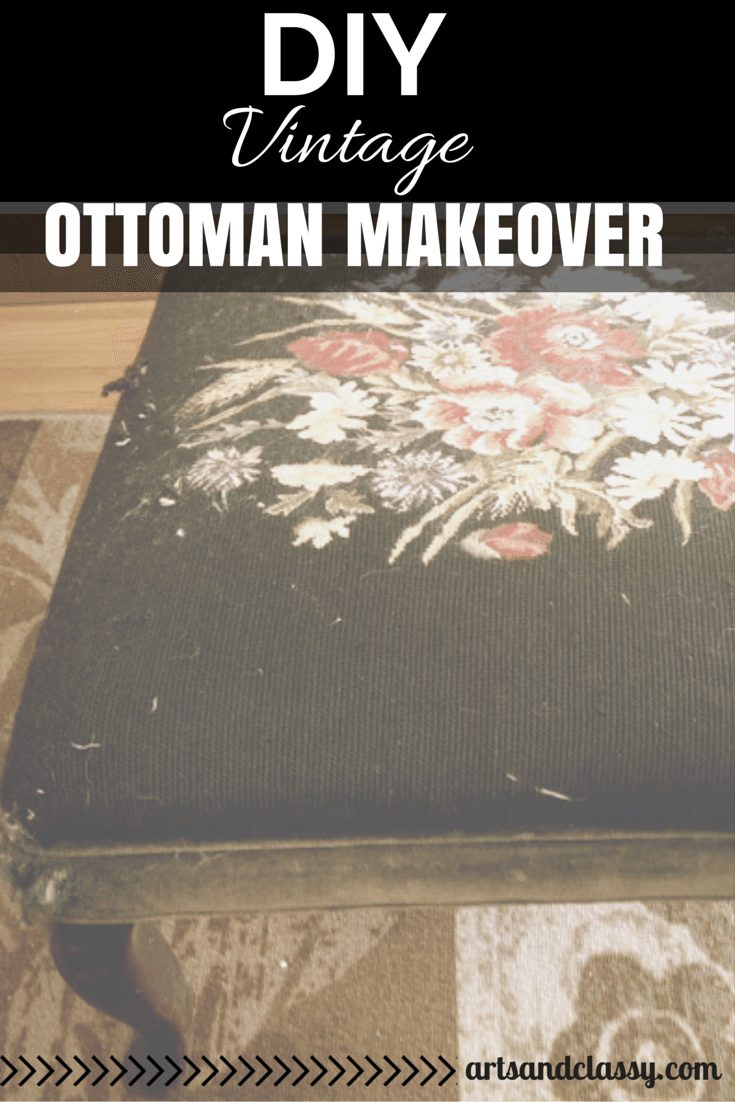 I inherited this ottoman when I went to college from my step-dad's parents. It was quite beautiful until my kitties decided to use it as a scratching post. Now we use Soft Paws.
If you don't know about them… and you are a cat owner. Get them! 
After putting it off for awhile, I finally felt inspired and decided to jazz it up this ottoman the DIY way. I am a renter and I move every couple years and I wanted to come up with a temporary solution for my living room space that I wanted to add some color to.
FIRST
I headed to my local fabric store and purchase a yard of this bright fabric for $9.98.
SECOND
Gathering other supplies.
Batting – I had some batting laying around and decided to add some extra cushion to this ottoman. But you can purchase this batting in rolls at JoAnn's Fabrics for really cheap.
Scissors
Staple gun
Staples
To make this a quick and easy project, I did not strip the original fabric off of the ottoman.
I am simply covering the existing fabric. Temporary solution since I move often or perhaps I will change the look down the road. I have a hard time committing to fabric choice sometimes.
THIRD
Laid out the batting and fabric-layered on one another. Then I ottoman upside down and begin working the measurements around the ottoman.
Make sure to continue to pull the fabric tight as you move from one side to the next to avoid wrinkles.
FOURTH
To work around the legs you will have to finagle a folding technique to try and hide the layers. (its kinda hard to explain- so this will give you an opportunity to be creative and play with it)
Make sure to fold and secure fabric to ottoman with staples to give it a finished look on the under side of the ottoman.
FIVE
And Voila! Your new fancy updated ottoman looks brand spanking new!
I can't wait to move this into my new apartment and use this to brighten up my space. I will post photos as soon as I am all nestled!
Please comment below if you love this temporary solution!!