As some of my readers know, I am a huge fan of shopping for a lot of my furniture at yard sales, thrift stores, and craigslist. In fact, I am now creating a new segment on the blog each week called "I DID IT MONDAY!" Whether it is a furniture of home decor piece that I did or one of my talented DIY guest posters. Stay tuned for more diy's on Monday's.
Some of you may not know that I sometimes I find some amazing gems on the curb. I continue to be amazed at what people are just willing to throw out. Perfectly good furniture that someone doesn't feel like moving or listing on craigslist becomes my far more fabulous than the way I found it.
But I suppose I should thank them, because what's there loss is my gain!!
I have been receiving so many complements on the curb side furniture I have made over and this makes me motivated to continue my pursuit of chic furniture and looks for less than what you pay a designer or for retail price on furniture.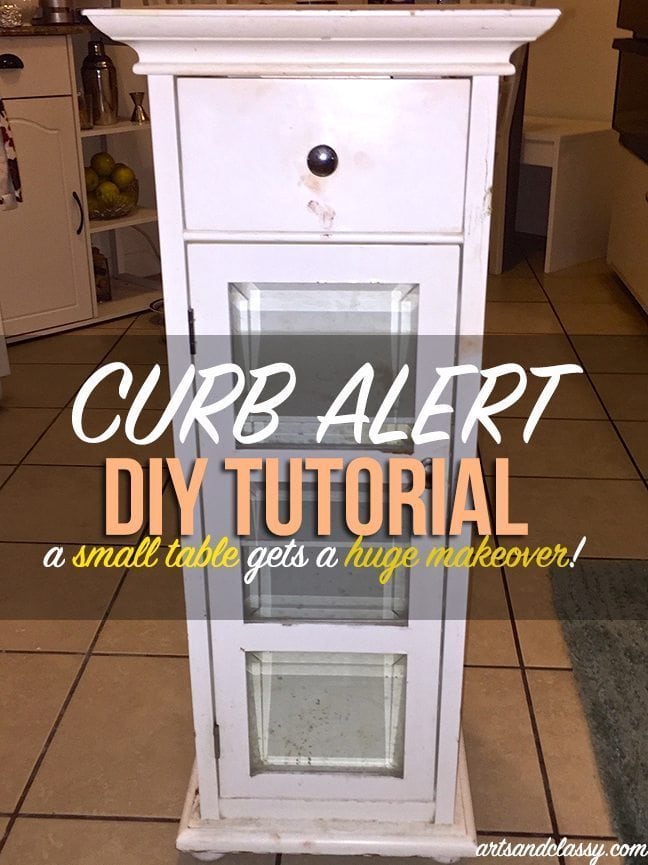 To my surprise (a couple of weeks ago) there was a perfectly good little small table or cabinet just sitting next door to my complex waiting for me to nab it. It wasn't really pretty when I picked it up, but boy did I change that.
See how I transformed this curb alert find to a chic side small table piece that could double duty as a night stand or a tiny mini bar for someone living in a small space. Find out more about small spaces on my page dedicated to the topic.
I must first say, that I paid absolutely NOTHING to complete this project.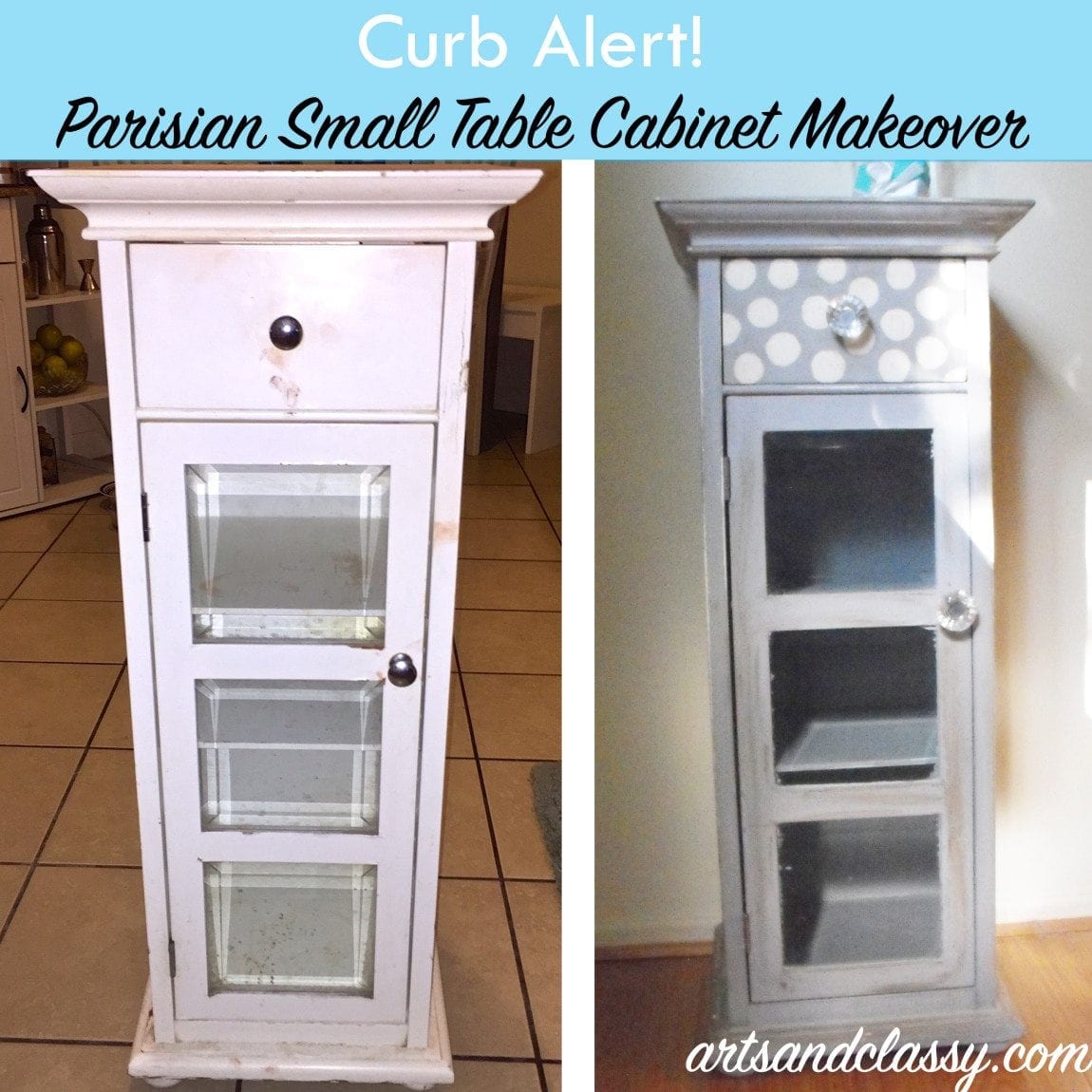 TO BEGIN…
The supplies you will need: Note that some of these are affiliate links. *I earn a small commission on some of these.
Chalk Paint by Annie Sloan Unfolded – Paris Gray (or your color of choice)
Paint Brush – I also used my Annie Sloan paint brush
Painter's Tape – Frog tape is a great choice
Stencil of your choosing. I created mine in photo shop – I am sharing my the template in the PSD Format and JPG Format here for free!
Rag – for buffing in waxes
Phillips head screw driver or if you are like me, a Makita power drill.
Crystal Knobs – I purchased mine on amazon.
A Circular stencil – I used the top of a Glue stick like this one.
Small paint brush for detailed work
Printer – to print stencil
Glue stick – to glue the stencil to the cardboard.
First, I began with disassembling the entire cabinet. This included removing the original knobs for the cabinet and pull out drawer. Then I masked off areas that I did not want painted, such as the glass on the cabinet door.
Second, I covered the entire cabinet table with a layer of Paris Gray Chalk Paint by Annie Sloan Unfolded. I also used this paint on my Goodwill Table Find DIY Makeover . The reason I love this product is that it goes a long way, and the furniture doesn't require sanding for the paint to stick. This paint also dries very quickly.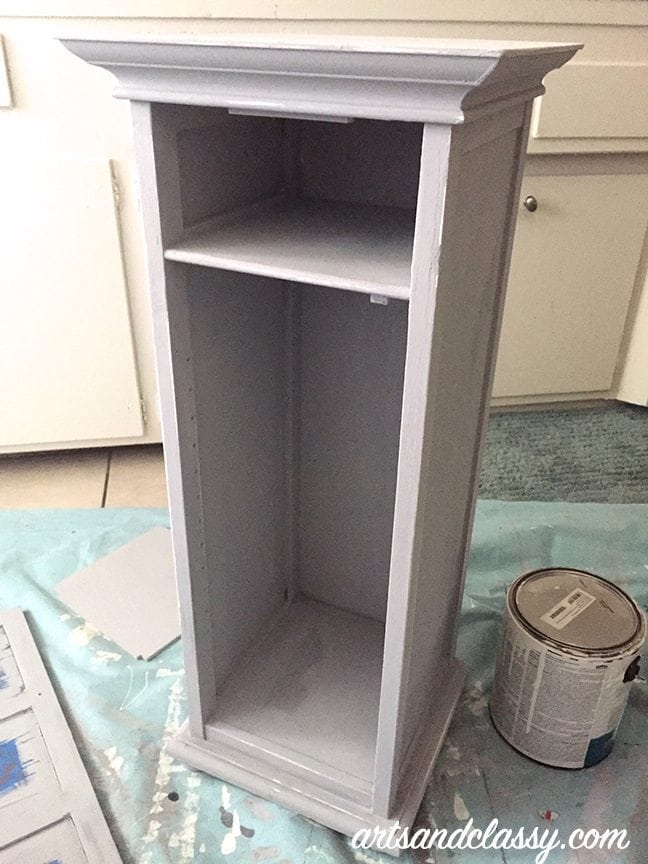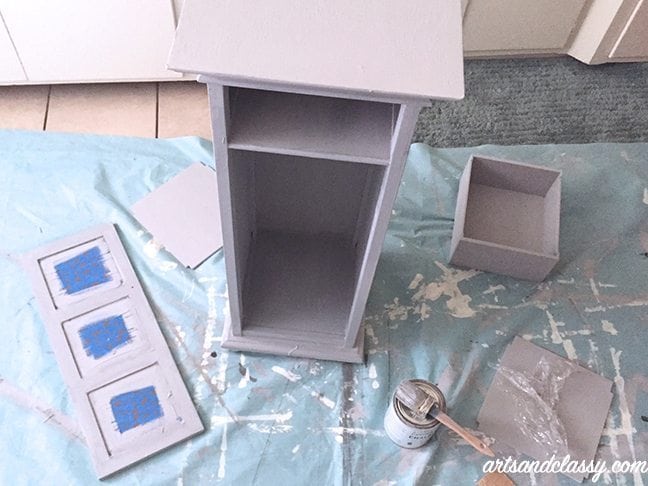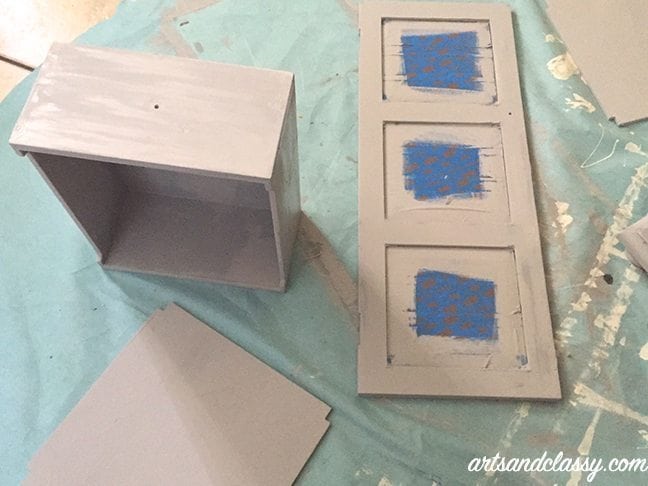 After I did 2 coats, I  then began my detailing with the white/ivory acrylic paint. I used this same paint on my DIY Vintage Hutch Makeover last year.
Once all this dried, I decided to do polka dots on the front of the pull out drawer. Using a cap of a glue stick was a great stencil to create the pattern I wanted.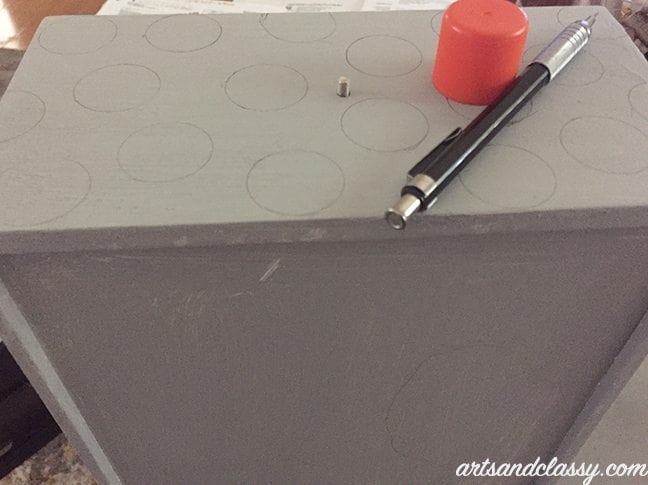 Then I filled in the circles with the same white/ivory paint I used on my hutch and a small paint brush since it was more detailed. If you have a circle stencil, I recommend using that over this method.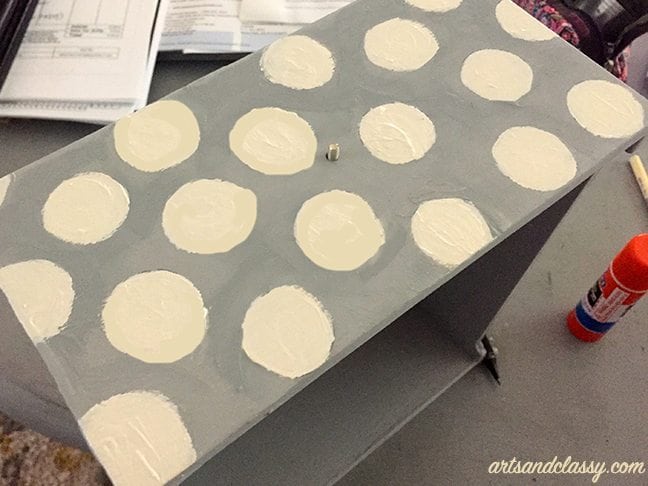 The trim and the vertical stripes on the side were a creative decision on the fly but I really loved how they turned out.
I also created a Chanel No 5 Parisian Stencil for this table to create a more custom look to it.
I created it in photoshop and printed it on 8.5" x 11" paper. Once it was printed I glues it to a thicker cardboard surface.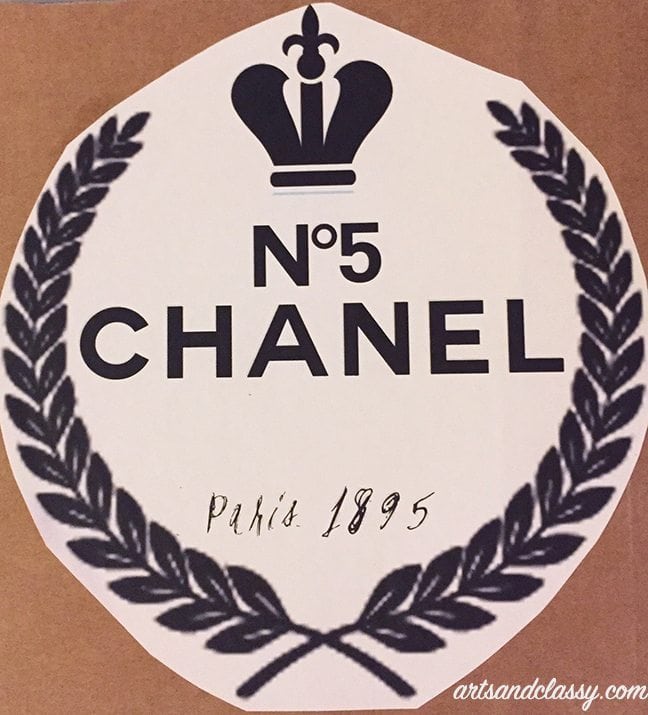 I used an Xacto #2 blade to cut out the details of the letters, crown,  and wreath around the text. I am giving away this stencil for free. You can download this stencil for free!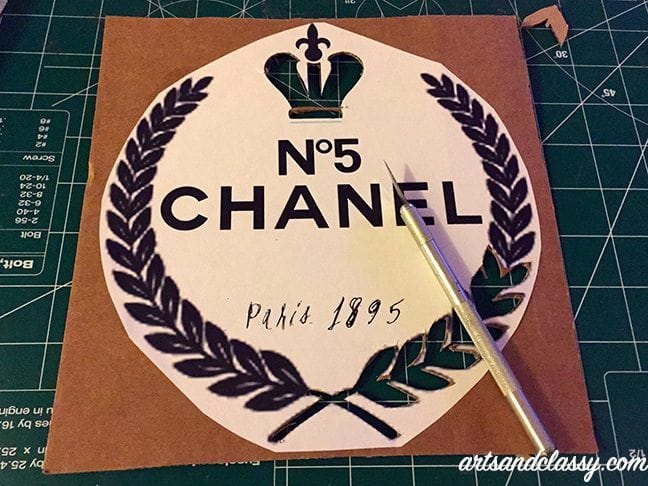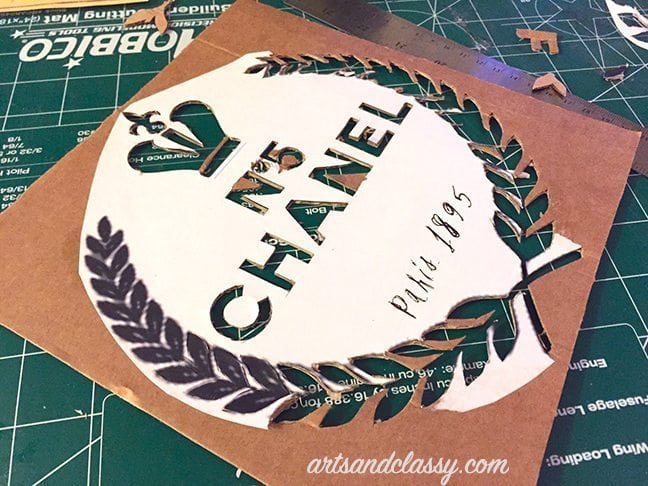 Taping in the appropriate spot was the following step. I used a round sponge to dab some of the same white/ivory paint to create this cute logo on the top of the piece.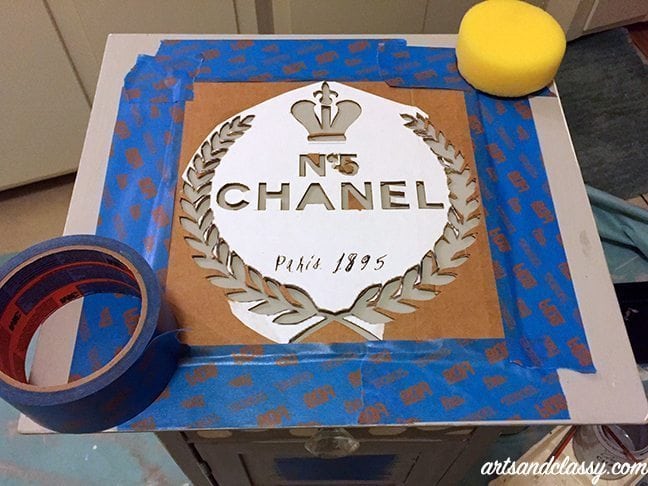 After a couple of layers, it began to look pretty chic. I let it dry for a day to cure a little.
To finish off and seal the surface of this piece, clear wax is the perfect companion for the chalk paint.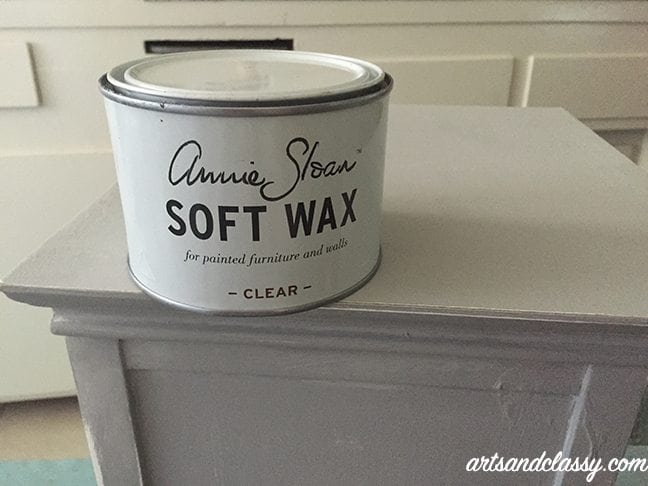 I also knew I wanted aged finish on this piece, and that is where the dark wax came in.  A little bit goes a long way, but I love the effect this wax has on a surface.
Once every surfaces was painted and sealed to my liking, I used my Makita to assemble the crystal knobs on the drawer and cabinet door.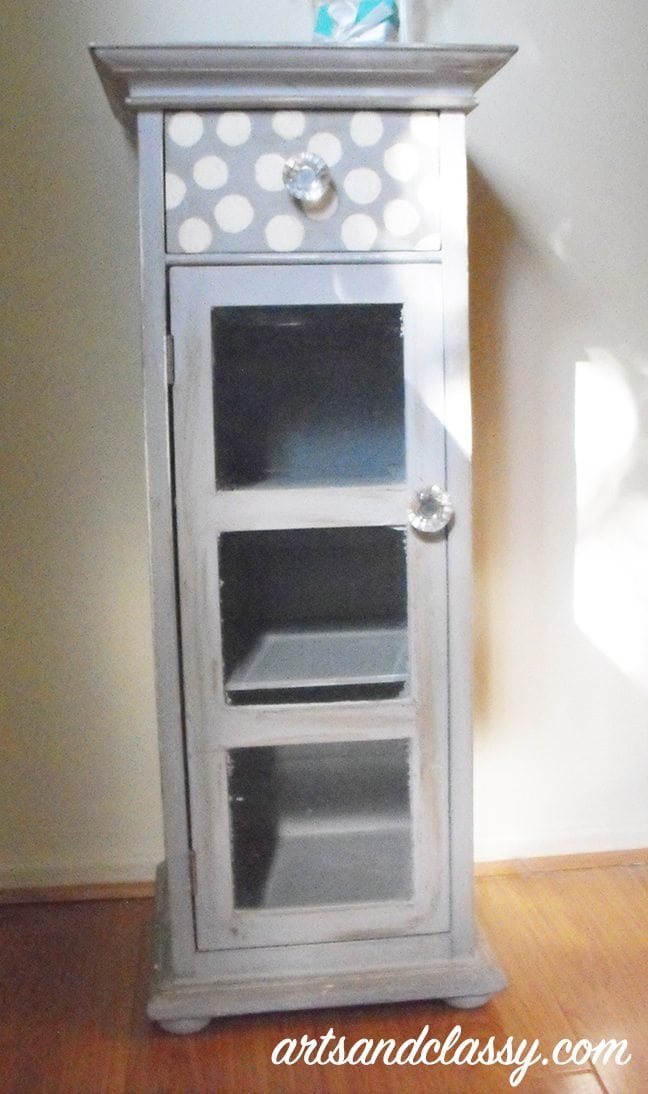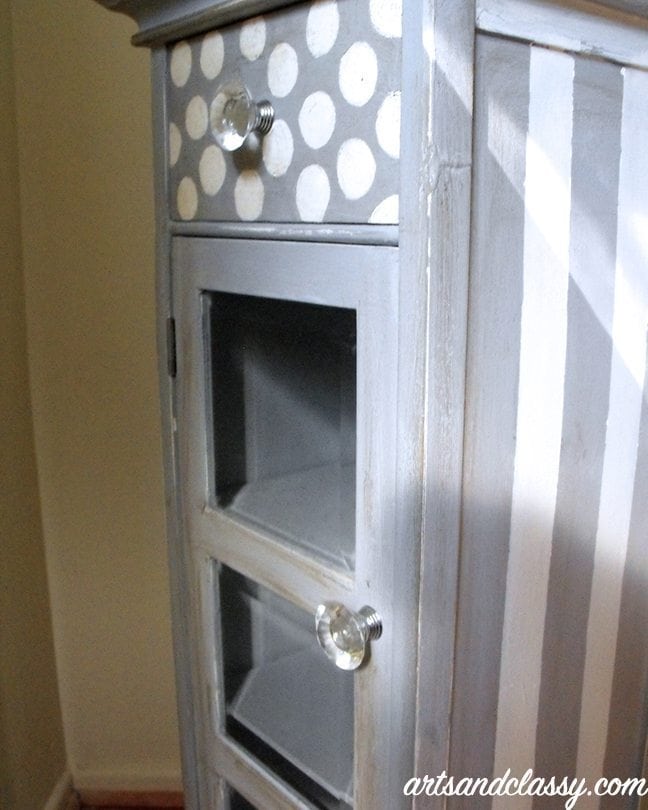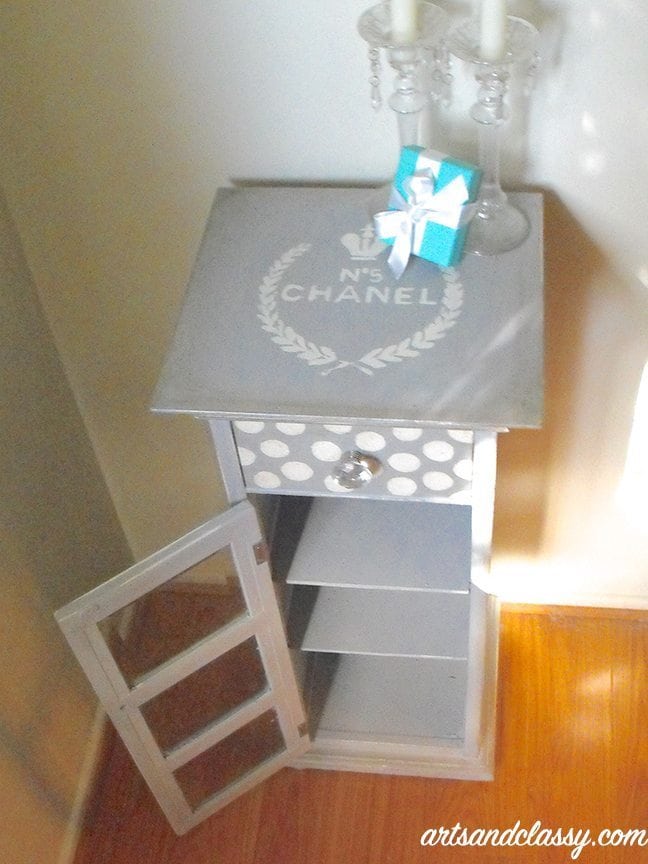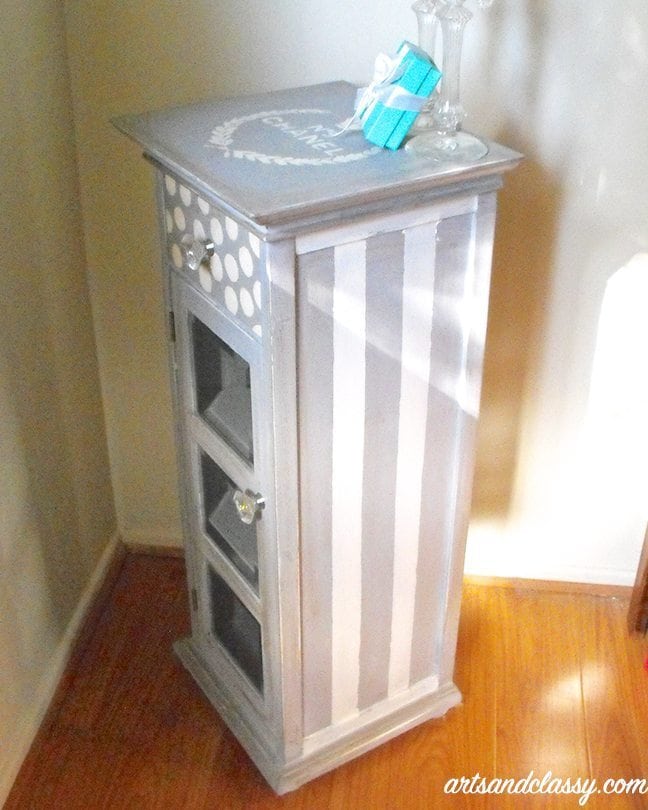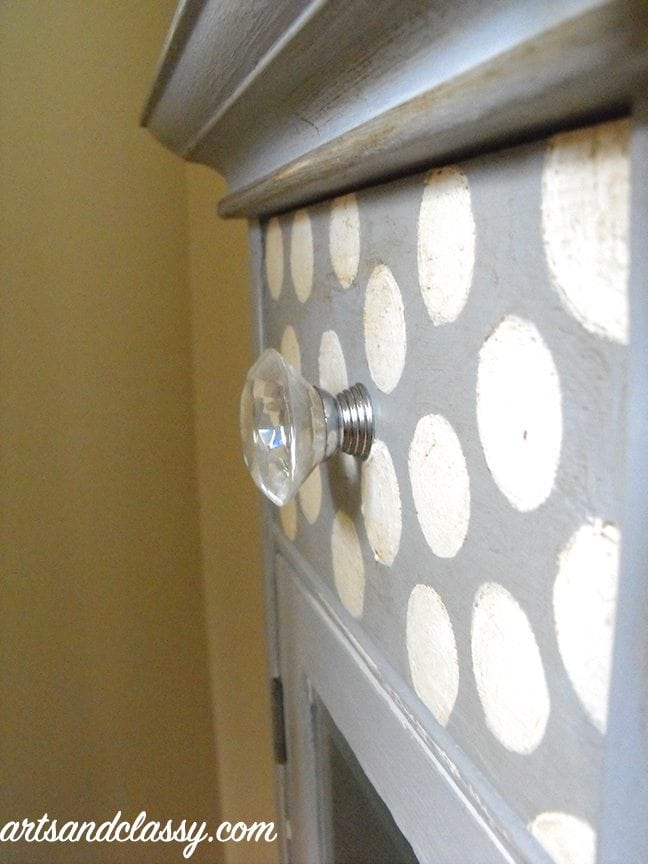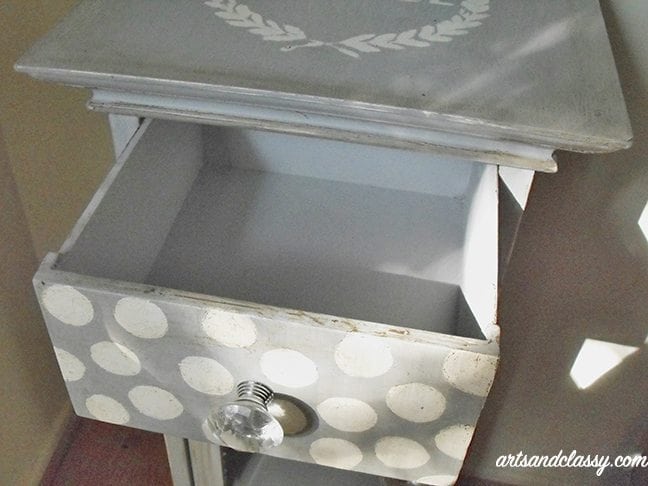 It's projects like these that I love because they are so unexpected. This small table cabinet was just right outside my door just a few steps away. I love how it turned out and I am happy that spent nothing on making it over. I already had all the supplies I needed.
If you like this project, please share in the comments below.
I am taken the liberty of composing a tweet for your to share with your audience if you would like!

Also, if you like what you see here at A&C, please subscribe to my exclusive email list. I share heads ups about giveaways, and write exclusive articles just for them.
Also, one last perk… would you like to download the template for this stencil?