Saving money is the name of the game these days when it comes to home decorating. Whether you are an experienced DIY-er or budget shopper, there are ways and places to shop to not break your bank or monthly budget.
On a recent trip to TJ Maxx and Ross, I discovered some amazing furniture finds.
I am always trying to find ways to save my readers money when it comes to home decor. I wanted to share the treasures I found.
You never know what you will find at these stores. Make sure to go in with an open mind.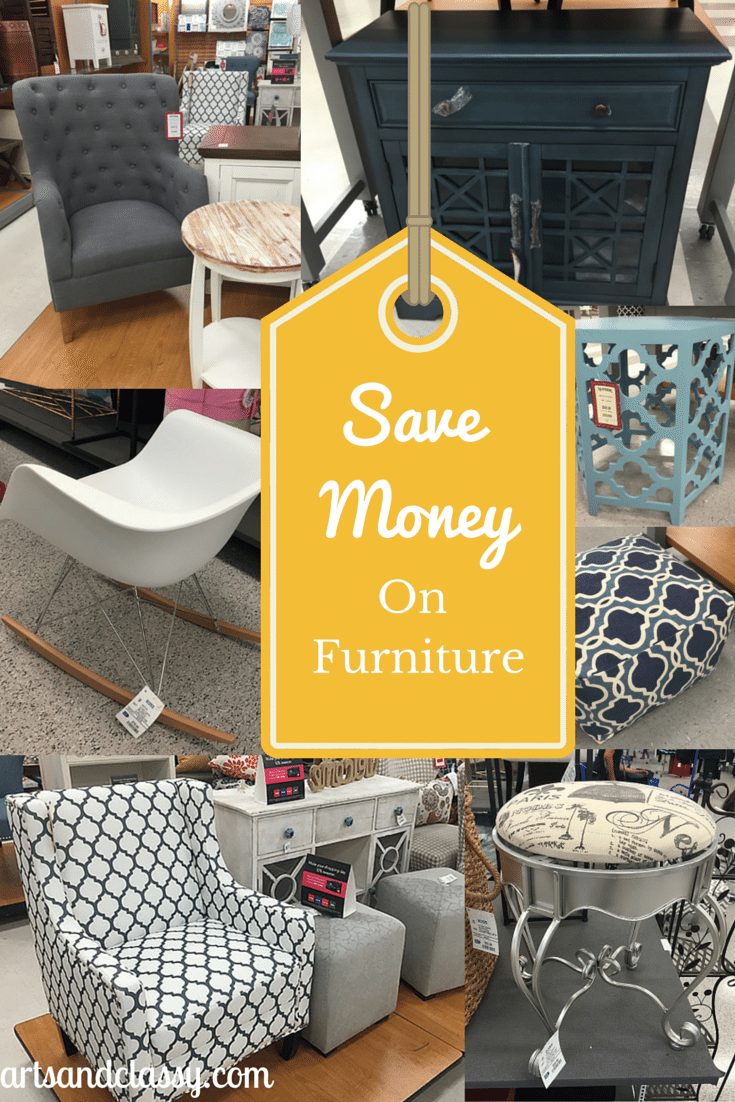 1. My first find was this amazing Eames "inspired" Rocker that was for the bargain price of $79.99! Did you know that the authentic Eames Rocker Chair retails for $519? That is a $438 difference! Modern furniture is extremely popular, but you don' have to break your budget to own modern classic pieces.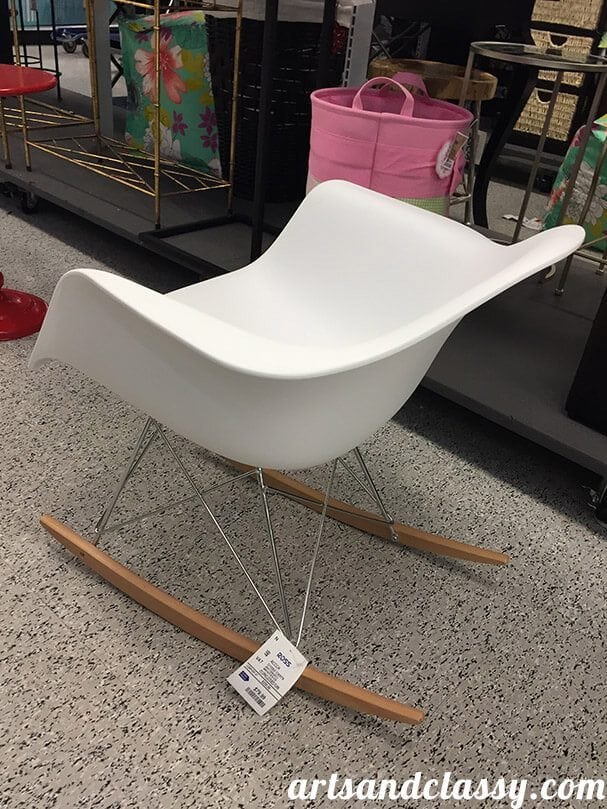 2. My next amazing find was this Trellis Square Pouf Ottoman! This bad boy was selling for $49.99. After doing some research online, it appears that this type of sized ottoman and retails from anywhere form $150-250 depending on the store.
I even found a similar ottoman online on Amazon selling for $90.82. That is still a huge price difference! If you are looking for subtle additional seating. A pouf ottoman is a superb choice.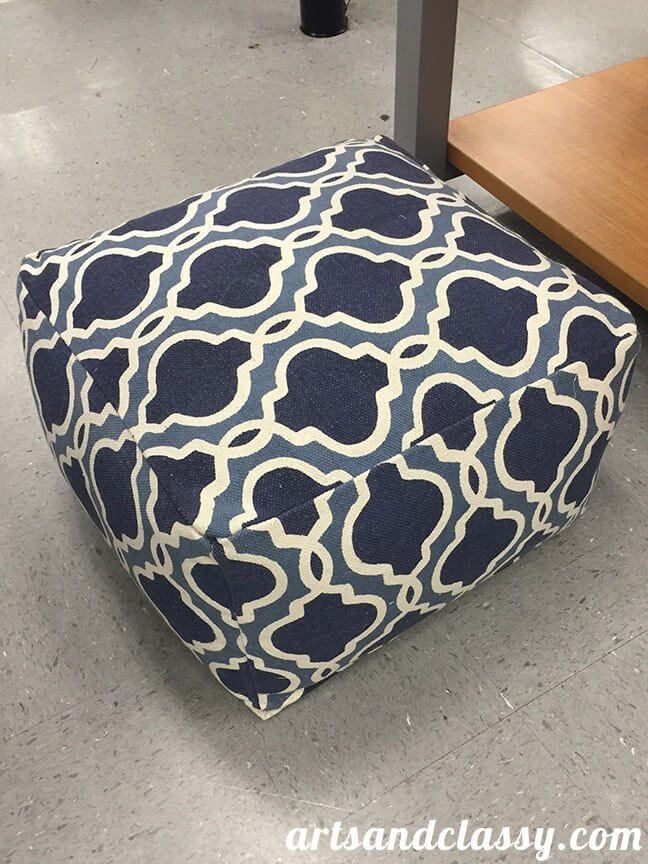 3. This blue side table caught my eye because it is GORGEOUS! Slap me beautiful…it's soooo pretty!
The best part is that this money saver is that the price tag was $69.99. I did a little research on similar styles online and the most similar option I found was $283.00 at Burkedecor.com. Pretty outrageous when you see that it is possible to buy it for less. Even on Amazon a similar style sells for about $171.00.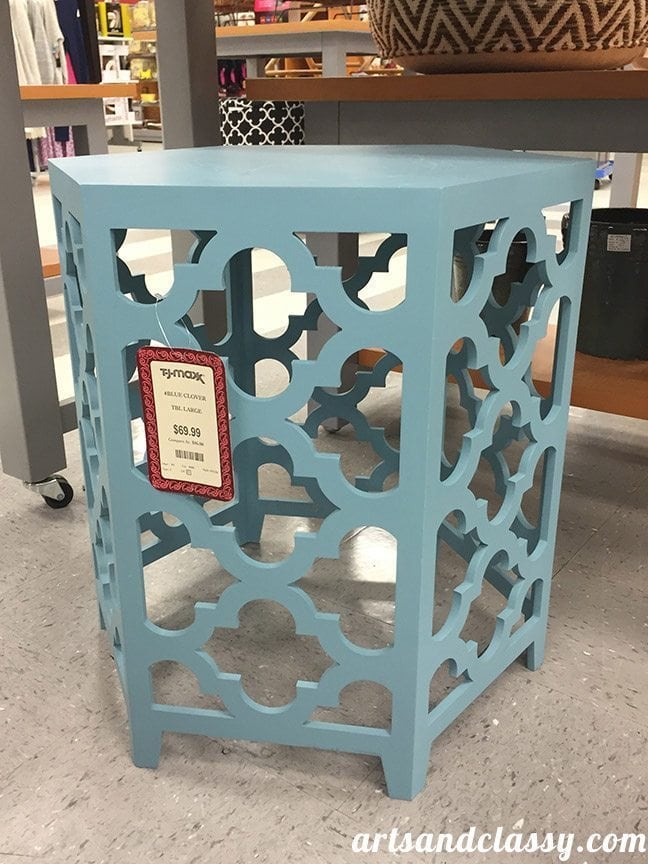 4. I cannot tell you how much I adore french script fabric and this stool is no exception. I love this adorable metallic silver vanity stool. It seems to be a unique piece, because even in my online research, I could not find anything like it, which makes ME want it even more.
You all know how much I love unique pieces, hence my DIY obsession.
If you haven't seen my ottoman makeover, no sew pillow cover, and vintage cane arm chair, you should because I found a beautiful fabric similar to the one on this vanity stool.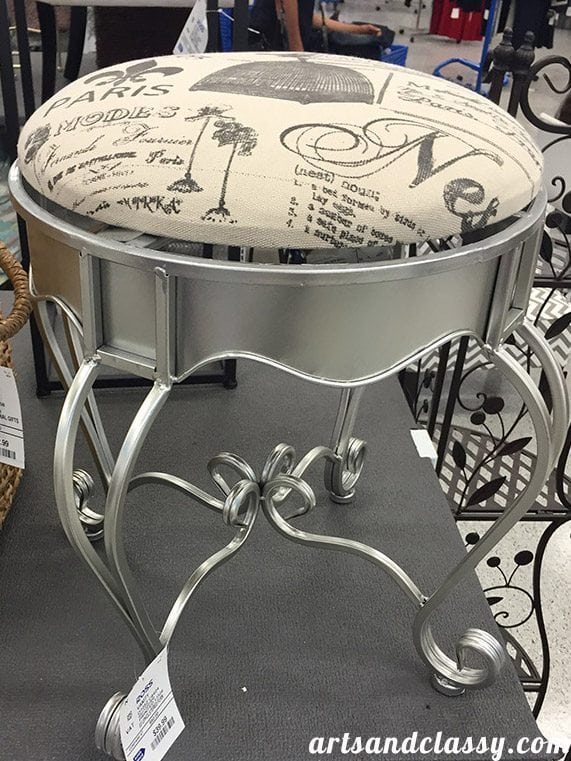 5. This beautiful Trellis Print Arm Chair was available at TJ Maxx for $250.00 as opposed to other retailers like Pier One that are selling a similar chair for $400.00. That is closer to 65% off! Talk about saving money.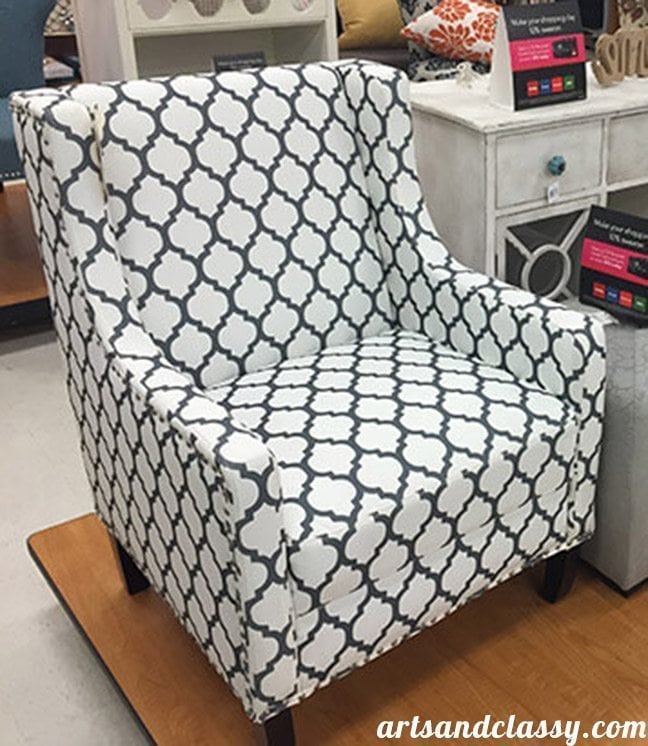 6. I am in love with this Gray Tufted Wing Chair!! Can you believe this chair was for sale at TJ Maxx for $249.99?
You may be thinking… that is kind of a lot. However, after some online research I found an almost identical chair retailing for $645.00. Even the Baxton Crenshaw Linen Club Chair is selling for $447.80 on Amazon. That's how you save money!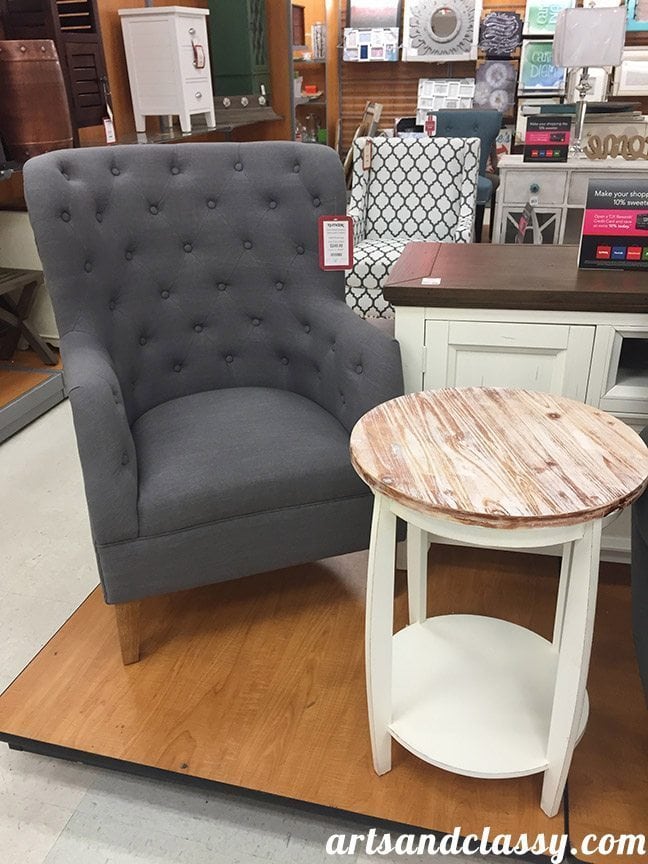 7. Cabinets can range on all prices, but I did love how subtle and classic this particular floor cabinet was and at $150.00 it was not horribly expensive.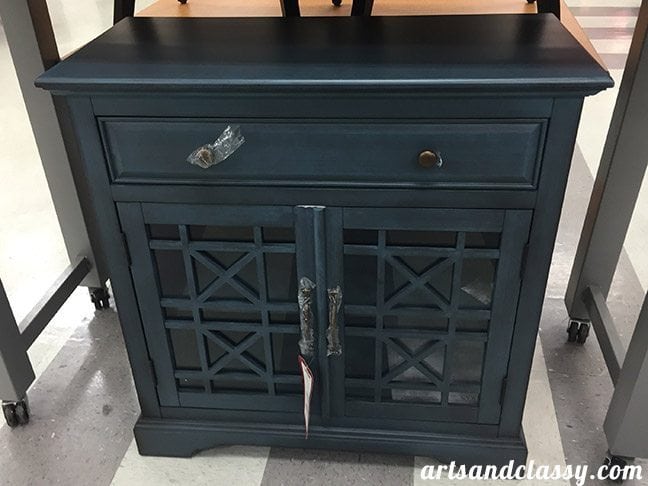 If you are a smart shopper, you will explore an array of furniture shopping options. Do you research and make sure to not exclude TJ Maxx, Ross, Marhsalls, or HomeGoods on your next furniture shopping trip.
What do you think of these furniture options? Would you buy one for your home or office? How do you save money when furniture shopping?
[Tweet "You can save money on home furniture by shopping ths smart way! #homedecor #furniture"]