by Christine Newell from Left Side Art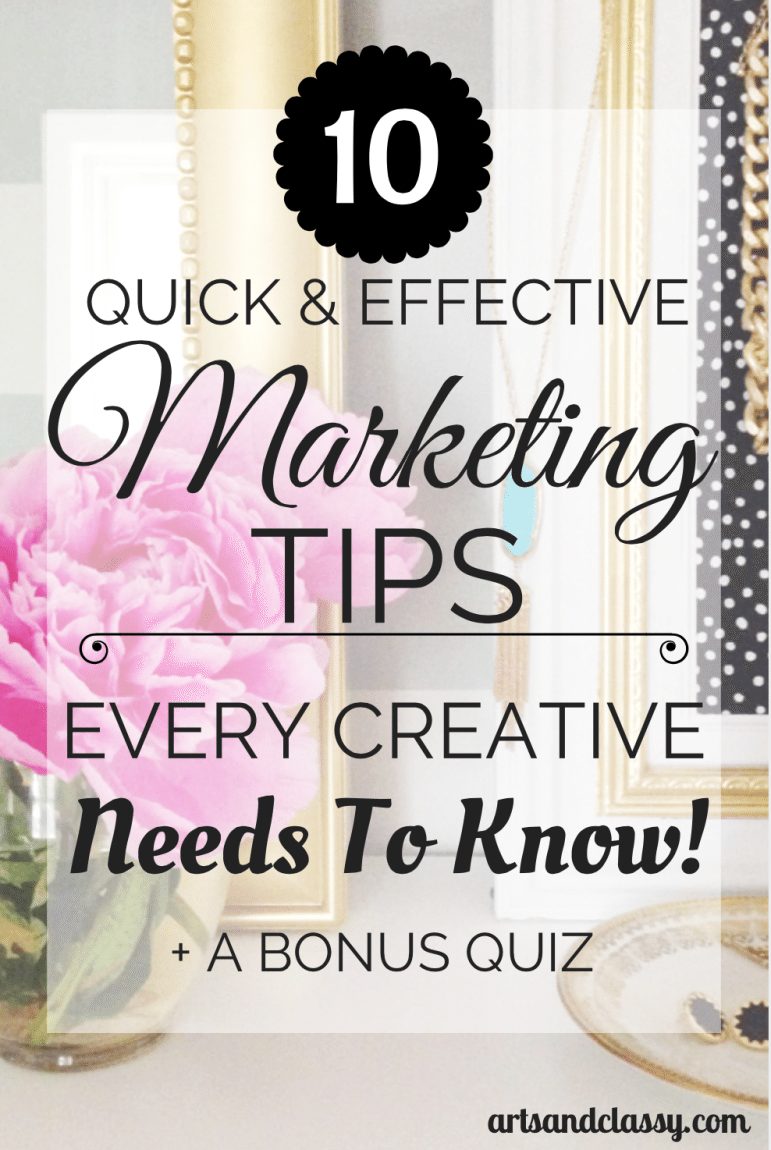 How well do you market your business?
Marketing often gets a bad rap.  People often think marketing means you have to be spammy or car salesman-like to sell your product, or people think marketing is extremely expensive and is really just something large corporations need to deal with.  Fortunately for you, marketing can be easy to understand, easy on your wallet, and extremely effective in boosting your sales.
What are the best ways to market your creative business?
1. Know who your ideal customer is
This should be number one on your list.  If you do not know who your ideal customer is, it will be nearly impossible to market your products and services in a way that will make you successful.  This is a topic all on its own.  To learn how to identify who your ideal customer is, visit this article.
2. Start with a clear message
Within the first few seconds of glancing at your product or your website, it should be clear what you are providing.  If your viewers need to spend time to really understand how your product or service can fulfill their need, then they will leave your site and potentially visit your competitors' sites.  Don't be afraid to just come out and say what your product or service can do for your customer.  Make this simple for them to understand.
3. Engage with your visitors and potential customers
Building relationships with your viewers is a way to build trust.  The more your audience gets to know you, the more they will see you as someone they go to for advice, services, and products.  Responding to comments on your blog and sending newsletters to your subscribers are great ways to engage with your audience.  You could join Facebook groups where your ideal client would be likely to be searching for the service or product you are offering.
4. Be transparent 
You probably have seen different business owners, especially bloggers, posting income reports.  That is an extreme form of transparency, which isn't for everyone.  If you do not feel comfortable posting income reports, then don't do it.  There are plenty of other ways to be transparent with your audience.
Writing honest and insightful blog posts is a great way to connect with your audience and let them know more about you and your business.  You can write about your personal opinions or give them tips and tricks from behind the scenes of your business…everyone loves a peak behind the curtain to see what really worked well for you that they might be able to apply to their own business.  Potential customers love this too as it shows them that you know what you are doing, are supportive of others in your industry, and are honestly trying to build a business that everyone, including them, can benefit from.
5. Use social media wisely
There are a lot of cheat sheets available on the web that tells you when is the best time to post to different social media sites, what style of image to use, and so on.  Social media can take up a lot of your time if you are posting your blogs or product offerings yourself.  Using a service like Buffer or HootSuite can really help you save time.
Provide social share buttons on your site for every product, service, and blog you have available so your viewers can help share your information too!  Also, be sure to brand your social medial accounts just as you do on your website.  Recognizability is key.
6. Brand your site
Branding your site is extremely important.  You want your customers to be able to easily recognize your business no matter where they are.  For example, if you see a Starbucks cup in someone's hand as they walk down the street, you know darn well where that came from and what that company offers.  You want the same to be apparent with your products and services.
7. Optimize for search engines
If you Google something, you're more than likely to pick one of the first three links and rarely ever go past the first page.  In order to rank higher on the search page, you need to know how to use keywords wisely on your site.  This is called SEO, Search Engine Optimization.  There are free (Moz, Keyword Planner, Google Adwords) and paid (LongTailPro) services that you can use to know which keyword is in high demand.
Use keywords that apply to your business in your home page, in your product and service descriptions, throughout your blog, and in your blog post titles.
8. Provide an incentive
Everyone loves a freebie.  Provide something extra for free with your product or service.  This could be as simple as providing free shipping and handling if your competitor is charging for this.
Volume pricing is also a great method: the higher quantity they buy, the cheaper it is per item.  For example, if your customer buys one sets of socks at $10 each, you could offer your customer three sets of socks at $9 each.  If you have a service rather than a product, you could provide a membership to your service at a discounted rate for the longer they sign up.
9. Use email addresses to your benefit
Engage directly with your highest potential set of customers by emailing a newsletter to your subscribers.  People who have subscribed to your site have demonstrated interest in your business.  Let them know what new products or services you have  for them to purchase.  Did you write a new blog?  Let them know!  Services like MailChimp or AWeber have excellent email collection and newsletter services that make newsletters a breeze.
10. Guest blog 
Increasing your visibility and traffic is key to getting more sales.  No matter how great your site might be, if no one is visiting it, it will be nearly impossible to sale your products and services.  Guest blogging on a site where your ideal customer is likely to go and that has just as much or more traffic than you currently do, is a great way to increase your traffic.
How well do you really market your business?  Take our quiz at Left Side Art and find out.  
Like this post?  Follow Left Side Art at: Pinterest, Facebook, and Twitter