I struggle to keep up with decorating the seasons here in Southern California. It is pretty much warm all year long. However, there is something that changes in the air when Autumn really does set in. I LOVE THIS TIME OF YEAR!
I have been inspired to clean my apartment and get it ready for Autumn festivities. Getting rid of all the dust bunnies and add a touch of Fall with some DIY decorations. I like subtle decorations. I am not big on tacky decor that you can buy at anywhere. I like making decor enhance the space I am in.
Today on the blog, I thought I would share some of the ways I tackle my space to quickly add some personality to my spaces.
Here are 5 ways I am getting ready for Autumn in my living room.
1. CLEANING MY LIVING ROOM BEFORE I DECORATE IT
My before photos are pretty deplorable in this space. I blame a lack of time and having enough space. My clutter bug boyfriend uses the living room as his home workspace. So there are papers and stuff everywhere. Don't even get me started on my accent pillows.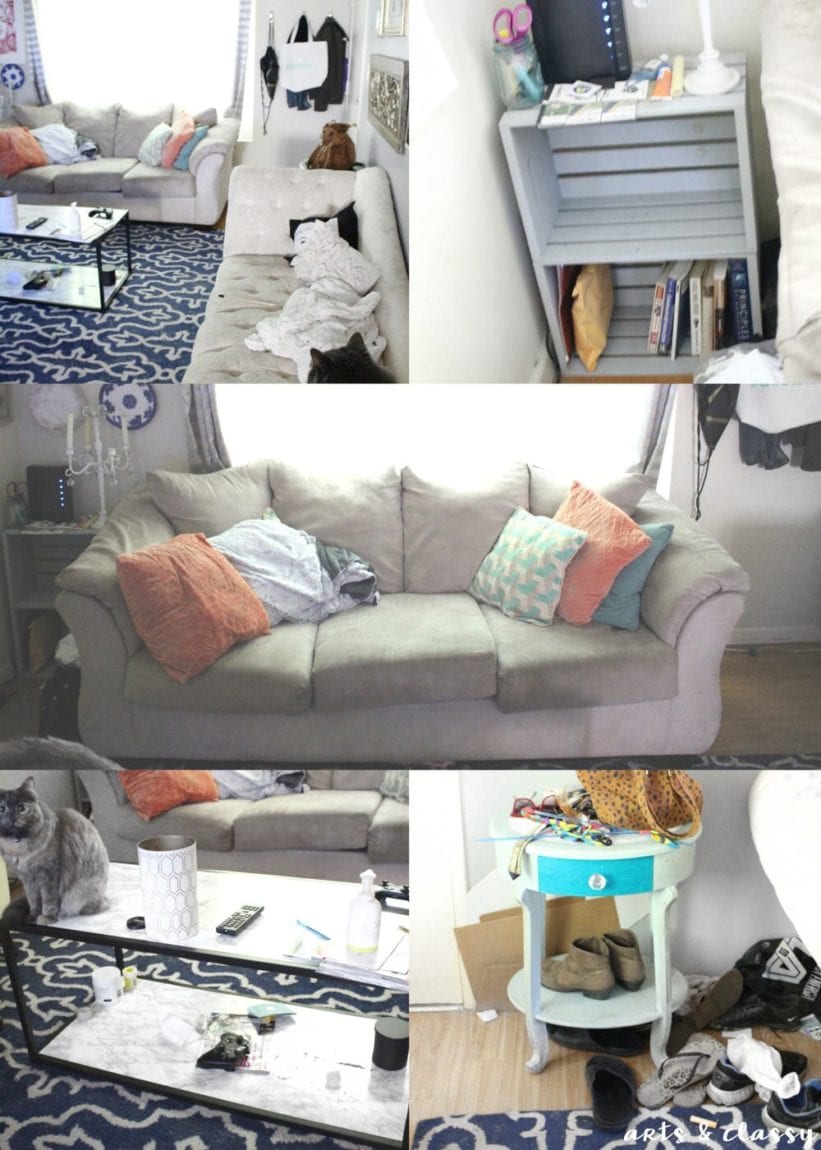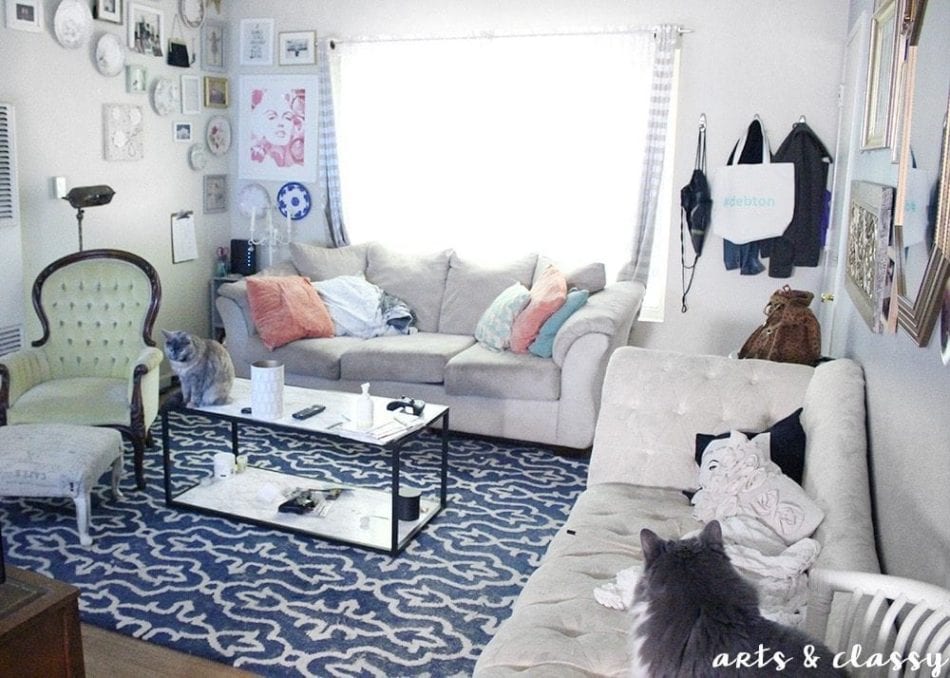 With Viva paper towels, I can use them for prep before the holidays set in with cleaning around the house. I use Viva towels in a few different ways…
Fur removal on furniture.
Dusting and wiping down furniture.
Wiping down the flow to get rid of dust bunnies and cat litter.
Viva Brand offers two types of everyday towels that work like cloth to stand up to any cleaning job.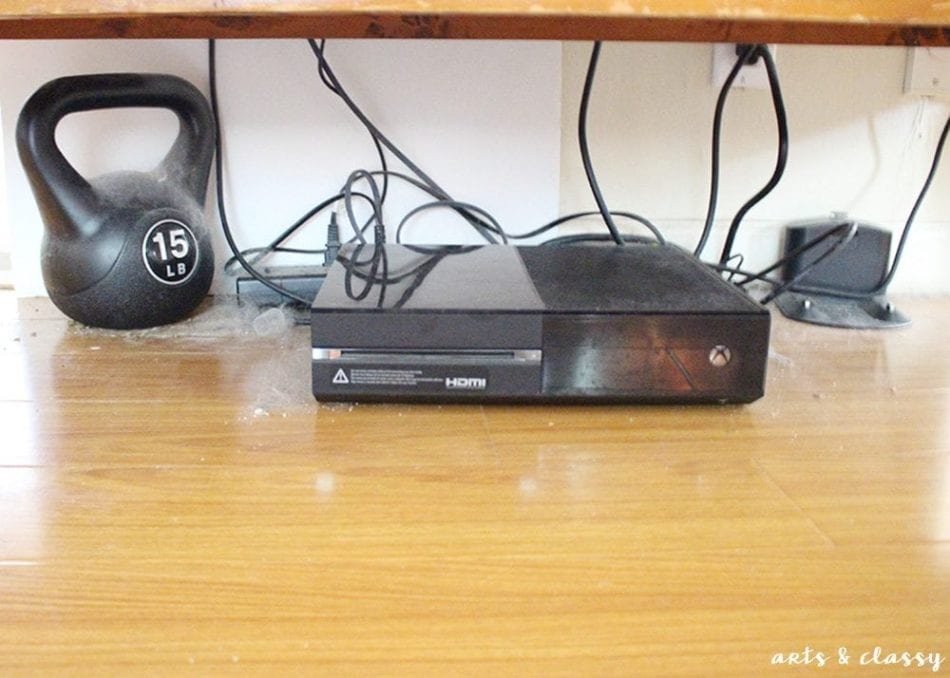 If you don't follow me on SnapChat you should because I put together one of my stories for you to check out when I was working on this space. See below.
2. CREATING DIY GLITTER MASON JAR LANTERNS
Supplies needed for this DIY…
Viva towels to protect your craft space. Viva Towels have a signature soft and smooth texture. Great for cleaning and protecting delicate surfaces like countertops and coffee tables.
Small Mason jars
Glitter
Gold pigment (not necessary but a fun extra)
Mod Podge
Paint brush
LED Flicker tealight candles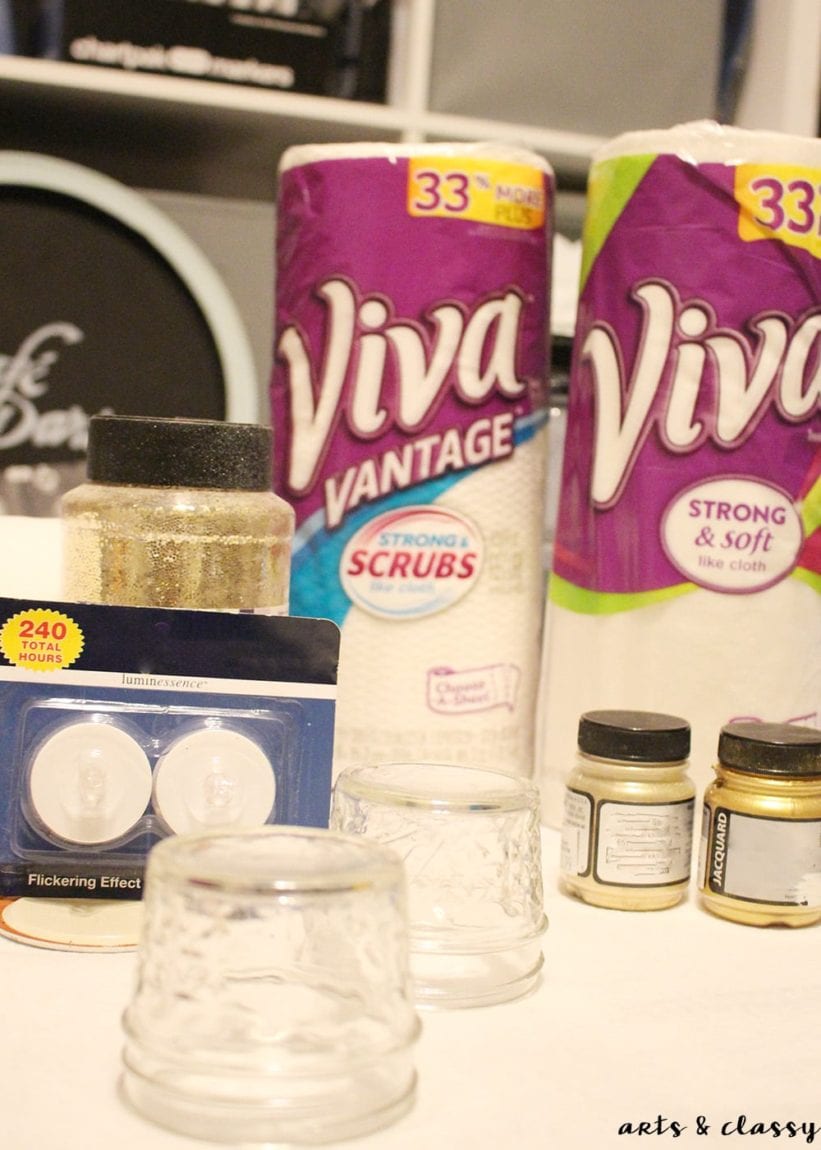 Step One – Paint the inside of the jar with mod podge. Cover the entire interior.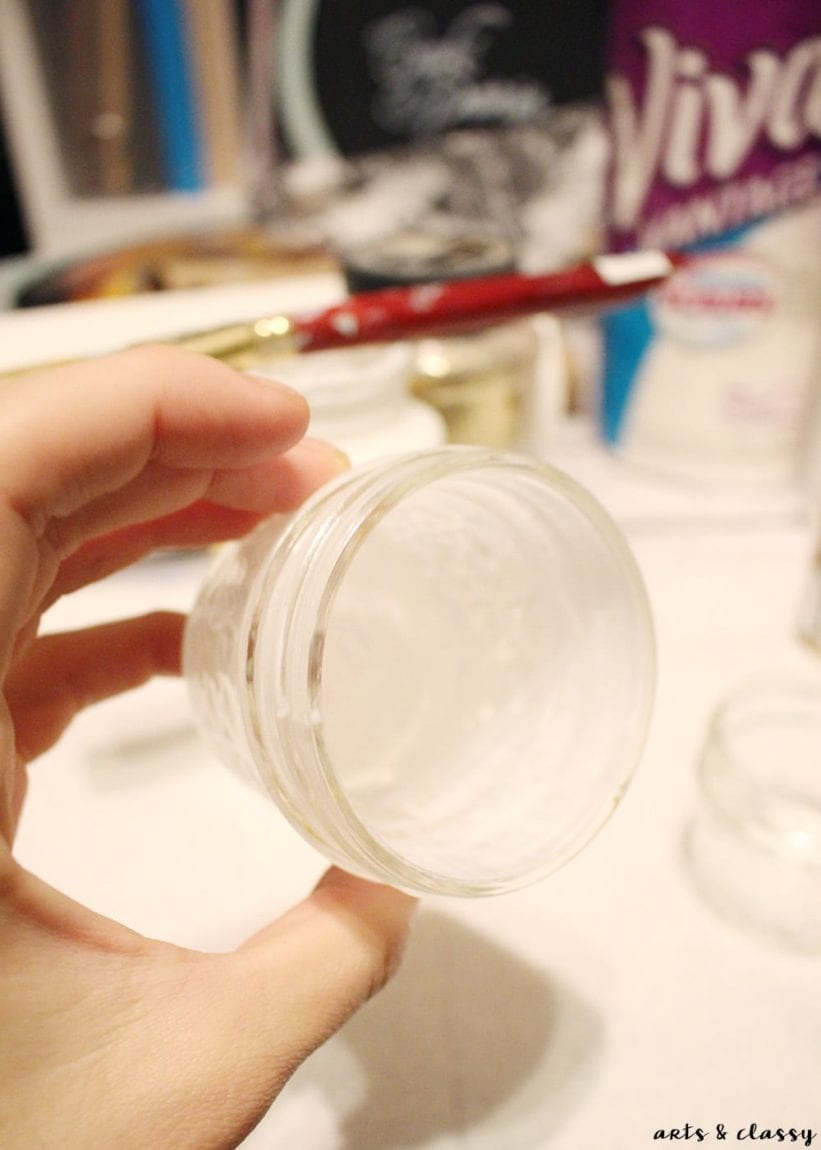 Step Two – Sprinkle glitter on wet mod podge. Use a paint brush to spread it around evening to cover the interior of the jar.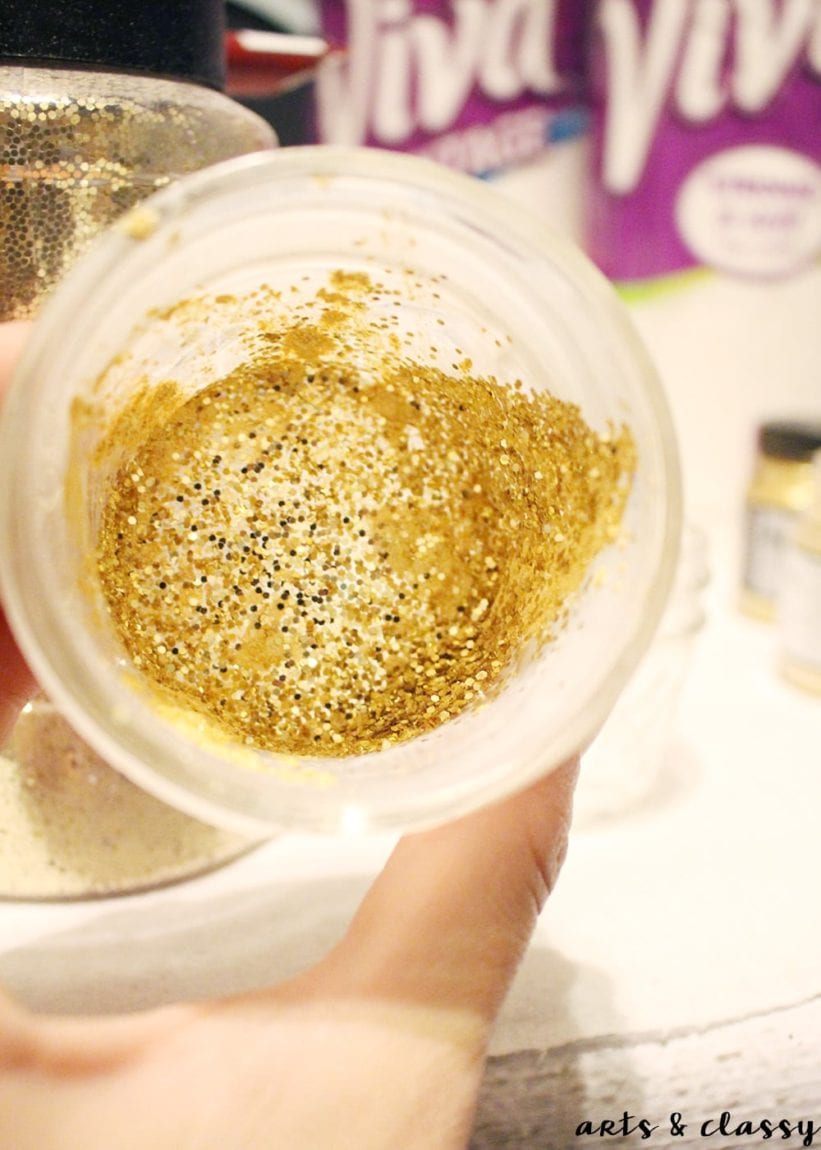 Step Three – Allow the jars time to dry over night.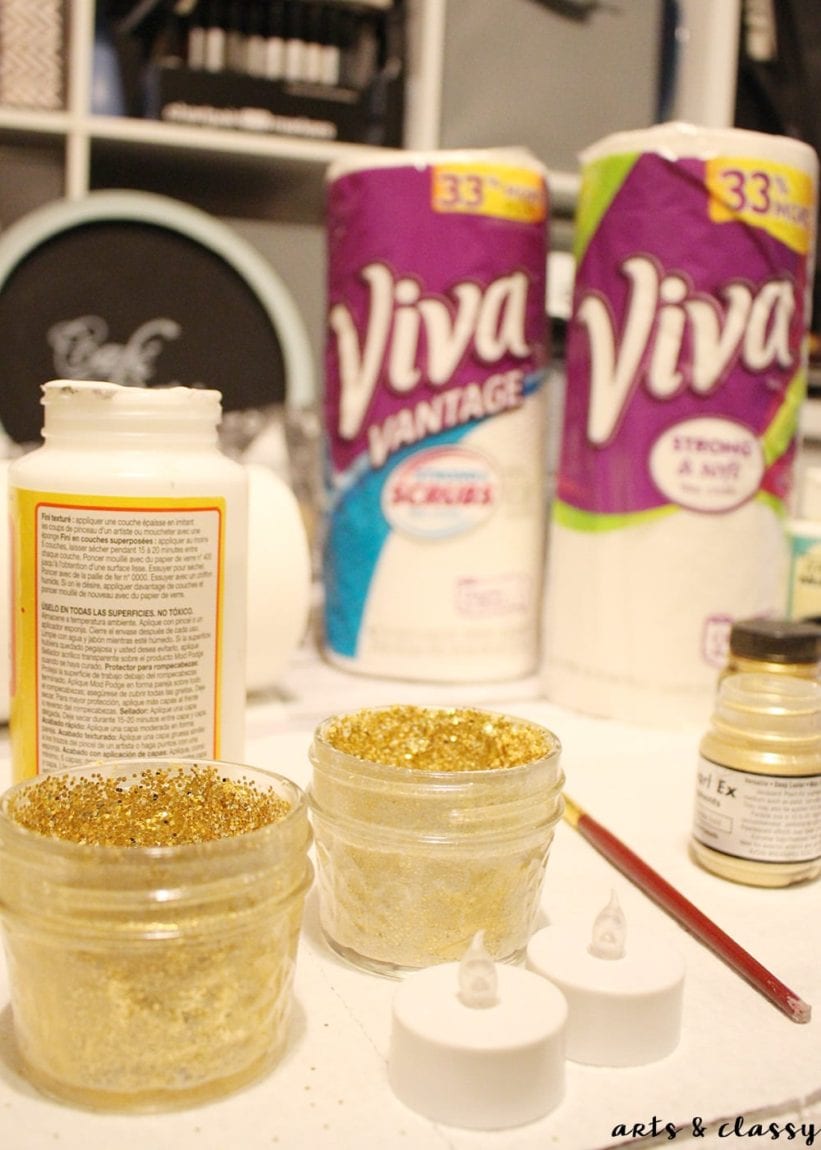 Step Four – Once dry, flip the jars upside down over a LED candle that's turned on and screw the jar lid shut. Add a piece of twine or straw in a bow to give this little lantern a Fall rustic look.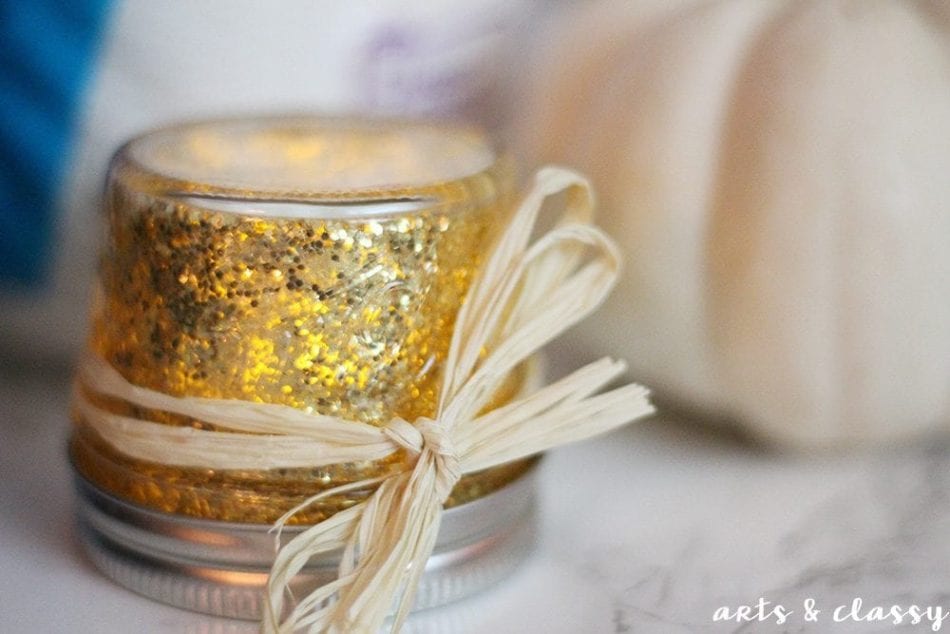 3. CREATING PAPER BATS AND OTHER AUTUMN DECOR TO ENHANCE MY LIVING ROOM
Supplies needed for this project.
Scissors
Pencil
Bat stencil guide
Black Construction Paper
Transparent Tape
Once you create several bats, create a slight fold in the center of the body to give a 3d effect. Use transparent tape to stick to your existing decor to create a swarm look.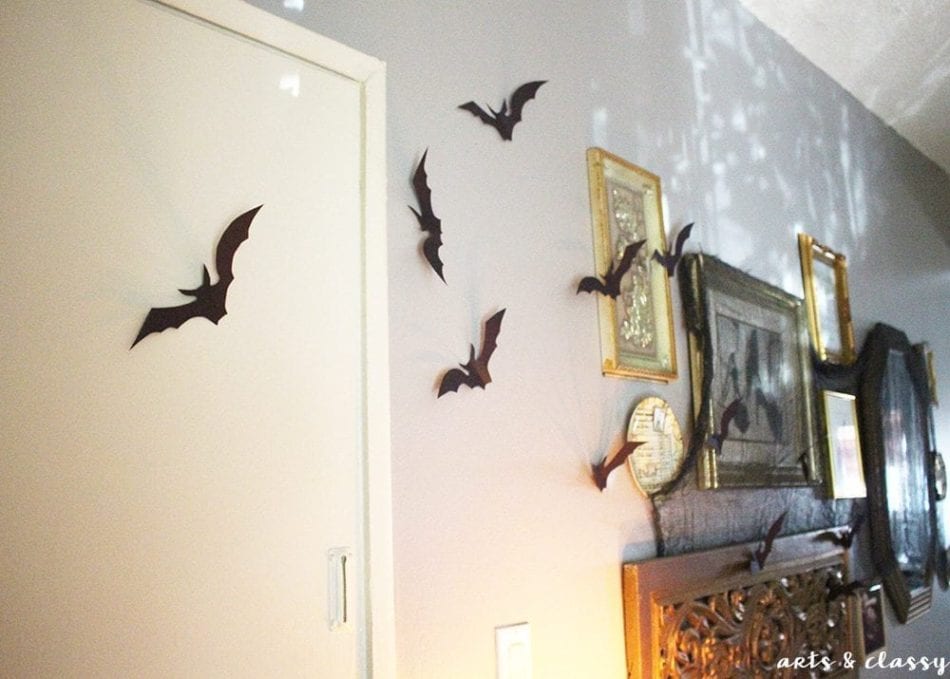 4. WIPING DOWN PICTURE FRAMES FOR SWAPPING OUT ARTWORK
Here is my before photo collage in my living room. I decided to swap out 2 pieces with some printable I got from my blogger friend Jeanette at SnazzyLittleThings.com.
I went with one typography piece and one watercolor of a pumpkin.
I added some "spooky cloth" over my hanging decor before adding bats to the mix.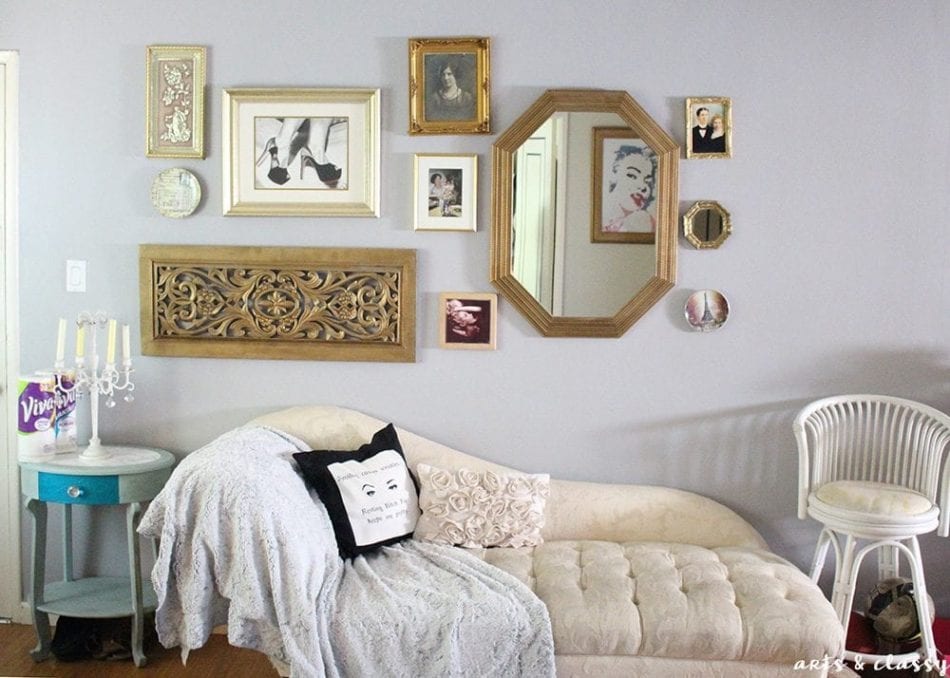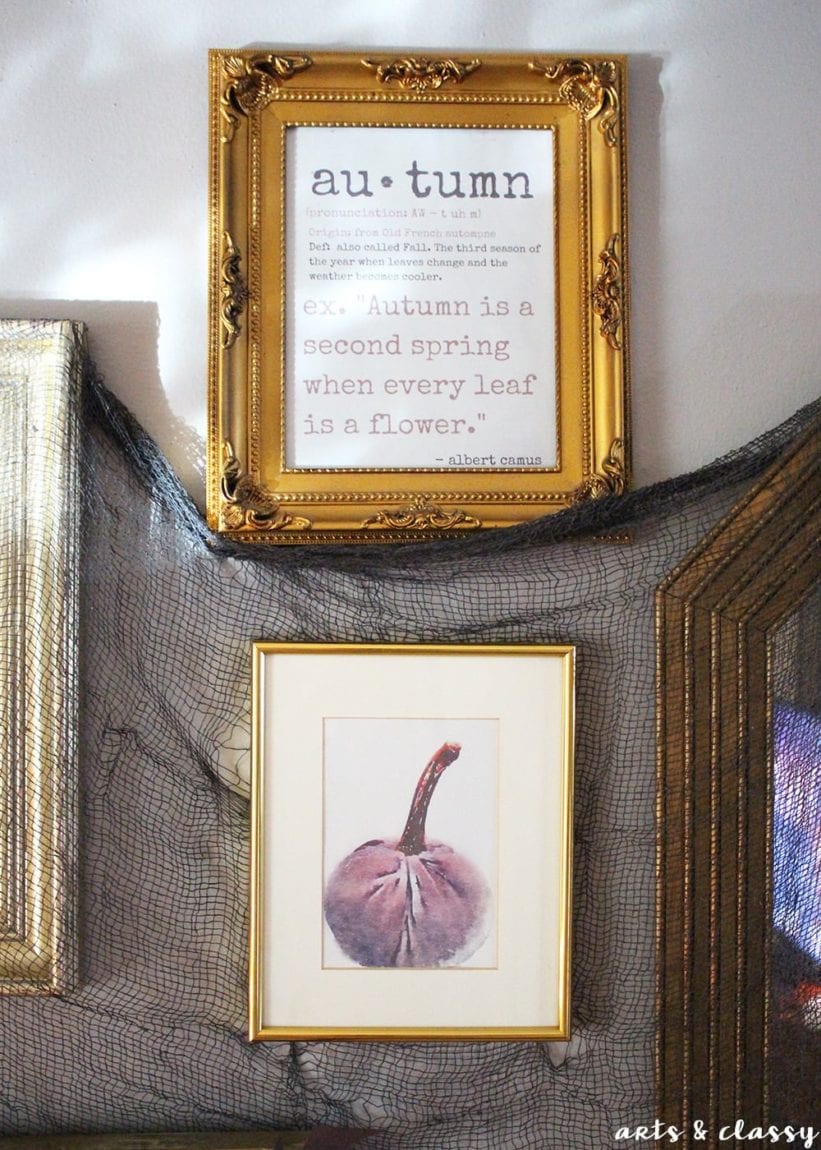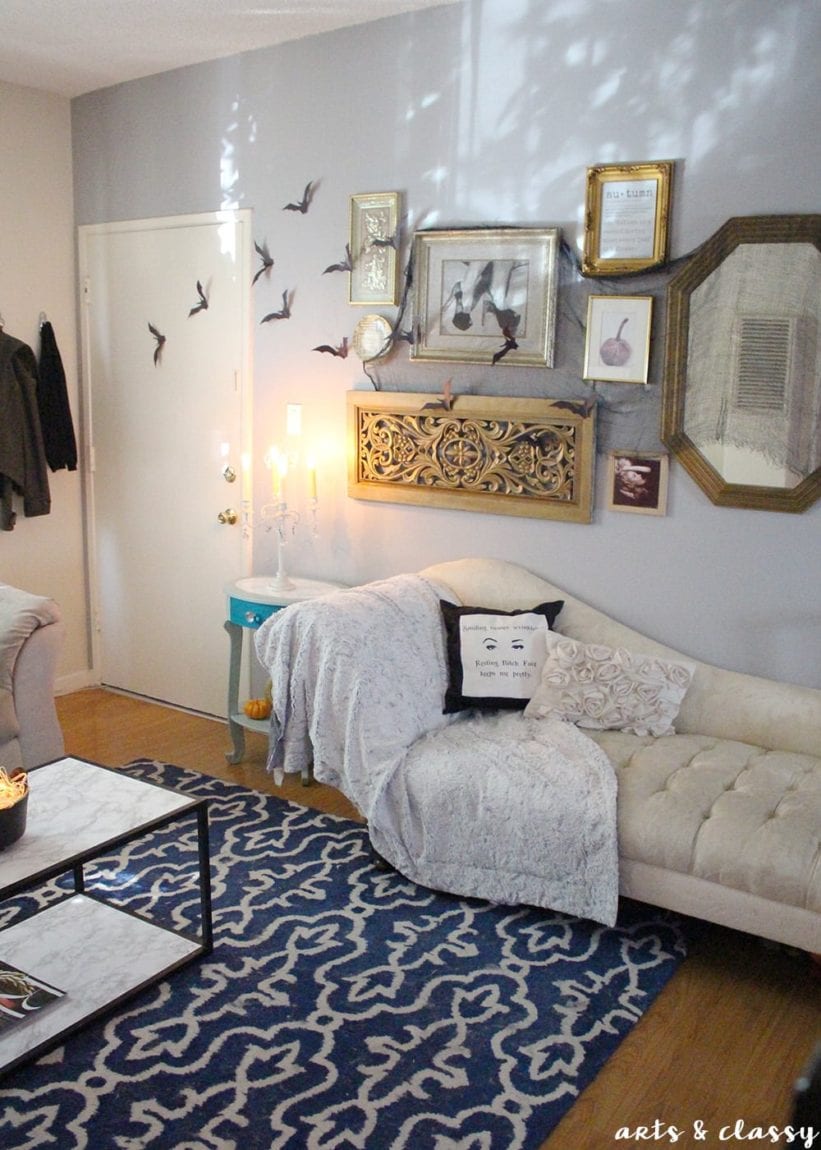 5. ADD FALL COLOR FOLIAGE AND FLORALS TO SPACE
I added real and fake nature to my living room with some orange roses, fake autumn leave bouquets, twine in my cauldron coffee table candle center piece.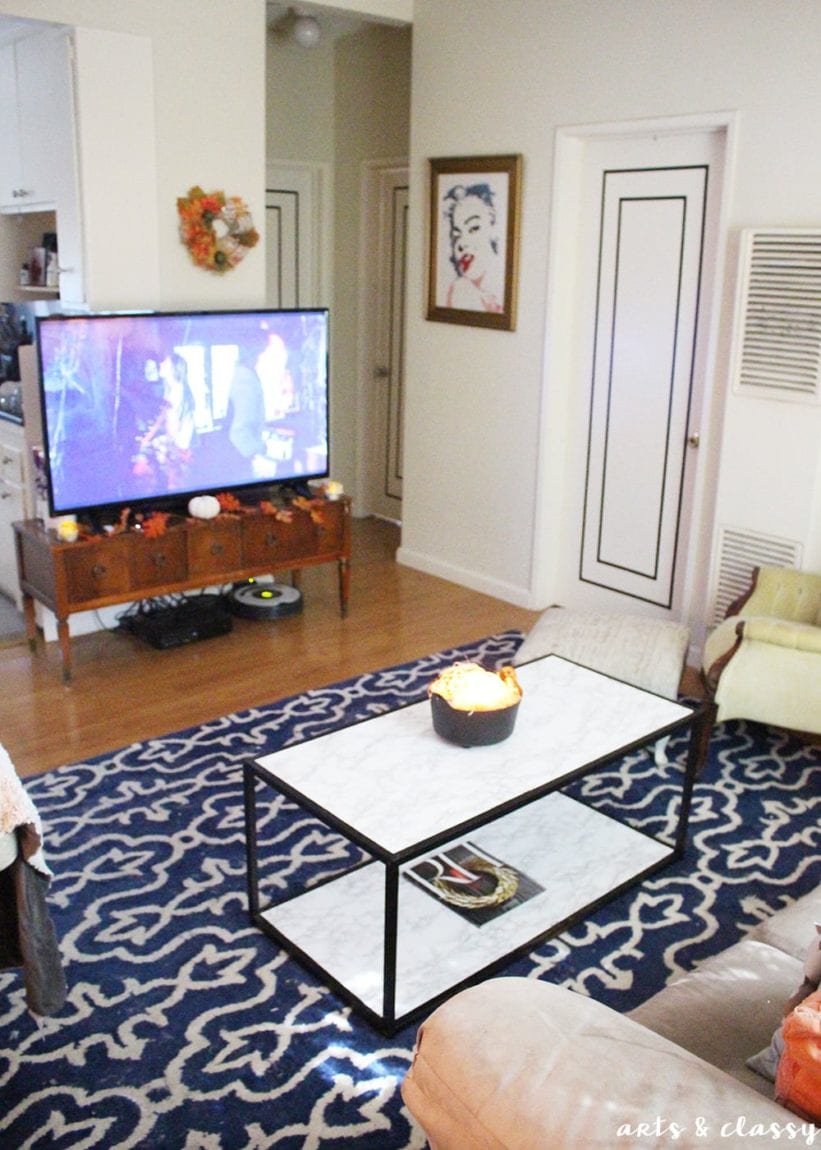 I also added some sparkle with a gold paper mache skull.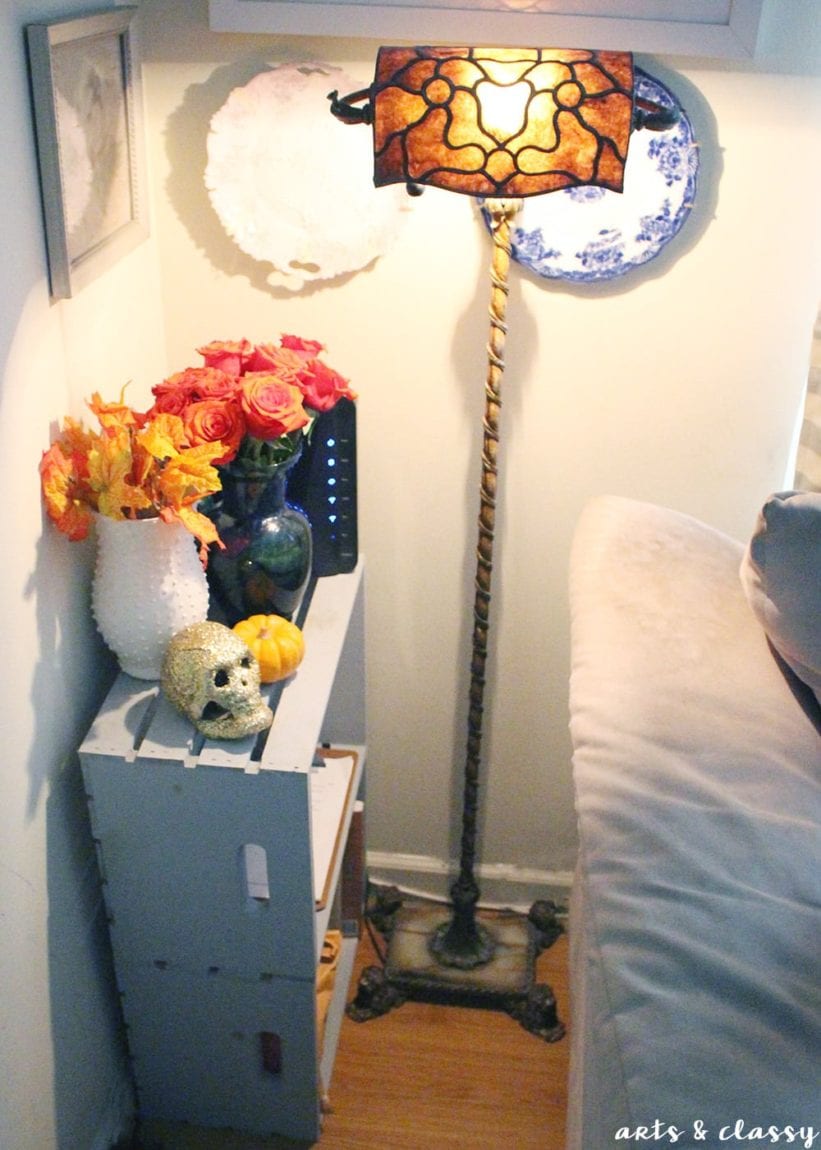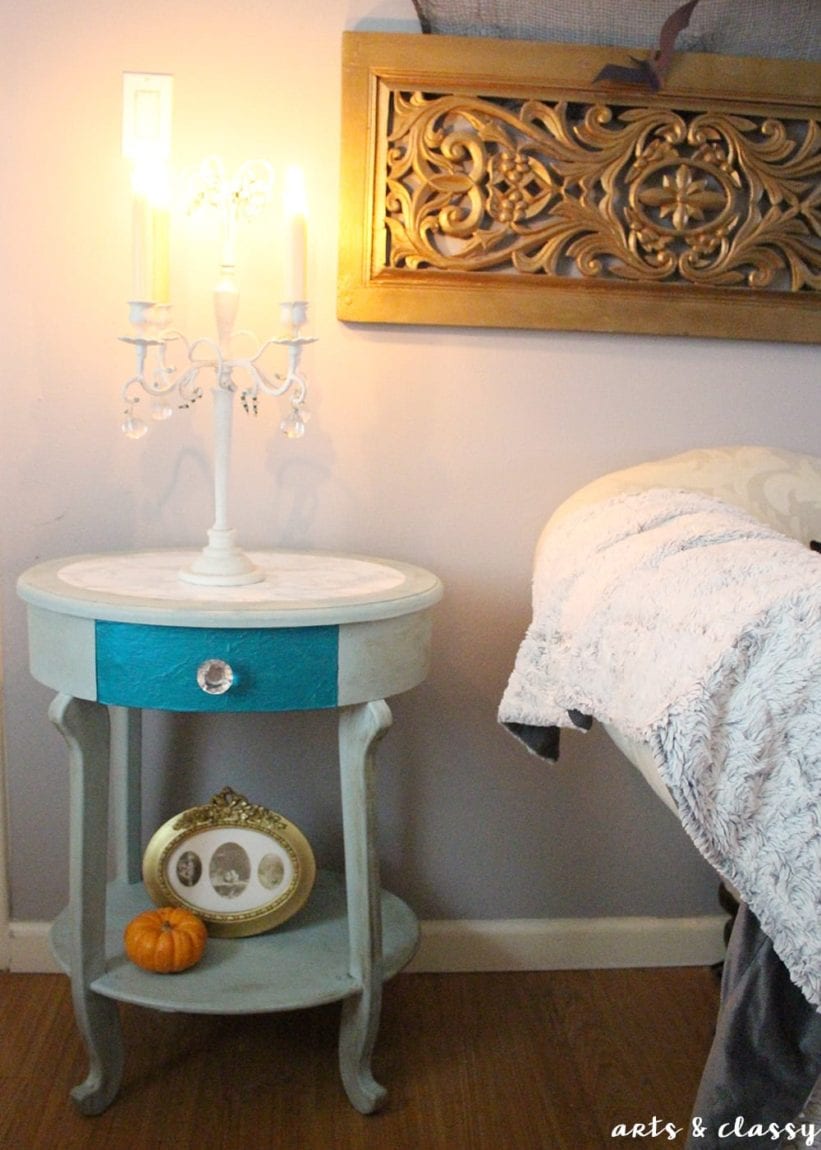 I would love to hear how you are getting your home clean and ready for the holidays coming up. I know I feel much more comfortable hosting people over at my home when it is clean, decluttered, and decorated.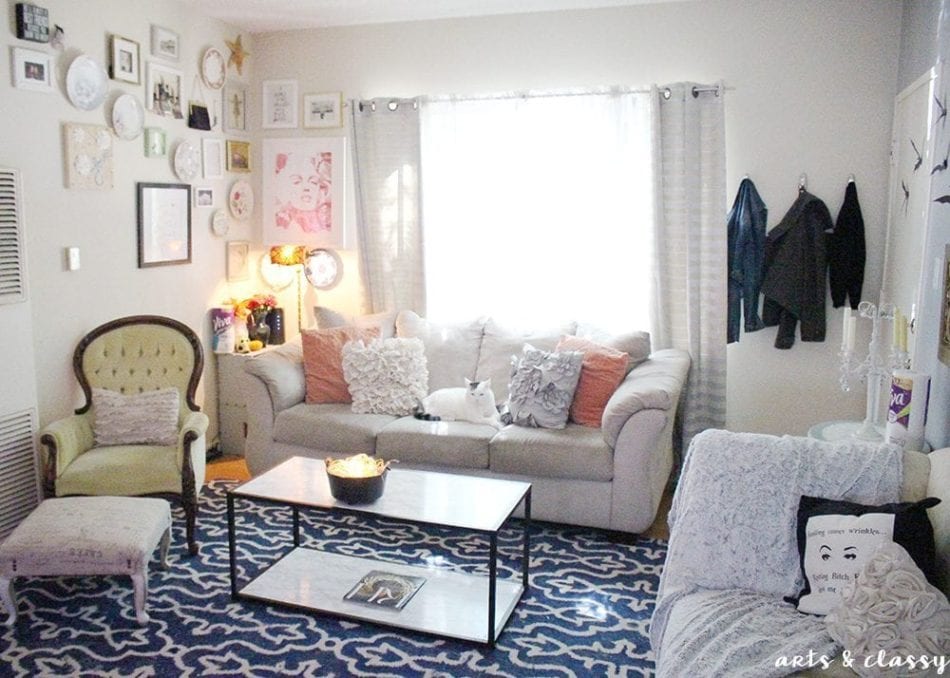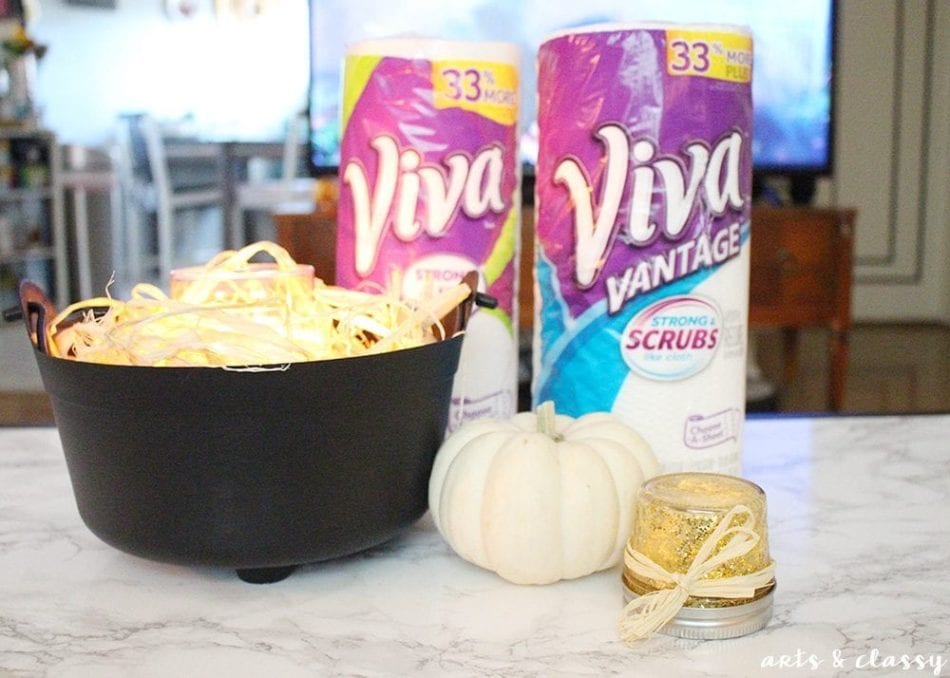 Let me know what you like to do with Viva Towels in the comments below! Don't forget to check Viva Towels out on social media.
Twitter : Facebook : Pinterest : Instagram
If you found this post helpful, please pin the image below to one of your Pinterest boards.
I was selected for this opportunity as a member of Clever Girls and the content and opinions expressed here are all my own.
Join the newsletter!
Subscribe to get the latest classy content by email.