What is a blog? A blog is an online personal diary aka website that is updated frequently. It is a place to express yourself and share your thoughts and passions that are niche specific. If it interests you and falls into your niche, then you can write about it.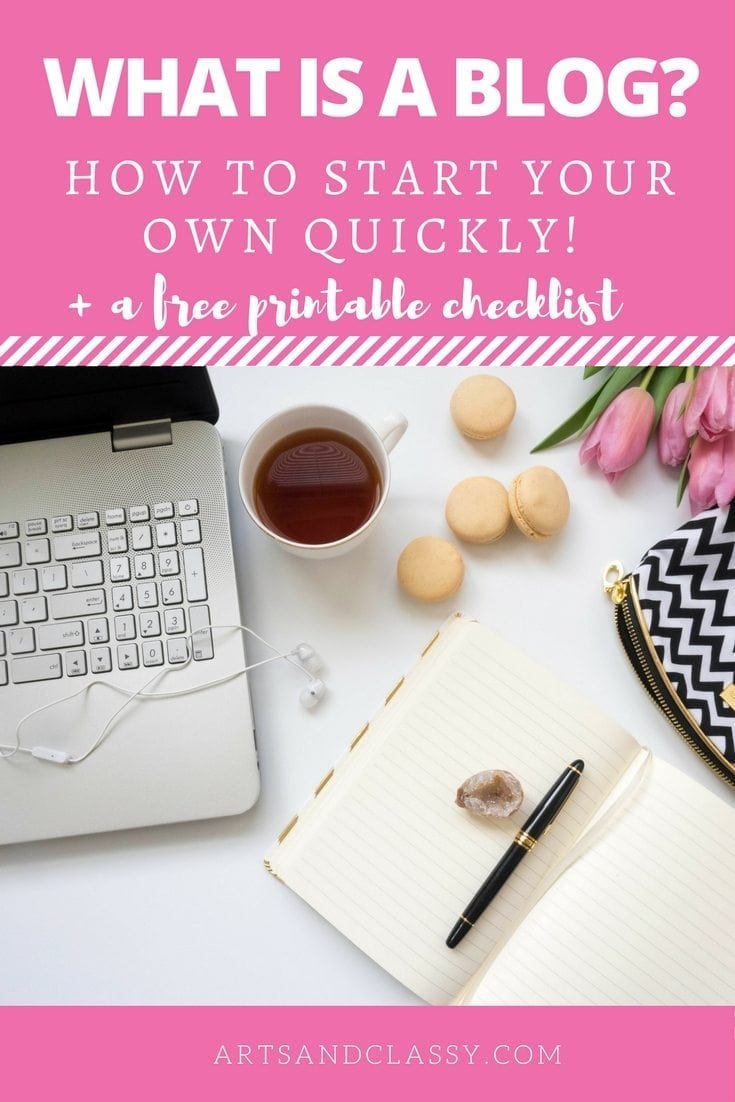 *This post contains affiliate links. 
How to plan your blog?
Before actually setting up your blog… there are some systems that you'll want to plan out first.
What are you going to blog about?
Decide what topic you'll be talking about regularly. I usually say talk about 1 to 3 different topics on your blog. Get specific. There is a bunch of topics that your blog could be about. Some popular blog niches include your mommy blogging, fitness, DIY, recipes, and frugality.
What is the purpose?
Some people blog as a creative outlet. It is a great way to connect with other parents or want to share helpful info. Others use it as a means to create a side or full-time income. This is a very popular career choice for mom's who stay at home. If you want a flexible schedule, blogging is a great option if you are a self-starter!
Others use it as a means to create a side or full-time income. This is a very popular career choice for mom's who stay at home. If you want a flexible schedule, blogging is a great option if you are a self-starter!
How often will you post? 
You may be a person who only wants to blog once per week or you could be a daily blogger. Choose a posting schedule that will fit into your life. For me 2-3 times a week is what I am comfortable completing. Make sure you have the time to create stellar content. I definitely don't recommend about spitting out content left and right if you aren't going to make the content the best that it can be. It is about quality over quantity.
Who will your target audience be? 
Once you determine what you're going to blog about, you'll be able to figure out who your readers will be. If you blog about parenting then your blog will be geared towards parents, or if you blog about being  DIY or frugality your audience would be anyone who wants to save money. You get the idea, right?
Make a list of possible names. 
Making a list is the fun part after you figure out the logistics. I recommend coming up with a few names.
Once you have your list, you want to see if the names are taken via google search. After that, there are a few other areas to check out. If you're planning on having social media profiles for your blog, head on over to social media sites like Facebook and Twitter and see if the username for your blog is available.
Social media is just part of the game now… if you plan on starting a blog, you have to incorporate social media!  It is the new normal after all. Head on over to social media sites like Facebook, Instagram, Pinterest, and Twitter and see if the username for your blog is available.
I also recommend that you do your research on the name you choose. Use the Google as a research tool.
Be sure that there is not already a similar brand/company with a similar name.

Make sure the name is not already a registered trademark. Use the United States Patent and Trademark Office electronic search system to check.

Check to see if there is any other brand or company with a similar name that has a bad reputation, a pending lawsuit, or products that you don't want to be associated with.
Once you've narrowed it down to the name that your blog will be called, you're ready to get your blog all set up with hosting. 
How to start your own blog?
A blog is a labor of love. You really have to love what you are doing. Here is the way I would recommend getting your blog up and running.
I recommend setting your blog up with self-hosted WordPress.org.
You may be asking me, Meredith, how the heck do I even begin to set that up?
Well,  I am here to show you…
BlueHost web hosting was always highly recommended and now I know why. It is by far my favorite web hosting! I haven't had any issues with my site crashing since I began using this service. Things to expect when you sign up for BlueHost.
Premium customer service, reliability, and usability
Easy-to-use control panel
Custom-built servers to provide the most stable and reliable hosting environment
Quickly get started with our one-click WordPress install provided by MOJO Marketplace
Expert, in-house technical support provided 24 hours a day, 7 days a week
Unlimited websites, email accounts, and domains – all on one account at an affordable price
No gimmicks, no contracts. Enjoy the comfort of a 30-day money back guarantee and the option to cancel at any time.

STEP 1 – REGISTER YOUR DOMAIN NAME.
The very first thing you will need to do when starting a WordPress blog on Bluehost is to think about what you want your domain name to be. This can be tough, and I would give some serious thought to this.
"I don't even remember how I came up with my blog name. I always enjoyed arts and crafts and I knew I was arts and crafts related but I wanted to use a play on words. One day Arts and Classy just came to me. I just went with it. Haven't looked back since."
You can get your domain directly through Bluehost and make the whole process very easy. If you do this, you can get a FREE domain for the first year as long as you buy 12 months worth of Bluehost web hosting. This makes it well worth it to sign up for at least 12 months of hosting as you will be saving a good amount of money this way.
You also get a cheaper monthly price when you buy at least 12 months of hosting, so the free domain just makes it even better. If you decide to get the free domain, just continue to the next step as you can buy your hosting and get the free domain all in one step.
STEP 2 – SET UP WEB HOSTING.
Bluehost is one of the top web hosting companies and you can start your own blog with them easily.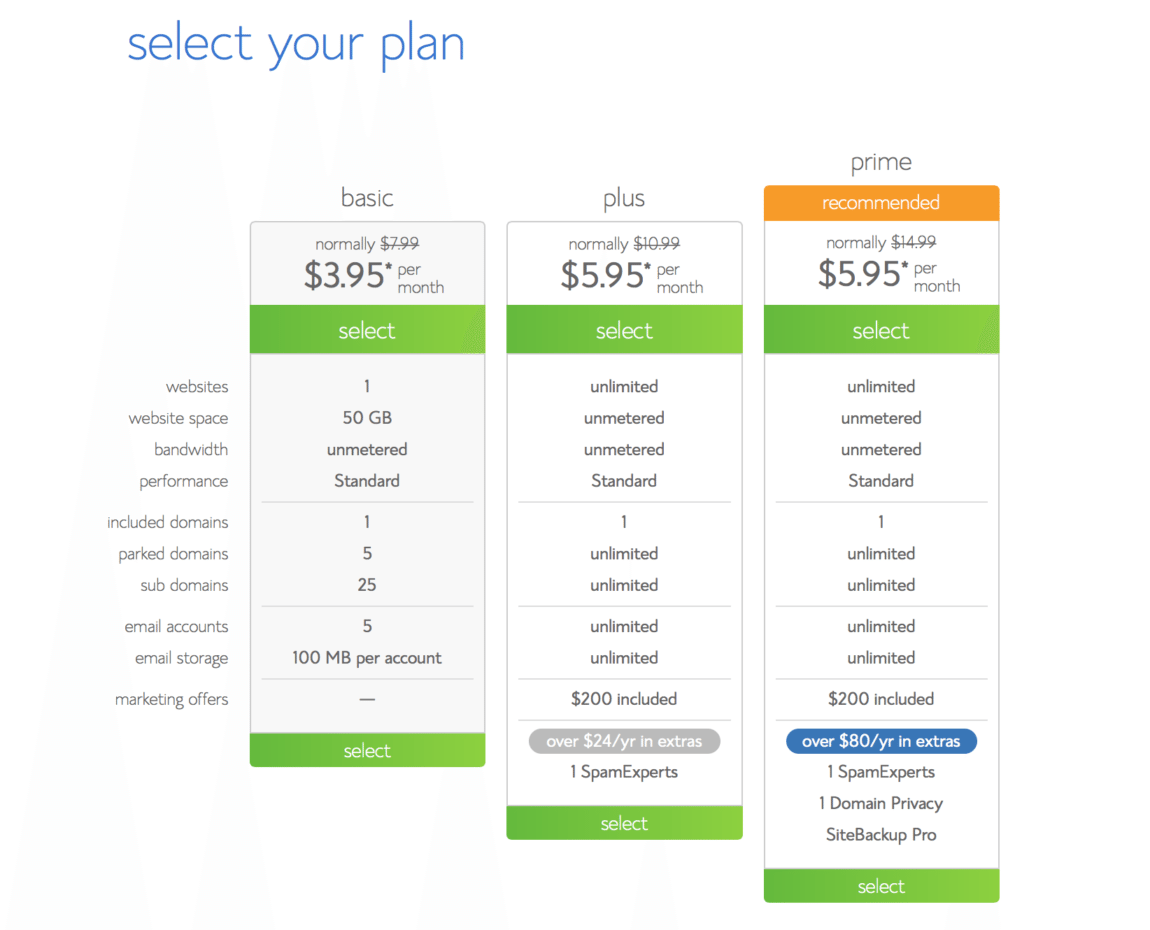 I highly recommend signing up for the 12-month hosting plan through Bluehost. It's affordable and you can save a lot of money by signing up for at least 12 months. Plus, there are no contracts and you can get a refund anytime, even after 11 months!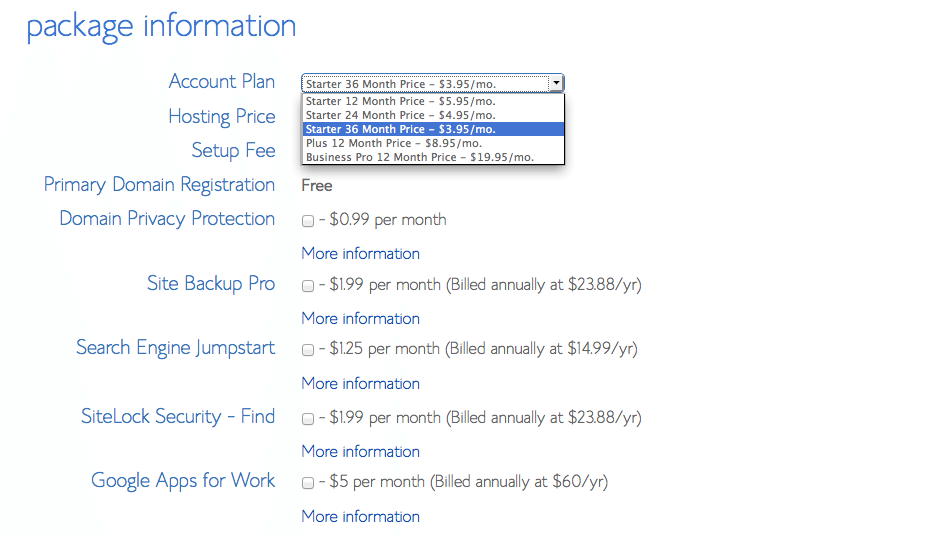 The perks of signing up with BlueHost.
There are many reasons for why you may want to choose Bluehost for your WordPress blog and I honestly believe they are one of the best web hosting providers period.
These perks include:
Yes, ANYONE can create a WordPress blog easily. Bluehost makes it very easy to create a WordPress blog.
Bluehost web hosting offers technical support.
Bluehost is extremely affordable and they offer cheap web hosting. You can have a blog of your own and the only real expense you need to pay is the cheap blog hosting which starts at just $3.49 per month.
You get a FREE blog domain.
WordPress through Bluehost is FREE!!!
Bluehost offers a guarantee in case you determine that it is not for you. If you sign up for Bluehost, but you are confused for any reason (such as how to set it up, picking a plan, pricing, etc.), you can always send me an email and I can help you out.
You will be self-hosted. If you want to monetize your blog, then you will want to be self-hosted.
You will appear much more professional to readers, companies, and so on if you are self-hosted on Bluehost than being on Blogspot.
STEP 3 – CONNECT YOUR WEB HOSTING TO YOUR DOMAIN NAME.
Attention: You can skip this section (Step 3) if you bought your domain directly through Bluehost.

If you already own a domain name, you can enter it here. You will just have to go through a few extra steps to make sure you get your DNS pointed to Sign Up Now.
If you don't already have a domain name, you can purchase one from right in the sign-up process.
"When you register a domain name with Bluehost, they set it up on our parked nameservers so a temporary page is displayed when your visitors go to your website. After you determine which hosting provider to use, you can change your domain name's nameservers to removed the parked page and activate your domain name.
If you registered your domain name with another provider, you can still purchase a hosting account with BlueHost, use their offsite DNS Services. Or use their cashparking® or quick content services. If you do any of those you must view your nameservers in your account with them. The set the nameservers with your domain registrar.
How to modify your DNS Nameservers when you are using Go Daddy for your domain and Bluehost for your hosting:
Log into the GoDaddy.com Account Manager.
Select Manage Domains from the Domain Names drop-down menu or the Manage Your Account list.
Select the domain name you wish to modify using the checkboxes and then click Set Name Servers.
Enter your updated name server information in the spaces provided under the blue Name Servers heading on the right side of your page and click Save Changes at the bottom. Your entries should look like this: ns1.bluehost.com; ns2.bluehost.com.
You will then need to add the domain you bought (such as through GoDaddy) as an addon domain to your Bluehost web hosting.
You can do this by clicking on "Domains" when logged into your Bluehost web hosting account and then clicking on "assign." Follow the steps and it is very easy!
STEP 4- INSTALLING WORDPRESS
This may seem like the most complicated step, but BlueHost has worked hard to make this one of the easiest things for you to do by using the new MOJO Marketplace for installing WordPress and other applications.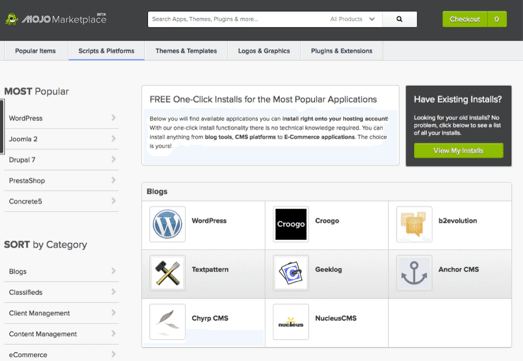 In your cPanel, scroll to the section titled "MOJO Marketplace" and choose the "One-Click Installs" button. This will take you to a page inside MOJO Marketplace called Scripts and Platforms. The blog section is at the very top, so all you have to do here is click on the WordPress icon.
This will open the installation window. Click on the green "Start" button that will start the WordPress installation process, which has a few easy steps.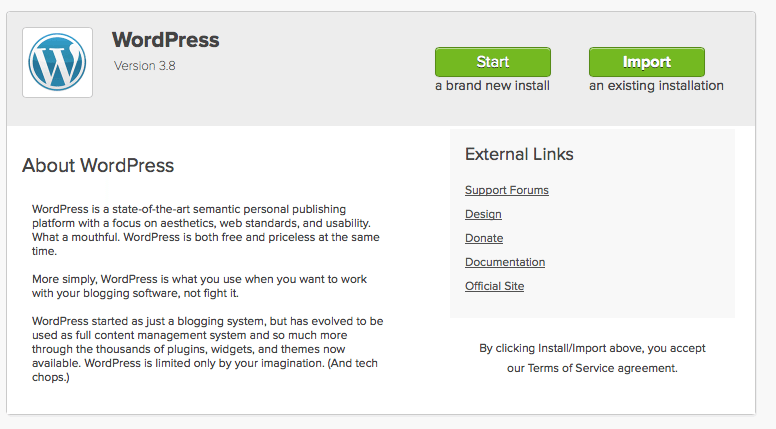 a) Choose where you want to install WordPress. This can be any domain on your account, or a subdomain or a folder for one of your domains. Next, click on "Check Domain," which will make sure the domain is assigned and pointing to your account. You may get a warning that you are overwriting files, but as long as you don't have another website built yet, you can check the box and continue. This is mostly to make sure that you really want to install in that location. If you do have other sites built, you will want to make sure you're not overwriting something important.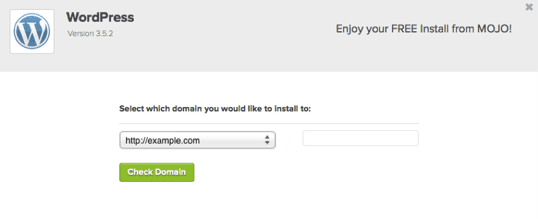 b) Show Advanced Options. This section allows you to set up your own username and password for your WordPress install. IT is recommended to use a different username than "admin" and a very strong password. Make sure that the "Automatically create a new database for this installation" box is checked unless you have a database already set up that you want to use.
c) After you've read the terms and conditions, check the box indicating that you've done so, then click "Install Now."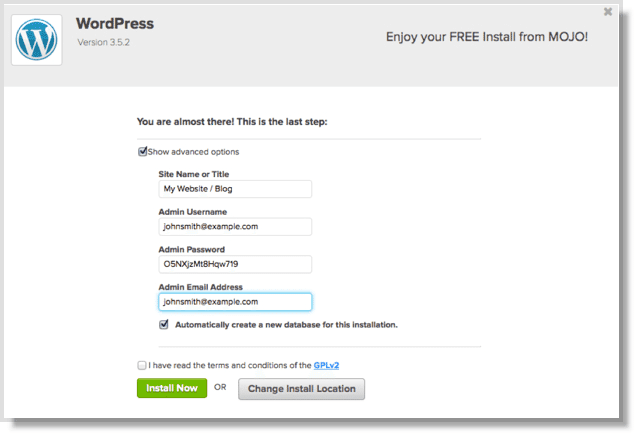 Now you'll see the progress page, which will show you how far along the installation is. Once WordPress is fully installed, it will provide you with your site URL, the admin login URL, your username, and password.
You will get a copy of this information, except your password, in your email as well. Make sure to keep it in a safe place.

Now you can log into your WordPress site by going to the admin login URL. Enter your username and password, then click "Log In." This will take you to your WordPress dashboard. From here, you can control everything to do with your WordPress site, such as creating pages, writing posts, and changing the appearance.
STEP 5 – CONGRATULATIONS! YOU NOW HAVE A WORDPRESS BLOG!!!
You will have to work on the design and producing high-quality content, of course.
If you sign up for Bluehost, but you are confused for any reason (such as how to set it up, picking a plan, pricing, etc.), you can always send me an email and I can help you out!
That's what I'm here for so don't be afraid to send me an email.
Some general tips for how to navigate WordPress:
To sign into your WordPress account, you will want to save the WordPress login information that you receive in a separate email. You will receive this email after you complete the steps in #4 above. This email will include your WordPress login URL (your URL is separate from everyone else's and it's the only way you can access your WordPress account), your username, and your password. You want to keep this email safe.
You can add and create new posts by clicking on "Posts" on the left-hand side when you are logged in. If you want to add a page, simply click on "Page."
If you want to add an image, click on "Media" on the left-hand side.
You can go to "Appearance," then "Widgets" in order to add items to your sidebar, footer, and so on.
If you are looking for a way to send newsletters or emails to your readers, I recommend Mailchimp to start before migrating to ConvertKit!

If you enjoyed this posts, the following articles will definitely help you on your blogging journey!
Also, if you found this post helpful please pin to your Pinterest board!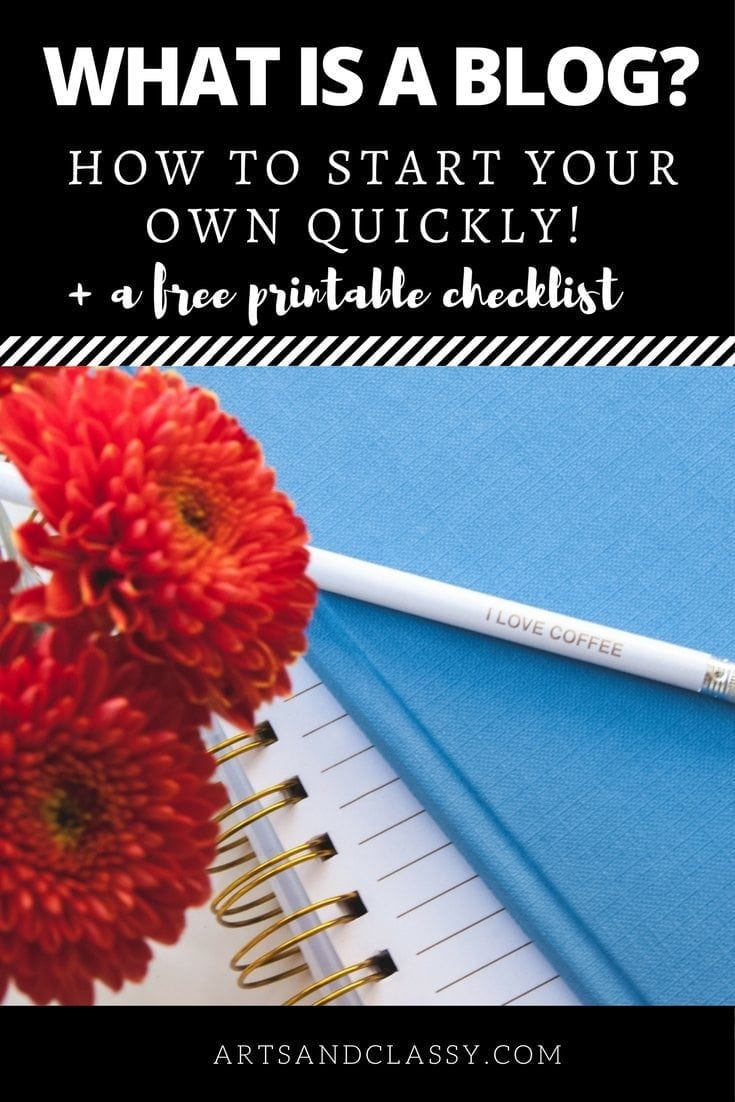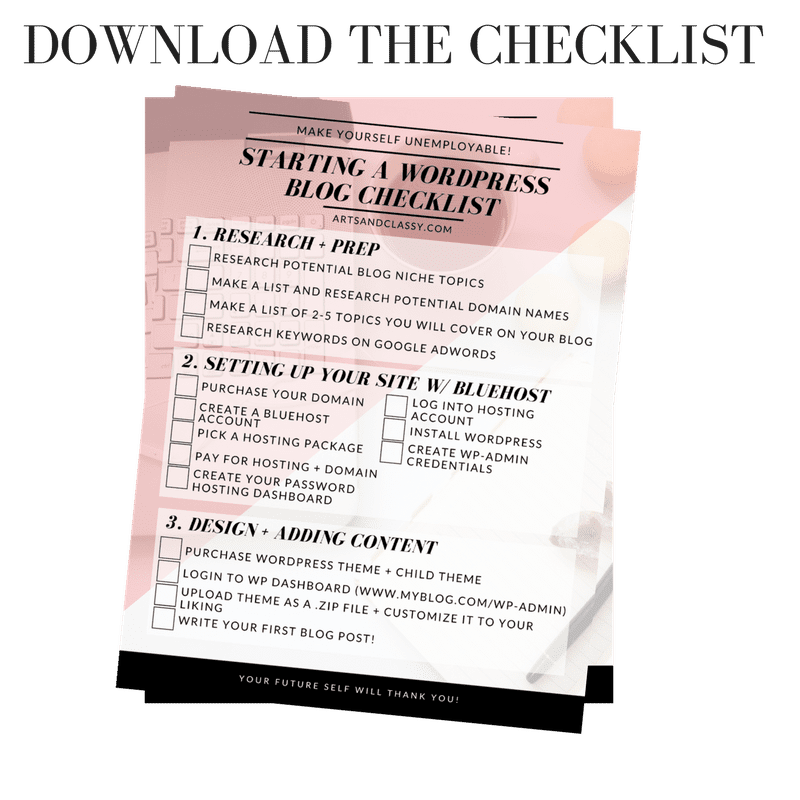 Subscribe to get access your free Start a Blog checklist!
Make sure you don't miss a single step with this checklist. Your future self will thank you!