I am obsessed with yard sale finds and furniture flips! In fact, most of my projects are yard sale flip projects or curb side find flips. I love making someone else's trash my new treasure!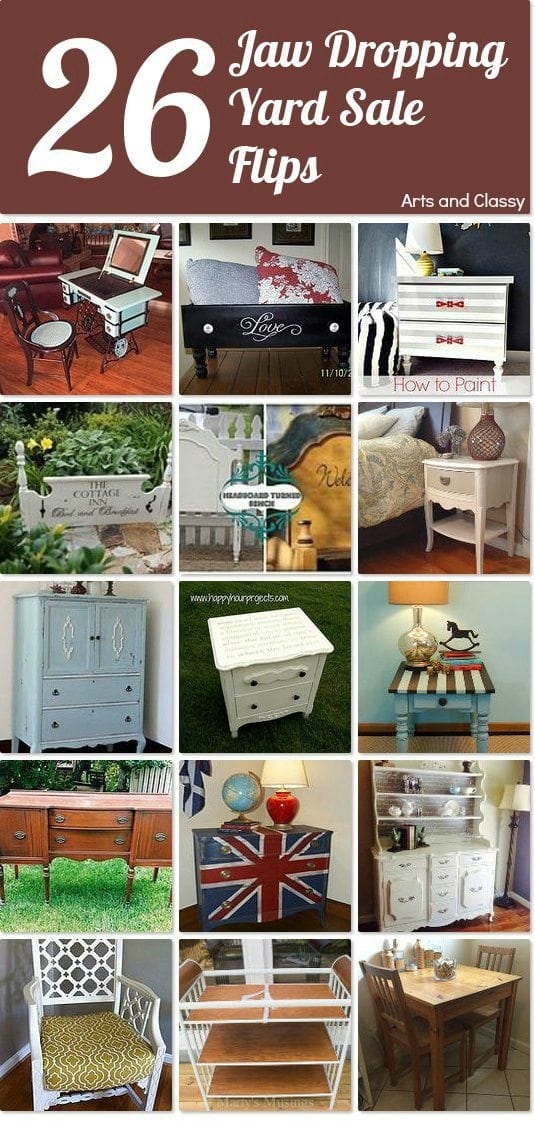 That is why I was elated when Hometalk.com asked me to curate a board specifically covering this subject because they loved my yard sale table that I found and flipped into a french country beauty!
Another one of my favorite yard sale finds was a cane arm chair that I found and purchased for $15! What a deal. You can really find some amazing deals at yard sales as most of you know. The hard part can be getting up super early on the weekends to find the deals. I am not  much of a morning person myself.
However, the though of finding a custom piece of antique furniture makes me jump out of bed to get on the road early to find the good deals.
Here are some tips to finding yard sales worth your while.
Do your research – there are several sites that cater to yard and estate sale advertising. Sometimes it includes photos of what they will be selling. You can hone in the the most promising sales to get what you want.
Make a punch list – after you do your research, prioritize the sales you want to hit first.
Get up early – This can be hard, but it's not too much of a sacrifice to get up one Saturday or Sunday out of the month a little early. This is why coffee was invented. LOL. Make sure to get enough sleep the night before.
Practice your haggling skills – people are looking to get rid of everything at yard sales typically. Don't be afraid to offer a lower price than they are asking. Later in the day this technique is intensely more effective. Yard sales tend to fizzle out by noon.
Carry small bills – nothing is worse than whipping out a $100 bill (especially early in the morning) to purchase something for $15. The seller may not have made too many sales at that time to be able to break your large bill. Plus, I am always weary of fake $$ when large bills are exchanged.
Bring a buddy – hopefully you have friends or family that also like to go to yard sales! If so, bring them along and see how many deal you can score. It's helpful when navigating through neighborhoods to find the sales you want to check out. A second pair of eyes is always helpful in situations such as these. It's also good to bring a buddy to help you load furniture in your vehicle. Especially large items.
I hope you enjoyed this article and it inspires you to tackle a yard sale or two to find your perfect piece of furniture to flip for your home or a friends!
Let me know in the comments below! Happy flipping!