I have been wanting to create this page for so long and I am so happy it is now up with some amazing resources.
We all want to be rockstar bloggers and business people… yes?
I thought so. I knew I liked you!
I must tell you that I have been really wanting to share some of the tools, platforms, and technology I have been using along with my blogging journey.
I have picked up so many over the years.
*The resources listed below are either items I currently use of have used in the past and like. This post contains affiliate links. I make a small commission if you purchase a product or service. 

EPIC Blog Planner – 1 Year Editorial Calendar –

This planner has been a real game changer. In my almost third year of blogging, I finally decided to see where this all could lead if I treated it like a business instead of a hobby. I began using this planner in December of 2014 and I am hooked. It is super helpful at guiding you through your planning and reconciling of expenses, income, and analytics. I love that I now track everything and can see the proof on paper. 

Meet Edgar – Social Media automation (Facebook, Twitter, and Linked In). I began using this program after I started making $1k on the blog because in my mind it is a little pricey at $49.00 a month. But this has really helped me set my social media and forget it so I can focus on other projects and tasks for the future.
Tailwind – Social Media automation (Pinterest and Instagram). Since about 66% of my traffic comes from Pinterest I knew this program was just for me. I seriously was so excited with I found out about Tailwind. I still use it and I am figuring out the best way to leverage my platform and gain a larger following. I have noticed a significant increase in traffic on my site since using this amazing tool!
Bluehost – (Hosting) I started using their hosting in May of 2015 when my traffic began exceeding 5,000 a day. I haven't had ANY issues with their hosting and their customer service is off the charts amazing. They are really great at breaking.
GoDaddy – Domain name purchase. I purchase all my domains through Godaddy. Also if you are just starting your site their hosting is good. I only switched because once I began exceeding 5,000 visitors per day my site began crashing every day multiple times a day.
BluChic – WordPress Themes. I purchased the theme Lynette for this site and I really do love it. It is pretty and easy to modify.
WordPress.org – Self-hosted site – I started on blogger which made my URL artsandclassy.blogspot.com. If you don't want to spend anything when starting your blog, I recommend this free option.



Check out the following networks that I am currently a part of. They pay me to do projects and write articles for large brands! <3 <3 Living the dream!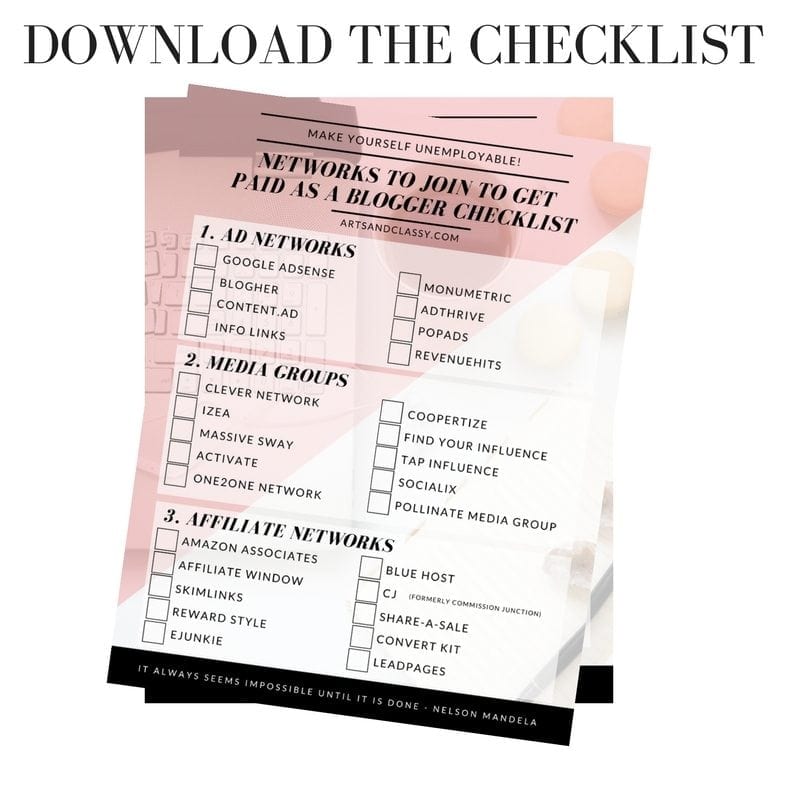 I hope you found these tips helpful!! Please feel free to email me with any questions or more information about the lists above. Thanks!