[vc_row type="in_container" full_screen_row_position="middle" scene_position="center" text_color="dark" text_align="left" overlay_strength="0.3″][vc_column column_padding="no-extra-padding" column_padding_position="all" background_color_opacity="1″ background_hover_color_opacity="1″ width="1/1″ tablet_text_alignment="default" phone_text_alignment="default"][vc_column_text]
I have been wanting to create this page for so long and I am so happy it is now up with some amazing resources.
We all want to be rockstar bloggers and business people… yes?
I thought so. I knew I liked you!
I must tell you that I have been really wanting to share some of the tools, platforms, and technology I have been using along with my blogging journey.
I have picked up so many over the years.
*The resources listed below are either items I currently use of have used in the past and like. This post contains affiliate links. I make a small commission if you purchase a product or service. 

EPIC Blog Planner – 1 Year Editorial Calendar –

This planner has been a real game changer. In my almost third year of blogging, I finally decided to see where this all could lead if I treated it like a business instead of a hobby. I began using this planner in December of 2014 and I am hooked. It is super helpful at guiding you through your planning and reconciling of expenses, income, and analytics. I love that I now track everything and can see the proof on paper. 

Tailwind – Social Media automation (Pinterest and Instagram). Since about 66% of my traffic comes from Pinterest I knew this program was just for me. I seriously was so excited with I found out about Tailwind. I still use it and I am figuring out the best way to leverage my platform and gain a larger following. I have noticed a significant increase in traffic on my site since using this amazing tool!
Bluehost – (Hosting) I started using their hosting in May of 2015 when my traffic began exceeding 5,000 a day. I haven't had ANY issues with their hosting and their customer service is off the charts amazing. They are really great at breaking.
ConvertKit – This is my email CRM. I used to use Mailchimp when I first started. I am much happier now with how Convertkit allows you to segment my list and my automation sequences. Makes staying in touch with my tribe so much easier.
GoDaddy – Domain name purchase. I purchase all my domains through Godaddy. Also if you are just starting your site their hosting is good. I only switched because once I began exceeding 5,000 visitors per day my site began crashing every day multiple times a day.
WordPress.org – Self-hosted site – I started on blogger which made my URL artsandclassy.blogspot.com. If you don't want to spend anything when starting your blog, I recommend this free option.

iPhone XR 

– I loveeeeeee this phone!!!!!!!! I have always had iPhones but this XR is the best thing ever.  My phone has been my main blogging tool since I started, but I have managed to get by just using my iPhone during my first 3 years to take photos of all my projects. Lighting has been the biggest trick with my iPhone to make all my photos look more professional. 

MacBook Pro with Retina Display

 

– I love love love my Macbook. I have invested in the Macbook pro since 2006. I had their first edition and now I have their model with retina display. The picture on my screen is seriously so perfect! 

Canva.com 

– This is the graphic design program I use. It also has an app for iPhones and iPads. I can create graphics even when I am not looking at a computer screen. Creating graphics while laying on my couch has never pretty fun!

Canon T5i – I invested in this camera because I really wanted to take the images of my projects to another level of professionalism. Especially since I am working with very popular brands. I love this camera and I am so happy I bought it.
Headphones – Not sure if you have the same issue, but the iPhone earbuds do not fit in my ears. But the good news is that these ones do and they are super inexpensive!!
Wireless Keyboard – Ever since investing in my laptop stand to help alleviate my neck problems and soreness of staring at a computer screen, this keyboard has been a godsend! I love it and I love that it is super easy to set up and use.
Laptop Stand – I never knew I needed this until I saw another person in the TV business
Rode Mic – Plugs into my iPhone 6. I have seen that a lot of people online are using this for their videos and Periscope live broadcasts. So I thought I would give it a try since I am trying to be more interactive with my audience. It plugs directly into my iPhone and my laptop via the auxiliary port.
iPhone Tripod – I ordered this solely for my LIVE sessions. Want to follow me? Download the app and find me on @MeredithAnneG!!
Ring Light – I purchased this and my life has never been the same. It's amazing front light and space to set up my camera or my phone to record. It really gives my live sessions and tutorials a more professional look.
GripTight GorillaPod Stand – for my iPhone 6


Check out the following networks that I am currently a part of. They pay me to do projects and write articles for large brands! <3 <3 Living the dream!
Forward Influence (aka Mom it Forward)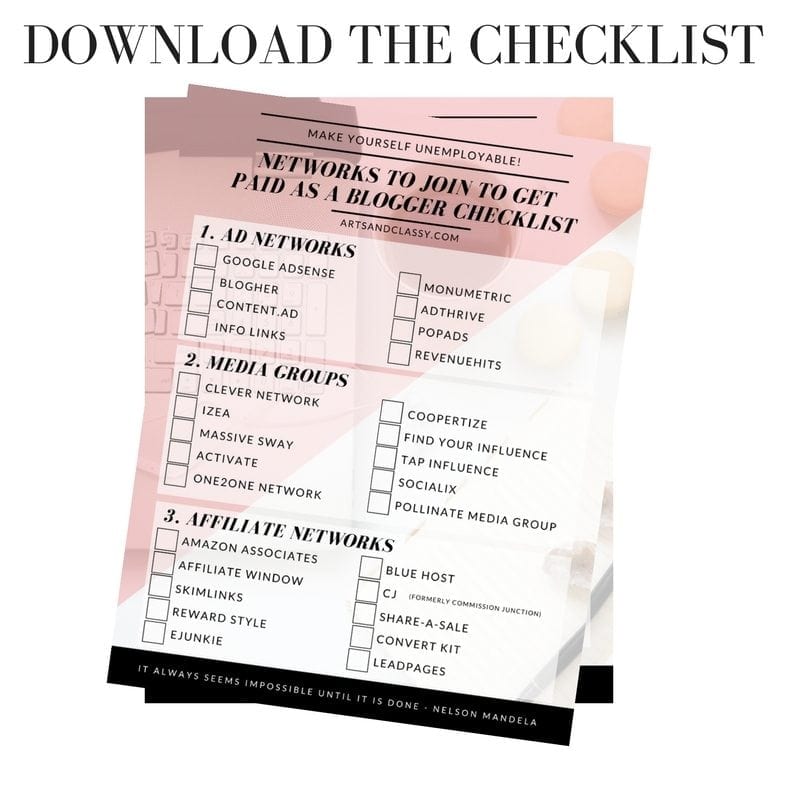 I hope you found these tips helpful!! Please feel free to email me with any questions or more information about the lists above. Thanks!
[/vc_column_text][/vc_column][/vc_row]
Download the Networks to Join Checklist to start making more $$ with your blog!
Start making money with your blog today with this helpful checklist!