Hi! I am Meredith. I am the creator of Arts & Classy LLC. I am a DIY home blogger based in North Carolina that is always looking to make classy chic decor on the cheap. 
Arts & Classy LLC was born back in 2012 when I was still trying to figure out how to make ends meet as a young 20-something trying to make it in Los Angeles.
My goal at that time was to make it in the art department for the film and tv industry. Which I did do for the better part of a decade. My priority was to afford to live WITHOUT having any roommates. I wanted to make my space my own!
After A LOT of trial and error and following my curiosity I began to start sharing my journey here! After dabbling in many areas, catering to renters was always most important to me because I was a renter for most of my adult life. Honestly, when I lived in L.A. I never thought I would be a homeowner and there was a huge gap at that time with home bloggers mostly being homeowners. There weren't many resources catering to renters.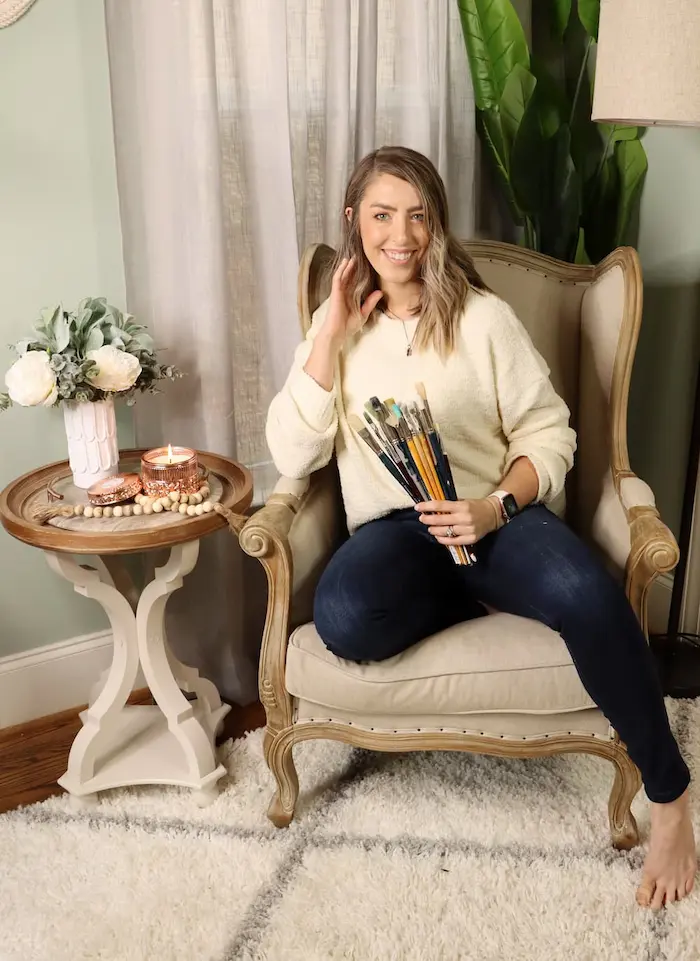 This was me in 2014 working on my very first chair furniture flip that I found at a yard sale!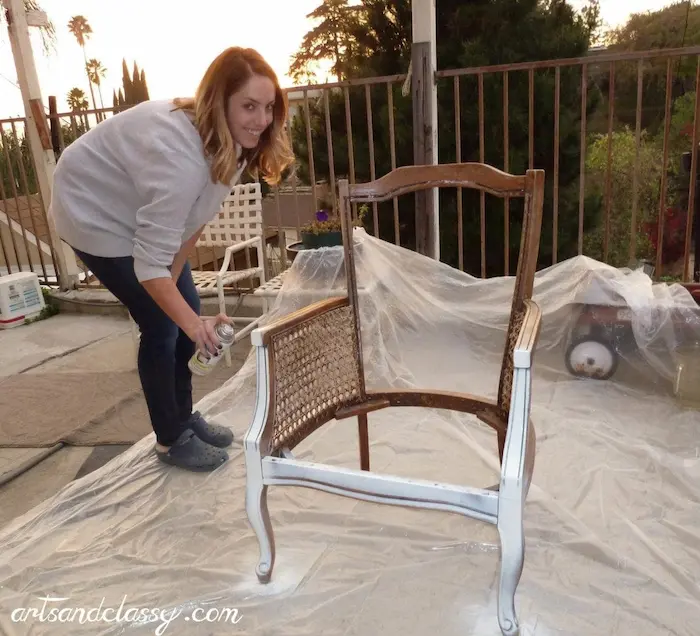 A&C is about what I create, decorate, repurpose, upcycle, craft, organize, clean, hack, and wherever my curiosity takes me! Flipping furniture is also a passion of mine. I love to thrift and find old beat-up furniture that no one wants and breathe new life into it. 
If you are looking for a home decor blogger that caters to both renters & homeowners trying to decorate on a budget, then you are in the right place!
My main goal is all about doing the things I absolutely love. Teaching others has become a huge passion of mine, you know? I just adore learning, sharing, getting crafty, organizing stuff, inspiring people, lending a hand, working together, supporting others, and building a cool community of creative folks!
Are you into seasonal decor? Perhaps you're interested in repurposing and upcycling items around your home. If you're on a budget or enjoy thrifting and garage sales, then you've come to the perfect spot!
I'm absolutely passionate about crafting tutorial projects and filming videos just for you! You can check out a bunch of my Hometalk videos that have garnered millions of views. Plus, I frequently post to my Instagram and serve as a regular host on Hometalk TV.
I've worked with companies like Plaid Enterprises, Hometalk, Worx, Annie Sloan Paint, Beyond Paint, Surebonder, Bissel, Amerock, Cutting Edge Stencils, Royal Design Stencils, Dremel, Retique It, Stencil Revolution, Facebook Marketplace, Black and Decker, and more. I have been published several times in the Raleigh Durham Girl, Anika's DIY Life, An Organized Season, Neat House Sweet Home, Anastasia Vintage, and My Thrift Store Addiction. If you're interested in working with me click here – Advertise/Collaborate
A little bit about more about me…
I grew up in the Los Angeles area for 26 years, moved to Colorado for 2 years (just in time for the pandemic), then my husband and I moved to North Carolina and bought our first home in 2021.  I went to Cal State University at Long Beach where I graduated with a Bachelor of Arts, in Technical Theatre. I left the Theater and film and tv in 2017 and fell in love with health and fitness. I went on my own health and fitness journey and changed careers. I am a Certified Personal Trainer, Former Martial Artist, and Instructor of Kickboxing, I am a National Board Certified Health and Wellness Coach and have been health coaching since the beginning of 2021. I love spending time with my husband, my pup, friends, and family. I enjoy watching movies, spending time outside, and any opportunity to be creative. Want to learn more?
Check out some 13 surprising facts about me below!
I love my amazing husband and my doggie Joey Roo. I am a proud dog mom. No 2 legged kids for me, thanks! I am vibing in my cool aunt season these days!
My husband and I got married in September 2019 in beautiful Santa Barbara, CA! Best day of our lives!
I am a blogger by day + I am a full-time Nationally Board Certified Health and Wellness Coach by night!
I facilitate a program to assist people to make habitual and behavioral changes. This is applied to weight loss, muscle gain, and overall health and wellness.
I am a HUGE Taylor Swift Fan! I love anything she does and am obsessed with all her music!
I was diagnosed with ADHD at 35 years old. This explains SOOOO much of my behavior my whole life!
I am obsessed with the mysteries of our planet's oceans, and shipwrecks, and love watching documentaries about them. 
I was raised by an amazing single mom that instilled a good work ethic in me at a young age.
I am a self-taught blogger. However, If I were to start a blog all over again. I definitely would have gone through a course about blogging to expedite the return on investment and hired more help sooner.
I have grown to be more of a spiritual person (rather than religious) as I have become older and wiser. At the end of the day, the most faith I have is in myself. 
I am such a beach girl! I used to live in Redondo Beach, CA and was always at the beach. I call it beach therapy. I feel very peaceful and restored by the water while digging my toes in the sand. 
I have moved over 19+ times in my life.
I am obsessed with the HBO show Game of Thrones and the Stars TV Show Outlander. (Based on a book series from the 90s)
So what are you waiting for friend? Join my family today!
---
RECENT CONTENT ON THE BLOG
---
LET'S CONNECT!
Error: Contact form not found.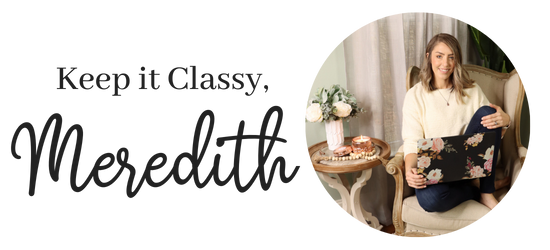 You may also like…