Hi! I am Meredith. I am a DIY home blogger based in North Carolina. 
Arts & Classy LLC was born back in 2012 when I was a poor 20-something trying to make it in Los Angeles. I was working a low-paying art department film/tv industry job while trying to afford to live WITHOUT roommates.
After A LOT of trial and error, while sharing my journey here!
After dabbling in many areas, catering to renters was always most important to me because I have been a renter for most of my adult life.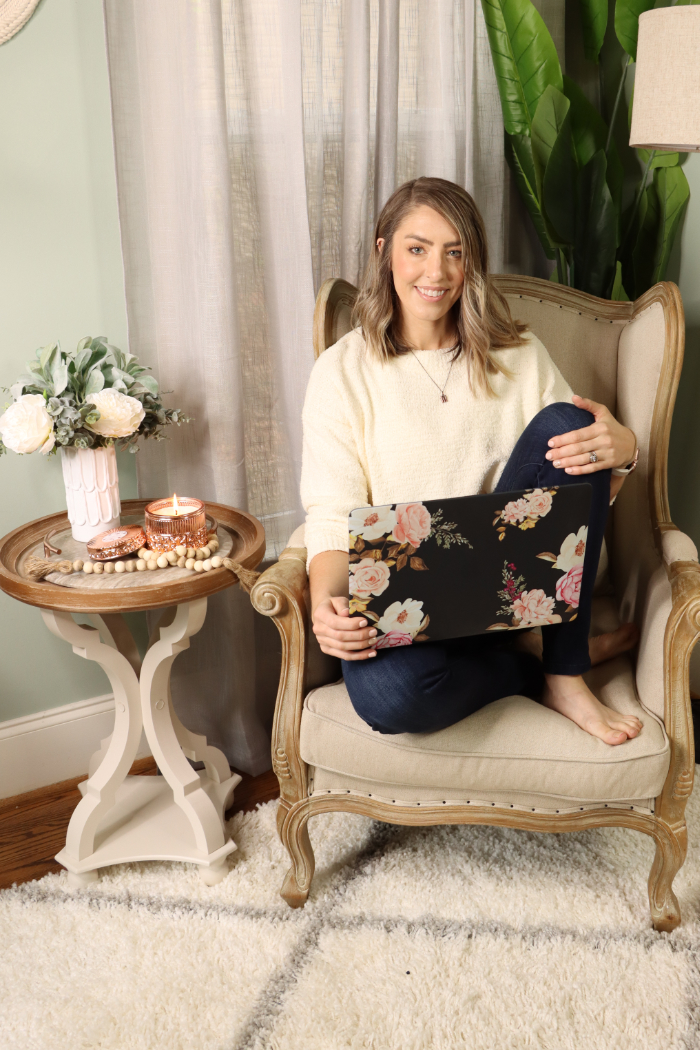 That is, until 2021 when my husband and I bought our first home!
Flipping furniture is also a passion of mine. I love to thrift and find old beat-up furniture that no one wants and breathe new life into it.
If you are looking for a home decor blogger that caters to both renters/homeowners trying to decorate on a budget, then you are in the right place!
---
26 SURPRISING FACTS MOST PEOPLE DON'T KNOW ABOUT ME.
I love my

amazing husband and my doggie Joey Roo.

My husband and I got married in September 2019 in beautiful Santa Barbara, CA! Best day of our lives!

I am a full-time blogger by day +

I am a full-time Nationally Board Certified Health and Wellness Coach by night!

I facilitate a program to assist people to make habitual and behavioral changes

. This is applied to weight loss, muscle gain, and overall health and wellness.
I am a NASM Certified Personal Trainer.

I lived for a quick couple of years in Denver, CO with my husband to be of assistance to his parents during a health issue and then during the pandemic.

I am a HUGE Taylor Swift Fan! I love anything she does and am obsessed with all her music!

I was diagnosed with ADHD at 35 years old. This explains SOOOO much of my behavior my whole life!

I was born in Dallas, TX but raised in Los Angeles, CA for most of my life!

I love living in a more rural suburban area in North Carolina! It's so quiet and nature surrounds me daily. It's magical.

I worked at The Ellen Show for 1 season and yes, everything that is coming out about that work environment being toxic is 1000% TRUE!

I am obsessed with the mysteries of our planet's oceans and love watching documentaries about it.

I have popped my knuckles since childhood. No, I do not plan on stopping. 🙂

I was raised by an amazing single mom that instilled a good work ethic in me at a young age.

I have A LOT of job experience which I believe has helped me become a smarter professional. When I went against the corporate grain…my mom thought I was nuts when I told her I was going to try and make money blogging and doing projects I love.

(But she came around and has become very supportive!)

I am a self-taught blogger. However, If I were to start a blog all over again. I definitely would have gone through a course about blogging to expedite the return on investment and hired more help sooner.

I worked in the film/tv industry for the better part of a decade and decided it wasn't the career path I wanted.

I was a Muay Thai and Fitness Kickboxing instructor for 4+ years and fell in love with fitness while helping others in this career.

I got my BA Degree in Stage Design for Theatre from Cal State University Long Beach.

I have grown to be more of a spiritual person (rather than religious) as I have become older and wiser.

I am obsessed with blogging and talking about it. It has changed my life so much already for the better. I love when people feel inspired to create one too.

I love motivating others to take action in their lives to better themselves.

I am such a beach girl! I used to live in Redondo Beach, CA, and was always at the beach. I feel very peaceful and restored by the water while digging my toes in the sand.

When I was growing up, I had 6 cats at one time.

I have moved over 19+ times in my life.

I am obsessed with the Stars TV Show Outlander.

(Based on a book series from the 90s)

I have rocked bright RED hair twice in my life. I miss it… it was expensive to maintain
---
RECENT CONTENT ON THE BLOG
---
LET'S CONNECT!