Classy chic decor on the cheap
Achieve a stylish and elegant home without breaking the bank with our guide on creating classy chic decor on a budget. Discover practical tips, DIY projects, and budget-friendly ideas to transform your space into a haven of timeless elegance. Get ready to elevate your home decor without overspending!
Welcome!! I'm Meredith!
My mission is to help you decorate your home stylishly and affordably. With years of renting and now homeownership under my belt, I've discovered multiple ways to transform your space on a smaller budget. Join me as we find the perfect style and solutions for every budget. Let's make your home shine, no matter what!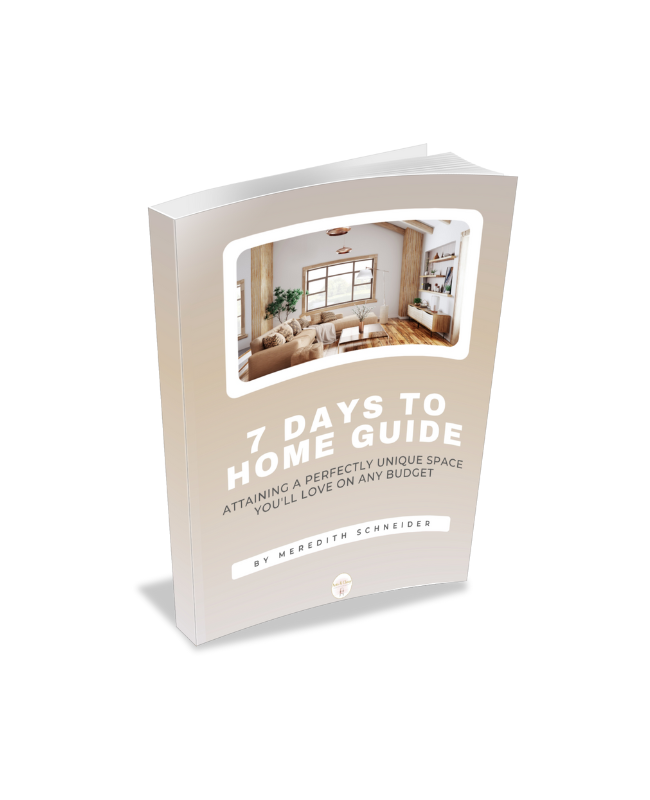 Get my FREE ebook 7 Days To Home!
Unlock the secrets of home decoration and create a space that reflects your unique style! In "7 Days to Home," discover how to decorate your home quickly and strategically on a budget. With our expert step-by-step process, achieve your dream home decor in no time. Say goodbye to dull rooms and embrace endless possibilities. Get ready to transform your space and unleash your inner designer. Get "7 Days to Home" now and embark on a decorating adventure!
Small Space Design
Discover creative ideas and practical tips to maximize your space with style. From temporary decorating solutions to smart storage and versatile furniture, we'll help you create a beautiful and functional home, no matter the size. Let's unlock the potential of every square inch!
Outdoor Ideas
This is your source for budget-friendly DIY projects and home decorating tips to transform your outdoor space. As a seasoned home blogger and homeowner, I'll help you make the most of your backyard, balcony, or patio without breaking the bank. Let's unleash your creativity and elevate your outdoor oasis together!
Latest Kitchen
Explore budget-friendly and renter-friendly kitchen decor ideas to transform your cooking space. From clever storage solutions to stylish accents, create a personalized kitchen without breaking the bank or violating rental agreements. Let's make your kitchen + Bedroom shine with some renter-friendly decor!
Latest Bathroom
Transform your bathroom with budget-friendly and renter-friendly decor ideas. From simple upgrades to creative storage solutions, create a stylish and functional oasis without breaking the bank or risking your rental agreement. Let's make your bathroom a sanctuary of comfort and style!