Master the Ultimate No-Sew Valentines Day Garland in 9 Easy Steps!
You may be asking yourself, What are some good Valentine's Crafts? This is a unique decorating idea this Valentine's Day that is both stylish and easy to make! Get ready to take your home décor game up a notch! This is a simple guide on how to make a beautiful DIY Valentines Day garland with no sewing machine required.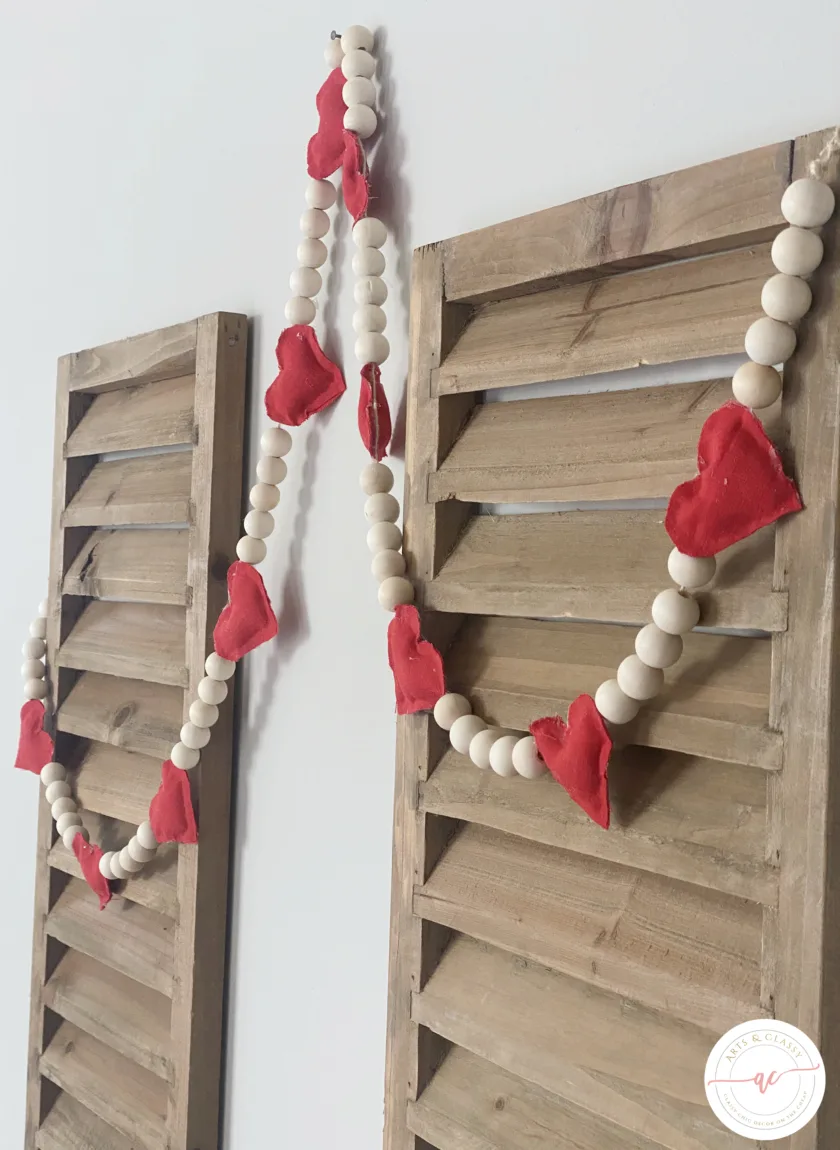 Filled with bright red hearts and wood beads, this gorgeous homemade DIY Valentines garland is sure to create an intimate atmosphere in any room of your house.
With this tutorial, you can have yourself a lovely yet thrifty holiday decoration. No knitting needles, sewing machines, or needle threaders are necessary! So come join us while we craft away—because after all V-day only comes once a year!
This post contains some affiliate links. I may earn a small commission if you make a purchase through one of these links. See more information in my full disclosure policy.
What supplies do you need for this DIY Valentines garland?
How do you make Valentine's Day garland?
For this garland project, I am sharing exactly how I made mine. If you want to add a little sparkle, or changed the desired length then please put your own spin on it to go with your decor. You could change the color of the fabric, add string pom-poms, or pieces of dried cotton. This would give it more of a farmhouse feel.
Step 1 – Create a heart template shape
I used this heart template that I created on Canva for another DIY craft project, from the Whimsy Crafty Circle Club. You can use this same template for this project. It will make life a little easier to get started. Make sure to use a piece of cardboard to apply the template and cut it out to make the guide for the rest of this project.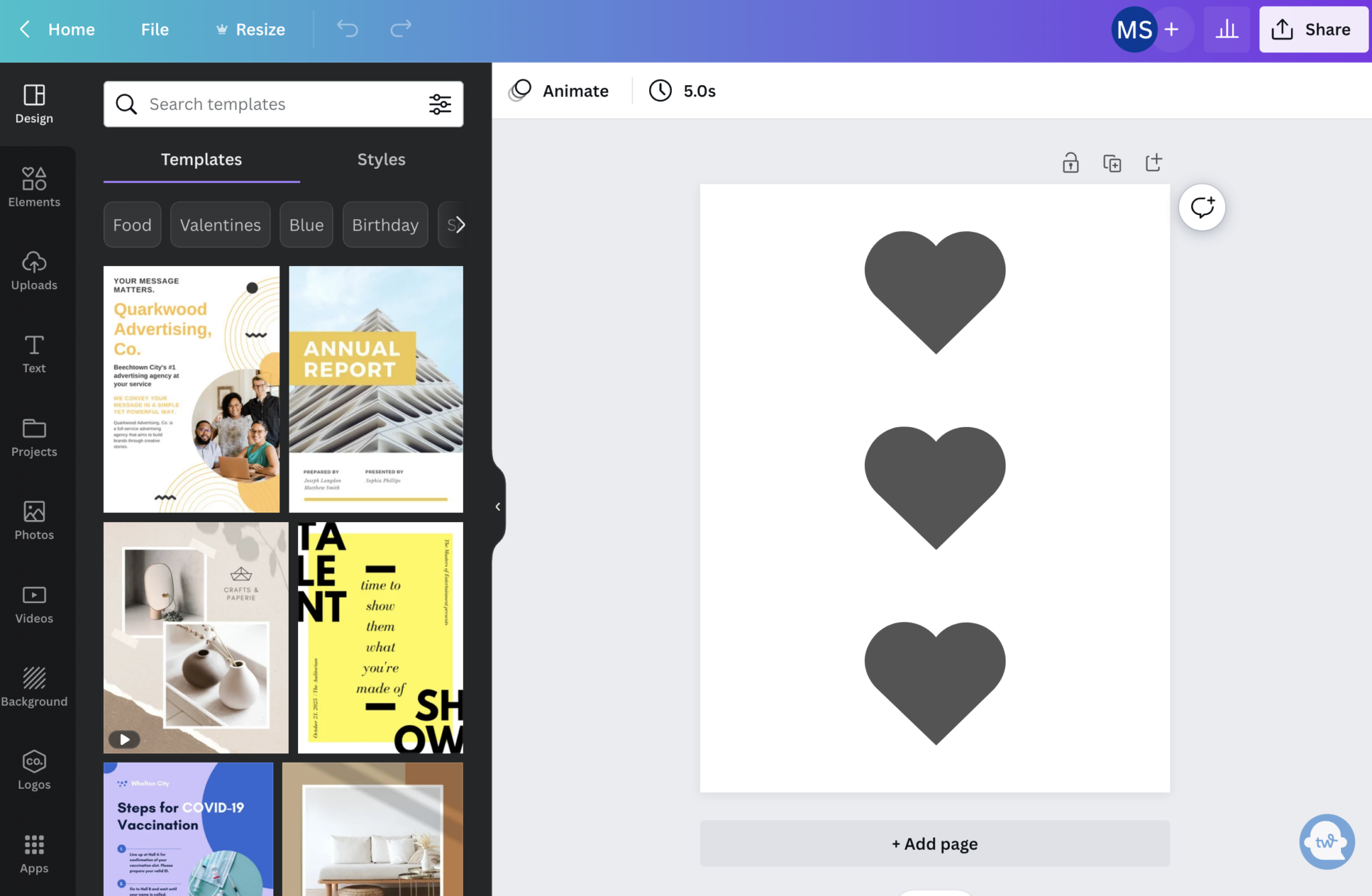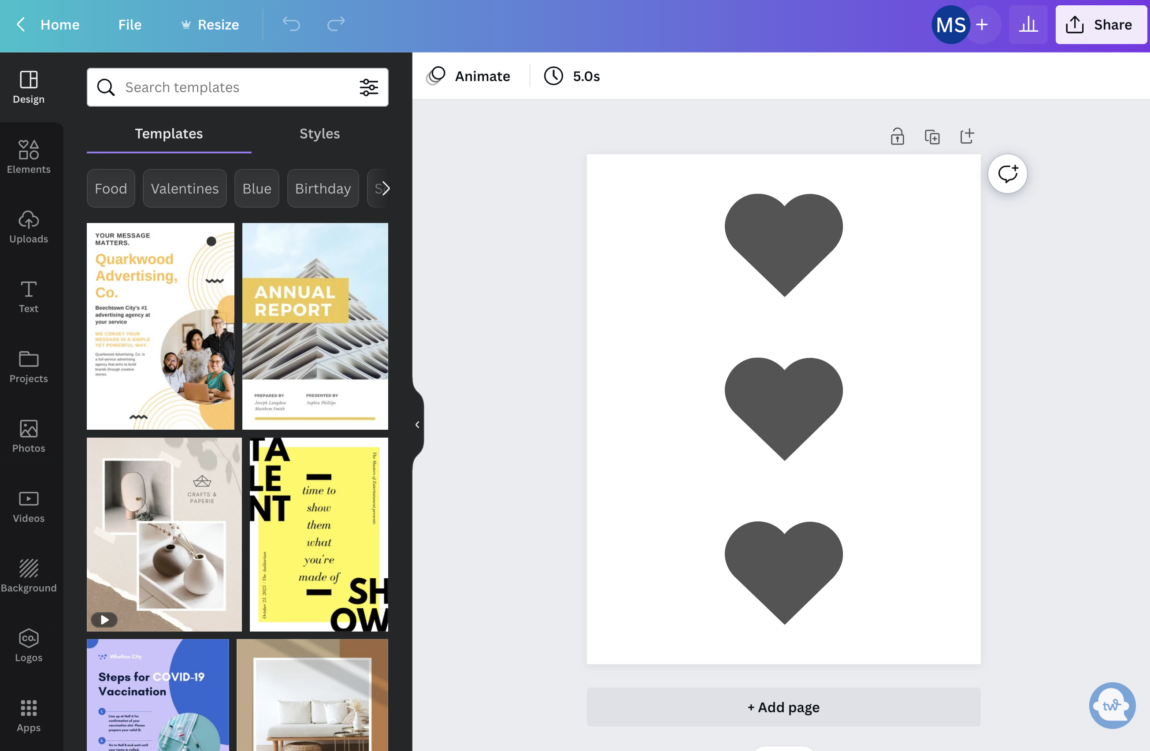 Step 2 – Choose fabric and trace heart stencil on it
I used some old red linen napkins that were left over from an old buffet piece that was handed down to me by my grandparents. It's great when I can breathe some new life into some things I wouldn't typically use or that don't really match my style. I used a white colored pencil, the heart stencil that I created, and cut it out on cardboard to trace multiple hearts all over the linen napkins.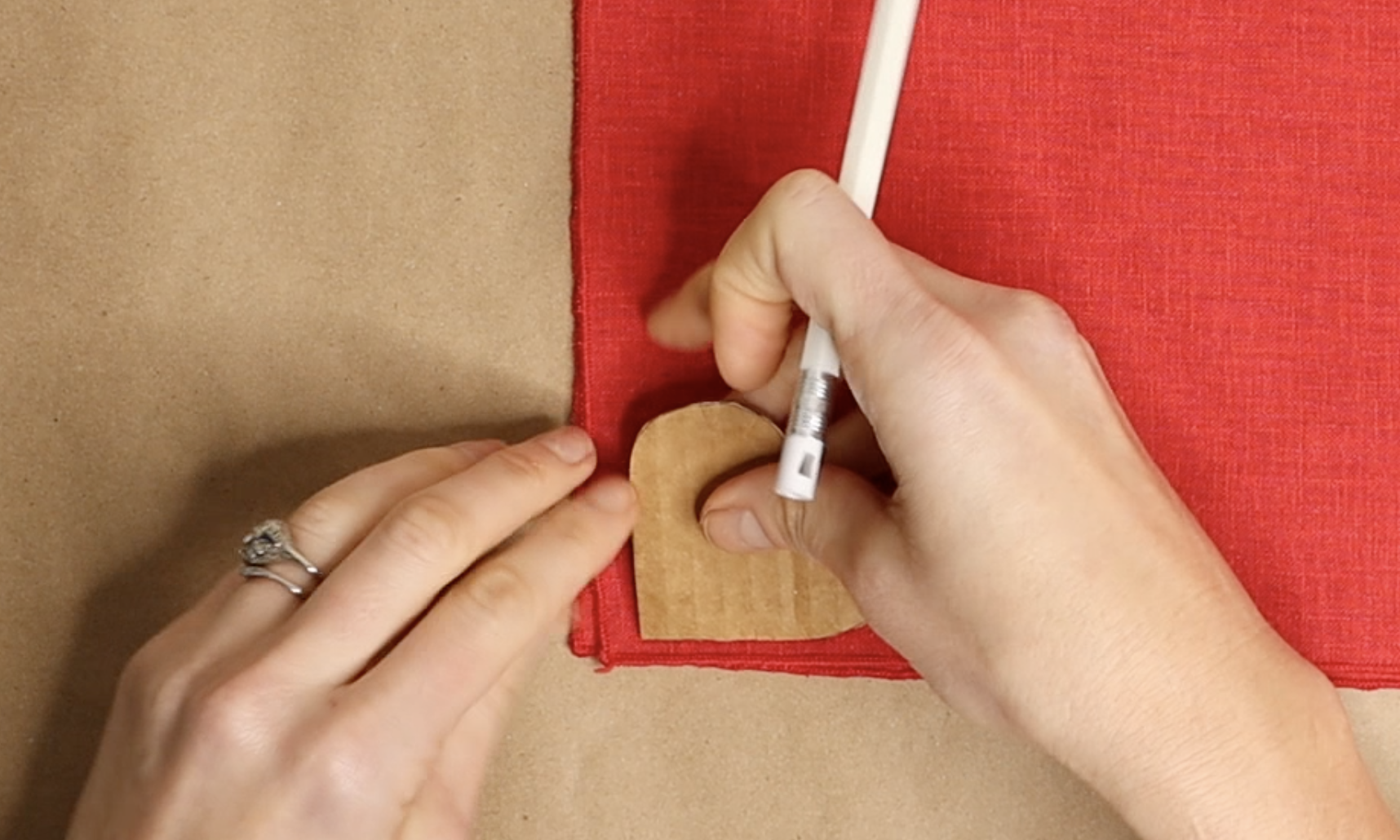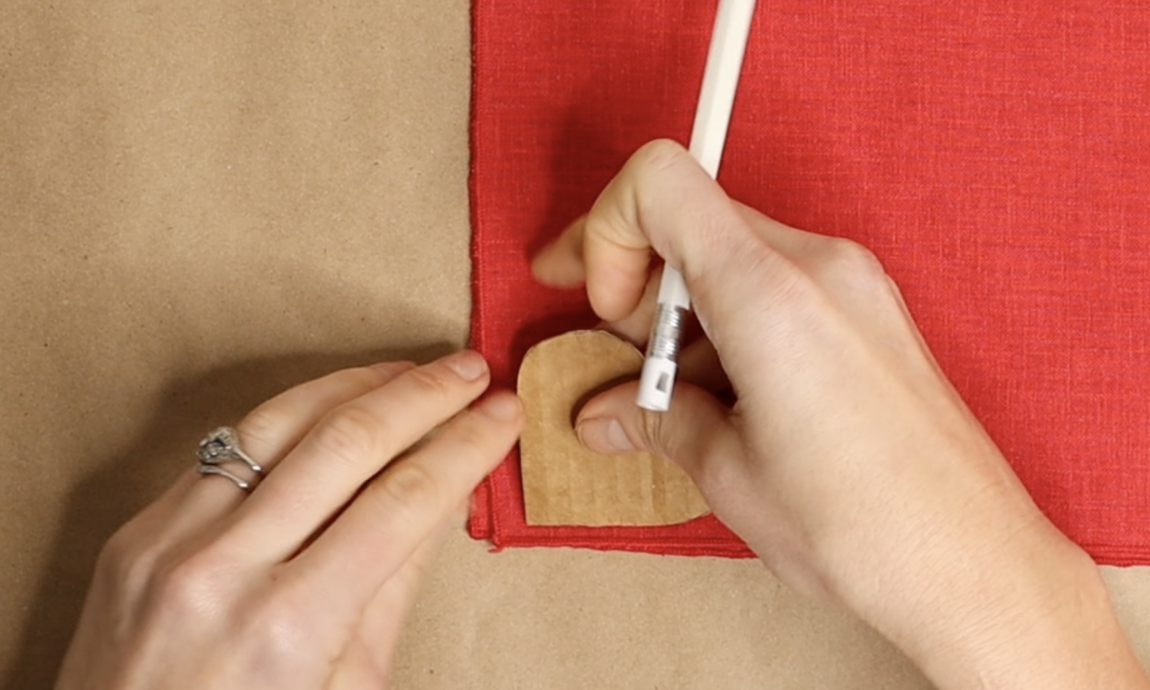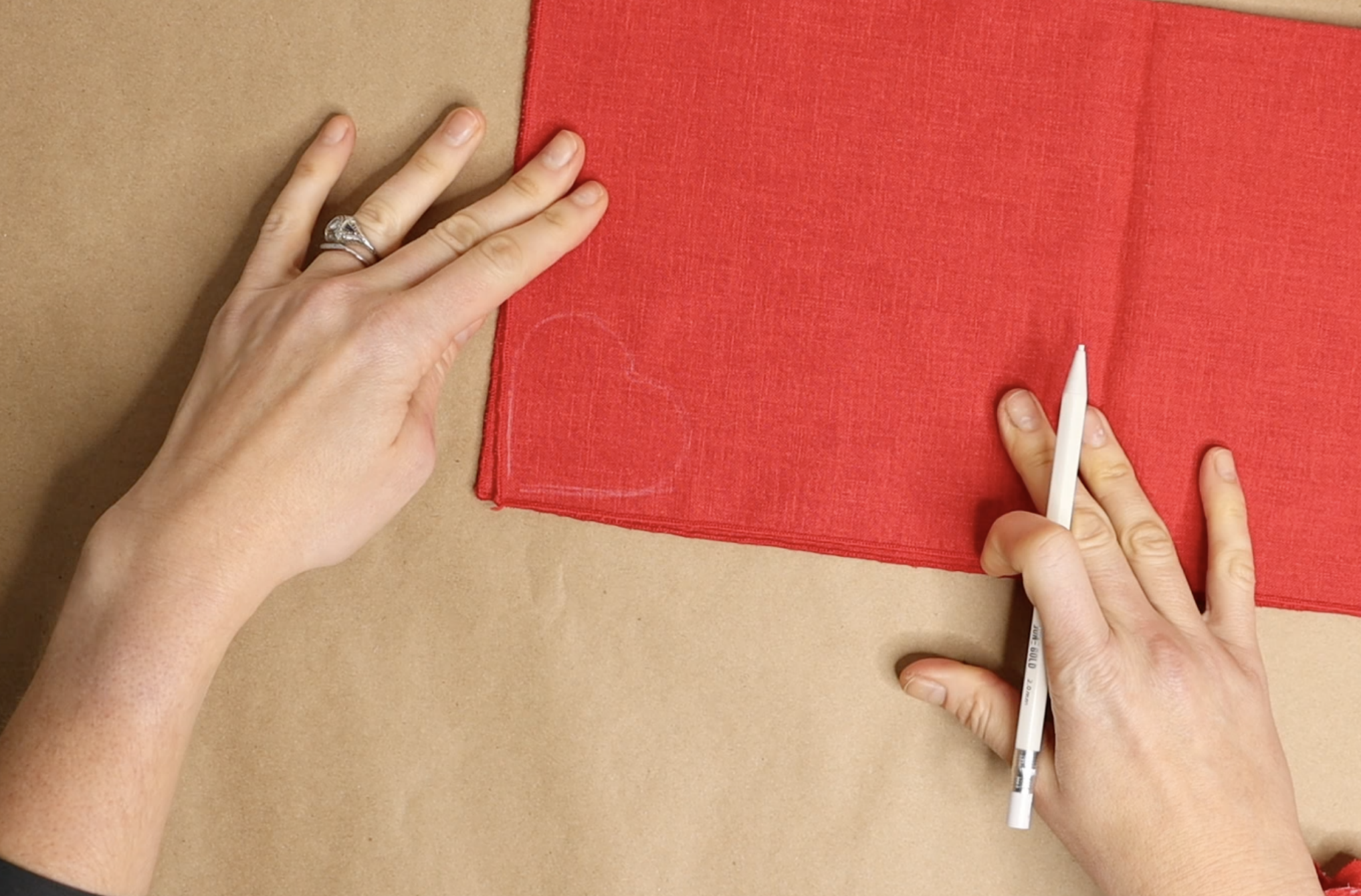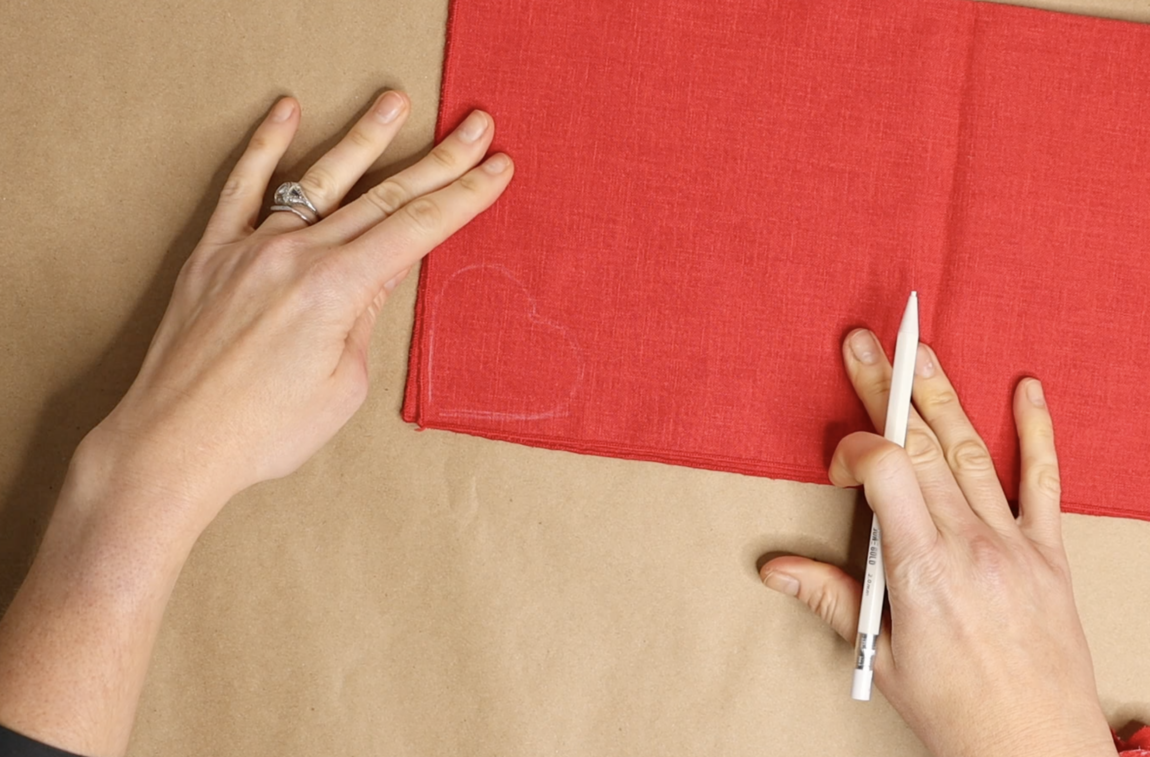 Step 3 – Cut out 2 heart fabric shapes for every heart you want to be displayed on this garland
I used scissors and cut out each heart individually until I had enough to make 11 hearts for this garland project.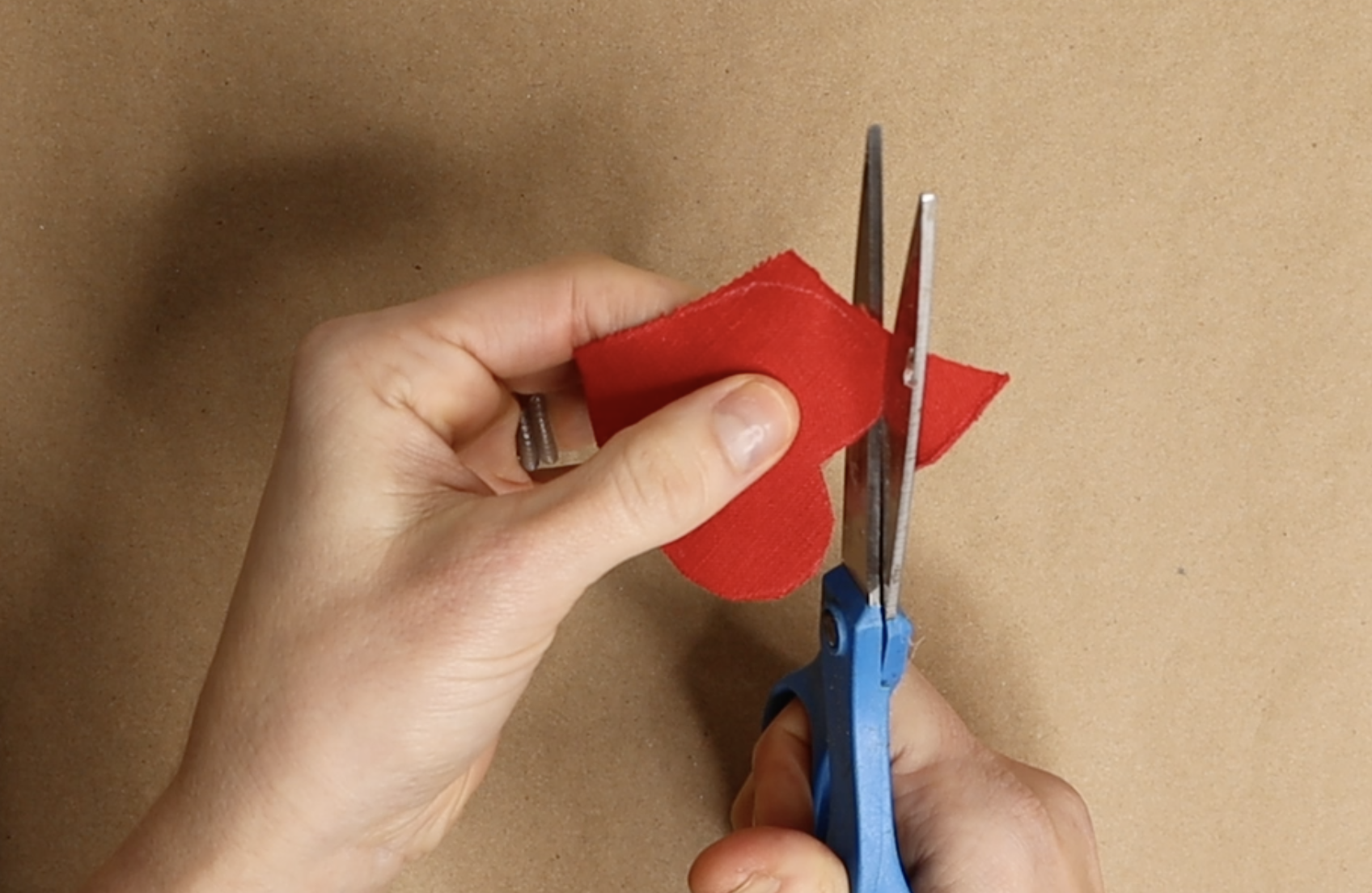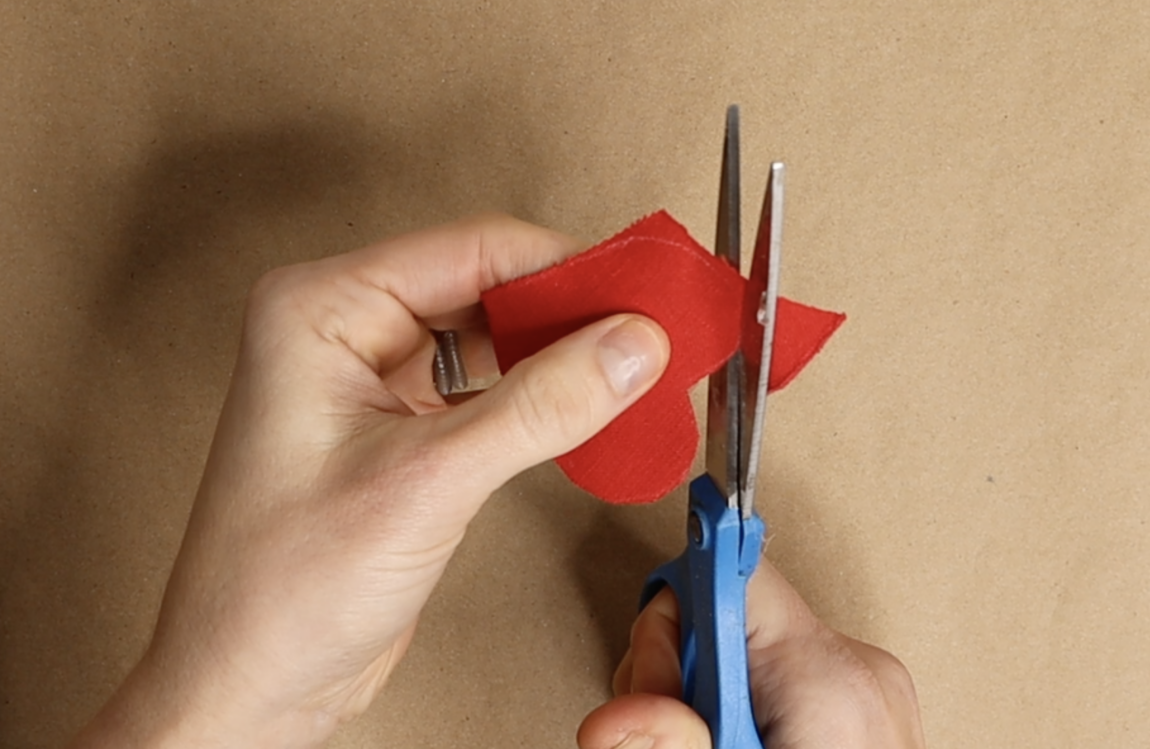 Step 4 – Glue the edges of the with a hot glue gun
A small cordless glue gun was essential for this step! I glued the edges of each heart together with the right side facing out. Then, I traced the perimeter of each heart and pressed the fabric together to create an attached seam. I left a small opening on one of the heart arches to allow room for the next step of this project.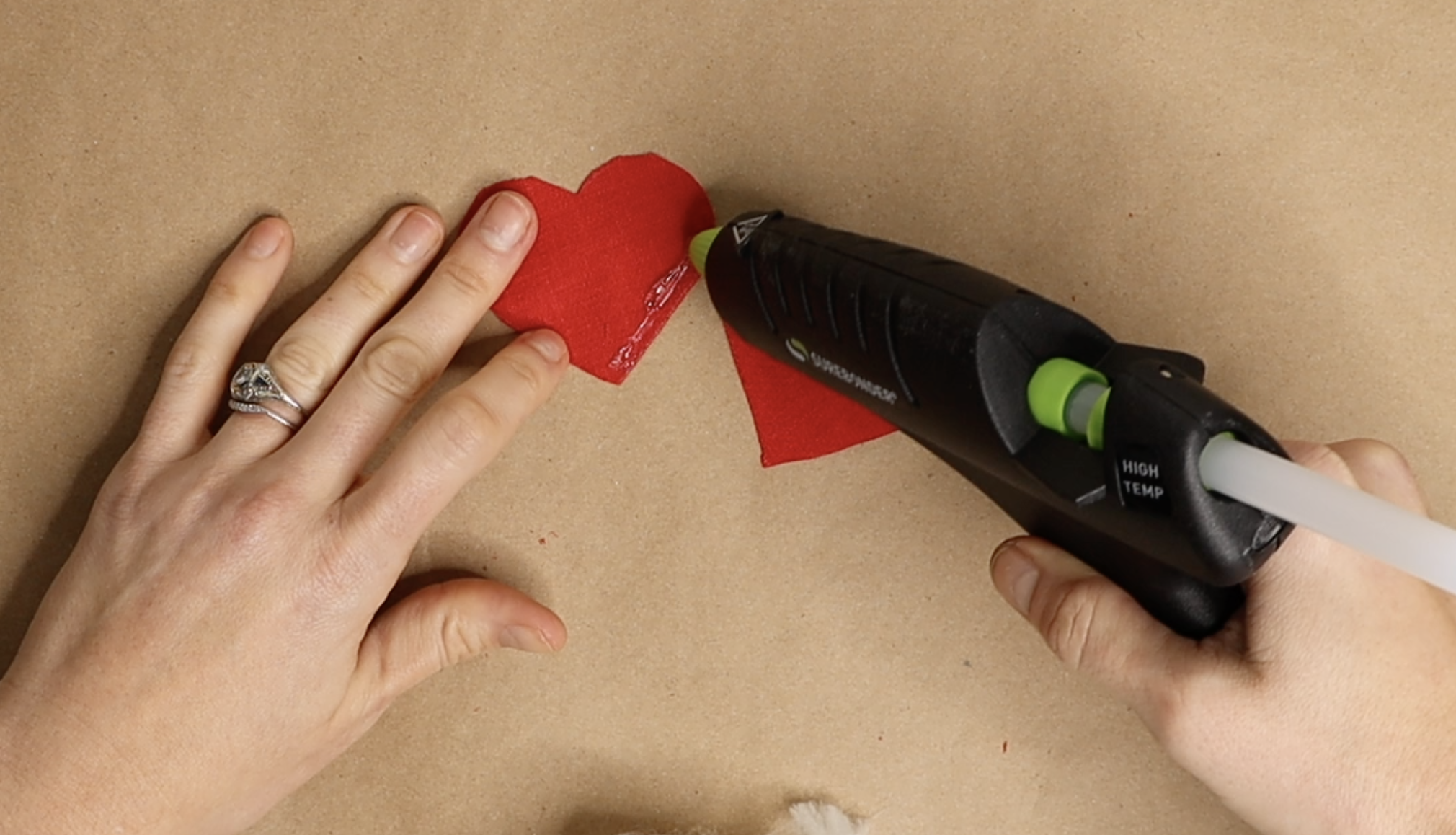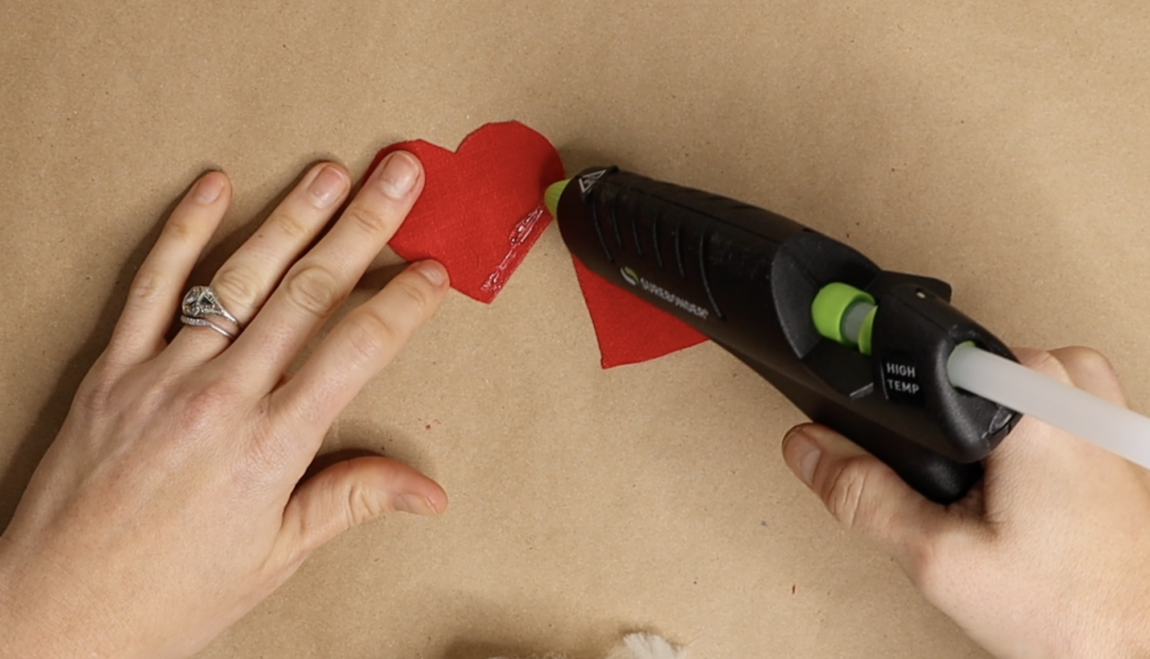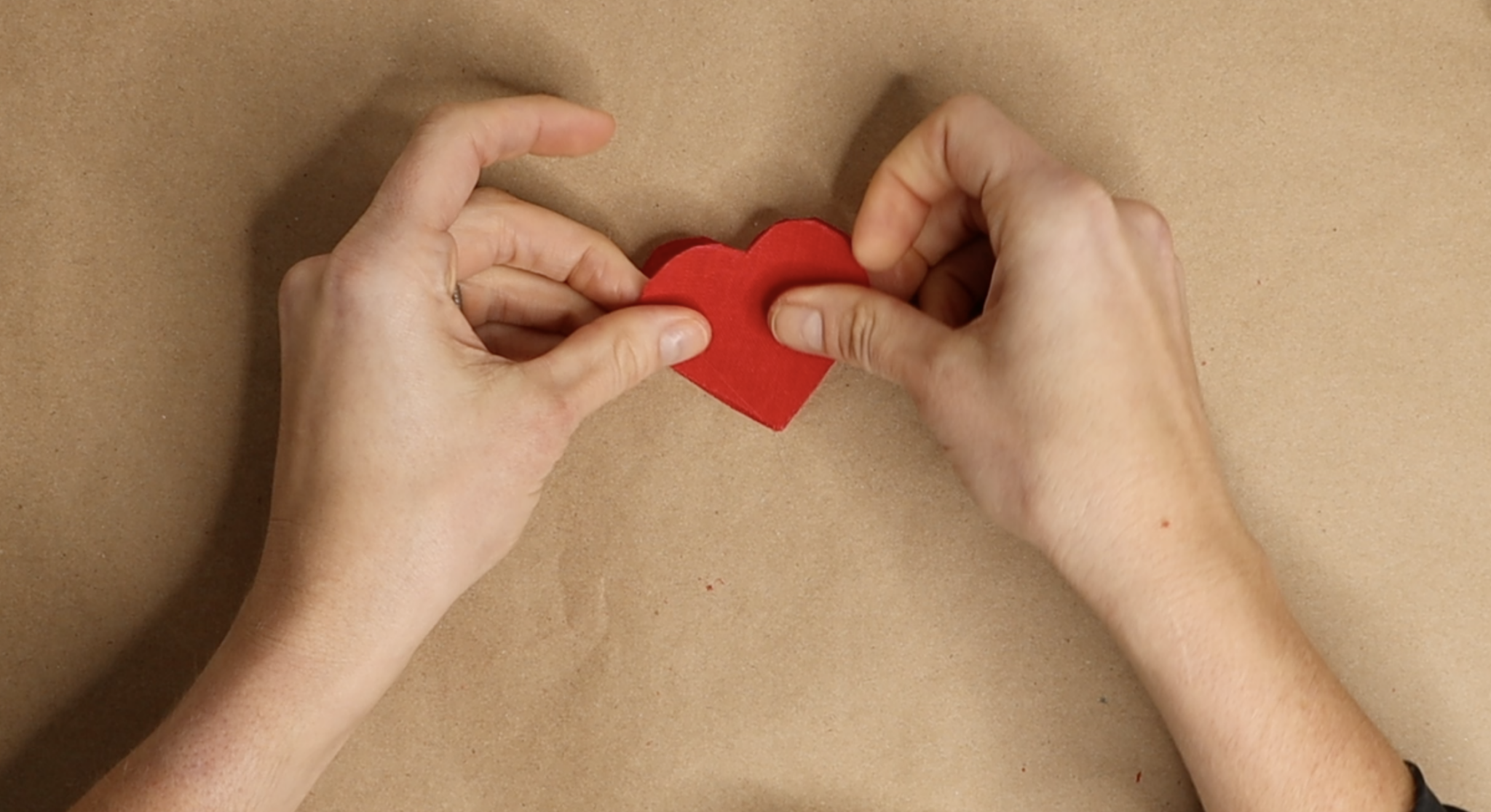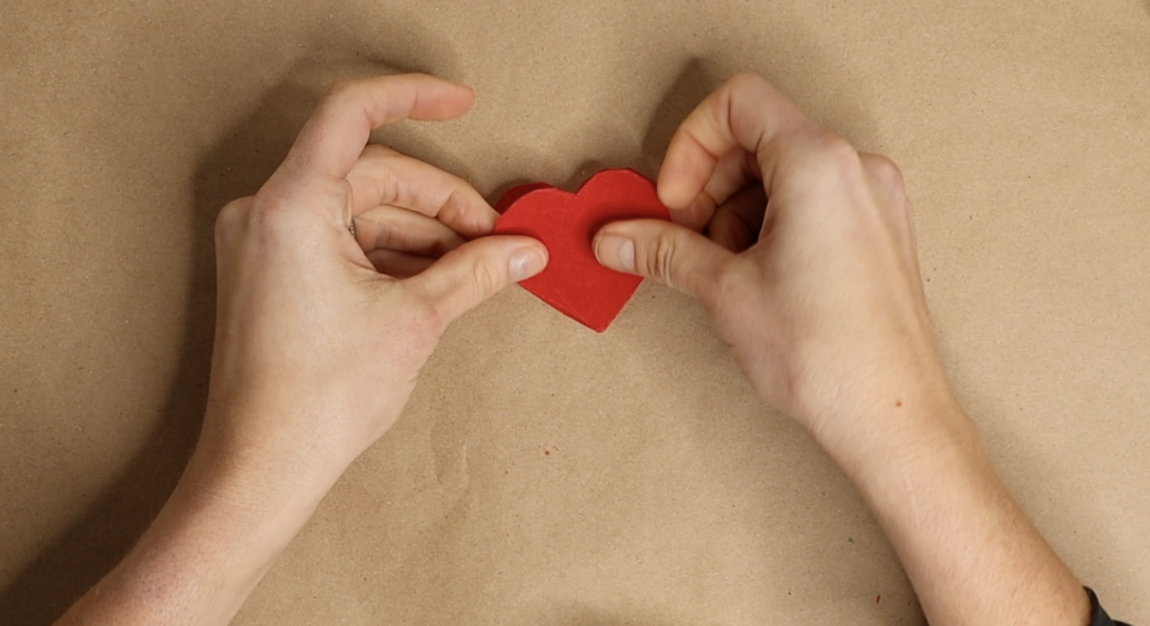 Step 5 – Stuff each heart with a pillow or quilt batting or chunky knit yarn
For half of this project, I used pillow batting and for the second half I used a chunky knit skein of yarn to stuff each heart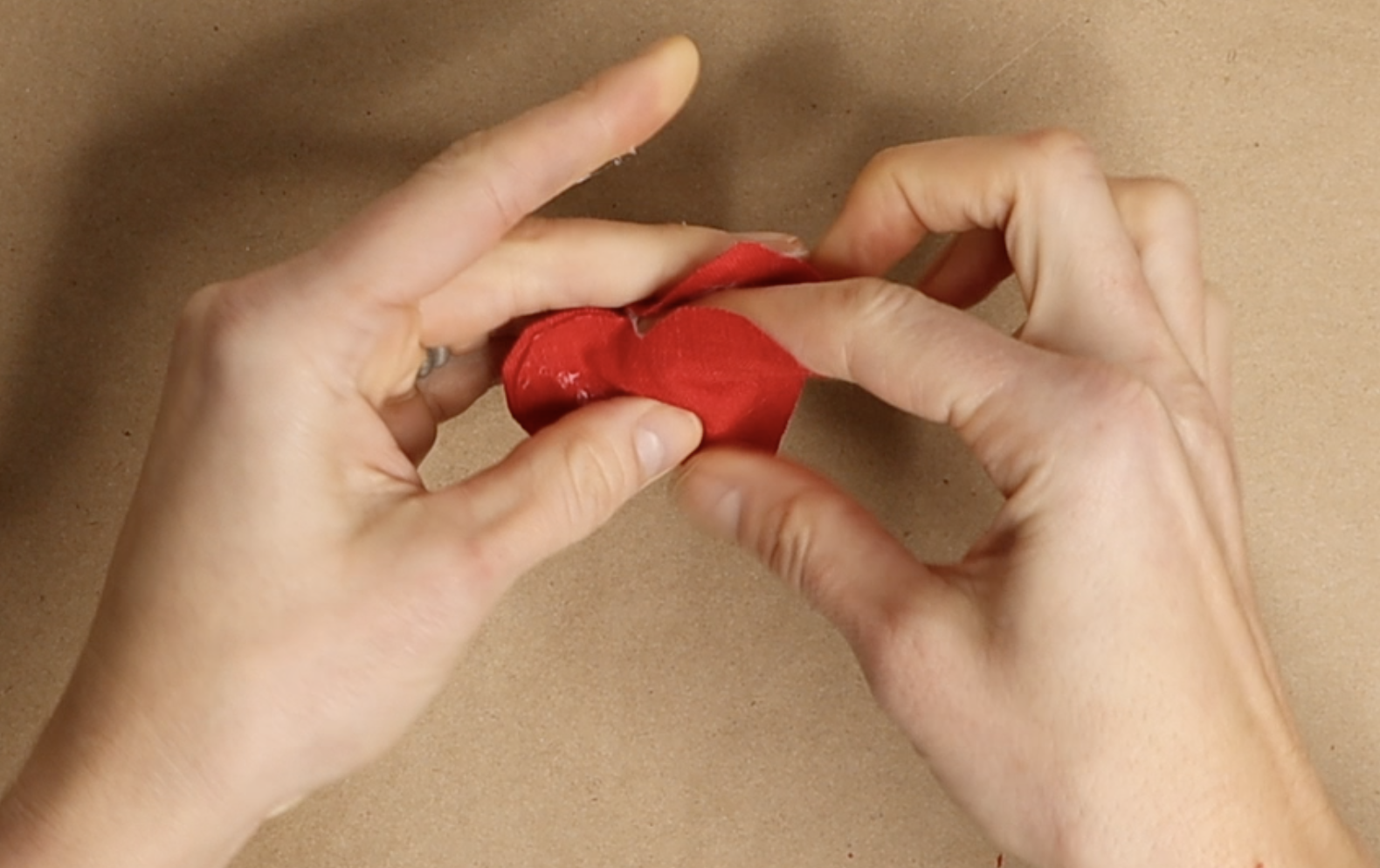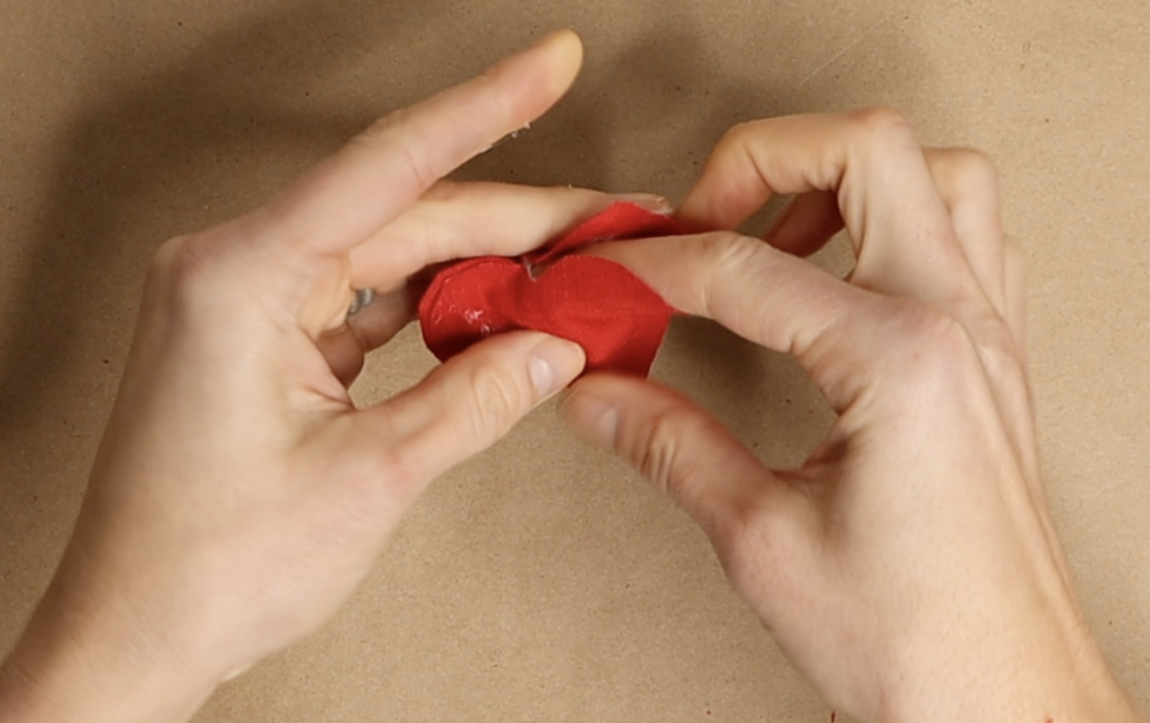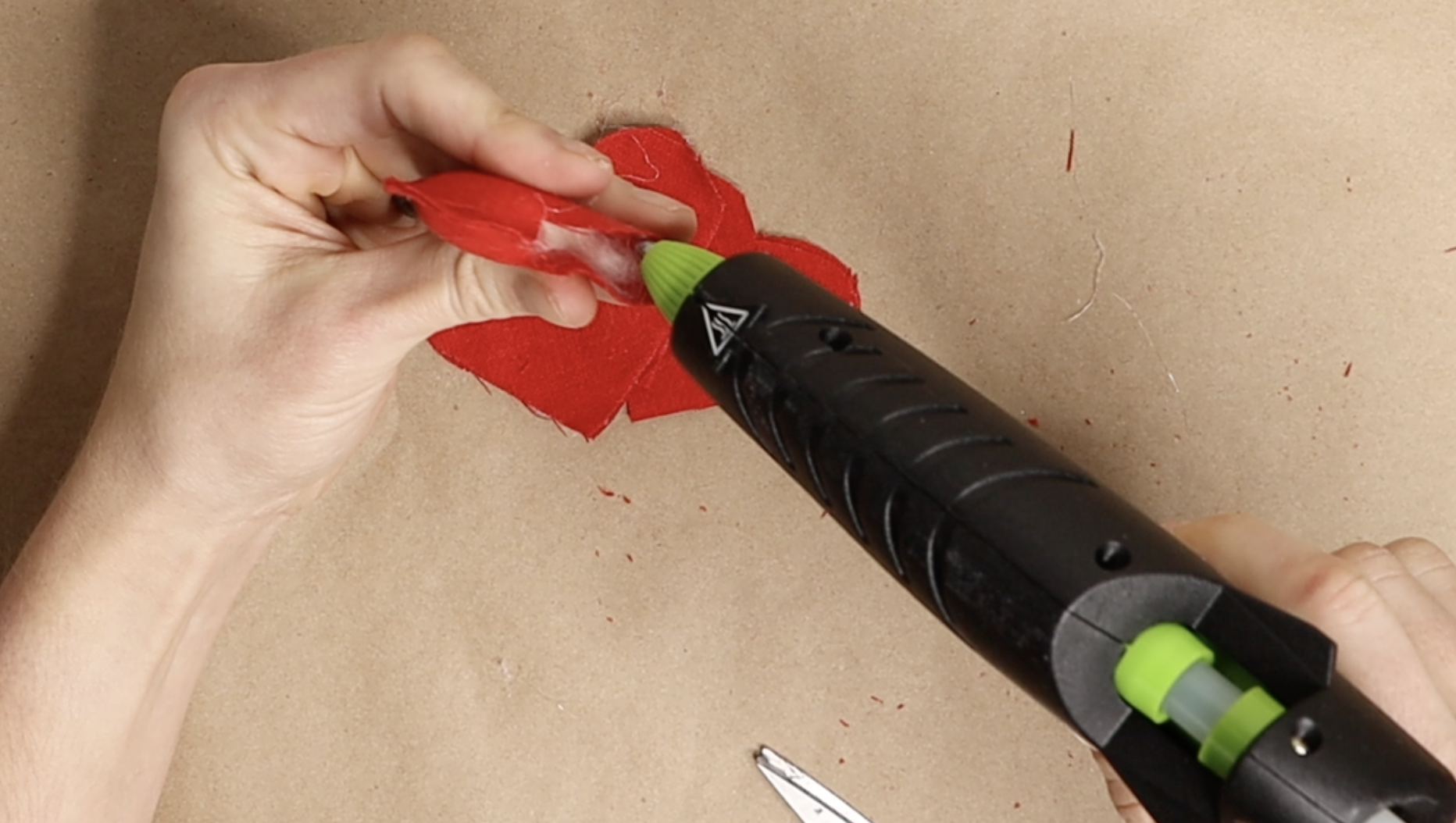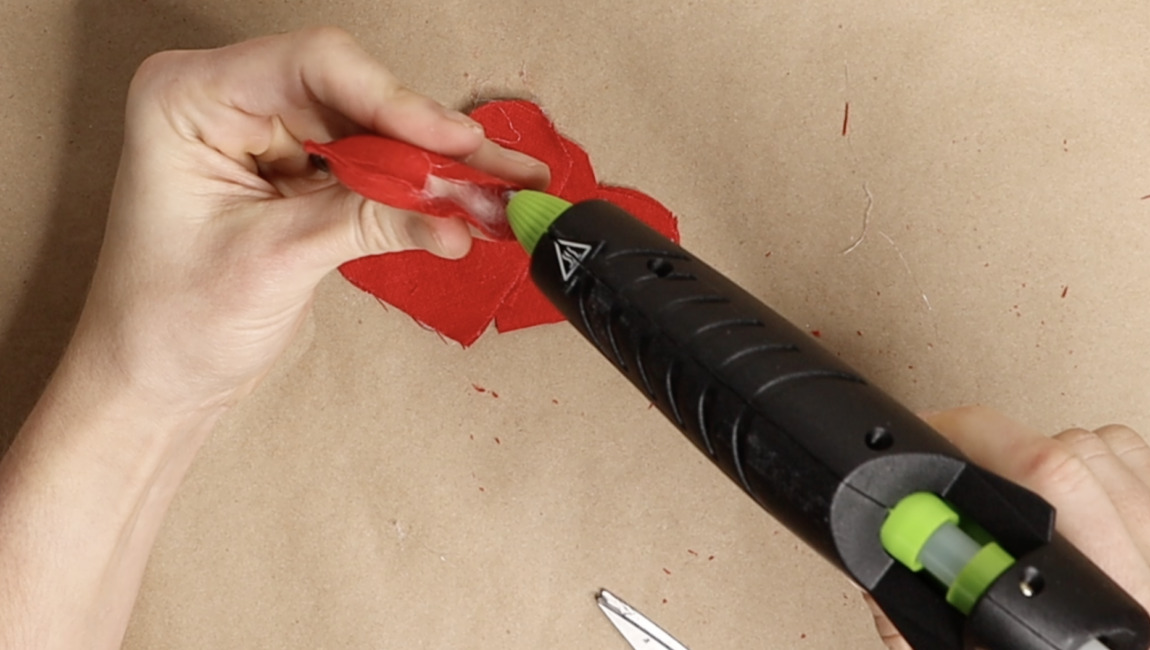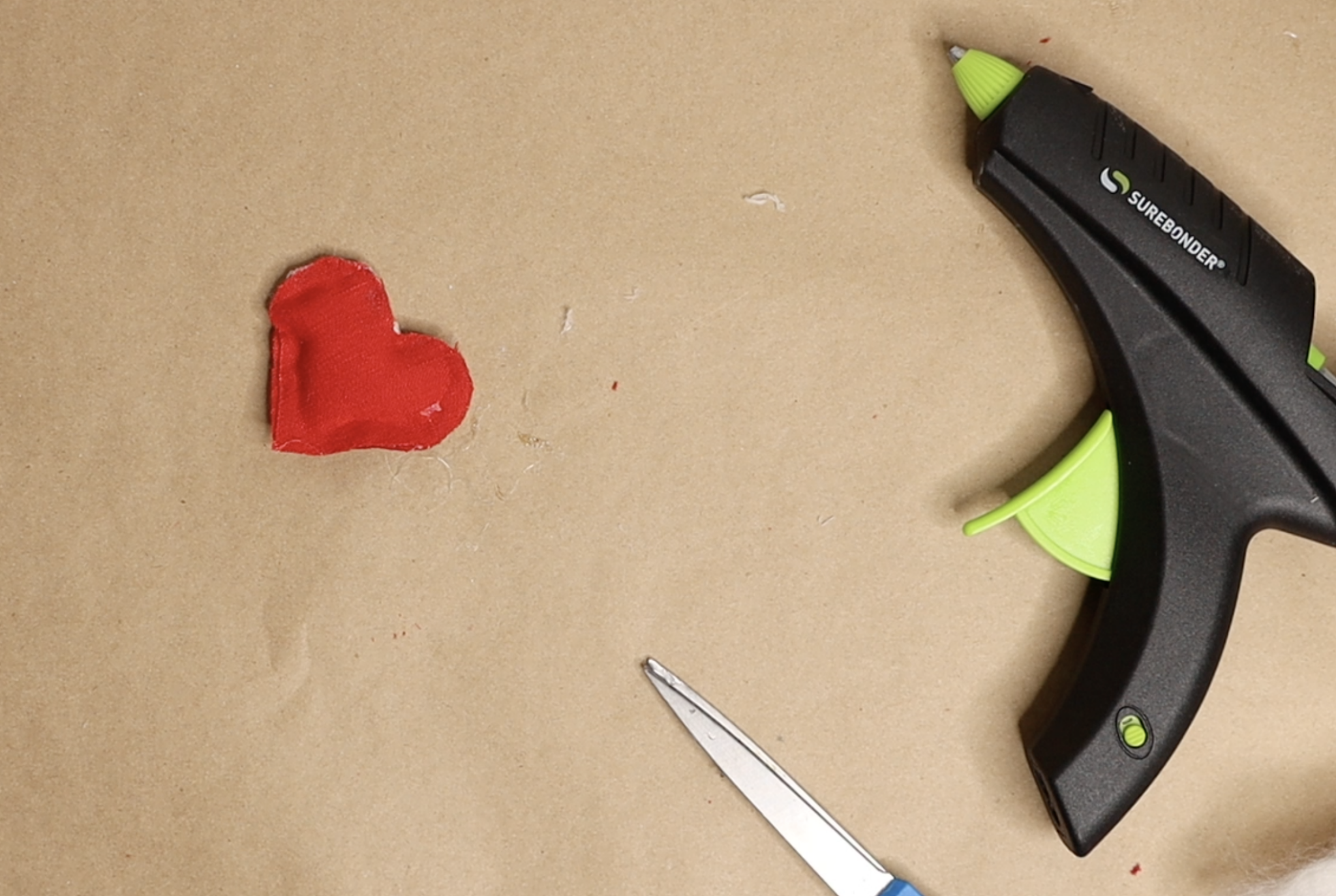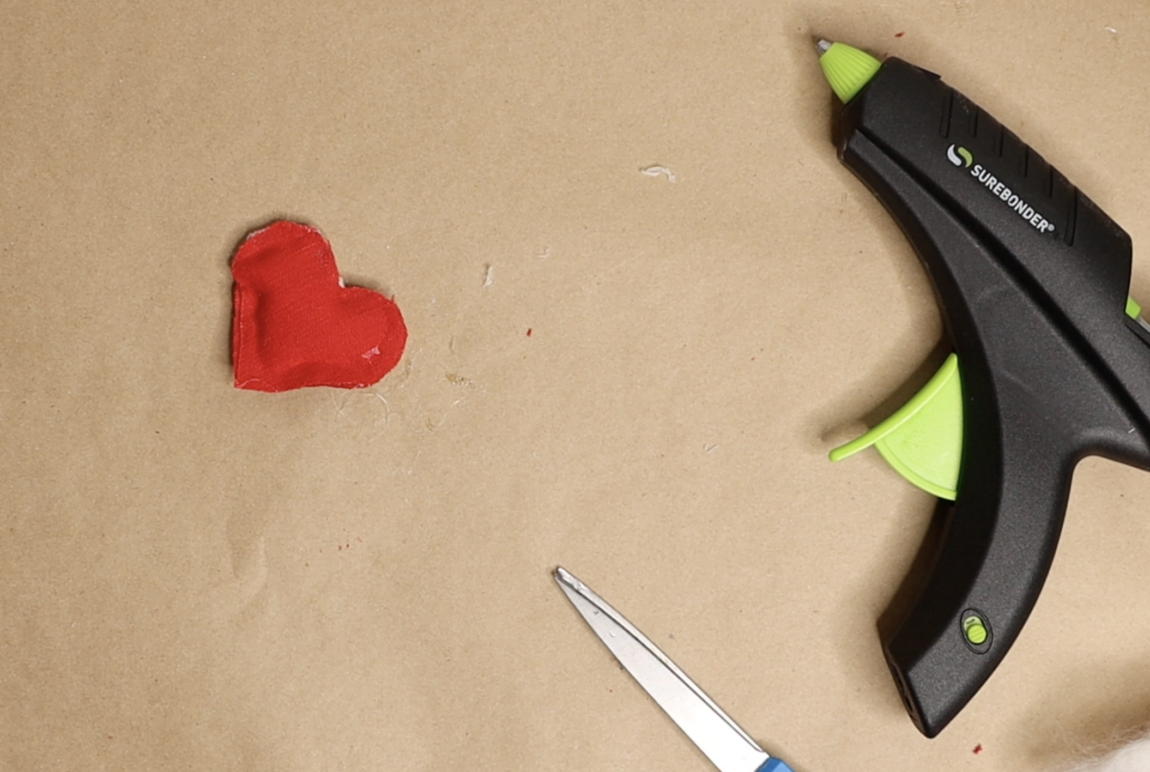 Step 6 – Grab twine or jute string and wood beads
Create a decent knot on one end of the jute string or twine. I had to knot mine a couple of times to make sure my wood beads wouldn't slide off. On the other end of the string, apply a little bit of hot glue to the end to make sure it doesn't fray. Thread 5 wood beads and push to the knotted end of the jute string. This will be the pattern for the remained of the diy valentines garland between hearts.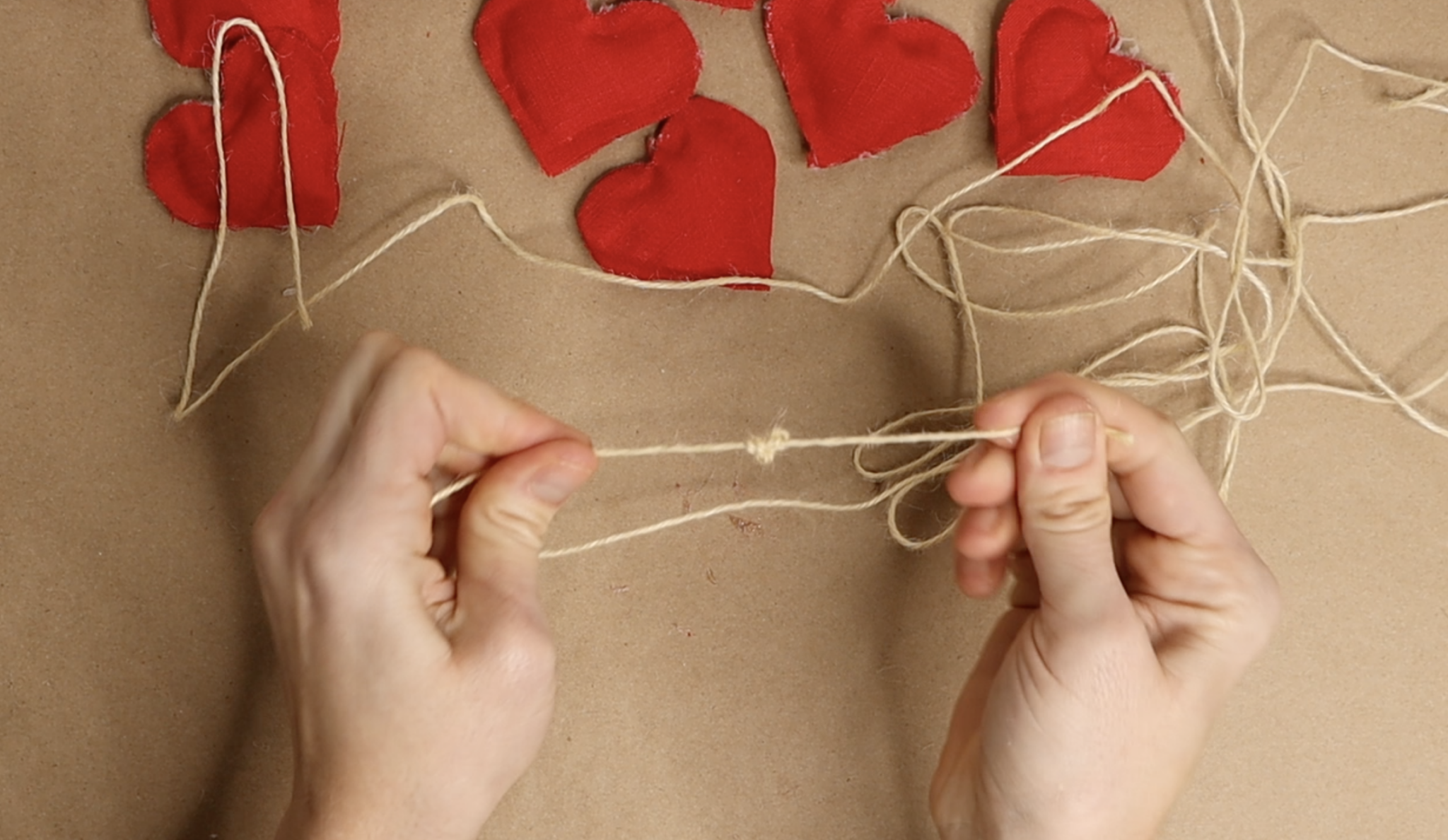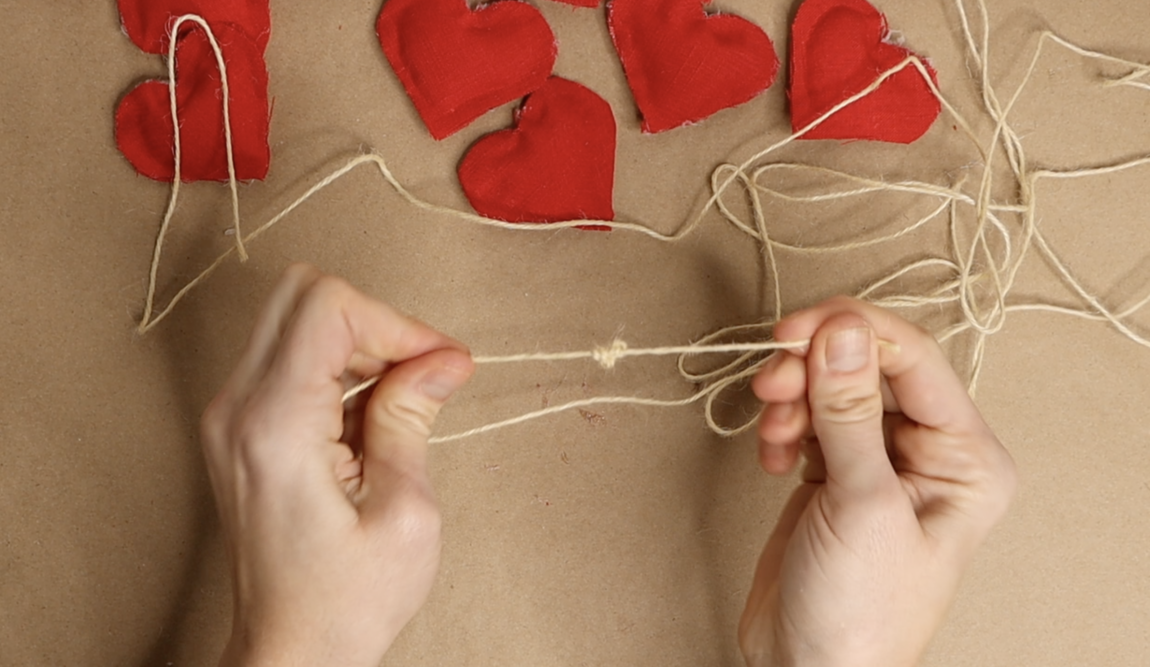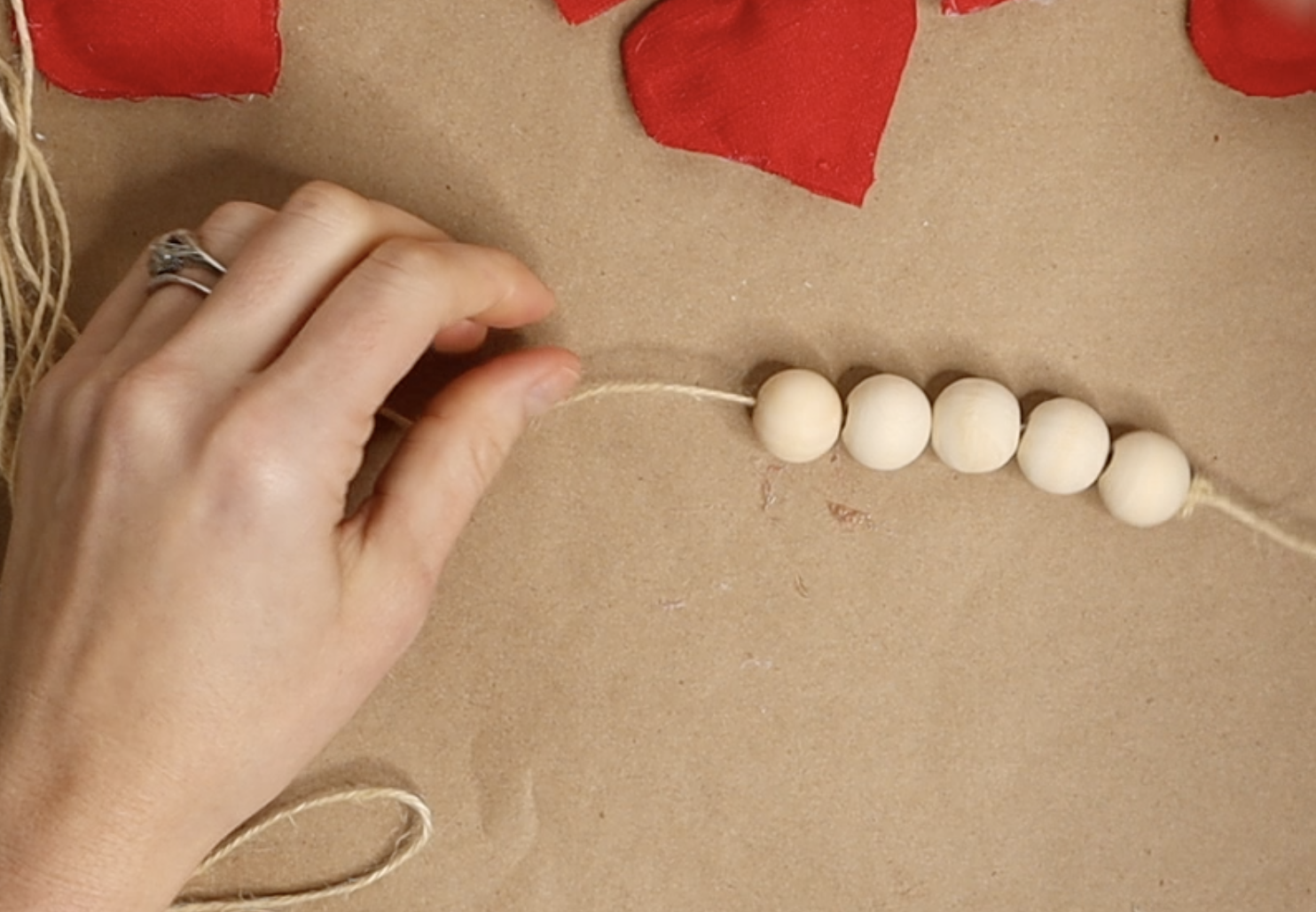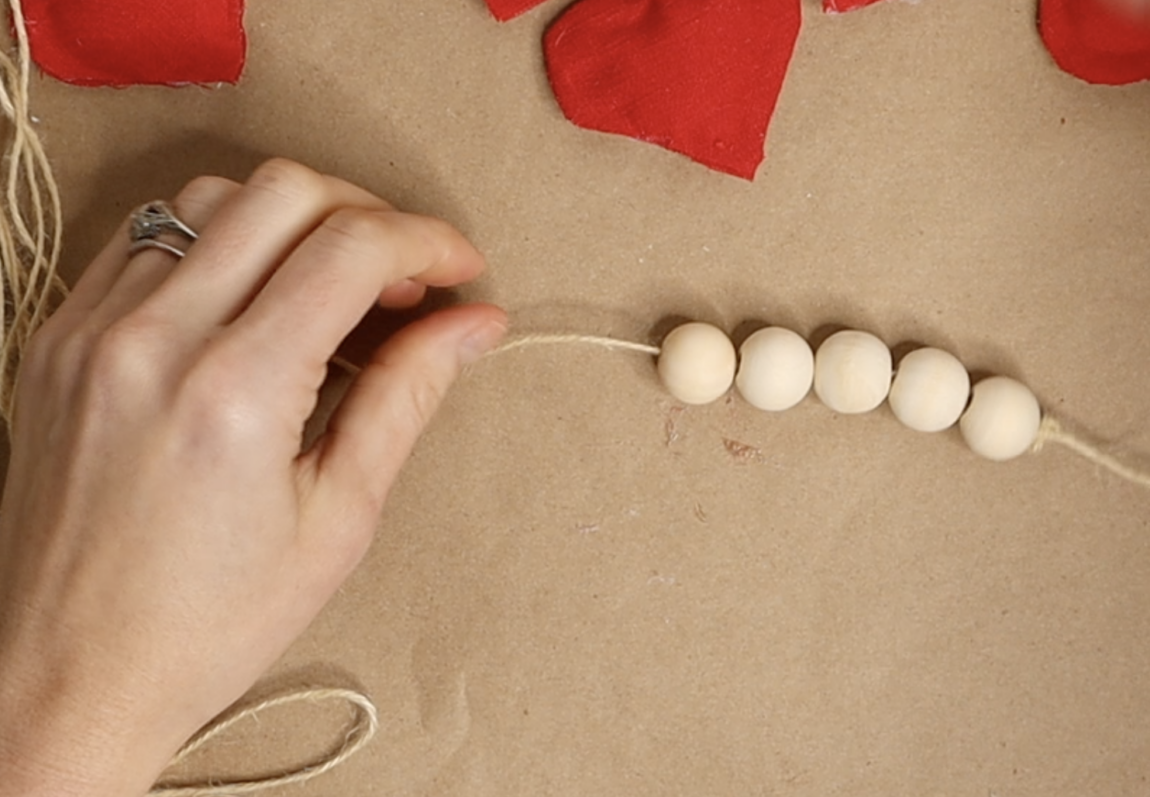 Step 7 – Hot glue hearts between beads
Hot glue each heart to the twine after the beads, then add 5 more beads and continue to alternate between hearts and beads for the rest of this garland.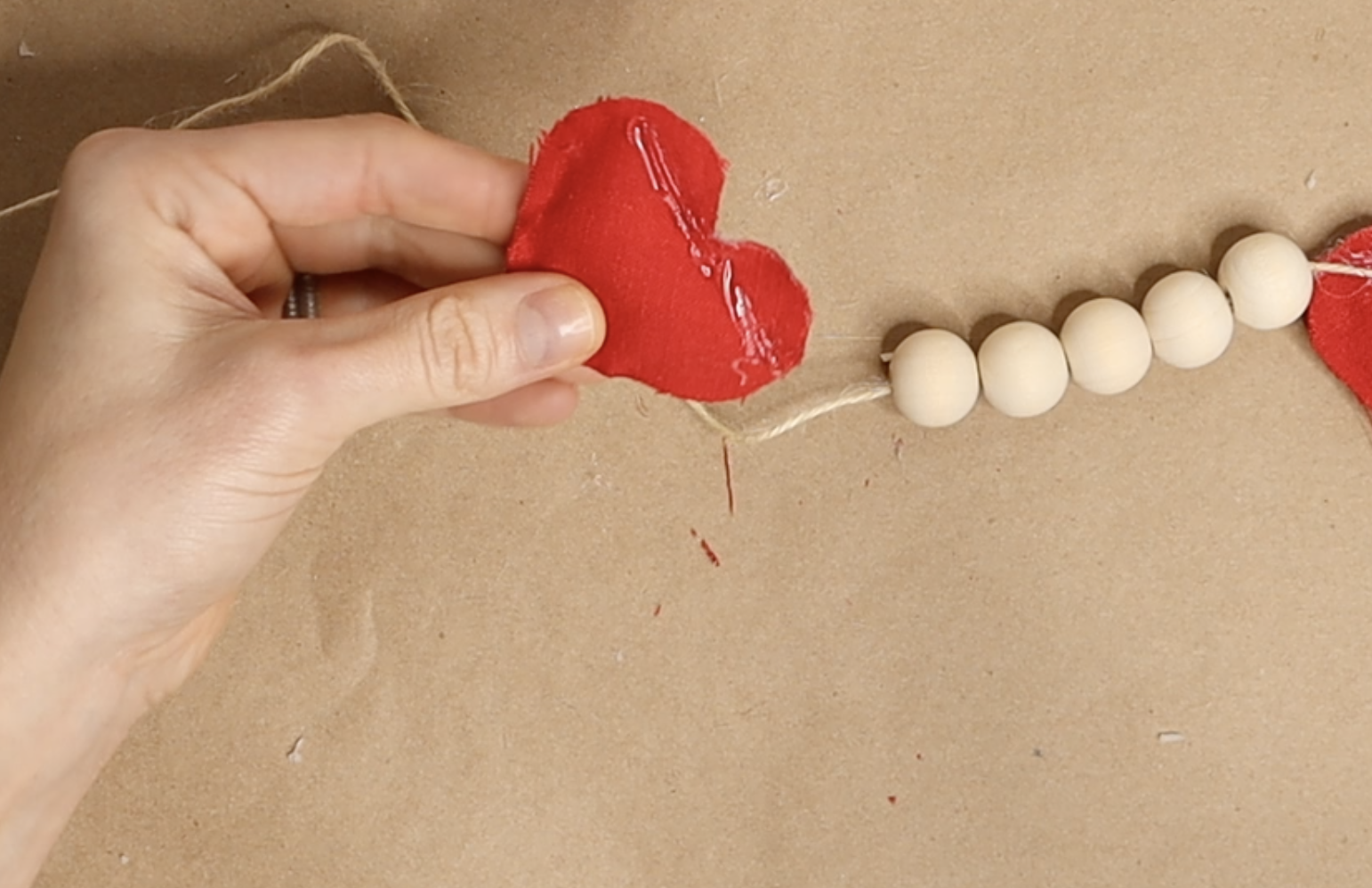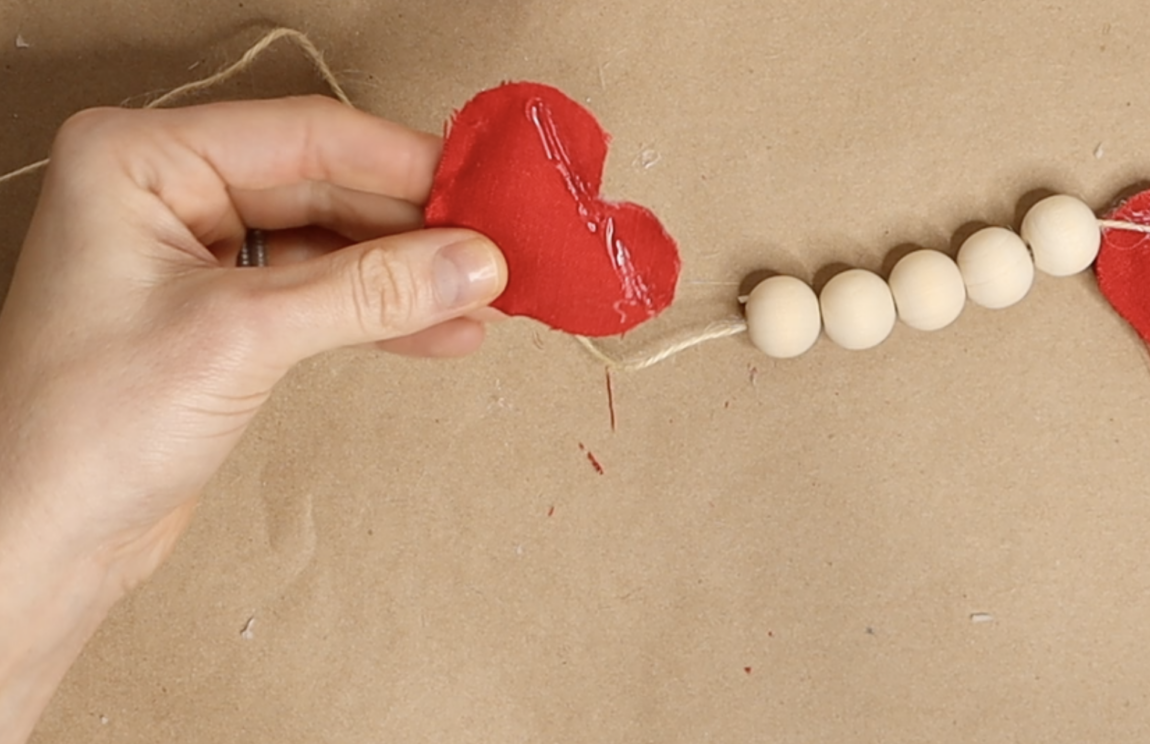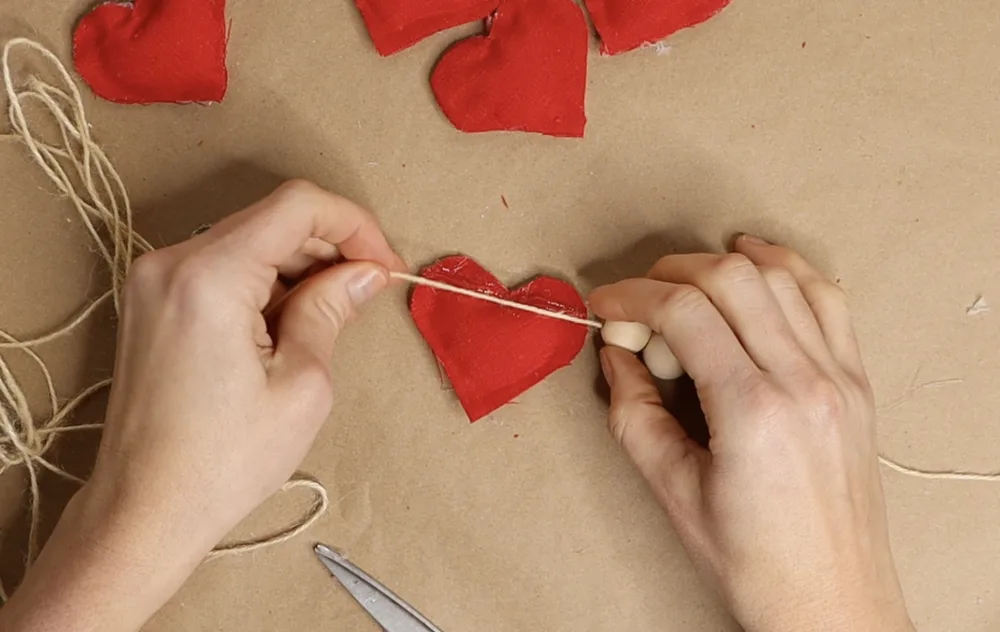 Step 8 – Allow time to dry
Allow the glue time to dry so that everything stays in place before hanging.
Step 9 – Display in your home
Once dry, take the garland and display it in your home wherever you would like. I thought the decorative wood shutters in my living room would be the perfect spot.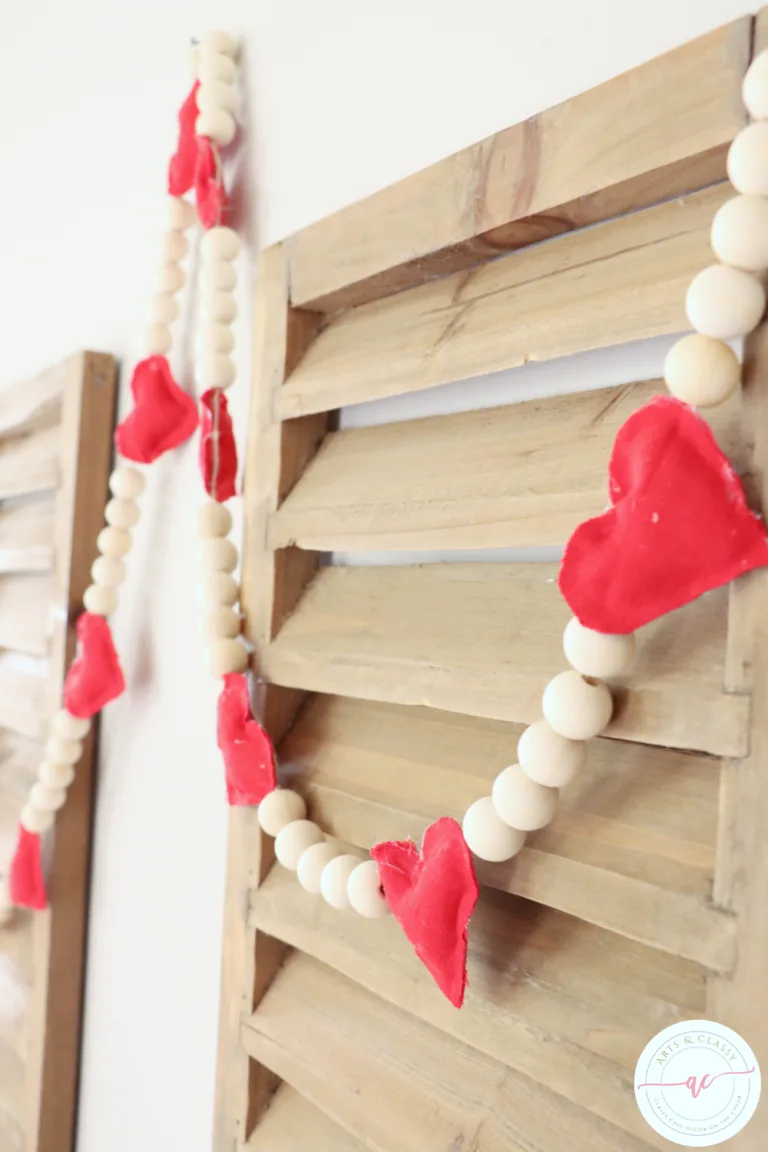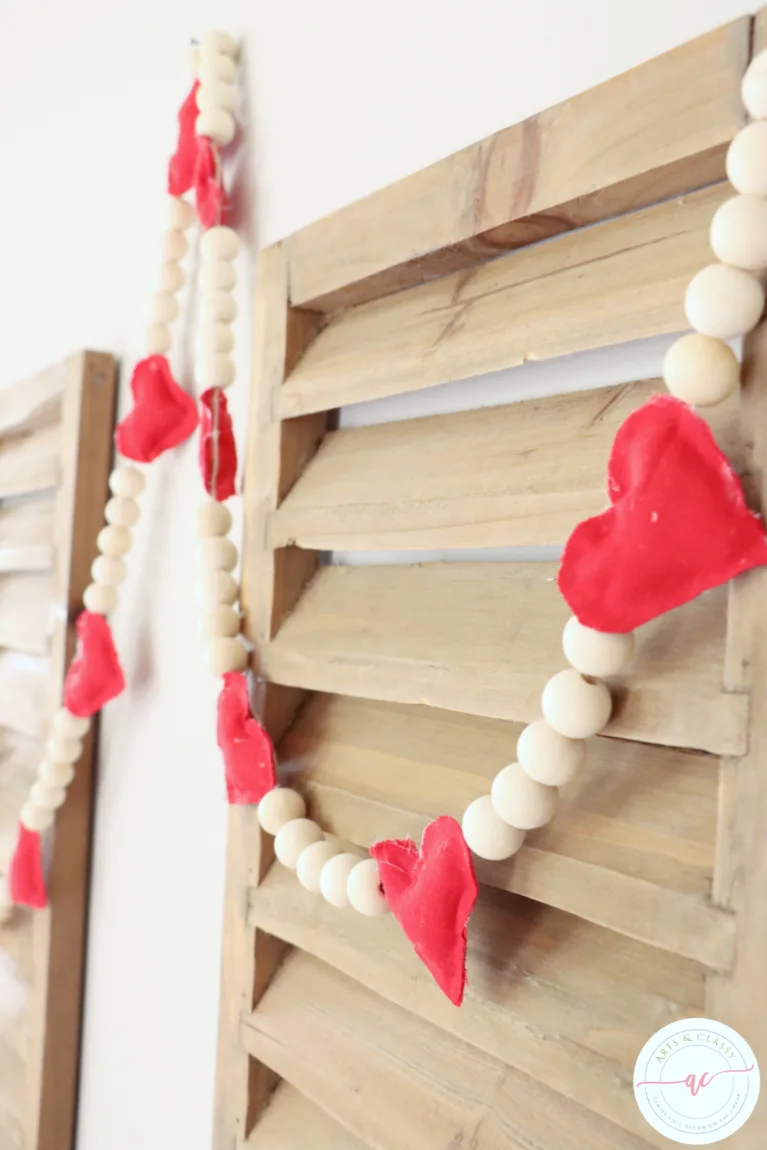 If you're looking for a festive and simple way to decorate your home this Valentine's Day, look no further than our guide on how to make a beautiful no-sew garland.
This easy diy valentines garland is perfect even if you consider yourself non-crafty because it requires no sewing whatsoever! And the best part is that you probably already have most of the supplies laying around your house.
So what are you waiting for?
Get started today and show off your homemade garland to all of your friends and loved ones. Be sure to tag me on Instagram, TikTok, Facebook, YouTube, Hometalk, and Pinterest so I can see what you've made!
If DIY isn't your jam, don't worry! I have found several cute Valentine's Garlands that you will love!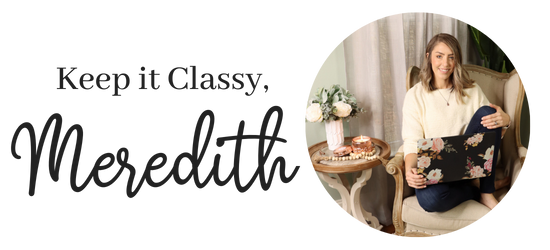 For more Valentine's Day decor home inspiration, please check out and follow my Pinterest Board: