DIY Thrift Store Tray Set For a Pringles® Fiesta
I love finding reasons to entertain guests. The older I get the more I want to make my home a beautiful place to have friends and family over. This is a sponsored post written by me on behalf of Pringles®.
Plus, I like finding fun and inexpensive ways to entertain everyone. Finding a little theme for my guests enjoyment is part of the fun, because it usually leads to a fun DIY project.
Which as all my readers know… are my FAVORITE!!!
This night I chose an girls night fiesta with my beautiful sister. There were a few important decisions to make…
Drink choice. Margaritas.
Snack choice… Pringles® Tortilla Zesty Salsa Crisps! Yum!
Entertainment choice…. Romantic Comedies like Just Friends and 10 Things I Hate About You.
Since I had a couple days to prep for this little girls night, I decided to hit up a Salvation Army store to see what I could find to make this night little more special.
One of my favorite parts about thrifting is always my amazement of what people get donate. Sometimes you can find real treasures, like the chaise lounge I just purchase for $93.00! On the same trip I discovered these amazing trays! I found this set of 3 gold metal trays for $1.95!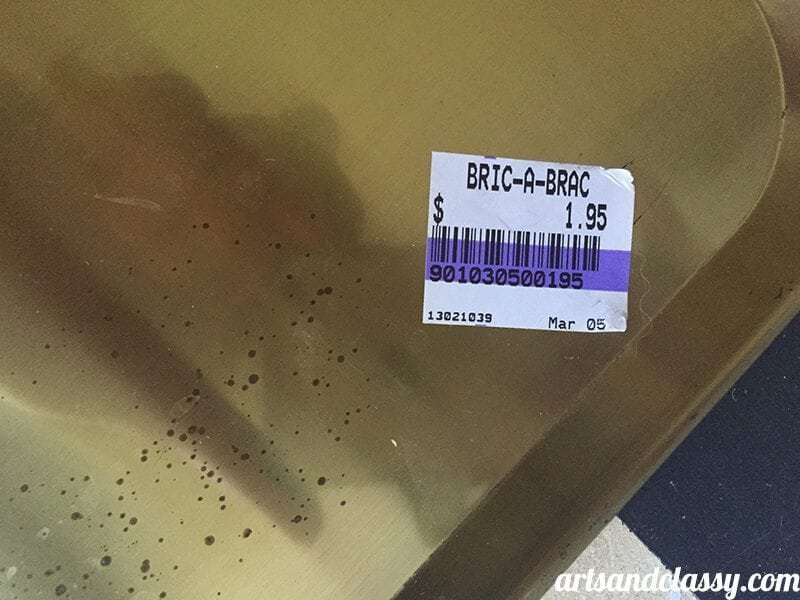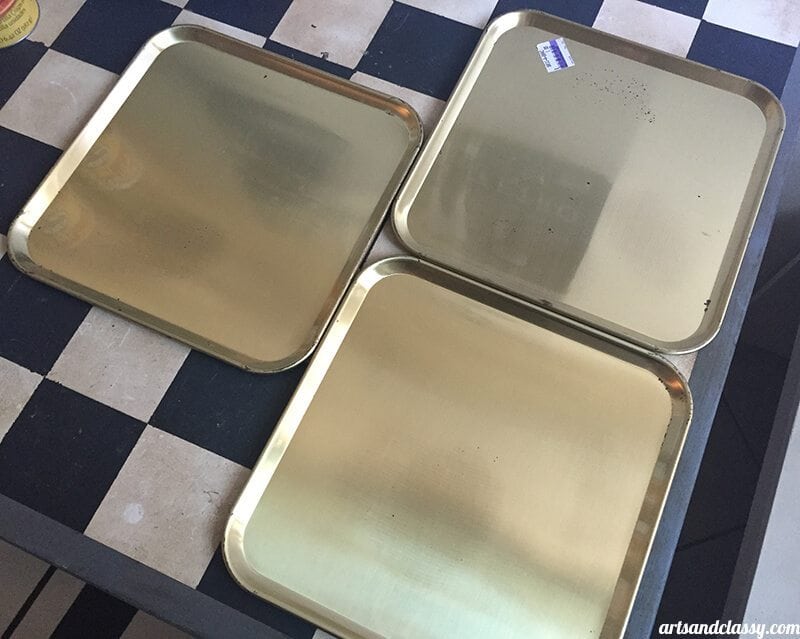 With some painters tape and some spray paint, I wanted to add some colorful "fiesta" flare to this girls night project to go along with one of my favorite snacks.
Pringles® Tortilla Zesty Salsa Crisps are perfect, especially when I am on the go. I found these at Ralph's grocery store on the chips aisle.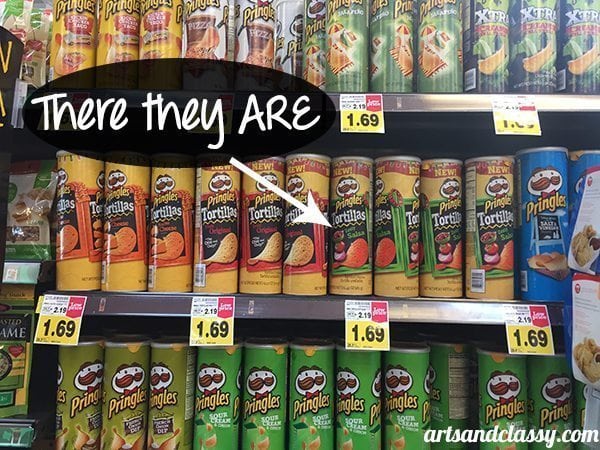 Zinging with flavor, these Pringles® Tortilla Zesty Salsa Crisps are so delicious that you don't even need any dip to go with them! That is my favorite part since I am a girl not the go. Snacks sometimes can help me power through a long 12+ hour work day on film set.
This brings me to my diy modern fiesta flare tray makeover tutorial.
I want to share with you how I transformed this set of three trays for just the cost of the trays! $1.95!!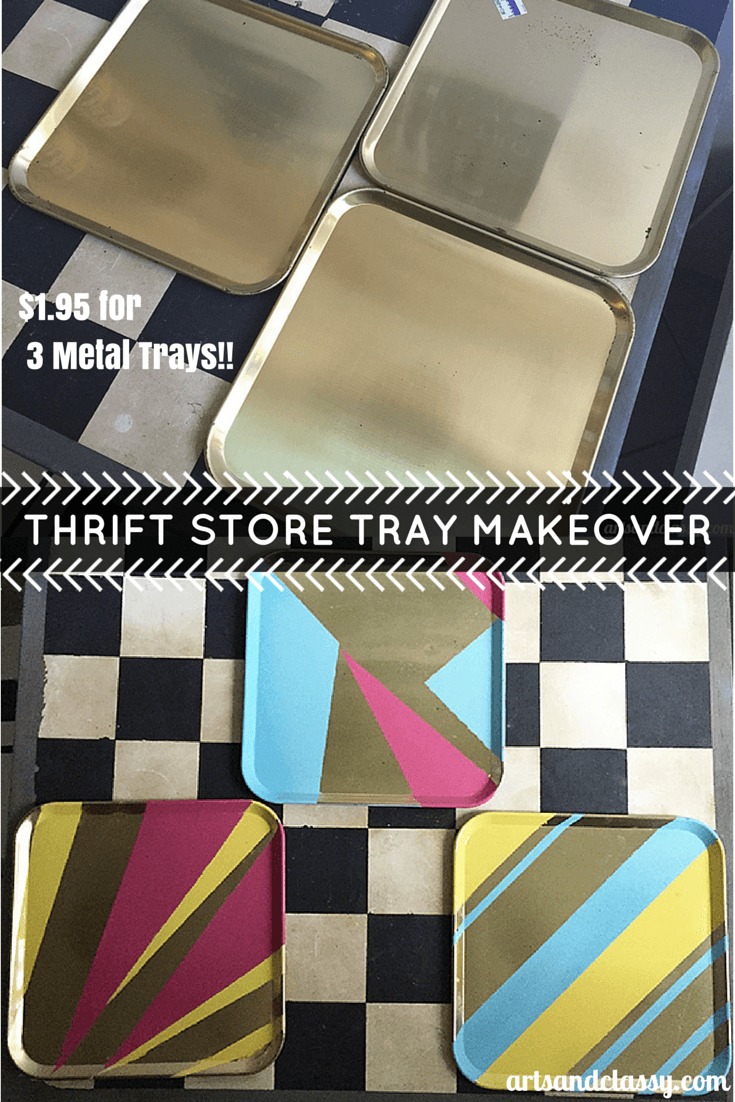 Supplies you will need: (I had my supplies in stock)
Painters Tape/Frog Tape
3 Colors of Spray Paint – I chose Rustoleum's Mixed Berry, Sun Yellow, and Aqua to complement the gold in the tray.
Step 1
I drew on a piece of paper the kind of design I wanted for each tray.This was a very rough sketch.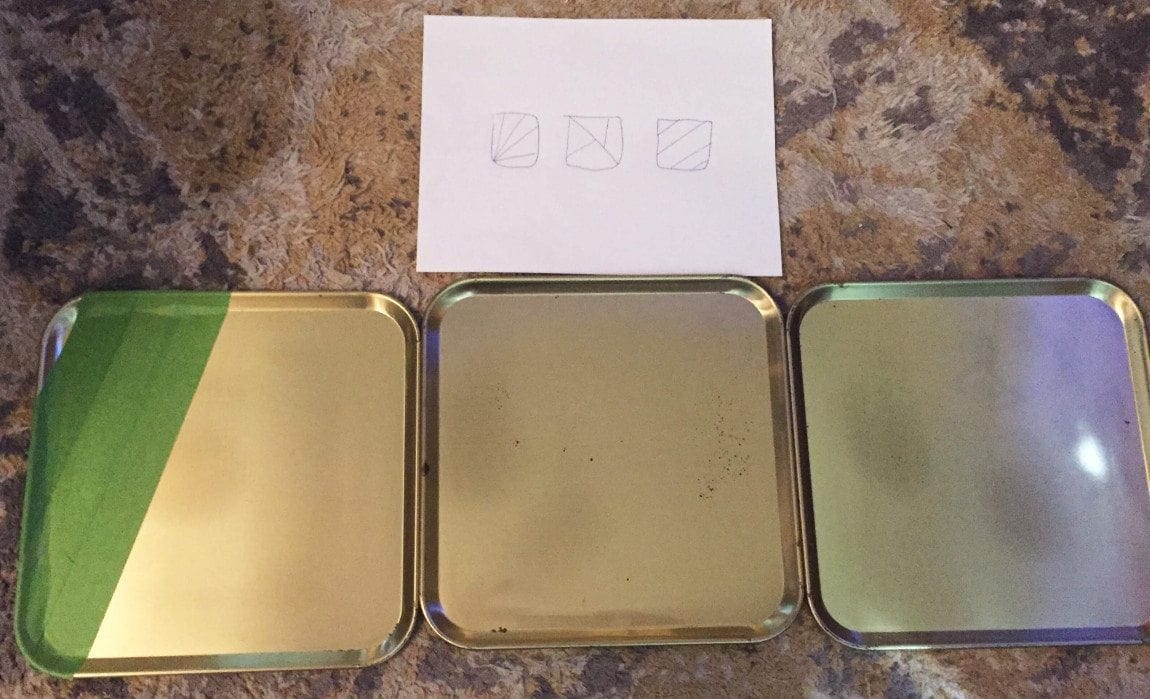 Step 2
I used my frog tape to tape out the design on the tray. Make sure you run your hand along the sides of the tape to make sure it will block any paint that tries to run underneath it.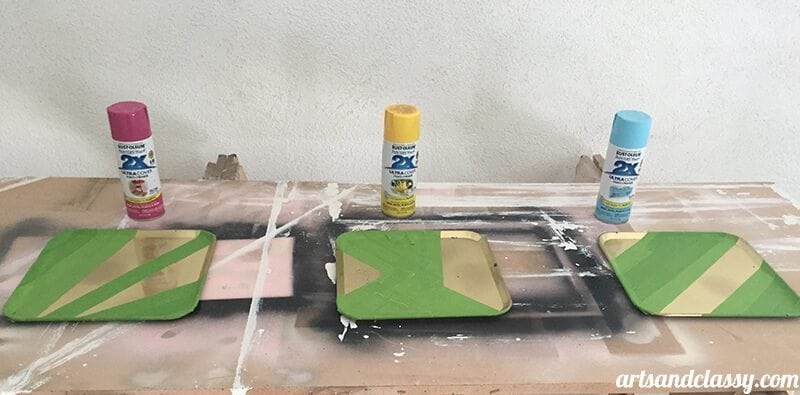 Step 3
Once I sprayed painted the first color and allowed it to dry… I taped the tray up again to mask off the gold and 1st color.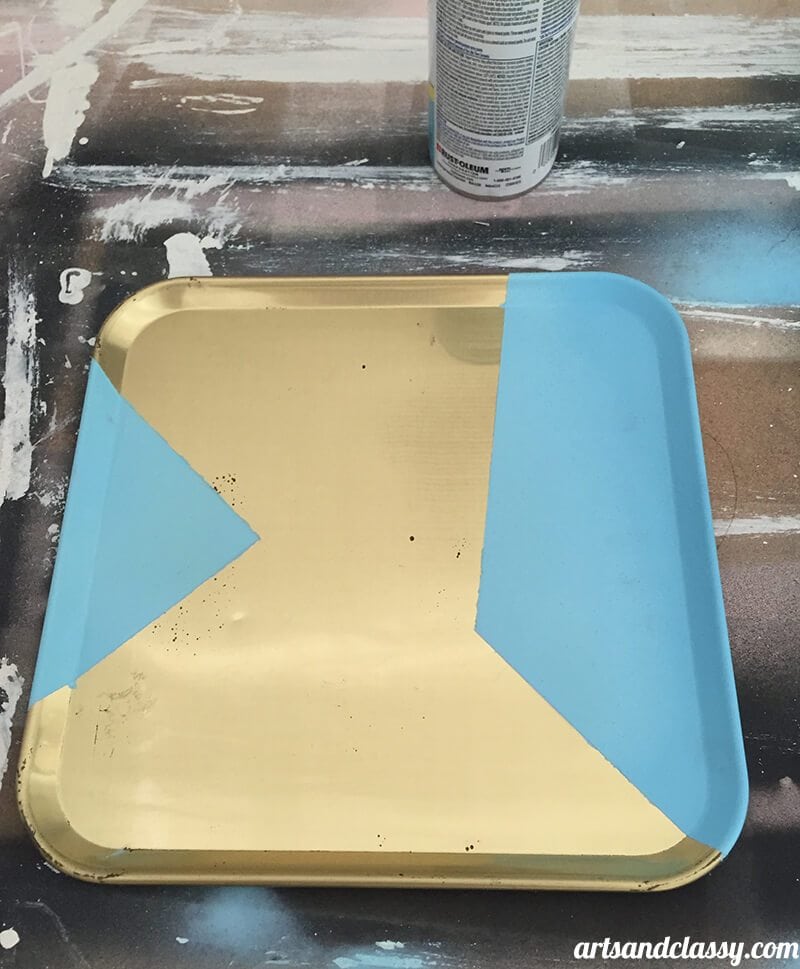 Step 4
Then spray paint with an different color than the first.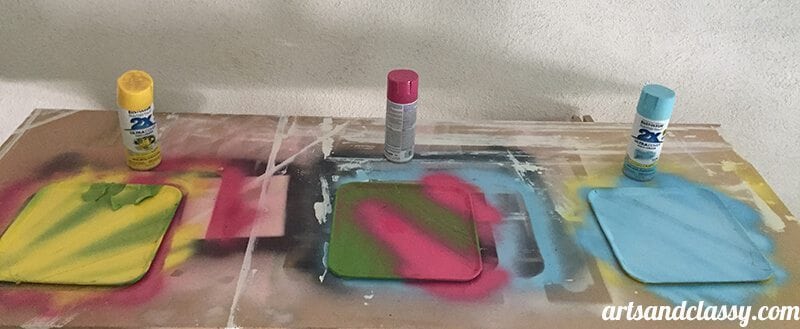 Step 5
I painted the back of each tray with one color to brighten it up.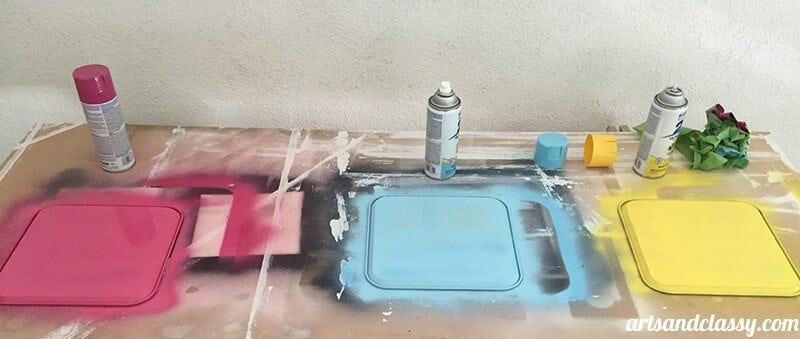 Step 6
I enjoyed and celebrated my work with a little fiesta with my sister! Arts & Classy has been doing really really well recently and we wanted to take the time to celebrate moments like this after a lot of hard work. It's fun to cut lose and hang with friends. I am feeling good and wanting more of that feeling! Partying it up "girls night" style with my favorite new Pringles®  flavor Tortilla Zesty Salsa Crisps. They also have original and nacho cheese in their Tortilla variety. Delicious!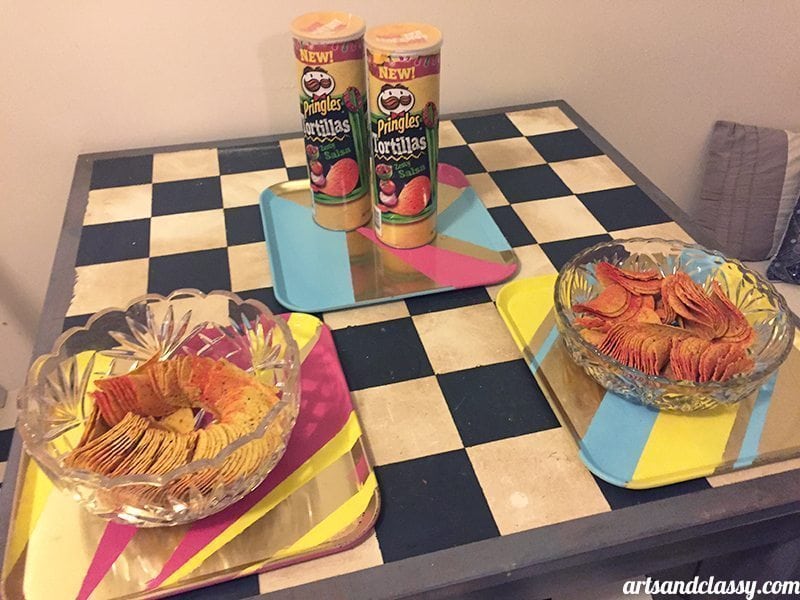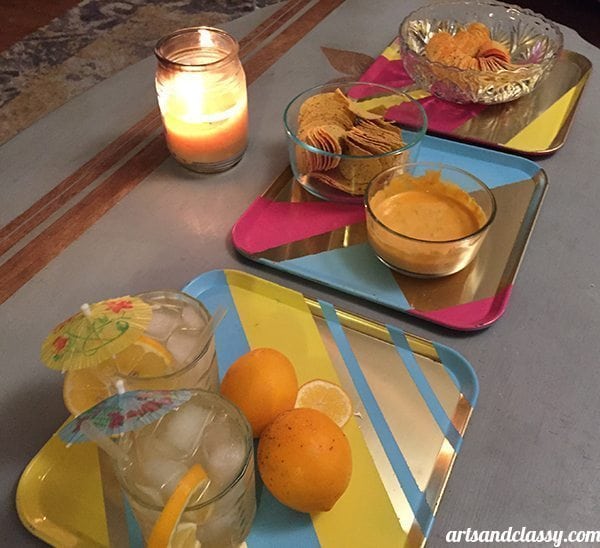 Cheers to that!Like this makeover!?! Pin it please! Sharing is caring.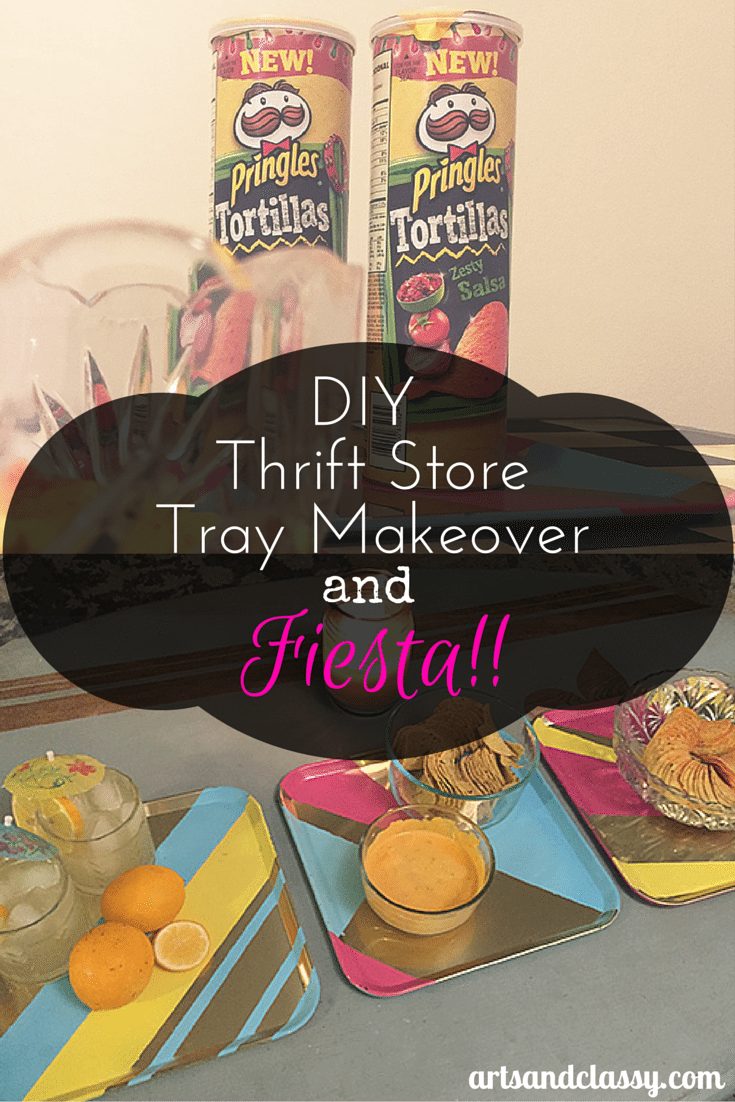 Do you think you would try a project like this one? What about ? Leave a comment below and if you haven't TRY these snacks asap! You will be glad you did!
Feel free to share the love on twitter!
[Tweet "Pringles® Tortilla Zesty Salsa Crisps are my new favorite snack! Bonus! They do not need dip. #Pringlesairdip"]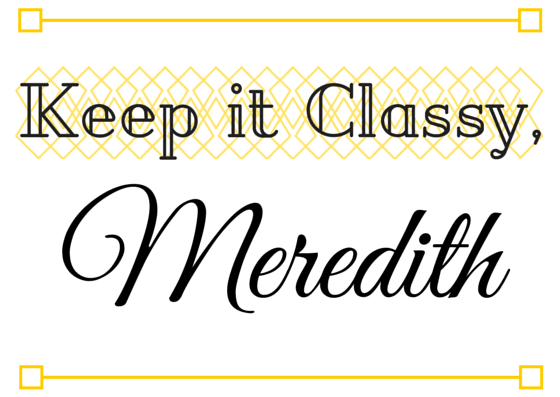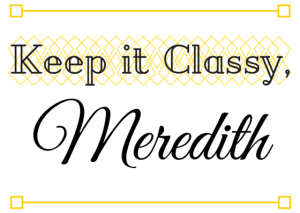 This is a sponsored post written by me on behalf of Pringles®.