Glamorous "On a Budget" Bathroom Design Ideas
I am always looking for fun ways to upgrade my bathroom. Being a renter, redecorating can be limited. Here are some simple upgrades you can make and decor that will help you achieve the look you want in your bathroom.
This applies regardless of how large or small your bathroom is. There are subtle little changes you can perform that will make a huge impact on the feel of the space.
*This post contains affiliate links.
I have broken it down to 3 specific styles that I adore.
Glam
Shabby Chic
Luxury Hotel

When trying to achieve a Glam look, adding a little sparkle helps immensely! I have curated a design board of examples of elements you can use to decorate your bathroom if you like the look. Links below to item in the photograph.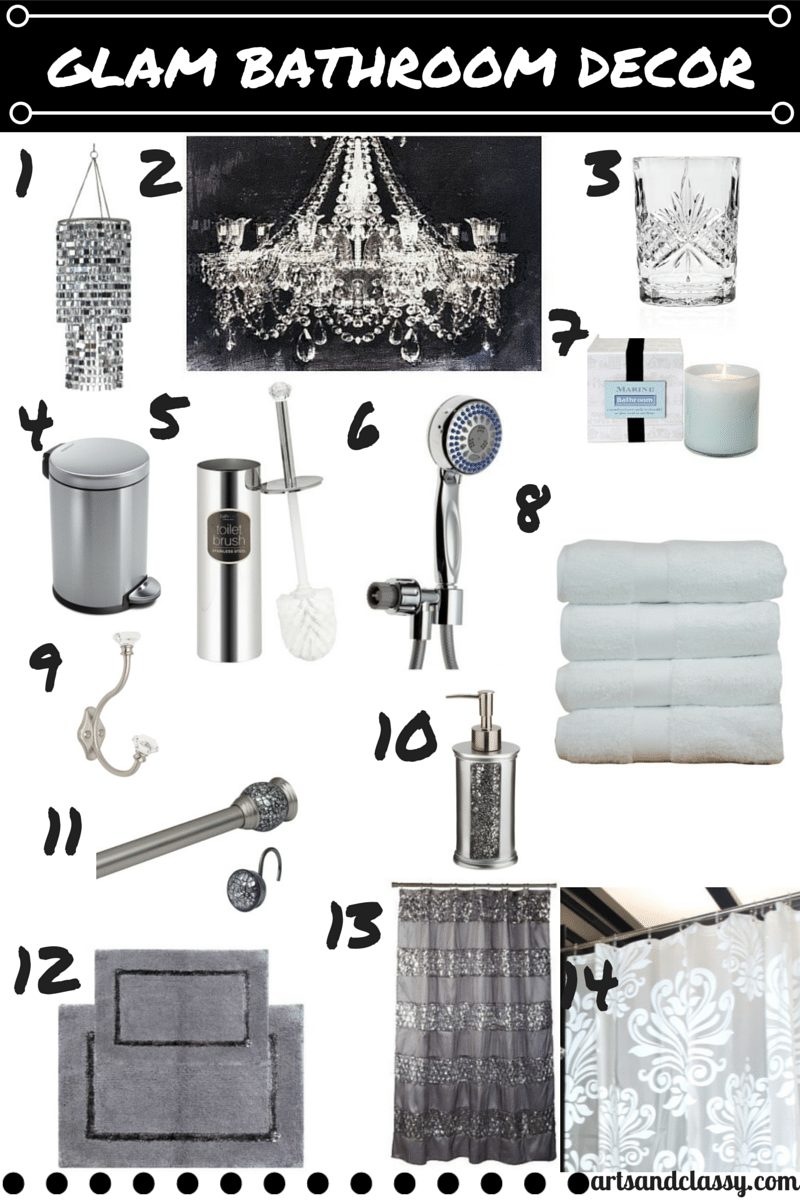 1. Bling Decorative Chandelier / 2. Chandelier Art / 3. Crystal Container / 4. Stainless Steel Trash Can / 5. Glam Toilet Brush & Holder / 6. Shower Head / 7. Scented Candle / 8. Luxury Hotel Towels / 9. Glam Towel Hook / 10. Glam Soap Dispenser / 11. Glam Shower Rod and Hooks / 12. Glam Bath Mats / 13. Glam Shower Curtain / 14. Damask Shower Liner Curtain

Shabby Chic was more of my style when I first started blogging and I think it is still a wonderful way to decorate a bathroom or vanity area. See links below the image to items your see pictured for this look.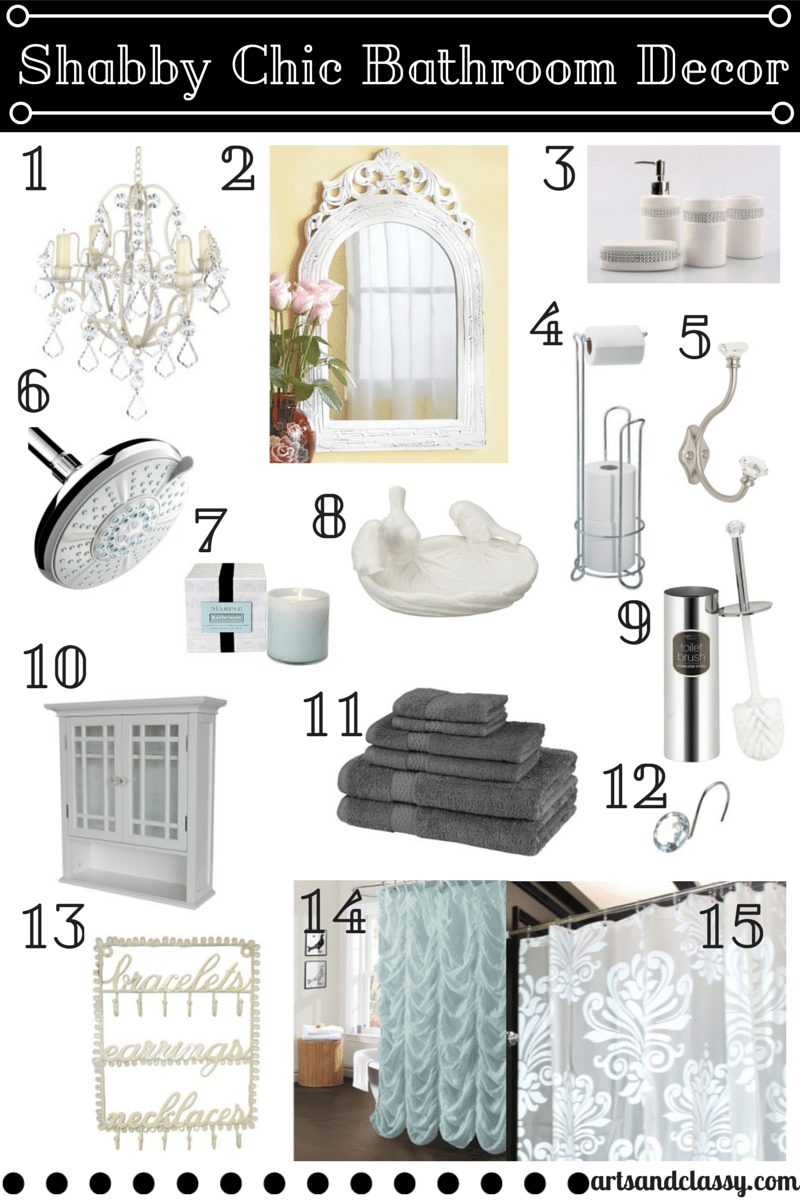 1. Shabby Chic Candle Chandelier / 2. Shabby Chic Wall Mirror / 3. White Sparkle Bathroom Storage Set / 4. Toilet Paper Storage & Roll / 5. Crystal Knob Towel Hook 6. Waterfall Shower Head / 7. Scented Candle / 8. Bird Soap/Jewelry Dish / 9. Crystal Knob Toilet Brush and Holder / 10. White Wall Mounted Storage Cabinet / 11. Grey Towel Sets / 12. Crystal Shower Curtain Hooks / 13. Metal Words Jewelry Display / 14. Lush Shower Curtain – Sea Foam Green / 15. Damask Shower Curtain

There is nothing more comfortable than staying at a luxurious hotel. That is why I was super excited to curate this design board. A little touch of the finer things you can purchase to change the entire look of your bathroom regardless if you are a renter or homeowner. See links below photo for original source.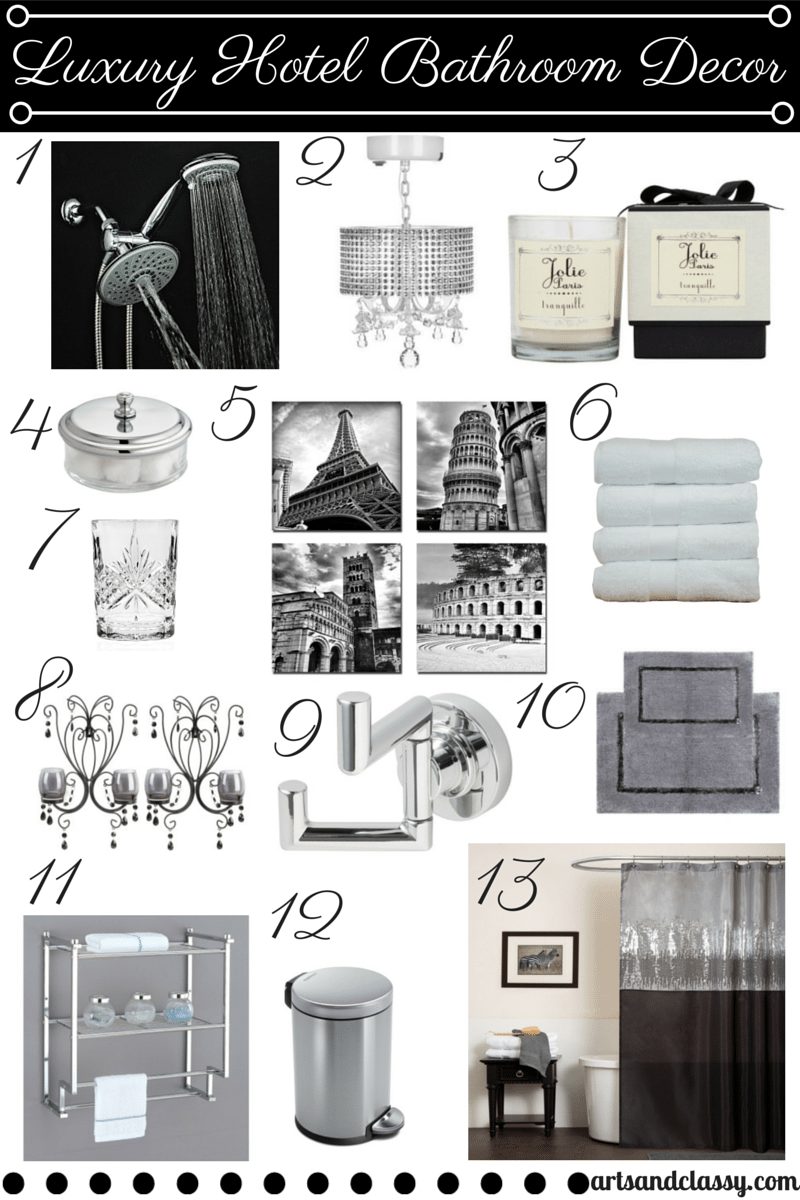 1. Spa Like Shower Head / 2. Luxe Lamp / 3. Lavender Scented Candle / 4. Short Apothecary Jar / 5. France & Italy Wall Art / 6. Luxury Hotel Towels / 7. Crystal Container / 8. French Candle Sconces / 9. Double Towel Hook / 10. Glam Shower Mats / 11. Towel Rack and Shelf / 12. Stainless Steel Trash Can / 13. Sparkle Shower Curtain
What do you think about these curated designs? Would you try any of this in your home?