You're going to love these DIY headboards. How to make your own custom headboard, easily and inexpensively. Or give the faux headboard look a try, with rental-friendly options.
No matter if you are decorating your bedroom or your dorm room, there are plenty of reasons to want a headboard in your bedroom. They add style and can impact you, especially if you DIY! You don't even need much money or skill to make your headboard. If you're feeling crafty, try one of these easy DIY headboards.
Some require only basic tools and materials, and you can finish them in the afternoon.
Don't worry if you're not the handy type, there are still plenty of ways to get the look of a headboard without lifting a hammer. Faux headboards are an easy and renter-friendly option that will give your bedroom an instant upgrade. So whether you're looking for a quick fix or something more permanent, there's a DIY headboard out there for you.
Headboards are an essential part of any bedroom design, but bedroom sets can get expensive… fast. Go the DIY route (even if you don't want to break out the power tools) with one of these DIY headboards.
DIY Headboards
Just click on the text link below each image to be taken directly to the tutorial for each of these DIY headboards.
1. Flower Wall
It's not technically a headboard, but it's a great alternative! I sure do love this DIY flower wall as a focal point from Sweet Teal. When it comes to decorating your bedroom on a budget, one easy way to add a touch of glamour is by using flower garlands to create a DIY headboard. You can find these inexpensively at most craft stores, and they come in a variety of colors and styles.
To get started, measure the width of your bed and cut the garland to the correct length. then, simply attach it to the wall behind your bed using tape or staples. If you want to make things a bit more interesting, you can also add some extra embellishments like ribbons or bows.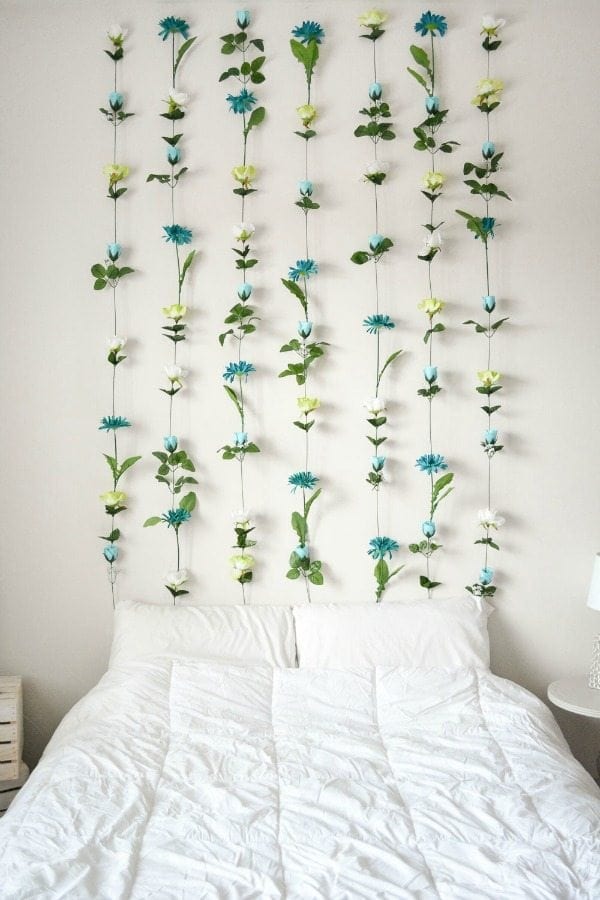 2. Macrame
If Boho is your style, try making a macrame headboard as a statement backdrop like this one from Vintage Revivals that goes all the way to the ceiling. Macrame is a great way to add some personality and character to your bedroom without spending a lot of money.
You can easily create a DIY headboard using macramé techniques. All you need is a piece of wood, some string, and a few basic knots. The process is simple and can be completed in just a few hours.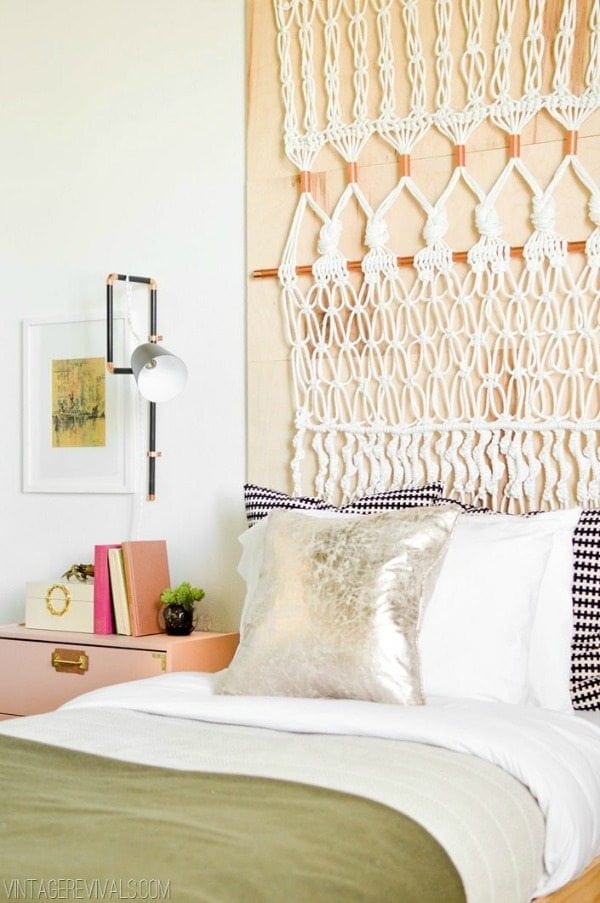 RELATED: 10 Cheap DIY Projects to Make Your Home a Better Place
3. Curtain Rod + Fabric
This simple DIY headboard is so easy! Just hang your favorite fabric or tapestry on a curtain rod above the bed as decor. So smart! This will add some texture and interest to your bedroom. You can also use this technique to add some color or pattern to your space. This one will require drilling unless you want to use Command Strip broom holders to hold the curtain rod.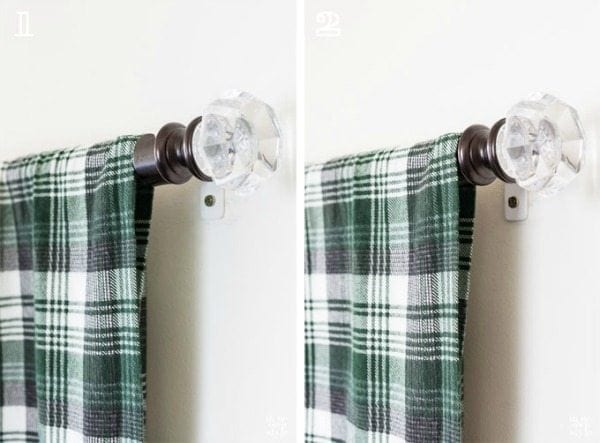 4. Upholstery
Addicted 2Decorating shared a tutorial for a DIY Upholstered Headboard With Welt Cord Trim, but I love the idea of a feature wall. If you use peel-and-stick wall decals, this is a completely rental-friendly option.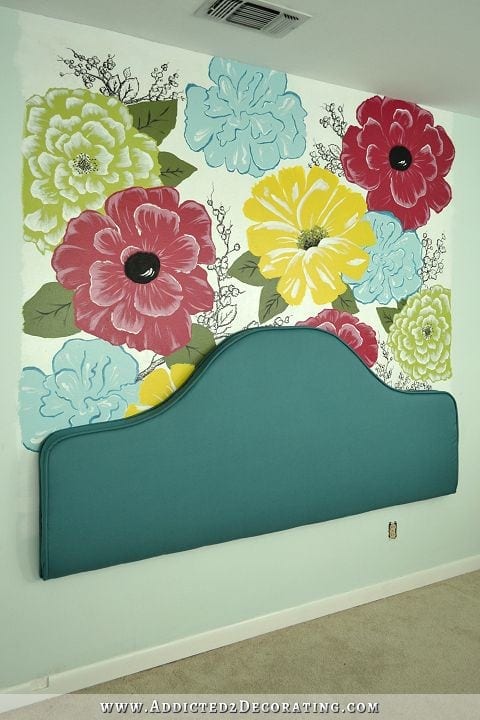 Make a unique DIY upholstered headboard with this tutorial from Lovely Etc. The possibilities are endless, with quotes, song lyrics, and more.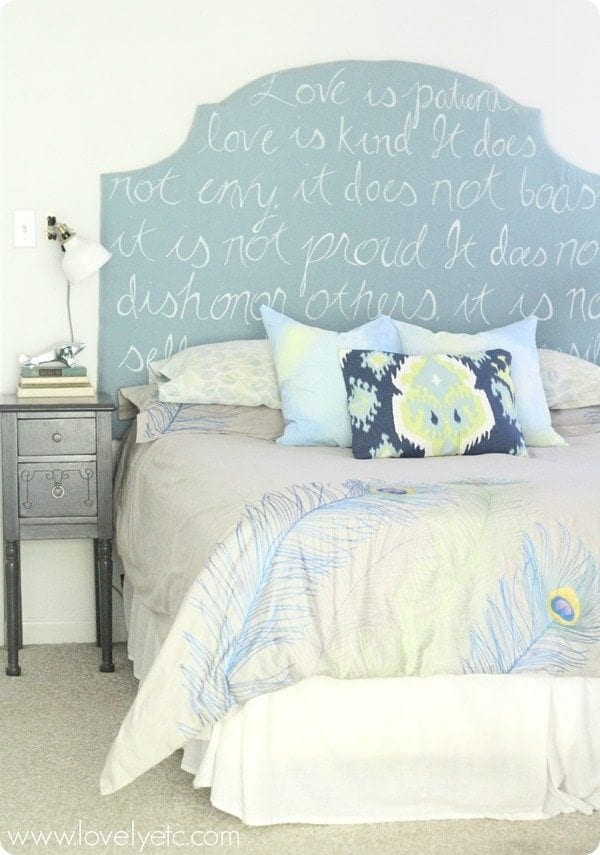 5. Wood
This headboard requires getting some lumber cut at your local home improvement store, but the DIY effort is so worth it. Check out this woven headboard from Little Bit Funky.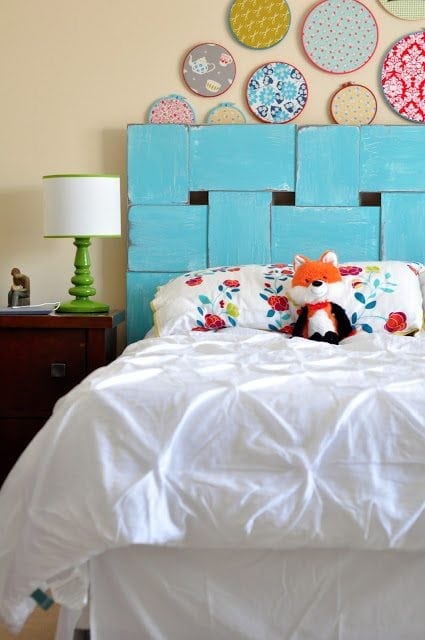 6. Stenciled
Take a second look at this stenciled headboard from Refresh Living. That's not fabric – it's just a stencil on plywood! There are a few different ways to stencil, but the most common is with a brush. You can either buy a stencil or make your own. If you're making your own, you'll need a piece of cardboard and a pencil.
First, draw the design you want on the cardboard. Then cut out the design with scissors. Next, place the cardboard stencil on top of the fabric and secure it in place with tape. Finally, use a brush to paint over the stencil. Be sure to use a light touch so you don't push the paint under the stencil.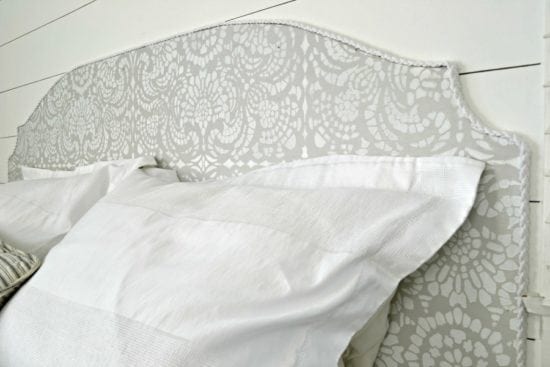 7. Slipcover
Do you have a headboard that you don't love? Make a headboard slipcover with this tutorial from Tatertots and Jello. This headboard is giving major Urban Outfitters vibes!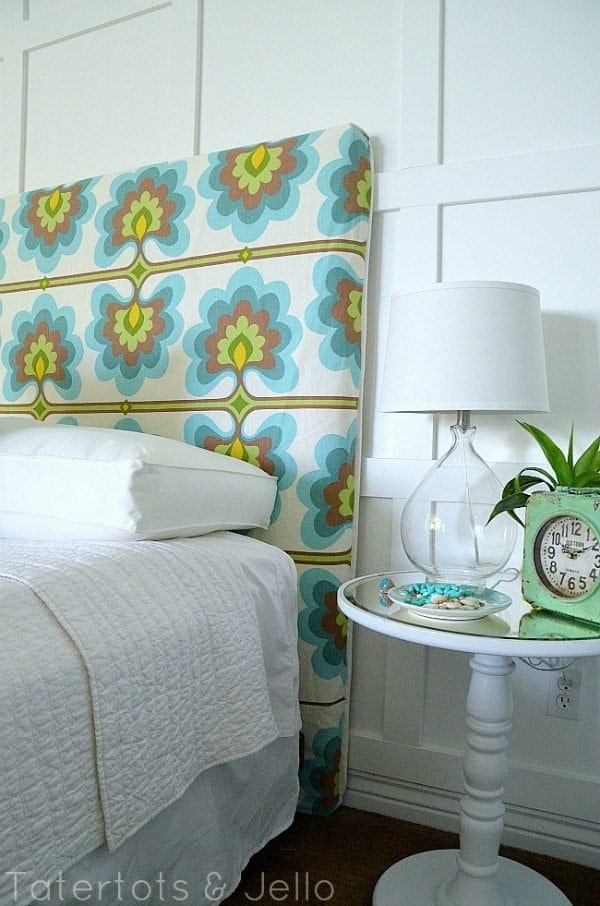 8. Art Canvas
Grab a few art canvases and fabric to make this temporary headboard from Create and Babble. This is a great way to make use of artwork you already own or to find cheap prints, wallpaper, or posters at a thrift store in place of a headboard. All you need is a few basic tools and supplies.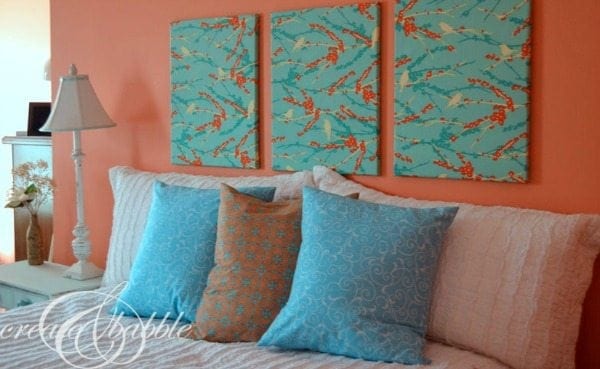 9. Paint the Wall
Skip the headboard entirely, and paint one directly on the wall with a tutorial from Bright Green Door. This is an easy project that can be completed in just a few hours, and it's a great way to add visual interest and some personality to your bedroom.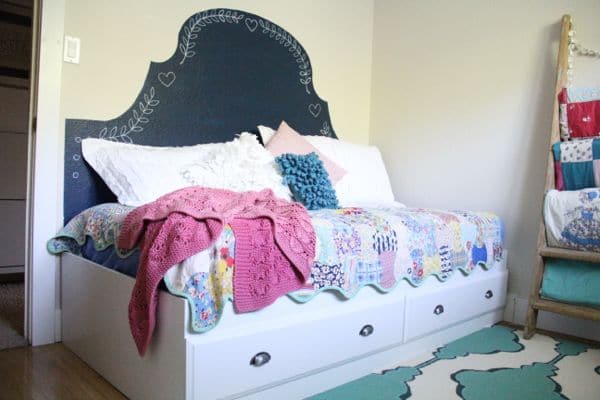 10. Plywood
The price of this modern headboard can't be beaten – make a plywood and print headboard like this one from The Merrythought. It's an easy and affordable way to add personality and style to any room. Plywood is a simple material that can be cut to the desired size and then stained or painted to match the existing decor.
Printing an art piece can be done with a simple printer and some paper. The art can then be framed or attached directly to the plywood. By using these simple materials, anyone can create a beautiful and unique headboard for their bedroom.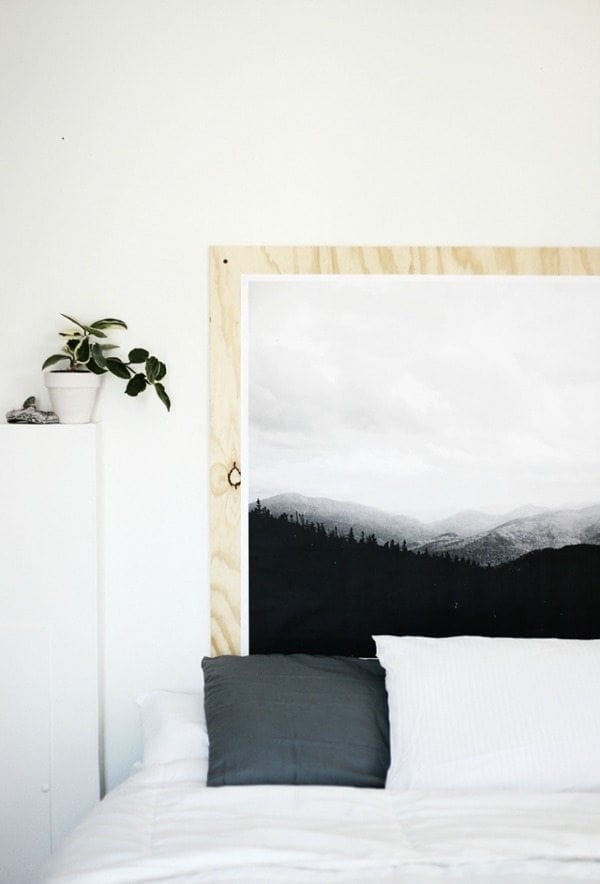 11. Wood Pallets
Wood pallet projects never get old, like this pallet headboard from Crafty Morning. Pallets can be a great resource for creating a cozy space in a bedroom. They are often free or inexpensive to acquire and can be easily customized to fit the specific needs of the project.
In addition, they are relatively lightweight and easy to work with, making them a good option for those who are new to DIY projects. There are many different ways to use wood pallets to create a headboard, so be sure to explore all of your options before beginning the project.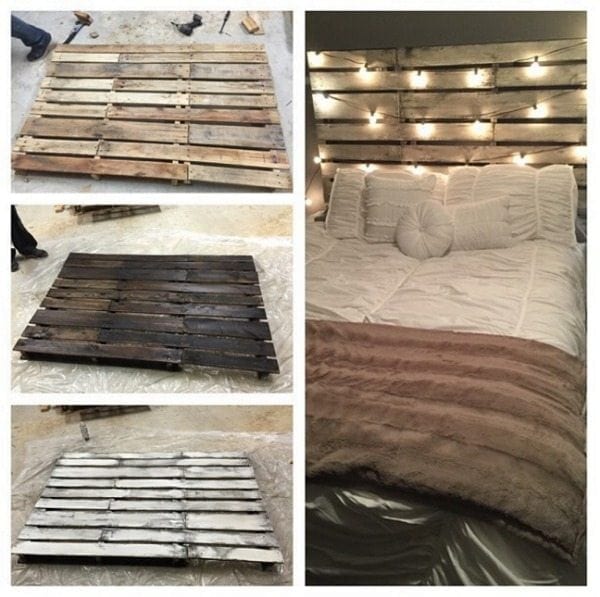 12. Upcycle an Old Door
It's time to upcycle and turn a door into a headboard just like The Interior Frugalista did. You can find these at yard sales or salvage stores, and they make a great addition to any bedroom. They are budget-friendly and a great way to create your own headboard.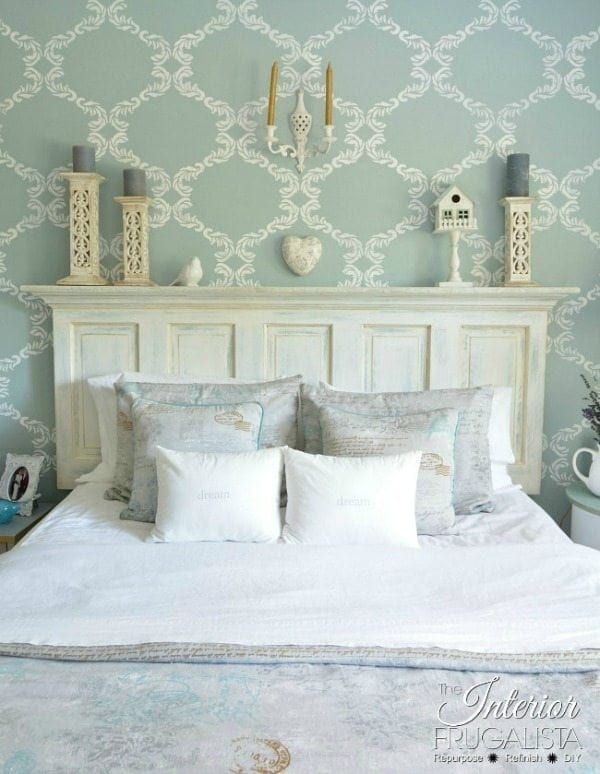 13. Pegboard and Yarn
Get creative with some spray paint and yarn to make this pegboard headboard from Design My Heart Out. Creative minds can take on a variety of projects, and this pegboard headboard is the perfect example of what can be accomplished with a little bit of spray paint and yarn.
The key to this project is to get creative with the placement of the yarn and make sure that it's tightly secured to the pegboard. This headboard is a great way to add some personality to any room, and it's also a relatively inexpensive project that can be completed in just a few hours.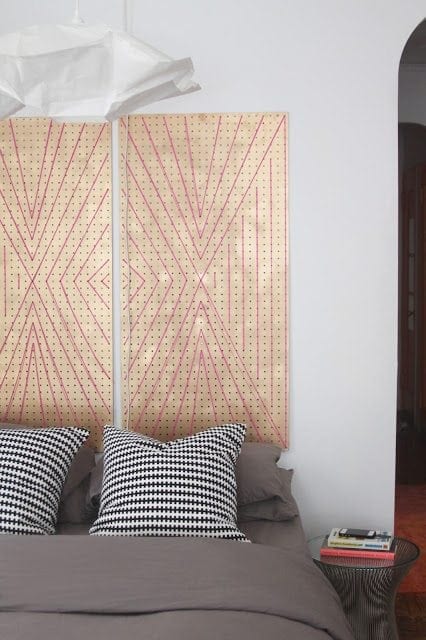 14. Window Shutters
Another great project would be to use old shutters, a folding screen, room divider, or cut down a bi-fold door to make this DIY shutter headboard from Michelle James Designs.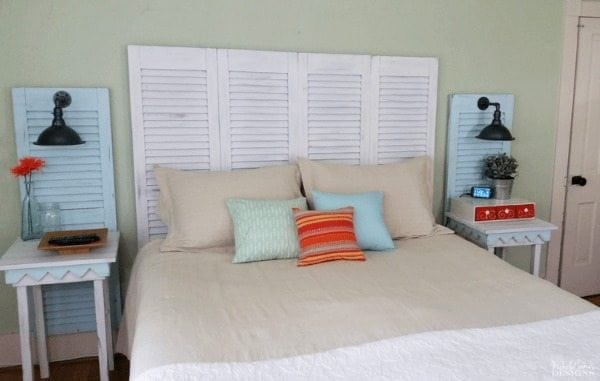 I've tried my hand at a DIY headboard project. Here were my results:
Here are a few more DIY tutorials and renter-friendly decorating tips I think you'll LOVE:
This post contains some affiliate links. I may earn a small commission if you make a purchase through one of these links. See more information in my disclosure policy.
If you are not really the DIY type, here are some reasonably priced eye-catching traditional headboards you can shop for: