It's fun to take a simple picnic and add a luxury gourmet twist to it. I am eager to share with you today how to make a delicious gourmet picnic near Raleigh, NC.
Ever since I moved to the Raleigh area in North Carolina back in mid 2021, I have met some pretty extraordinary people. On top of that, there have been some fabulous local businesses that I have encountered and now support.
I am excited to be sharing my recent experience with Devena and Mike and their business Top Notch Luxury Picnics!
My sister was visiting me from California and her birthday is later in the month, so I thought having a luxury gourmet picnic on my back screened in porch would be an exceptional experience.
Southern picnics are a wonderful idea for any occasion from Spring to Fall if you want to have it outdoors. Of Course there is also the option of an indoor picnic during the winter time that would be a successful option for special events like date nights, anniversaries, or birthdays.
Getting Pumped Up – Planning the Gourmet Picnic near Raleigh
My experience leading up to the luxurious picnic was to plan out the theme. Top Notch offers a few different types of themes including high tea, love is in the air, lakeside daycation, and boho elegance. Everything was customizable to my preference from the color of the flatware, napkins, all the way to to dietary preferences.
I chose Boho Elegance and was looking forward to a relaxed and tranquil setting of neutrals and earth tones.
This package included:
Picnic table (2-12 guests)
Charcuterie board – including cheeses, meats, fruit, and crackers
Caramel gold leaf covered strawberries
Sparkling water or cider
Place settings with cutlery
Throws, pillows, and themed decor
Bluetooth speaker
A beautiful lace teepee with chandelier
Picnic Chic
I had never experienced a luxury gourmet picnic before, so I didn't know what to expect. I was pleasantly surprised with how professional and timely Devena and Mike were. They arrived early to my home to setup the event. With all the supplies in had, they had everything they needed and were very polite! They wanted to surprise us with a before and after transformation. My sister and I busied ourselves for about 15 minutes or so while they put their vision together.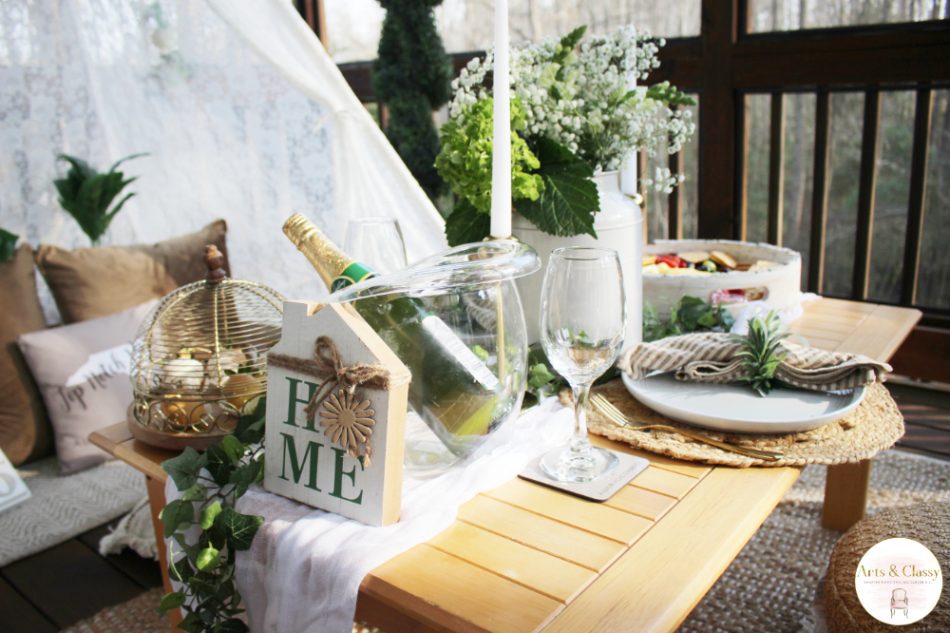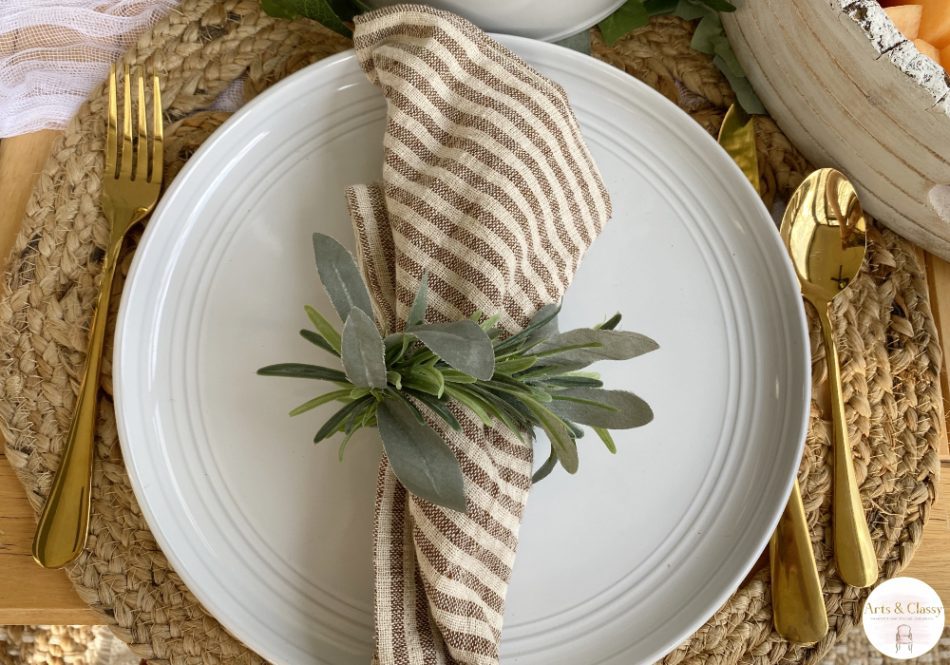 Make The Beginning Memorable
When they shared the BIG reveal I was amazed at what they did with the empty space I had on my back porch! The oasis they created was so elegant and beautiful! Devena has a vision and with Mike's assistance brings that vision together seamlessly.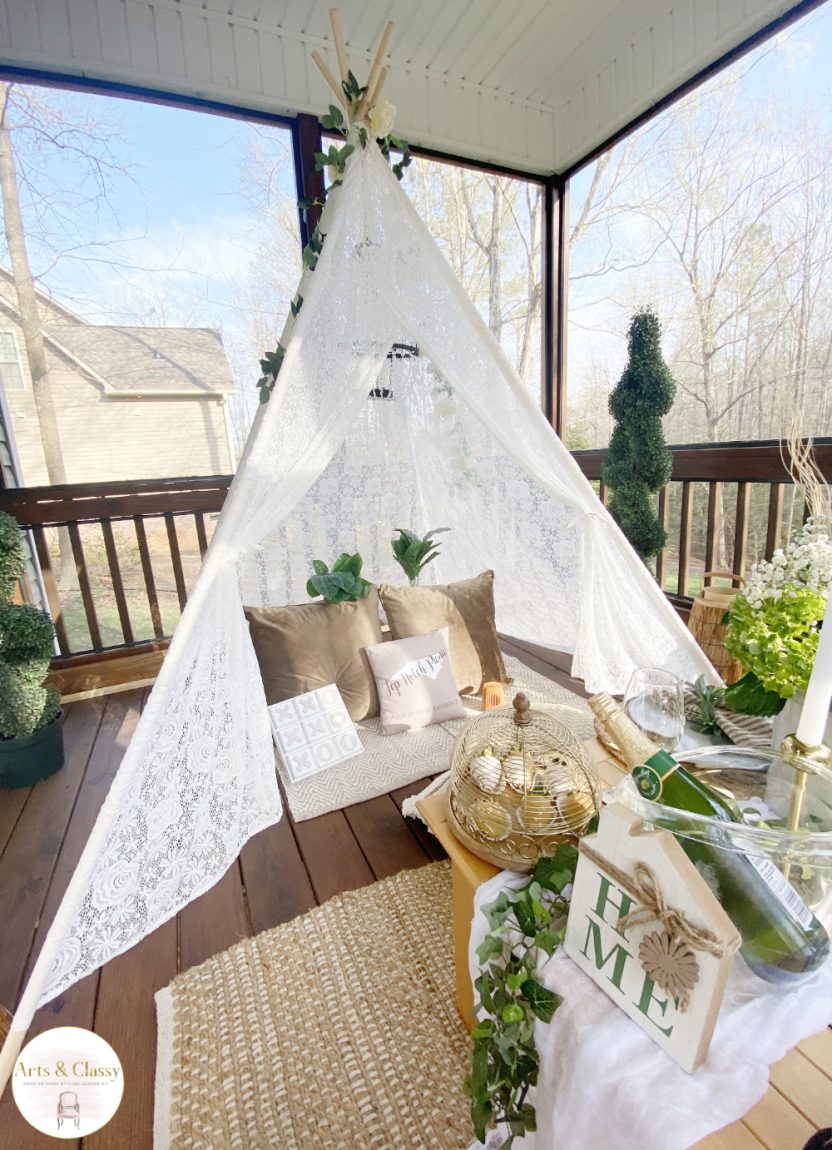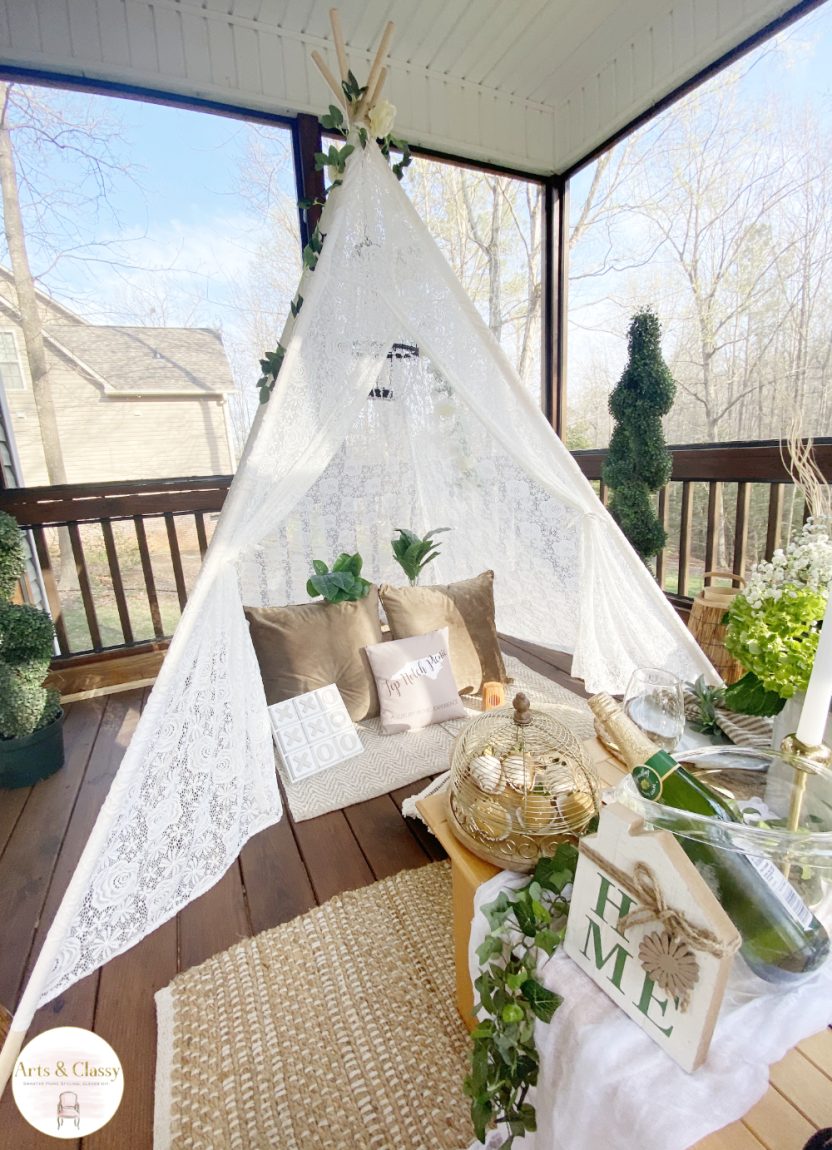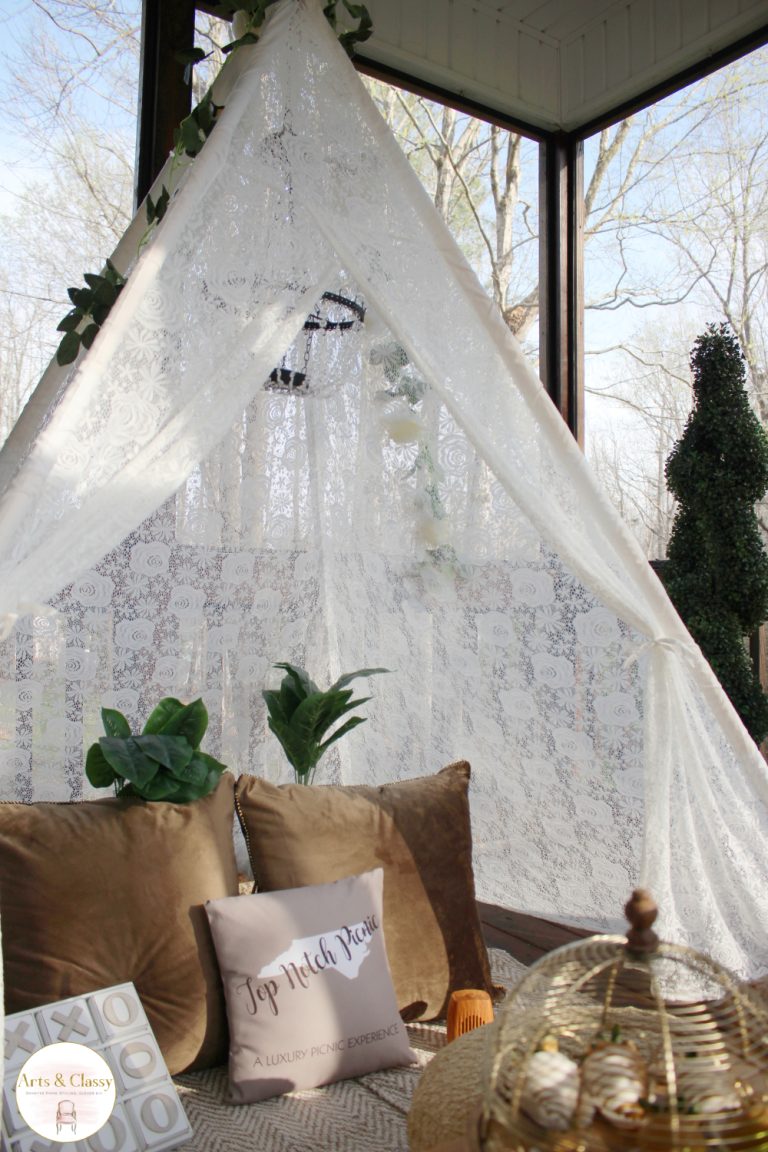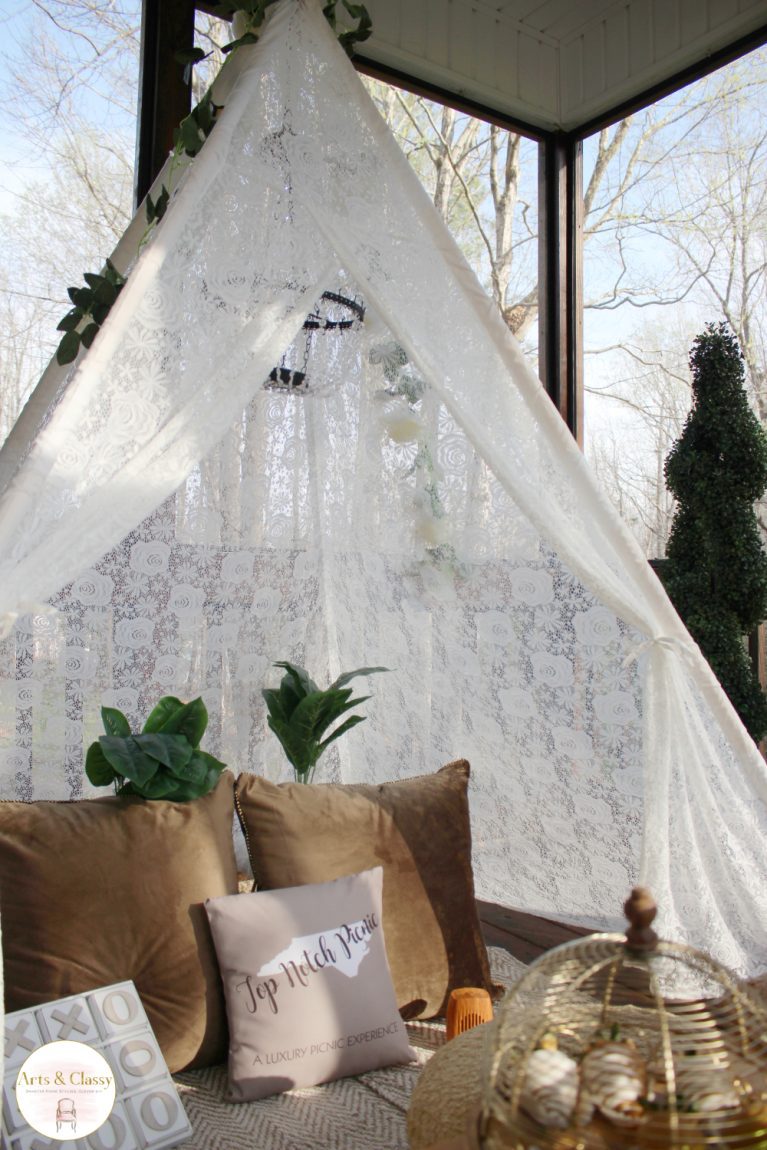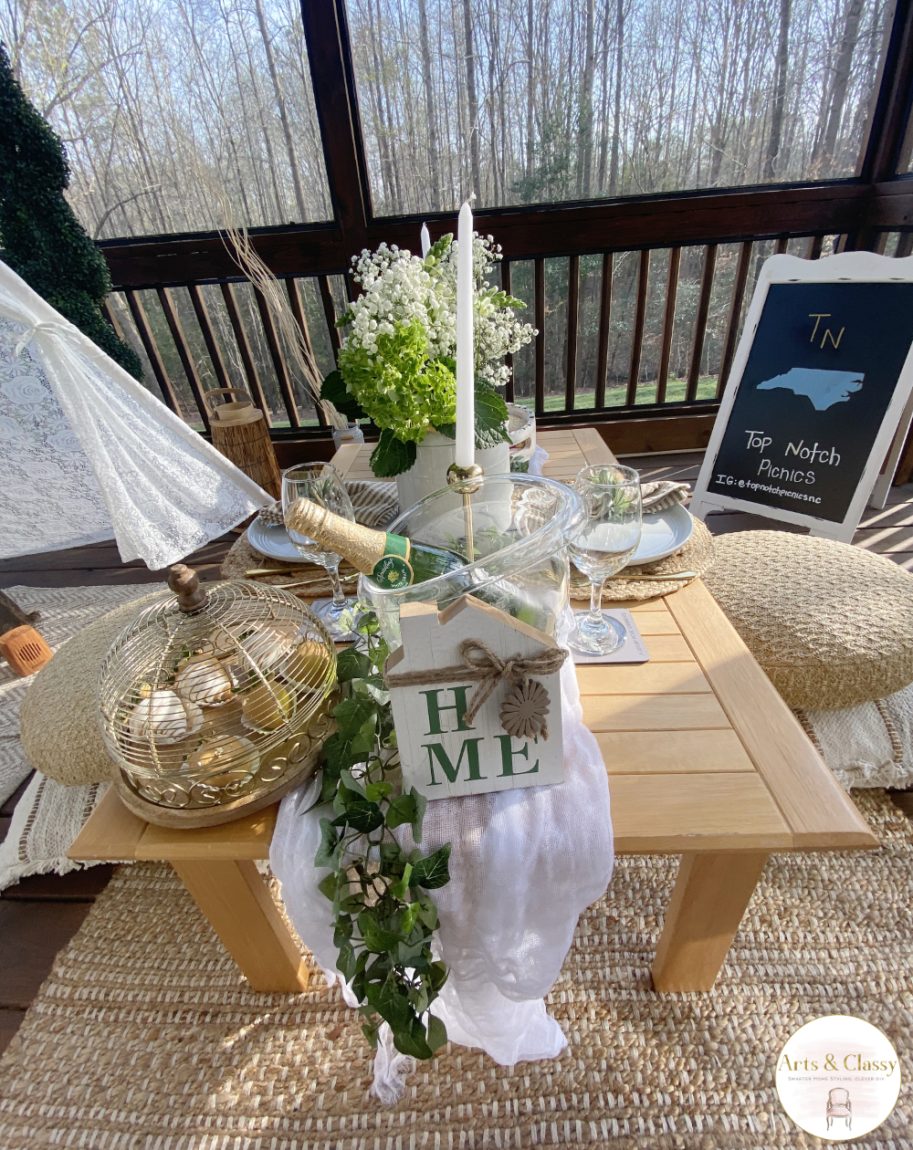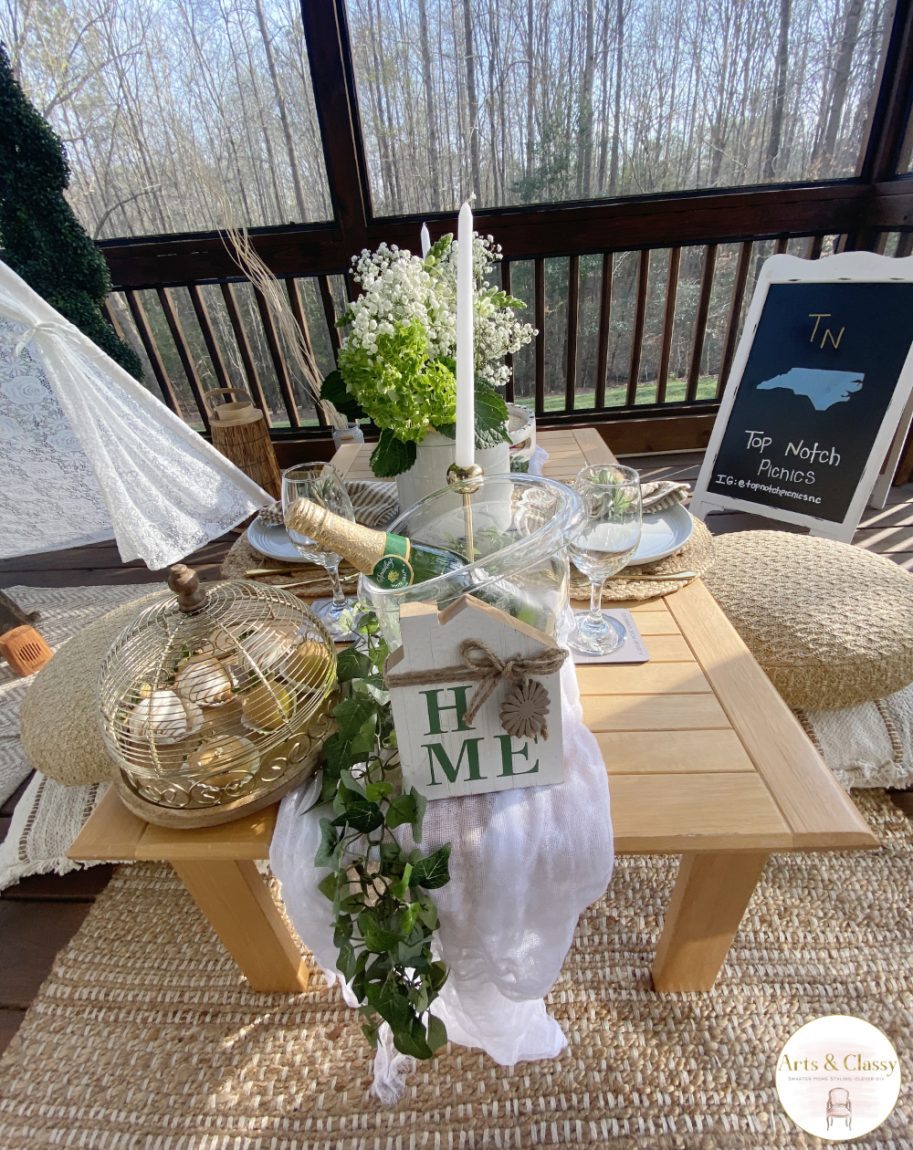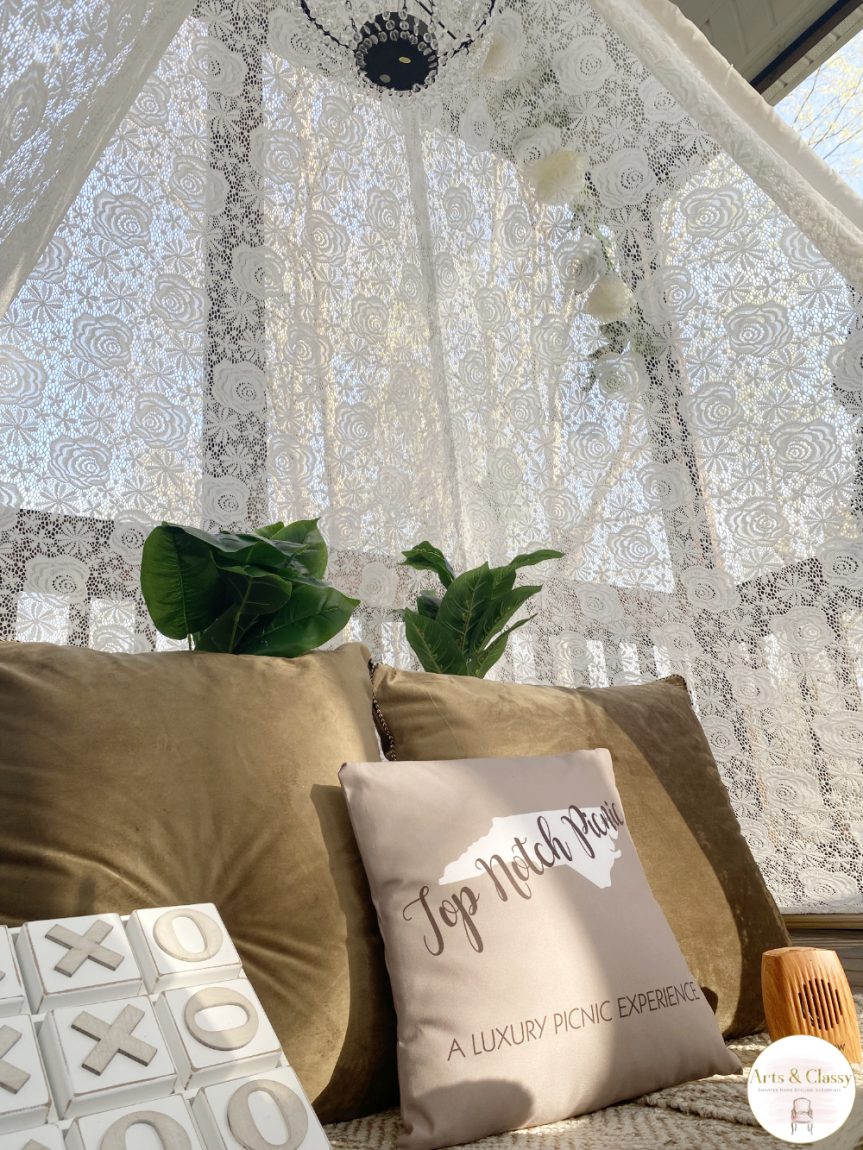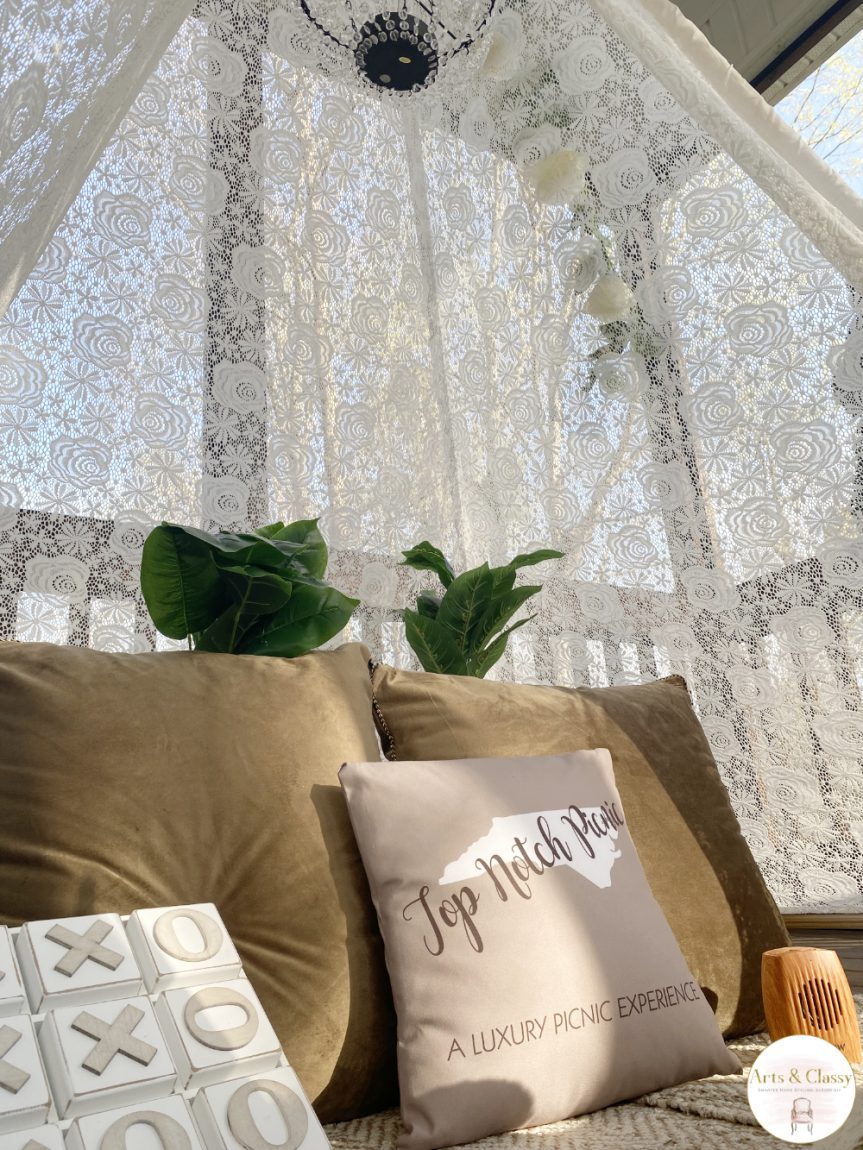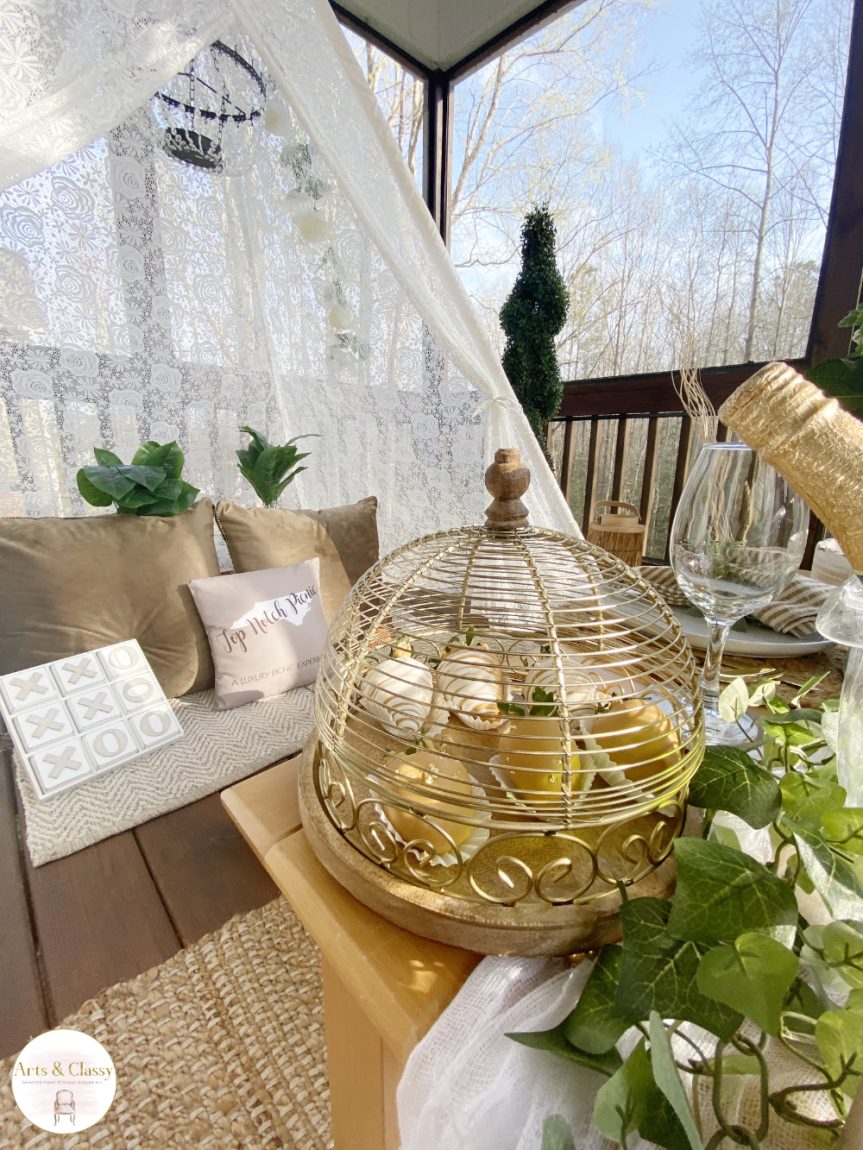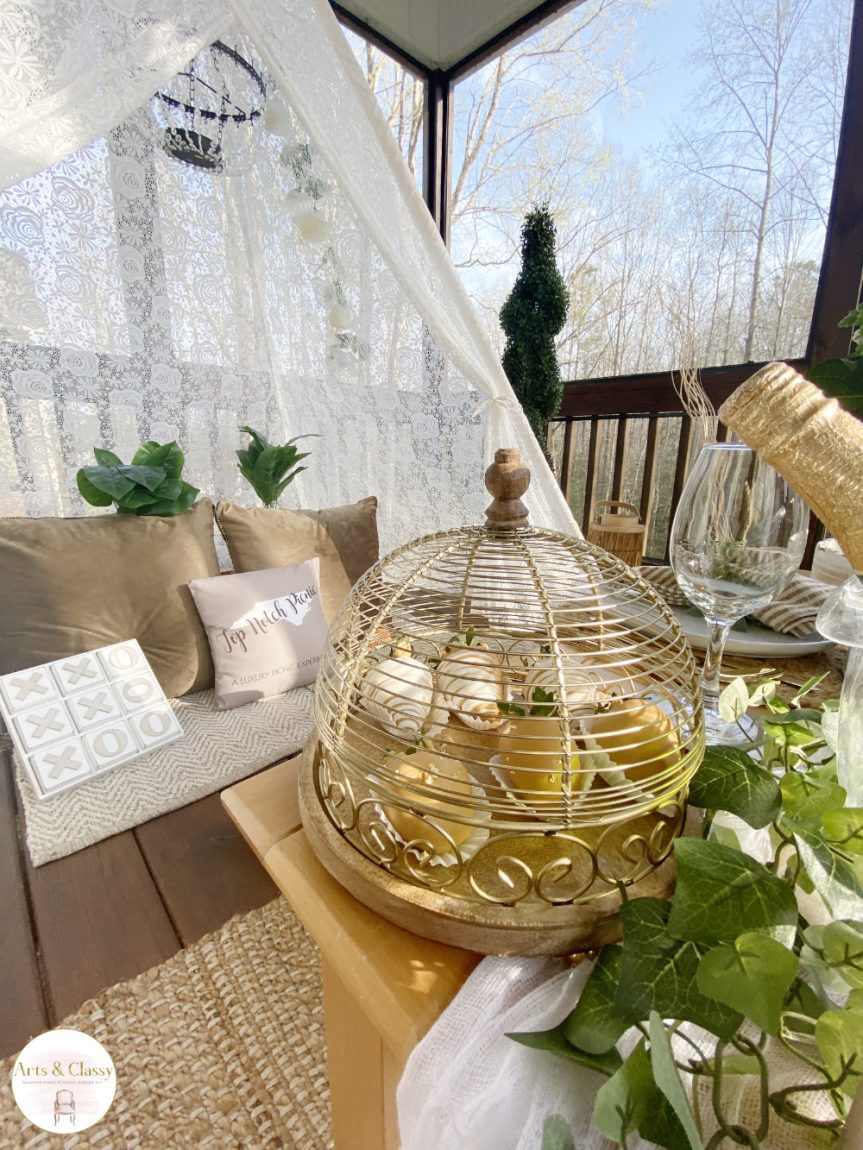 Details, Details…
The attention to detail with this gourmet picnic from the menus, decor, to setting the mood with music you can control was fabulous. This is such a fun spin on traditional french picnics and can really make for a fun evening connecting with friends, family, and loved ones in the comfort of your own home or an outdoor location like a park.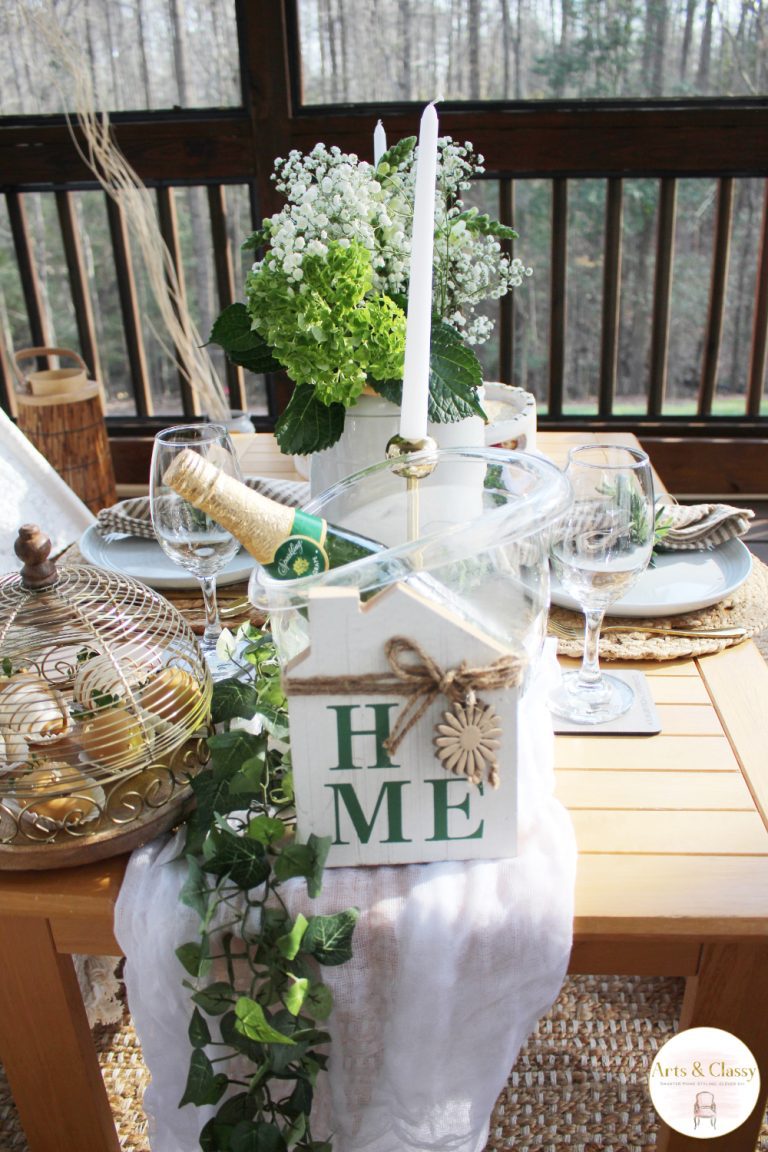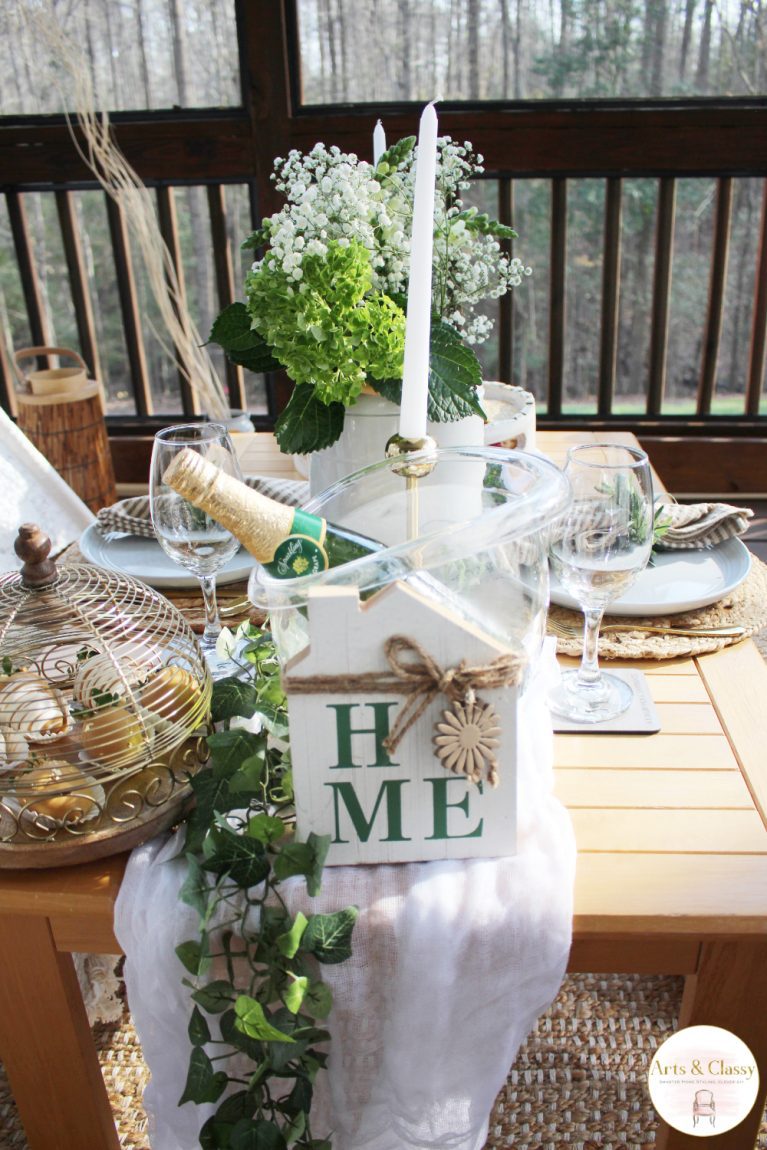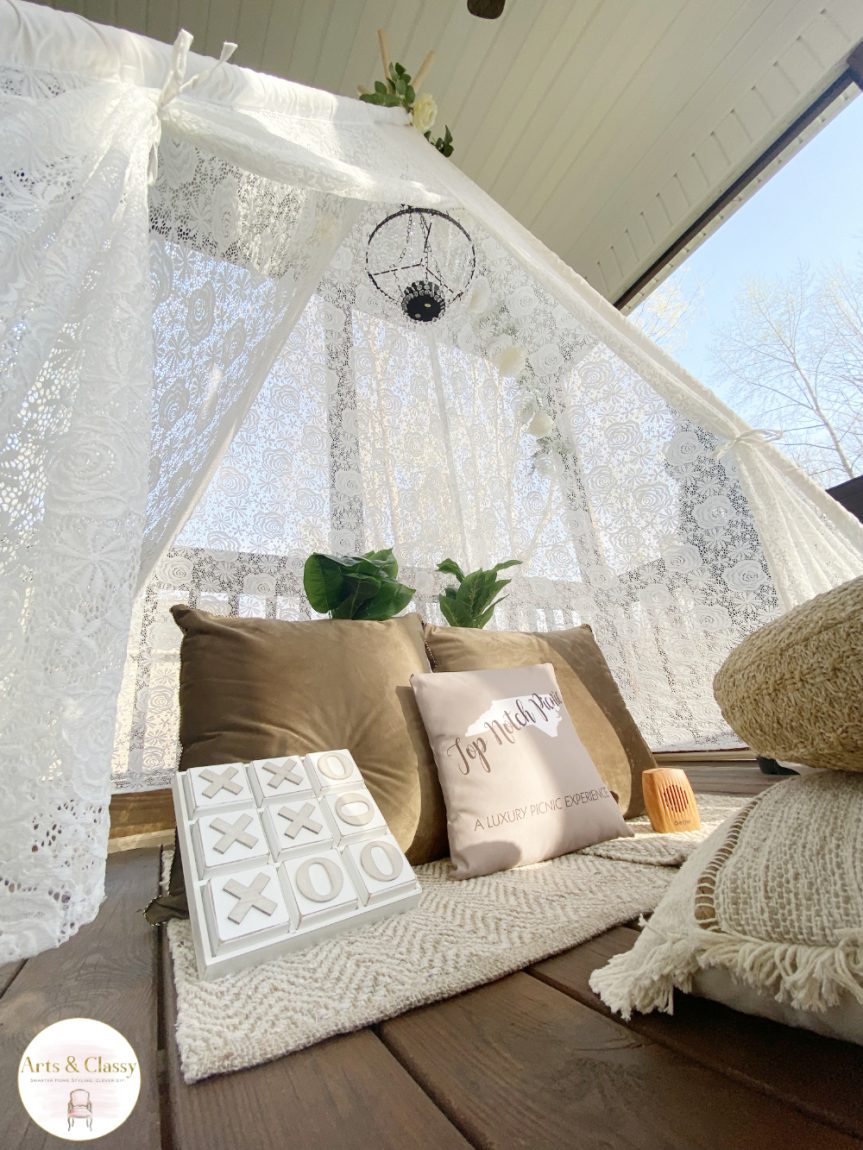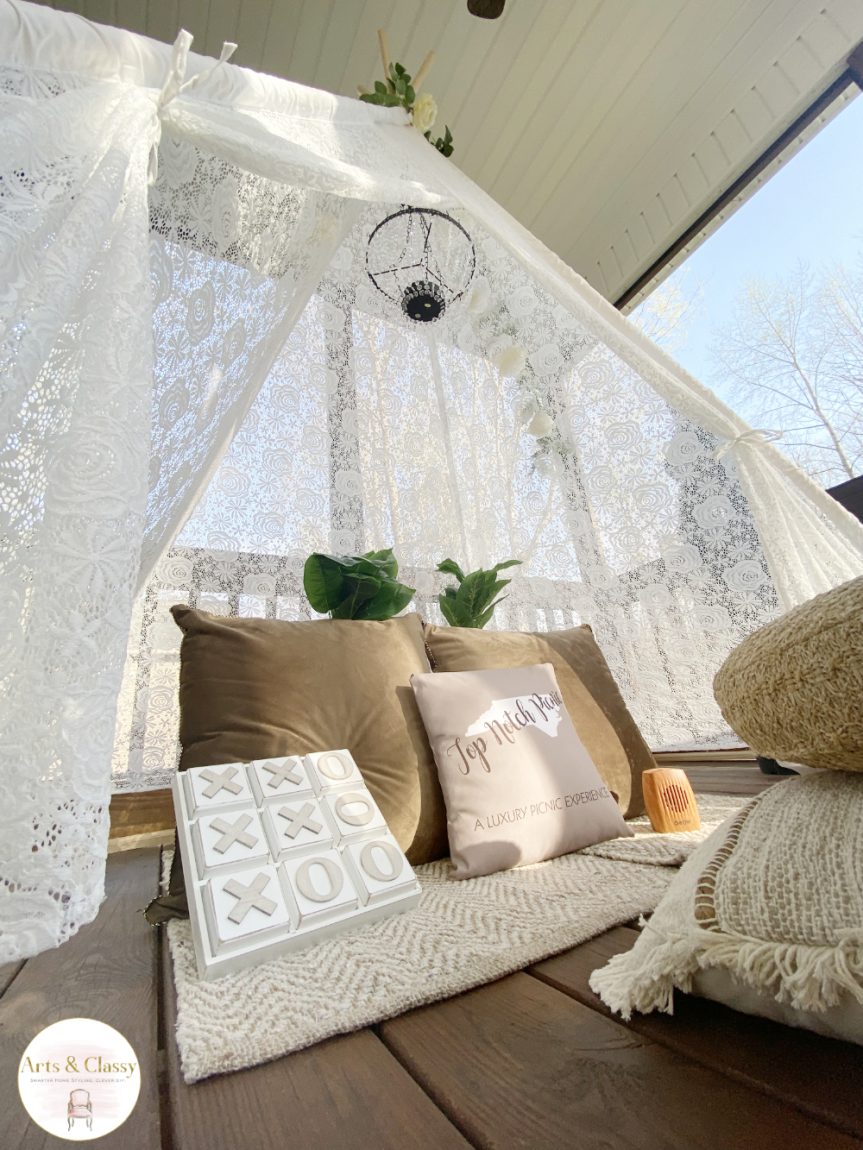 Plan For Fun
This was such a memorable and next level experience and my sister was pleased by the elegance of the event. We both had a wonderful time celebrating her birthday a little early! I decided to hire Devena and Mike again later this year when my mom is visiting as a fun Mother's Day experience.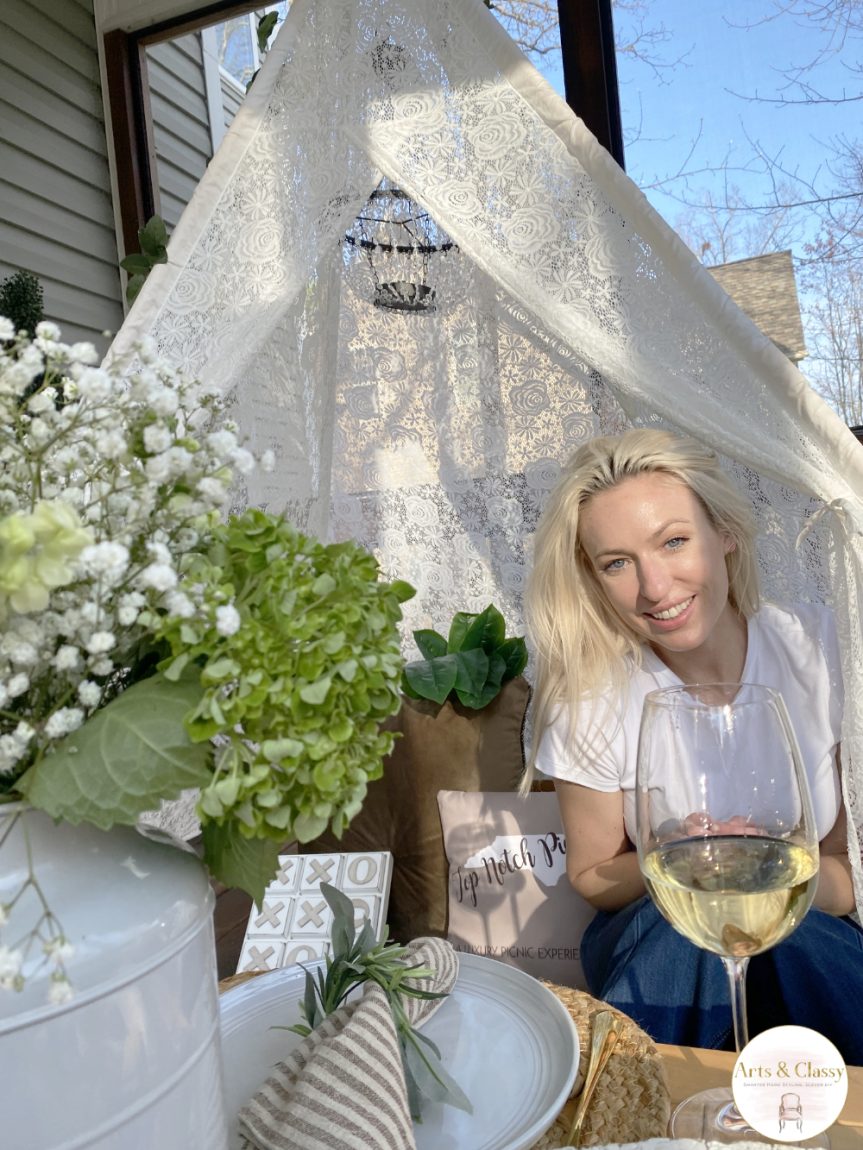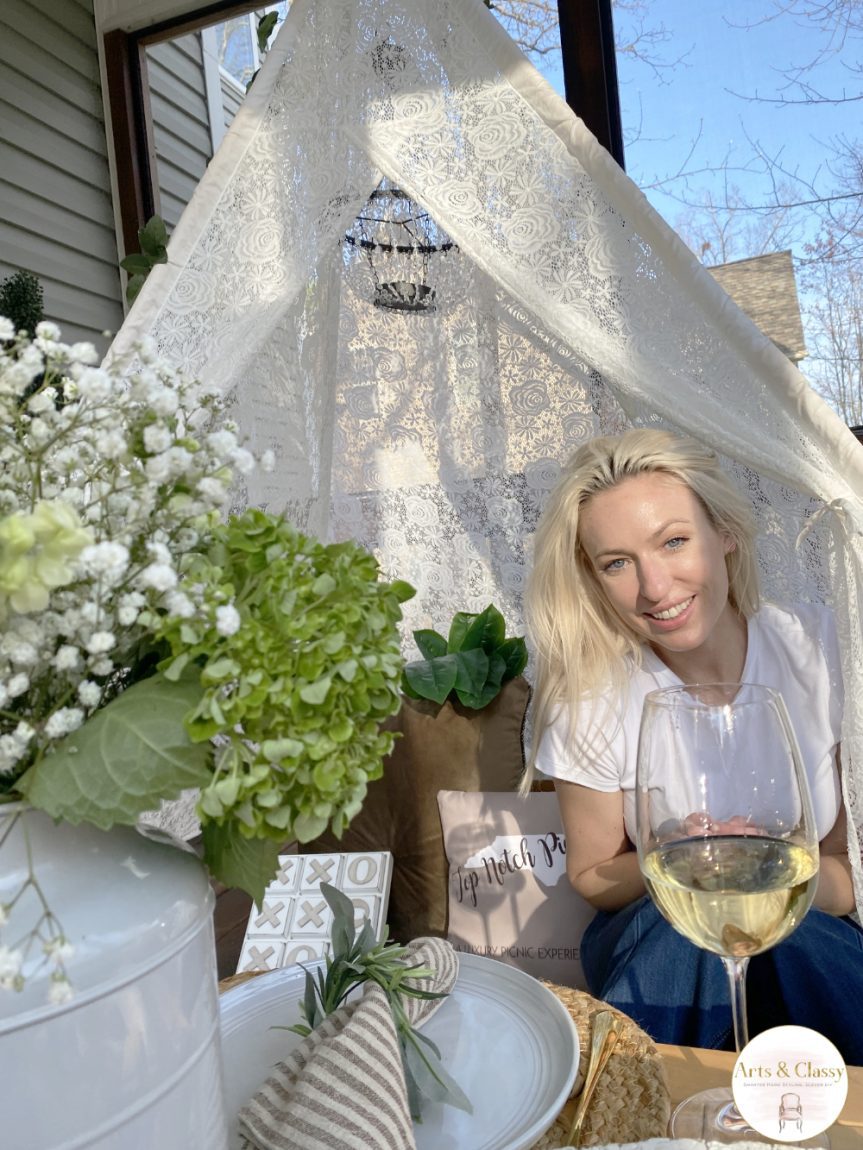 Curious to make host your own gourmet picnic near Raleigh? Top Notch Luxury Picnics is based in Clayton, NC. They are servicing the Raleigh community and Greater Triangle area. I am grateful that we connected and I highly recommend supporting this local business! I hope they continue to grow and prosper from the amazing work that they do in the Raleigh area.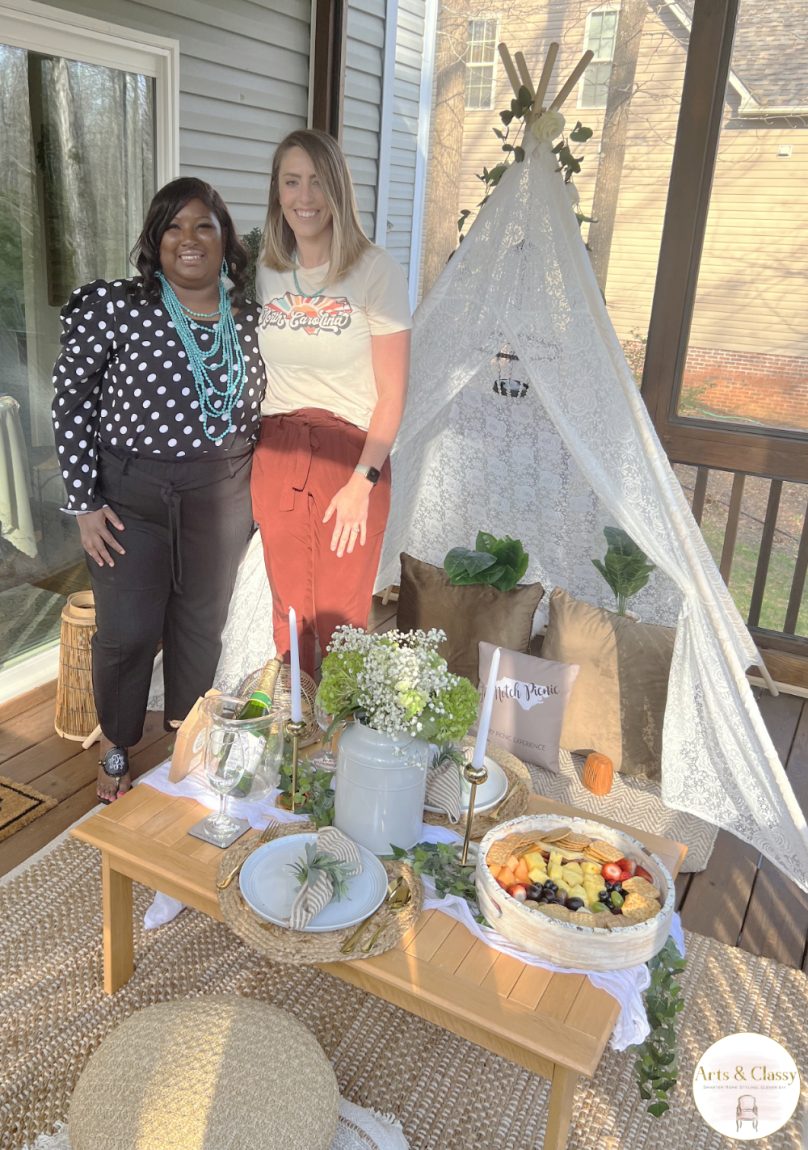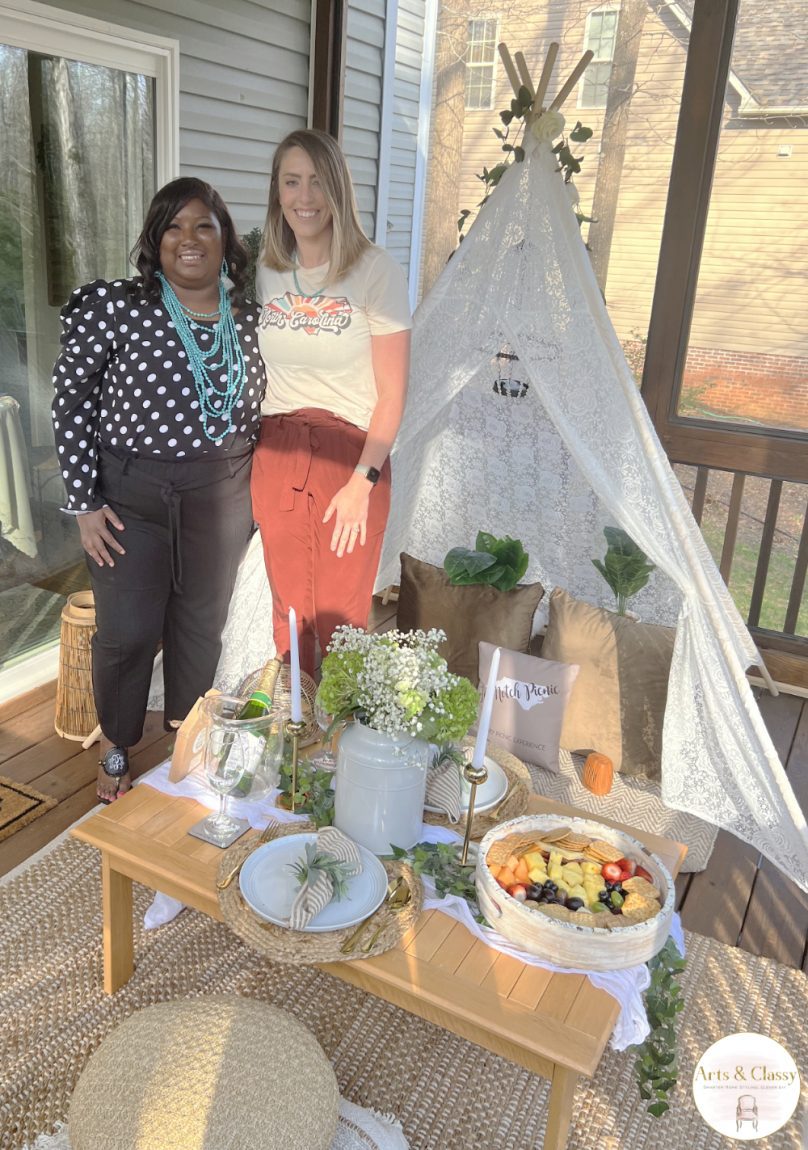 Make sure you are following Top Notch Picnics on Instagram and Facebook. You can find out more details about Devena and Mike and how they can make the perfect gourmet picnic near Raleigh for you on their website.
If you like this post, you may also enjoy: