Gobble Up Inspiration: 33 Thanksgiving Decoration Ideas for Every Corner
Thanksgiving is a time of togetherness, gratitude, and delicious feasts. What better way to embrace the spirit of this wonderful holiday than by transforming your home into a warm and inviting haven for family and friends? In this post, we'll take you on a journey through 33 Thanksgiving decoration ideas that will infuse creativity, peace, and numerous benefits into your festive celebrations.
Let's dive in!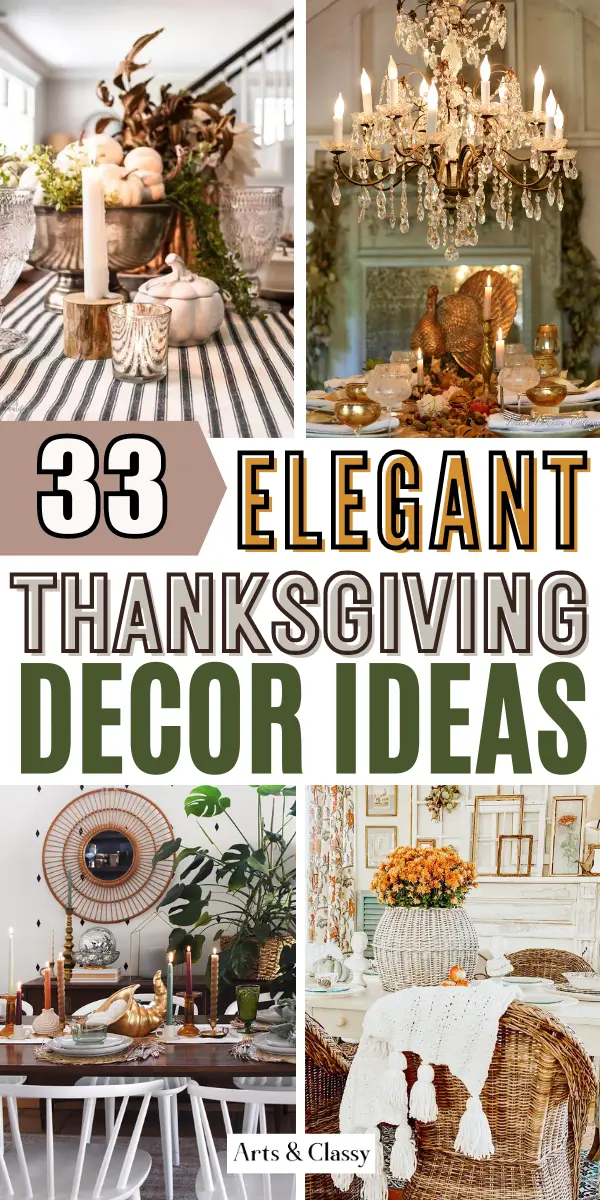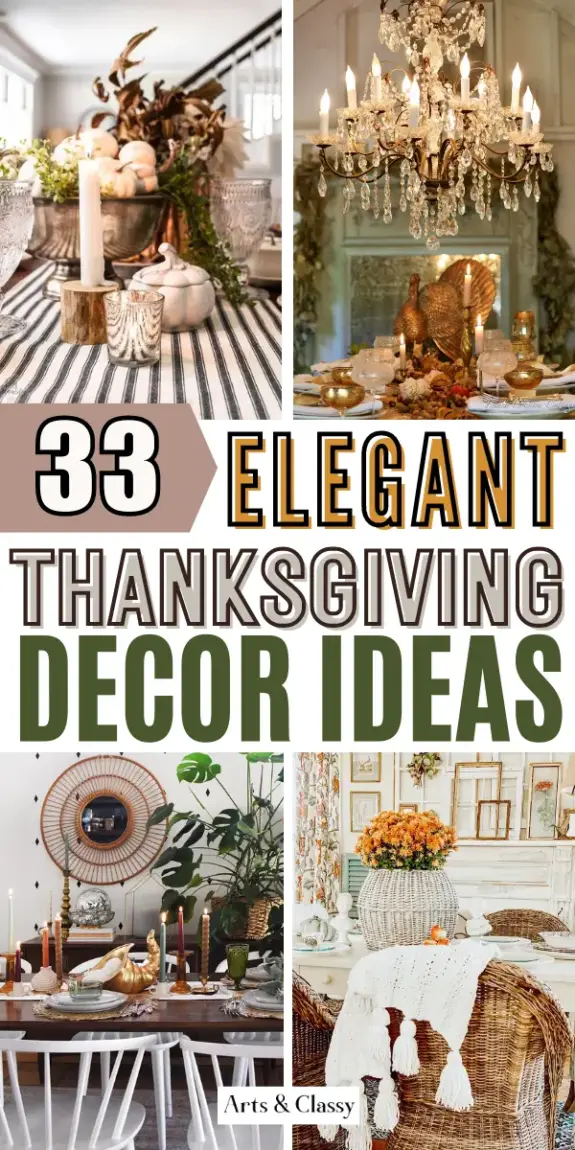 This post contains some affiliate links. I may earn a small commission if you make a purchase through one of these links. See more information in my full disclosure policy.
Section 1: The Creative Touch
Thanksgiving offers endless opportunities for creativity in your decorating endeavors.
1. Whimsical Pumpkin Display
Paint and decorate pumpkins in unique, unexpected ways to add a playful touch to your decor. These mini pumpkin centerpieces will be the talk of your gathering.
2. Thanksgiving Tree
Create a 'Thanksgiving Tree' where guests can hang leaves with things they're thankful for. It's a lovely interactive decoration, and each leaf can double as a place card.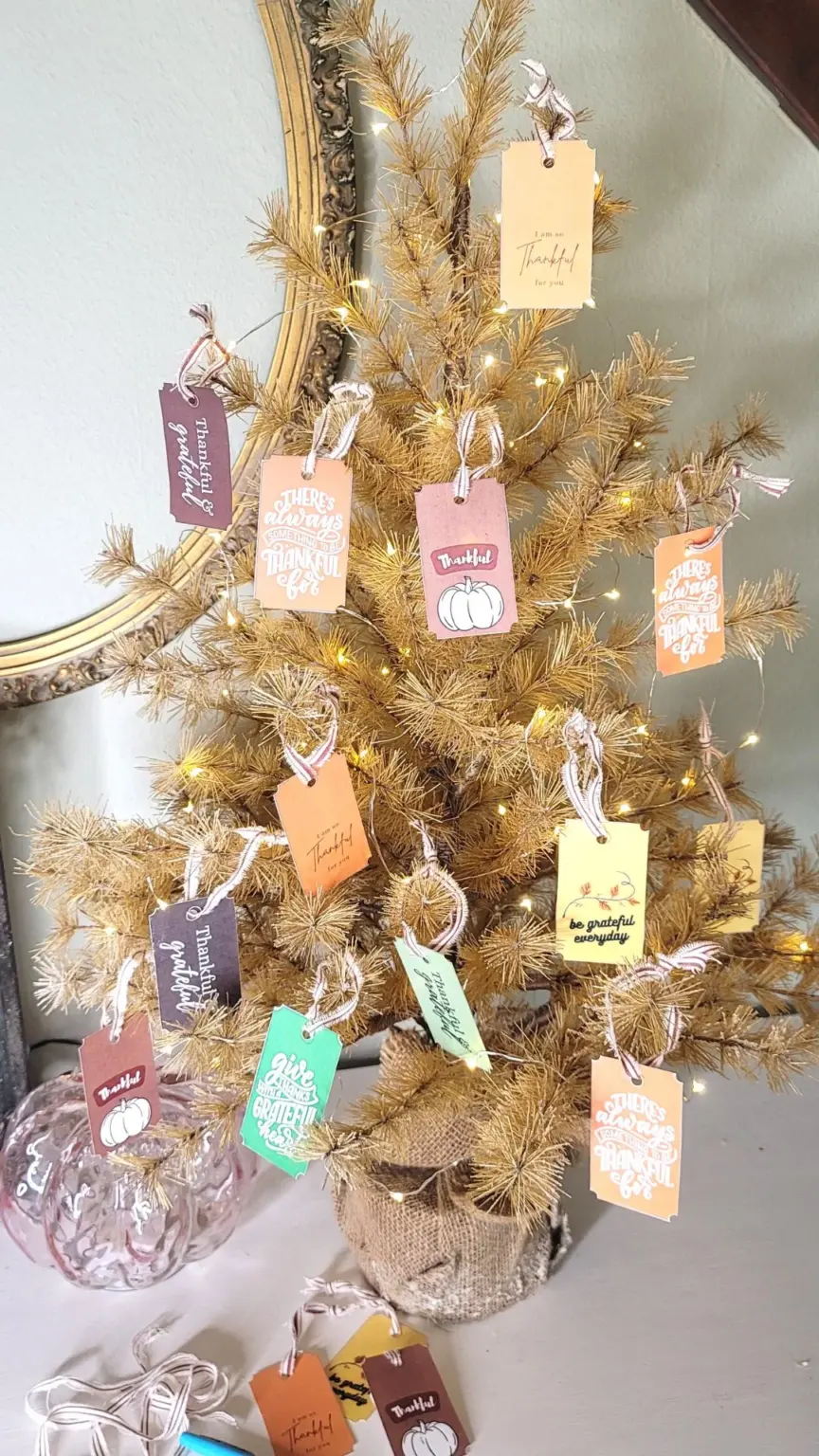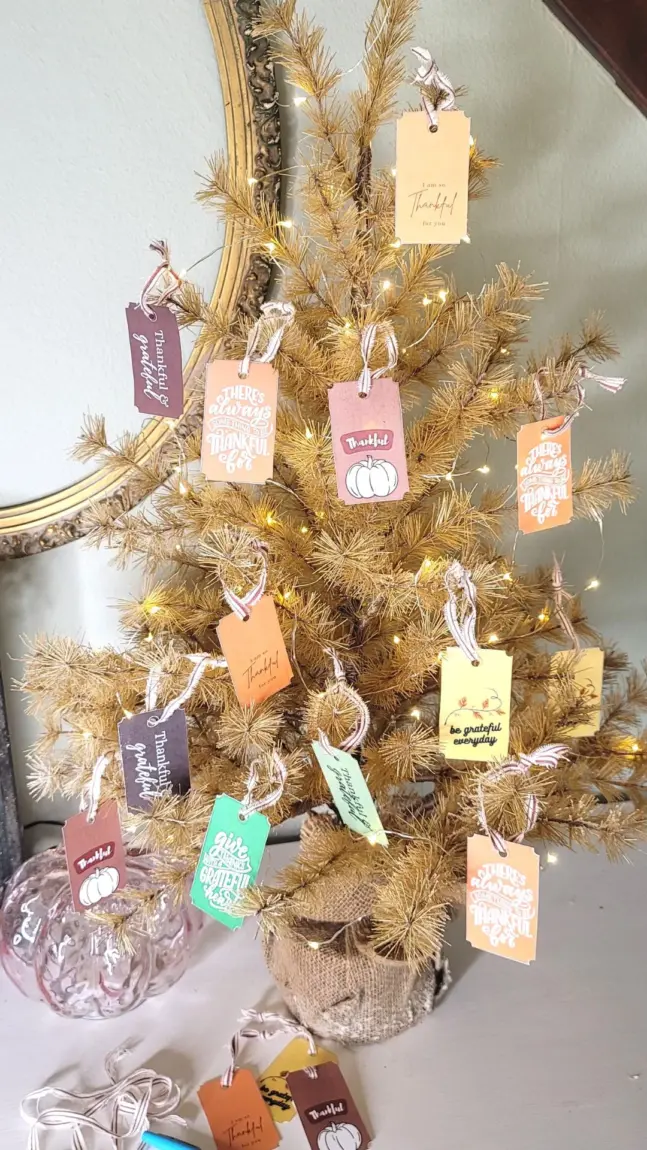 3. Autumn Wreaths
Craft your autumn wreaths using colorful fall foliage, pinecones, and ribbons for a personal touch. Hang them on your front door for a warm welcome to your Thanksgiving feast.
4. Harvest Garland
String together artificial leaves, acorns, and miniature pumpkins for a charming tablescape or to decorate your front porch.
5. Mason Jar Candle Holders
Paint mason jars in fall colors and place tea lights inside to cast a warm, welcoming glow. These candles create a cozy atmosphere in your home.
Section 2: Finding Peace in Simplicity
Thanksgiving decoration doesn't have to be extravagant; sometimes, simple is best.
6. Neutral Color Palette
Opt for a serene, neutral color scheme with whites, beiges, and muted tones to create a peaceful ambiance. Use neutral linens and napkins for a soothing effect.
7. Natural Elements
Use natural elements like wooden trays, woven baskets, and burlap table runners for a rustic and calming effect. Incorporate gourds and a bowl of fall leaves for a dash of nature's beauty.
8. Candles Everywhere
Light unscented candles in various sizes throughout your space for a tranquil, flickering atmosphere. Consider placing them in elegant lanterns.
9. Minimalistic Table Setting
Embrace a minimalist table setting to focus on the food and meaningful conversations. Use simple napkin rings for an understated touch.
10. Thankful Wall Art
Create a 'Thankful' wall art piece with elegant lettering and a simple design to remind everyone of the holiday's essence. Add a garland of fall leaves for extra warmth.
Section 3: Benefits of Thanksgiving Decorating
Beyond aesthetics, Thanksgiving decorating brings an array of benefits to your home and soul.
11. Fostering Gratitude
Decorating your home with gratitude-themed items serves as a constant reminder to be thankful for the little and big things in life.
12. Stress Reduction
The act of decorating can be a therapeutic, stress-relieving activity, setting the tone for a more relaxed holiday season. Consider a spray paint DIY project.
13. Family Bonding
Involve your family in the decorating process to create memorable experiences and strengthen your connections. Make place cards together as a fun family activity.
14. Creating Tradition
Thanksgiving decorating can become a cherished tradition, bringing family members together each year to create a festive atmosphere.
15. Warm Welcome
A decorated home creates a welcoming atmosphere, making your guests feel loved and appreciated. Place a warm tablescape at your front porch to greet your guests.
Section 4: DIY Decorating for Thanksgiving
Get your hands busy with these creative DIY projects.
16. Leaf Place Cards
Craft elegant leaf place cards for your table settings, adding a personal touch to each guest's seat.
17. Gratitude Banner
Design a beautiful banner where everyone can write down what they're thankful for.
18. Burlap Table Runner
Sew a rustic burlap table runner to set the stage for your Thanksgiving feast.
19. Scented Pinecone Decor
Create scented pinecone decorations using essential oils for a fragrant touch.
20. Cornucopia Centerpiece
Make a traditional cornucopia centerpiece brimming with seasonal fruits and vegetables for fabulous Thanksgiving decoration ideas.
Section 5: Chic and Budget-Friendly Thanksgiving Decor
Enhance your Thanksgiving decor without breaking the bank.
21. Dollar Store Delights
Explore your local dollar store for affordable yet chic decor items. From elegant vases and candleholders to artificial flowers, you'll be surprised by the budget-friendly treasures you can find.
22. Upcycled Elegance
Embrace the art of upcycling by giving new life to old items. A vintage mirror, with a fresh coat of paint, can become a stunning addition to your Thanksgiving decor. Your old mason jars can be transformed into stylish candle holders with a little creativity.
23. Nature's Bounty
Mother Nature offers an abundance of budget-friendly decorating options. Gather fallen branches, pinecones, and acorns from your yard or local park to create charming centerpieces and wreaths. Spray paint pinecones in metallic colors for a touch of elegance.
24. Thrift Store Treasures
Thrift stores are gold mines for unique, chic, and cost-effective decor. Hunt for vintage serving platters, crystal bowls, or eclectic dinnerware to add a touch of charm to your Thanksgiving table setting.
25. DIY Linens
Design your own table linens by painting or stenciling plain fabric tablecloths and napkins. This personal touch not only saves money but also adds a unique flair to your Thanksgiving table.
Section 6: Casual and Cute Thanksgiving Outfits
Rock your Thanksgiving with these effortlessly chic and comfy outfit ideas.
26. Wide Leg Wonder
If you're all about comfort, consider wide-leg jeans as your base. I love these wide-leg jeans from Old Navy! Pair them with a cozy long-sleeve tee for a relaxed fit. Add a stylish fedora and comfortable boots for an easy Fall outfit that you can effortlessly dress up or down. It's the perfect blend of comfort and chic for a laid-back Thanksgiving celebration.
27. Effortless Elegance
Create an effortless yet chic fall outfit with fall closet essentials. Start with your favorite pair of comfy jeans, and then add a cozy sweater or knit top. Accessorize with a statement belt to cinch your waist and stylish ankle boots. This look is all about simplicity and charm, allowing you to enjoy your Thanksgiving feast without sacrificing style.
28. Layered Comfort
For a casual yet chic outfit, play with layers. Begin with a basic long-sleeve tee and layer it with a stylish cardigan or a lightweight, patterned kimono. Complete the look with your go-to jeans or comfy leggings and a pair of casual but trendy sneakers. It's a relaxed and chic ensemble that will make you feel at ease during your Thanksgiving festivities.
Section 7: Chic and Budget-Friendly Decor Inspiration
Elevate your Thanksgiving decor while keeping your budget intact with these stylish and wallet-friendly ideas.
29. Rustic Charm on a Budget
Achieve a rustic yet chic Thanksgiving decor by using burlap table runners and placemats. These affordable, natural fiber materials exude warmth and simplicity. Enhance the look with mini pumpkin and pine cone centerpieces that you can gather for free from your surroundings.
30. Artistic DIY Decor
Channel your inner artist with DIY decor projects for Thanksgiving decoration ideas. Paint plain glass candleholders with metallic gold or silver accents for a touch of elegance. Design your own leaf place cards using craft paper, showcasing your creative flair without straining your wallet.
31. Expressing Gratitude
Encourage your guests to share what they're thankful for. Place small note cards and pens on the table, and before or after the meal, have everyone write down their expressions of gratitude. You can even collect these notes to create a yearly keepsake.
32. Thrifty Thrift Store Finds
Visit thrift stores or consignment shops to discover chic yet budget-friendly decor pieces. You might stumble upon vintage lanterns, elegant napkin rings, or a charming wooden bowl for a fraction of the cost you'd pay for new items. These unique finds can add character to your Thanksgiving table setting.
33. Repurpose and Recreate
Take a second look at the items you already have for Thanksgiving decoration ideas. That old glass jar? Turn it into a chic candle holder. Those leftover Christmas ribbon rolls from last year's holiday? Use them to tie napkins for a charming touch. Repurposing and reimagining what you already own can be the most budget-friendly decor solution.
In conclusion, decorating for Thanksgiving is more than just adorning your space; it's about nurturing gratitude, fostering family bonds, and adding a touch of personal style to your celebration.
The peace and creativity that come with Thanksgiving decoration bring endless benefits to your life. So, embrace the joy of decorating this Thanksgiving season and let your creativity shine, as you create a space filled with warmth and love for your loved ones.
This Thanksgiving, let your home be a reflection of your gratitude, your creativity, and your welcoming spirit. Gobble up the inspiration, and have a fantastic Thanksgiving celebration!
If you liked these Thanksgiving decoration ideas, you might also like: