Grab Your FREE Thanksgiving Printables
Hey there, lovely readers! 😊 I'm thrilled to share some fantastic free printables with you, just in time for the upcoming Thanksgiving season. I don't know about you, but I absolutely adore getting my hands on freebies! What's even more exciting is that I've been pouring my heart into creating these Thanksgiving-themed printables to help you decorate your home in style.
Thanksgiving is all about gratitude and making the festivities fun and memorable. It's that wonderful time of year when we come together with our families, friends, and little ones to savor the delights of turkey, delicious pumpkin pie, and an array of mouthwatering treats around the dinner table.
The essence of Thanksgiving is crafting a cornucopia of beautiful memories with our loved ones. It's the perfect occasion to start a gratitude journal or express your heartfelt feelings in creative ways. To make this Thanksgiving extra special, I've put together a collection of four charming Thanksgiving printables for you to download and enjoy.
As we approach the end of the year (can you believe it's almost over?), I couldn't resist whipping up these lovely printables for you.
But that's not all; I'm already working on some fabulous winter printables, so stay tuned for those too! Let's make this Thanksgiving season a time of warmth, love, and creativity. 🦃✨
In this blog post, we'll dive into the details of these amazing printables, including a Thanks banner, stunning Thanksgiving table centerpieces, and more. I'll even share some tips on how to use them to decorate your space for the upcoming holiday. Get ready to make your Thanksgiving celebration Instagram-worthy with a touch of creativity and a dash of twine for that extra fun factor.
So, if you're as excited as I am about adding a touch of art to your fall decor, you're in for a treat. Let's make this Thanksgiving season unforgettable with these delightful art prints and printable decorations. Stay with me as we explore everything you need for your Thanksgiving planning. 😄🍁🍂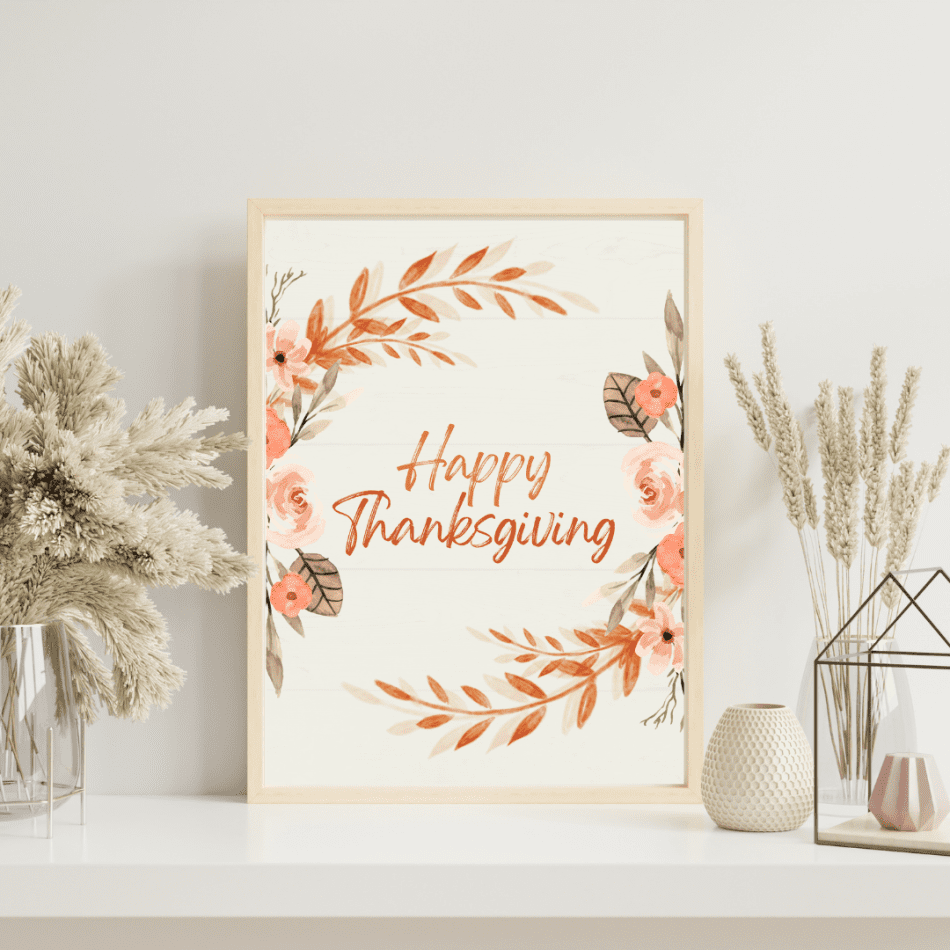 RELATED: 10 THANKSGIVING DECOR PRINTABLES FOR HOME ON A BUDGET
This post contains some affiliate links. I may earn a small commission if you make a purchase through one of these links. See more information in my disclosure policy.
Since Thanksgiving dinner is only in a couple of weeks, I wanted to make some cute printables that I know you will enjoy.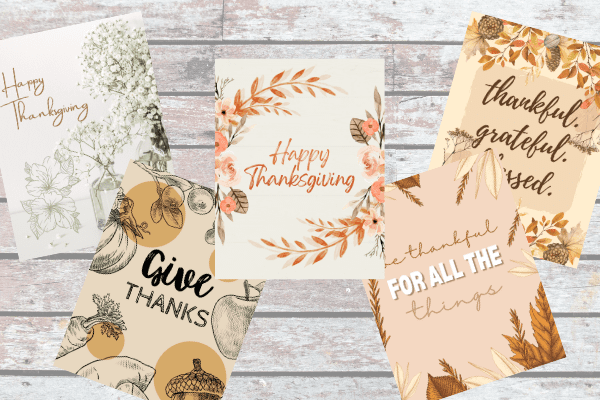 All you have to do is download the bundle.
Size them to whatever frame you have.
Print these free Thanksgiving-themed printables.
Pop them in a frame and ENJOY!
If you are looking to add to your table decorations, then you will love the ones I found on Amazon. Happy almost Thanksgiving! I hope that you have a wonderful, safe, and a ton of fun this holiday season!
RELATED: 8 FALL DECORATING IDEAS FOR THE HOME
Please check out my FREE Thanksgiving printable pack I made this autumn. So you can either use or save for next year.
Either way, I am super grateful that you visited my small corner of the internet today. No matter what your Thanksgiving activities will be, this will be a fun way to decorate your home on a budget. I hope you and your guests have a wonderful Thanksgiving day!
RELATED: PRINTABLE THANKSGIVING CRAFTS CARDBOARD TURKEY CRAFT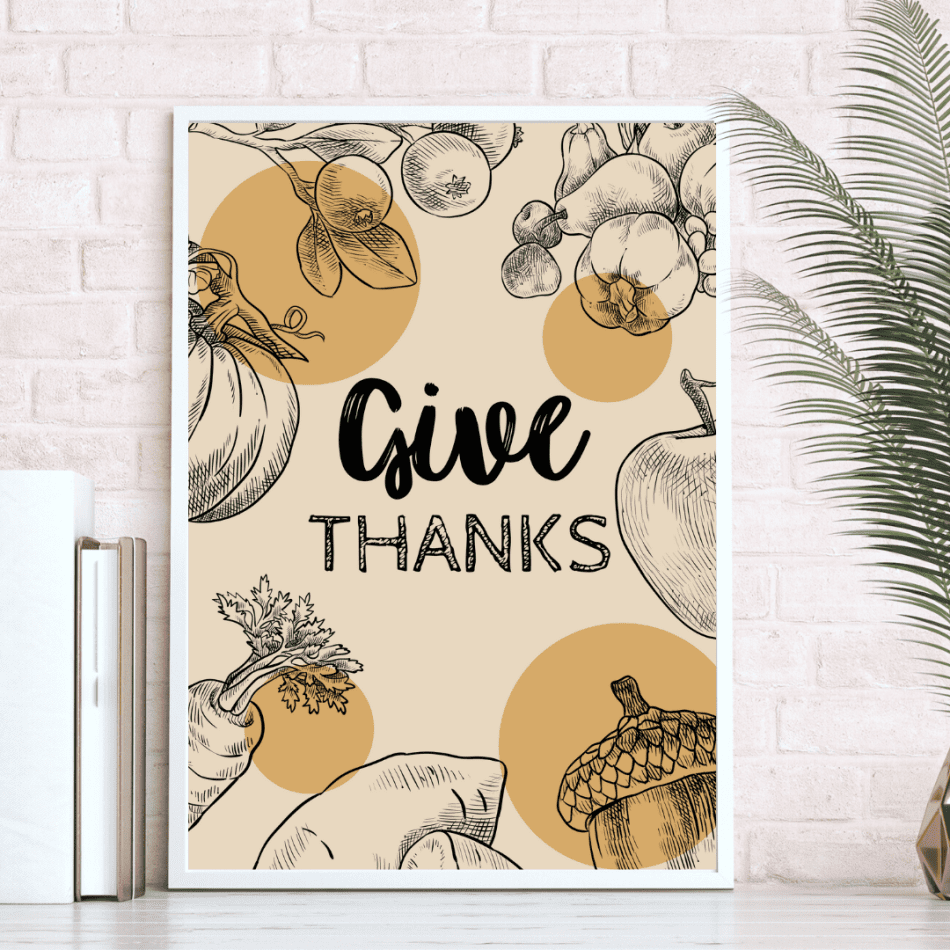 If you are looking for more things for your holiday, check out these Thanksgiving place cards for your Thanksgiving table. If you are looking for printable activities, I also found some Thanksgiving coloring pages and activity placemats that would be perfect for the kids to enjoy. Keeping them busy and engaged is important after all and Thanksgiving activity pages are a great way to do it.
Thanks for visiting my blog! I hope you found this post helpful. Thank you for all the support, I am grateful for you!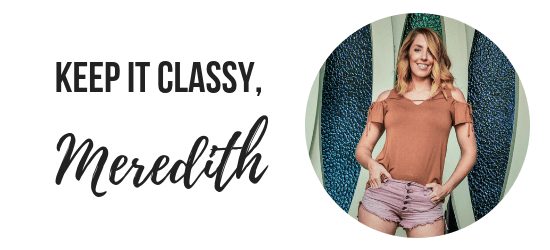 If you liked these FREE Thanksgiving printables, please make sure to pin them to your Pinterest boards to share the love. I would really appreciate it!