This farmhouse decorating style post has been sponsored by Nearly Natural, however, all thoughts and opinions expressed are entirely my own.
Apartment living has been familiar territory for my entire adult life. Since I started living in a house, it has been a learning curve with the amount of yard work we have to do to maintain it.
Our front patio has a robust bougainvillea bush that explodes with vines during certain parts of the year. The vines always end up creeping towards our front door which gets really bothersome. I think this is part of why I always have enjoyed fake plants over real ones. They are so much easier to care for.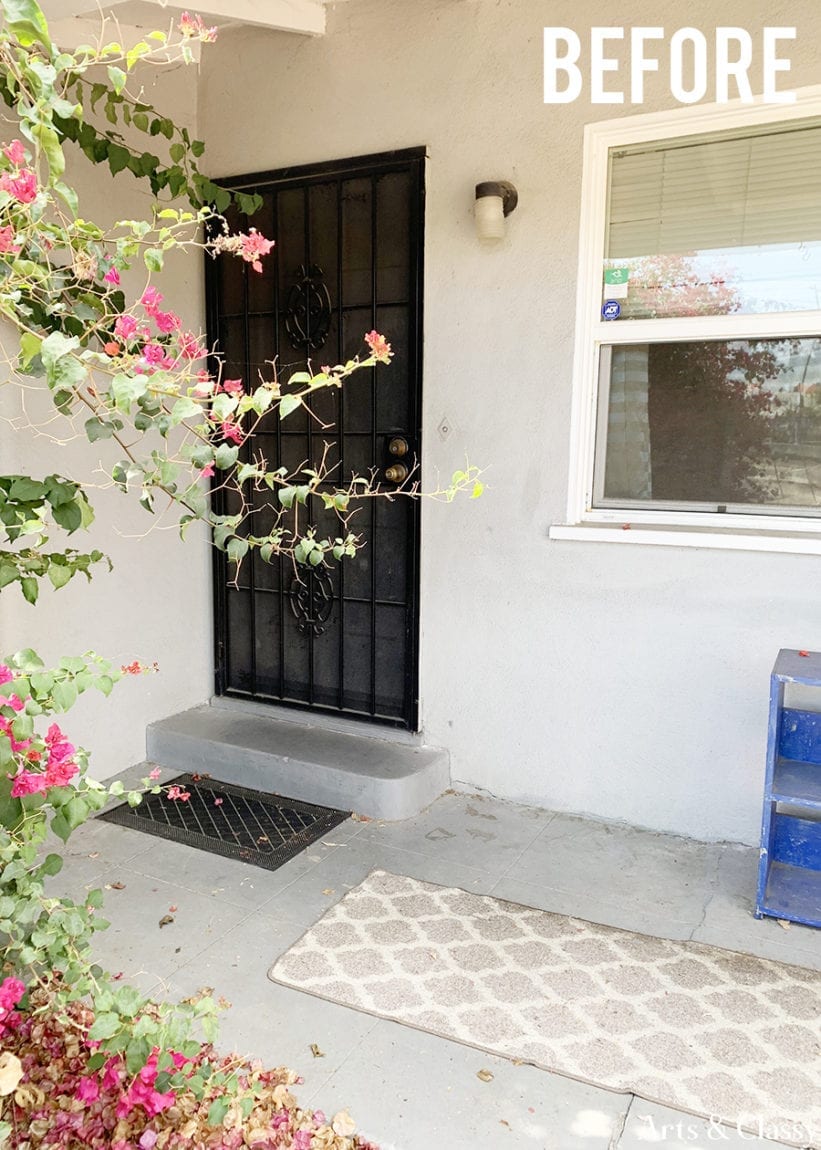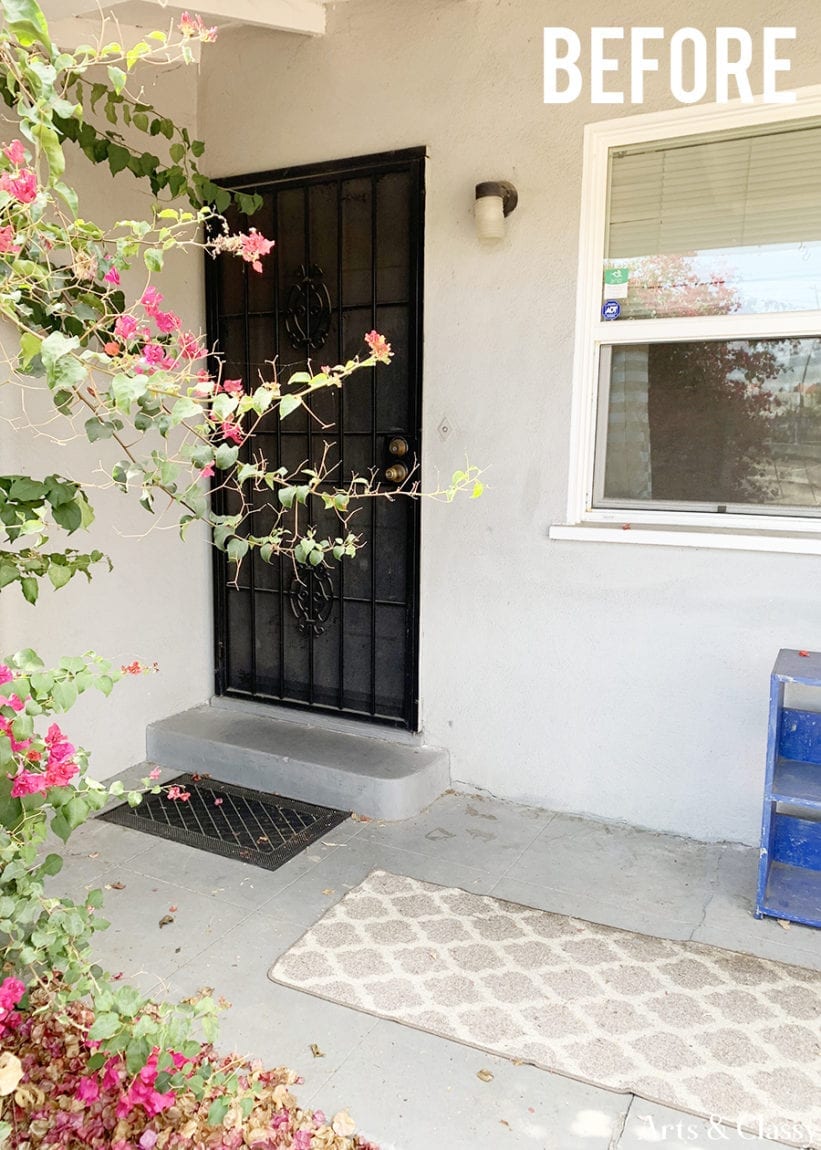 In case you did know… I am moving from Los Angeles to Denver, Colorado! It's happening in about 2 weeks from now!!!! My husband and I are super excited about this next chapter in our lives.
In the meantime, I have been very busy cleaning up my home and packing for the move. I like to leave things nicer than when I found them. You can see the BEFORE photos of my patio…I am a little embarrassed with how ugly I allowed our front patio get.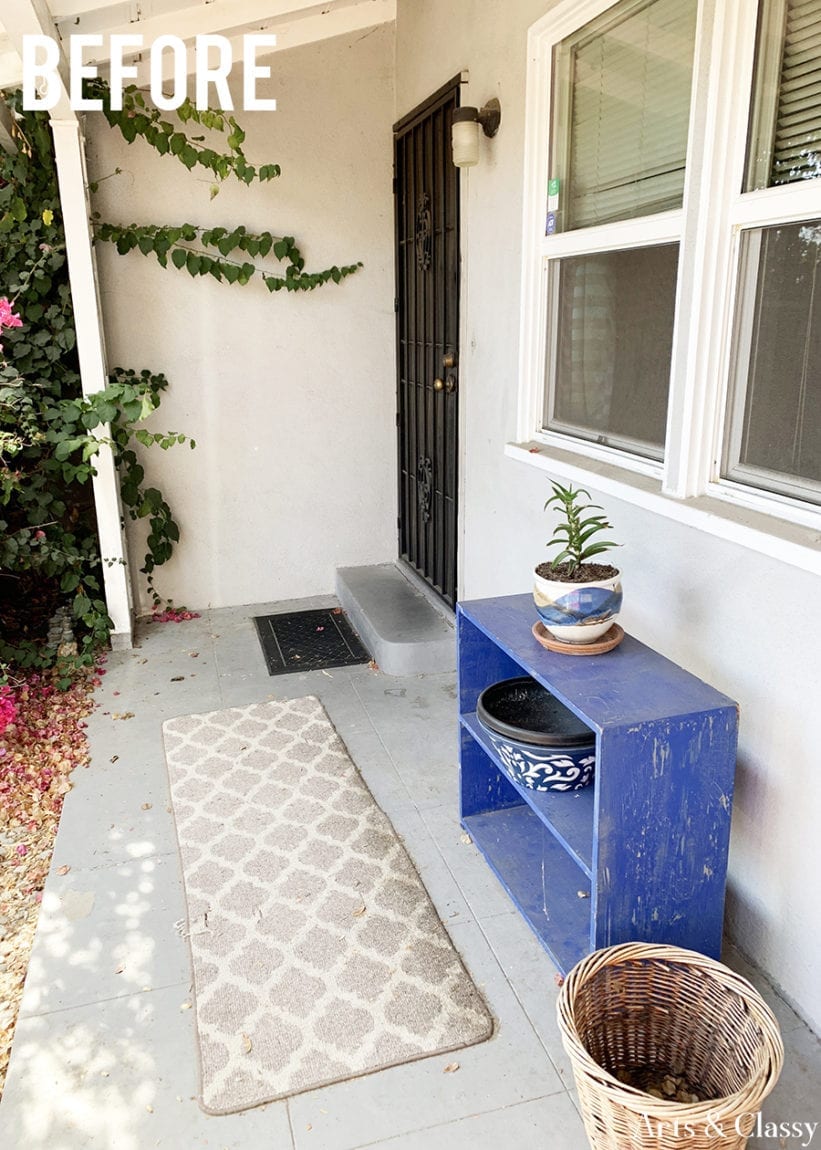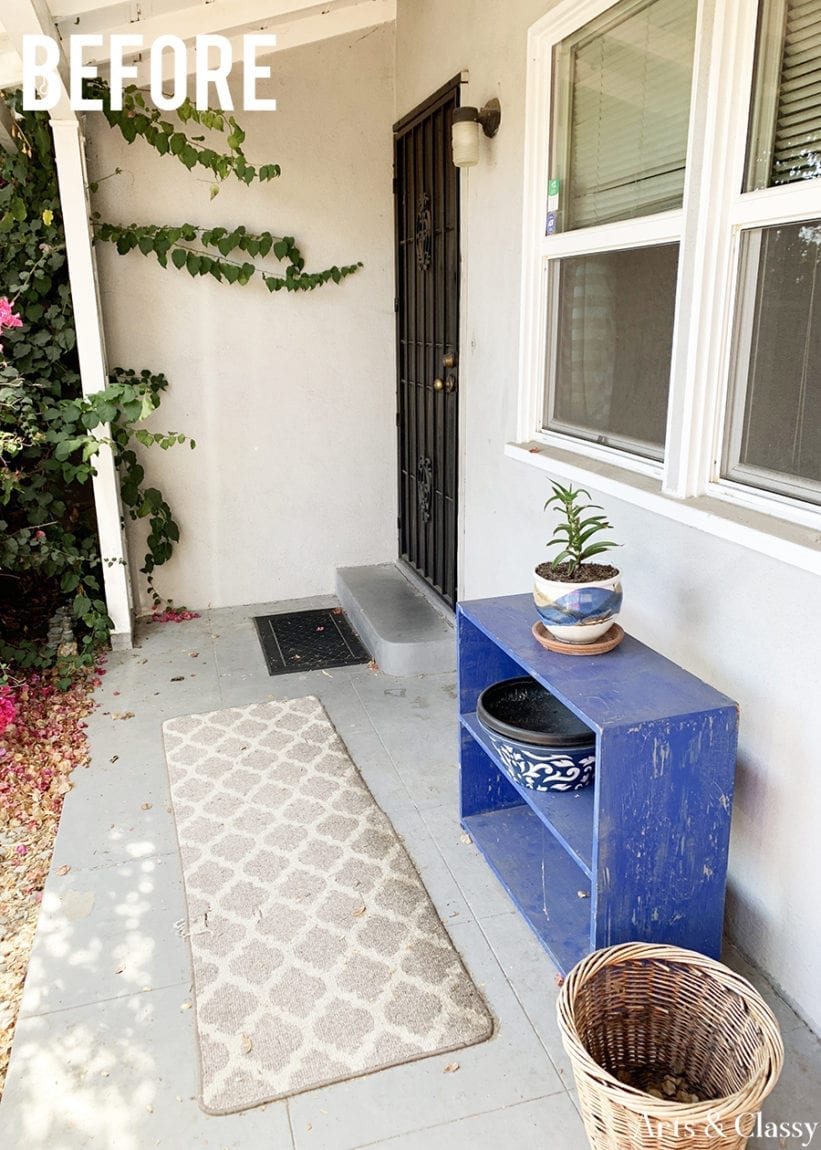 I was so happy that Nearly Natural wanted to help me clean this space up before we depart on our new adventure. They sent me a beautiful fall wreath and some farmhouse decorating style topiaries that I am excited to have on display.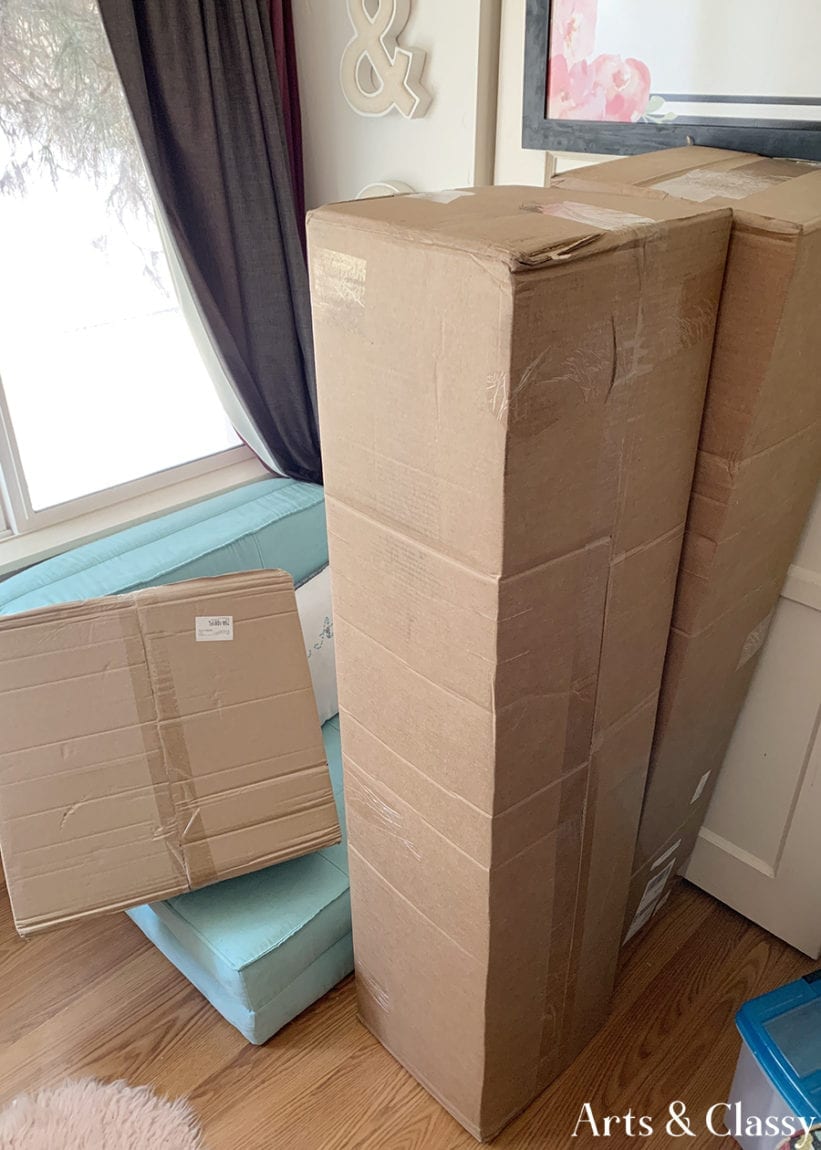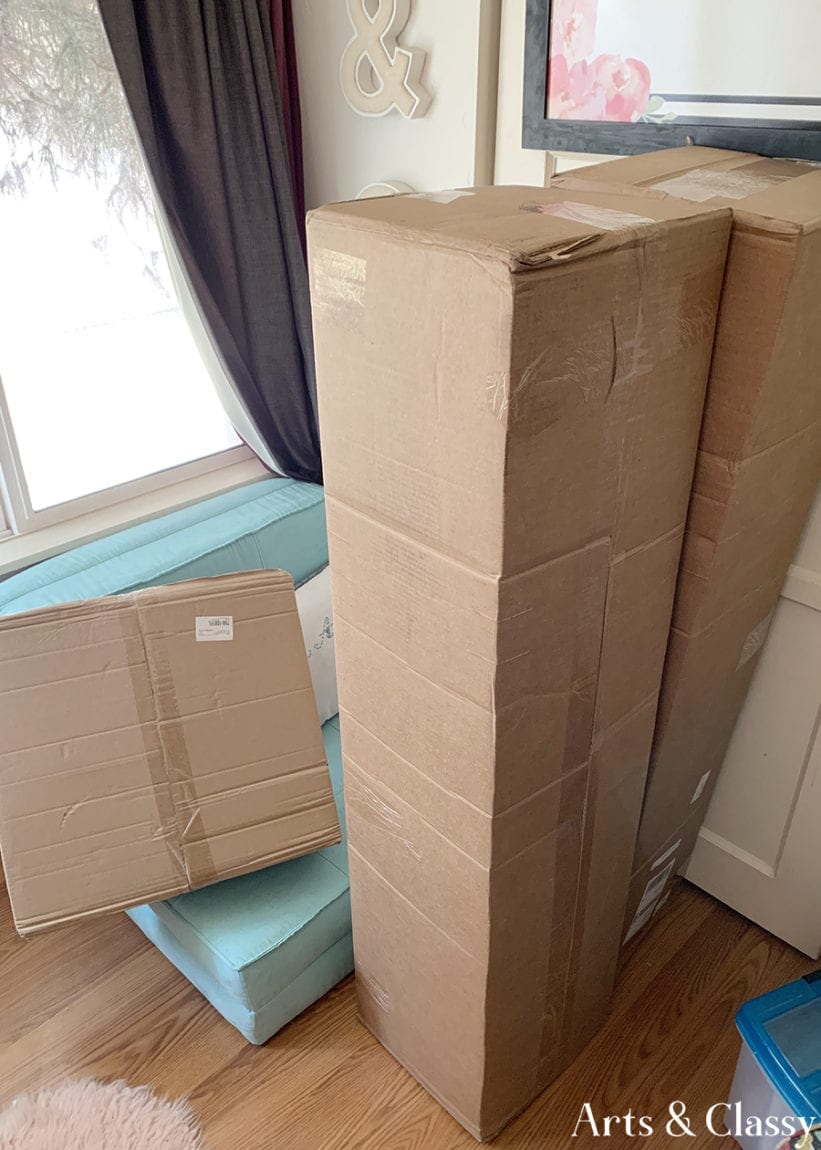 The BONUS is that we get to take these with us to our new apartment in Denver and I am excited to incorporate them into our decor there.
Step 1 of this patio clean up was removing everything from it.
That meant moving the rug, the shelf, the mat, etc. I had to get it all out of the way so I could clean.
Step 2 was taking my water hose to rinse the patio off of any debris
I like to use a water hose to quickly power wash the concrete floor and the side of the house. It has a stucco finish and dust etc. gets caught on it.
Step 3 was a lot of sweeping.
I got out a rake and a broom. I had a lot of excess bougainvillea flowers to rake and sweep up. They were everywhere. This took some time to clean up.
Step 4 was to trim the bougainvillea vines.
Trimming these vines required gloves because this bush has thorns. Once it was trimmed it looked sooooo much better.
Step 5 was to add my new wreath and 2 farmhouse decorating style topiaries to the front patio.
I really love this beautiful fall wreath! It has a fall feeling to it but with a classy rustic twist to it. I love that it is made up of magnolia leaves, berries, antlers, pinecones, and peacock feathers. It doesn't seem like a traditional fall wreath which is my favorite part!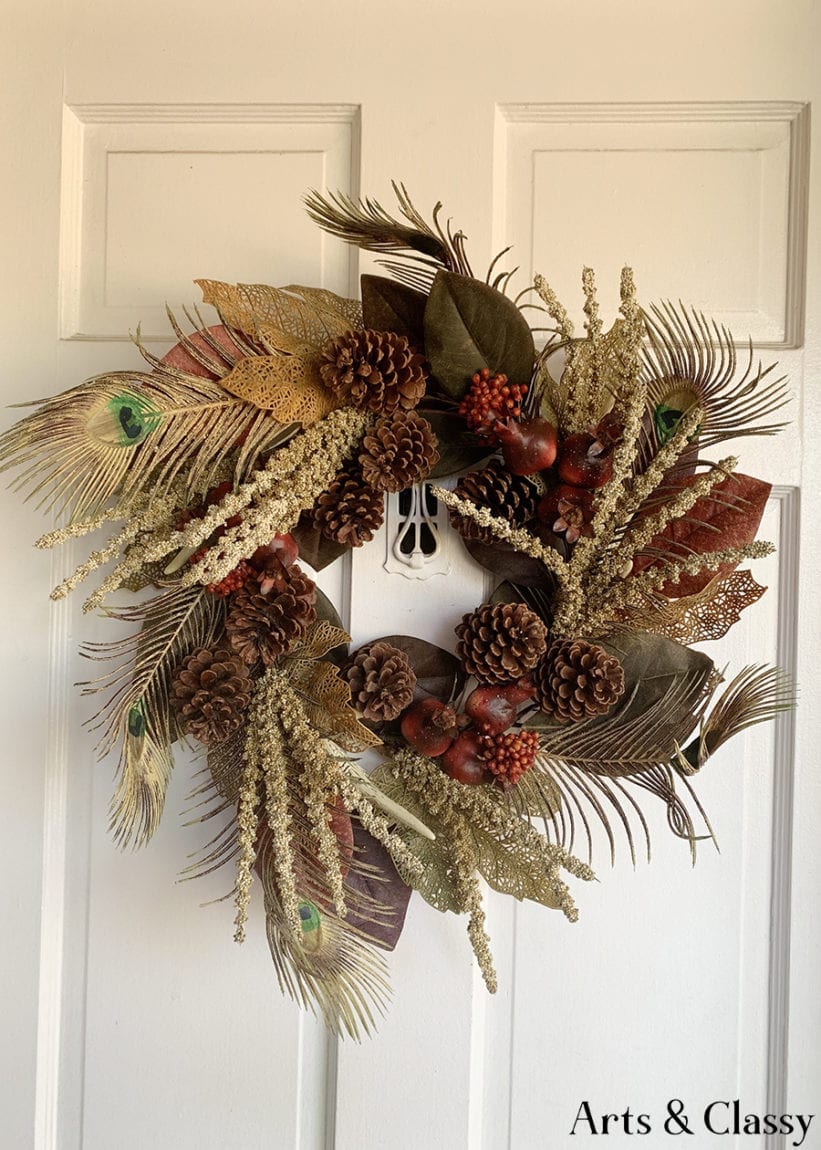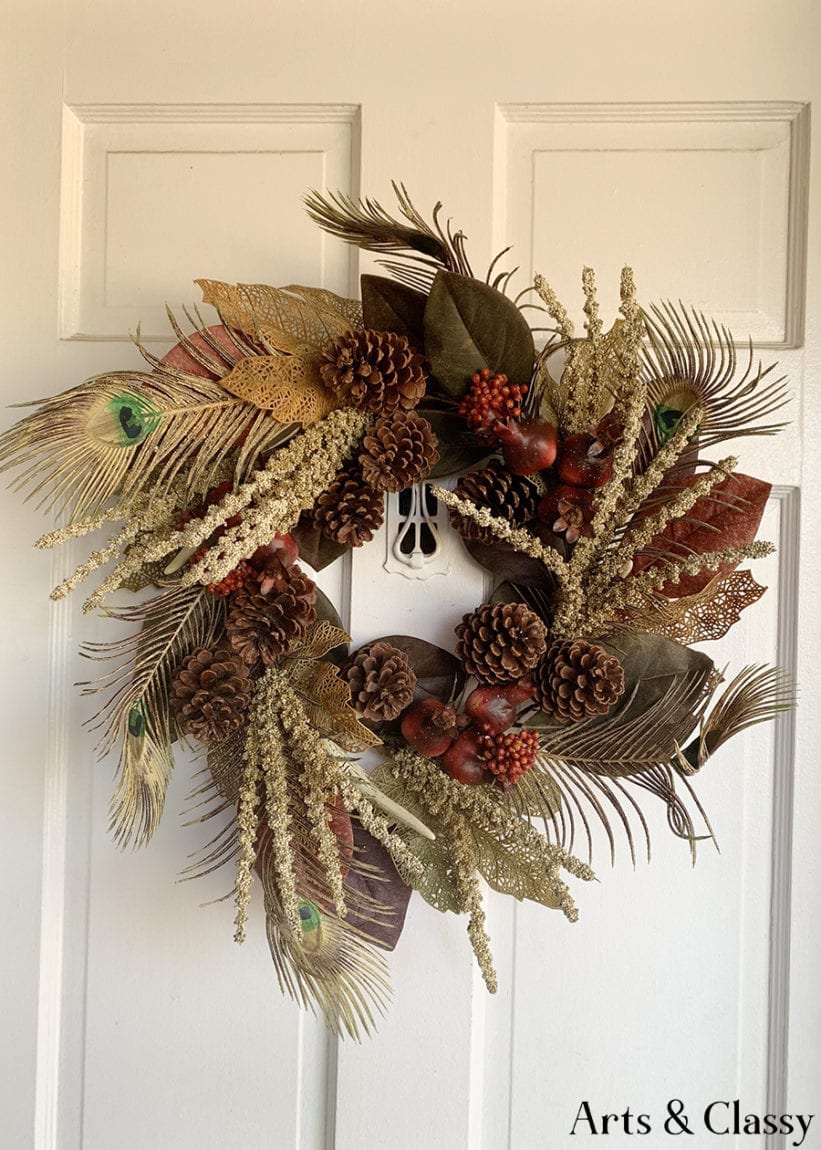 My husband and I are obsessed with these English Ivy Farmhouse topiaries. They work perfectly for the patio at this house, but could also work inside our next apartment. These farmhouse decorating style topiaries came with the rustic farmhouse bucket planters too which felt like a bonus. I am seriously obsessed with how they look!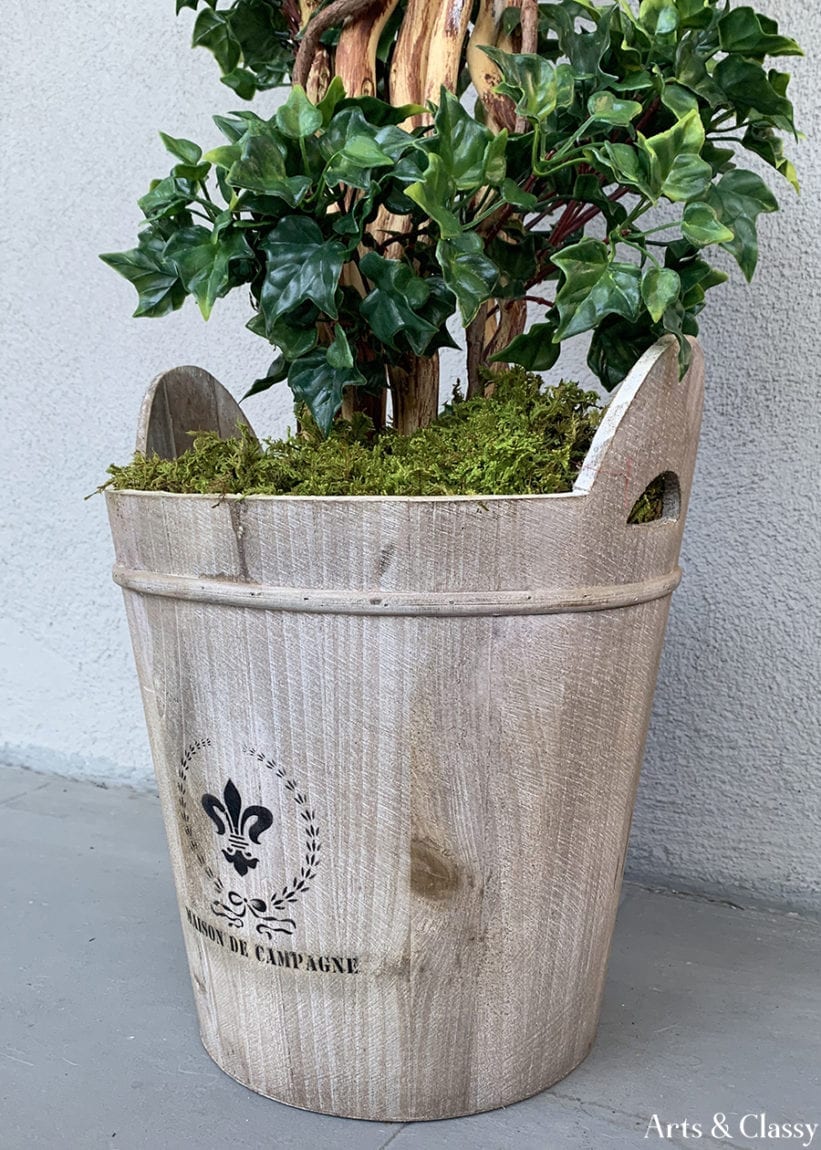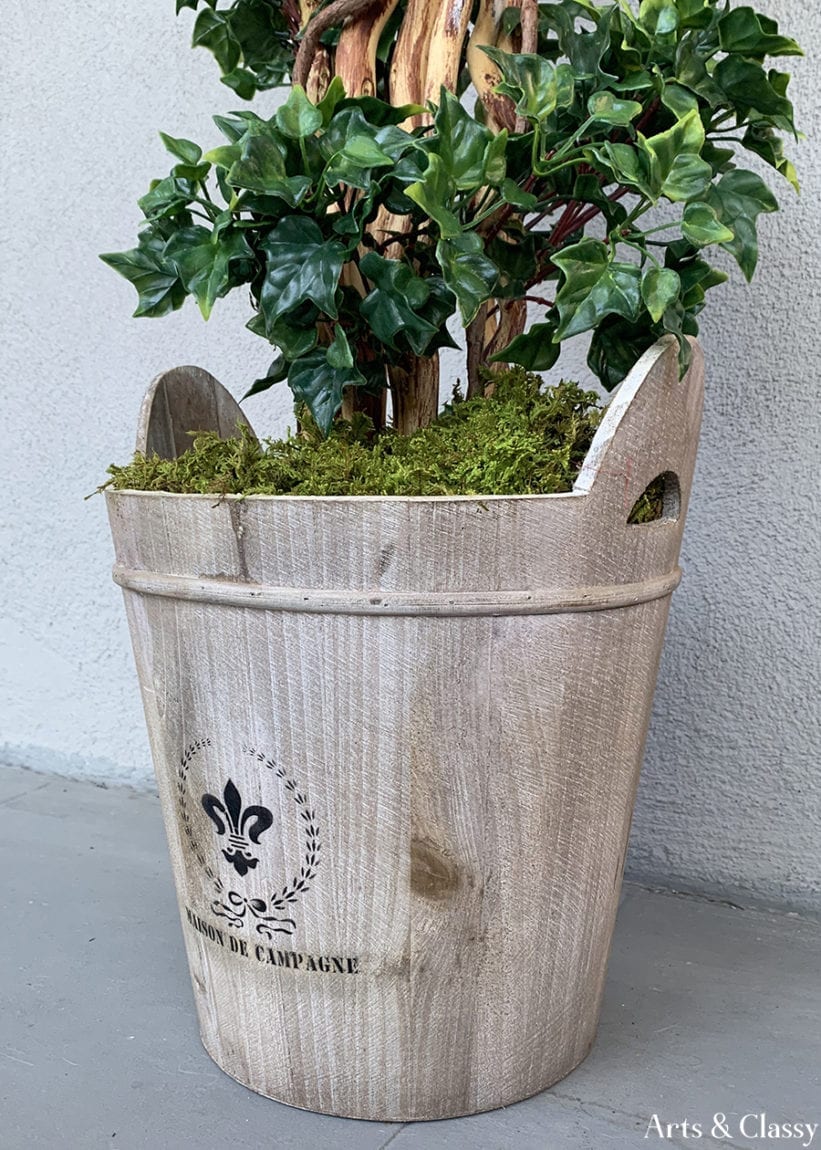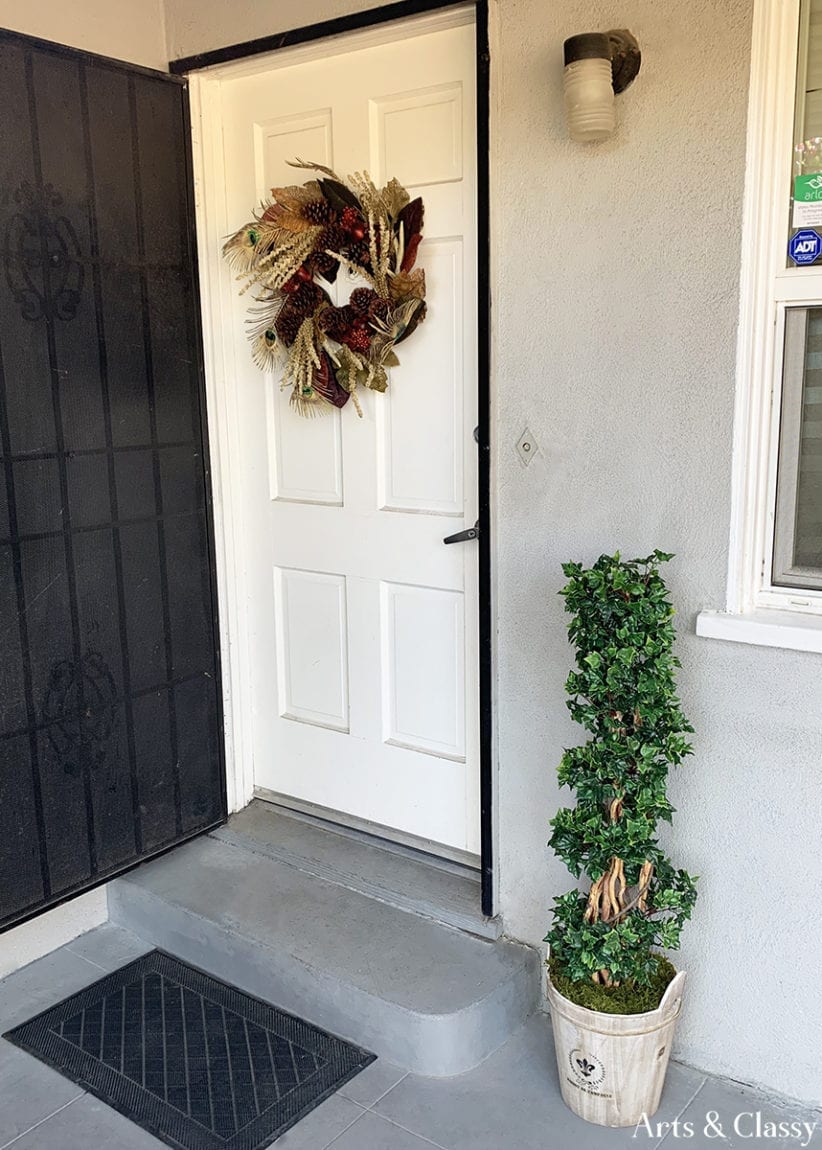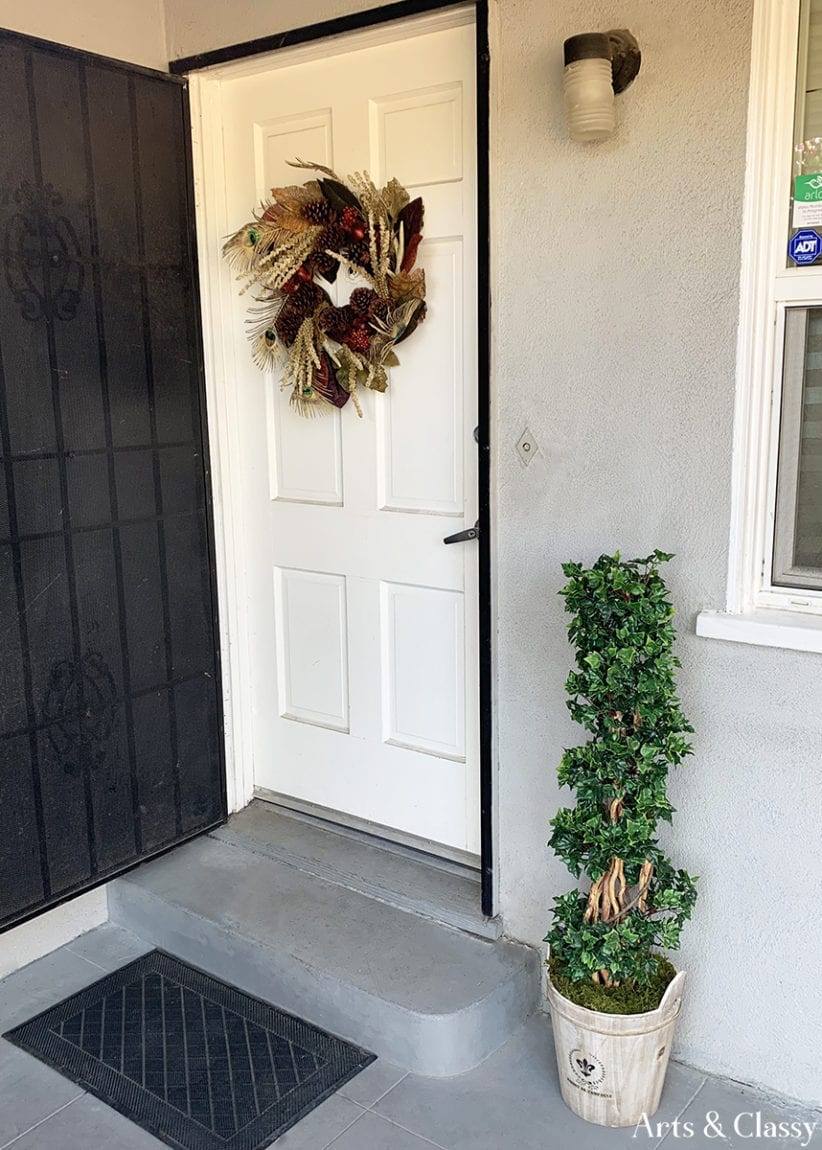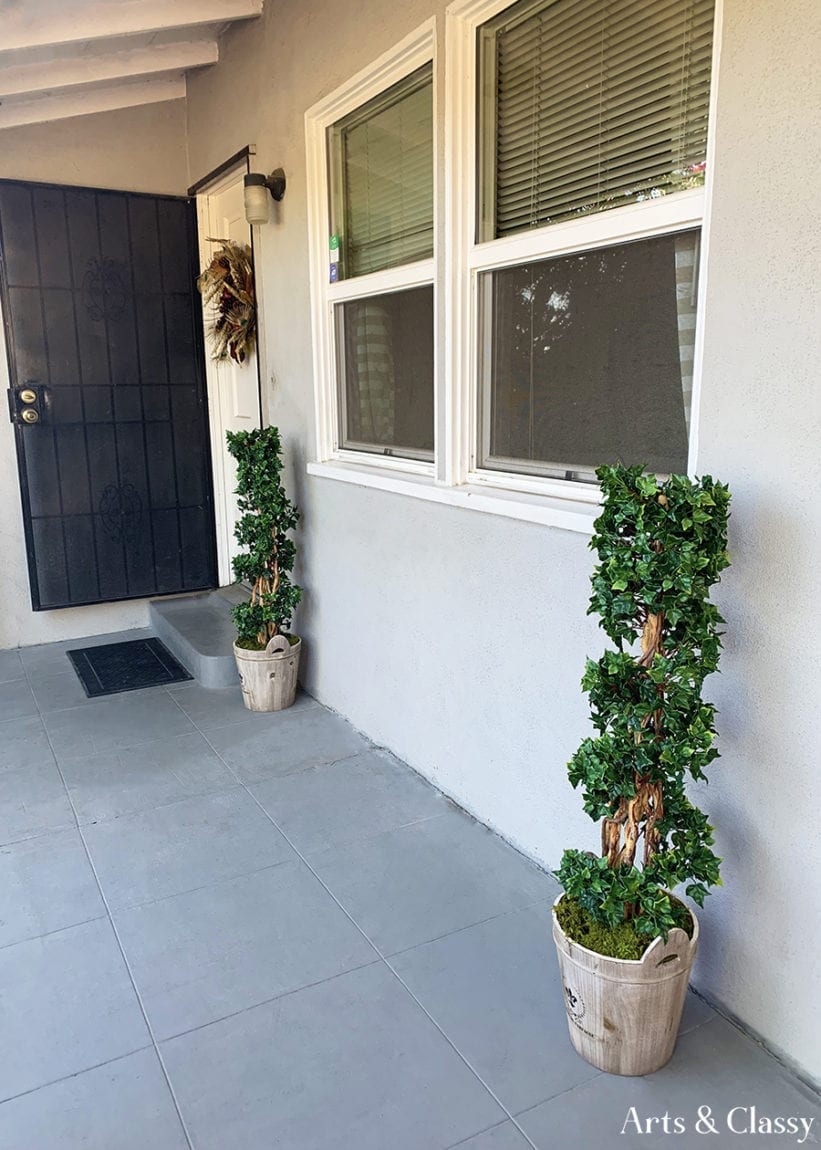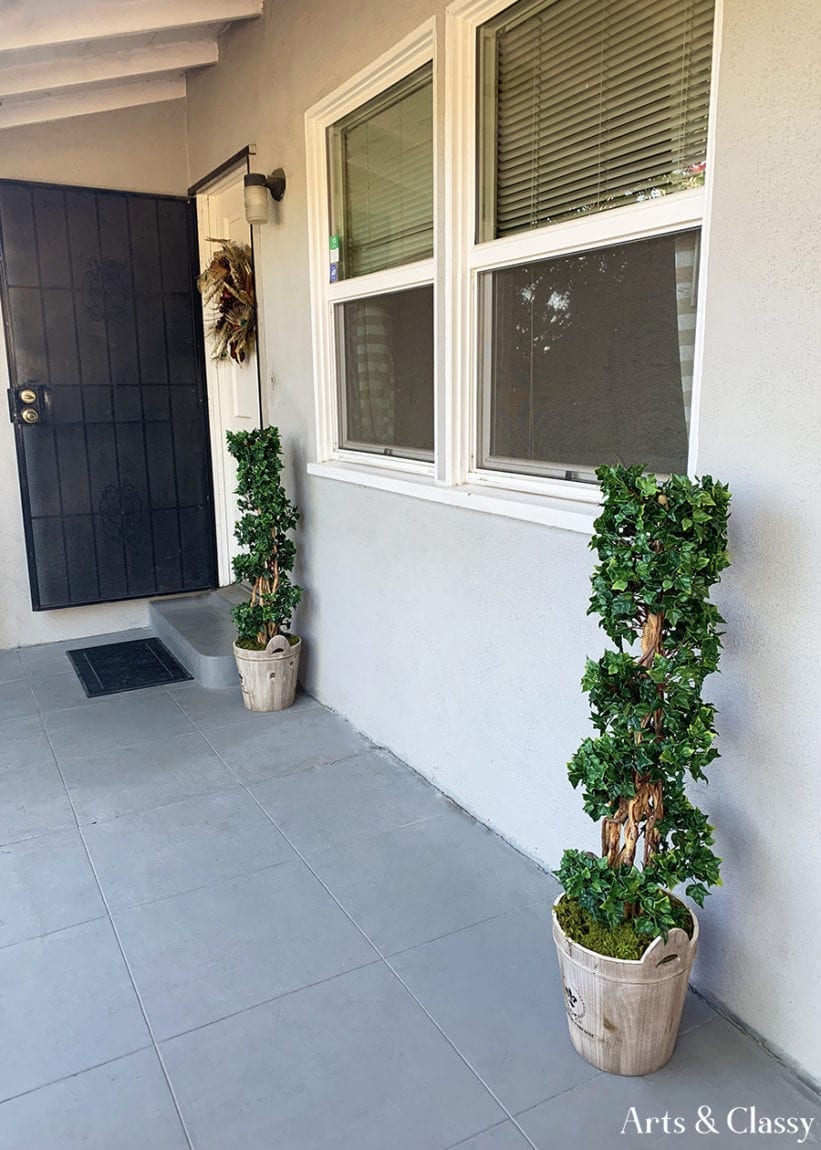 What do you think of my clean farmhouse decorating style patio? Let me know in the comments below. It's nice to have set up like this right before we move in a couple of weeks. I can't wait to share how I incorporate these in my new home with you too.
Don't forget to check out Nearly Natural for all your artificial outdoor and indoor plant & wreath decor.
If you enjoyed this post, you may also like…