I can not believe 2016 has arrived. I have been thinking about my blogging goals for 2016 since about September of 2015. Keeping myself accountable in 2015 for my goals really helped me take my blog from hobby to full time income with my Blog Traffic & Income Reports. It truly showed me how powerful I can be when I set my mind to something that I want. 

Blogging has been one of the most challenging but most rewarding careers that I discovered in my late mid 20s. It began as a hobby for the first 2 years and then I finally decided in December of 2014 that I wanted to get serious about it and see what I could make of it. When I finally figured out the formula and strategies that work best for me, it changed my world.
The best part is I know I am just skimming the surface. I can't wait to learn more and experience more success. The sky is the limit in the online income community.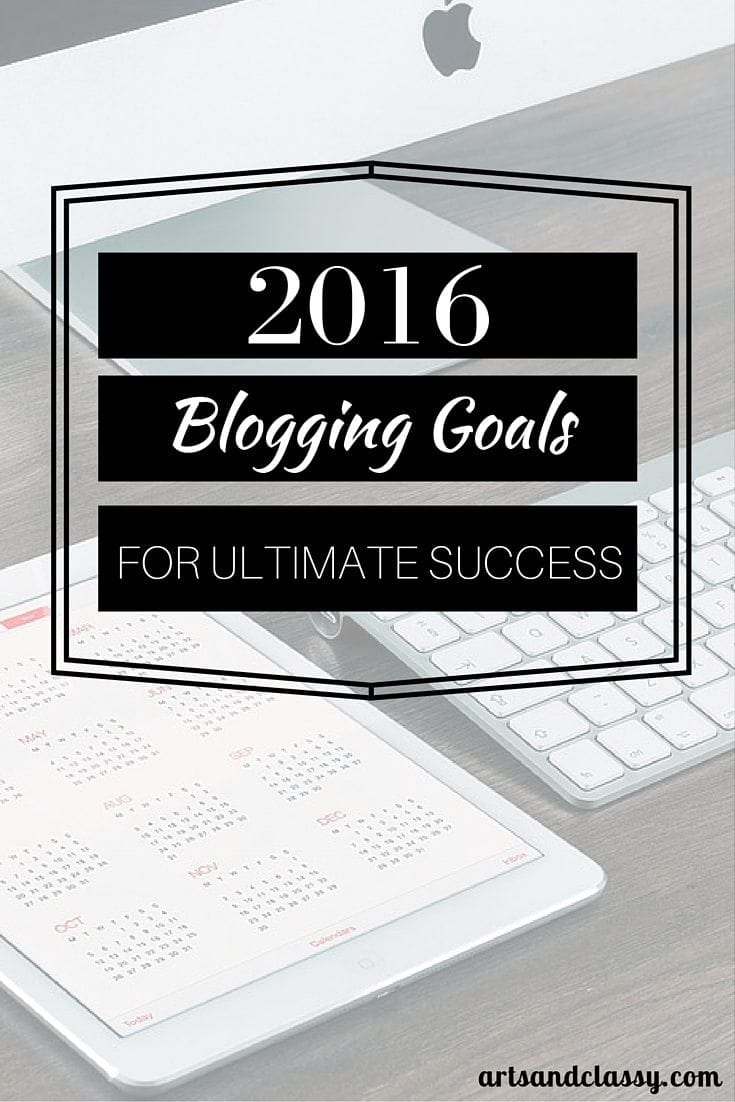 Since I want to make so much more happen this year so I can come out ahead, I decided to share my Top 10 Goals for 2016.
Make six figures during this year from Arts & Classy
Attend a niche home decor related & blog conference
Hire a virtual assistant
Publish my ebook on blogging
Host my first webinar
Launch my Home Design ebook &  e-Teriror Home Styling Services
Periscope regularly. I want to try my best to scope every day to stay current, but I want to was into it.
Grow my social media: Numbers I want to hit by the end of the year. Instagram –> 10k, Facebook –> 10k, Twitter –> 5k, & Pinterest –> 34k
Connect more with my fellow DIY and home decor bloggers I want to do a shout out for some of my blogger friends Flavia from Neat House Sweet Home, Jeanette from Snazzy Little Things, Sue from A Purdy Little House, and Jess from Domicile 37.
Grow my page views to 750k a month. I am currently hovering at around 260k-360k a month. These stats factor in the past 90 days of this post being written. Check out my Blog Traffic and Income Reports for more details.
While I jump on this ambitious blogging journey, I wanted to share with you the resources I often refer to and/or am currently using.
I do not recommend anyone really investing too much into their blog until they are making at least $1000 a month. That is the point that I started my social media automation.
Before I was paying for it, I was not nearly as active on my social media and my following was small. It would take my head being buried in my phone or my computer trying to schedule posts through Hootsuite and through Facebook to try and keep up. It was exhausting. I totally get why social media manager positions exist.
Here is a list of more RESOURCES to help you with your blogging journey.
I also love listening to podcasts, learn which ones here. I am tearing through business & marketing podcast after podcast trying to absorb as much info as I can to apply in my business. I recommend at least listening to one a day and giving yourself time to implement afterwards. Free advice has made a difference in my business and the way I am doing things now.
I am excited to announce that I am also NOW BOOKING 30min, 60min, & 12o min Blog consulting sessions!!! Want to talk blogging or ask me so questions you  may have? We can talk strategies and resources during our session and you will be provided with a pdf with links documenting the session. Learn more on my Work With Me page.
Want to know the best way to start your blog? You can set yours up within 10 minutes. Then the real fun begins.