[Nov 17th] Favorite Things Friday: Popular Purchases From My LTK Shop
Popular purchases from my LTK shop are stealing the spotlight in this week's edition of Favorite Things Friday! Hello, trendsetters! I'm thrilled to guide you through the chic and fabulous world of this week's top picks. From wedge sneaker boots to rustic coffee tables, we've curated a lineup that's as versatile as it is stylish. So, let's dive into the latest trends and discover the must-have items making waves in my LTK shop. Buckle up, and let the style adventure begin!
This post contains some affiliate links. I may earn a small commission if you purchase through one of these links. See more information in my full disclosure policy.
Unveiling This Week's Trends: Popular Purchases From My LTK Shop
1. Wedge Sneaker Boots: Stepping Into Style!
Kicking off the list with a bang – these wedge sneaker boots are not just this week's best sellers; they're my recent obsession. Versatile, comfy, and oh-so chic, they've become my go-to for adding flair to any outfit. Yellow box shoes, boots, sneakers – they're the triple threat of fashion! Get ready to step into style.
2. Gorgeous Flatware Set: Holiday Elegance at Its Best!
Setting the table has never been this stylish! This gorgeous flatware set is making waves as one of this week's best sellers. With settings for four at just $50, it's the perfect recipe for a chic holiday dinner. Target, silverware, gold flatware – elevate your tablescape effortlessly.
3. Rustic Coffee Table: Chic Living, Budget-Friendly!
Say hello to style on a budget! Our best seller of the week is this rustic coffee table, and guess what? It's on sale for under $50! Walmart, coffee table, living room furniture – it's the centerpiece your space has been waiting for. Let's add a touch of chic to your living room.
4. Cute Midrise Jeans: Old Navy's Finest!
Attention tall fashionistas! These cute midrise jeans from Old Navy are stealing the show as this week's popular purchases from my LTK shop. With a perfect fit and a jaw-dropping 40% off, they're a must-have for your wardrobe. Old Navy, jeans, tall girl fashion – get ready to strut your stuff.
5. Cute Farmhouse EAT Wall Sign: Kitchen Charm Under $20!
Wrapping up our favorites with a dash of rustic charm – the cute farmhouse EAT wall sign. It's not just this week's best-seller; it's your ticket to a charming kitchen makeover. With three color options and a price tag under $20, it's time to spice up your culinary space. Walmart, kitchen decor, wall decor – let's add some farmhouse flair.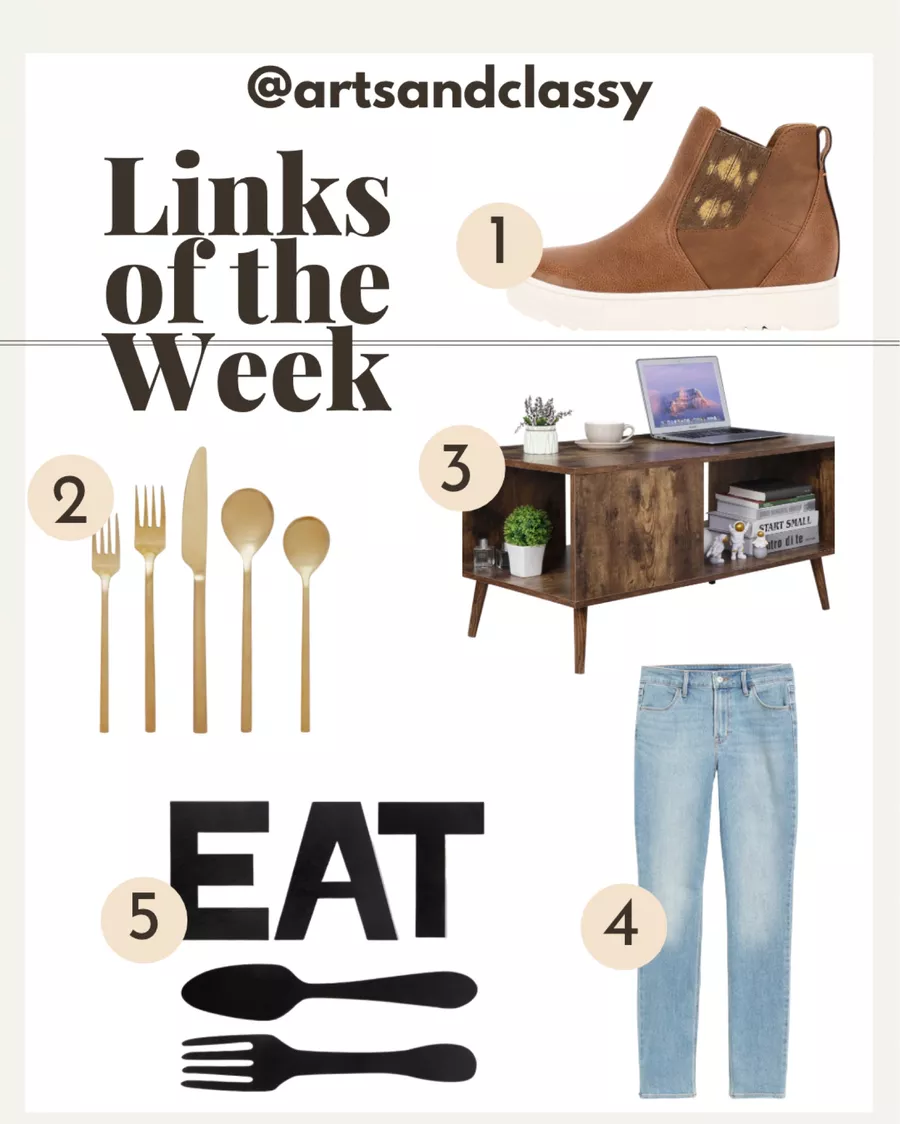 And there you have it – the stylish delights and popular purchases from my LTK shop that are taking the fashion world by storm. From head-turning boots to budget-friendly decor, these finds are proof that style doesn't have to break the bank.
Stay tuned for more fabulous discoveries next Friday, and until then, keep rocking your unique brand of fabulous, my dear readers! Make sure you are following me on Instagram, Facebook, Pinterest, YouTube, Hometalk, and TikTok for more ideas on how to decorate your home!
If you liked these popular purchases from my LTK shop, you might also like: