Do you have an old, outdated coffee table taking up space in your home? Or maybe you just need a new coffee table and don't want to spend any money. Well, then this coffee table flip tutorial is for you!
In just a few simple steps, you can transform that old coffee table into a brand-new one using some free furniture that you can find online. So what are you waiting for? Get started on your coffee table makeover today!
I love finding furniture on the side of the road. I am always amazed at what people will just get rid of if they think it's broken. The truth is… a lot of modern furniture is not very well made or is made of particle board. Real wood furniture can be quite pricey. I am all about finding fun DIY projects to keep me busy and to make old pieces look pretty again.
When I find a furniture piece with good "bones" I have to pick it up and try to work my magic on it. I am a big fan of painting furniture to give it a new life. When I was working at my union a couple of weeks ago, I was on my lunch break and I stumbled upon this amazing Lane® Wood Coffee Table from the 1970's/1980's. It was pretty beat up and the bracing on the bottom was broken.
Here is a little clip of what the coffee table makeover that I found in the San Fernando Valley looked like when I first got it.
This post contains some affiliate links. I may earn a small commission if you make a purchase through one of these links. See more information in my disclosure policy.
---
SHOP THE SUPPLIES I USED FOR THIS COFFEE TABLE MAKEOVER:

---
Here is the before of the table with the leaves folded down. This table would be perfect in a small apartment home. This piece was pretty beaten up when I found it.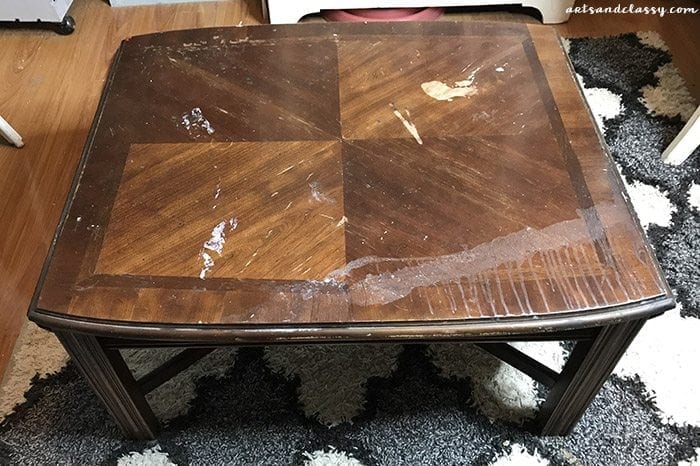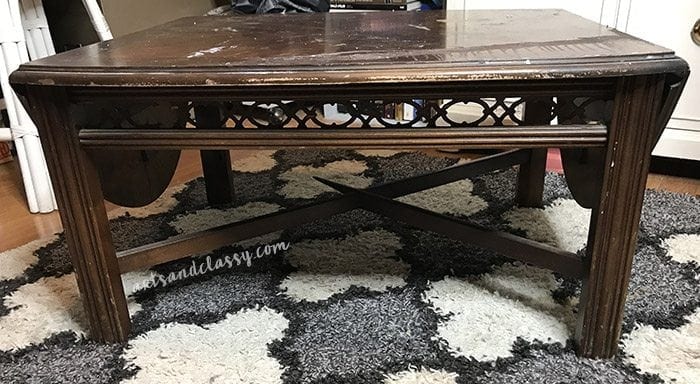 STEP 1
I started by cleaning the coffee table and then sanding it for a smooth finish. There were some rough spots that needed to be addressed before I could refinish, but overall this was an easy enough process!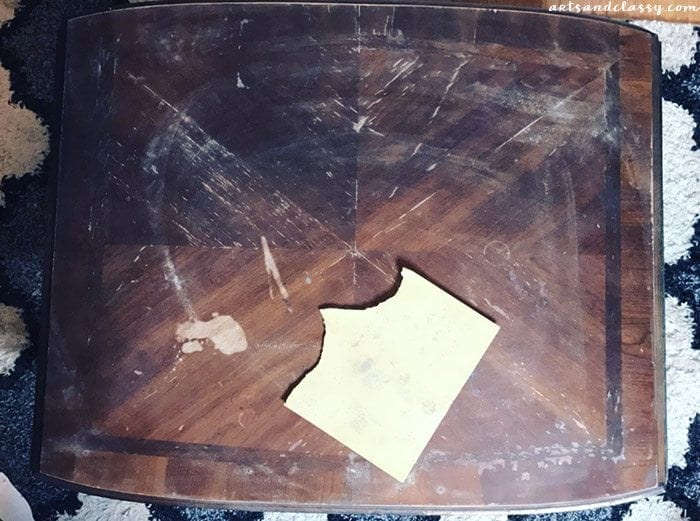 STEP 2
Then I had to decide if I was going to try and repair the bracing under the table or just cut it off. I made the decision to cut it off and I am so happy I did. I used my Ryobi electric cordless jigsaw to make this happen.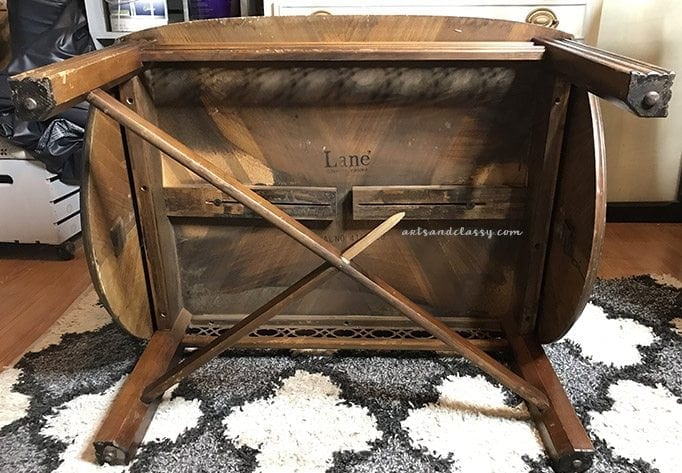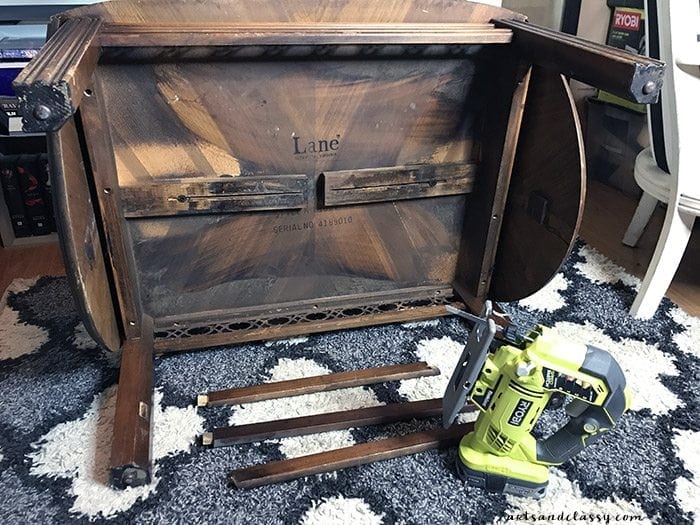 STEP 3
After I removed the old bracing, I needed to use wood putty and a spatula to fill the holes in the legs.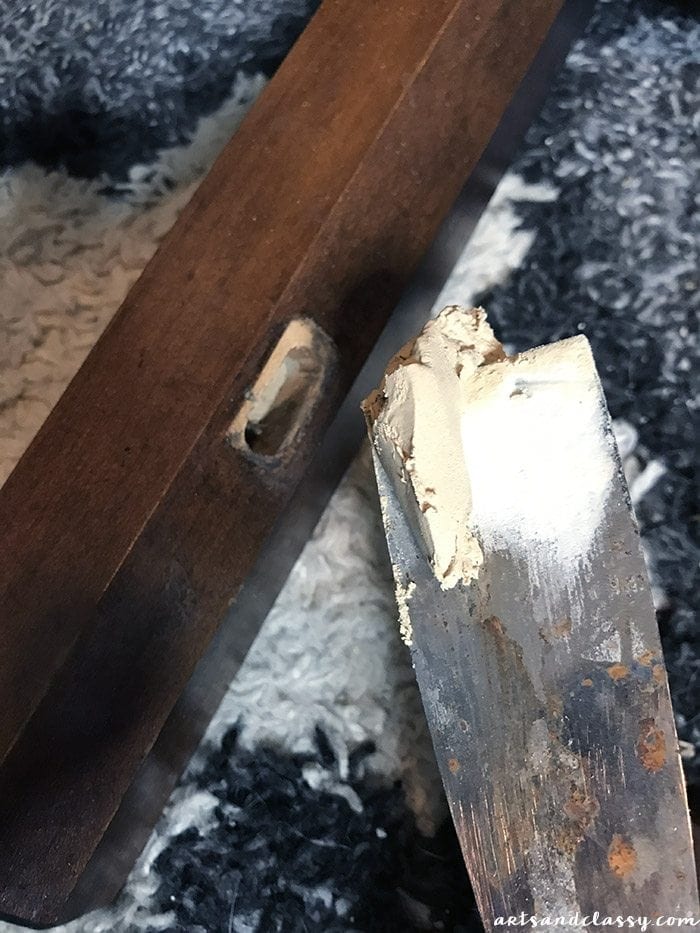 STEP 4
After the putty dried and I completed a quick sanding, after that, it was time to start painting the table with my chalk paint in the color  "Vintage." I like to try and use supplies I already have for random projects like this one.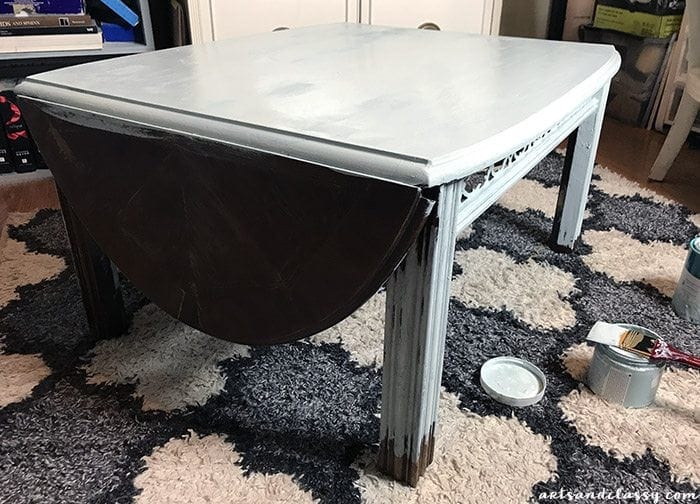 STEP 5
I got out my painter's tape. I measured from the base of each leg up and marked it. I placed my painter's tape at the 8″ marker so I could create gold-dipped legs on the table. The paint I always love to use for gold pops of color is my "Olympic Gold" Modern Masters paint.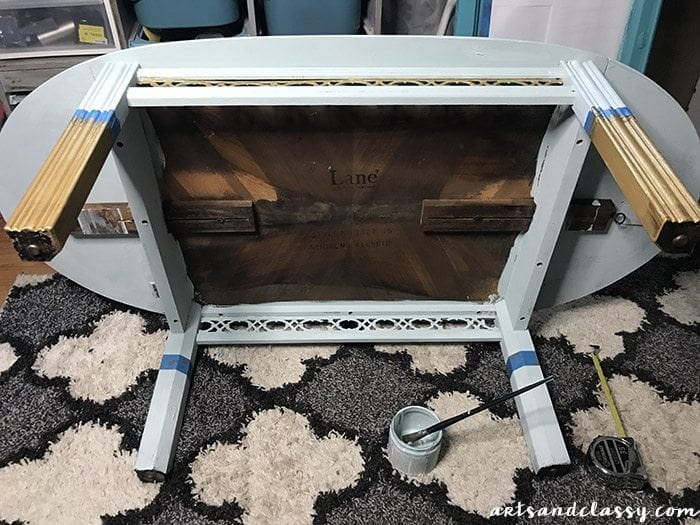 I also decided the detailing on the side of the coffee table should also be painted gold so it didn't get lost like it was before I painted it. How pretty is this ornate detailing?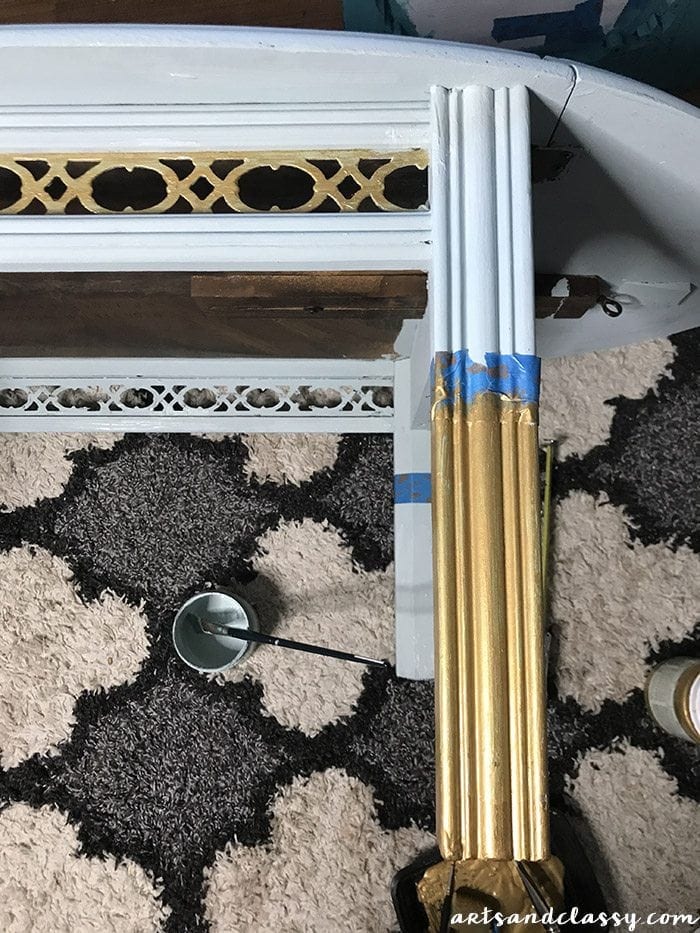 STEP 6
When I first saw this coffee table, it was in need of some TLC. The top looked ragged and dirty with just one coat on the paint job so I decided to use my favorite stencil for a new look!
But I ended up deciding on this french poem stencil that I used to make over my ex-boyfriend's old dresser in 2016.
I used a tray and a sponge roller, but this stencil is tricky. Paint dries in the openings of the stencil so easily, that I ended up having to go back over each word with a small artist paintbrush to clarify what it said. This took a lot longer than I had remembered. But it was so worth it. I love DIY coffee table makeover projects like this one.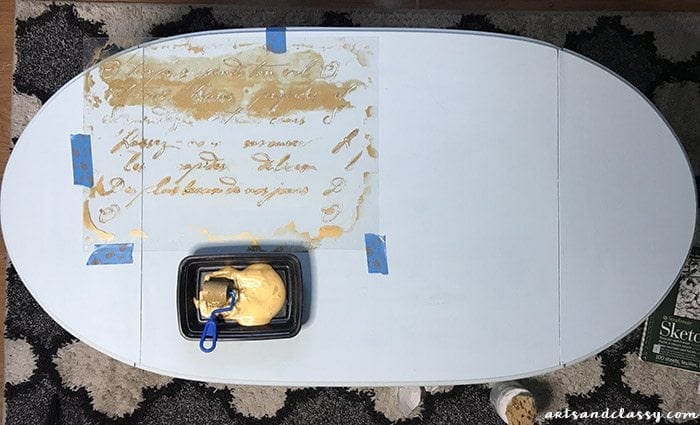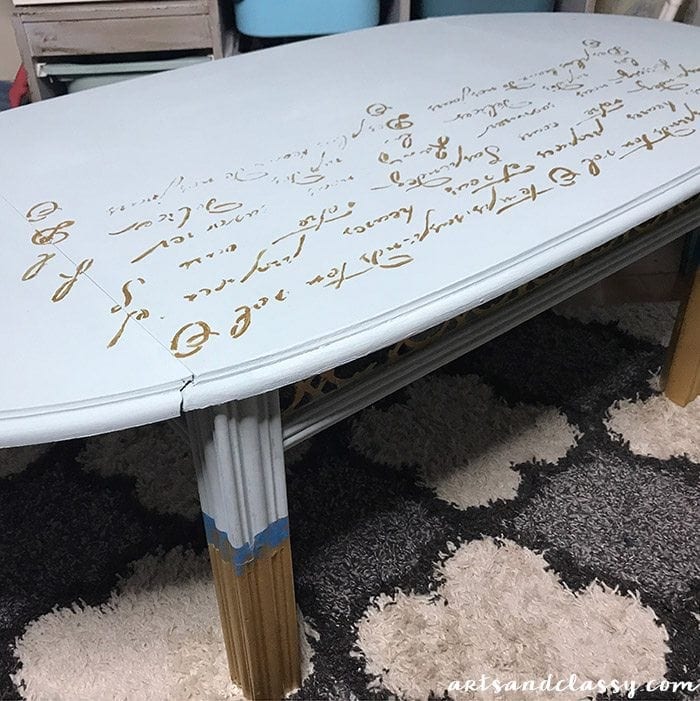 STEP 7
This coffee table makeover was easy but fun! I applied a layer of furniture wax to protect the paint and help the table last for years to come. The entire process was fairly simple, but it took some time and patience.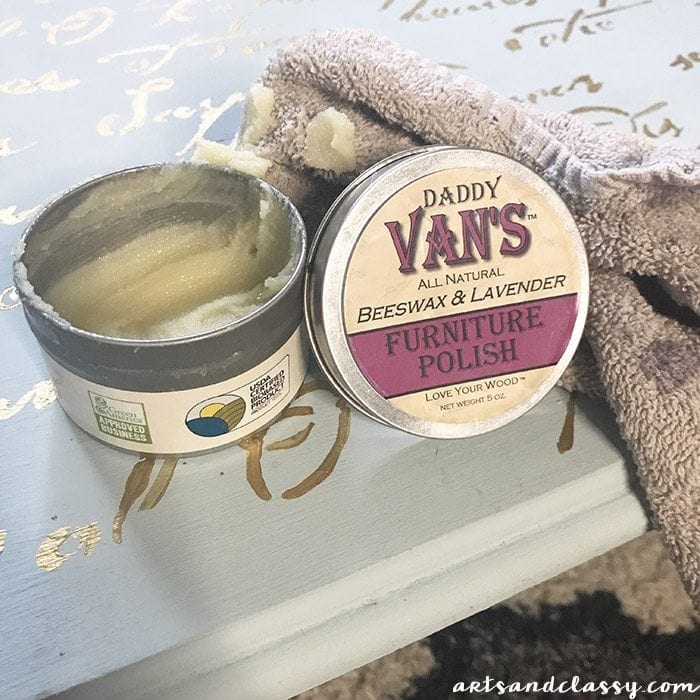 STEP 8
After rubbing all the furniture wax in, I sat back and admired my work. The cool coffee table flip was COMPLETE!!! What do you think of how it turned out? Not going to lie, I am pretty obsessed with this tabletop!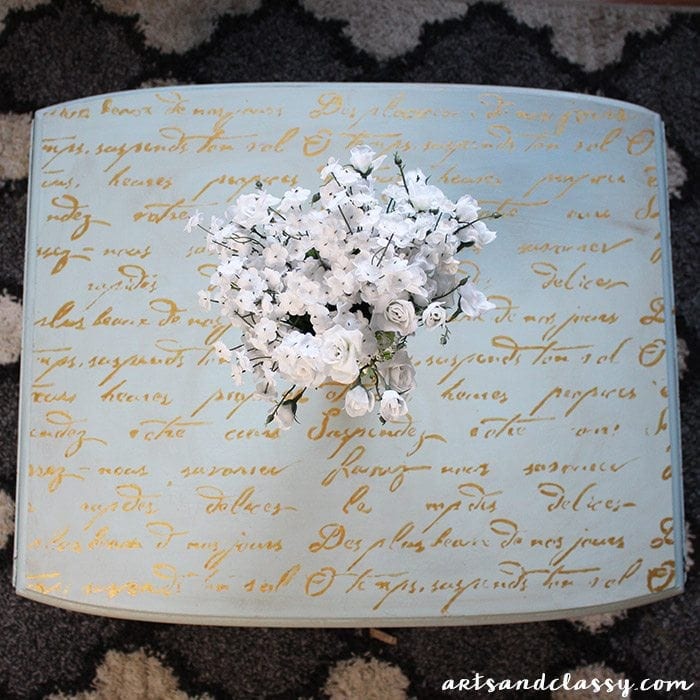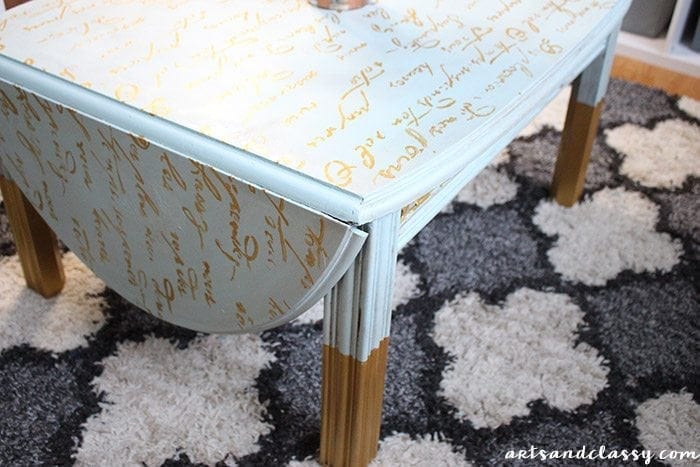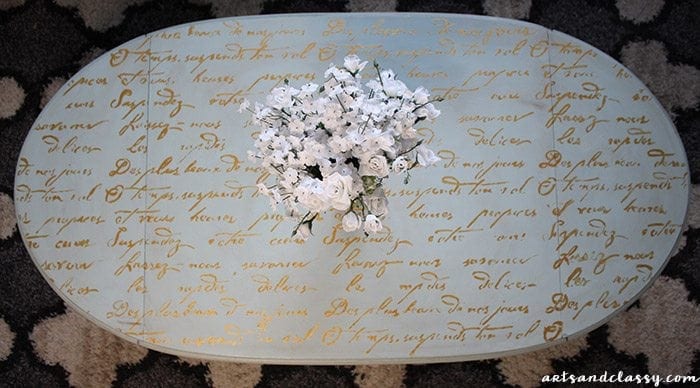 What do you think of this coffee table flip? Do you like how it came out? Please let me know in the comments below! It was a perfect addition to my living room and only took a couple hours to make!
If you're on the hunt for some new pieces to spruce up your home, keep reading for some ideas on how to find and transform free furniture. Whether you're drawn to sleek modern styles or cozy country decor, there's a free piece of furniture out there waiting for you to give it a new life.
So don't wait – start browsing through those garage sales, online classifieds, and curbside piles today! And make sure you follow me on Instagram, Pinterest, Facebook, and TikTok for more ideas on how to style your newly revamped space.
If you liked this DIY coffee table flip project, you will also enjoy: