[Nov 10th] Favorite Things Friday: Unveiling Popular Products This Week for Stylish Living!
Hello, trendsetters! Welcome to another exciting edition of Favorite Things Friday, where we're about to dive into a treasure trove of stylish discoveries. Join me as we unveil a curated collection of popular products this week, handpicked to elevate your lifestyle.
From chic home decor to fashion-forward finds, buckle up for a journey into the best of the best.
This post contains some affiliate links. I may earn a small commission if you purchase through one of these links. See more information in my full disclosure policy.
1. Vanity 3 Light Fixture: Shining Brighter Than My Future!
Move over, regular lights; this vanity 3 light fixture is stealing the spotlight as this week's best-seller. It's dimmable, it's dazzling, and guess what? It's on sale now! Join me in shedding light on why this fixture is a game-changer.
2. Waffle Weave Bath Rug: A Rug Worth Raving About!
Have you ever stepped onto a cloud? That's the feeling you get with this waffle weave bath rug, one of this week's most-loved finds. I've got it in my bathroom, and trust me, it's a daily dose of luxury. And the best part? It's on sale now! Dive into the cozy world of bath rugs with me.
3. Modern Black Scandinavian Area Rug: Rug Love Affair!
Who says rugs are just for the floor? This modern black Scandinavian area rug is not just underfoot; it's under budget too, on sale for under $200! Discover why it's one of this week's most loved finds and the secret to stylish, budget-friendly floors.
4. Plush, Checkered Throw Blanket: Snuggles on Sale!
Prepare for a soft landing into ultimate coziness with this plush, checkered throw blanket. It's one of this week's most loved finds, and I can personally vouch for its snuggle-worthiness. Did I mention it's on sale now and makes an A+ holiday gift? Get ready for snuggle season with this cozy checkered throw blanket.
5. Rustic, Hyacinth Storage Baskets: Basket Brigade!
Storage just got a rustic upgrade with these hyacinth storage baskets, one of this week's most-loved finds. They're collapsible, they come in a set of 5, and they're ready to tackle your clutter in style. Join the basket brigade and discover the magic of stylish storage.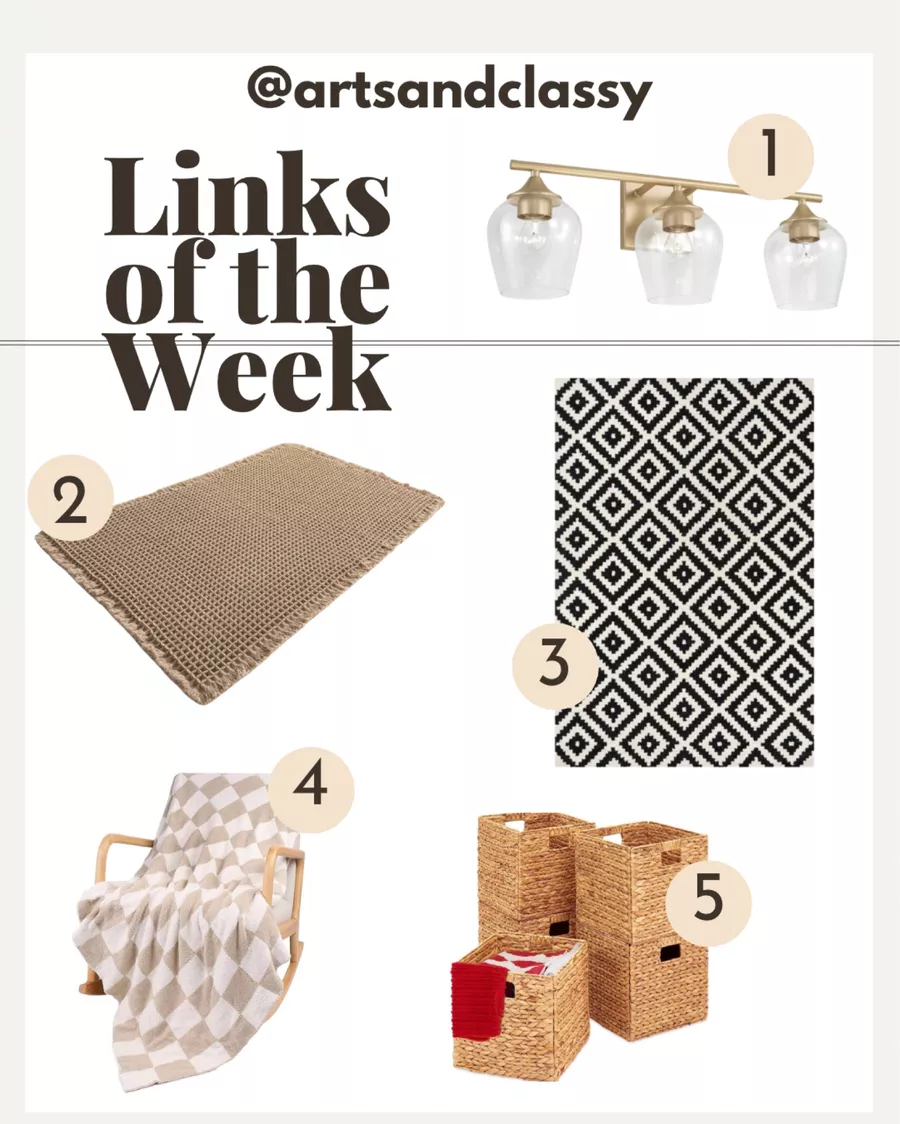 And there you have it, a delightful roundup of popular products this week that are poised to bring style and joy to your life.
Whether you're revamping your home, refreshing your wardrobe, or simply indulging in the latest trends, these favorites are here to make your week a little brighter. Stay tuned for more fabulous finds next Friday, and until then, keep embracing the allure of the latest and greatest in stylish living!