Hi everyone! My name's Harriet, and Meredith, the girl you all know and love, has been kind enough to have me as a guest blogger. Today I thought I'd talk to you about how you can use your old blog posts that are tidied away into your archives bursting with potential! I'm going to tell you how you can update them, give them an extra bit of life and give them another boost, even if you've published them a while ago. I'll also be showing you how you can use your old content to generate new, awesome ideas – PLUS, I've put together a free worksheet for you to use to help you through it! First up, let me tell you three ways you can get some new views to those old posts…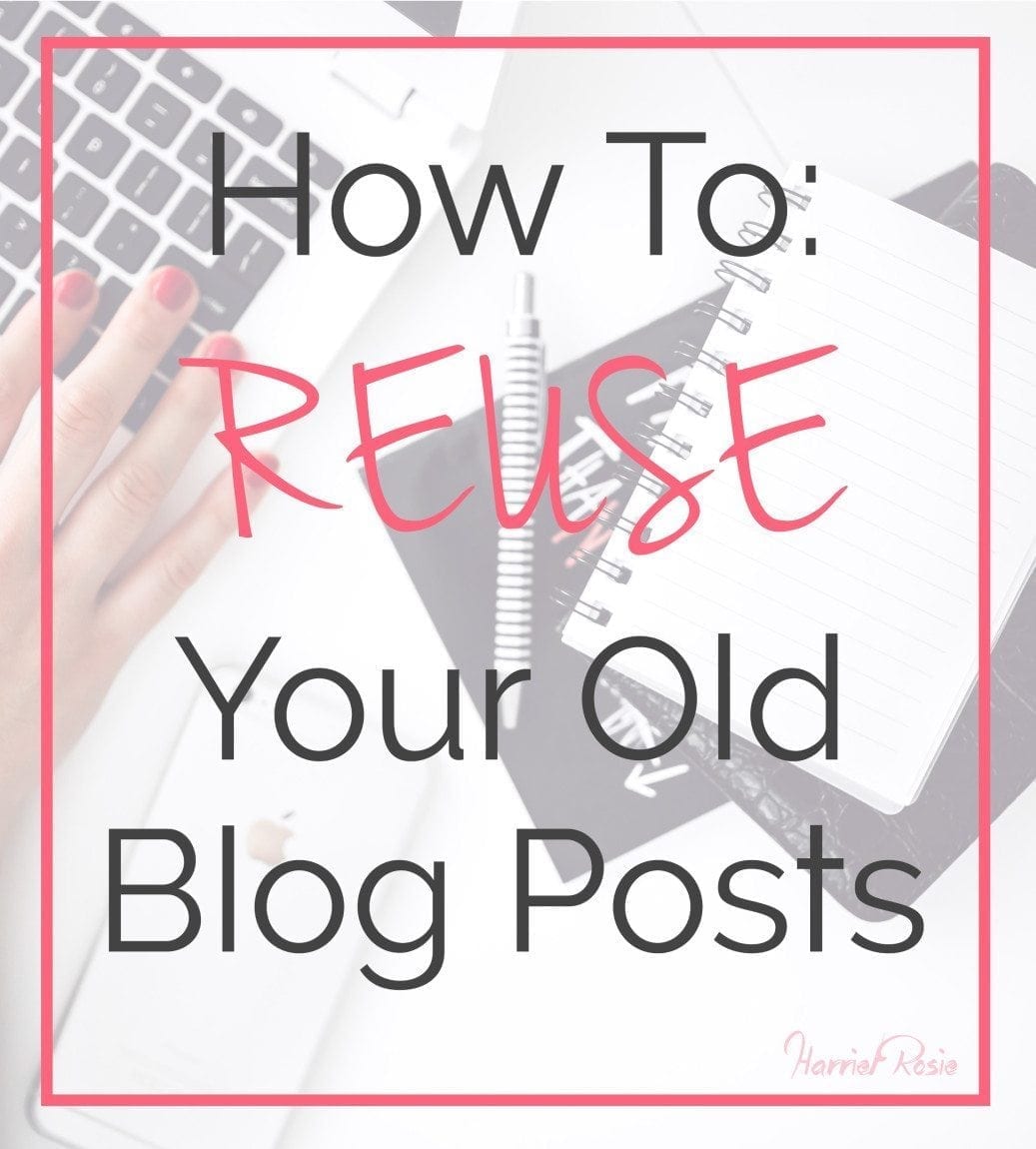 Create post roundups
Have you written a few posts on a similar topic? Round them all up in a post to show your readers what a wealth of information your blog is! This was recently done really well on A Beautiful Mess [link: http://www.abeautifulmess.com/2015/06/our-top-12-posts-about-blogging.html], where they featured their top 12 posts about blogging tips. This works well for something that isn't your usual topic, like if you're a craft blogger and you occasionally share recipes, you can round up your yummiest recipes.
Link to them in new, similar posts.
If you're writing about a similar topic, link back to your old post in the text. If you're rounding up your favourite summer lipsticks, link back to last year's favourites so your readers can see how they've changed! If you're writing a gluten-free version of a recipe, link back to your original recipe (the gluten-full version?!) Also, something I like to do if to leave suggestions for more reading at the end of a post. I like to do this manually – in other words, at the end of a post, I'll think of three other posts a reader might like if they enjoyed this one, and I'll suggest them at the end. If you don't think you'll remember to do this, or if you don't have time for it, there are plugins and widgets that can randomly generate some suggested posts for you!
Stay alert on Twitter.
First, tweet about them occasionally! Of course, you can't keep up with regularly tweeting about every old blog post, and that would probably be overkill. But there's no harm in tweeting out an old blog post you love once a day, every other day, once a week – whatever works for you! Also, keep an eye out for people who may find your posts helpful. If someone asks a question that you know you've answered, link them to your post. It might seem advertise-y, but that person asked a question to get an answer, so they'll be glad to have such an in-depth response to their question! Similarly, if you're participating in a Twitter chat that has a theme you've blogged about, tweet it! I'm not suggesting you use fun twitter chats to shamelessly promote yourself, but if one of your posts will fit in, there's no harm in letting people know.
Now let's go through that worksheet!
The checklist:
Check the tone/style works: Over time, as you've gotten into your blogging groove, the tone of voice you write in may have changed. You might have become more casual as you've gotten more comfortable blogging, so just have a skin through to make sure you're still happy with it.
Add/replace the image to suit your branding/style: I don't know about you, but my blog style has changed a lot since I started out! I know create a graphic with text for every blogging-related post, so I recently went back to all of them and created one! When you're looking at your old post, make sure the images still reflect you and your blog.
Check for broken links: Most of the time, this one probably won't apply. But if you've moved blogging platforms or you've linked to other blogs, you might want to click on any links you've included just to make sure they're still working.
Make sure the title is SEO optimised: Knowing which keywords are good to include and how to write a good title is something that comes with time and practice, so if you're going through older posts, you might want to rework the title to something that's more searchable!
Add in some authentic keywords: Similar to the last point, writing posts and naturally including keywords in a way that doesn't sound advertise-y takes time. I'm not suggesting you shove in key words where they sound awkward – but if you've written upcycling a table think about replacing it with something like upcycling an old bedside table into a beautiful, shabby chic side table!
Link to new, relevant posts: Just like linking to old content in new posts, if you're going through your old posts, put in some useful links to newer, similar posts!
Thinking of new posts.
Your old posts can be super inspirational in trying to think up new content ideas! If I'm rereading a post that I felt really passionate about at the time, it helps me to feel that passion again and be creative!
There are a couple of ways you can prompt yourself to think of new ideas: changing the topic, and changing the type. So, if you're looking at an old post called 'My Favourite Summer Lipsticks' you could change the topic from beauty to food, or crafts, and talk about your favourite summer recipes or DIYs. Similarly, you could change it from a positive to a negative – so if you've written about 10 great beauty habits to get into, you could flip it and write about 10 bad beauty habits to avoid!
You could also change the type of post – and there are a bunch of different types to choose from. There's normal prose, where you write a few plain paragraphs, there are lists, roundups, how-tos, step-by-steps, checklists…and so many more. So, if you've written a how-to guide called 'How to write the perfect blog post', you could change the type to a checklist, and create a list of things to make sure you include in your post! Of course, change up the content so it's not just a repeat, but just changing the type can give you some great new ideas!
I hope you've found this post and the Blog Post Audit Checklist helpful – and I hope it inspires you to create lots of great new content!
Here's the link to get the free worksheet: http://eepurl.com/br67or