Well it is officially happening. I am turning the big 3-0 tomorrow.
I am actually pretty excited about entering my thirties, I have been told by many that they are wonderful years.
I just can't get over how quickly time has flown. I remember when I was a kid, feeling like each year was eternity. Now years come and go so quickly. I am a completely different person than I was at 20.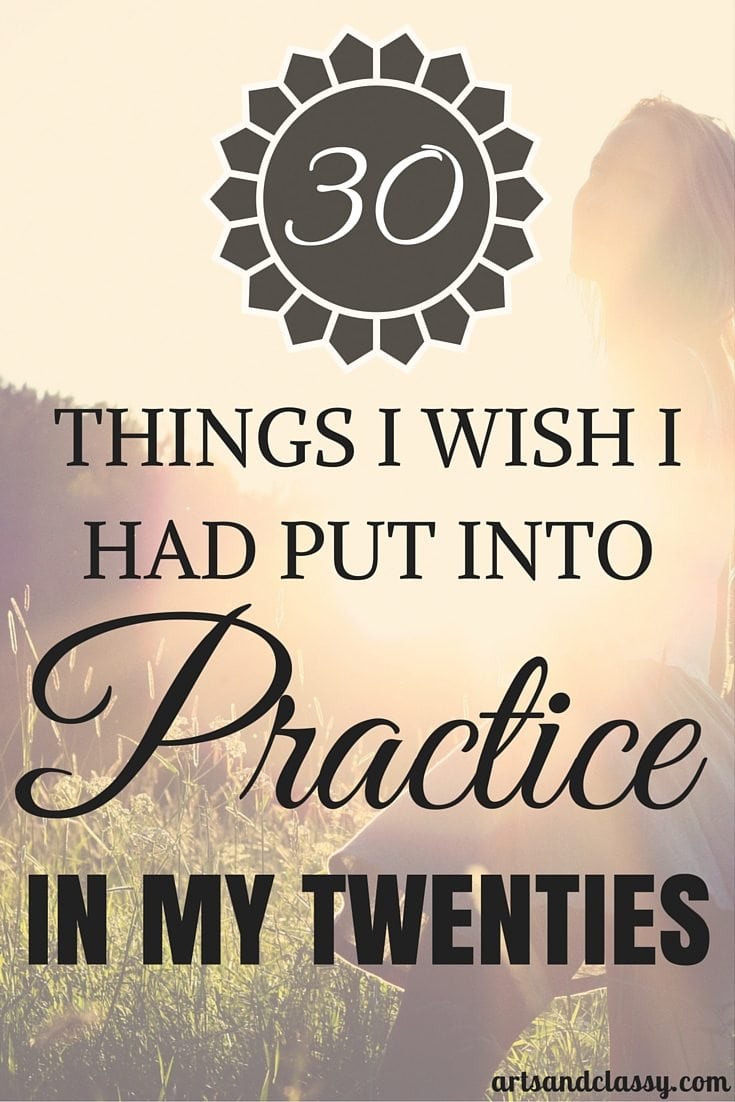 *This post contains affiliate links at no additional cost to you. 
I definitely made my fair share of mistakes in my 20's also, but there were many amazing moments too. For example, having the courage to start this blog at age 26 was a huge step forward. I didn't know it then, but I was setting myself up for more time with friends and family in the future while making a full-time income and then some.
To decide that the 9-5 corporate entertainment grind (I was working at the time) was not for me was huge. It would only take a couple more years until I realized that I wanted to be my own boss and run own my own business. If you want to learn how to start your own blog. I encourage you to do so.
This was foreign to me since I wasn't raised with the entrepreneur mindset. It has taken countless hours or reading, note taking, listening to business and marketing podcasts, implementation, and investing in my business to get me where I am today.
However, there are some things I would like to share with those twenty-somethings out there that I wish I had put into practice MORE in my twenties. Here is a little wisdom for you to absorb and implement to make your twenties more authentic, adventurous, and positive.
It's okay to ask for help when you need it. Yes, even from your parents. This was the biggest lesson I learned in my twenties. I was so hellbent on doing everything myself and taking care of me that when I experienced any financial hardship my pride would prevent me from asking and it always ended up making the situation far worse than it could have been.
Live on a written budget monthly so that you manage your expenses to the penny. Dave Ramsey is amazing. He has an app to called

Every Dollar

(this is new) and it helps you manage and set your budget for the month. Also, check out Mint.com to manage all your accounts. Best things I ever did with my finances. Looking to save money without thinking about it? Check out Digit.com.
Look at your bank account EVERY DAY. Don't be afraid of your finances or having control of them. Don't let them control you.
Don't use credit cards for silly things like going out to dinner. I found that I was doing this too much and most of the time I was trying to impress people that I didn't even like.
Pay off your credit card after you use it. (Boy did I screw that one up a few times).
If your friends are truly your friends, they will always make time for you. Make sure you are both putting in an equal amount of effort in the friendship (especially if they live far away)
GO WITH YOUR GUT regardless of what anyone else says.
Surround yourself with people that will lift you higher to your potential. Having positive, ambitious, & generous people in my life has helped me become achieve so much more than I ever though possible.
Read more books regularly. They help you with problem solving and creativity.
It's okay to change your mind on your career path. That is part of this life. You have to try things to find out if you like them or not.
Don't let negative comments from others effect you.
Be creative. I don't care if you consider yourself a creative type or not. Have a hobby that brings you joy and gets your mind thinking of endless possibilities.
Do what you love to do and find a way to get paid for it. This was my biggest achievement during my twenties. 
You owe NO ONE any explanations based on decisions you make for yourself. You know what is best for YOU!
Life can be messy sometimes. It's okay to have a good cry, but always consider it a learning experience. Stay humble and pick yourself back up and keep pushing forward.
If you bitch about something for long enough… CHANGE IT! Don't be one of those people that stay continuously miserable (whether it's your job, relationship, or living situation.) If you are not happy or if you feel stressed and angry all the time change the situation. Life is too short to stay miserable.
It's okay to mess up. That's what your twenties are all about. Shit happens. Move on.
Stay organized. I keep a planner for my day and to-do list. I work with The Day Designer and I love it! This helps me accomplish more. I feel so empowered when I cam checking things off my list.
Meditate. It is healthy for the mind and body. I have an app on my phone called Omvana and I love listening to their guided meditations before I go to sleep. Not only does it help me clear and focus my mind. It helps me sleep.
Shop at flea markets, yard sales, and thrift stores. You do not need to purchase everything new for your home. You can find great deals on great quality furniture and decor at these places. Don't spend thousands to furnish your space. This is exactly how Arts and Classy came to be! Game changer.
Travel travel travel! Your twenties are the perfect time to get out there in the world to explore. Do it. You will grow so much from it. For example, I traveled to Italy in the summer of 2008 and I was so sure I would be back within a couple of years. Well, I haven't made I back there yet but I will be headed to England and France in early 2016! Pretty excited for that big adventure!
Don't dwell on the past. It's over. Don't let it define you.
Plan B. Always have one, no matter what you are doing in life. Things happen and having a plan to fall back on will help you deal when difficult situations arise.
Don't rush into having a car payment. If you have a clunker or a paid off car that is still running, drive it as long as you can before getting locked into a lease or loan.
Borrowing money is not the answer. If you don't have the money in your bank account for something, you can not afford it right now. That's okay! Just make a plan to save money for the things you want.
Always have an emergency fund of at least $1,000. Shit happens. By having a least a thousand in the bank, you will be prepared for random stuff that happens like car accidents. But what do you do about you $1000 deductible? … oh right. It's in my savings. It will help you have peace of mind and help you sleep at night.
Invest! Whether it's in mutual funds, an IRA, or stocks. Make your money work for you.
See a therapist regularly. It's the healthy thing to do for your mind. I did see one for a few months when I was experiencing a rough patch. It helped me look at things going on around me and my relationships in a completely different way. (I plan on returning soon just to keep up my mental health.) Take care of yourself.
Listen to podcasts when you are on the road! I started doing this in my later twenties when I was commuting to and from work. It's pretty much free advice and tips for life and business! Without having any business training, I have made my business a success and I attribute a lot of it to podcasts. Check out 10 podcasts I recommend if you are growing your business.
Do fun and crazy things you wouldn't normally do. You are still figuring out who YOU are + it's more fun when you are older to look back and say wow I can't believe I did that. For example, I auditioned to be a GoGo dancer at a night club when I was in college. I know right? Crazy huh? But It is fun to think back on a time when I was super adventurous and always willing to try new things.
If you can implement at least 10 of these tips you should be proud of yourself. Being in your twenties can be really hard, but also really fun! Ride the wave and don't take life too seriously. Learn from your mistakes and try not to the repeat them.
Let me know what you thought of this post in the comments below.
Hello thirties! I am so ready for you.