*This post has been sponsored by MediPetsCBD, however, all opinions expressed are entirely my own.
Since the holidays are upon us, why not get a head start on some holiday shopping for the dog lover in your life?
We all know pet lovers out there, and I have already created a gift guide for cat lovers. I thought it would be fun to address the dog lovers.
I love the idea of putting together gift baskets for friends and family. The perfect thing about gift baskets are that you can create different themes for each one specific to the recipient. I know many dog lovers and they treat dogs like their children.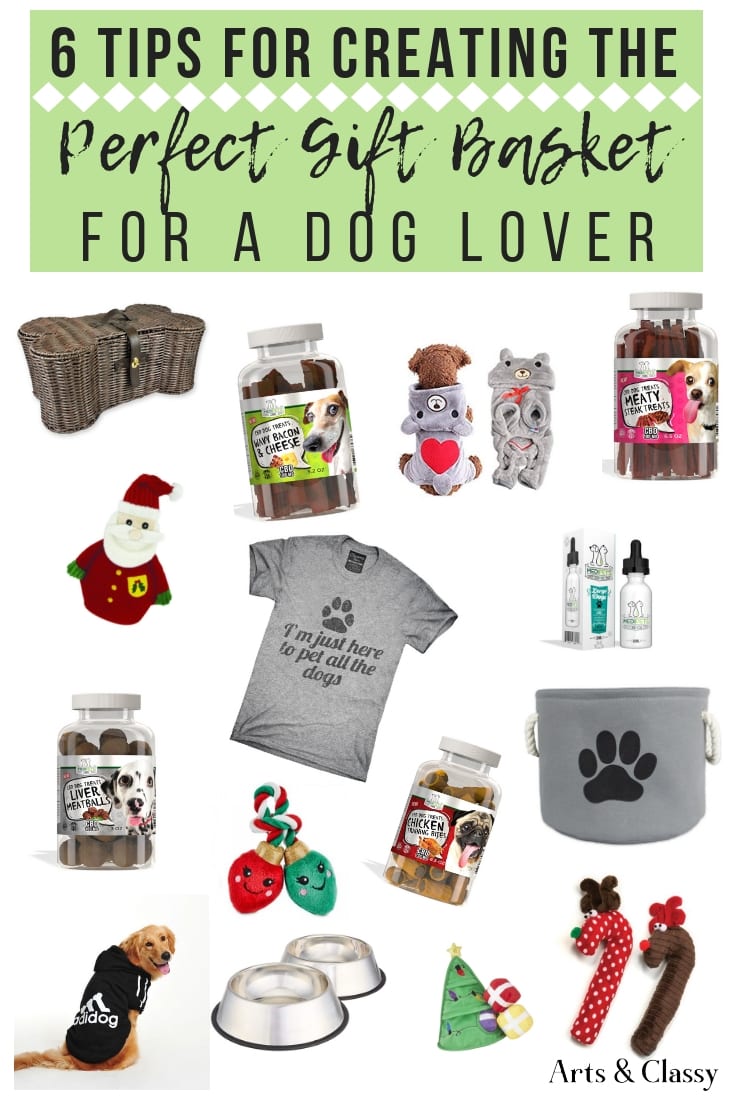 I wanted to share with you some great components for putting together a gift basket for a dog lover.
1. FINDING THE PERFECT BASKET
Find a sturdy basket that you will be able to reuse around the house, such as a doggy toy box! Or you could go with a general storage basket instead. I love the cleverness of finding a basket that can be reused for the dog's toys. Depending on the size of the basket you are looking to make you could also swap the basket for a new large bowl or water dish.
2. PRACTICAL DOGGIE AND DOG LOVER PRESENTS
There are so many options these days for dogs and their owners. Here are some ideas of what you could possibly add to the gift basket.
Clothes/Outfits for both Dog and Owner (like an ironic funny dog T-shirt)
Coffee mug with a photo of the owner's dog or a funny dog lover quote. There are so many to choose from these days.
Portable water dish (for long walks and traveling)

Food

3. TERRIFIC TOYS & TASTY TREATS
You can add some fun to a dog lover's gift basket with a few squeak toys and some tasty treats. You can buy them online and have them shipped right to your door. Make your life easier during the holidays. One less trip to the store is really doing yourself a favor.
Here are some ideas for treats…
CBD Pet Treats – CBD Pet Treats are the CBD oil infused edible treats designed for dogs of all sizes and breeds. They come in all sorts of flavors and purposes for your pets to enjoy.
Some examples of CBD treat flavors are:
Meaty Steak Treats

Beef Wraps

Wavy Bacon & Cheese Bites

Chicken Meatballs

Cheese Wraps

Salmon Bites

Turkey, Peas, & Blueberry Jerky

Liver Meatballs

Chicken, Chickpea & Blueberry Biscuit

Turkey & Sweet Potato

Gourmet Beef & Rice

Kabobs

Jerky Sticks

Chicken Training Bites

Meaty Beef Treats

Specialty Dog Biscuits
CBD pet treats have the flavors and formulations that make it easy to add a high-quality CBD to help keep your pet healthy.


CBD Oils for Dogs – CBD oils are the best way to give high-quality CBD hemp oil to your dog. It's beneficial to help with things like anxiety, arthritis, & inflammation. CBD products are free of THC (so no psychedelic side effects), easy to use and 100% natural and easy to give to a dog.
They come in 3 different formulations with specific dosages:
Small Dogs [25mg]

Medium Dogs [50mg]

Large Dogs [100mg]
There are many benefits on CBD for dogs according to MediPets CBD's blog. "When it comes to dogs, CBD is a natural remedy for anxiety, arthritis, nausea, inflammation, and other physical and even emotional conditions. CBD can even help dogs with things like missing their owners when they go away and from freaking out from rides in the car or visits to the vet. It's the only thing we'll give our dog at home."
4. HOLIDAY SPECIFIC
Whether bought or DIY, it's easy to add an occasion-specific touch to a gift basket.  The simplest is to use color to pick up a holiday theme to unify it. Woven tug toys are one of the easiest presents to add a color theme! For example, Christmas would be red and white or red and green toy colors.
You can also use special occasion treats or toys that are associated with a holiday. Christmas examples would be squeaker toy Santa Claus, reindeer, candy canes, presents, etc.
You might also like to include something sort of cute doggie outfit for dress-up, like a special occasion bandana, bow tie, or collar flare.
5. ASSEMBLY TIPS & TRICKS
When you are putting all the dog lover goodies together into one basket make sure to remove tags and other hazardous parts like wrappers etc so the doggie doesn't ingest by accident. Make sure to pad your basket (if it's needed) and add a paper lining if you want.
Start with your larger items in the back of the basket and incrementally fill the basket with smaller items. You can also use things like jars and canisters to put treats and toys into to display them beautifully.  Use softer items like clothes etc to fill in the gaps in the basket. Use small items and a few treats for dressing at the top of the gift basket.
6. PRESENTATION IS EVERYTHING
Make sure once your basket is full of dog lover goodies, that you wrap it up or add a bow to it to give it some holiday flair. Make sure that any carry handles can still be accessed and used as needed when attaching your bow.
What do you think of these 6 tips to creating a gift basket for the dog lover friend or family member in your life? It's a great idea huh?
I love that gift baskets allow for a variety of items to shower the recipient with hours of fun and more bonding time with their pup. This is a great idea for all ages and size dogs. You can make it what you want with regards to whatever your budget it.
My main advice to you is to not wait until the last minute to curate your gift basket.
Let me know what your favorite tip was that I shared in the comments below. Would you make a gift basket like this?
If you liked this post, you may also like: