When you put in so much heart and soul into writing and/or creating a blog or website… you become eager to reap the benefits ASAP. Let me be real with you. I want to cut to the chase to tell you the best ways to generate website traffic with a $0 marketing budget. Want to know how I know?
My blog Arts & Classy was founded on a budget of $0 and I didn't invest a dime into marketing until over a year and a half in when I converted to WordPress from Blogger.
I share more information on my monthly Blog Traffic & Income Reports if you want to learn more.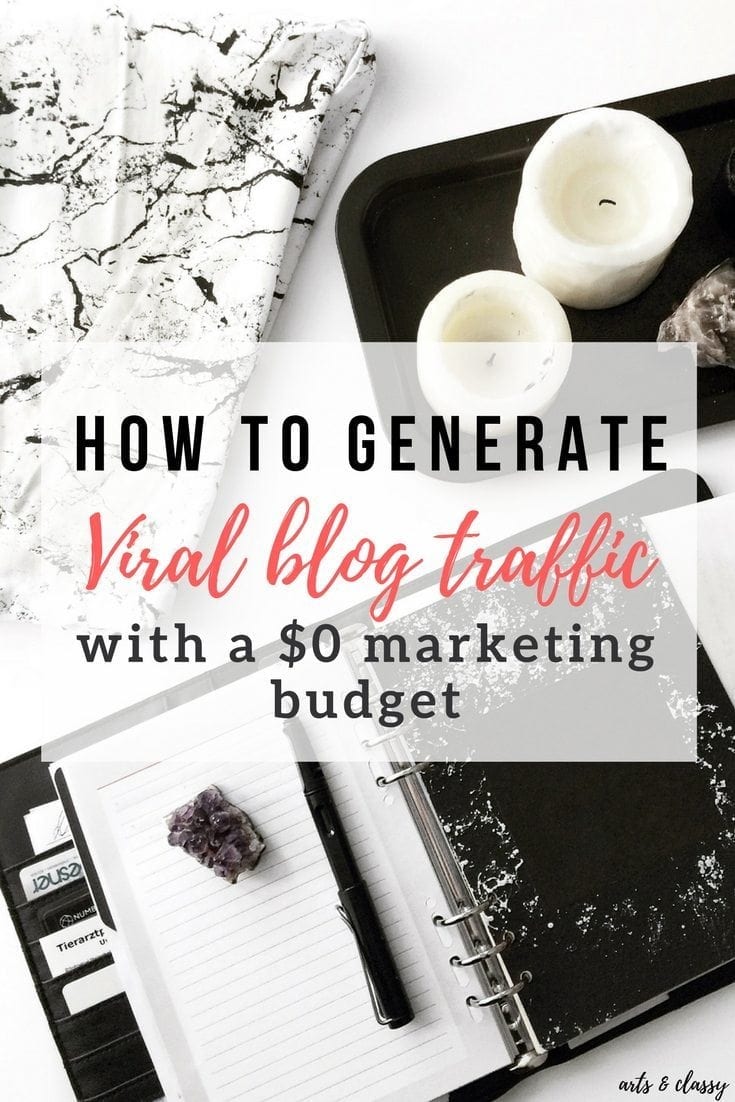 This post contains some affiliate links for your convenience. Click here to read my full disclosure policy.
Figuring our this whole "blogging" thing has been my purpose for the past 4+ years. I hope this information can help you generate traffic to your blog or website quickly! If you haven't started a blog yet… and you want to.
If you already have a blog or website, here are 7 free tips you can begin implementing in your marketing strategy. I will tell you this now. You will get out of this what your put in. You will only have to invest your time to start these marketing strategies.
1. Join Pinterest group boards.
This is by far my #1 tip! This helped me so much.
How can you join a group board?
You can via pingroupie.com! Once you find a select niche related group board you want to join, here are 3 possible scenarios that will play out.
You'll find directions – Many of the board owners will leave directions on how to join in the description. This is the best case scenario. Just follow the steps and you'll get your invitation. Also, please be patient with the board owner sending the invite. 
You'll find the board is closed – Sometimes board owners make it clear that the board is closed. Period. They have a select group of pinners they want in the board. You could try messaging the board's owner but don't expect the invite.
Message the board owner – Sometimes there will be no directions on the board's description + nothing saying the board is closed. In cases like these, you can try contacting the board owner to see about joining. Tip: the board owner is the first pinner shown at the top of the board under the description.
I have a very popular high converting Blogging + Content Marketing group board that has been recommended by multiple Pinterest courses! It is an amazing way to share your content and other's content that's valuable while generating more traffic, leads, and conversions!
It is one of the first boards in that niche to pop up when you do a search on Pinterest. It also shows up on Google searches. I have worked hard to make this a valuable tool and place for bloggers to market their content.
I receive soooooooo many requests from other Pinners to join this board as a contributor every day. I actually closed this board to new contributors for a while because I just didn't have the time to manage it all.
A lot of work goes into accepting contributors because I do research on every person's account to make sure they won't spam my board. Which takes some time as you can imagine.
Lucky for you this board is now ACCEPTING contributors! I would love to have you be a part of it.
Learn how to join this board [HERE].

What do you do once you are in the group?
Begin pinning your content and others content that is helpful and niche related to the group board.
PAY ATTENTION!! Make sure to follow the boards pinning rules. Some can be very strict. 
The benefits of pinning to group boards is that it was a matter of one pin going viral to changed everything. That is exactly what happened to me. Wanna know what pin did it for me about two years ago? It was… how to make your home look more expensive on a dime. I have since made a couple other of my pins go viral. But that first viral pin was the best and lasted the longest. 
How did I make it go viral you ask? It's as easy as 3 steps…
I wrote a helpful article. Please don't create click bait. 
I created one heck of a pinnable image that made my audience want to learn more.
I signed up for a Pinterest automation (this did cost me money…but so worth it) which helped me keep my sanity, while I marketed the heck out of this Pin on my large group boards I am a part of. Since some of the boards are so big, the boards feed moves very quickly. I was able to loop the same pin to the same group board at different times during the day.
I did not spam. Please do not spam your group boards. I was intentional with my Pinterest marketing. I wanted to make sure my audience actually saw my pin when they were looking for inspiration. Learn more about my social media automation lifesavers.
Continue joining niche related group boards and pin appropriate + valuable content to them.
2. Instagram
I highly recommend engaging with your audience daily via insta story and going LIVE. That is how you gain the most reach for no money. Make sure before you post a story or go live as yourself… How can I provide value for my audience today? People can smell BS from a mile away. Make sure you are sharing real and authentic content to drive your audience to take action. Whether you are directing them to opt-in, YouTube video, or a blog post.
3. Facebook groups
There are 2 approaches to this.
Method #1 – Create a niche centered private Facebook group to cultivate an engaged audience or "tribe" of people that you can dictate the content of. You can even turn active and helpful members into admins to help manage the dialogue (in a highly active group).
I highly recommend engaging in this group daily going LIVE, sharing valuable content, and other freebies that would help your audience.
Method #2 – Join several engaging niche centered Facebook groups and build a repour within the group by providing helpful information. Some groups have daily posts where you can share a link in a comment to a post on your site or to a social media network.
Usually, rules dictate your participation. As in, you have to follow a certain amount of people participating in this daily roundup. Make sure you read the rules before sharing your link.
4. Email influencers for promotion.
Build up genuine relationships with fellow blogging and niche related peers. This will be an ongoing process that you should always be doing as a blogger, influencer, or entrepreneur.
Once you have established great repour over time you can begin asking for favors.
When you do have a promotion, you can send out info to your pals first. Hopefully, they will spread the word to their audience via email and/or social networks.
I also suggest that you do the same for your blogger pals when they email you asking for your help. A good relationship is built on giving and taking.
Make sure you aren't getting greedy over there with your requests. Try to spread them out and make sure to ask if you can help them promote anything on your end for them.


5. Roundups blog posts.
I have both curated my own round-up of posts/projects and I have had other bloggers approach me about using my content in their roundups.
All in all, this is a smart way to generate website traffic because you can contact all bloggers you want to feature. They will more than likely be so honored that you want to feature them, they will probably share it with their audience.
Here are a couple examples of roundup posts I have written.
They are great for bringing in more eyeballs to my site. One thing to remember… always give photo credit when it is due with a link back to the direct blog post if you can find it.
6. Leave thoughtful comments on other blogs.
This is such an under-rated tip.
I didn't think this one really still mattered. But it really does. It is important. Let's look at reasons why you should start making an effort to comment on other blogs.
Here are the perks of commenting on other blogs…
It requires no initial setup (unlike a large marketing campaign).

When you leave a comment, you receive an inbound link. 

You'll get noticed. The more you comment, the more likely influencers will take notice of your presence.

It opens the door to building relationships with blog owners. This can lead to guest posting – which further expands your content reach.

It builds up your authority in your industry when you are commenting on many popular blogs with valuable content.

Disqus (which is a blog commenting system) serves a way for you to promote your blog or business when others click on your bio. This equals more traffic opportunities.  CommentLuv (another blog commenting system). This system places a link to your blog post for others to view and click aka bringing new traffic to your site.
7. Add internal links from older posts to your new content.
This tip will also help your bounce rate. My rule of thumb is to always try to organically link each blog post back to 3 older posts related to the topic.
People are more likely to stay on your site if they are finding more relevant and compelling content for them to digest.
You want to keep them there as long as you can.
Make navigation on your site simple. It needs to be idiot-proof. I mean that in the nicest possible way.
Just make it easy for your audience to stay on your site by continuing to feed them content they want to see. Think of it as being a perfect hostess. You want their experience to be positive, memorable, and smooth sailing.
What do you think of these traffic growing tips?
Not too shabby on a $0 budget right?
The blogging game isn't a race but it's fun when things are going your way. Please let me know in the comments below your favorite tips for growing your traffic! I would love to hear what is working for you!

Subscribe to gain access!
Gain access to my FREE 7 day email mini E-course to help you start making money $$ with your blog!