Do you feel like your living room is too cramped and small? Do you find yourself asking "how to make my living room look bigger?" Are you looking for creative ways to give it an illusion of space without actually having to do any extra renovations?
Don't worry–we've got some easy styling tips and tricks that can make a world of difference when it comes to creating the perfect, spacious atmosphere in your home. Read on as we share our best advice for making even the smallest living rooms appear much bigger than they really are!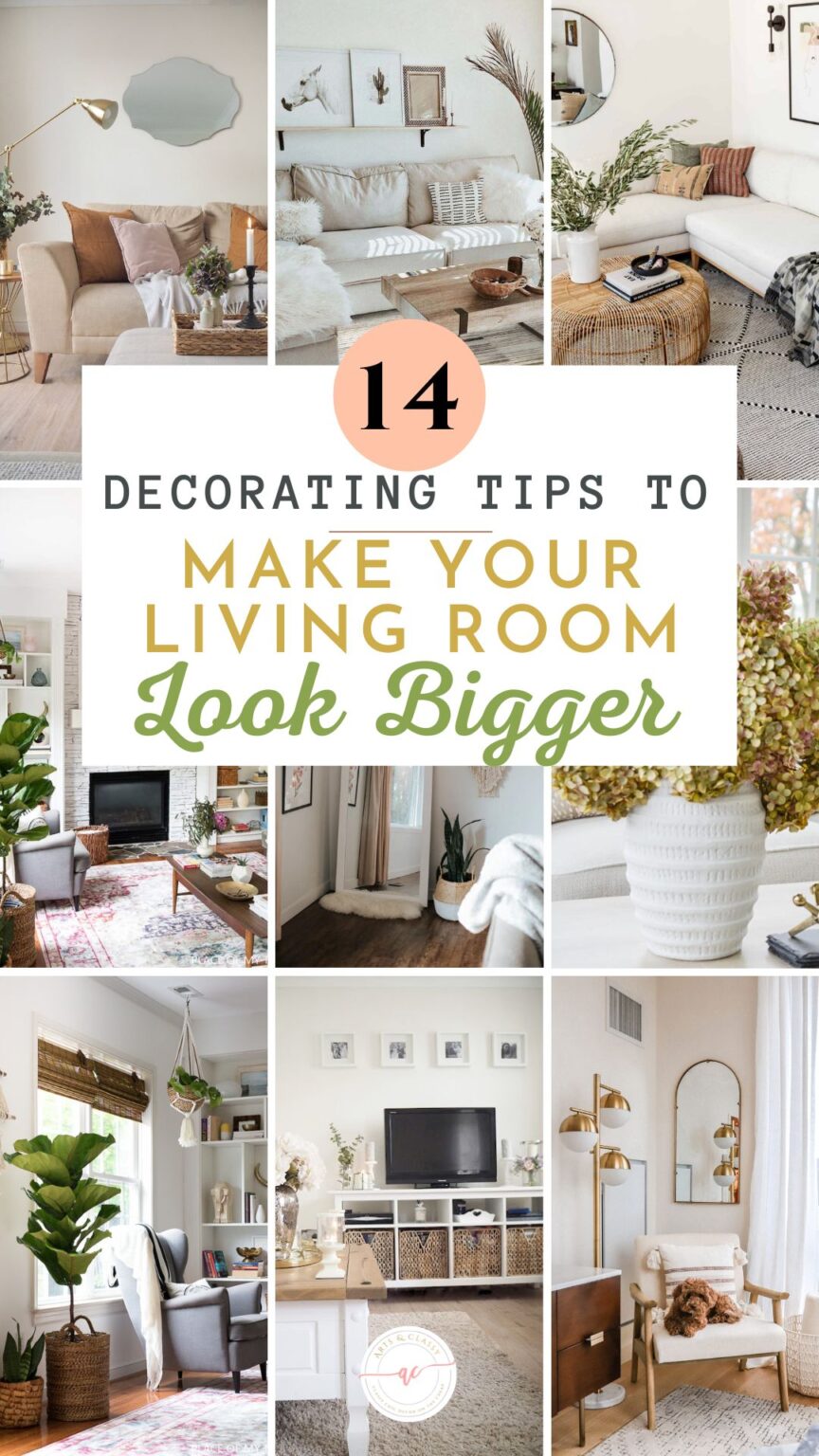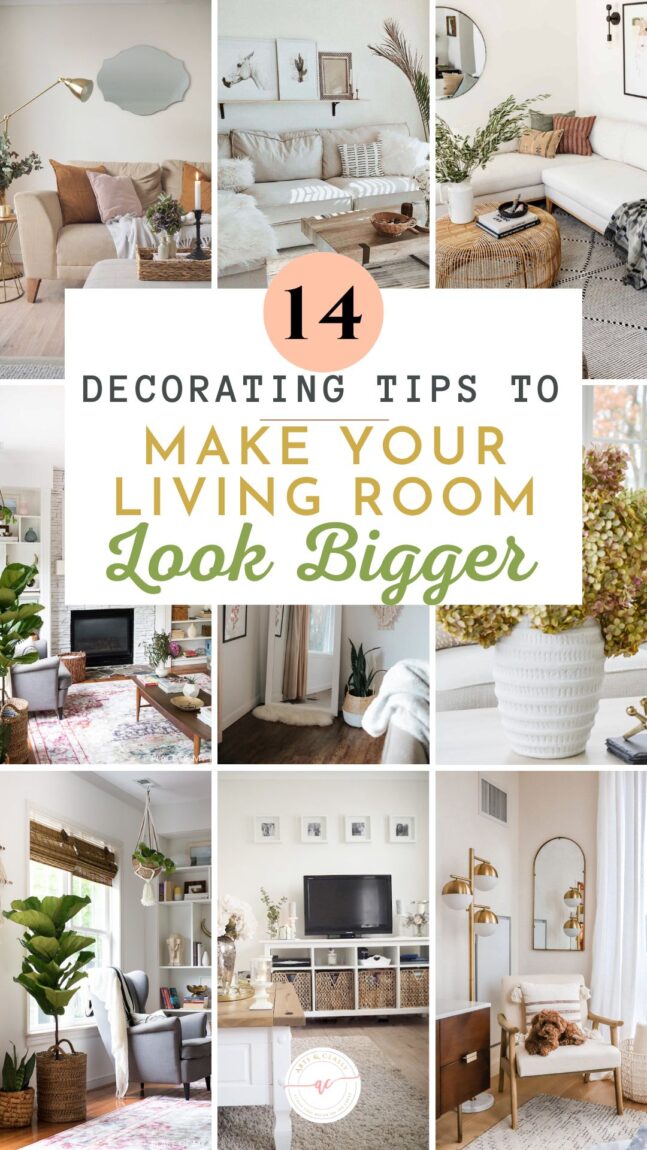 1. Mirrors Give the Right Illusion
Mirrors can be used as a wall mirror to dramatically increase the eye-up of any small living room. Not only can reflective surfaces make spaces look bigger than they are, but they also give visual appeal with their reflective features.
Placing wall mirrors strategically around your living space will create unique lighting effects, adding a special flavor to your wall decor.
And best of all, you don't have to break the bank – mirrors are an inexpensive way to lend depth and drama to your apartment without stretching your budget. So if you want your small living room to feel and look grander, decorate it with wall mirrors – it could be just the touch that makes all the difference.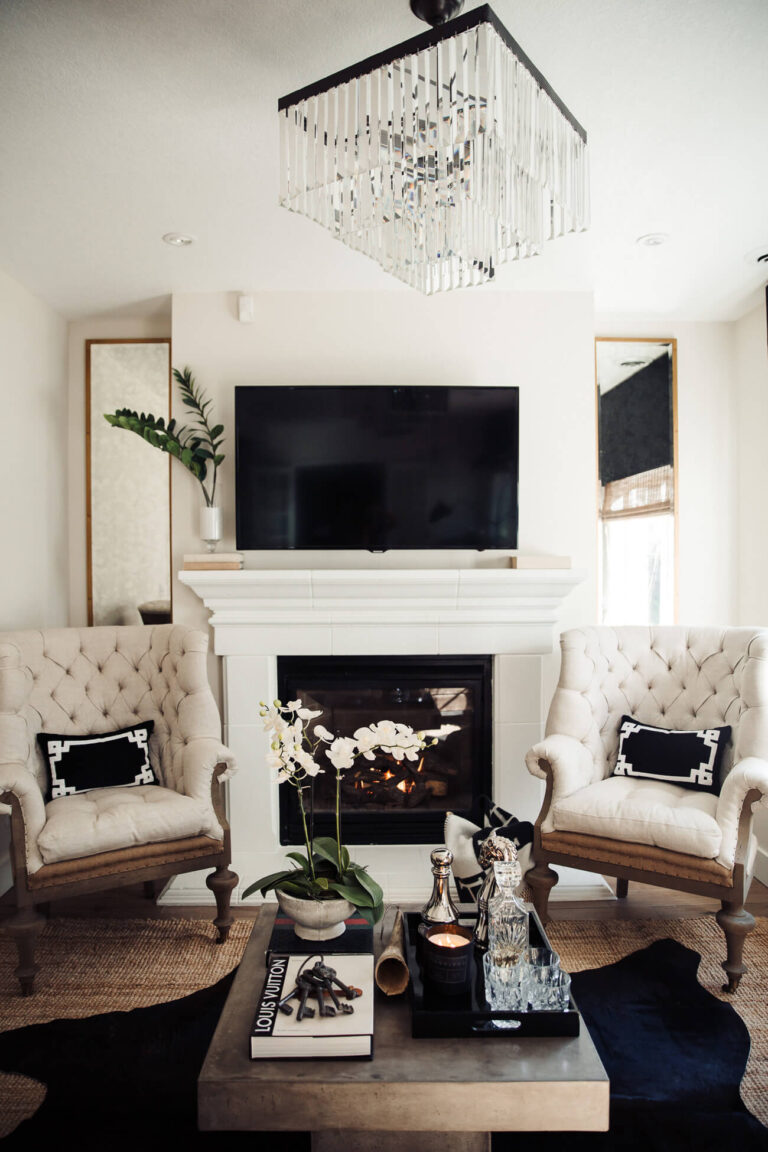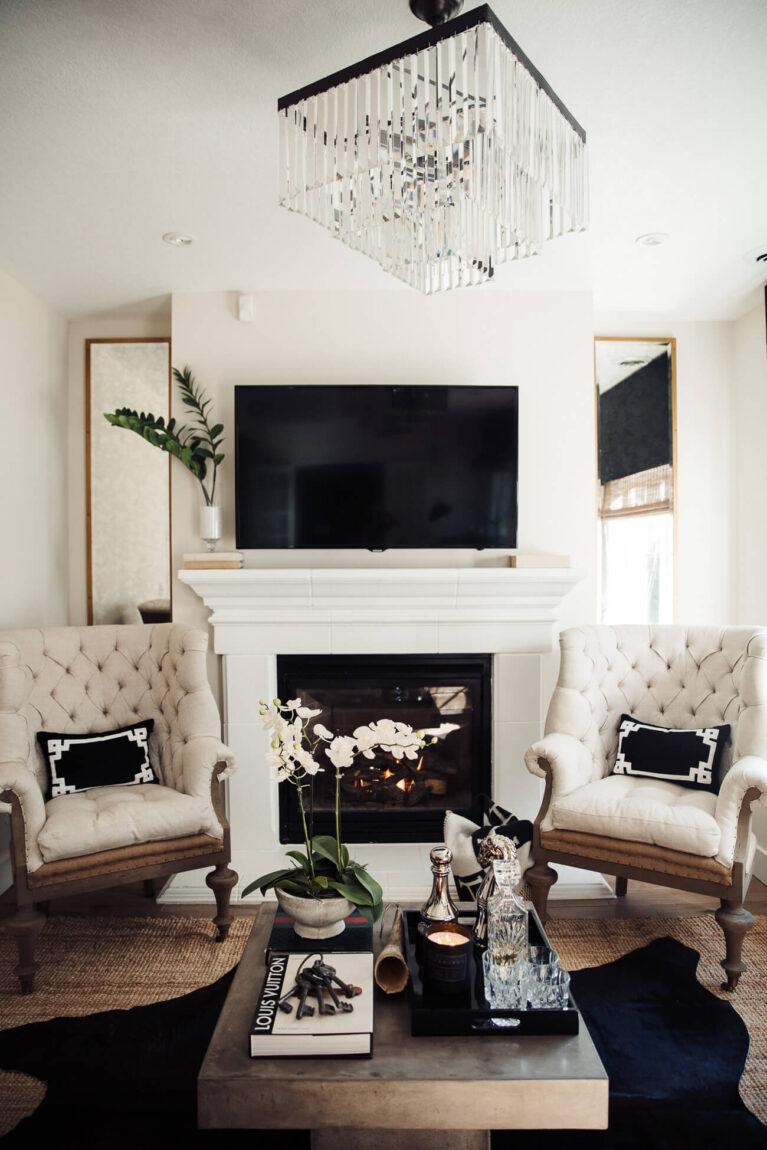 Related: Budget-Friendly Glam Mirrors
2. Pick the Perfect Prints and Fabrics
When selecting prints and fabrics for the perfect space, go small! If curtains or an accent chair are desired in a small living room, consider vertical stripes or other smaller prints to open up the look.
Large floral prints will not only overpower a tiny living room, but they will also disrupt the aesthetic of your chosen layout.
Accent fabric pieces in earth tones or pastels will create harmony with your plain curtains, rugs, and furniture, giving you a well-rounded and stylish look that won't hurt the eyes.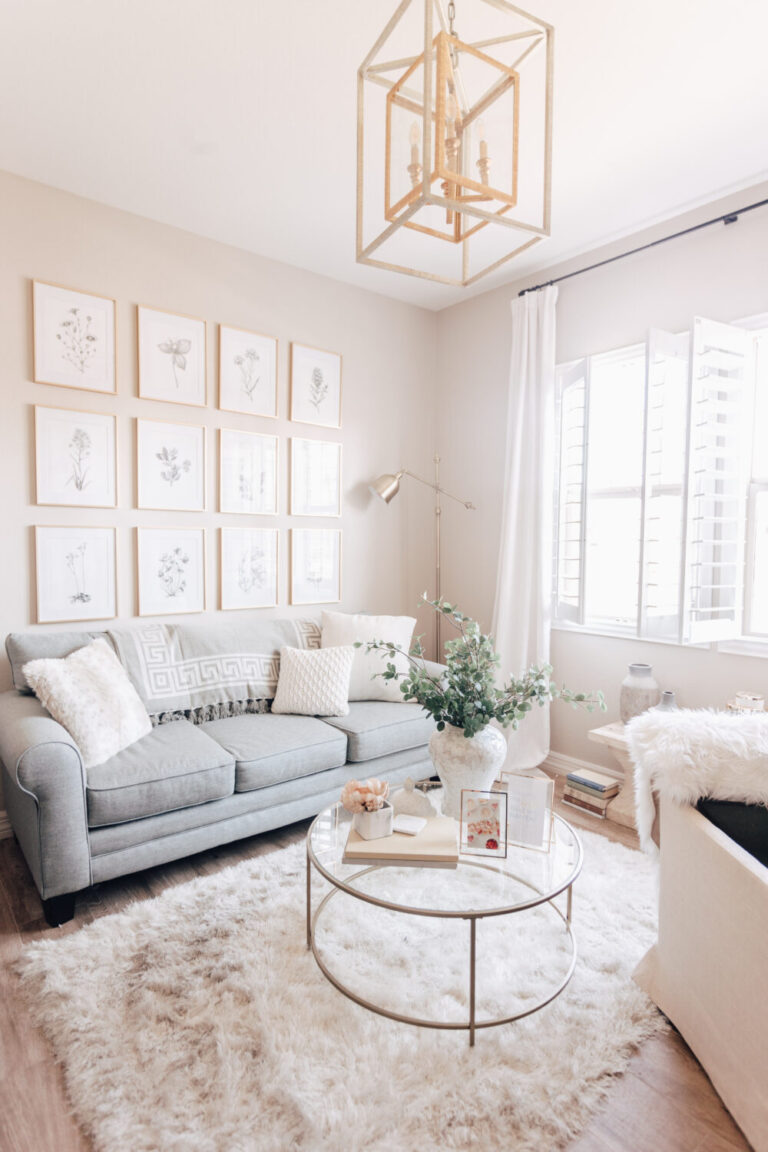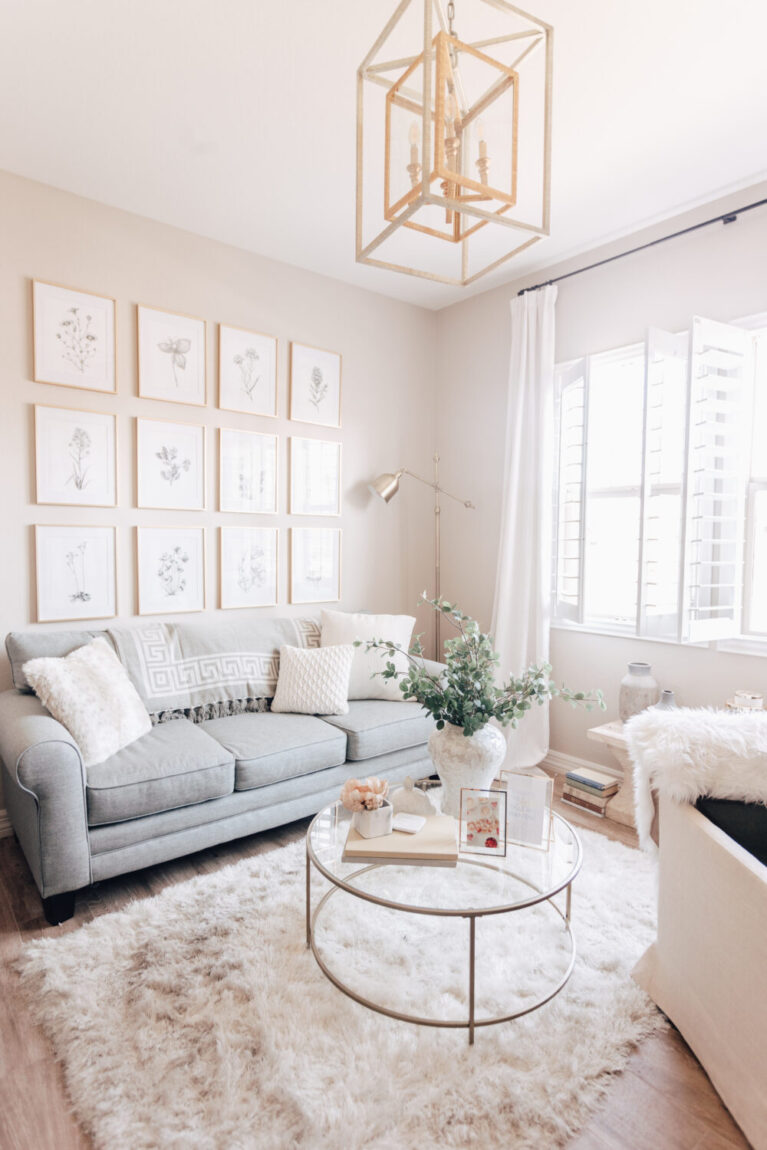 3. Wall Color is Essential for Expansion
Painting your walls with the right colors can give the illusion of a larger space in your small living room, and can also help create an atmosphere that smoothly transitions throughout the house. Neutral colors, like cloud white, ocean gray, and sandy tones, are excellent choices as they create small synergies between rooms to add visual interest and make spaces look bigger.
Though neutrals are often seen as a safer choice, adding warmth to a room will also make it feel cozy yet still spacious.
To maximize your small space, you can use slightly different variations in the tone of your main wall color for trim details to create depth and dimension and further expand perception for an even more inviting space.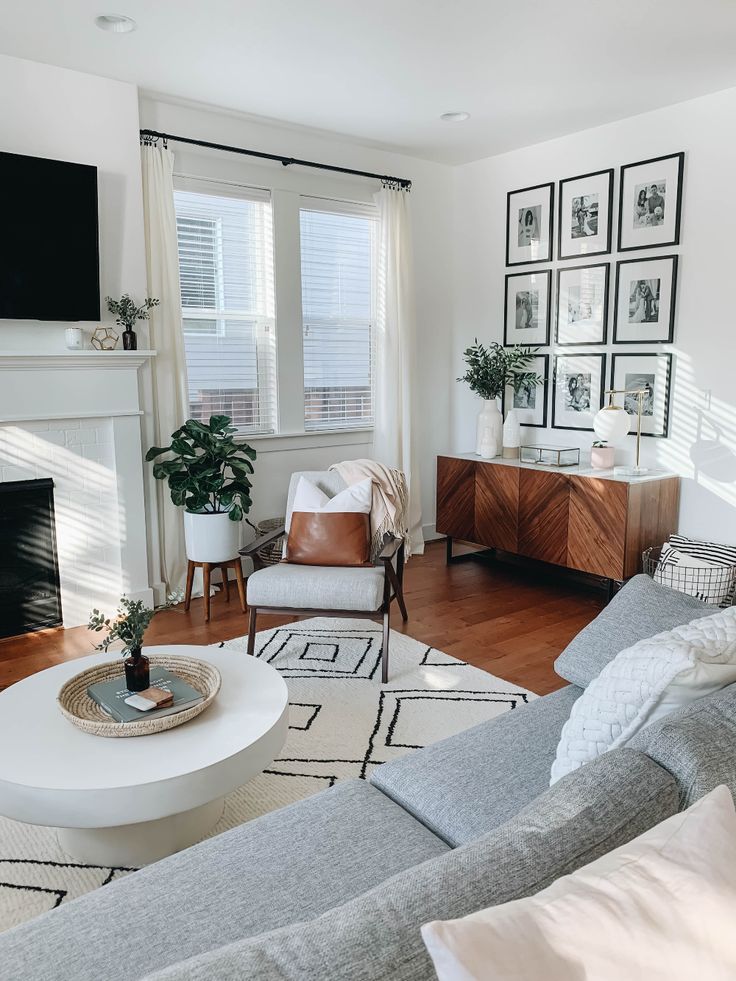 Painting the ceiling a brighter hue will draw the eye upward and add a touch of brightness when looking up. Ultimately, choosing the right wall colors for small living rooms is essential for expansion.
Lighter tones are preferable over deeper colors to expand space, yet warm accents and wall colors can make a room feel cozy, too.
It depends on your preference. Paint the trim and details in slightly off shades as your primary wall color to make the room appear larger. If you paint your ceiling in a brighter hue it will pop, making the eye go upward.
4. Choose Furniture With Legs
Furniture with legs appears lighter and takes up less visual space than furniture with solid bases. When choosing furniture for your small living room, opt for pieces with legs such as sofas, chairs, and coffee tables. This will help to open up the space and make it appear larger.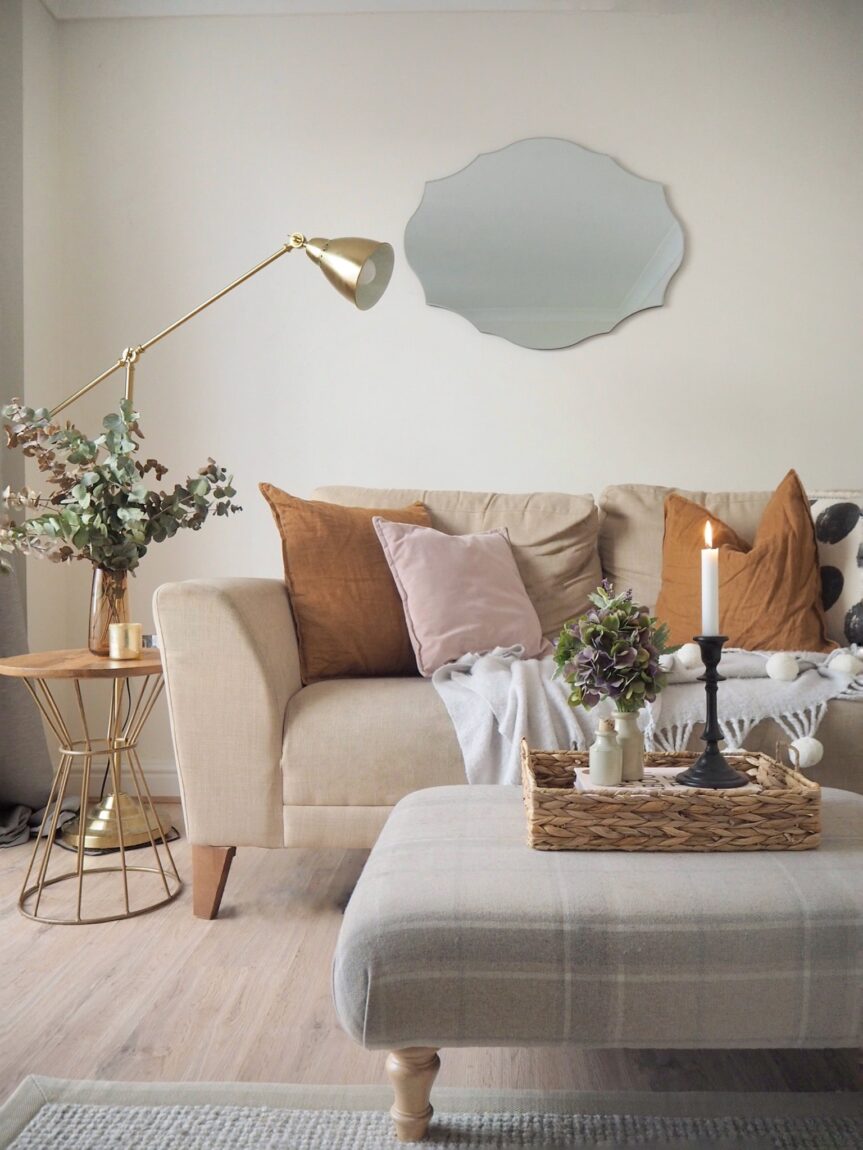 5. Furniture Choice and Placement Matter
Furniture choice and placement can make all the difference when aiming to give your small living room a bigger look. If you choose pieces of furniture in the same shade as your wall color, they will blend in and help to give an impression of space. I recommend incorporating a few modern-era pieces of furniture with see-through designs that will create an illusion of expanded space.
For small apartments, there's one piece of advice you should follow: pick a chunky item instead of a small one!
A sofa or loveseat that could sleep two is ideal for accommodating extra guests and adding much-needed storage space. To convert your small apartment into a multifunctional place, consider getting a convertible sofa bed – great for small gatherings but versatile enough for everyday use. Owners of small living spaces are often advised to only decorate with small pieces of furniture and decorations.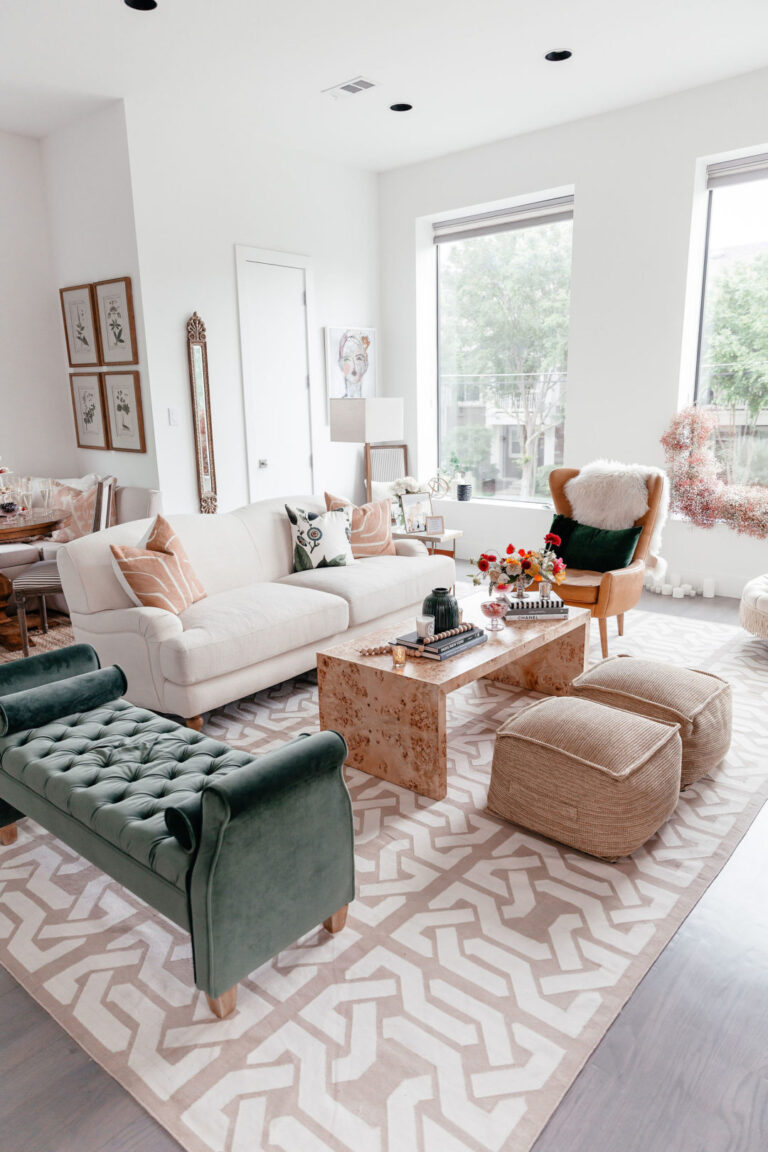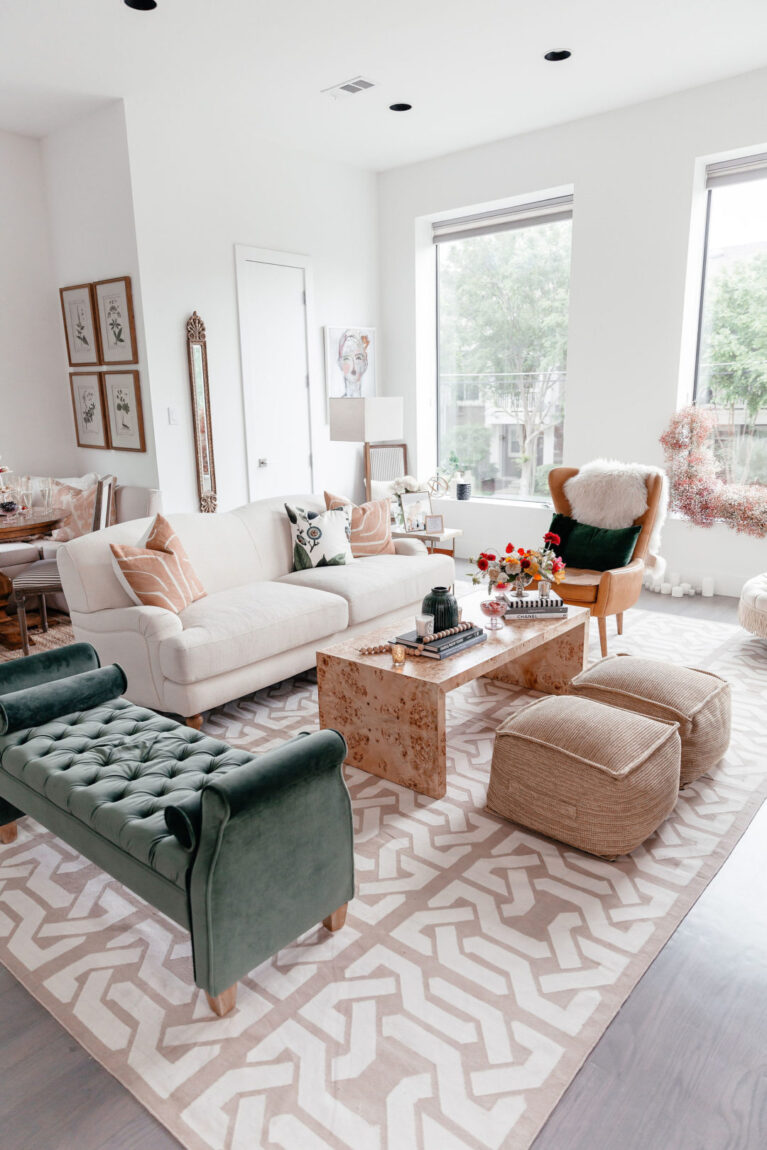 Don't place furniture right against the walls. Angling furniture will add interest to the space and use a line to open up the space, as the eye flows around the room. Make the most of a featured piece of furniture by building multipurpose forms and functions around it, such as wall-to-wall bookshelves.
6. Bookcases: Your Secret Wall-Expanding Weapon
If you have a small living room and you're looking to make it look bigger while still keeping your collection of books, adding bookcases is your secret weapon. Opt for tall floor-to-ceiling bookcases or wall-to-wall cases that will create the illusion of height on your walls, making your small room look larger.
But, be sure not to overcrowd the shelves – leave a small gap between each one for an airy, stylish effect that creates plenty of storage space for those cherished titles!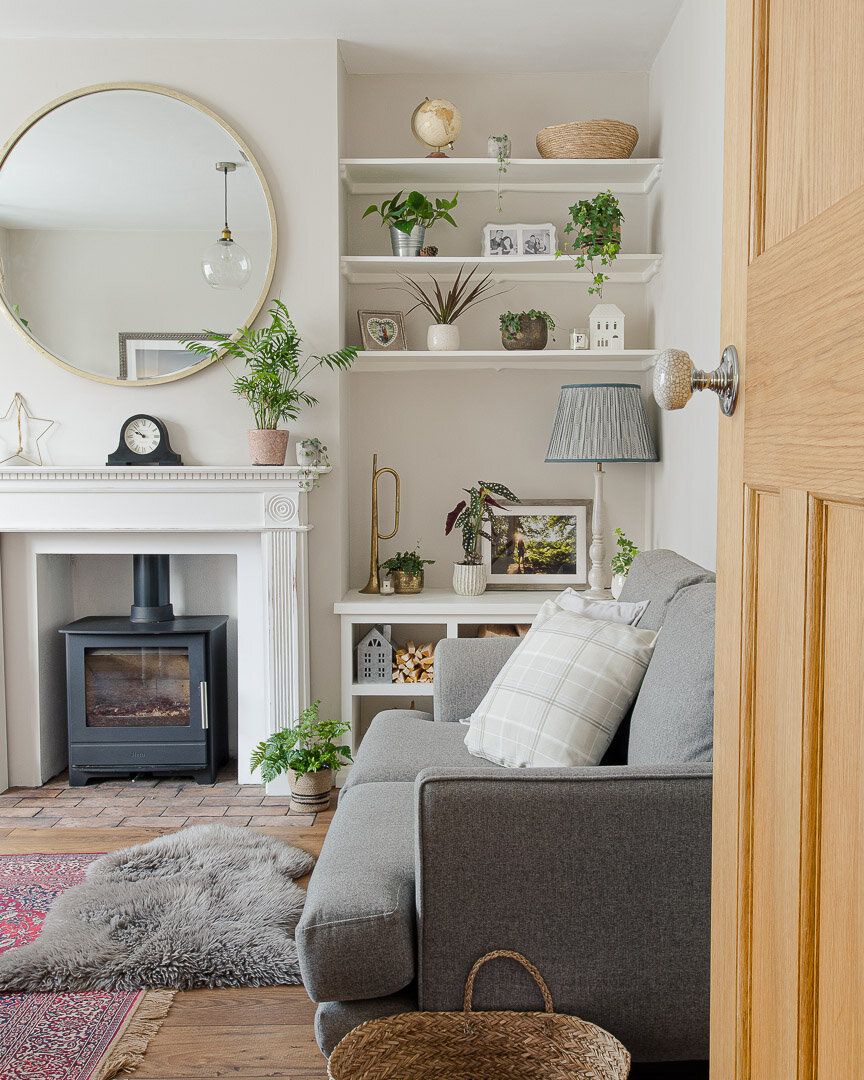 7. Color Coordinate Collected Items
Color-coordinating items can have a transformative effect on living spaces, especially small living rooms where area rugs and wall decor are essential to creating the desired look. Rather than following a specific catalog order with living accessories, consider unifying your living space with an arrangement of colors.
For example, bookshelves can be arranged by hue or pattern, while lamps and lights can be used to break up sections without destroying the uniformity of the canvas. You'd be amazed at how cohesion in colors can help make a living room look bigger and more inviting.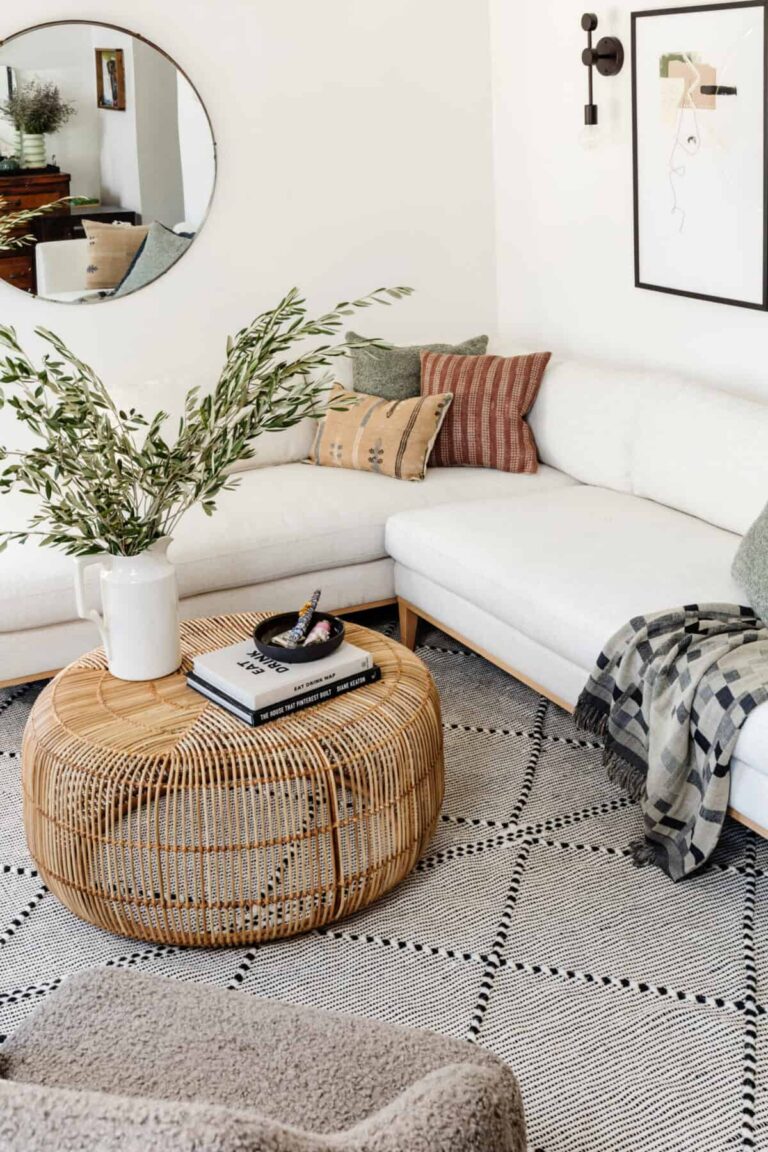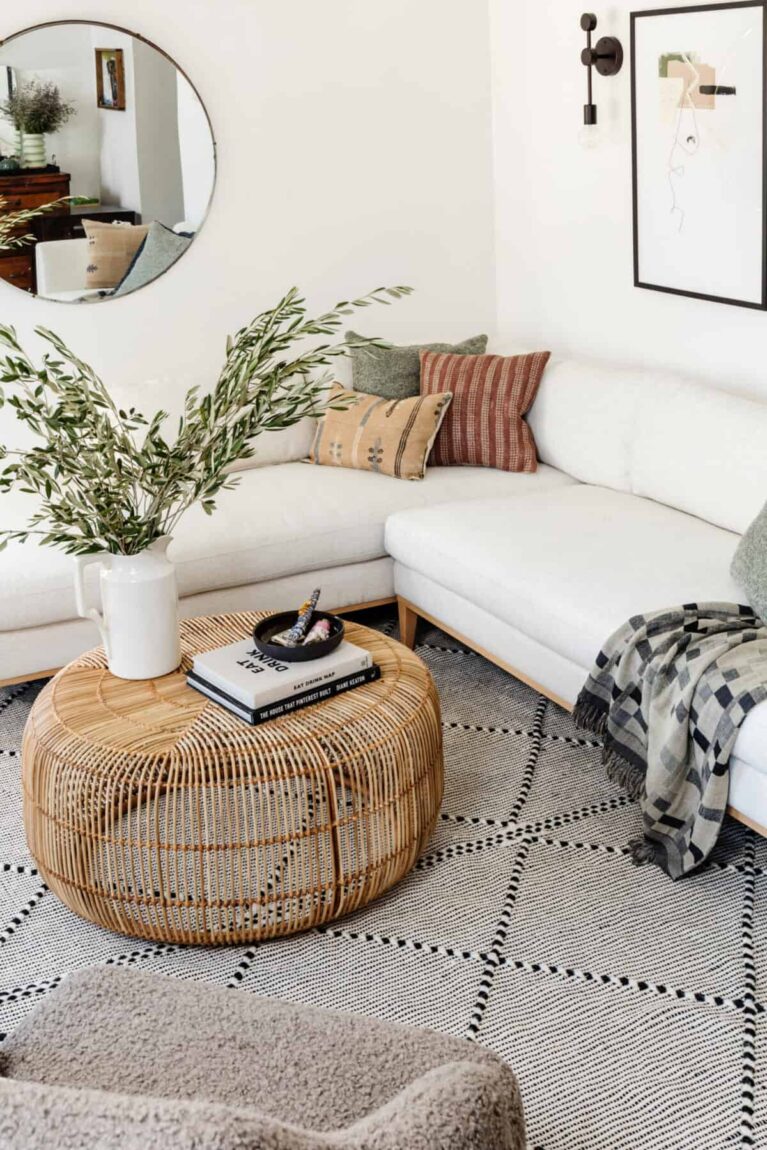 RELATED: Transform Your Living Room Effortlessly: Step-by-Step Makeover Guide
8. Hang Curtains Close To The Ceiling
Upgrading your living space doesn't have to be an expensive endeavor: hanging curtains close to the ceiling can give you an instant "wow!" factor without breaking the bank.
By raising curtains up toward the ceiling, you can make any room appear larger and brighter than it really is.
It's an effective way to fool the eye into making a small room feel larger, as higher curtains draw viewers' eyes upward, emphasizing height and creating a more spacious feeling than curtains that hang just above the window frame.
Opting for adjustable curtain rods allows for easy installation: no special tools or carpentry skills are required! If you're looking for a simple but effective transformation of your living space, hang curtains close to the ceiling – it will create a stylish look at minimal expense.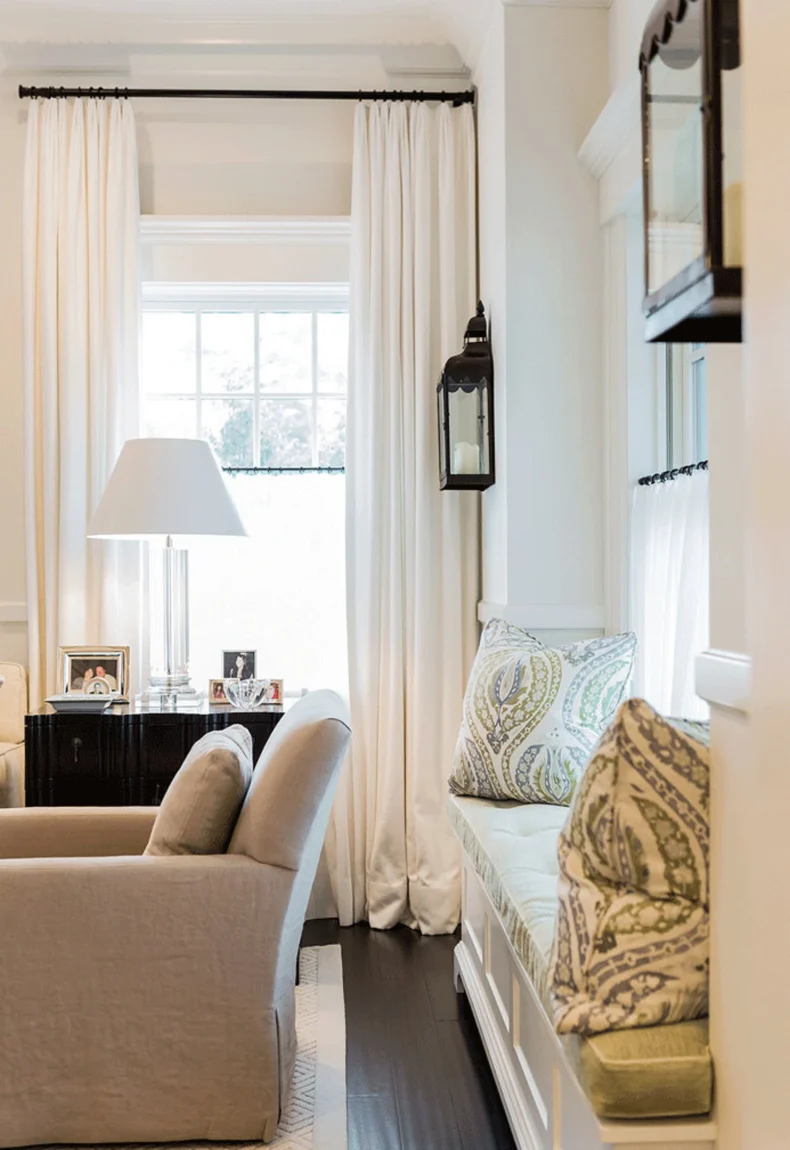 9. Use Lamps To Create Ambient Lighting
By incorporating ambient lighting into your home with floor lamps, table lamps, overhead lights, and hanging pendants, you can create a space that is far from dull. Lamps are one of the most versatile forms of light sources and they are perfect for brightening up dark spots while providing an inviting atmosphere. You don't have to limit yourself to purchasing a complete set either – try mixing floor lamps and table lamps or floor lamps and pendant styles to create fun interest in an area. You can easily convert a boring corner into something warm and cozy all through the use of creative ambient lighting.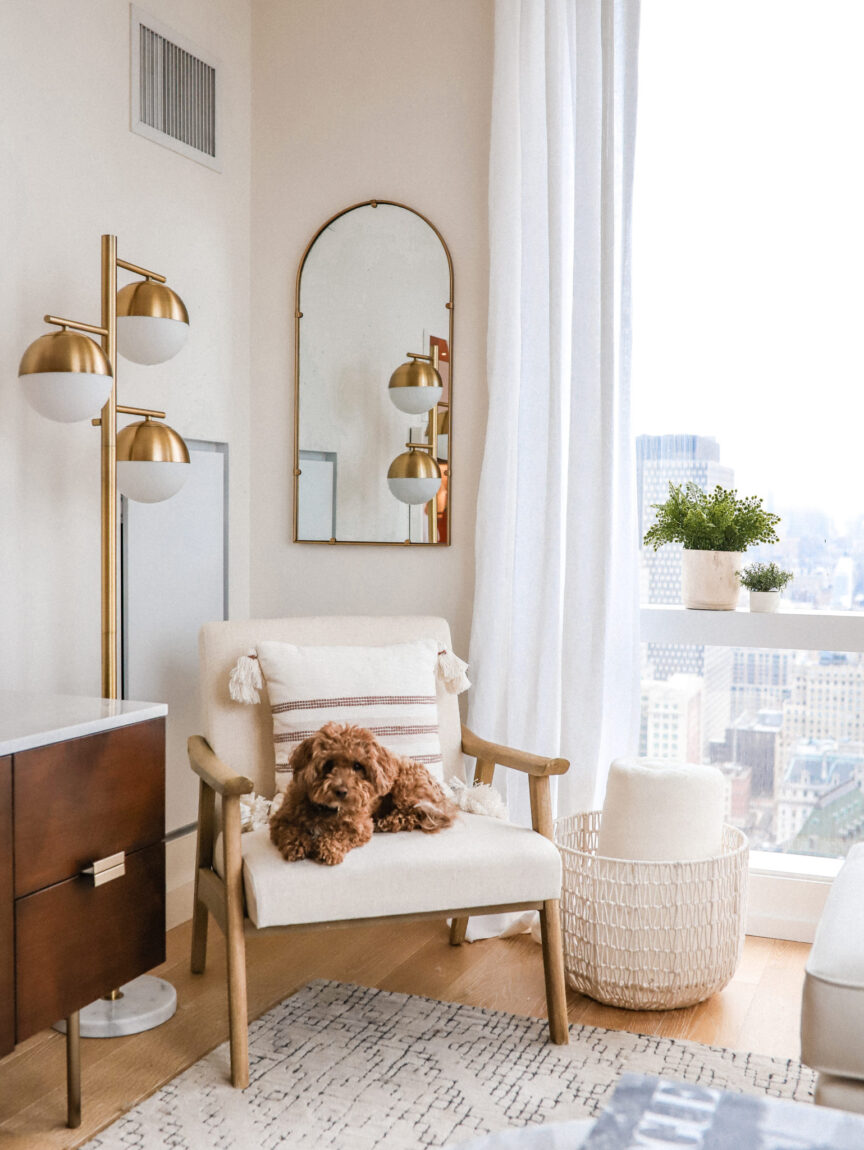 Related: Pendant Lights and Chandeliers for Under $100
10. Keep The Windows Clean and Free of Clutter
Keeping the windows in your home clean and free from clutter is an important step in creating the illusion of space. Even if you have a small living area, having a clear view out your window helps to make it feel more expansive.
By leaving vertical space for windows, it can also make the illusion of height, giving a sense of openness and airiness throughout your home.
Cleaning and organizing windows not only make your entire space look better, but also helps maximize the illusion of spaciousness in whatever sized room you may occupy.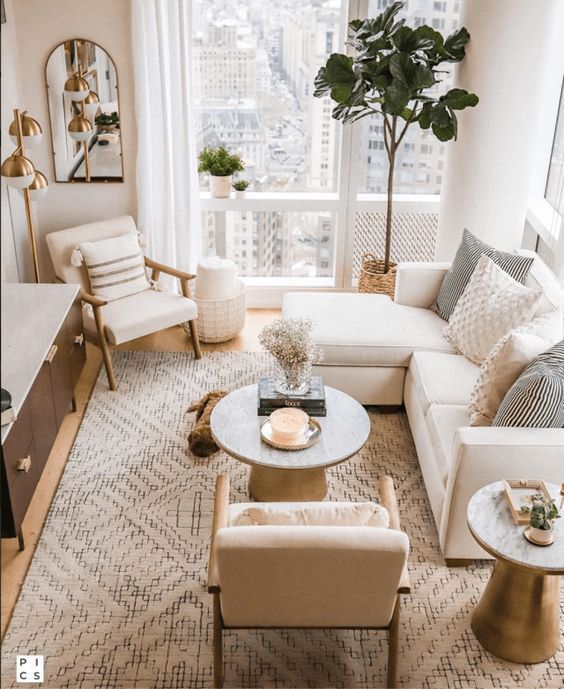 11. Use Floating Shelves
If you're limited in wall space and searching for a way to create more storage in your small living room, then consider installing floating shelves. Floating shelves are horizontal and not attached to the wall, increasing the extra wall space you have to work with but taking up no floor or wall space.
As an added bonus, these shelves will actually help make the small living room feel much larger.
Moreover, they can be used for decorative purposes too – you can show off photos, books, or any other pieces that bring character to your home. Don't be afraid to get creative with wall hangings either – just make sure not to overstuff the wall or it could start looking messy quickly!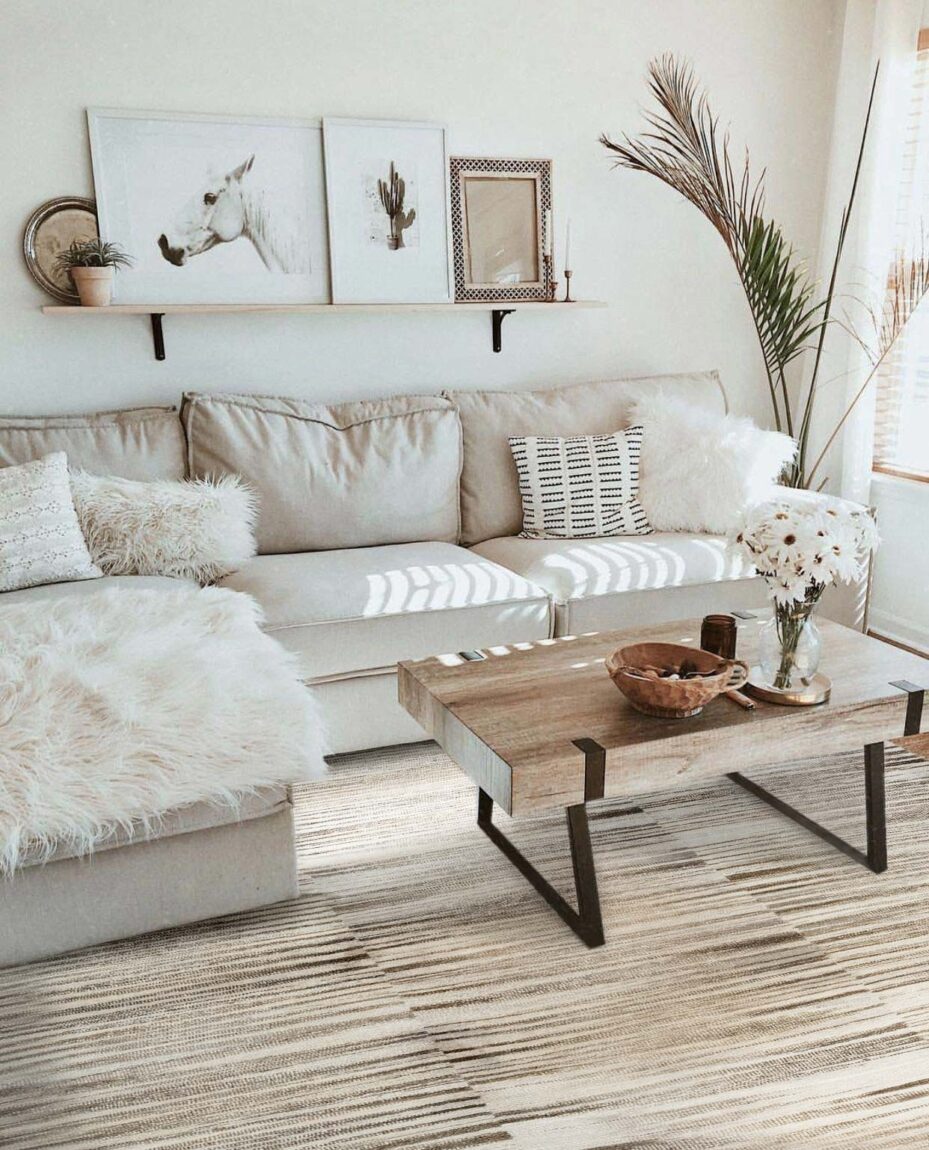 12. Hang Artwork At Eye Level
Don't let wall space go to waste when hanging artwork in your small living room. By hanging art at eye level or slightly above, you can draw the eye up and make the ceiling appear higher, adding an illusion of space to the room.
Creating this visually dominating effect will help open up and brighten your living area while also highlighting your carefully chosen wall decorations. Hang wisely and enjoy tricking the eyes with a larger, more inviting room!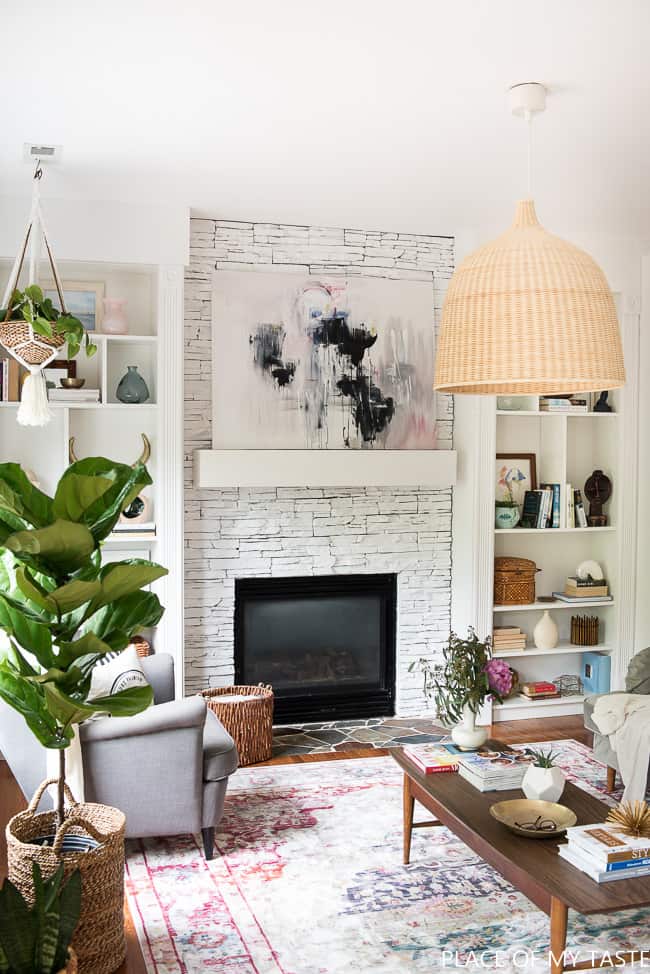 13. Add Greenery To Liven Up The Space
It might be hard to envision a living room feeling more open and lively, but adding greenery to the space can actually do just that! Incorporating plants into a small living room instantly creates an illusion of more space. Not only does it lighten up what might feel like a cramped area, but it also brings it in life, providing eye-catching detail that breaks up any area that feels monotonous or overly standard.
Greenery is versatile and inexpensive, making it the perfect addition to transform any dull corner.
Whether you're looking for a minimalistic background or something vibrant, introducing vegetation into space will bring out the interior design you crave with ease.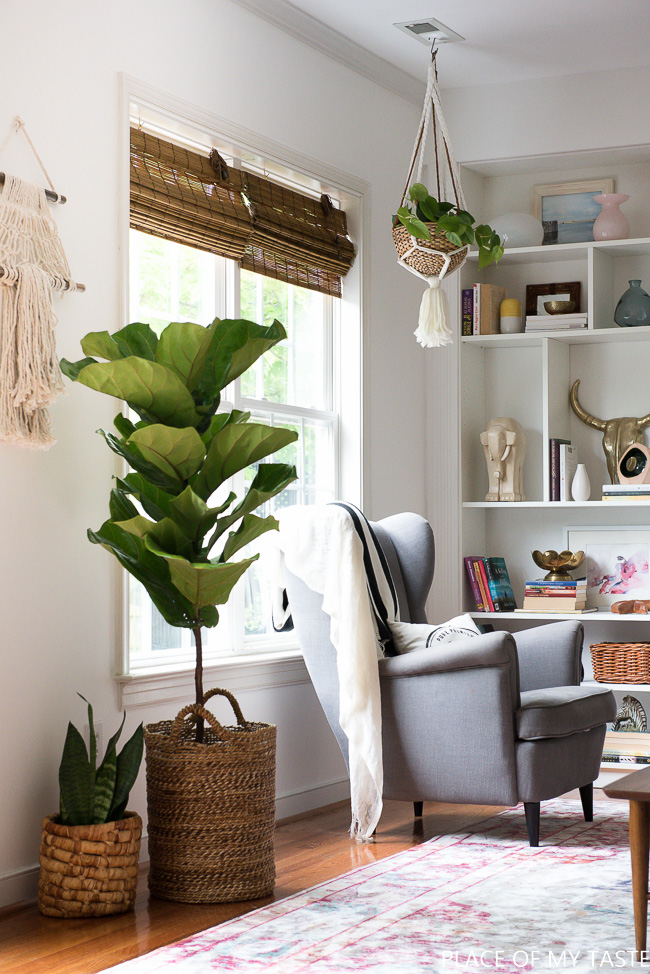 14. Use Storage Baskets And Bins To Declutter
Storage baskets and bins are a great way to de-clutter any room. They take advantage of hidden storage to provide extra space without taking away from the small-space feel. Low-profile baskets and bins can fit under furniture, shelves, beds, or even hidden behind doors creating hidden compartments.
With their lightweight materials, they can be moved around with ease while providing a modern homey look.
Installing shallow wall shelves and putting decorative baskets on them is an affordable solution to organize everyday items like remotes, memory cards, and other things that usually haunt our minds for not being able to find in time. In this way, you can easily keep things neat and tidy wherever you live.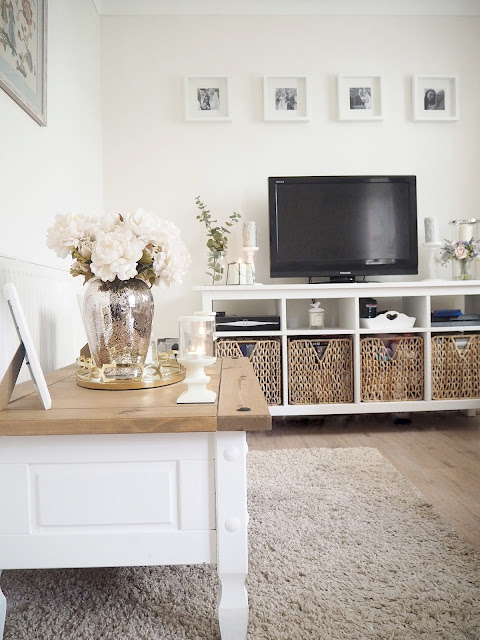 All in all, making your living room feel bigger can be simpler than you think.
By following the tips and tricks highlighted above, you can easily infuse a sense of grandeur into your own home. Consider adding strategically placed mirrors, selecting furniture that is sleek and low-profile, embracing natural light, bringing in plants for a lush touch, and filtering out excess clutter. Don't be afraid to experiment with different colors and decor pieces as well!
With some creativity, you'll find that your living room can become totally transformed.
And if you're looking for more ideas to spruce up your living space while keeping it airy and open at the same time, make sure you are following me on Instagram, Pinterest, Facebook, and TikTok for more inspiring ideas! With a little bit of know-how and these helpful hints at hand, there's no limit to what you can do with limited space – so go ahead and get started on creating the light-filled living room of your dreams today!
Did you like learning how to make your living room look bigger? Then you will love these posts…