Black farmhouse chairs can add a modern touch to any room. In this round-up guide we are reviewing the best options in black farmhouse chairs for sale online.
If you saw my top cost effective design trends for 2022 then you know that black accents are still very on trend. Some designers achieve this by painting an accent wall and others do this by adding smaller black accents and furniture to their home.
My goal by the end of this article is that you will be inspired to take action by deciding what style works best for your home or to take to your favorite local thrift store! I love thrifting because you can find some amazing chairs options that would be perfect to transform to achieve this look.
This post contains some affiliate links. I may earn a small commission if you make a purchase through one of these links. See more information in my disclosure policy.
1. The Chair Is Quite Comfortable.
Most of the farmhouse designs are simple yet quite comfortable. Windsor, wishbone and traditional are some examples of farmhouse chairs that have really become well known thanks to farmhouse design lovers and creators. There are some comfortable seating options that have padding or upholstery in the seating but the overall design is comfort through simplicity.
If you purchase all wood chairs and you decide you want fabric padding then you have the ability to shop for seat cushions to add some additional charm and comfort.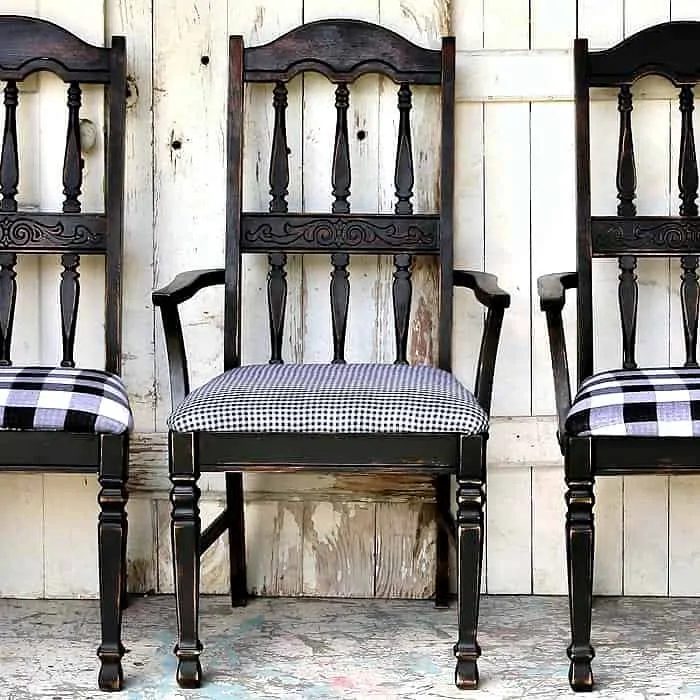 Shop related products:
Bigger Plaid Fabric | Checker Print Fabric | Black Paint #ad
2. Compact, Simple Design.
These types of chairs fit perfectly around a farmhouse dining room table no matter what the shape. Most farmhouse chairs are the more compact side of the equation so having multiple seating options for many guests is achievable.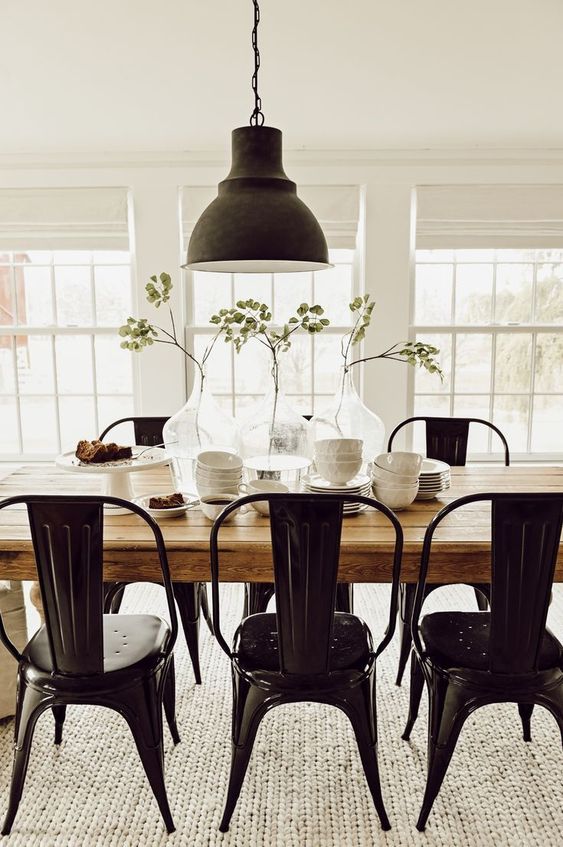 Shop related products:
Dining Chairs | Clear Bubble Jug Vases | Pendant Light | Area Rug #ad
3. Rustic Farmhouse Chairs
One of the best things about ALL farmhouse dining chairs is that they are made out of sturdy materials like solid wood and metal. This also allows for more distressed or rustic iterations of the classic designs we know and love.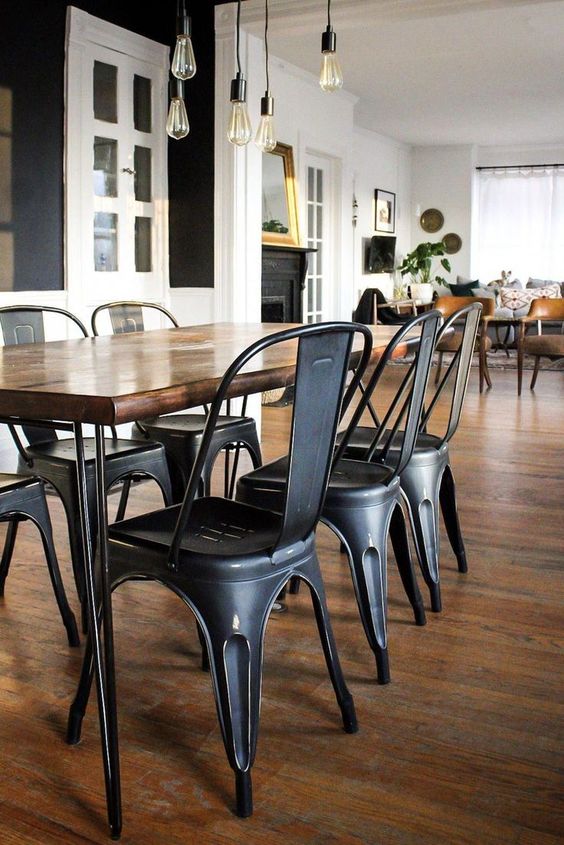 Shop related products:
Dining Chairs | Dining Table | Industrial Pendant Chandelier #ad
4. Rustic Black Chalk Painted Dining Chairs
It seems like our culture is embracing the patina of a lot of vintage and antique furniture. Seeing the weathered look brings character and life. You can also DIY this look with some time, paint, and sandpaper to achieve the rustic look. I have seen plenty of talented creators turn plain wood dining room chairs and use their creativity to transform them into a lovely accent for their spaces.
What I love about vintage chairs is the overall craftsmanship and character. It's difficult to find in a lot of chairs today.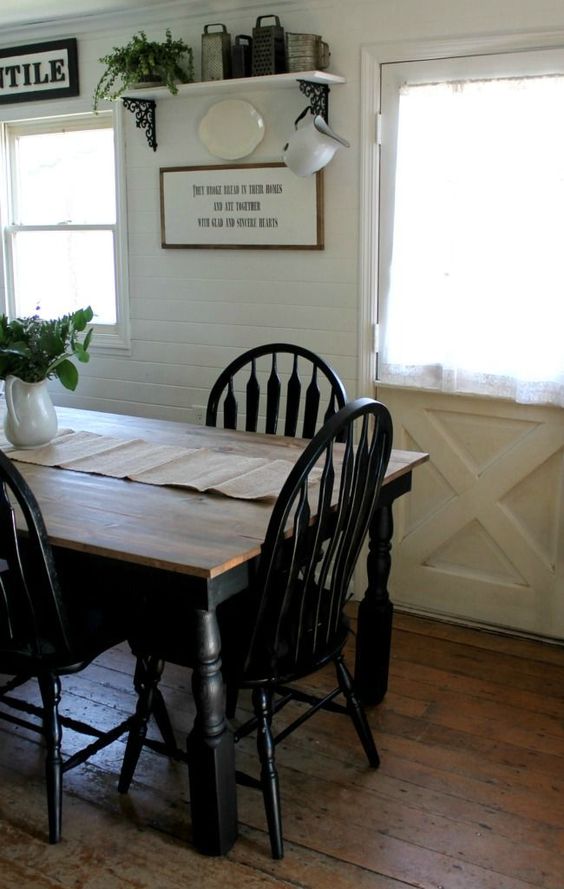 Shop related products:
Chairs | Pitcher | Dining Table | Runner | Floating Shelf #ad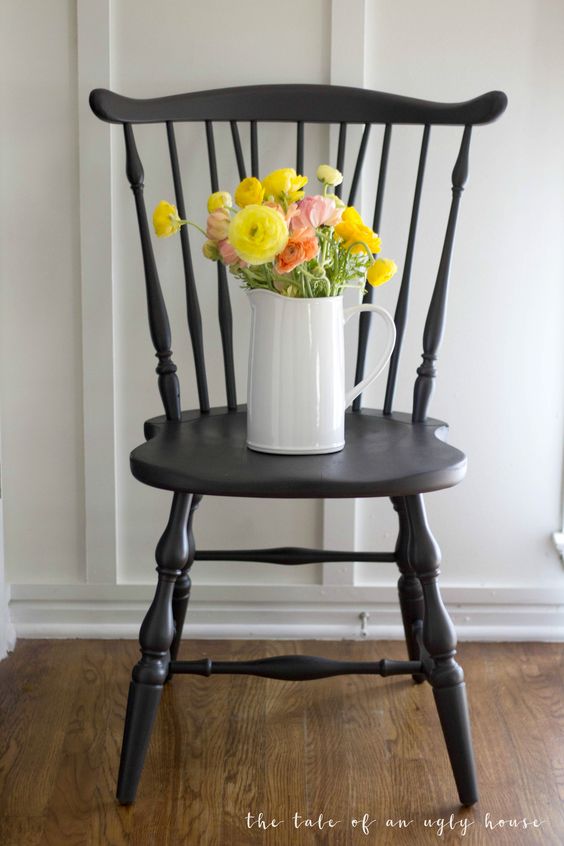 Shop related products:
Satin Finish Paint | White Pitcher #ad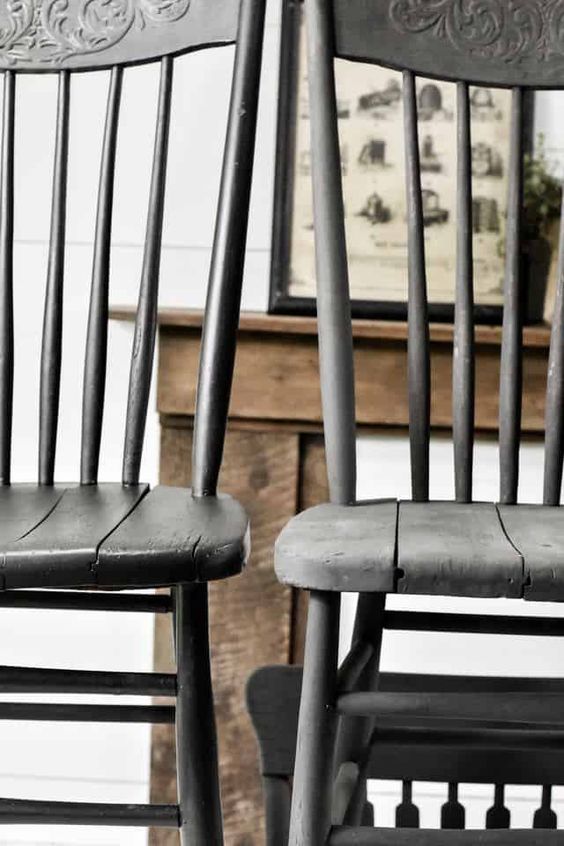 Shop related products:
Black Paint | Sandpaper | Matte Clear Top Coat #ad
5. Black Modern Farmhouse Chairs
Perhaps you aren't shopping for chairs for your dining room. There are plenty of ways to infuse this style into other areas of your home. Using black farmhouse chairs as side chairs or entryway bench seating would be a beautiful way to display them in your home.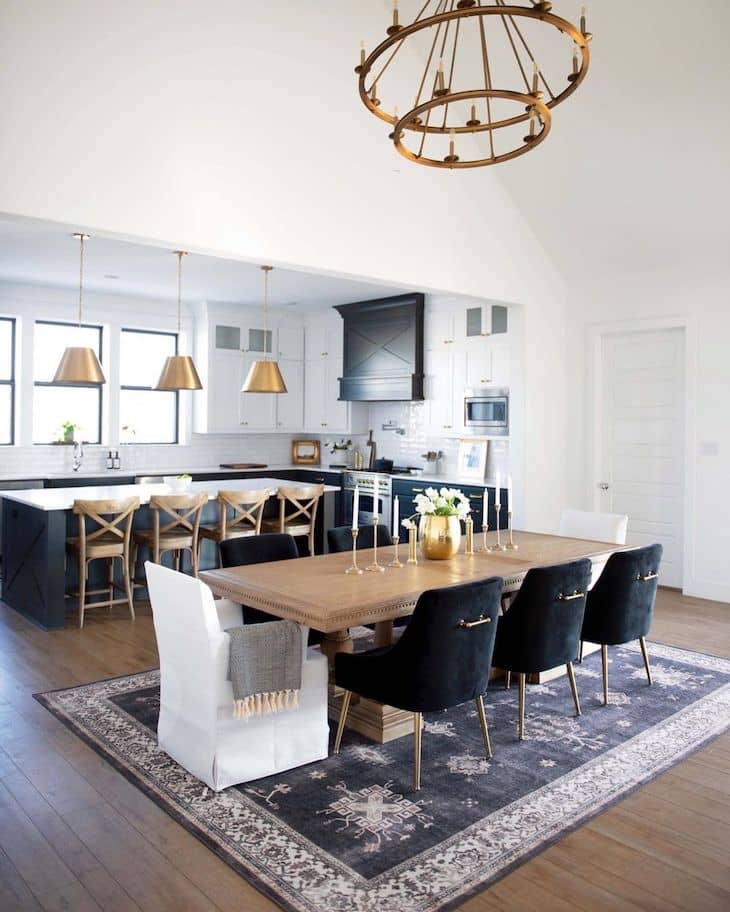 Shop related products:
Black Dining Chairs | Candle Holders | Vase | Area Rug #ad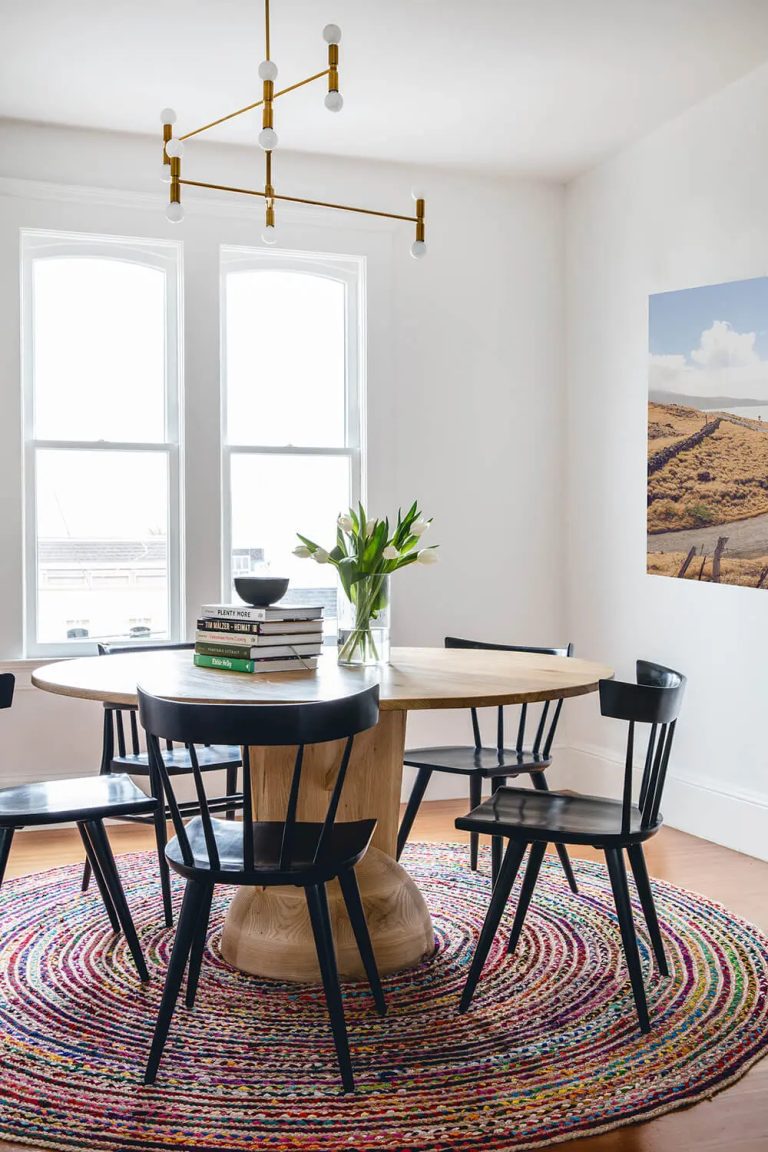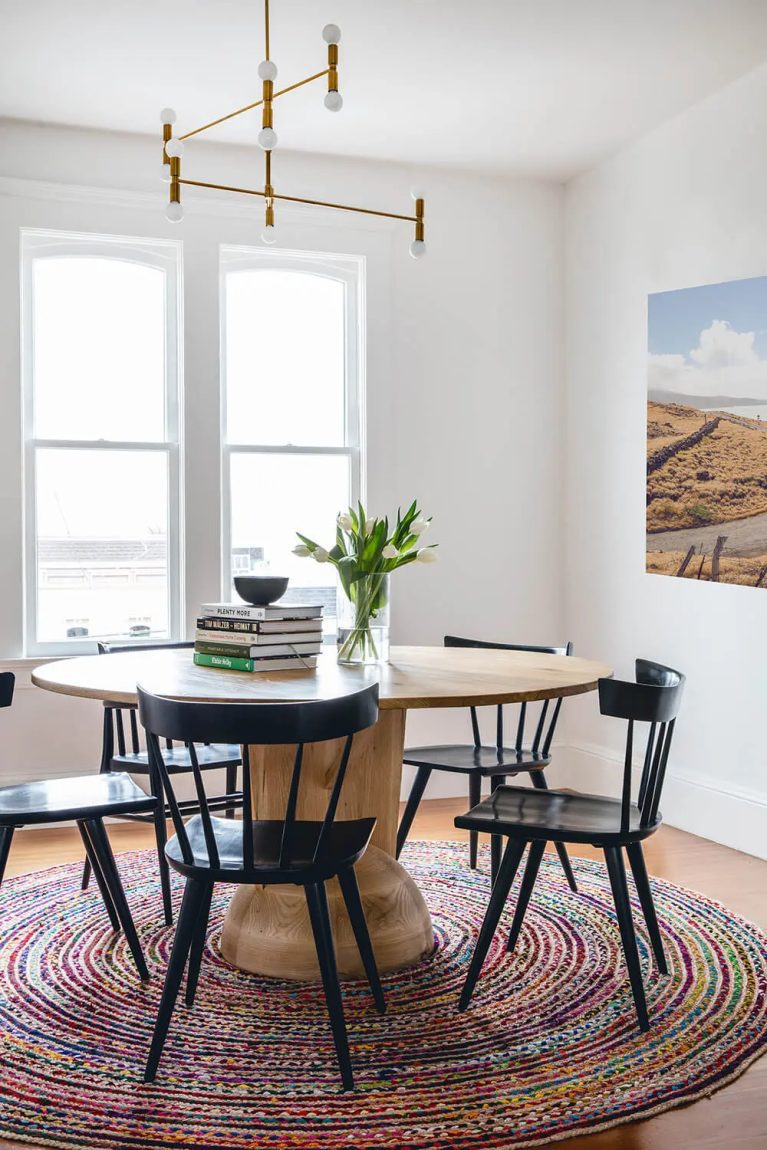 Shop related products:
Dining Chairs | Dining Table | Light Fixture | Area Rug #ad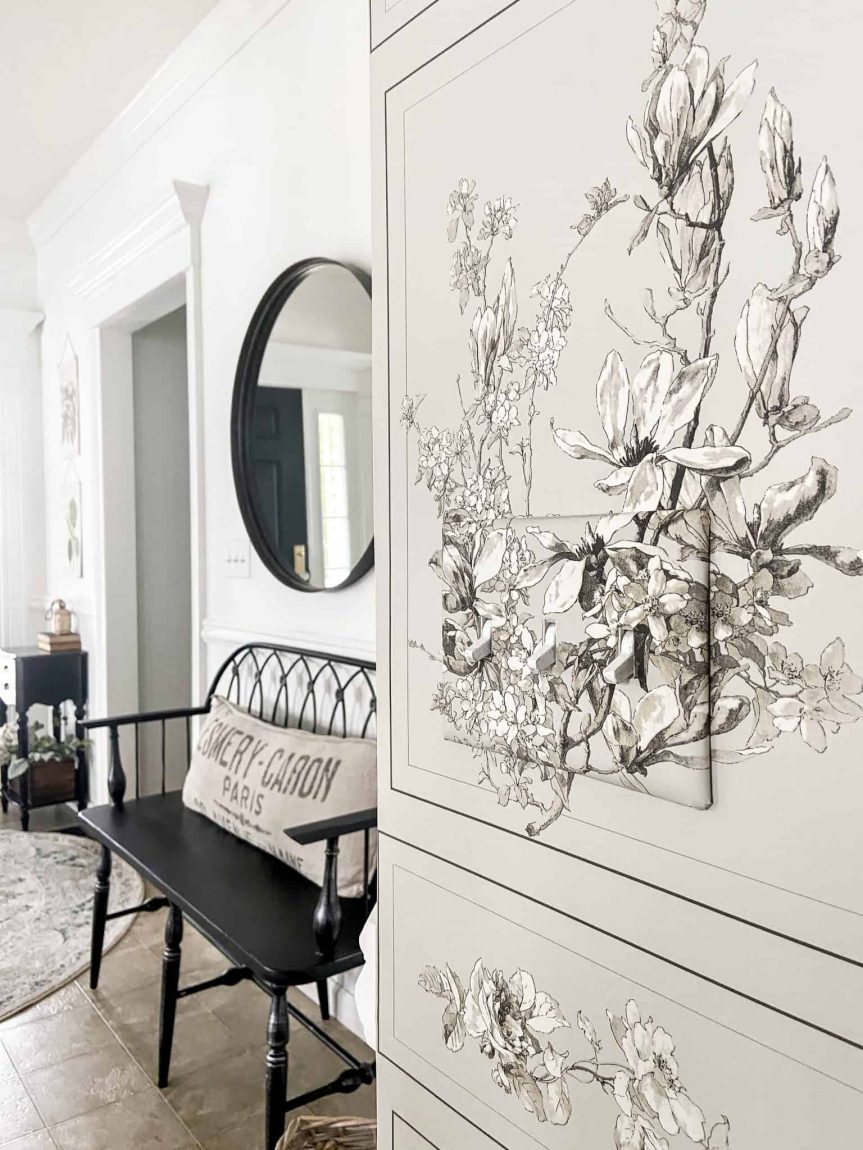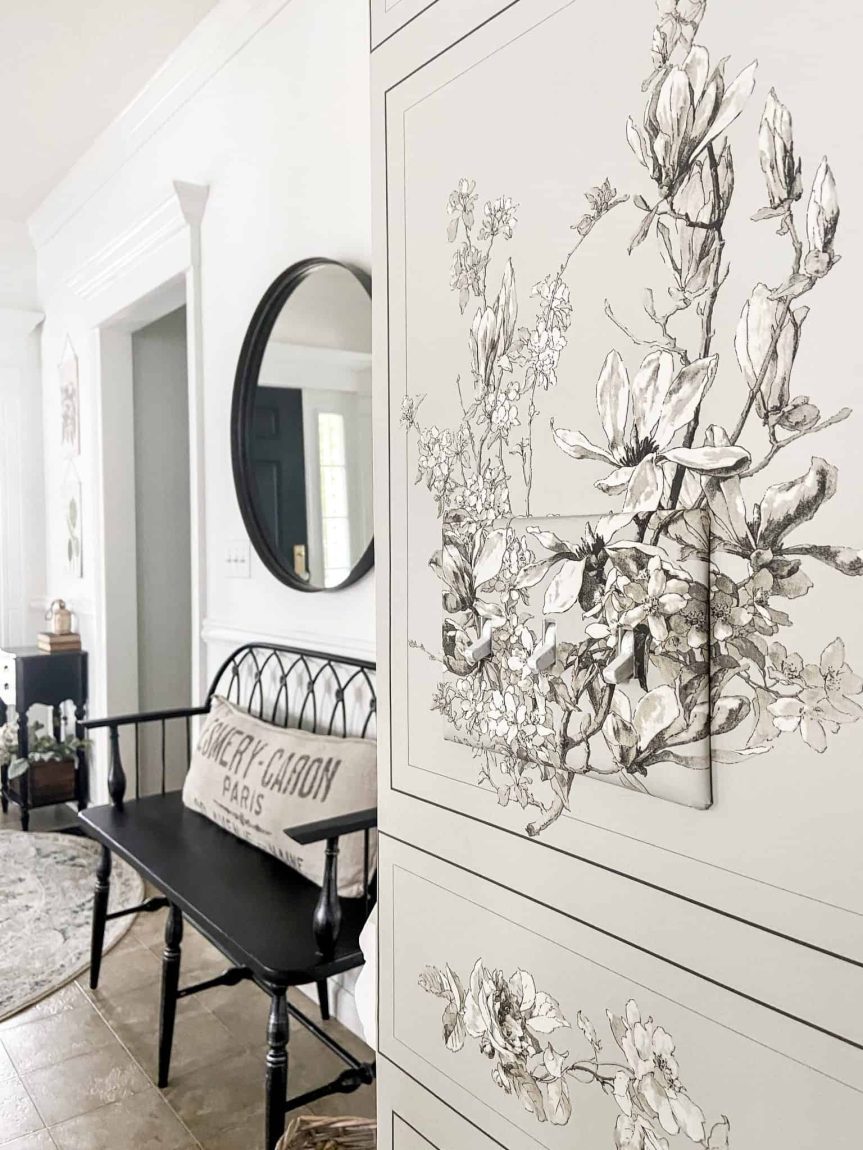 Shop this related products:
Bench | Entry Table | Mirror | Pillow #ad
SHOP THIS SEATING STYLE
All in all, no matter which way you decide to go with your durable black farmhouse seating, rest assured that you are making a good choice! I don't see this trend going anywhere for some time. Plus, it seems like black has always been in style. It's a staple.
Until next time A&C crew, keep it classy y'all!