Do you want to spruce up your apartment without breaking the bank? If so, then you're in luck! Decorating an apartment doesn't have to be cost-prohibitive. With a little creativity and determination, it's actually possible to transform your living space without spending too much money.
I'm going to show you 13 ways to decorate your apartment on a budget!
From mastering DIY hacks to finding unique decor pieces at thrift stores, these tips are sure to help add some style and flair — while keeping more of your hard-earned money in the bank. So what are you waiting for? Let's get our DIY hats on and start creating your dream home today!
Decorating on a budget is an exciting challenge, and it has been an incredible journey for me since I started this site in 2012.
Decorating on a budget requires finding creative solutions that stretch beyond just buying the cheapest option. This opens the door to tons of DIY projects, hacks, and unique decor ideas.
I think one of the biggest misconceptions about how to decorate your apartment on a budget is that you need to buy crappy quality items that will break when you go to move. This is simply not the case.
In this post, I wanted to share a multitude of ways you can decorate your apartment on a budget with some of that creative solution-oriented thinking. Be positive and optimistic when beginning each room in your home. Starting off with a healthy mindset will allow creative problem-solving to kick in.
In the list below, I will be addressing different rooms and types of decor to utilize to make your home look elegant and high-end. It's little touches that make a difference in a room.
1. Kitchen
Depending on what you need out of your kitchen, there are a couple of ways you can go. I love adding a bar cart to my kitchen to help me clear counter space and create more space for storage. Check out these Ikea Bar Cart Makeovers. Back in 2015, I made an Ikea Bar Cart and gave it an industrial glam makeover for my kitchen.
Clear counters and efficient hidden storage solutions are crucial for your apartment kitchen.
With the space you do use in your kitchen, make it decorative and staged. I am a big fan of making a cute centerpiece that you can change with the seasons. If you have a kitchen island, then this is the perfect spot for a centerpiece. But if you don't have a kitchen island, then a kitchen cart would be the solution to use to create your own.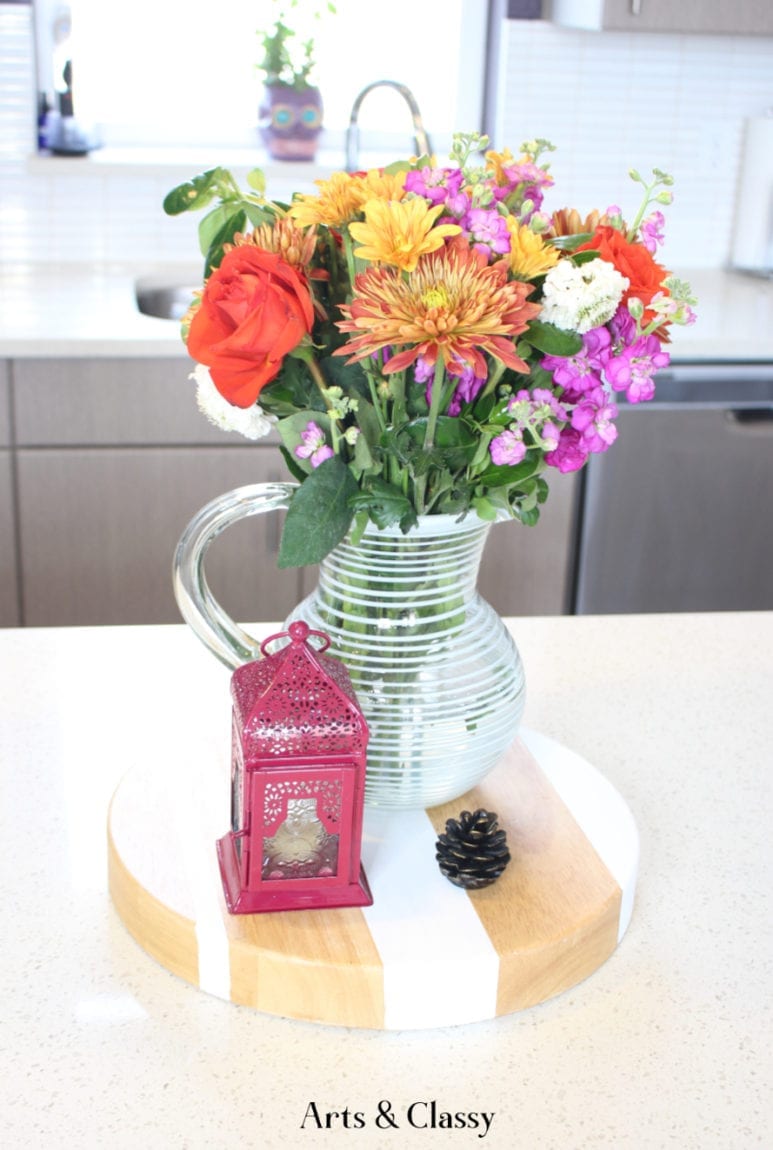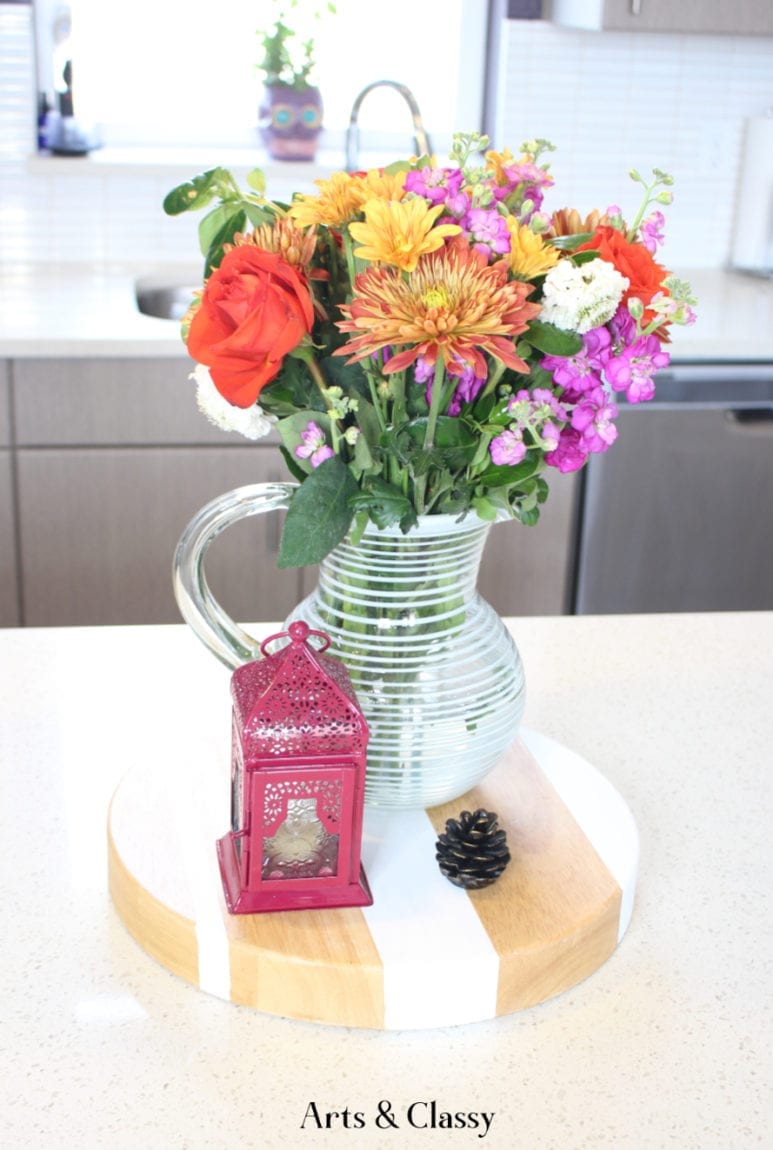 If you have an older kitchen then you will want to check out the peel-and-stick backsplash and contact paper to cover up old countertops. It helps to give the kitchen a mini makeover to make it look more modern and chic.
2. Entryway
If you have a dedicated entryway space then you will love the inspiration from my post about 5 tips to decorate your entryway space. Also, I have shared 6 beautiful entryway spaces that you will want to save to try in your home.
Recently, I made over my corner shelf entryway space to display my wedding photos and other decor accessories. Since it was a corner, it was an interesting space to decorate. By using thrift store frames, some spray paint, and repurposing other decor accessories in my home, I was able to achieve a simple and elegant look for that space.
This is one of my favorite ways to decorate my apartment on a budget.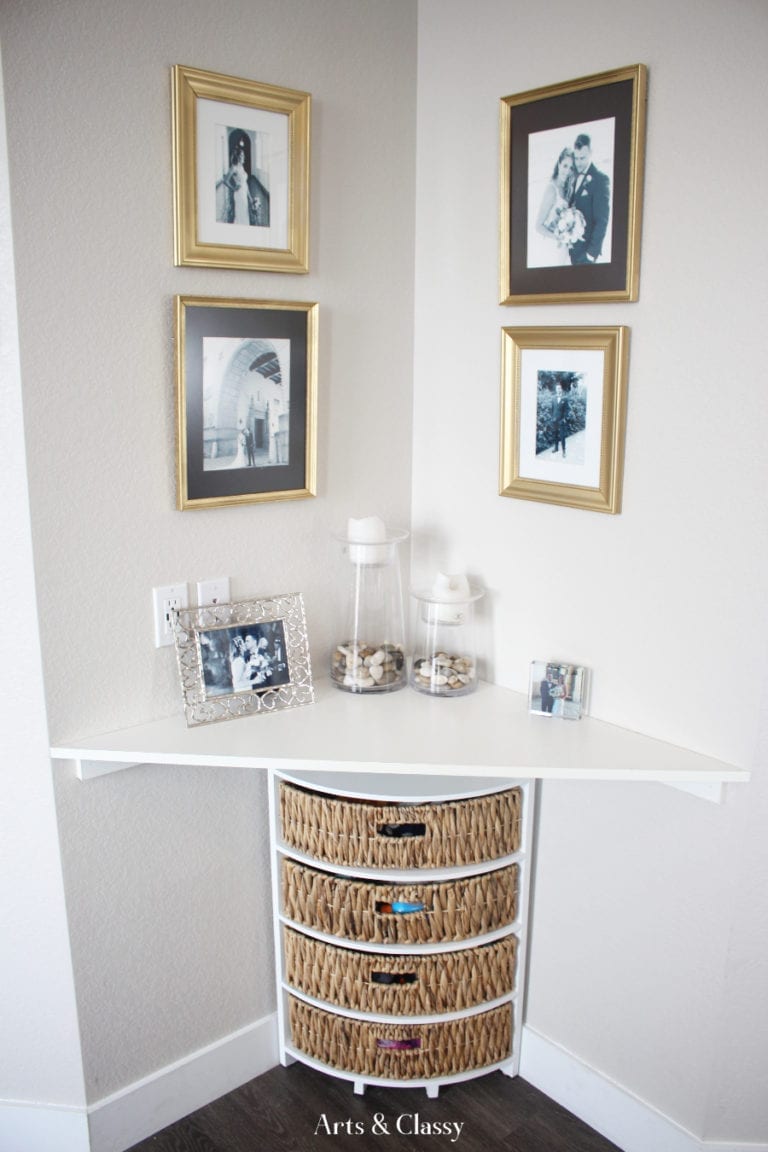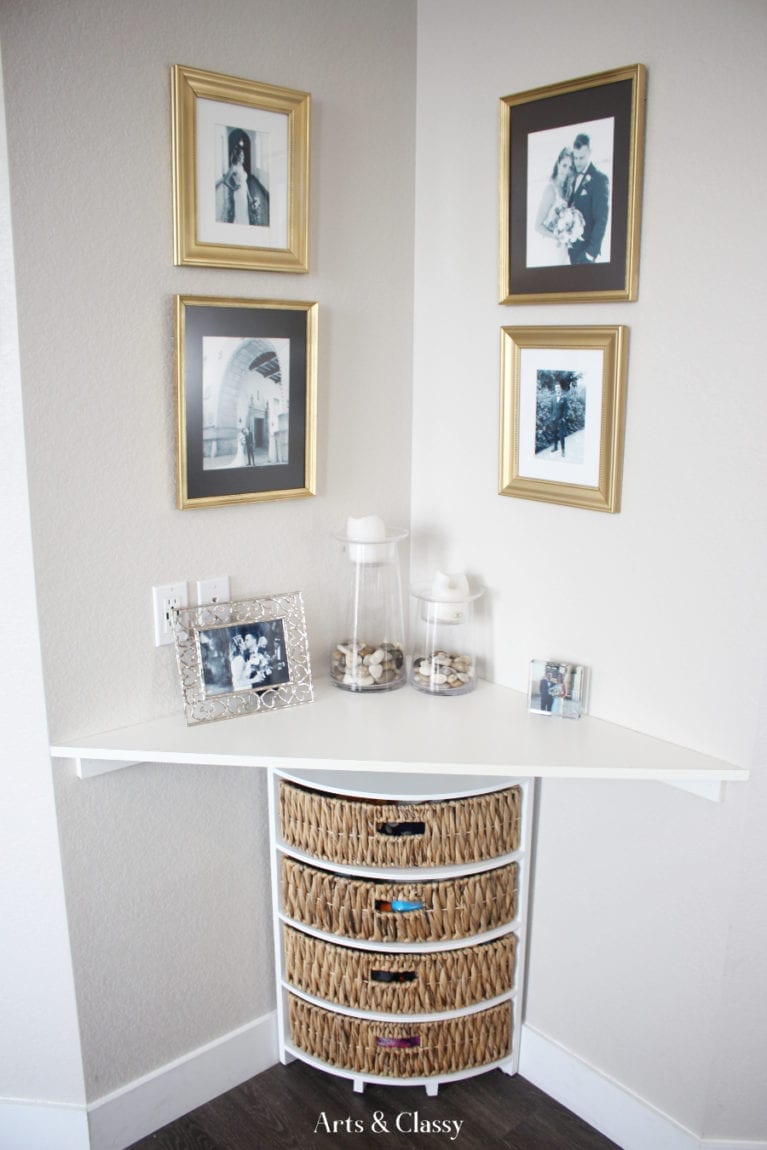 3. Bookcases
Bookcases are not just for book storage. You can make your bookcases a way to display memories, Tchotchke, books, and other decor accessories.
Adding family photos, vintage items, and pinecones is a big deal in my home. They are all sentimental and they really tie in the rest of the decor in my living room.
4. Home Office
I have lived in a couple of places where I had to get creative with my office space. I have had office space in my bedroom, dining room, & living room.
My biggest piece of advice is to utilize multi-functional furniture to make a home office space look more like decor when you are not using it. In my current bedroom, my desk can rotate to become an L-shaped desk if I need additional workspace, but most of the time I use it folded up so it looks more like a console table on it.
Only once have I had a dedicated room for my office. It was an addition to the home we lived in and it was covered in windows. So my problem-solver mindset found some beautiful window film to help me gain privacy in my office. Check out the post or the video tutorial below.
5. Bathroom
Depending on the age of your apartment, this space can be smaller, and more dated. Coming up with ways to utilize vertical and hidden storage is key!
I am a big fan of contact paper and temporary wallpaper.
You will see in the rental bathroom makeover below that I used a lot of these two items to transform this space. I think one of the top questions I received was, how do you decorate your bathroom with temporary wallpaper with moisture?
I wouldn't recommend doing this without a bathroom that has a window to allow steam to be released.
Adding nature to the bathroom will also be a cheap and easy way to decorate your apartment without breaking your budget. I opted for fake flowers and succulents in this bathroom makeover. But real plants would be ideal if sunlight is accessible to your bathroom.
Overall, my best advice to anyone decorating their rental bathroom would be to make sure the shower curtain and towels match a color scheme. Make sure to keep as much as you can in concealed storage and leave as little as possible on the countertops.
Here are some bathroom decorating posts that I think you will find valuable.
6. Art
Art for collectors can be very expensive. If you are looking to add some personality to your walls, then I recommend shopping at your local thrift store. Pick out some pieces that have potential. Then paint over and customize them. I have a great example of this from one of my recent Hometalk TV episodes. Check out this Thrift store art flip that I recently did for my bedroom.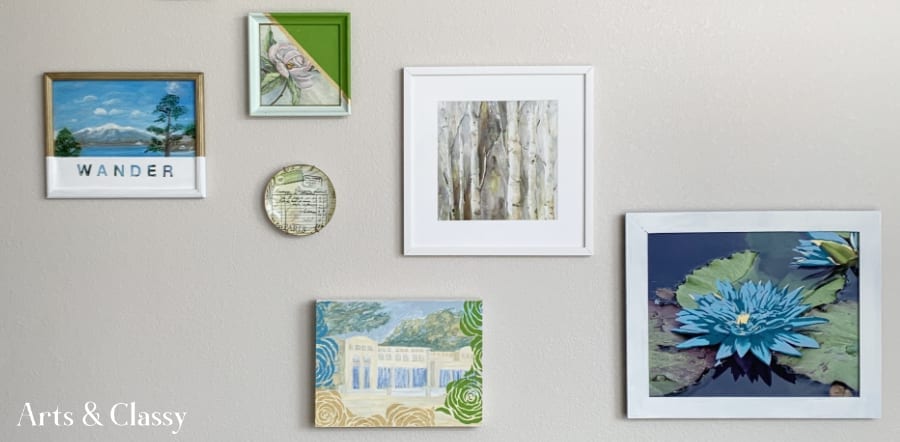 7. Flip Furniture
Flipping furniture to decorate my apartments over the years started when I started my blog back in 2012. I had never done it before, but I am a creative person and I was determined to learn.
Something that I learned and can honestly share from my experience is… chalk paint rules!
Here are a few different brands of my favorite chalk paint.
Another product I use A LOT with my flips is a product called Retique it Liquid Wood! I was sent this product to try out and I fell in love with what it does. You are basically able to turn almost any surface into a wood finish with this product. No sanding is required.
Since I live in an apartment, this is very important to me because I do not have the outdoor space to do a bunch of intense sanding to refinish an old piece of furniture. I enjoy that you can turn plastic, glass, particle board, MDF, and metal surfaces into what looks like wood.
Stencils play a key role in a lot of my projects. They add a pop of elegance to the furniture I flip. It adds something custom that no one else in the world has.
8. Window Treatments
Depending on how relaxed your landlord is, you can actually get nice blinds to add to your apartment. I only say this if you plan on being there for an extended period of time. I was in an apartment in West L.A. for 3 years and I was able to upgrade the blinds in my bedroom.
If you do not have that luxury, then play around with drapes/curtains. You can layer these items with sheer drapes and add a pop of elegance to your windows. When windows are finished with plush fabrics, it makes the whole room look a lot more high-end. Keep that in mind when you decorate your apartment on a budget. I like to buy my window finishes at places like Amazon, Big Lots, Ikea, and Target.
If you are good with a sewing machine, then I recommend buying the fabric you want and making your own drapes. It's not hard to do. Here is a great tutorial to show you how to do it.
9. Plants (Real or Fake)
As I said earlier in this post, adding nature is a wonderful way to decorate your apartment on a budget. Real plants and flowers are always ideal, but if you are anything like I am then a low-maintenance plant is best for you.
Do your research.
I had a fiddle leaf (both real and I have a fake one), 2 aloe vera plants, and some succulents in my home and they are thriving. I only have to water them once a week and they do not require a ton of light.
If you are confused about how to make pretty flower arrangements, then this post about floral arrangement hacks is right up your alley! One project I know you will love is my living succulent frames. This was a project I did for my first episode as a Hometalk TV host.
If I am going fake with my plants, then the brand I love is Nearly Natural and you can now find them on Amazon!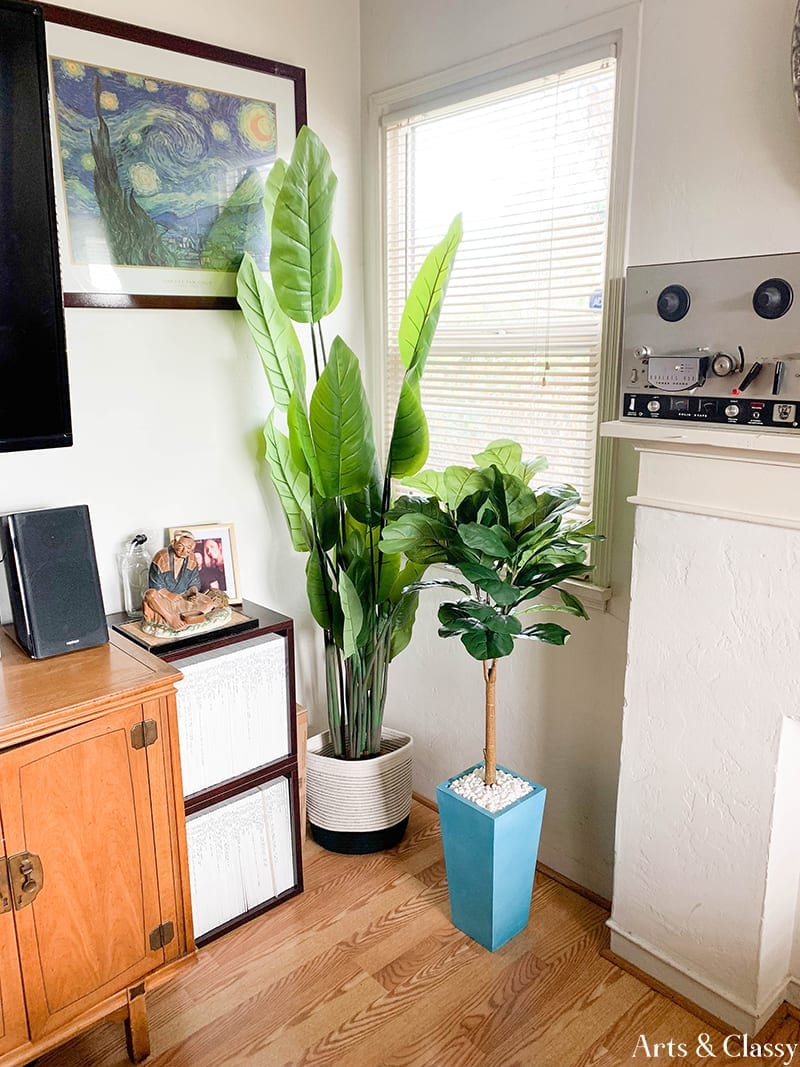 Another method I like to use when using fake florals is to make a seasonal wreath for my front door. I recently made one from flowers and greenery I found on Amazon. Check out my DIY farmhouse floral wreath for the full tutorial and supply list.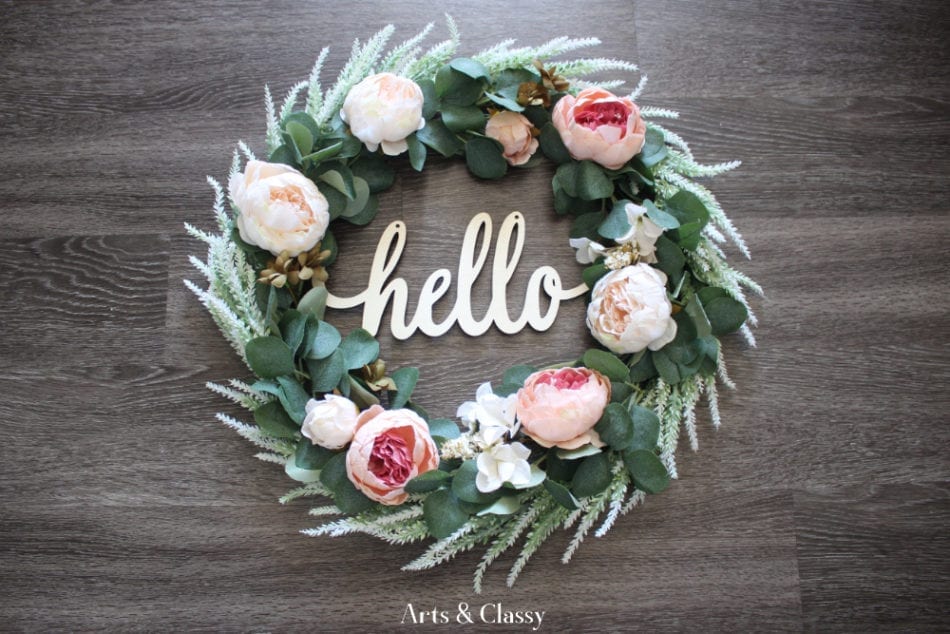 10. Accent Pillows
Accent pillows are one of my favorite tools to utilize when decorating my apartments. I swear my husband doesn't get it, but pillows add a softness to your home. They make it look more uniform, cozy, and welcoming.
The pillows on my sofa get swapped out with the seasons, or I simply purchase pillow covers and just change those out periodically. My bed is the other place where pillows get swapped out a lot.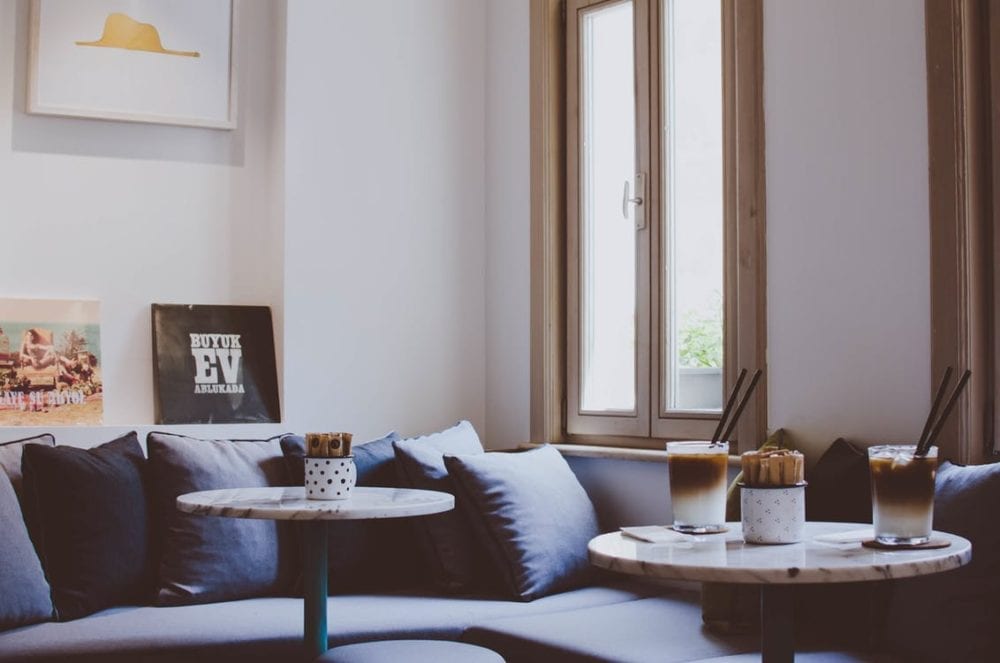 If you want to DIY your own pillow covers, I have an easy NO SEW pillow cover tutorial for you to try!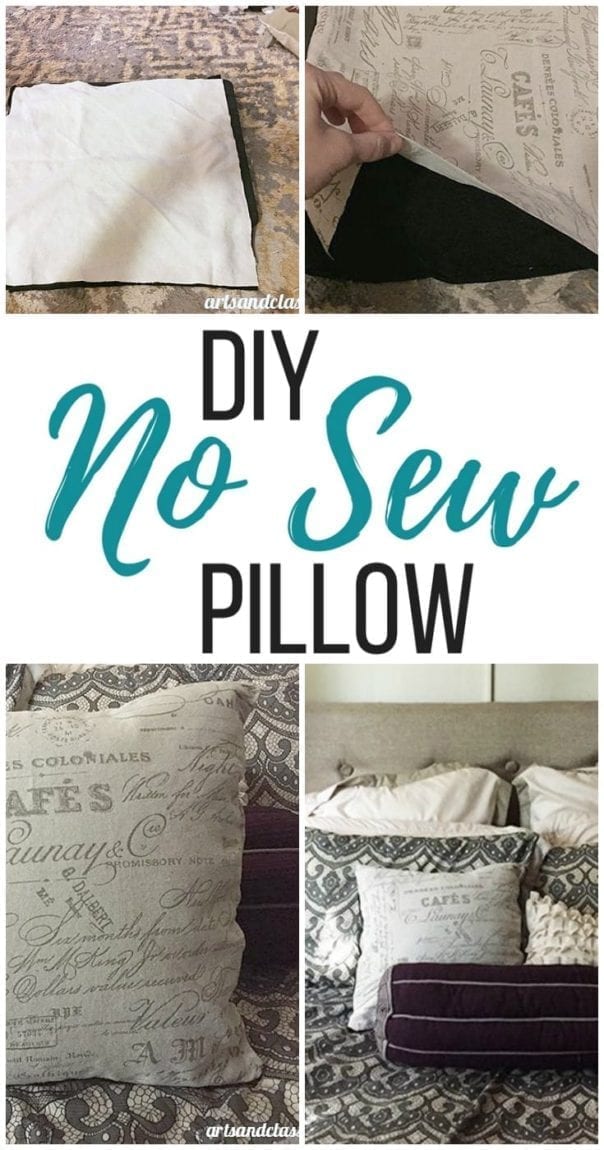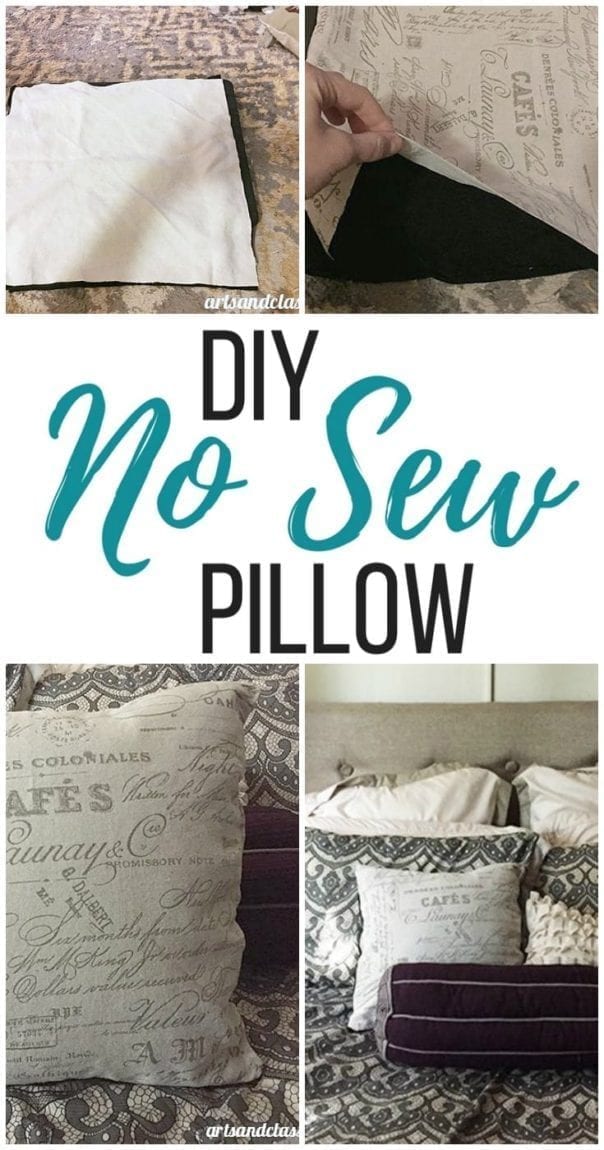 11. Area Rugs
Area rugs are the perfect first step if you are looking to add some personality to your home. You can find some very inexpensive options out there that have a chic vibe to them. Here are some great options I found under $100 on Amazon.
Other great sources for area rugs are stores like Ross, TJ Maxx, Home Goods, Ikea, and Big Lots. You can find really inexpensive modern options at these types of stores for both indoor and outdoor uses.
12. Towels & Bedding
When you are decorating your apartment, you will want to spend a lot of your budget on good quality linens aka bedding and towels.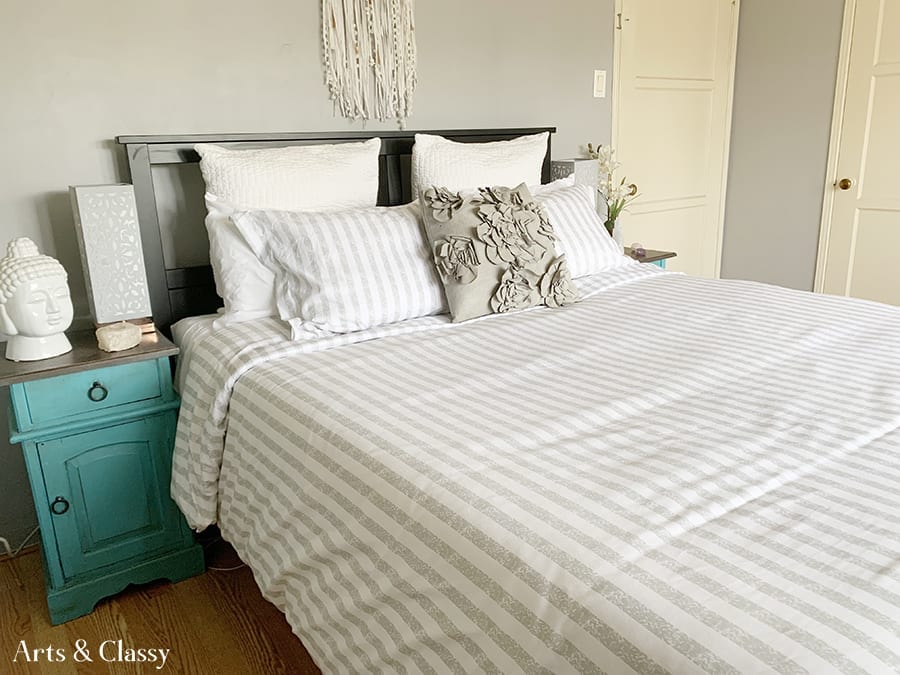 One type of blanket that a lot of you went bananas for is the Moroccan wedding blanket. This is beautiful to throw use in your bedroom or you could use it to make your sofa look more plush and cozy.
I hope you found this list valuable and helpful when decorating your apartment. It is a process that most likely won't happen overnight unless you are gung-ho to make it happen.
It's okay to space it out over several months.
Make sure you are following me on Instagram, Pinterest, and TikTok for more ideas on how to decorate your home for the holidays this year!
If you enjoyed this post, you will also enjoy…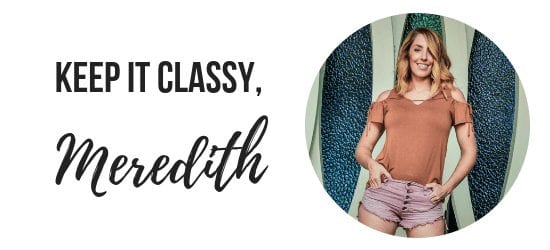 If you found this post valuable, please share it on Pinterest or other social media platforms! I appreciate it!