Planning a Great Gatsby party? Add some glamour and wow guests with these budget-friendly centerpiece ideas and décor. Get inspired and create a unique and memorable party that everyone will be talking about for years! Who here is a Great Gatsby or a Roaring 20's fan?!?! I know I am. I loved the book when I was in school and both movies. Although, I am more partial to Baz Luhrmann's spin with my teenage heartthrob LEO!
So many creative and cute decor ideas for a Great Gatsby party theme that you can totally make. Let's keep this party on a budget, shall we?
Check out the inspiration below as well as the supplies you will need to make any of these Great Gatsby decor ideas. First things first, if you have seen the newest movie then you know the colors used are mainly black, white, gold, silver, and champagne.
Some of the decorations used are:
balloons
tinsel
pearls
confetti
lights
feathers
basically anything shiny, sparkly, metallic, and luxurious.
This post contains some affiliate links via Amazon. I may earn a small commission if you make a purchase through one of these links. See more information in my disclosure policy.
How to decorate for a Great Gatsby?
With glittering gold accents, luxurious velvet fabrics, and shimmering crystal chandeliers, it's time to step into the flamboyant world of Gatsby and get creative. In this article, you'll discover the fundamentals of creating a Gatsby-inspired event decor, including the right color scheme, opulent accessories, and DIY crafts. From the must-have classic art deco style to budget-friendly ideas and tips, you'll find everything you need to create a night to remember. Let's get started!
1. Tall Ostrich Feather Centerpiece
One of my favorite great gatsby party ideas on a budget is Ostrich feathers! They have long been associated with luxury and glamour. They were a popular design element in the Roaring Twenties, and their popularity has only grown in recent years. If you are looking for a unique and stylish way to add some flair to your wedding decor, consider using fake ostrich feathers as part of your centerpieces.
What is the most popular form of centerpiece?
Tall ostrich feathers can make a dramatic statement, and they can be easily incorporated into a great gatsby-themed wedding. By using tall ostrich feathers as part of your wedding decor, you can create a truly elegant and sophisticated look that will wow your guests.
This is the first thing I think of when I think of the parties at Gatsby's. The tall vase with the large white feathers coming out of the top. This is not a difficult Great Gatsby centerpiece idea to make.
Supplies needed for this DIY:
2. Hanging Balloon Ceiling Display
The hanging balloon display is a great way to add some Gatsby-inspired elegance to your event. These are simple Great gatsby party ideas on a budget. Fill the room with gold and white balloons, and then add some green accents to mimic the novel's iconic color scheme.
For an extra touch of luxury, consider using clear or frosted balloons filled with golden confetti. As your guests enter the room, they'll feel like they've been transported back to the roaring twenties. And when they see the beautiful display overhead, they'll be absolutely amazed. So if you're looking for a unique and stylish way to decorate your great gatsby wedding, consider a hanging balloon display. it's sure to wow your guests and make your big day one to remember.
I love how this looks and you don't need any helium to fill the balloons. The only thing is that this will take some time to hang. But as you can see it is worth it.
Supplies needed for this decor:
3. Dessert Table Decor
For a great gatsby themed wedding, why not carry the theme through to the dessert table? There are so many great gatsby wedding decor ideas that will really make your dessert table stand out.
Think about using gatsby's centerpieces and great gatsby wedding favors to really give your guests something to remember. You can even find great gatsby wedding cakes that are sure to impress. Whatever you do, make sure your great gatsby wedding decor is perfect for your big day!
I love the art deco wall behind this dessert table. Very reminiscent of Gatsby graphics from Baz Luhrmann's version.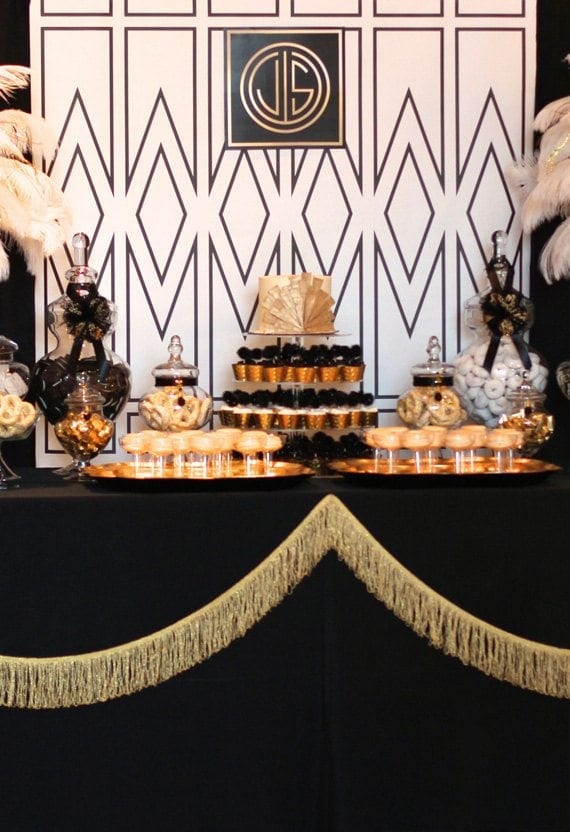 4. Glittered Tea-light Holders
There's something about glitter that just screams luxury. That's why glittered tea-light holders are the perfect way to add a touch of glamour to your great gatsby wedding decor. Whether you use them as part of your gatsby centerpieces or as accents around the room, these shimmering tea lights are sure to impress your guests.
Plus, they're easy to make yourself with just a few supplies from the craft store. So if you're looking for a DIY great gatsby wedding decoration that will really wow your guests, consider making your own glittered tea-light holders.
Great Gatsby centerpiece ideas like these tea-light candle holders are so simple and yet look so elegant. They would complement a flapper-themed wedding or themed party! I love how simple they are to make and inexpensive.
Supplies needed for this project:
5. Small Feather Centerpieces
If you're planning a Great Gatsby-themed wedding, you'll want to make sure your decor is on point. One great way to do this is with small feather centerpieces. These delicate decorations add a touch of elegance and glamour to any tablescape. And best of all, they're easy to DIY.
Simply gather some feathers (ostrich feathers work great), some vases or cups, and some floral wire. Then, assemble the feathers into bouquets and arrange them in vases or cups. You can even add a little extra dazzle with some beadwork or sequins. With just a little effort, you can create beautiful centerpieces that will perfectly capture the spirit of the Roaring Twenties.
If you are looking to add more decor to gift tables, or when people arrive, why not try and DIY your own Gatsby vases?
Supplies needed for this project:
Vases – I see these types of vases at thrift stores all the time. I would source vases like these in your local area so you save the most money.
6. Gold Glitter Framed Table Numbers
If you're planning a Great Gatsby-themed wedding, then you'll need to make sure your decor is on point. One way to do this is with gold glitter framed table numbers. These eye-catching centerpieces will instantly set the tone for your event, and they'll make it easy for guests to find their seats.
Plus, they're a great way to add a little extra sparkle to your reception. Whether you're using them as part of a larger Gatsby-inspired display or simply as standalone pieces, gold glitter framed table numbers are a great way to create an elegant and unforgettable event.
I am obsessed with black and white stripes and gold so this table number that works sublimely with the elegant floral centerpiece. The stripes and gold popped out at me when I saw it. One of my favorite Great Gatsby centerpiece ideas!
Supplies needed for this project:
Gold frame – you can source a frame for cheap at Dollar Tree or a Thrift Store and spray paint if needed to make it gold.
RELATED: DIY Wedding Rustic Chic Decor Ideas
7. Props for the Great Gatsby Photo Booth
A Great Gatsby theme wedding or themed event is all about making a statement. And what better way to do that than with a photo booth? A photo booth is a perfect way to add some fun and flair to your wedding reception. And with the right props, you can really bring the Roaring Twenties to life.
For your Gatsby centerpieces, consider using classic items like top hats, candelabra, pearl necklaces, and feathers. You can also use fun props like inflatable pianos and champagne bottles. And don't forget to put out a few great Gatsby-themed backdrops to really set the scene.
With the right props, your photo booth will be the talk of the party. What's a wedding reception today without a photo booth equipped with fun props? Here is some inspiration for a simple photo props table.
Supplies needed:
Frame – thrift stores would definitely have a frame that could work for this.
Signage inside frame
Table
8. Hand-painted F. Scott Fitzgerald Quote Sign
The Great Gatsby is a classic novel that tells the story of love, loss, and excess. The book has been adapted into several movies, and its iconic characters have been the inspiration for numerous wedding themes. If you are looking for unique Great Gatsby wedding decor, consider a hand-painted F. Scott Fitzgerald quote sign.
These beautiful signs can be used as centerpieces or placed around the venue to add a touch of glamour to your big day. The quotes on the signs are carefully chosen to reflect the themes of the novel, and they will add a touch of sophistication to your wedding decor.
Supplies needed for this project:
9. Large Gatsby Dessert Table
No party is complete without a delicious dessert, and this is especially true of a Great Gatsby-themed party. A beautiful dessert table can really set the scene and help to create a sense of luxury and glamour. When planning your own Great Gatsby-themed wedding or event, be sure to include a sumptuous selection of desserts.
Whether you choose to go for traditional sweets like cupcakes and cookies or something more unique like champagne-flavored truffles, your guests are sure to be impressed. And don't forget to dress up your desserts with some fabulous great gatsby party ideas on a budget. Glittering centerpieces, pearl-adorned cake stands, and even feather boas can all add to the look. With a little creativity, you can easily turn your dessert table into a true showstopper.
This table was a rental from a company, but how cool is it? I almost want to say that you could easily make this with large pieces (8'x4′ sheets) of foam core, gold paint, and glitter.
10. Mylar Curtain Chandelier
For great gatsby party ideas on a budget, consider using Mylar curtain chandeliers as centerpieces. These unique decorations are eye-catching and elegant, and they can help to set the mood for your big day. Mylar curtains are also a great way to add some sparkle to your wedding decor.
When used in conjunction with other gatsby-themed elements, they can help to create a truly stunning display. If you're looking for something a little different, consider using Mylar curtain chandeliers as part of your great gatsby wedding decor. You won't be disappointed!
This chandelier isn't for your average little party! I would say that you can definitely make this with something as simple as hula hoops of different sizes and mylar curtains.
Supplies needed for this project:
3-4 Concentric metal frames or Hula Hoops. You could make it rectangular or circular.
Twine or Fishing line to suspend the chandelier from the ceiling
11. Gatsby Chair Decor
When it comes to great Gatsby wedding decor, the options are endless. From flashy centerpieces to opulent table settings, there are plenty of ways to inject a bit of Gatsby-esque glamour into your big day. However, one of the most important elements of any Gatsby-themed wedding is the chair decor.
After all, what good is a beautiful reception if everyone is forced to sit in boring, plain chairs? Fortunately, there are lots of great ways to dress up your chairs and give them a touch of Gatsby flair.
For example, you could drape them in sequined fabrics or adorn them with feathers and pearls. Alternatively, you could simply tie a bow around each chair for a touch of elegance. Whatever route you choose, make sure your chair decor reflects the overall style and theme of your wedding.
If you are looking for an easy way to dress up your reception chairs, try this pretty look.
Supplies needed for this project:
Your Gatsby party doesn't have to break the bank! With these clever DIY ideas, you can create an unforgettable evening for you and your guests that captures the spirit of the Jazz Age without spending a fortune. Whether it's custom party favors, a sleek dance floor, or an art deco photo backdrop, you can create an amazing Gatsby-inspired celebration, even on a budget. So grab your pearls and flapper dress, and let's get this party started! Bring on the jazz!
IF YOU WANT GREAT GATSBY PARTY IDEAS ON A BUDGET & SOME OTHER POSTS YOU MAY LIKE:
What do you think of the suggestions for great gatsby party ideas on a budget and ideas for Gatsby centerpiece ideas for your next party or wedding? Let me know which is your favorite in the comments below.