Learn How to Decorate Your Bedroom to Perfectly Capture Your True Self
Need to spruce up your bedroom but don't want to break the bank? Check out these creative tips and tricks for decorating your bedroom on a budget. Learn how to get the look you want without spending too much. Get decorating with these budget-friendly ideas and start transforming your bedroom today! Are you ready to create a dreamy bedroom that reflects your unique personality?
Decorating your home is a deeply personal journey, and with the right planning and creativity, you can craft a space that reflects who you really are. So come along, and let's learn how to decorate your bedroom to perfectly capture your true self.
I know you may be a little lost in the decorating department sometimes. Not sure why it happens but sometimes roadblocks get in the way when you go to decorate. It's easy for me to tell someone else how to decorate their home based on what they love and enjoy. This is of course based on my getting to know them better. It makes it much easier to figure out their personality and what types of things they would be drawn to!
But when it comes to my own bedroom decor, it can be a challenge. It's easy to get stuck with "designer's block" when it's your own space. Trust me, it's not just you. It's almost like being paralyzed by all the options. What do you pick? Where do you start? What if I completely design it and hate it? These are not stupid questions. They might be the ones you are asking yourself.
This post contains some affiliate links. I may earn a small commission if you make a purchase through one of these links. See more information in my full disclosure policy.
How can I decorate my bedroom with little money?
Are you dreaming of a stylish bedroom that won't break the bank? You're in luck! Decorating on a budget is achievable, if you know how to do it. In this article, we'll provide you with helpful tips and tricks on how to decorate your bedroom without spending too much. With the right strategies, such as shopping second-hand, utilizing cost-friendly DIY projects, and taking advantage of seasonal sales, you can easily turn your bedroom into an inviting and beautiful space – all while staying within your budget. So, if you're looking for ways to spruce up your bedroom without seriously draining your wallet, then this article is for you. All you need is a little financial savvy and some creative ideas. Let's get started! I am breaking down how to decorate your bedroom on a budget!
You will leave here knowing exactly what decor you SHOULD focus on to make your personality shine through with these simple bedroom decorating ideas in 7 tips.
1. Declutter
This might not be a decorating tip but can make your bedroom feel as if it's clean and organized. It's a solid place to start to identify some opportunities for storage space. Organizing your bedroom can be very easy too if you follow the right steps. When you declutter your space you declutter your mind. It makes it very clear to see what needs to be purged vs. saved.
It is much better to have less clutter. You will have more control of your space and what comes in and out of it, and you will be able to showcase your personality.
2. Throw pillows
How to decorate your bedroom on a budget? They're an easy way to change up your color palette and add patterns to your bedroom. They come in a variety of sizes which can help create visual depth to create a fun & interesting look. I can't even tell you how many bold or quote-like throw pillows I see that fit so many styles.
I love seeing pillows that say things like "Less People More Dogs" or "Hangry." Pillows like these examples are the pillows that really can make a statement and generate some great conversations. Use a mix of colors and patterns to show off your personality!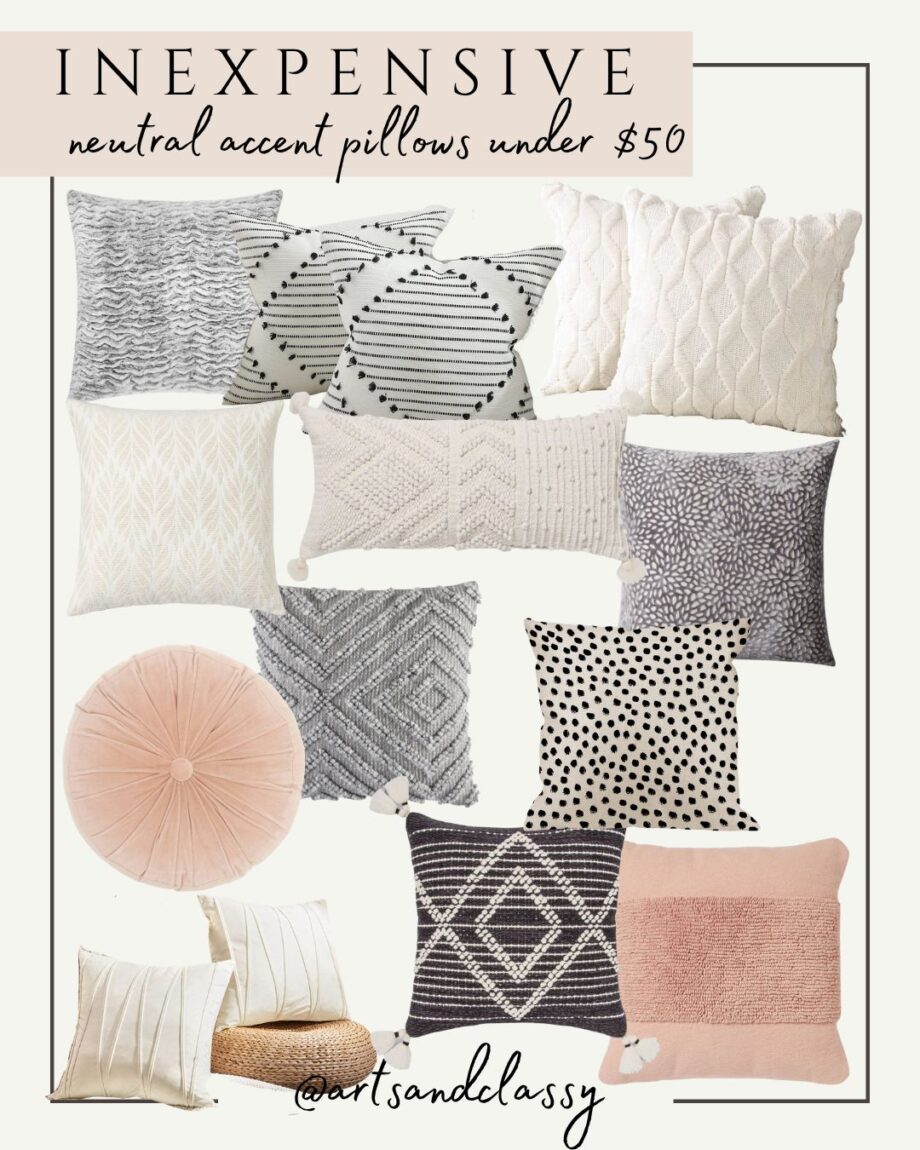 3. Personal Artwork, Decorative Items, and Accent Walls
How can I make my room look expensive on a budget? Art says a lot about a person. It's important you find something that you like and speaks to your personal tastes. However, if you want to make your own art it really isn't that hard to do. Don't worry too much about trying to match it with your decor, art is supposed to stand out. Another version of art is getting a customized neon sign like this "You're Like Really Pretty" for your bedroom decor that also doubles as a light fixture.
Adding a pop of color in the form of an accent wall using a fresh coat of paint or peel-and-stick wallpaper is another great way to personalize your bedroom without spending a lot of money.
Decorative Mirrors can also be a great way to add the illusion of more space and brighten up your bedroom. Mirrors also add a high-end look on a budget.
Shopping at places online and thrift stores for things like vases, trays, jewelry boxes, lamps, and frames to find unique items for your bedroom.
RELATED: Effortless Elegance: 15 Easy Ways to Make Your Apartment Look Lavish
4. Area Rugs, Textiles, and Textures
Imagine waking up, getting out of your bed, and being greeted by a lusciously soft rug. It's the small things that can make those mornings slightly better. When choosing a rug for your bedroom, make sure your entire bed sits within the rug, with about two feet of overhang on each side. Another way would be to add texture with things like curtains, throw blankets, and pillow covers.
5. Adding scents and nature
Another way how to decorate your bedroom on a budget is by using the 5 senses. You can really set a mood using scents. Try using, candles, aromatherapy, reed diffusers, and incense to set the mood. You can also add some green to your bedroom on a budget. Anything that can help bring aspects of nature indoors is always a plus since it helps create a serene environment, vital to any good bedroom. A snake plant, pothos, and succulents are always popular choices as they really up the decor in any room. You can place them on accent wall shelves, nightstands, bedside tables, vanity, and dresser.
6. DIY custom wall decor
If you can't find a piece of wall art that you can afford or maybe you can not find it at all. Then you should resort to plan B. Make it! I am all for custom decor in your home to help make your quirky personality. Count me in for crafting and DIY anytime… anywhere.
I always jump on Pinterest to source inspiration. I could surf that site forever. There are always new ideas and projects popping up all over the place. Plus adding your personal touch to your design and decor only helps bring more of your personality radiate through your decor.
7. Customize your bedroom space with function in mind
The goal is to have a bedroom space that is comfortable and practical. Depending on your needs and tastes, this could include investing in the right pieces of furniture, brightening up the area with some colorful accents, or making sure your bedroom is a sanctuary of calmness.
If you have a lot of natural light, GREAT! Window treatments can really help accentuate the natural light you get each day. If not, consider the lighting in your bedroom, too; investing in LED lighting can create a warm atmosphere and also be energy-efficient. Take the opportunity to embrace a little creativity in your space and make it your own. After all, you deserve to have a bedroom that is both aesthetically pleasing and conveniently functional.
This will mean something different to everyone. If you have a small bedroom space, then dual-function bedroom furniture will be your best friend.
Decor will probably be what you need to focus on when designing your home. If you have a lot of space, then filling it up in a functional way should be your priority. Perhaps you are trying to stay organized? Then creating sensible systems of organization in your home will be best.
When it comes to decorating your bedroom, personalizing it to fit your style and reflect your personality is essential. Whether you're looking to go bold with color or subtle with a few select pieces, there are many ways to make your bedroom a place where you always feel at home.
By choosing furniture, colors, and accents that perfectly capture your true self, you can create a space that is cozy, inviting, and uniquely you. With a little bit of creative thought and effort, you can make your bedroom the most beautiful place in your home, on any budget. So, are you ready to take the plunge and bring your unique style to your sleeping sanctuary? Now's the time to let your personality shine and make your bedroom your own.
Like this post and want to see more?