Treat yourself to a DIY altar table for your home office. Use whatever objects you wish to start a calming and inspiring workspace.
My office has not been my favorite place to be when I moved here. Even though I wanted it to be my favorite room, I still found myself working in my bedroom and living room more.
I have become a little more spiritual in the past few years, and to help my manage my anxiety and stress meditation has been a wonderful tool. I wanted to spiritual meditation sacred space of my own to just sit and be present. 
I have this perfect amazing home office so I decided it was time to figure out how to use this space for my ritual spiritual mediation altar. 
Last year, I decided to build my own bookshelves using wooden crates from JoAnn's. You can also find them at Michael's for around the same price, but JoAnn's typically has better coupon deals if you are on their email list.
*affiliate links included in this post.
Here is the BEFORE set up in a corner of my home office.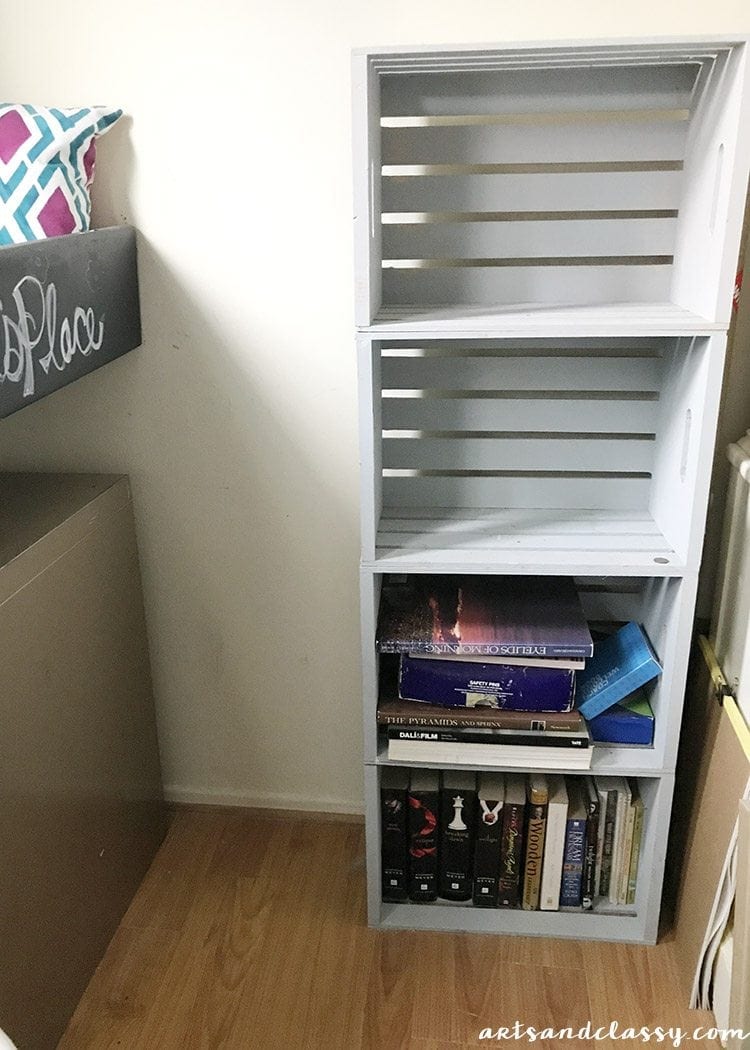 I unscrewed some screws and reconfigured the crates into the setup you see below. If you notice the two square cardboard pieces on top, these were given to me by my sister when she used to work in retail. I think these came as packing material with a shipment of product. I am all for repurposing and upcycling whenever possible.
Supplies needed for this project:
2 Cardboard squares
Teal Paint
Many printed positive affirmations that I found on Pinterest and saved.
White candles to clear negative energy.
White sage for cleansing crystals and clearing negative energy in a space.
Books on dreams, meditation, mysticism, etc… whatever you hold dear to you.
Journals – for writing time. Super important to journal daily.
Statues and other figurines that mean a lot to you. For me, Egypt has always been a fascination of mine. I like to think that I had a previous life there in ancient Egypt. Actually, it was the 2nd dream job I ever wanted to be an Egyptologist! I have always felt close ties to that culture but unaware of why.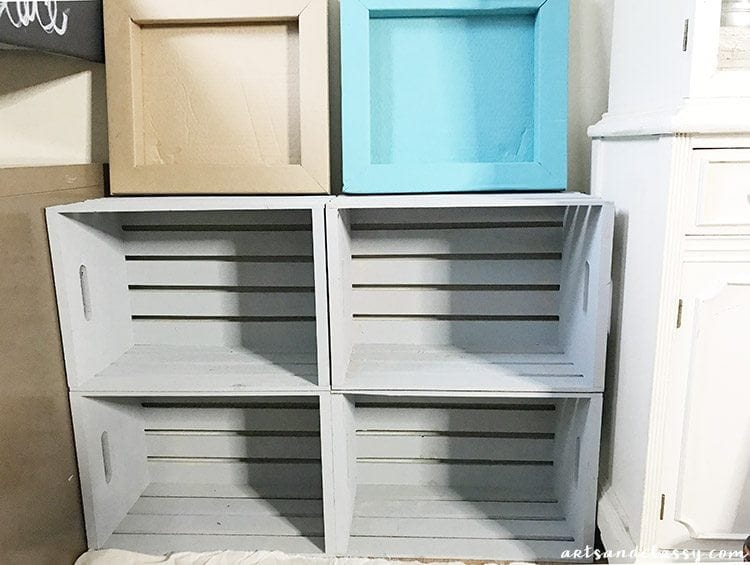 I decided to paint these two cardboard square pieces because I decided to use them as my affirmations and inspiration boards for my home altar. After a couple of coats of paint, I let them both dry before I printed out affirmations, etc to decoupage to the center.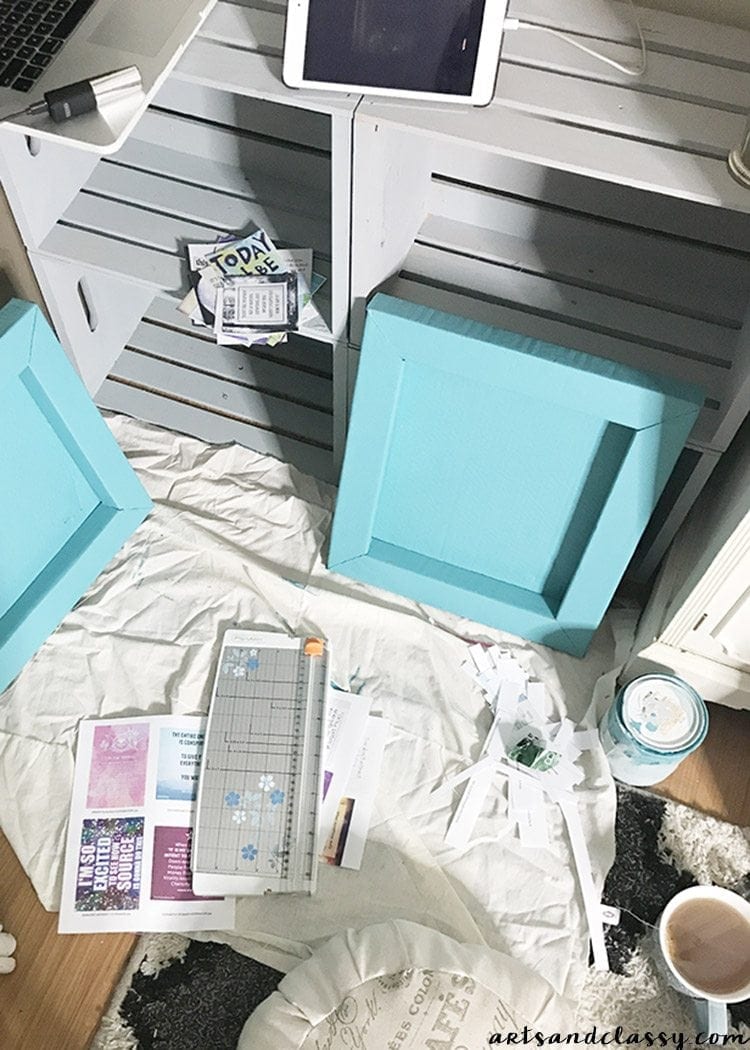 I find that my paper cutter always works best for projects like this one.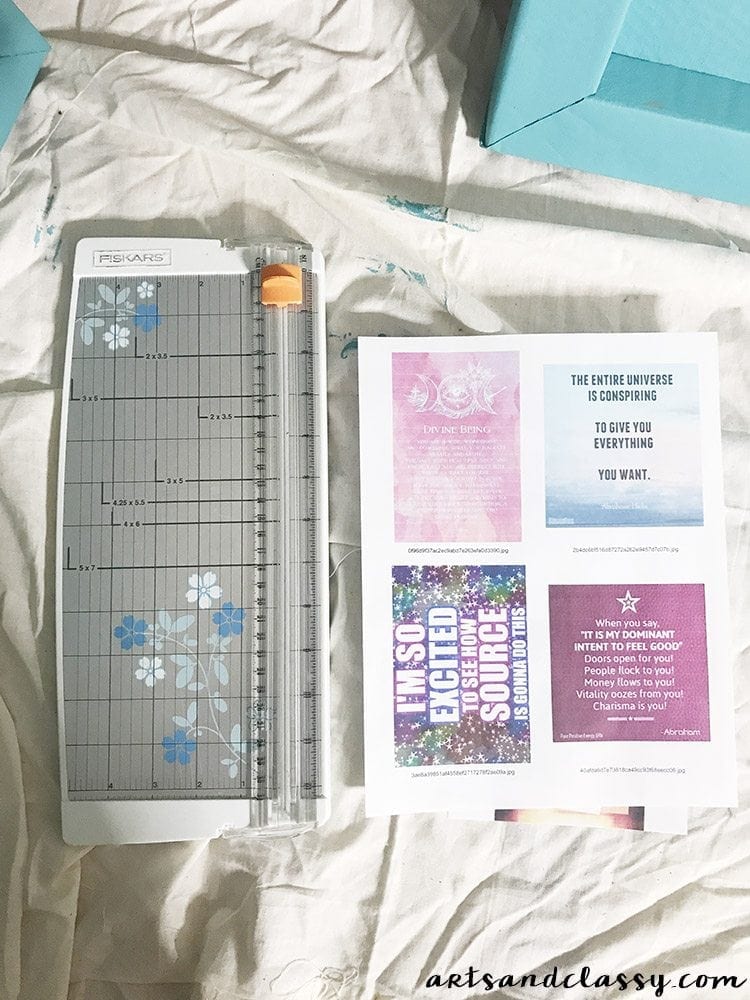 Once my quotes were cut out, it was all about the mod podge. I used it to adhere the quotes to the board and to seal them to the boards for my shrine.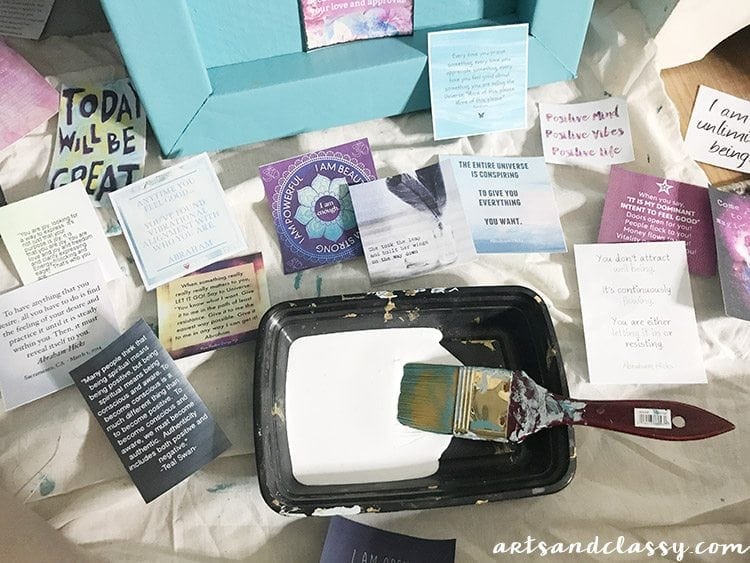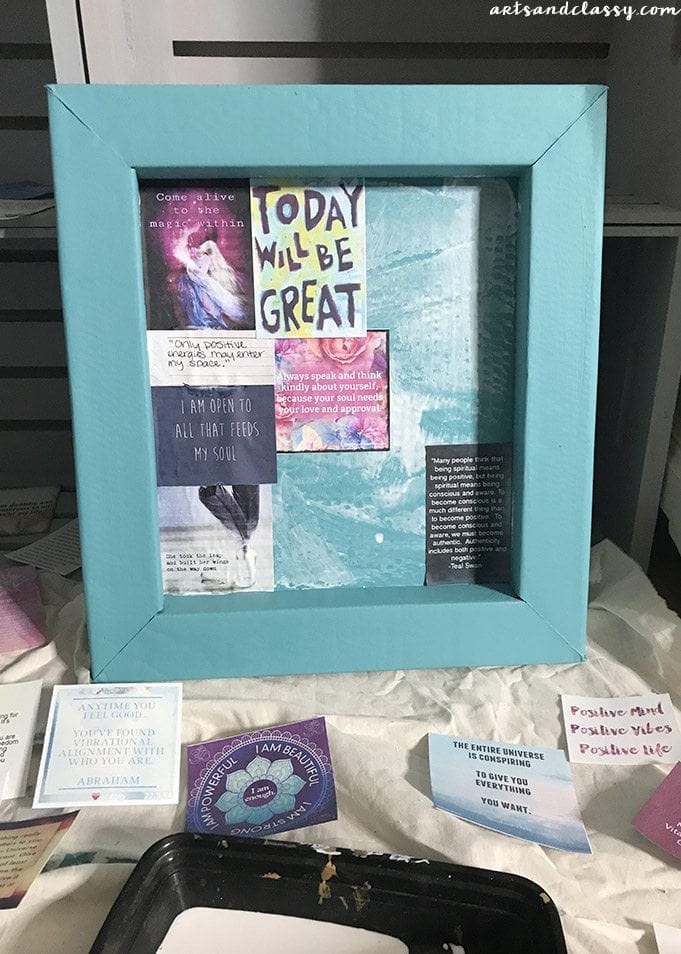 After these boards dried, I decided to use command strips to hang the board of these pieces aka a renter's best friend.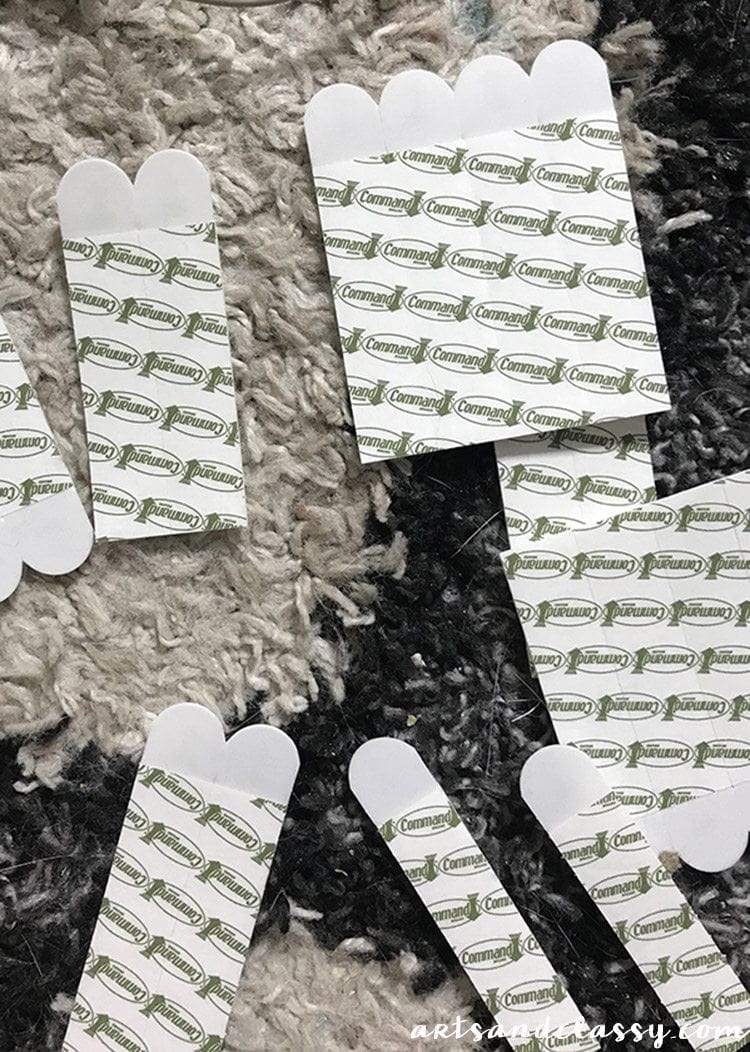 And Voila! Looking at this permanent altar every day makes me so happy for my spiritual practice. I am rejuvenated after sitting on my meditation pouf (I made a few months back) and meditating each morning to help me center myself. I love lighting some incense in a burner and using prayer to channel my guides.
I see this space as being a place for reflection, lots of rituals to drum up more positivity, to look at my oracle cards, tarot cards, journaling, practicing gratitude, and breathing life into my crystals.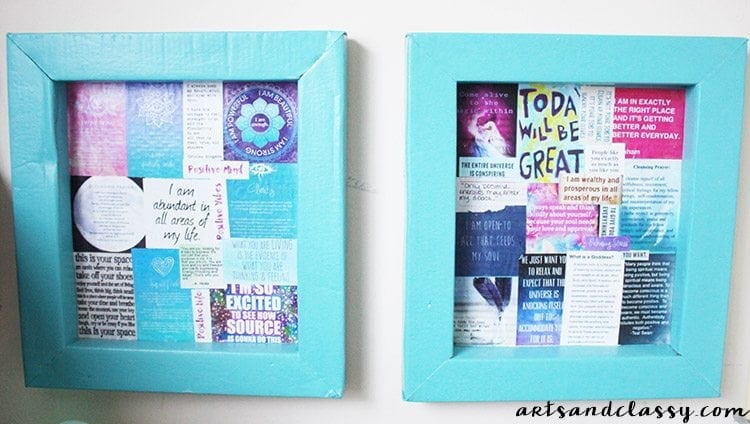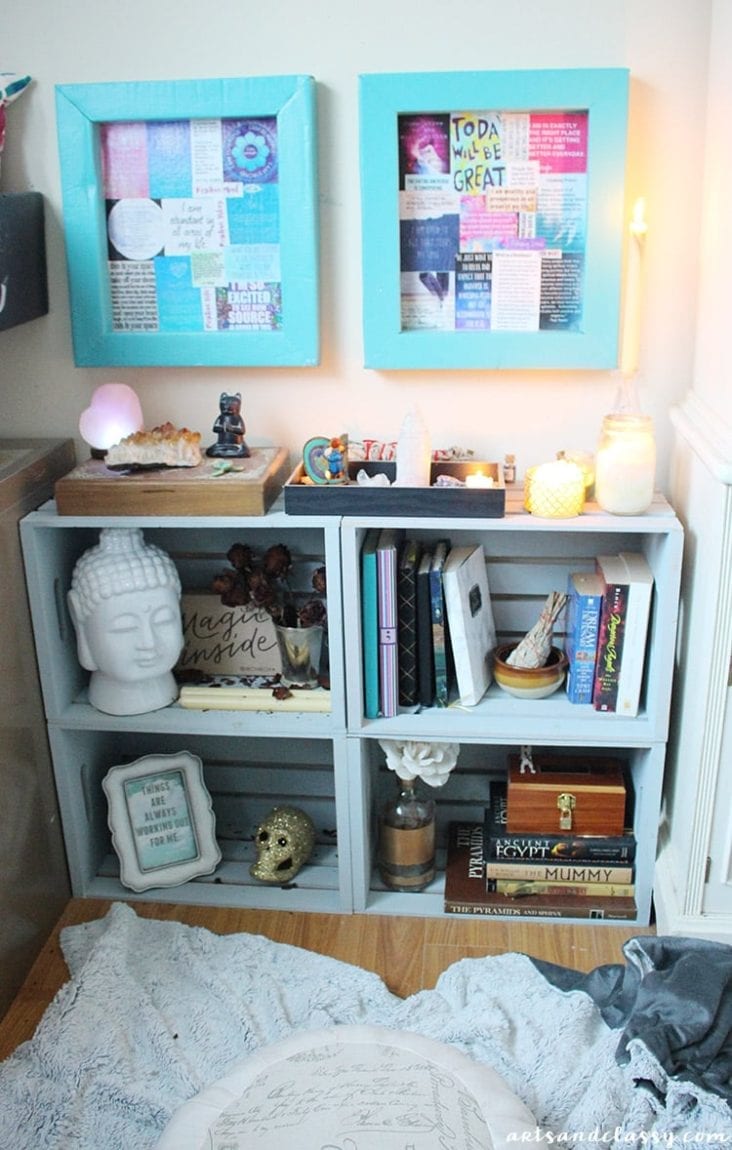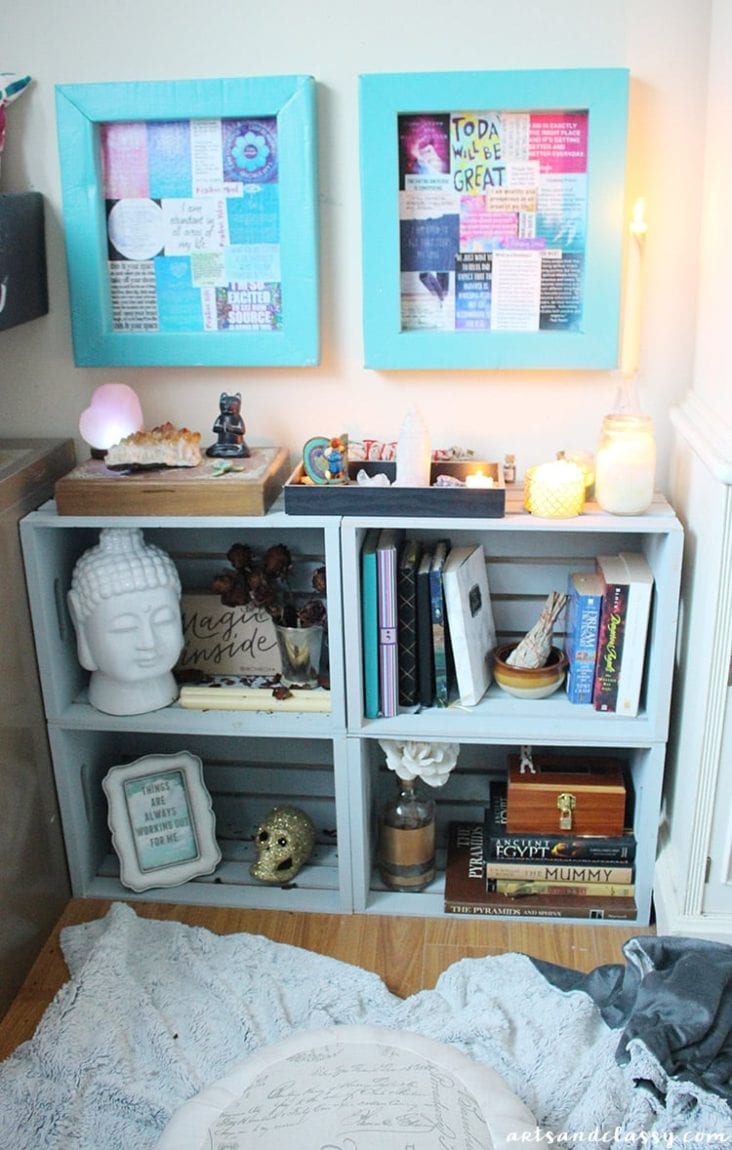 I have also really gotten into candles, crystals, and sage when I meditate. Check out my little layout and grid of a variety of crystals. Amethyst and rose quartz are my favorite crystals.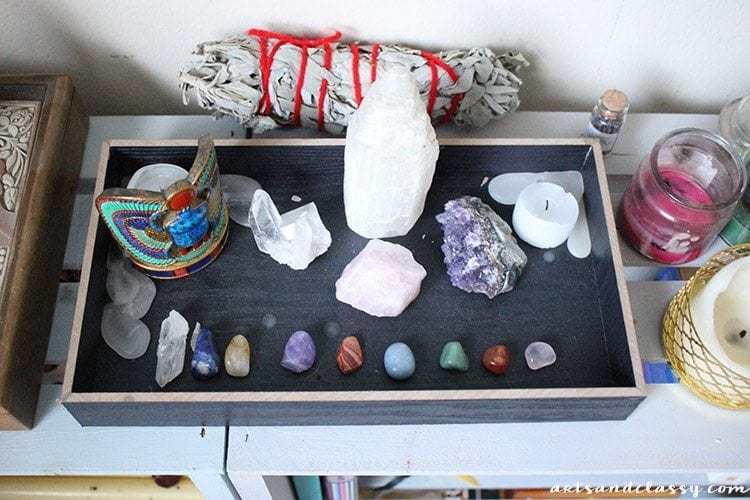 I found this meditating kitty candle at an occult store recently that I thought was super cute. I love keeping it near my citrine crystal and my little sea turtle figurine.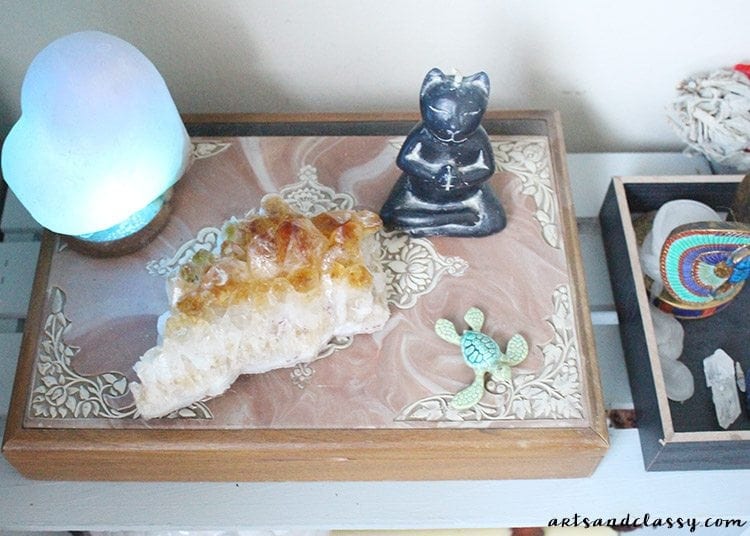 I found this spiritual Buddha head on a cool app called Let Go that was originally $85. I purchased it for $15. Woo Hoo! I love finding deals.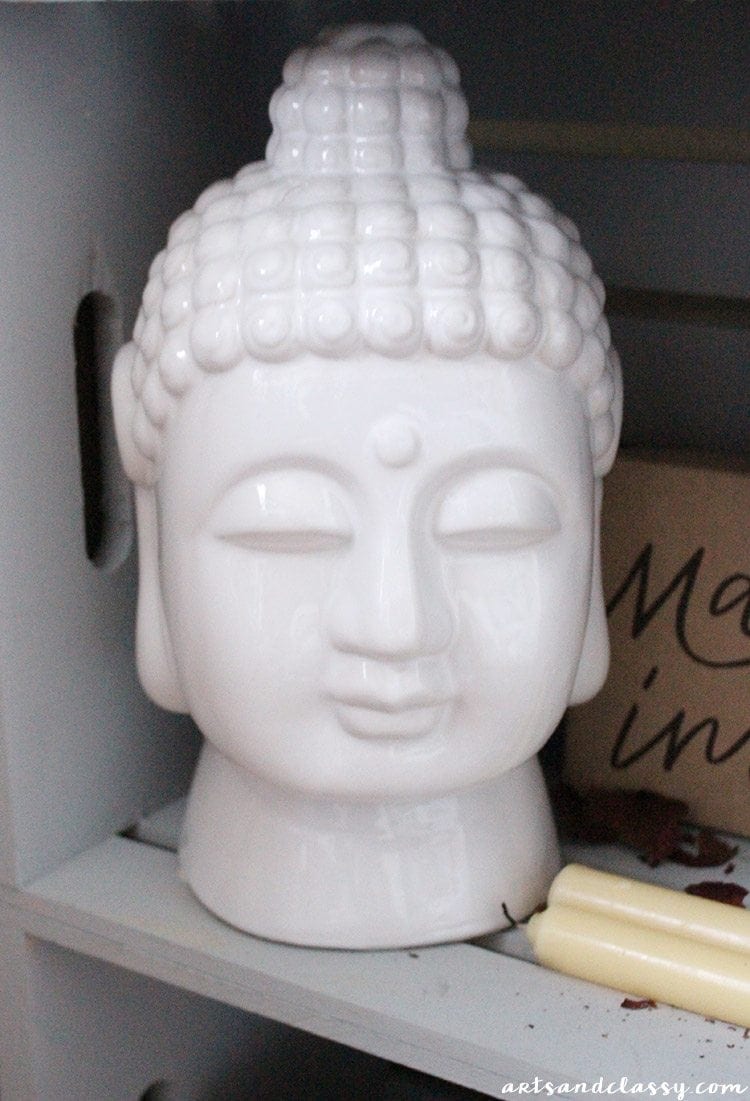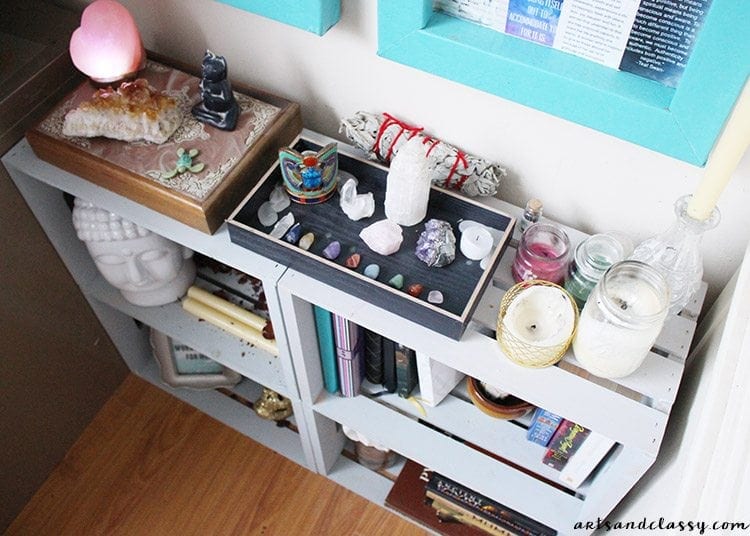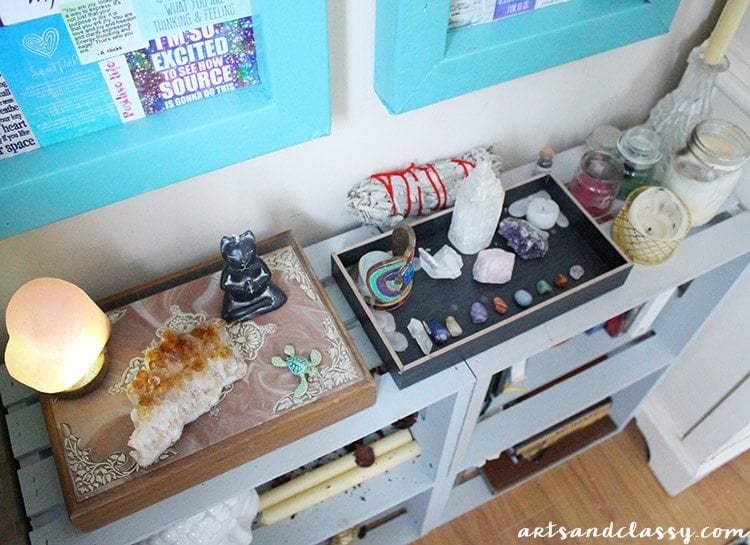 I have to thank my friend Kristin for this inspiration to put this spiritual meditation altar together!
So what did you think of my new diy altar table spiritual meditation space? I think it's a great place to start and I look forward to magic I will create in this space. Do you meditate? Let me know in the comments below. Have a beautiful holiday weekend!
If you liked this diy altar table post, you might also enjoy:

Join the DIY Lovers Digest + Gain Access to 7 Days To Home Ebook
Subscribe to get amazing DIY projects and tips on saving money when you DIY by email + gain free access to my ebook 7 Days To Home.