Are you stumped on what to get your friend, girlfriend, wife, mom, or sister? This essential Valentine's day ideas and Galentine's day gift guide for her is here to help you find the perfect gift in February.
You can check your gift shopping off of your list of to-dos. I know you are busy and we live in the day and age where Valentine's day shopping can be made so simple.
Finding the perfect gift for her shouldn't be a difficult task. It can be personalized and still on a realistic budget. Depending on who you are shopping for, take a look at the following gift guide to help you.
This could be for your first valentine's day with her or after several years together! You are sure to find perfect romantic gifts and even some for family members.
Continue reading below to see all the sweet valentines day gift ideas I have curated for you to gain some inspiration. If your are purchasing something online you want to make sure valentine's gift ideas that will be really meaningful for her. I hope that this helps you make a more educated decision on what to buy for the lady in your life!
*This post contains affiliate links, if you make a purchase through one of the links, I may earn a small percentage. This all helps keep A&C up and running. Thank you for your support.
I love the simplicity of this gift with a personal touch. I think the string art heart is charming in conjunction with the quote and the photo. It would look lovely as part of a gallery wall or it could a be stand-alone piece. Either way, I love this frame.
I am just going to say this now, it is a rare feat to find a female who doesn't LOVE bath bombs. It's great for soaking in if you had a stressful day or if you are super active and want to help your body recover. Bath bombs are just amazing.
I don't think I have ever met a female that doesn't love a good scented candle. I used to love hitting up places like HomeGoods and TJMaxx for candles, but now I realize the importance of finding non-toxic scented candles to put in my home. This Dark Berries & Bergamot candle smells incredible and adds elegance as a piece of home decor.
I am just going to say this… I got my apple watch from my husband for Christmas and I LOVE IT! I am obsessed with its capabilities. It is an amazing tool for my fitness and health. It tracks my steps, stairs climbed, calories burned, and it helps me remember to breathe. lol. It reminds me to breathe and be present in the moment.
I love checking the weather and being able to respond to text messages and phone calls without having to pick up my phone at times. It also works with some other fun apps. I seriously can not say enough great things about this as a gift. It is a great Valentine's Day gift idea for her.
Instead of loading up on the chocolate this year, why not give her a heart-shaped box of beautiful healing crystals? I love this concept and I think this gift would be adored by any woman who has a spiritual goddess side to her. This would be a lovely gift for her on Valentine's day.
The one pictured below is now sold out but you can still reach out to the seller to see if they can custom make another. I found a similar product on Amazon that would make a good alternate choice.
If you want to get her something sweet and charming, this honey bee charm is a great choice! I love the simplicity to this necklace and I think it's adorable.
I love the idea of repurposing things like pennies to reuse them in a fun and personable way. I love the initials with a special date on a penny!
If you are looking for a useful gift for things like wedding ring storage, this engraved Mrs. wooden ring box is unique and smart storage.
I love that these mittens can be personalized with the initials! You could customize these in multiple ways. Give the gift of warm hands during cold days for Valentine's Day.
This is such a special gift for anyone who loves music or is a musician. It would be perfect for a collage wall. This is probably my favorite gift from this roundup of Valentines Day gift ideas.
Calling all Whitney Houston and Dolly Parton fans, this stainless steel tumbler will keep hot drinks hot and cold drinks cold. It would also work well for beverages when tailgating or camping. It's a gift that will definitely get a lot of use.
Show her how much she means to you with this symbolic, meaningful and understated necklace on an 'I'd be lost without you' card. It is subtle, not over the top but has so much meaning behind it.
We present to you a truly unique and enchanting jewel with a touch of modern style. Plus, it is a perfectly fashionable minimalistic accessory to any outfit which will add special charm to your natural beauty.
This resin ring has been crafted from high-quality jewelry resin, 24K Gold and blue larkspur flower. Blue is the color of the sky and sea. It is often associated with depth and stability. It symbolizes trust, loyalty, wisdom, confidence, intelligence, faith, truth, and heaven.
A special gift with good design & purpose for aromatherapy fans and anyone who loves essential oil. It is a perfect birthday gift for women, teachers, friends, girls, mom, & kids.
The perfect valentine's day gift to give her this year! This makes a wonderful gift to recap a wedding, anniversary, life together, an event. I love the rustic vibe and the personal touch you can request with a gift like this one.
The roses are handmade artificial flower, it will never wither, never fade, never die. These golden roses are a beautiful gift. They are a beautiful valentines gift to lovers, family, & friends.
Thes scented candles include 6 tins of scented candles
English pear
Freesia
French cade & Lavender
Persimmon & Copal
Goji & Tarocco Orange
Rosemary and Spring
The Aromatherapy Candles Set Made from natural soy wax and pure-grade natural essential oils, along with the lead-free organic cotton wick, providing a healthier, fresher and more romantic environment without black smoke and harmful substances.
Another perfect addition to this list of Valentines Day Gift ideas! This personalized birthstone name necklace is a great gift for your sister, friends, mother, grandmother, wife, girlfriend, loved one or a special treat for yourself.
This is a beautiful light blue sea glass bar necklace!! The sea glass is cultured and made from recycled glass in a free form pebble shape, making each necklace unique. The length of the bar is about 1 to 1.5 inches depending on sea glass pieces. It's a unique Valentine's Day gift idea!
I can not express enough how much I love Soul CBD. I am such a big fan of the Drops and the gummies! They would make a great gift for her for stress, anxiety, sleep, and pain. The CBD bath bombs are known for helping with cramps and muscle pain. The rapid relief cream is also great for pain management. It is completely THC free and in a very pure form. I think this would make a great Valentine's day gift for her.
Now you may interpret the gifts listed above as being more catered to romantic relationships. Let's shift this over to Galentine's day gifts for friends and family so please continue reading below for more ideas.
Giving your friend the gift of comfort around the home during the colder months is so useful for galentines day!
Custom labels are uncommon goods that I was surprised to come across for potential galentine's day gift ideas. Find your bff her favorite bottle of wine and then personalize it for this special v-day holiday! I love this gift idea as part of a fun movie night or another type of Galentine's Day special moments event with your best gal pals.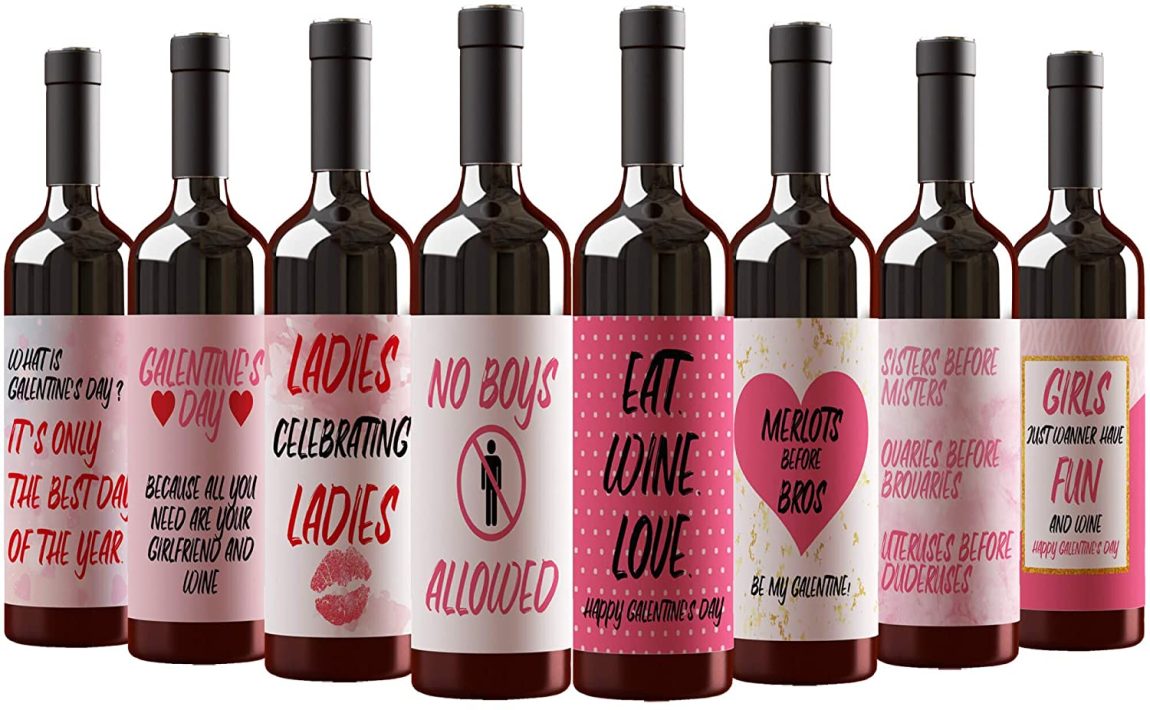 If your galentine's day recipient is a fan of jewelry, this might be a great gift idea that she could use daily.
Looking for the best cheap gift you know your friend is going to love and use! Candles are a great way to do it. Not only is lavender a relaxing scent, it is also a gift she can enjoy for many days and nights!
Even when you are far away from friend and family, You have the courage and power inside to navigate your own way. this necklace will remind enjoy the journey as you dream, and reach for your goals.
Wash Away All Day's Stress & Fatigue; with our aromatherapy shower melts, which will dissolve in your bathtub and release potent aromatherapy essential oils that will help you immerse in deep relaxation.
These cute Galentine's day tote bags. They would make great party favors for a Galentine's Day event!
Stainless Steel durable, it will not rust, Won't change color or tarnish enough to treasure it for a lifetime.
Artificial Succulent Plants Potted Diffusers for Essential Oils
This is a perfect last minute gift idea that will allow your friend to order what she has really been wanting.
I am curious about what you thought of this Valentine's Day gift ideas!? Let me know in the comments below.
If you enjoyed this post, you will also like this similar content:
I also made some FREE printables for you to download for your home.