I find that the most special gifts are homemade gifts made just for you. One of these 10 ideas will inspire you.
Valentine's Day is just around the corner! I find that the most special gifts are homemade gifts made just for you. Forget about store-bought cards and chalky candy hearts. If you really want to impress your special someone this Valentine's Day, nothing says "I love you" like a homemade gift.
And no, we're not talking about a batch of cookies (although those will definitely be appreciated). With a little creativity and some elbow grease, it's easy to make a one-of-a-kind present that your Valentine will treasure for years to come. Whatever you choose to make, the important thing is that it comes from the heart. So get creative, and enjoy the satisfaction of knowing that you've made this Valentine's Day extra special.
Even if you are making homemade gifts for your boyfriend or spouse, one of these 10 ideas will inspire you. You may also like another post of mine where I share multiple types of Valentines Decor on a Budget.
*This post contains affiliate links at no additional cost to you. It helps to keep this blog up and running. I appreciate your support.
1. Heart-shaped Bath Bombs
This would be a perfect gift for anyone guy or gal! I like making bath bombs. They are very simple homemade gifts to make. If your guy is like mine, he loves to take baths to soothe his aching muscles. He is an athlete and coach so recovery is crucial for his performance on the field.
Ingredients needed for this DIY….
To learn more about this DIY check out A Cultivated Nest for more instructions.
2. Leather Keychain
This is another great gift that is not only cool but it is also useful! This is a project that you can get creative with. But in case you want to replicate one that I enjoyed, this is a great one. See below.
Supplies needed to make your own keychain DIY gift for men:
To learn more about how to replicate this keychain, check out the full tutorial.
3. Sharpie mugs
I am obsessed with mugs. My guy and I always drink tea in the evenings together. So I know he would love and use this DIY gift. If your partner is a coffee or tea lover… then this the gift for them!
You can really get creative with this project. I love the example I shared below. If you like that look, then check out the shopping list for supplies for this project below.
Supplies needed for this project:
4. Adventure Fund
I am a lover of traveling! I am also an advocate for saving for the things we want to do. Instead of just swiping a credit card, I like the idea of having a piggy bank that you contribute spare change each day. I feel like I always have spare change laying around.
If you and are your partner want to take a vacation, create an adventure fund jar. This would be a fun gift to give your partner + you both will have something to look forward to.
If you would prefer to buy an adventure fund already made, then I have a great suggestion for you!
5. Bee Mine Valentine
I thought this would be a sweet gift to give a friend that loves tea! Check out the tutorial for this gift.
6. Mason Jar Cocktail set
This would be a fun handmade gift when bundled with a movie night or a picnic. I think it is adorable and really easy to make. You can also change it up with different cocktail combinations.
7. The "Story of Us" book
I love this gift concept because it comes straight from the heart. You can create a book with adventures you and your partner have already been on in your relationship. Make sure to leave room for more adventures to come.
Here is a great example below of how you could create this book. I like the idea of pockets. You could print out emails, texts, and facebook posts to add to this book too.
If you love to scrapbook, you are going to have fun with this handmade gift idea.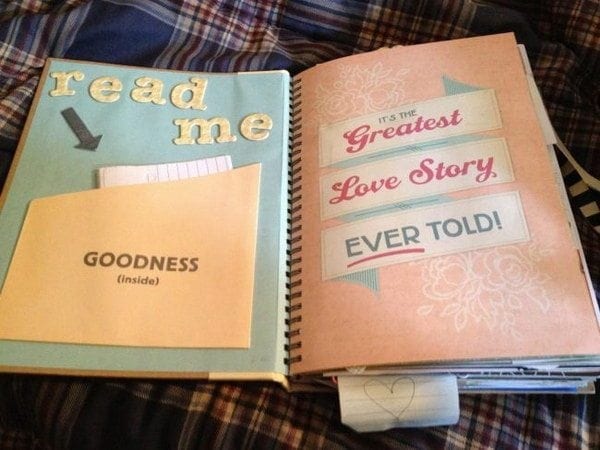 I also love the idea of adding calendar dates and old ticket stubs from fun events you have attended together.
8. A "Year of Dates" in a box
Another thoughtful gift idea for your partner is a year of dates in a box.
Here is the concept.
You plan out 1 date night a month that is special for you and your partner.
You package up each month's date night concept accessories separately.
Then you place them all together in a larger box to give to your beloved!
9. Valentine's Dates in a Jar
Similar concept to the previous gift, only this one is just pulling fun ideas from a jar. You could do this as frequently as you like.
I love how this is presented. Check out the full tutorial.
10. Lipstick Art
This is a cute gift that also serves as cute come decor. It is super easy to make. DIY lipstick art to remind your guy that you love them!
What do you think of these homemade gifts? Would you make any for friends or your partner? Please let me know which one is in the comments below.
If you like homemade gifts …You may also enjoy these related posts…