This is a sponsored post written by me on behalf of TUACA Vanilla Citrus Liqueur  for IZEA. All opinions are 100% mine.
This post brought to you by TUACA Vanilla Citrus Liqueur . The content and opinions expressed below are that of Arts & Classy.
I am seriously in disbelief that it is already the middle of October. When did that happen?
I am already starting to prepare for the holiday season and I am having the best time planning. This encompasses preparing for more entertaining for my friends and family.
Since I use to bartend when I was in college, I often like to entertain with cocktails at home. I like to experiment with different liquors and liqueurs!
The one I am experimenting with this holiday season is TUACA.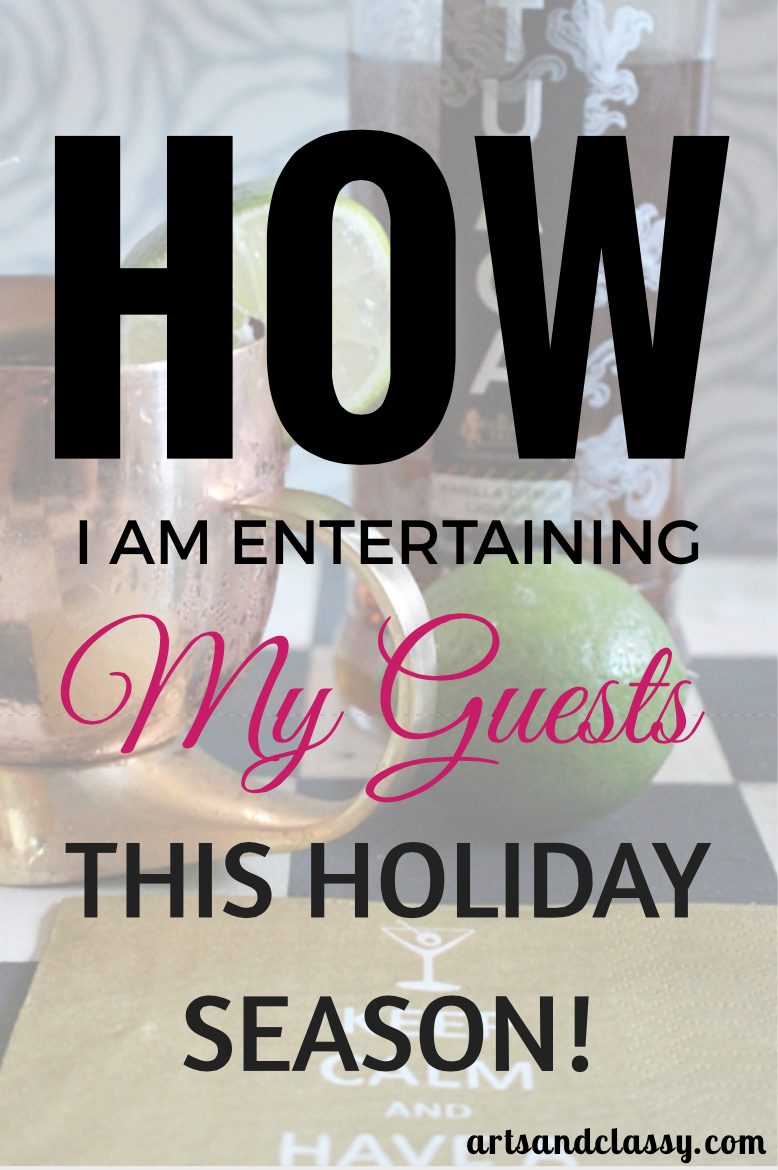 Are you familiar with Tuaca? Here is more information on it's history.
TUACA is a vanilla citrus liqueur 500 years in the making. TUACA captures the essence of its Italian roots. TUACA began as a legendary liqueur created for Lorenzo de Medici, ruler of Florence and visionary benefactor of renaissance art and architecture.
The recipe was rediscovered in 1938, when brothers-in law Gaetano Tuoni and Giorgio Canepa recreated the spirit and gave it a new name- TUACA. American servicemen drank TUACA in Italy during WWII and brought TUACA home to the U.S., introducing the liqueur to an entire new generation of adventurers!
TUACA is 100% natural. The TUACA creation process begins with the selection of the finest Italian brandy, ranging from 3 to 10 years old. The Italian brandy is then blended with natural sugar, fine spirits and a touch of citrus and vanilla essences.
As you can see this liqueur has been around for a long time.
A couple of recipes I am playing around with are The Tuaca Mule and The Tuaca Hot Apple Pie .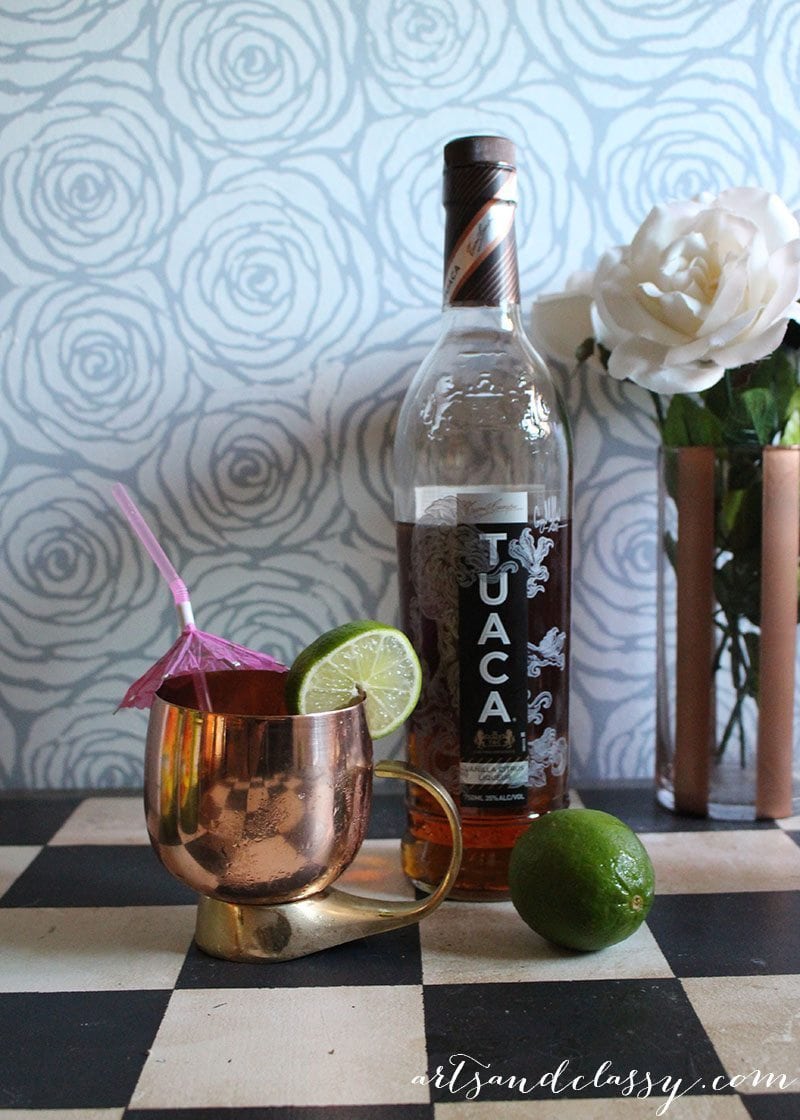 The Tuaca® Mule
Ingredients:
2.00 oz Tuaca® Liqueur
Ice
4.00 oz Ginger Beer
0.50 Lime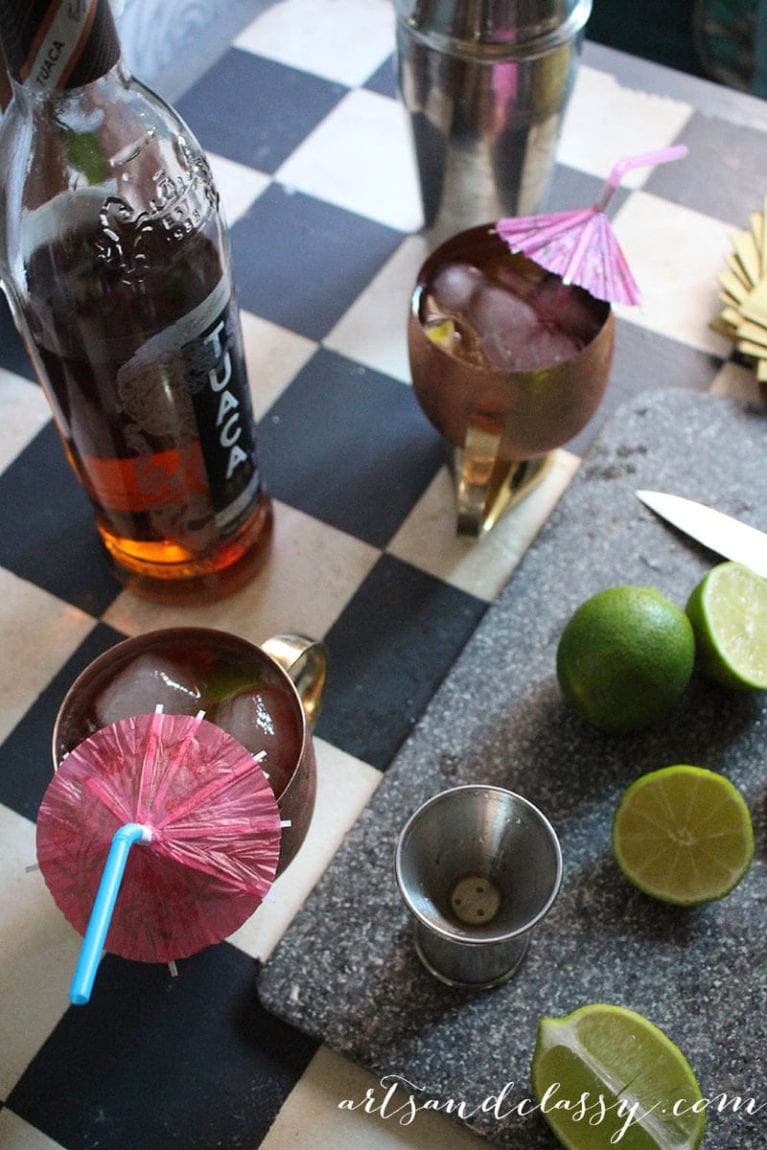 Instructions to make this cocktail:
Fill copper mug with ice.
Squeeze lime into mug
Drop lime into mug
Then add Tuaca®
Top with ginger beer
Stir gently
Use a cocktail shaker and pour contents of copper mug into the shaker and then back into the copper mug. (This helps mix the ingredients better in my opinion.)
Garnish the side of the mug with a lime slice or wheel. I am more partial to the wheel because it looks prettier.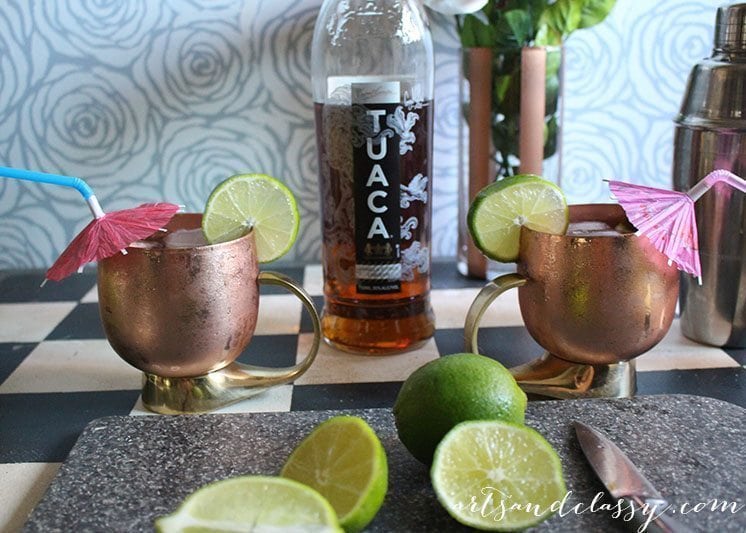 This is the perfect beverage for a warmer day. The cool taste of the Italian vanilla citrus liqueur is perfection. It is the perfect beverage when you need to cool off.
Check out this Mule Masterpiece video.  Get inspired to serve a Perfect 
Tuaca Mule
 to make for your friends and family when you are entertaining.
The next recipe is perfect for cooler weather + it has whipped cream. This is a score in my book.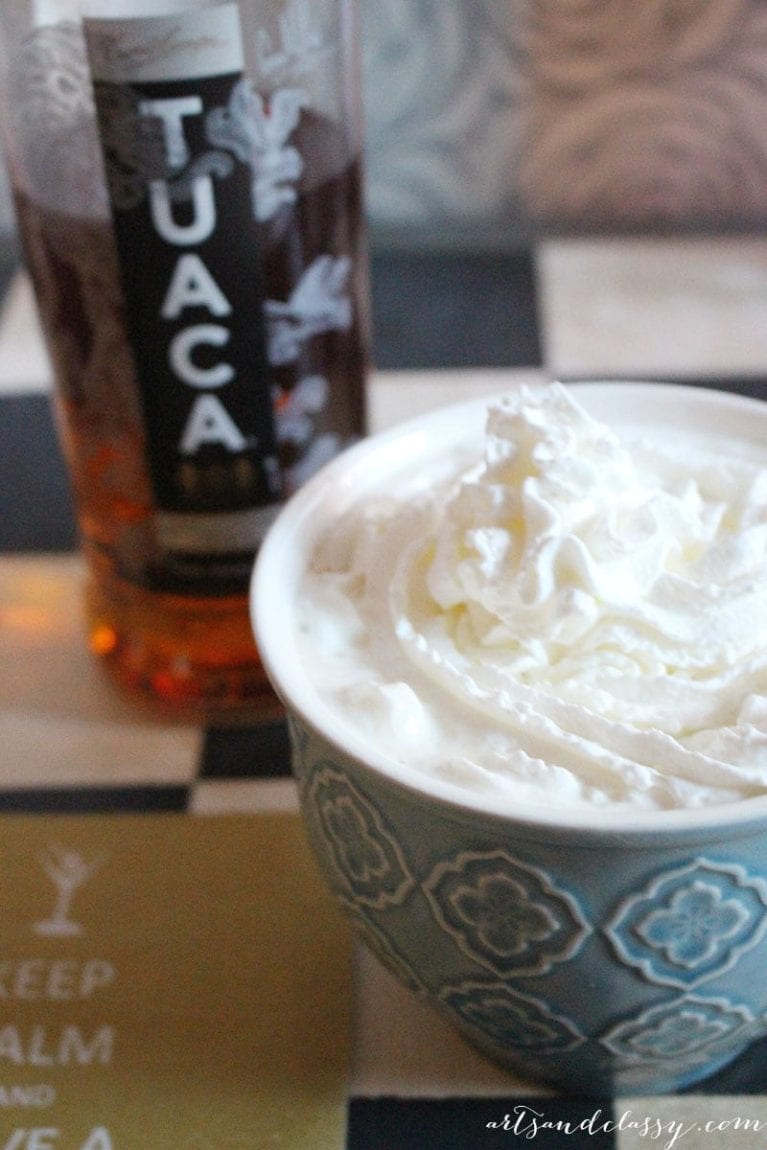 Ingredients:
1.50 oz Tuaca® Liqueur
6.00 oz Warm Apple Cider
Whipped Cream
1.00 Cinnamon stick
Instructions to make this cocktail:
Pour Tuaca® into a mug
Fill mug with warm apple cider and stir gently.
Top with whipped cream
Garnish with a cinnamon stick
This recipe is so delicious and makes me feel like the Holidays are already here. Consider it Winter in a cup.
I am usually a creature of habit. When I find a drink I like, I normally stick with it. But I am finding out more and more that I was be missing out on so many delicious drinks. With the great flavor of TUACA, I have NOT found any bad cocktail.
If you want to try to make one of these delicious cocktails you should try the Tuaca y Pina   .  This is a tropical cocktail that will be sure to please anyone you entertain – pineapple, lime and TUACA.
It is time for my 21 years and older readers to take the TUACA challenge!
Create your own cocktail with TUACA or enjoy one of the ones we love.
Which TUACA cocktail do you want to try? Or do you want to create your own delicious creation?
If you do, share the recipe in the comments below.