I had a lot of fun this weekend coming up with my mood board to decorate and create a plan for the design of my rental kitchen makeover!
I am coming up with awesome diy projects that are renter friendly and can easily be changed back when moving out of an apartment.
For me, the "dreaming up the concept" part is my favorite. The pre-planning and executing are fun in their own way, but when you are using your imagination in the beginning… the sky is the limit!
Now onto sourcing and addressing some of the problem areas in my rental kitchen…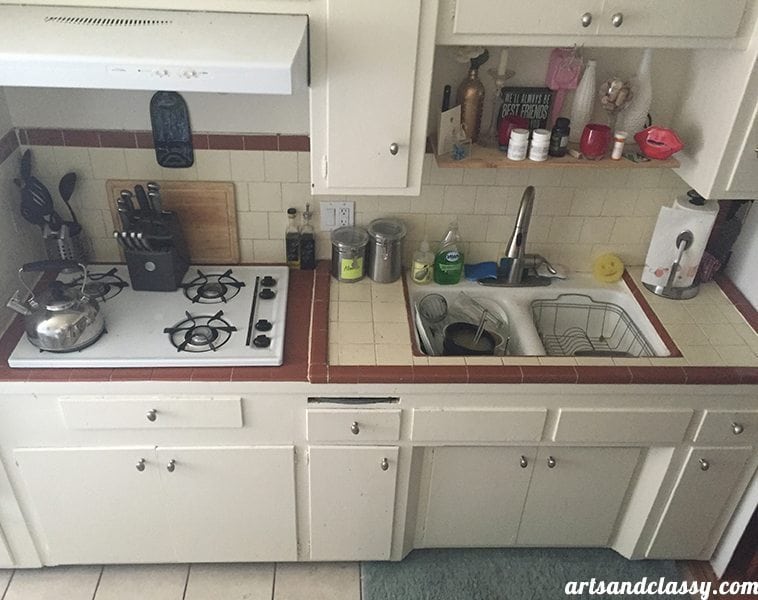 The Tile and Backsplash
The tile used for my countertops and backsplash are super dated and doesn't fit my color scheme. I wish I could just do an easy fix and paint the tile as I wish, but without talking with your landlord first can be an issue when you go to move out and could possibly affect receiving your full deposit back. I am looking into contact paper and Tin Tiles to create a fun current backsplash to cover the existing tile and a fun dark granite vinyl contact paper to use to cover the countertop tile.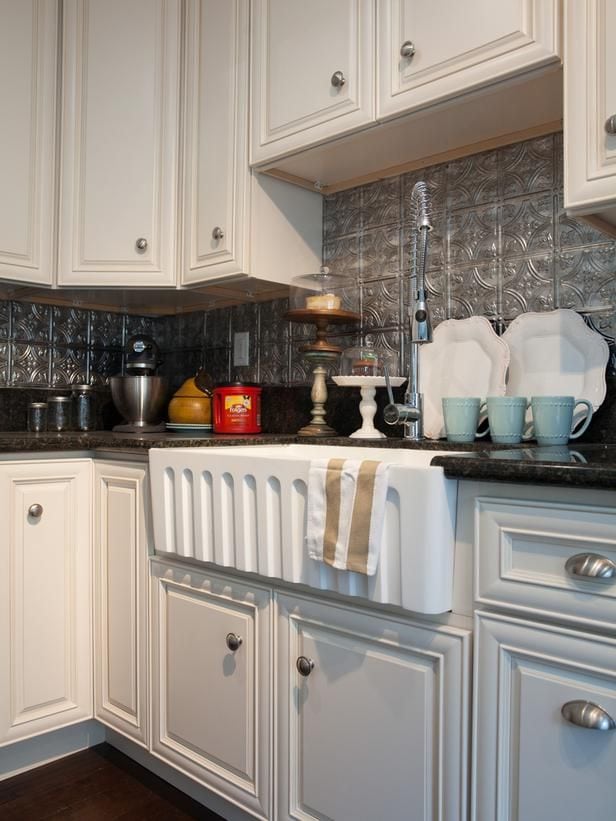 The ceiling light.
I am not a fan of the one I currently have, but I am loving what this blogger at Simple Details Blog that makeover with her ceiling light that added a touch of art deco glam to her space. I am looking to emulate this for my ceiling light! I think it will also help draw the eye to the ceiling and make it look a bit classier. I wish this sunburst was still available to buy at home depot for $35 but it is now sold out!! Argh! So I will resort to getting DIY savvy for this project. I found a great little tutorial on a Small Home Love.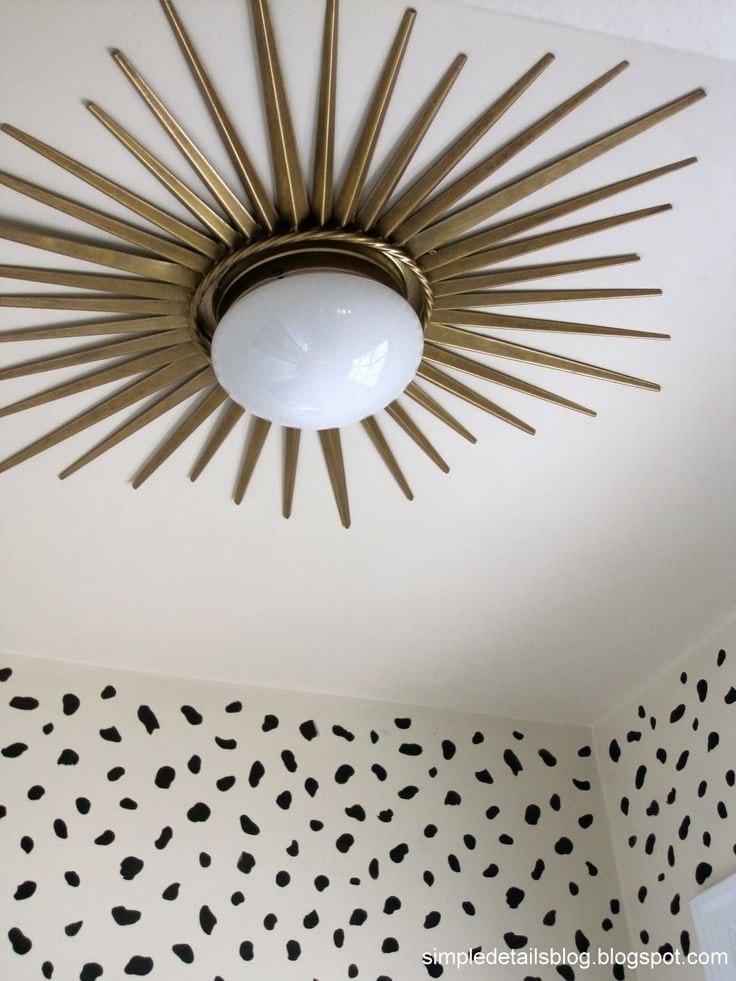 The accent wall…
I have decided I do not want to paint my main wall in my kitchen. I have painted a total of 3 walls in my home so far and I want to keep this one easier to paint over later. I think a simple stenciled wall with a fun colored sharpie pen is just the ticket for this makeover. I kind of loved the one Mandy at Vintage Revivals did a little while ago.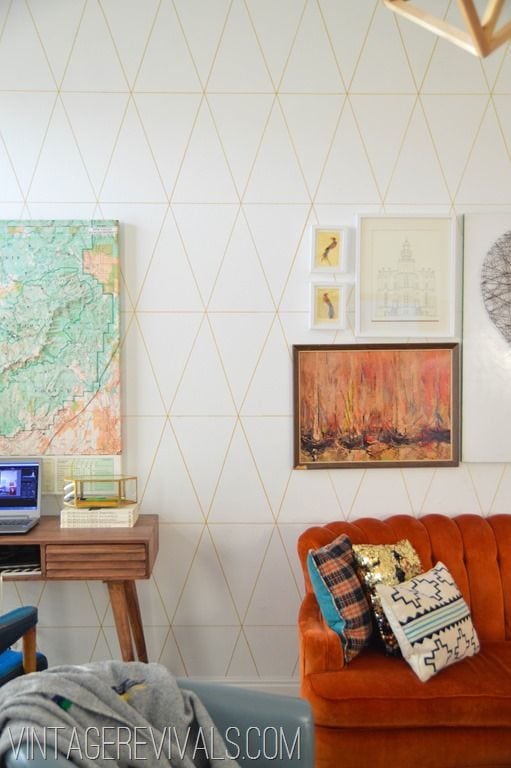 Another source of inspiration for me on this project is from BDG Style. I like the idea of creating an illusion of a framed accent wall much like this one, but with sharpies instead. I am trying to keep this project as cheap as I can, but since I am not a homeowner it is not worth investing more money into a temporary space.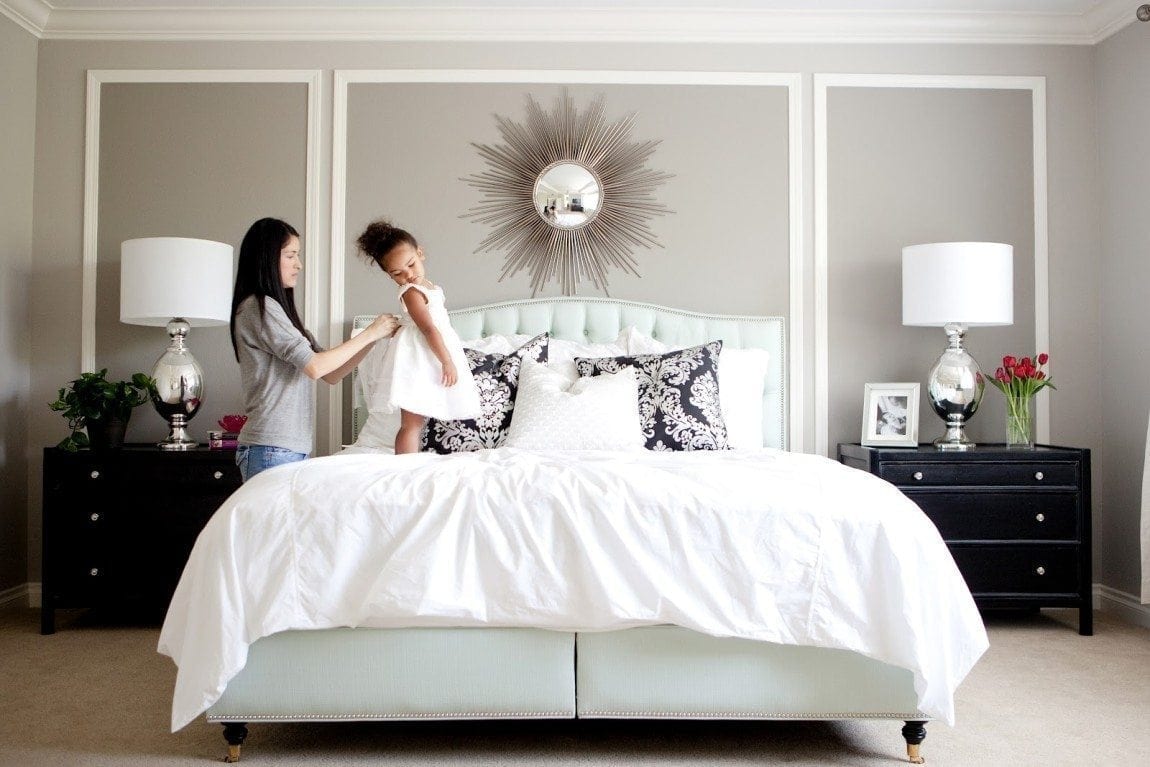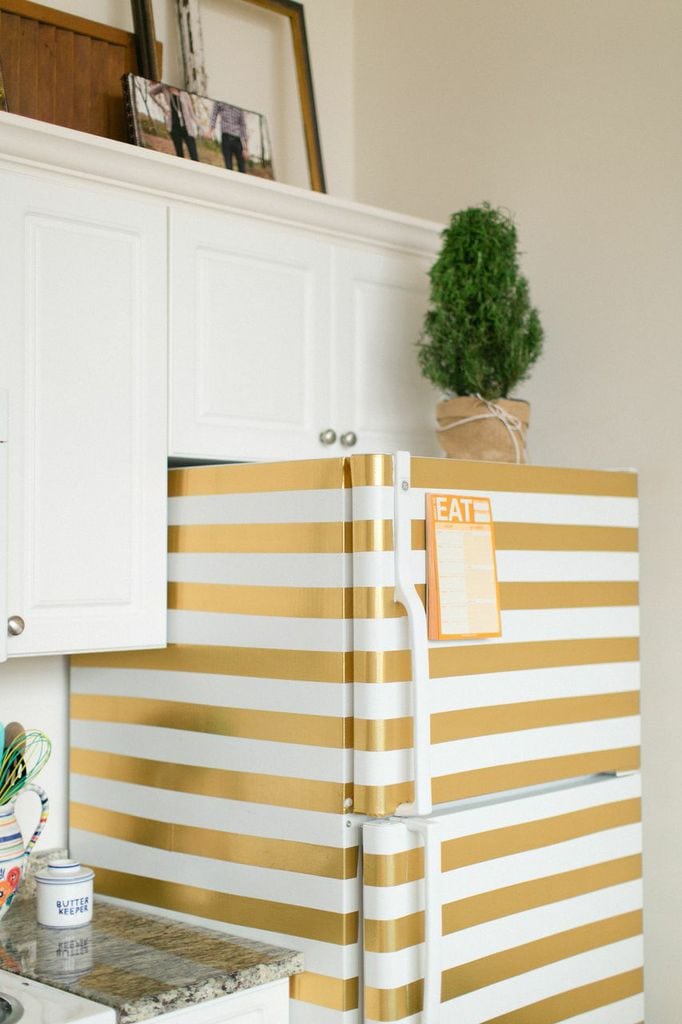 I want to jazz up my rental refrigerator that came with my apartment and make it look a little prettier than just a dull white fridge. I have decided that contact paper will be my best friend for this project!

The window treatment…
If you don't know about my obsession with black and white striped check out a few of my projects…
I want to continue this awesome stripe tradition with a diy striped Roman shade. This tutorial from Sawdust and Embryos is perfect for showing me how to make this happen on a dime!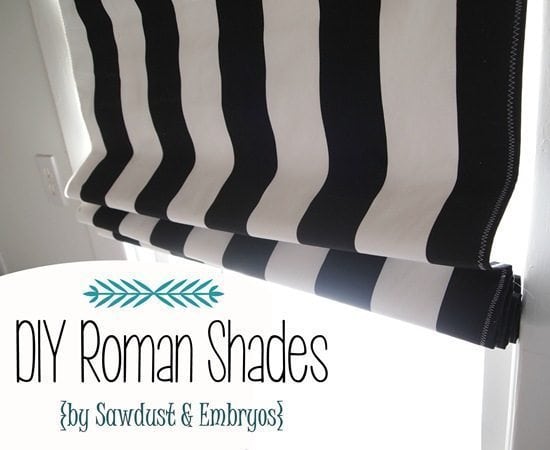 There you have it! 5 Renter problem projects with DIY solutions! I can not wait to execute these plans and transform my rental kitchen into a more chic and inviting space that I want to hang out in! What do you think of my plan? Share in the comments below!