I am excited to share my small bedroom makeover before and after the project! I didn't spend much to flip this room either which is pretty impressive.
I'm curious. Does your bedroom tend to get messy over the course of a few days when you are going about your normal routine? Well, my fiance other and I have that exact issue.
We are both on completely different schedules and he isn't very focused on making the bed like I usually am when I wake up after him.
On the days when I wake up before him, the bed usually looks like this (see photo below). It's all disheveled and basically a cluttered mess. I thought a small master bedroom makeover would help boost the class up in this room was necessary. 
*This post contains affiliate links.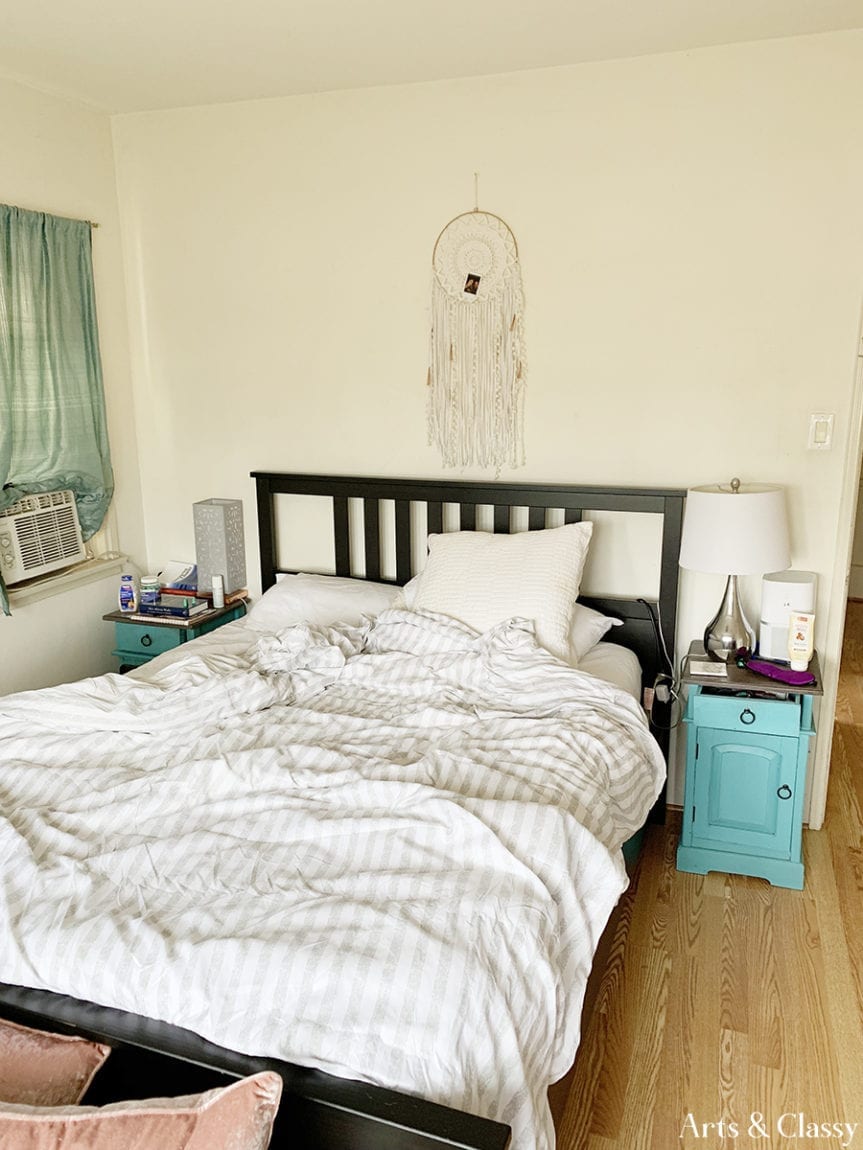 When we first moved in together, this bedroom was his old roommate and when we put our stuff in this room, it was a little sterile and blank. It also had a lot of damage on the walls from previous items being hung up etc. There was a lot of small damage to the walls to be patched up, but since this is an old house, we didn't want to make any more holes in the walls until we knew what we were going to do.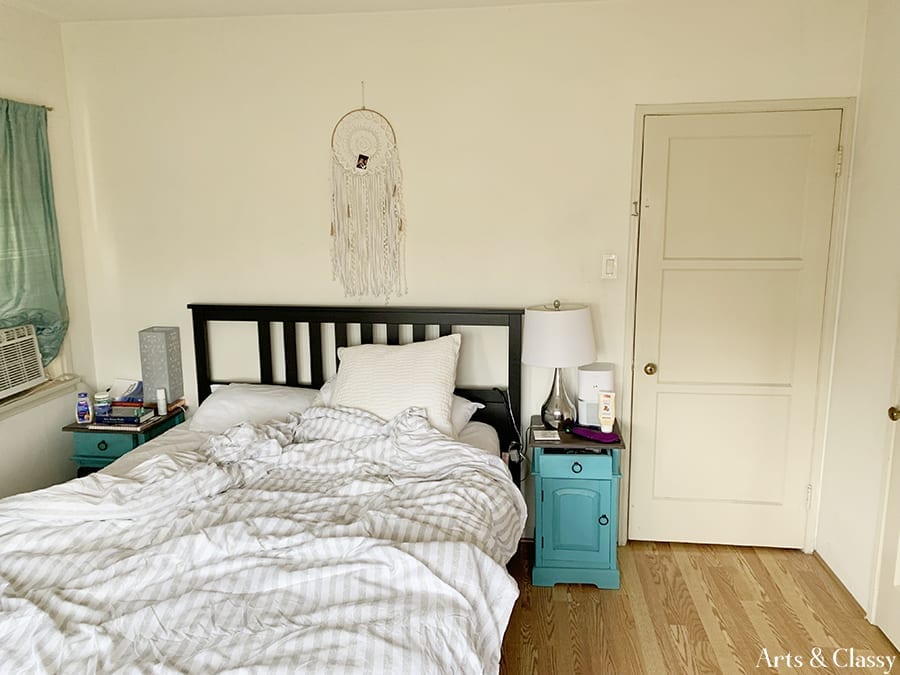 My first step in this operation was to paint the walls to make my amazing bedding pop more. I found my paint at Home Depot a little while back and was so happy to finally have a purpose for it!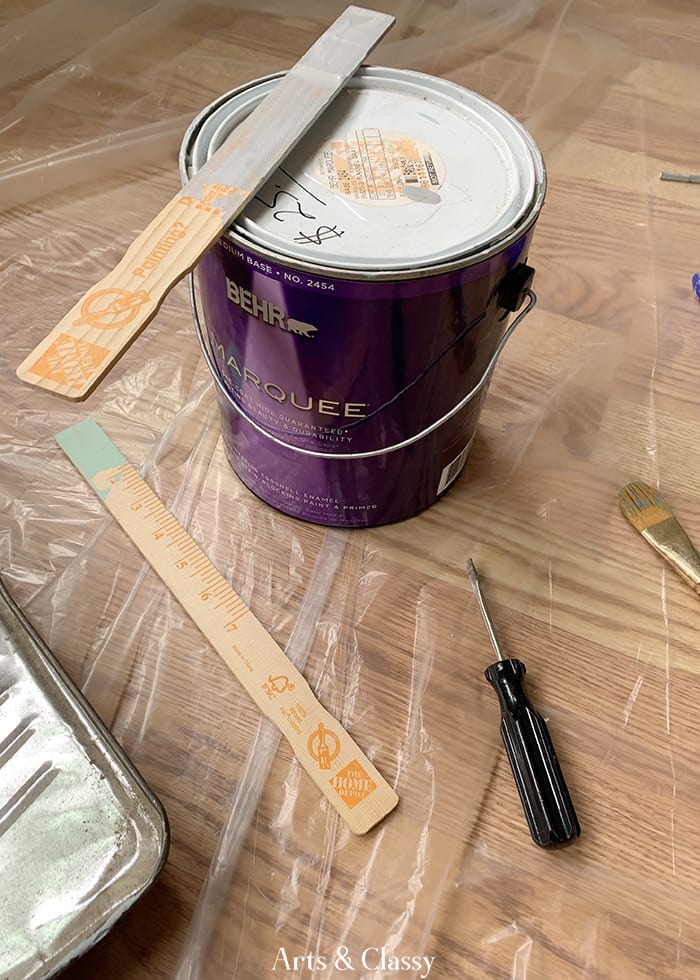 Once I gathered all my supplies for this makeover, I had to mask and tape off parts of the room to prevent paint from going everywhere. This also included moving some furniture out of the bedroom while I worked.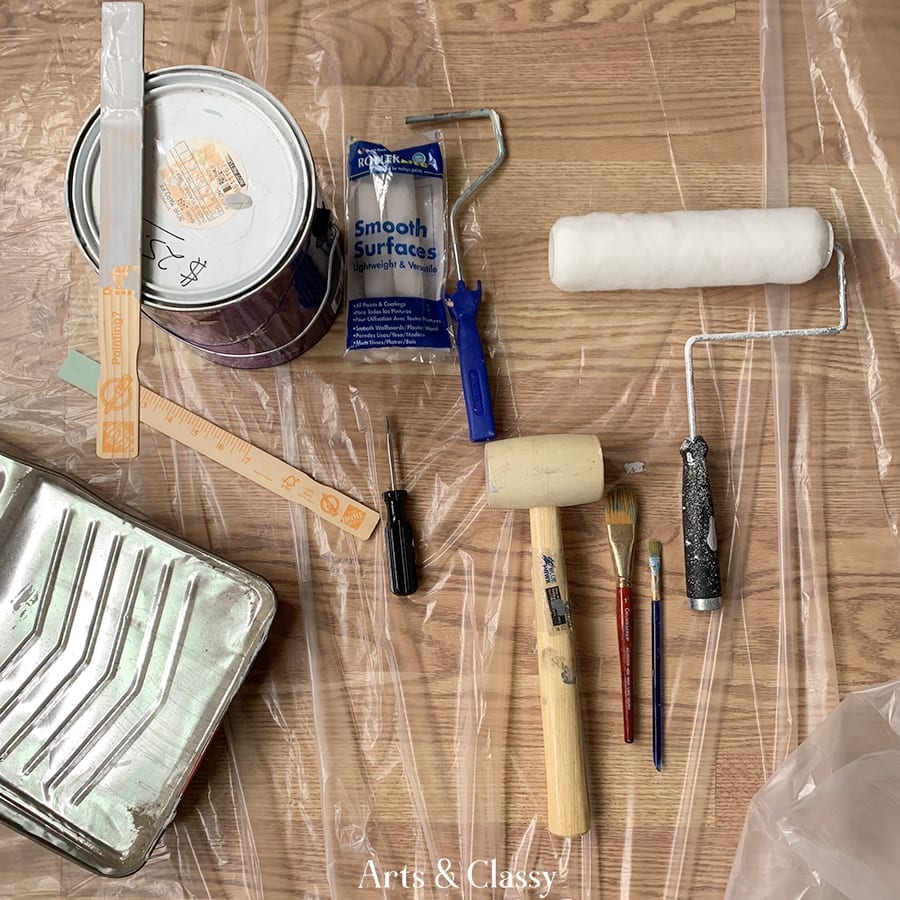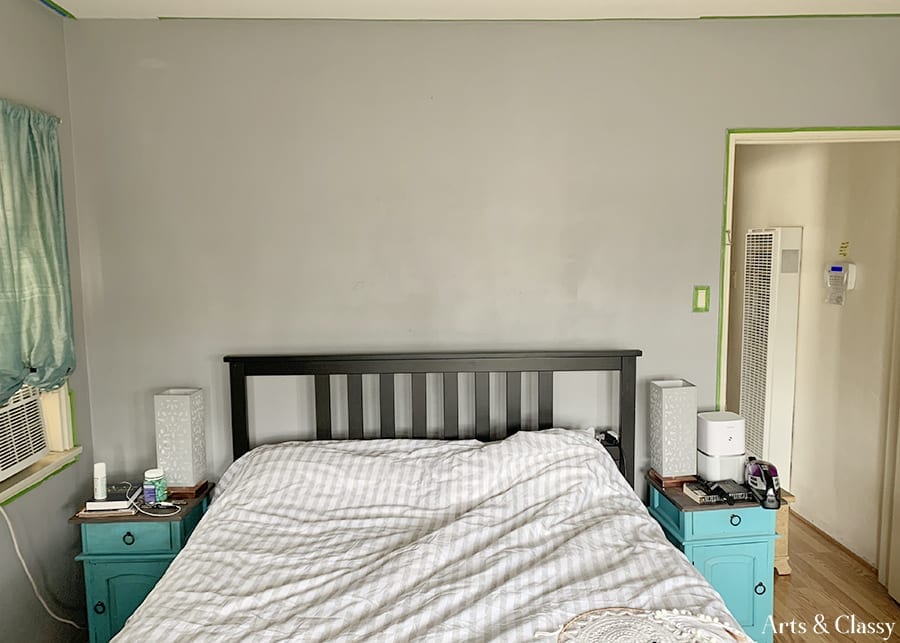 When everything was masked, I started painting all of the walls. I was so happy with how quickly the walls were covered in this beautiful grey color. It really complimented my striped duvet cover nicely.
It took about 2 layers of paint per wall. After letting the room air out and dry for about 8 hours it was ready to be decorated.
Since I have a lot of decor items, I like to try and work with what I have without having to acquire more things to make a room makeover look perfect. I really wanted to make our bedroom more zen. A calming and relaxing space to come into in the evening for some quality sleep.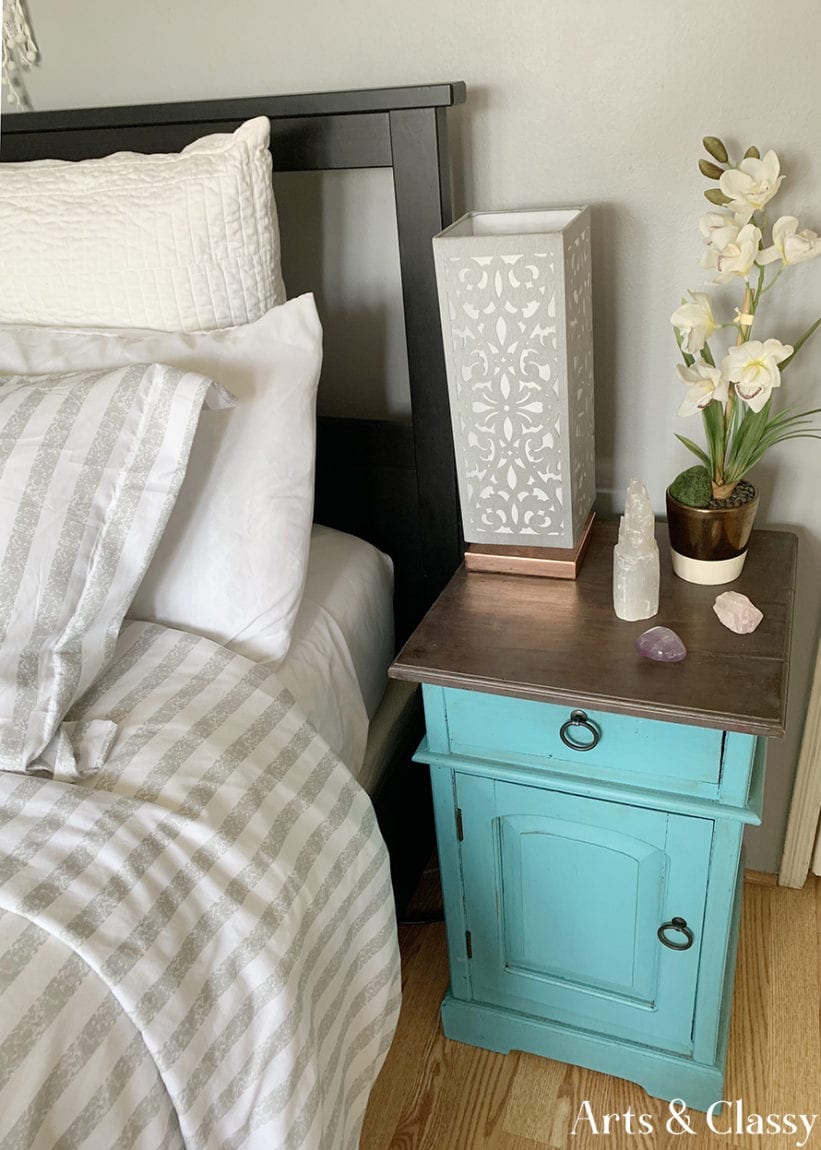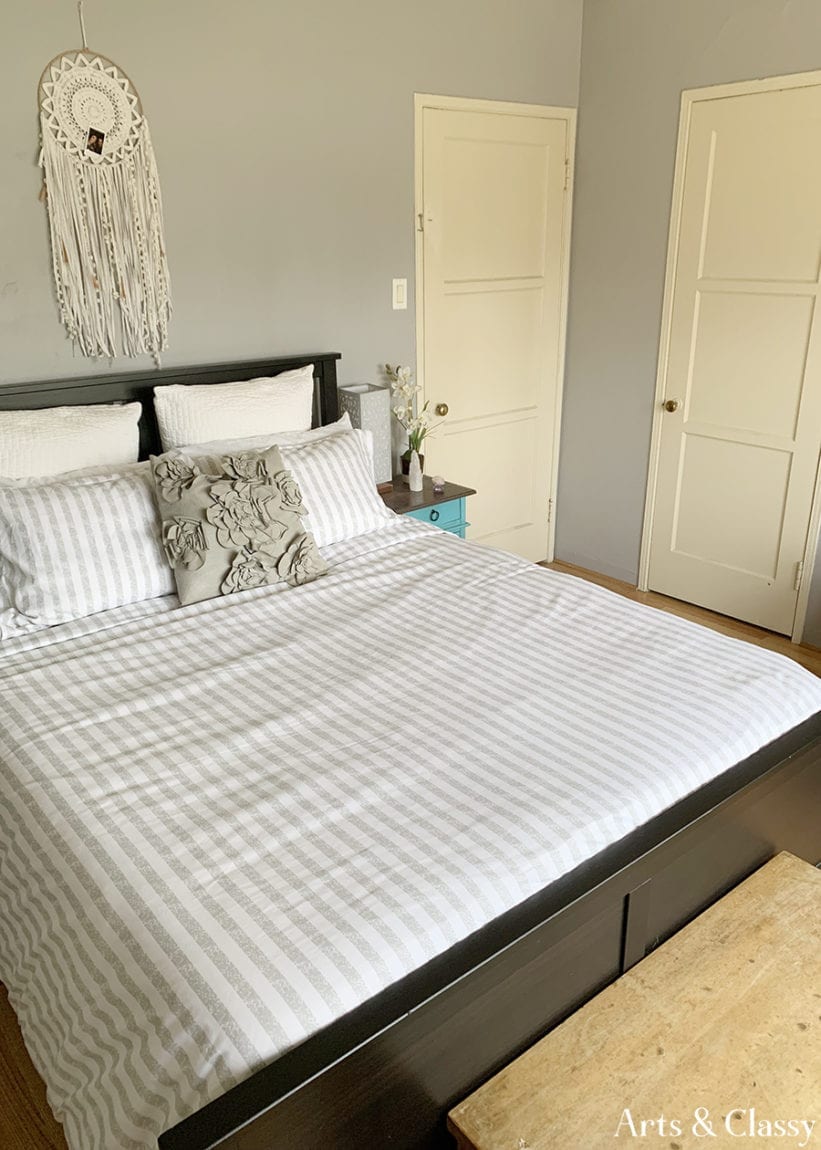 I think I was successful in my goal. It was happy to be able to swap out one bedside lamp so that they now match and include some of my favorite crystals, a little nature with an orchid, and one of my favorite buddha heads. This room looks so much better! I'm so pleased with how this room looks now with my new duvet cover + pillow shams.
Not only does my room look refreshed, but it also is clutter-free which helps calm the mind. I love it!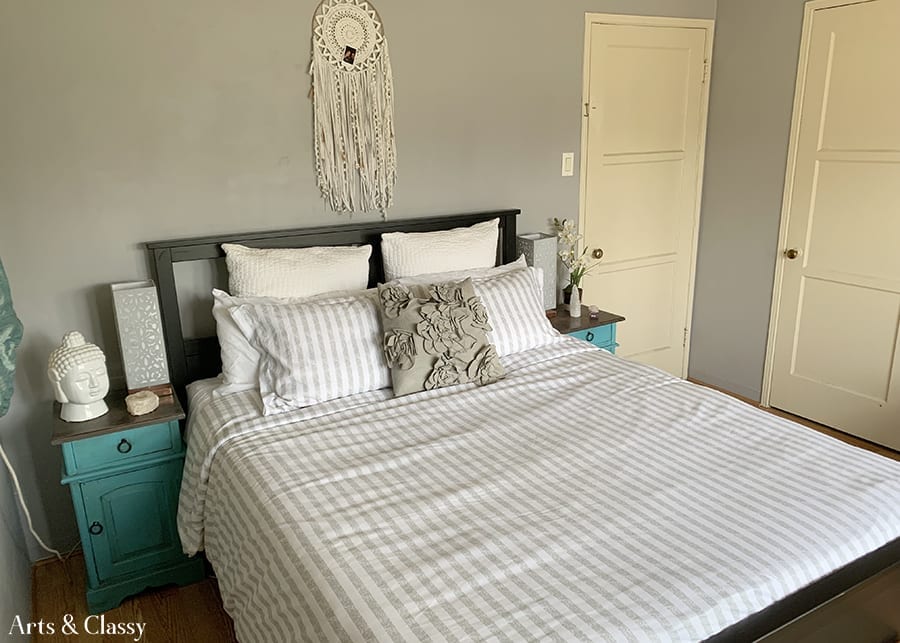 What did you think of this bedroom makeover before and after? Would you consider trying something like this in your bedroom? Let me know in the comments below.
If you liked this post, you will also like: