My 5 Favorite Decorating Ideas for Renters + Products to Use
Do you want to create a look that feels luxurious, despite being on a budget? Are you looking for ways to make your rental space unique and inviting? Thanks to Amazon Prime, you can upgrade your space for less than you'd expect. Make your rental feel like home! Plus, these are all landlord approved decor ideas that won't impact your security deposit.
In this article, I'll share the top 5 items we used to make a rental look more expensive and luxurious, from statement pieces to hidden gems.
As an added bonus, most of these decorating tips and items are under $50 and can be purchased easily with Amazon Prime. So, get ready to spruce up your space on the cheap!
This post contains some affiliate links. I may earn a small commission if you make a purchase through one of these links. See more information in my full disclosure policy.
Onto my top 5 items that I am so happy to have in my home.
Temporary removable wallpaper saved my grungy old bathroom in my rental apartment from being the saddest room in my home. This DIY product helped class it up a lot more AND best of all I didn't spend an arm and leg to renovate. These types of decorating ideas for renters in addition to wall decals are simple solutions like this that can make living in a rental so much more pleasant. The reason is you don't always end up with a rental with all the upgrades and the nice finishes. You have to work with what you have and make the best of it. Peel and stick wallpaper is GOLD!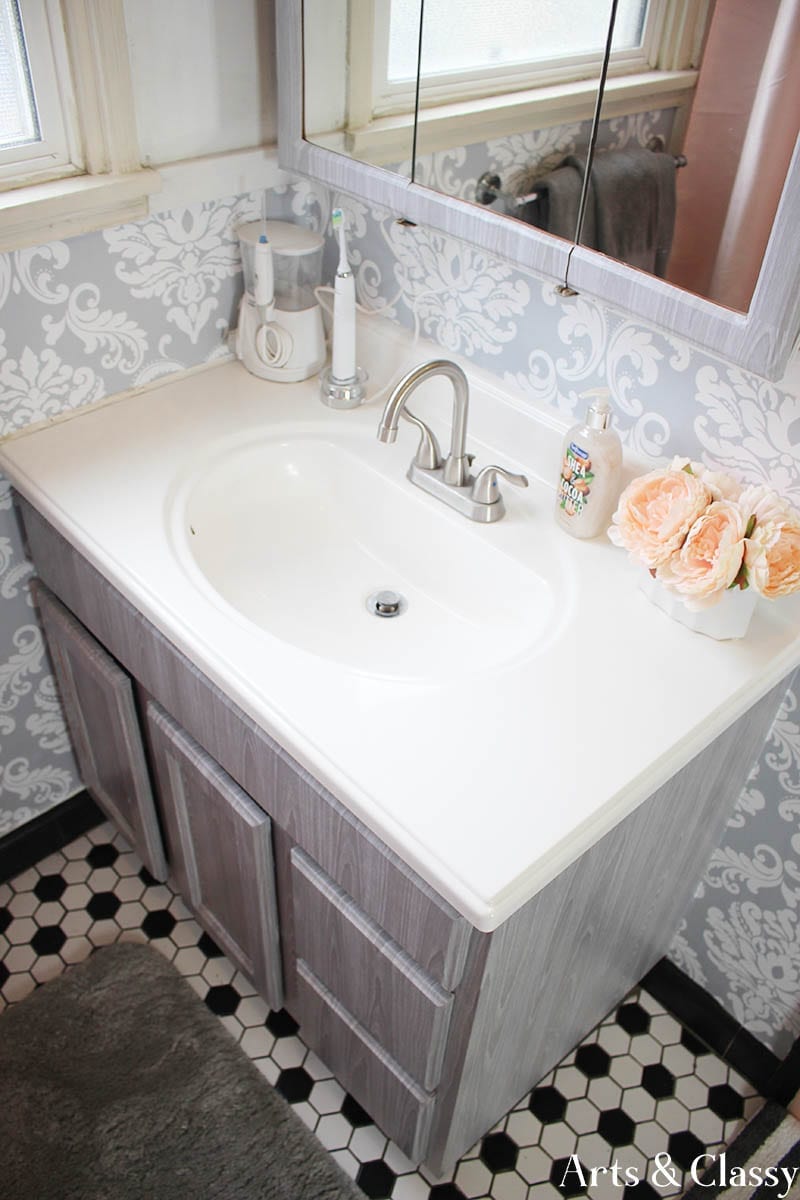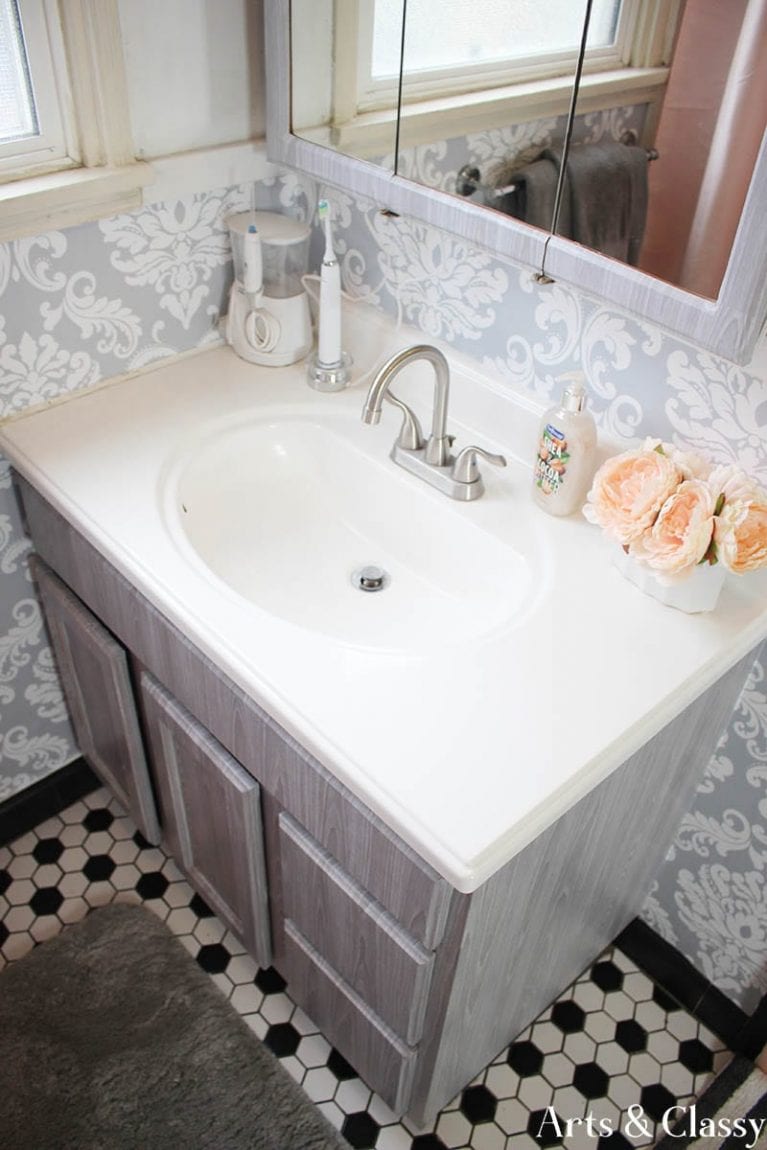 Shop more temporary wallpaper

For my bathroom makeover, I made the perfect choices with grey wood grain and black contact paper, along with peel-and-stick tiles. These products had the most significant impact on transforming my "blonde" wood grain vanity into a chic upgraded piece. The peel-and-stick tile added an extra touch of elegance. The best part? When it's time to move out, these upgrades will come off easily, ensuring our deposit remains intact. No worries about restoring it back to its original state!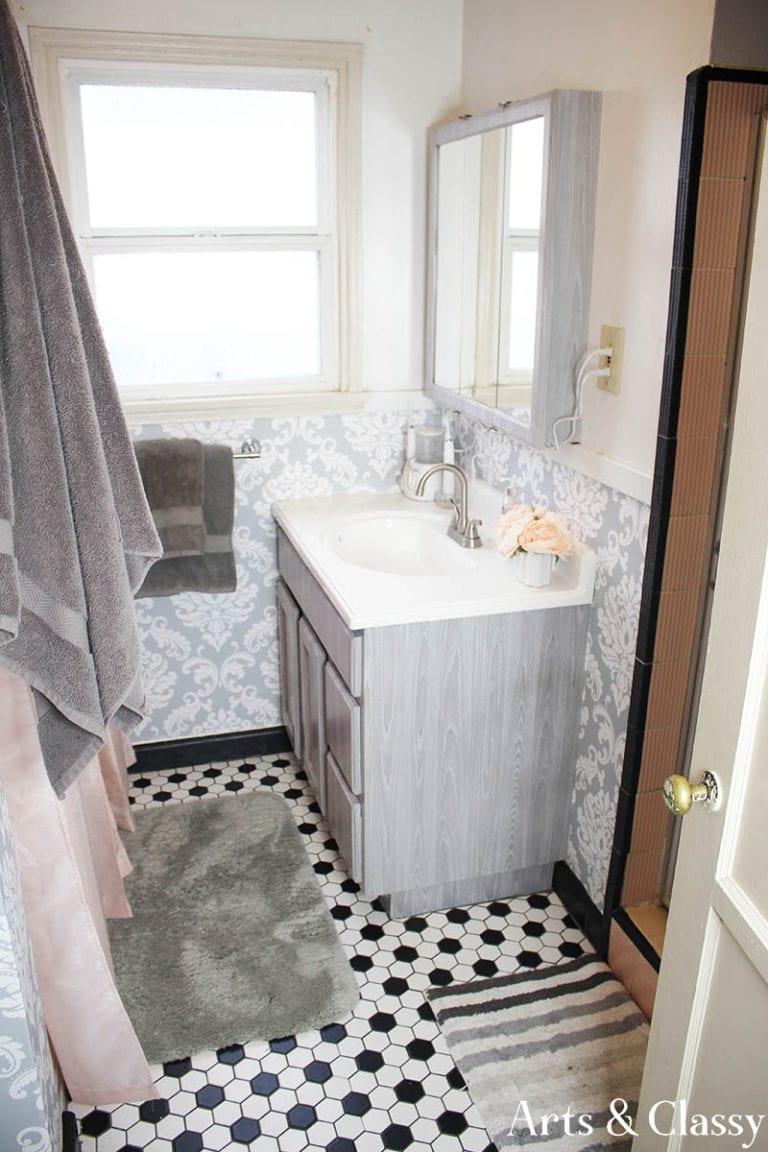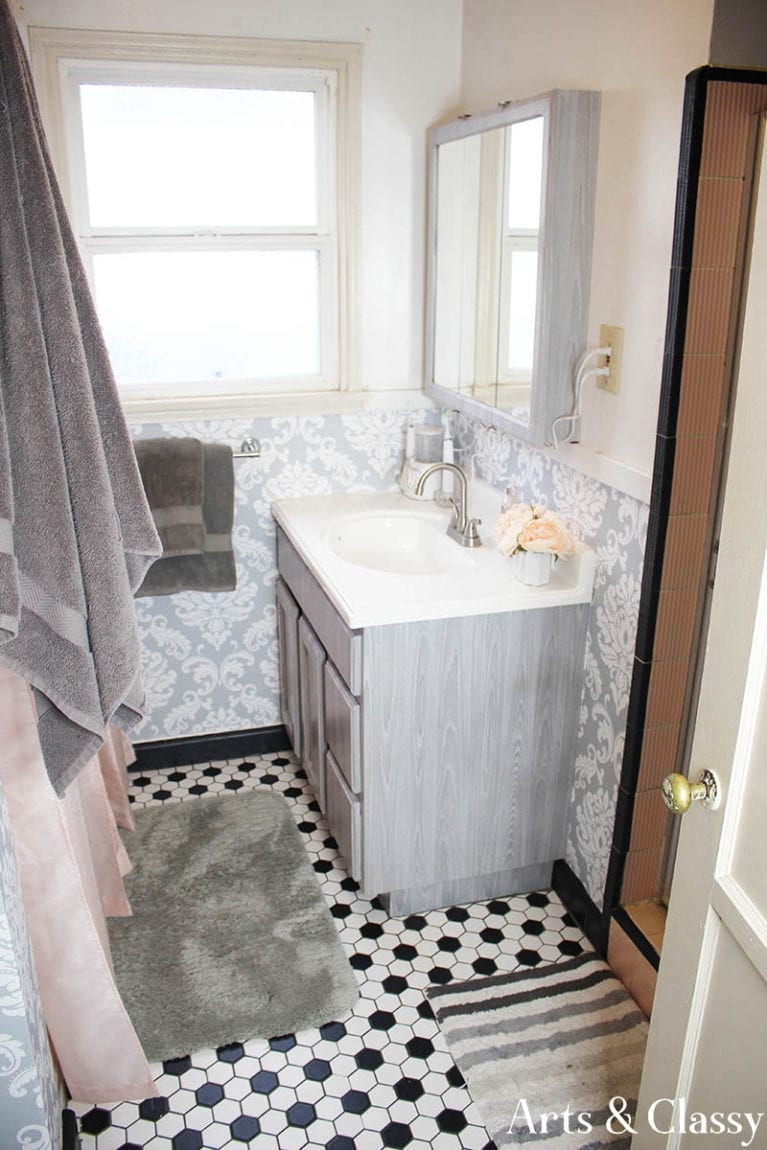 Shop more contact paper

For my living room makeover at the beginning of 2019, I added some fake plants to my home. One of the plants didn't come with a finished decorative planter. But, finding a cheap one on Amazon that looked nice ended up being the perfect decision for the design. These decorating ideas for renters are so simple and easy to throw together. The result… so lovely.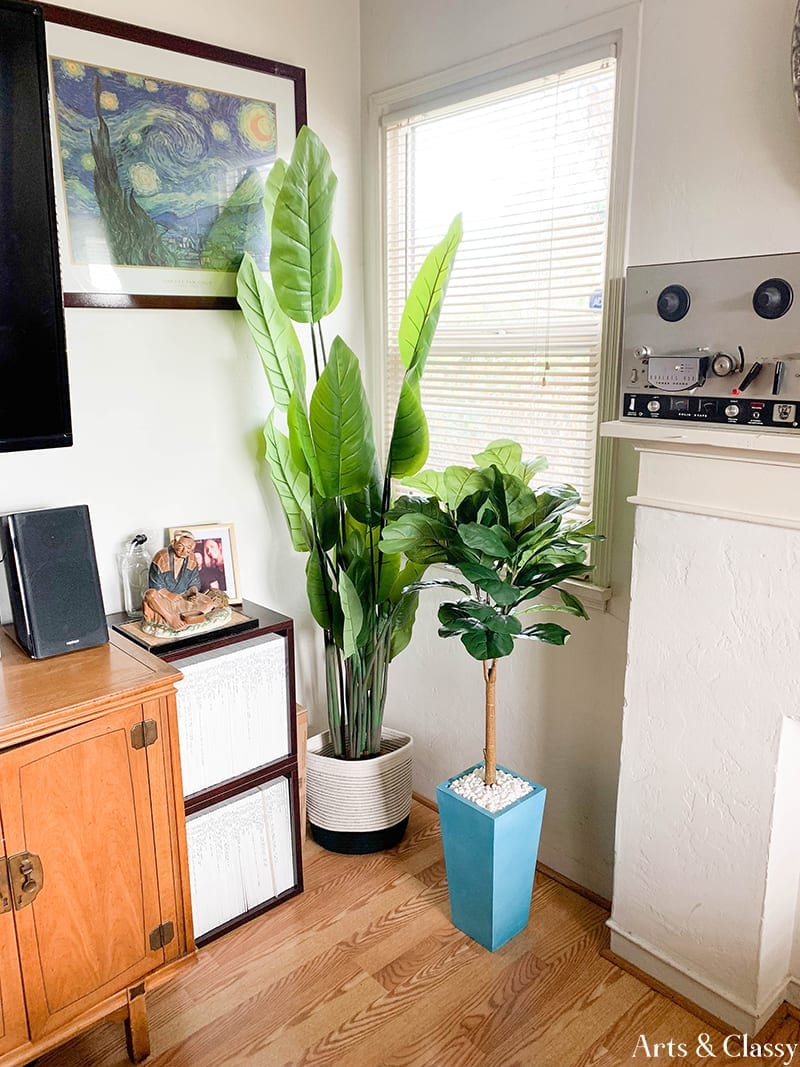 Shop more plant baskets and holders

In my home office, I have a glass window door that leads into my dining room. It made having privacy when I am working impossible. Distractions up the ring yang from pets and the fiancé. So I decided to try a stained glass window film to adhere to the glass. It did not disappoint. It was super easy to install and the results were so exciting! If you want to see the pattern on my door, I have a recent Instagram post that shows part of the door I am talking about. Check out the blog post to see the full tutorial on how to apply it.
Shop more privacy window film

One of the best ways to change with the seasons in your decor is to change out the accent pillows by using covers for your existing pillows. They are super inexpensive to purchase. Hell, I have even made my own without even sewing it. I used hot glue and it lasted forever.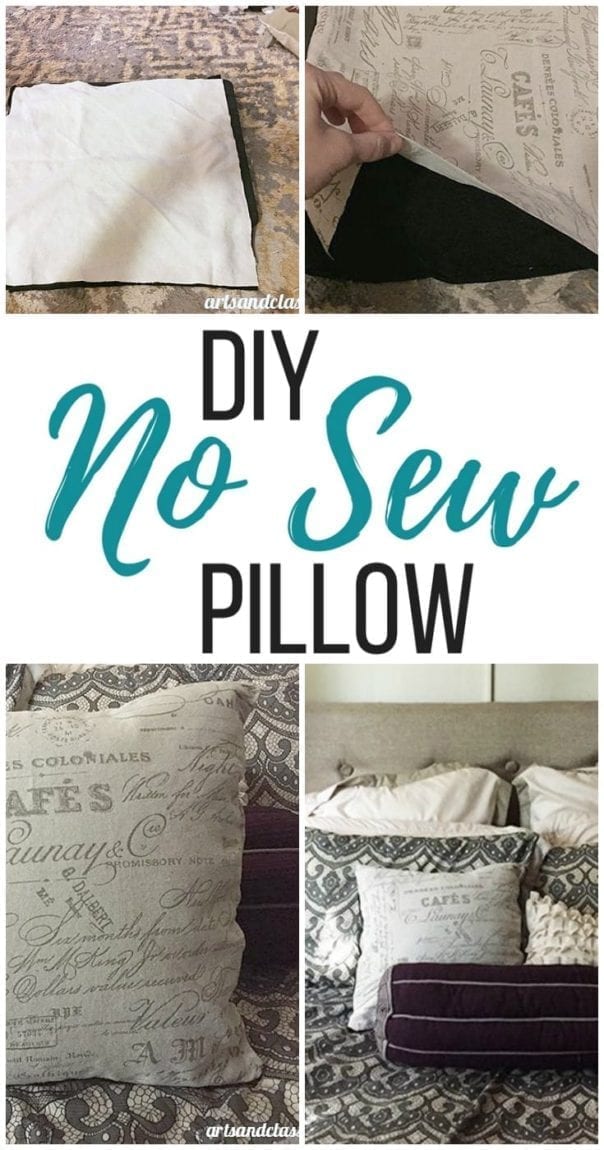 So what do you think of these items? Could you see yourself installing/using these decorating ideas for renters in your home? What do you need help within your home? I would love to know more so I a build the content I share around what you need help with. Let me know in the comments below.
Shop throw pillows + covers

Some amazing tips and product recommendations for renters looking to add a personal touch to their apartments. From stylish rugs to versatile shelves, artwork, curtains that make a statement, and unique light fixtures, I've got you covered. Discover how to work with an interior designer, find the perfect window treatments, and create a stunning accent wall. Get ready to transform your rental space into a place you can truly call home!
Discover how to work with an interior designer, find the perfect window treatments, and create a stunning accent wall. Get ready to transform your rental space into a place you can truly call home!
Make sure you are following me on Instagram, Pinterest, YouTube, Hometalk, and TikTok for more ideas on how to decorate your home!
If you enjoyed this post, you may also enjoy: