Secrets of a Bedroom Makeover Perfect for the Work-From-Home Professional
I am excited to be sharing my home office in the bedroom today. This little workspace has been an evolution over time. If you saw my Denver apartment tour when we first moved to this place, you will notice we have a "flex space" that was initially supposed to be my office.
Unfortunately, I never felt inspired to work there when it came to writing. I love working on my furniture projects and teaching online fitness classes in that area.
I decided to relocate my small writing desk to my bedroom next to our big beautiful floor-to-ceiling windows.
This worked for a bit when I was working full-time at a gym each week. When I did spend time in that space, it was enjoyable. The evolution of that original home office in the bedroom was showcased in my 5 Ways to Decorate Your Apartment on a Budget post.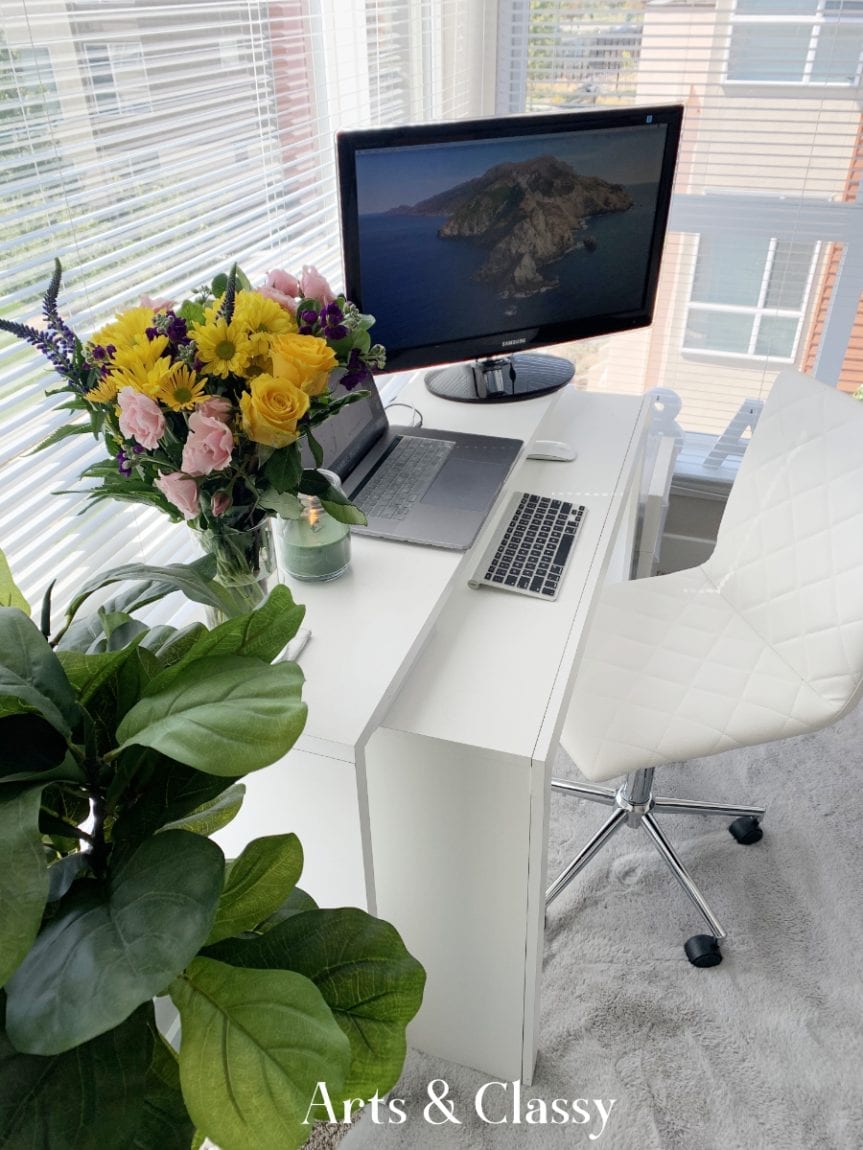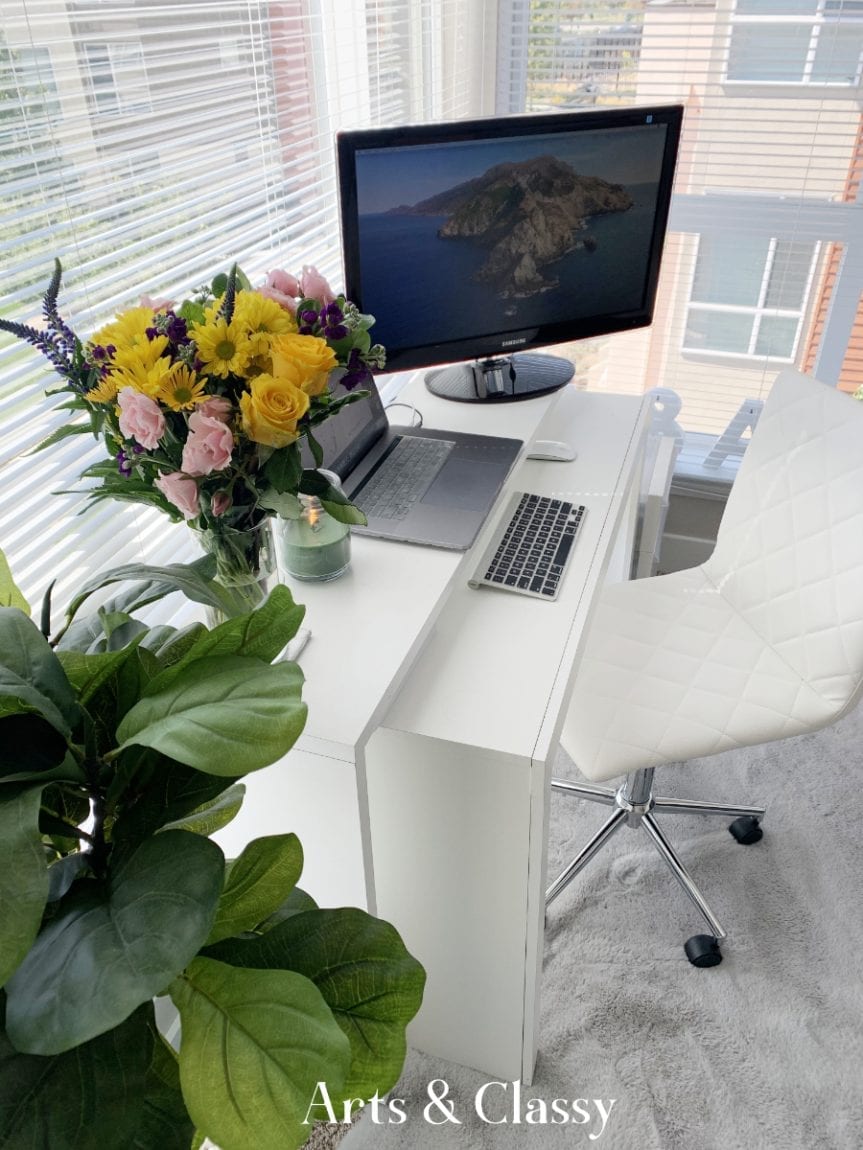 Now, based on the photo above some of you may be asking yourself… "Meredith, why did you change your perfectly cute home office space in your bedroom? It looked fine!"
I realize that it looked fine, but I just started a new job working from home 40 hours a week and sitting at that little desk and chair for 8 hours a day wasn't going to work for me.
My husband also works from home and loves having an adjustable standing desk to switch up his accounting work from his music work during his days. Having options are nice.
I decided to bite the bullet and invest in some quality office furniture. I started with the Autonomous Avo Chair and the SmartDesk 2 Premium.
*By selling my smaller desk and chair on Facebook Marketplace I recouped some of the cost of my investment in my new home office furniture. The buyer was elated to have it in her small apartment.
My first mistake in this transition to making my home office conducive to my new job was desk placement.
This new desk was much wider than my last one. It just wasn't going to work the same in front of my window as the smaller desk. Another consideration was that I had to think about moving the hutch under my mounted TV. I planned to shift the desk to the left corner.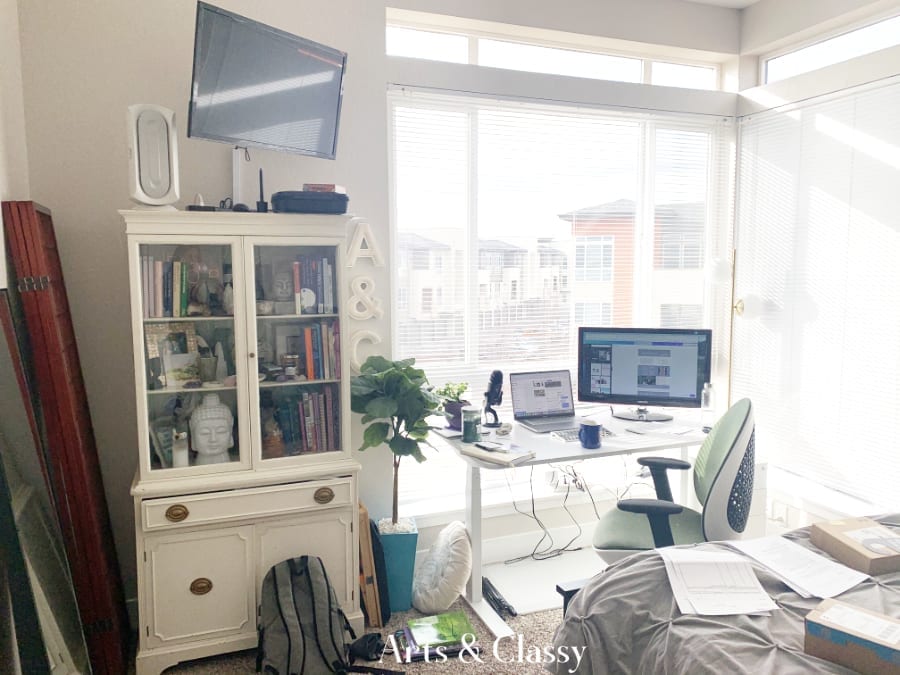 After a lot of thinking about it, the result was a making the shift. Check out the AFTER photos of what my work-from-home office in my bedroom now looks like.
It's very natural, zen, and functional for what I will be doing 40 hours a week from home. Online Health Coaching is now my main gig and I am loving working from home so far!!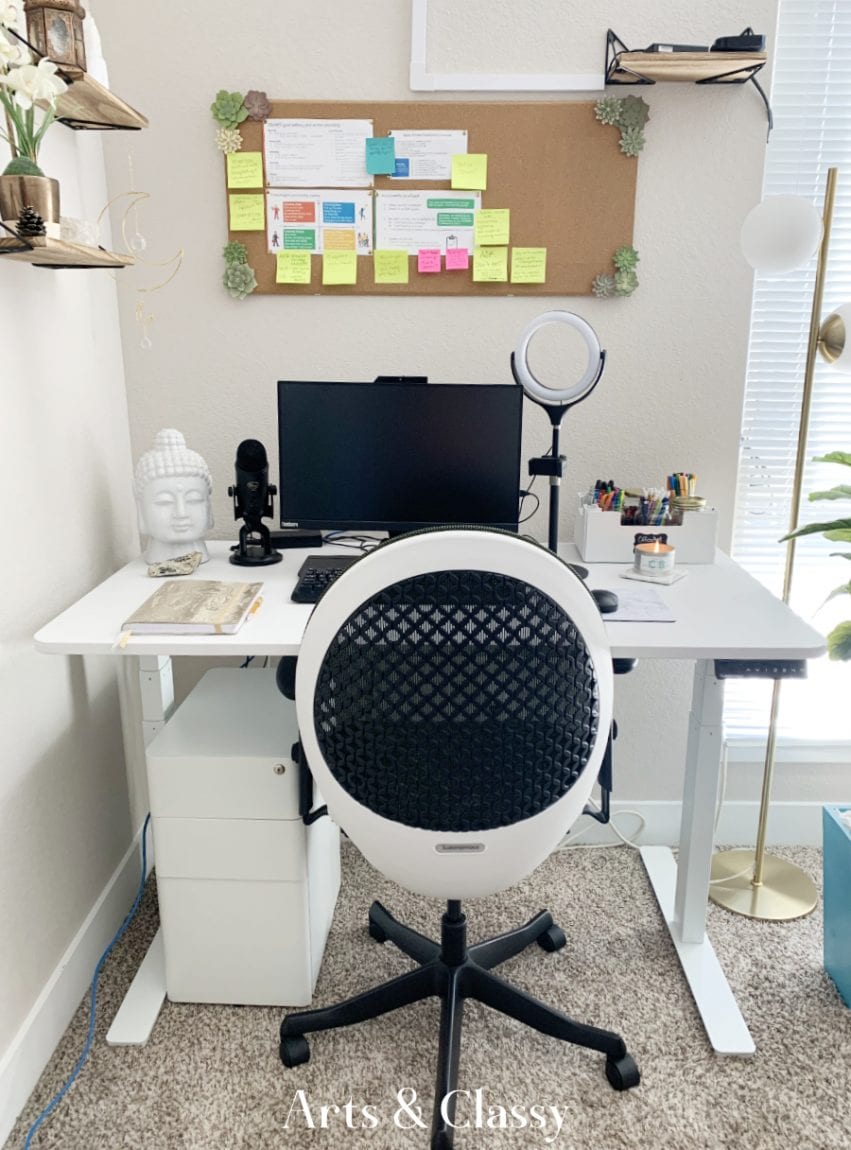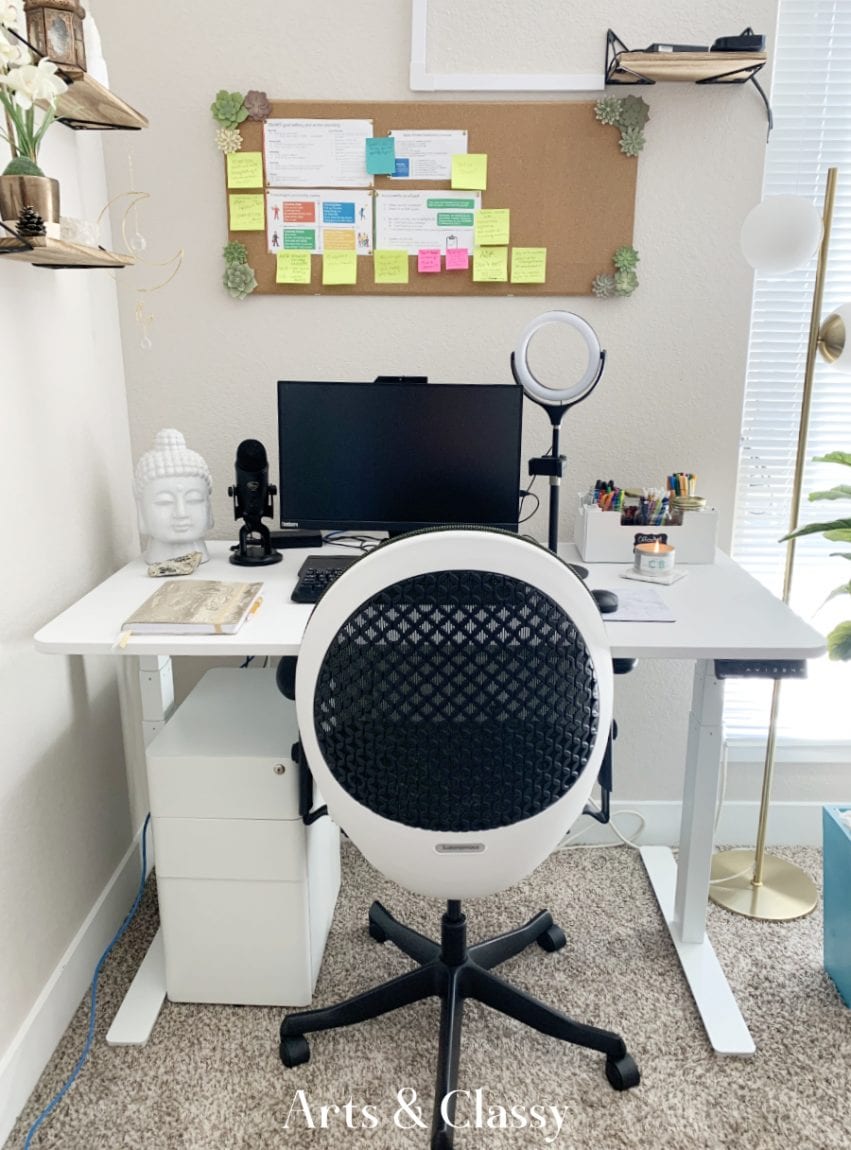 Dressing the floating shelves was fun and simple. I didn't want this little area to feel too cluttered. All the decor items that I already had around the house and the ones that I recently purchased came together quite nicely.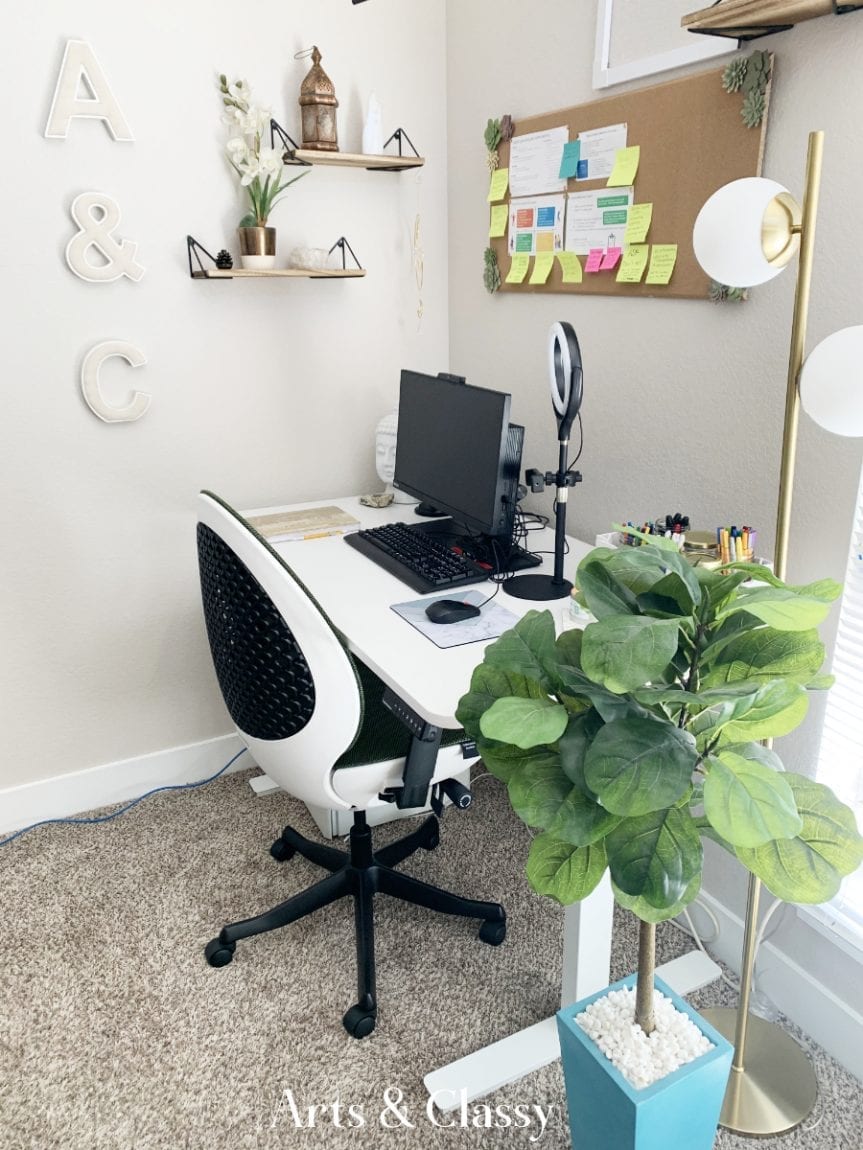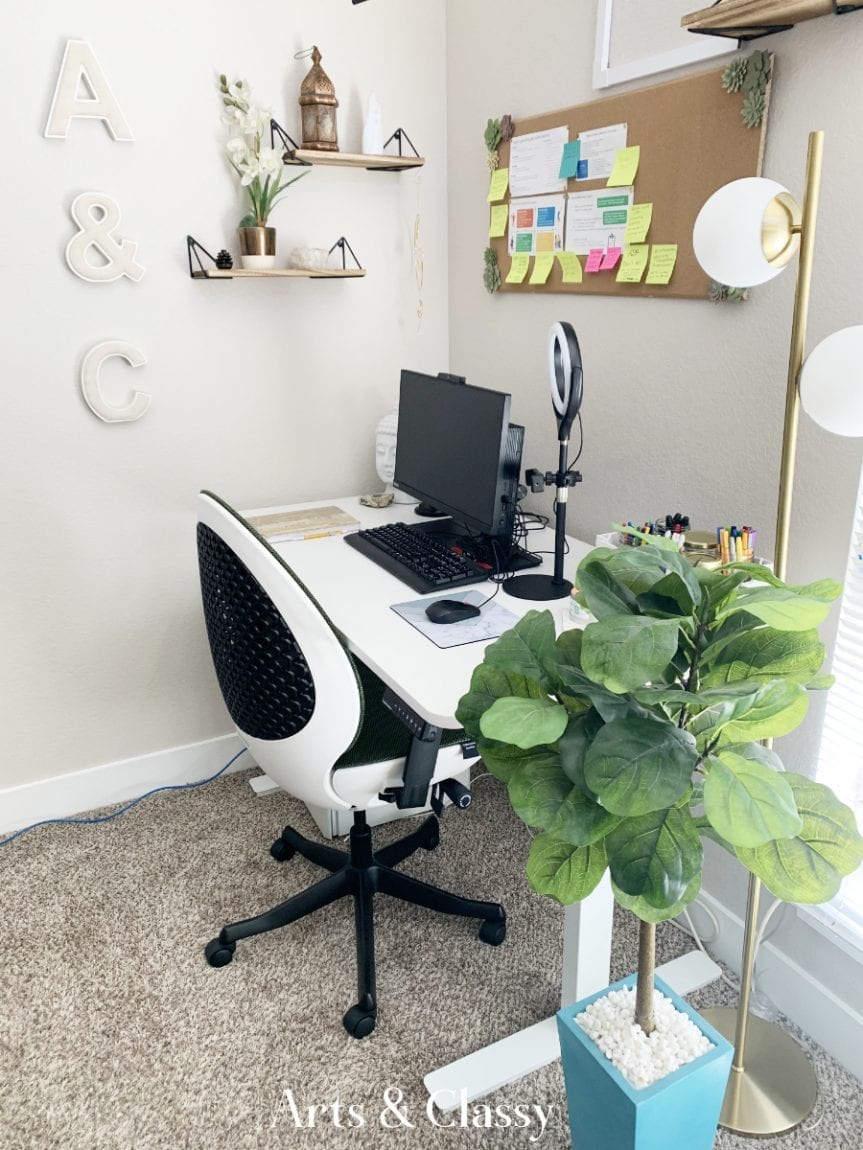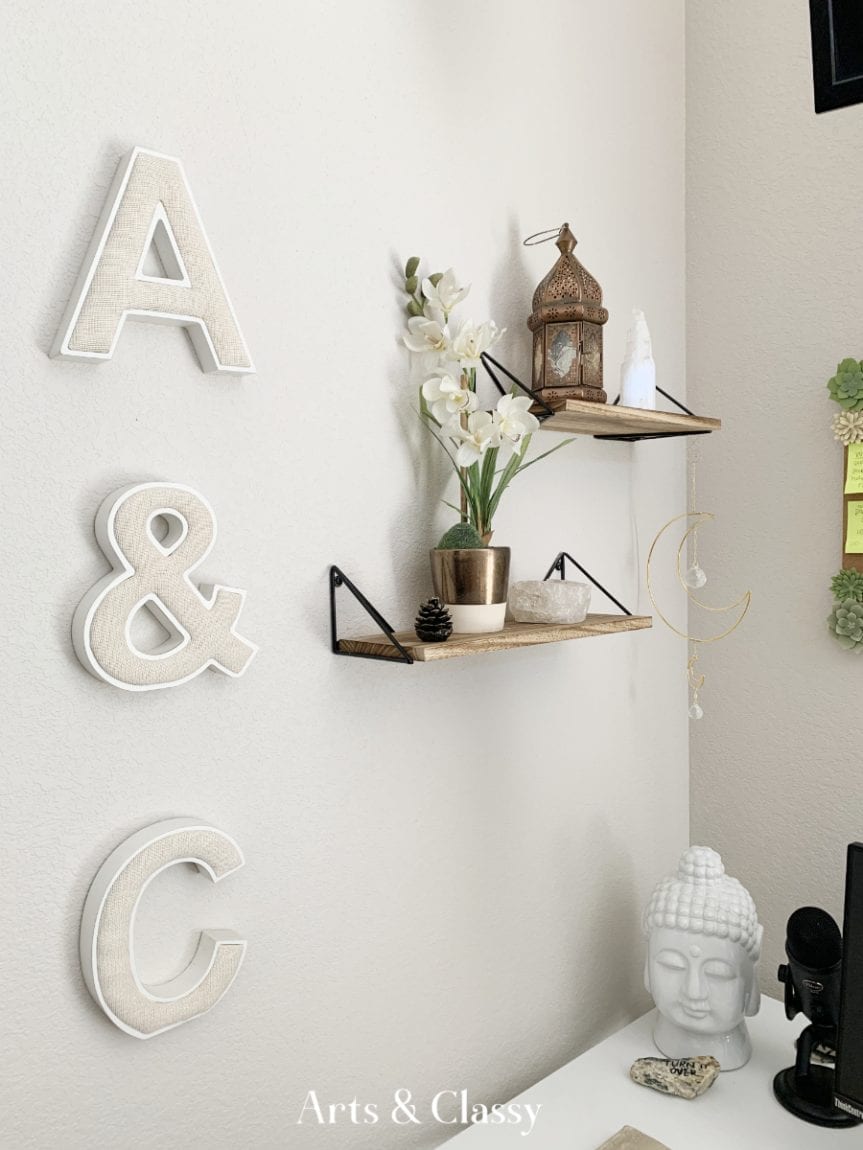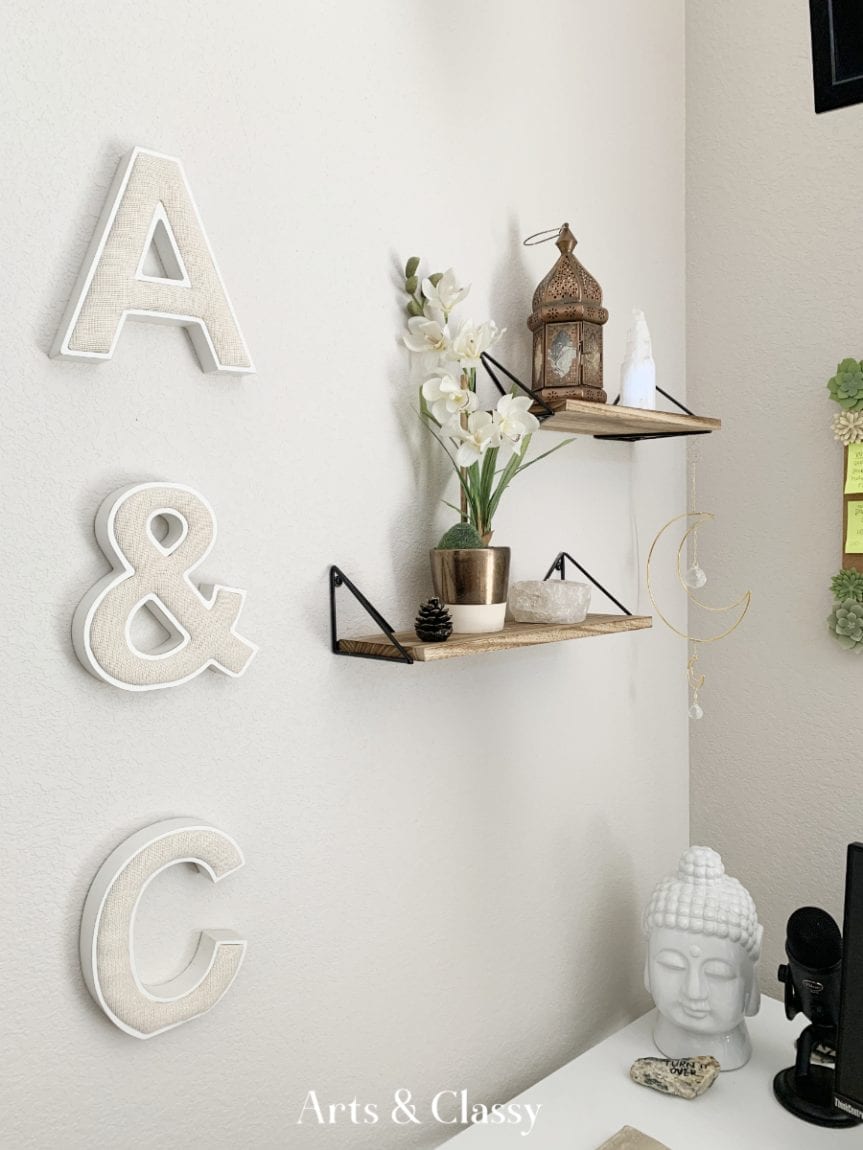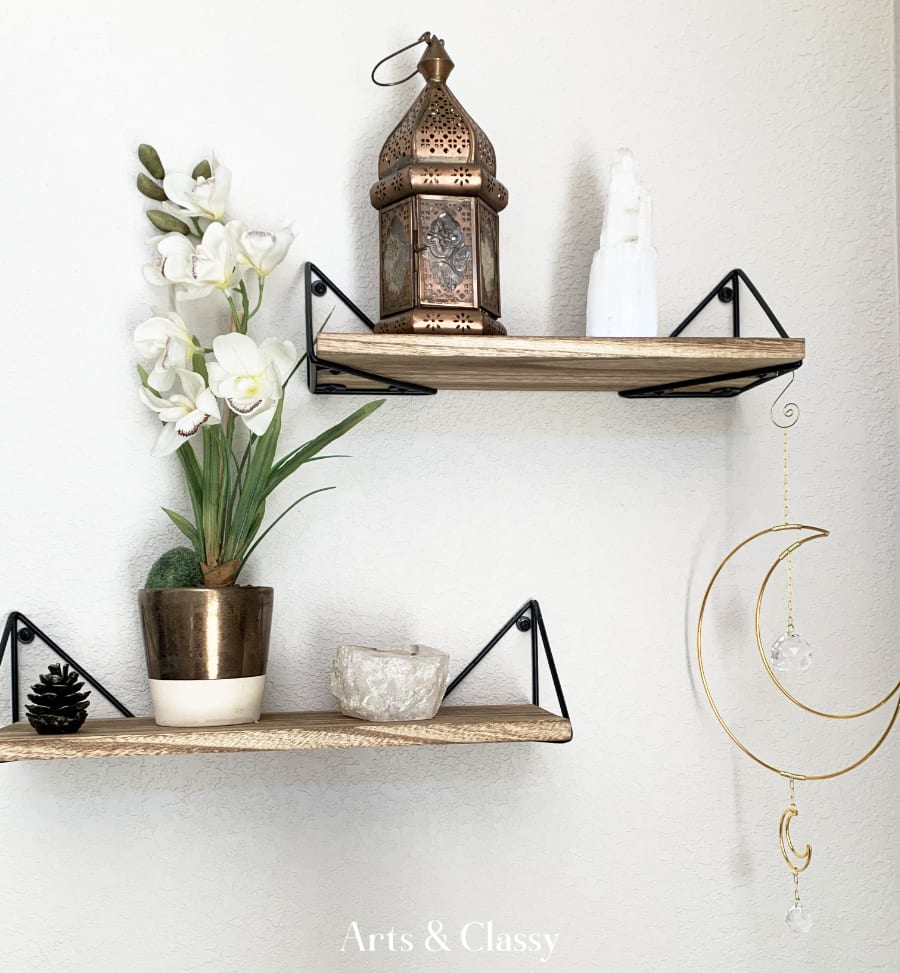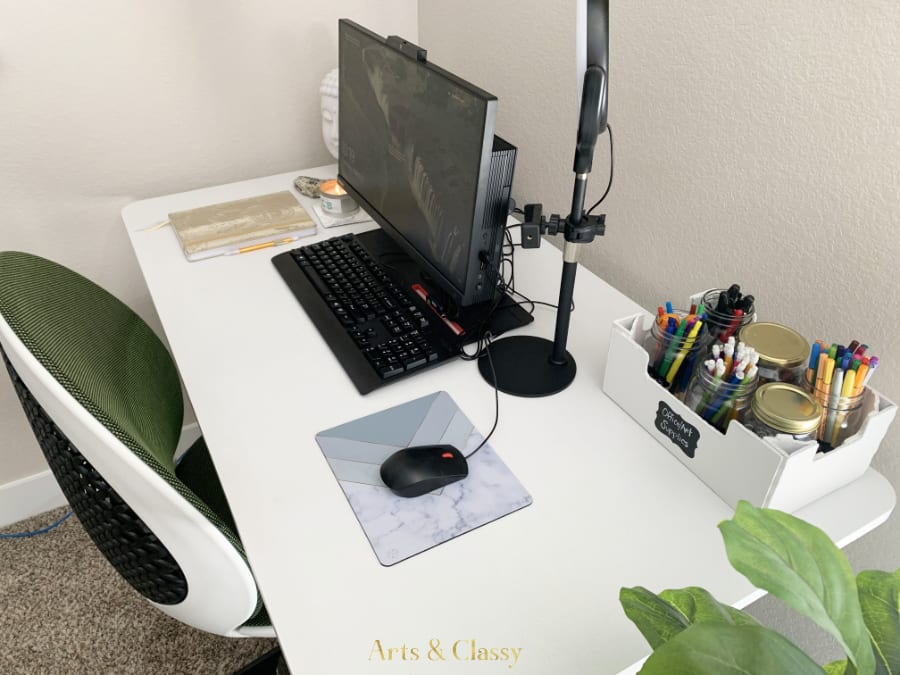 If you liked this crescent moon hanging decor above, you have to check out my friend's online store. She makes these by hand! Check her out at her ThisAndaThat store!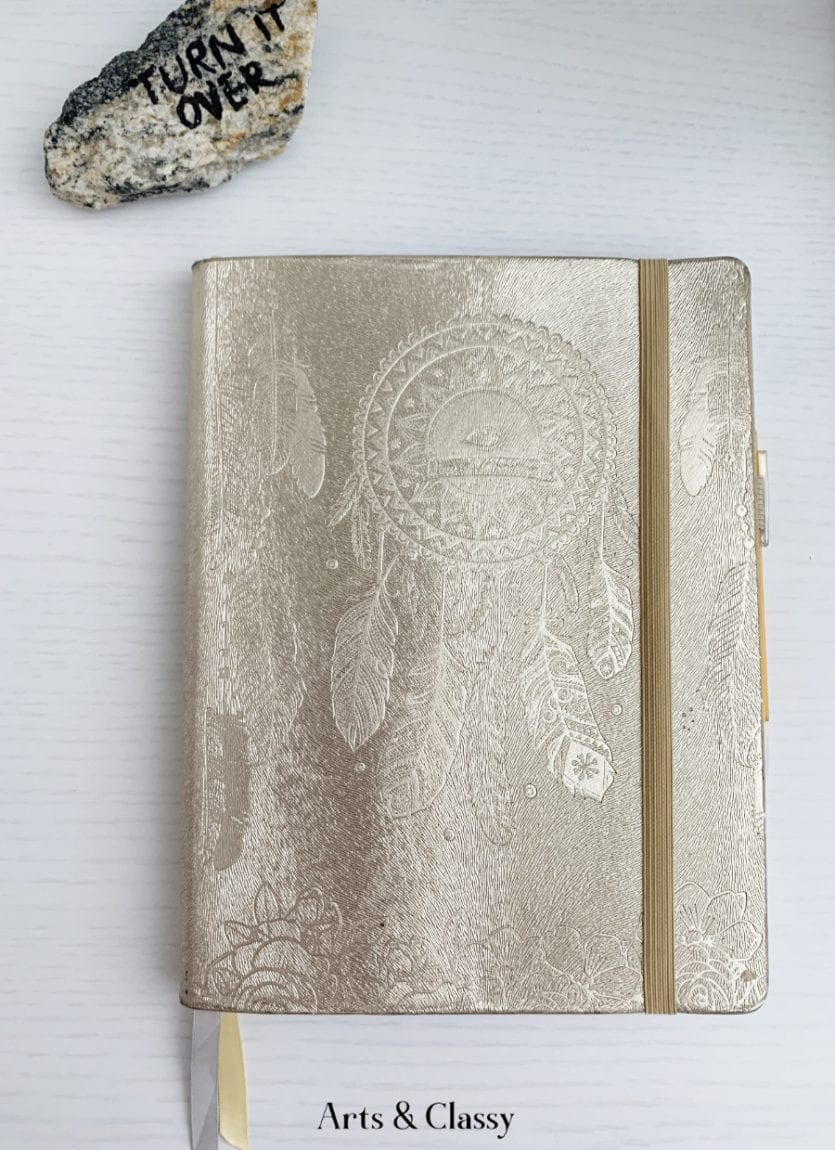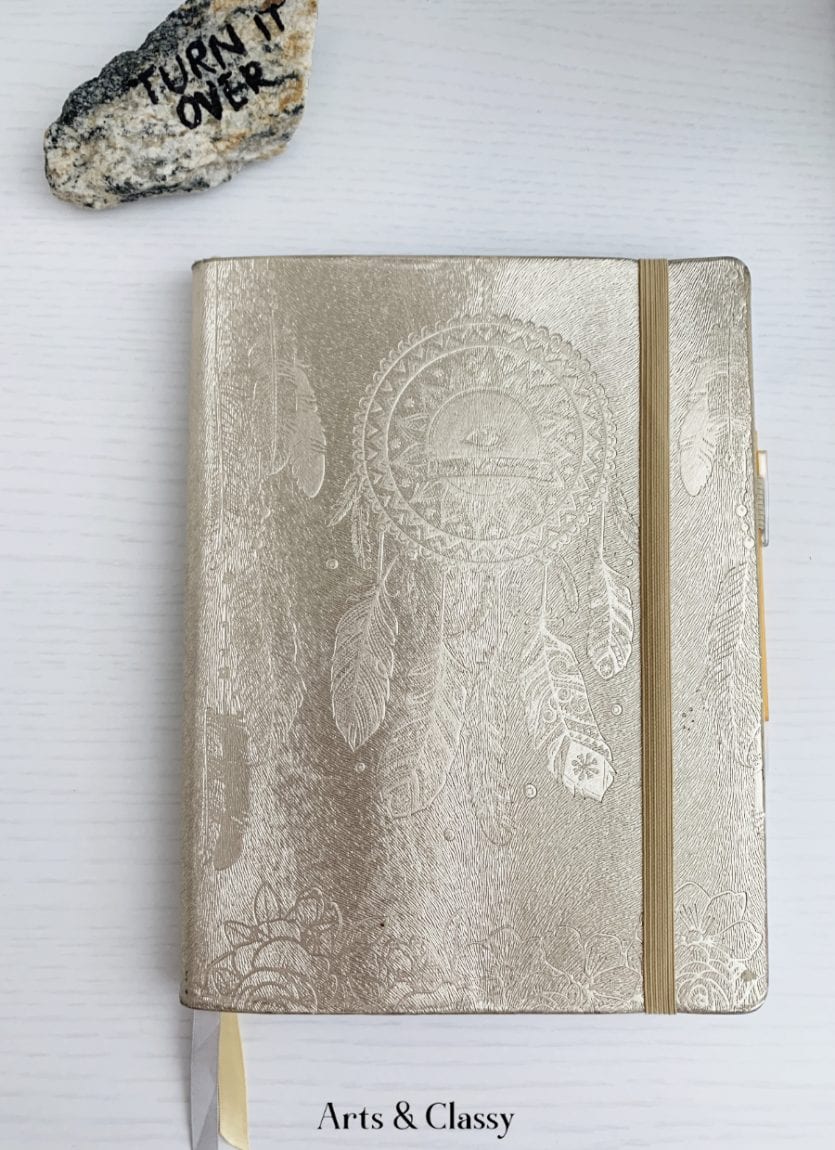 I wanted to share the items I used (or similar ones) if you find something you like and want to incorporate in your home office. (some links are affiliate links below)
Items used in my home office for the bedroom makeover:
The Computer (was provided to me by my new job. It is a Lenovo PC.)
I hope you liked this mini home office in the bedroom makeover. I am really enjoying being in this space 5 days a week. It feels relaxing, and safe, yet I am still able to get everything done. I love checking tasks off my to-do list. Let me know what you think in the comments below.
If you enjoyed this post, you will also like: