Surprising and Incredible Ways to Bring Fierce Spring Time Inspiration Into Your Life!
Hello readers, I am so honored to have Guest Blogger Michelle write about inspiration boards and how they can help you get organized this spring, please read and enjoy!
Get Creative with Inspiration Boards this spring!!
An inspiration board is a collage that represents your dreams, goals, and inspiration. There are many uses for inspiration boards and their popularity is reflected in social media sites like Pinterest.
Inspiration boards are invaluable when planning an event such as a wedding, vacation, or the arrival of a baby. It is a place to experiment with ideas before committing to a finished product. It helps to organize your vision and realize your dreams.
There are two basic methods of creating an inspiration board.
A paper version uses a poster board, which involves physically cutting, and pasting photos, paint chips, and swatches. The other method involves using software to create a digital version.
For those who love tangible things, a paper inspiration board is fun and easy to create. You can use either a poster board or a cork board. Organize your materials, photos, and swatches, and get creative. If using a poster board and glue, it is a good idea to experiment with the layout before actually gluing it down. If the inspiration board is a corkboard, you can change the layout easily without damaging the materials.
Physical boards don't have to be boring. There are many creative ways to decorate the board itself. For example, you can glue ribbon across an empty picture frame and use paper clips or painted clothespins to hang inspiring photos. A basic corkboard can be dressed up with a remnant of pretty fabric and the poster board comes in a variety of colors.
Digital inspiration boards are very popular. Social media sites like Pinterest and programs like Photoshop, allow users greater flexibility and detail. The biggest benefit of using digital inspiration boards is that they can be stored on your phone or tablet, which means they are on hand when you shop.
There are many online tutorials, which will help you navigate the software to create a professional result.
Whatever goal or event is being planned, can benefit from an inspiration board. They help you stay organized and motivated to complete the project. It should be a personal reflection of your goals and include the things that motivate you.
Keep this visual reminder of your goals in a prominent place so you receive daily inspiration and motivation.
Check out the below inspiration board: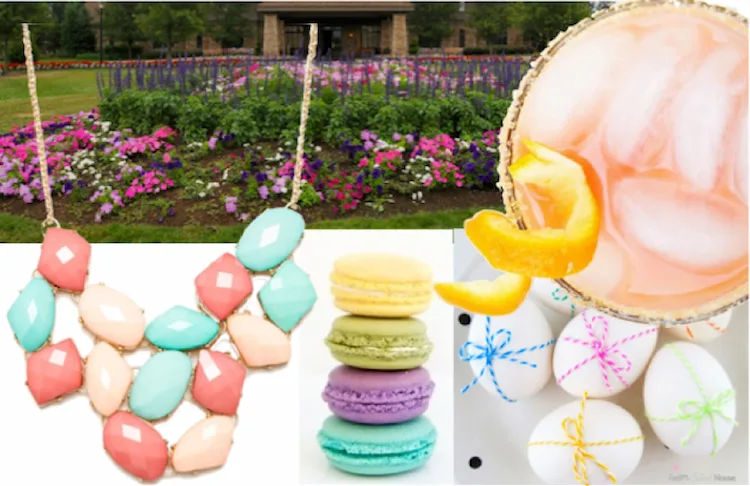 Easter is early this year, and with these winter weather storms still bringing us snow, it's hard to plan for a spring holiday like Easter. Whether it's an Easter brunch you're planning for a family, or just planning a get-together with friends, an inspiration board can help you plan all the details. 
What inspires me about spring is color. All the beautiful colors that we see in flowers and clothing are inspiring. Bright and pastel colors give off that feel-good vibe.  Incorporating spring colors is a great way to break away from gloomy winter. Bright and pastel colors are the theme for my inspiration board.
If you liked this post, you may also like:
Download your free printables.
Subscribe here to never miss a single inspirational post! And receive your free Spring Printables, too!