Back in December of 2014 I had been blogging for about 2 years as a hobby. I was stoked that I was making just under 40k page views per month!
I was in the same place as you. I didn't know really how this whole blogging thing worked. I was still working on my knowledge and testing new methods to bring more traffic to my site. It was a lot of trail and error.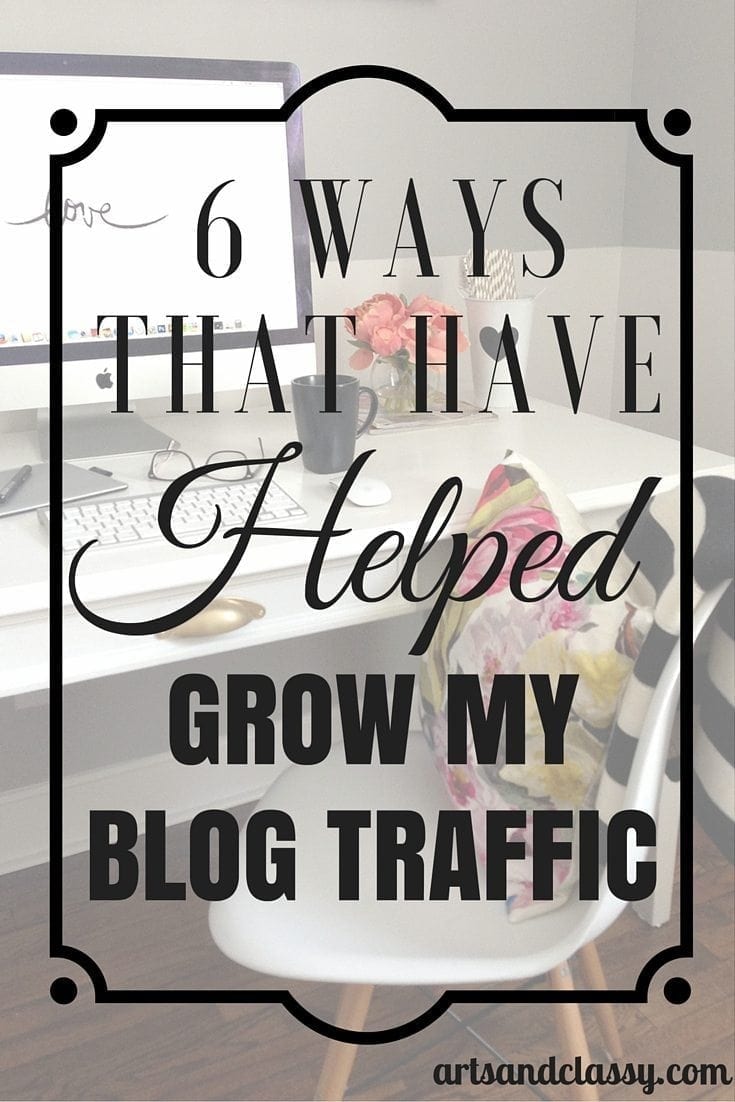 Little did I know that once I started treating my blog as a business and really began hyper focusing on my growth, stats, income, and expenses traffic and income would grow exponentially.
Check out my Blog Traffic & Income Report for 2015.
Now I know my methods really have worked to grow my traffic and I want to tell you about it!
I believe that there is enough room in this vast internet universe for us all and I want to show you how I got to the point I am currently at.
Hopefully you can apply some of these techniques to get the results you are looking for.
Here is a screen grab of my Google Analytics from December 2014.
I want to show you how much growth I am talking about.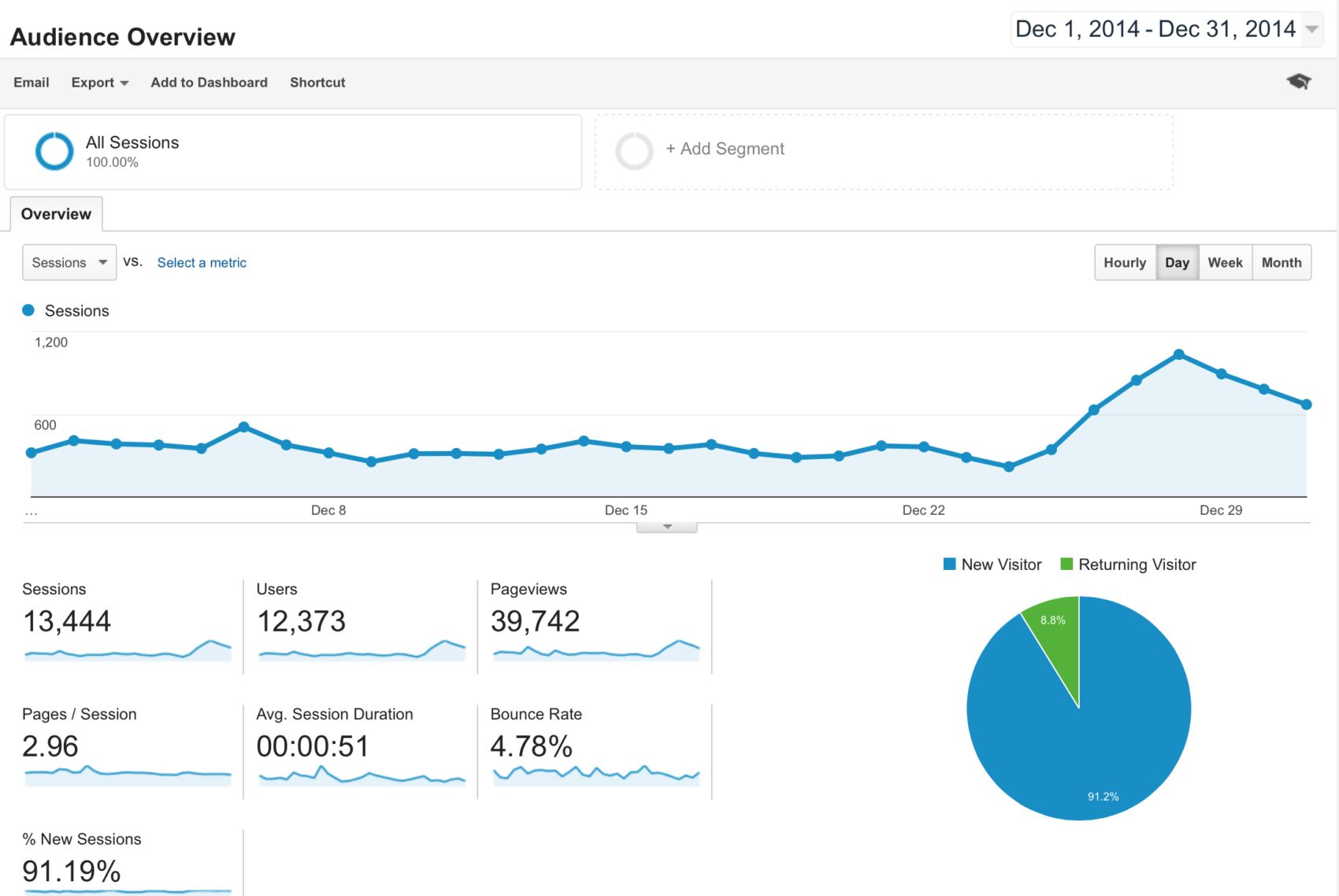 Here is a screen grab of my Google Analytics from October 2015.  
Can you believe how much my blog has grown in traffic?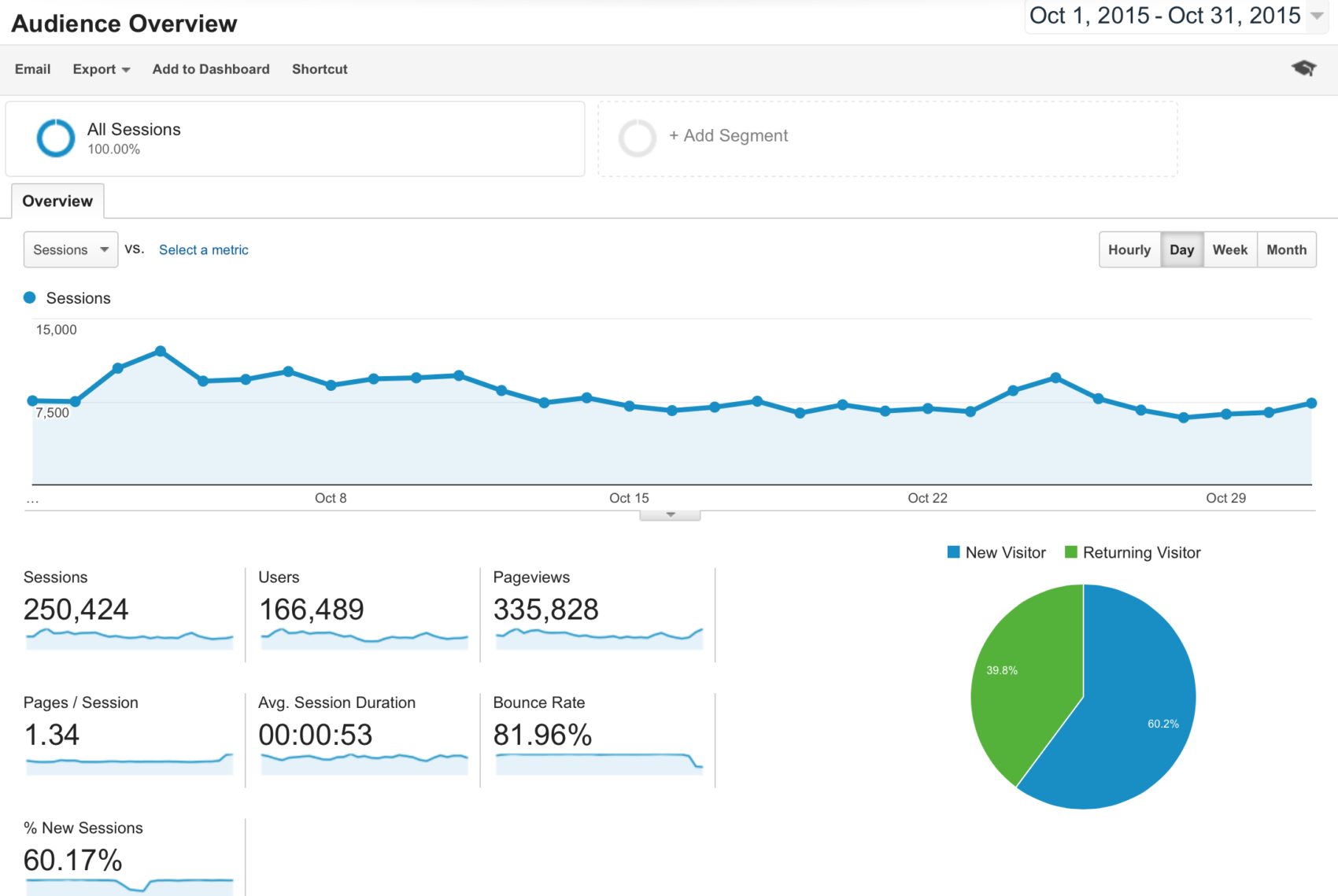 So how did I increase my page views by 296,086 within 10 months?
I will show you!
1. PLANNING: This is crucial with any goals you are trying to achieve. It is about having the right tools to achieve your desired goal! I use 3 tools to help me stay on track. When you are paying attention and focusing on your goals and every step you take that needs to fall in line with your ultimate goals.
The Epic Blog Planner – I talk about this planner on every blog and traffic income report because it really has helped me stay on task and helps inspire me to make a more structured plan for my blog and business. Looking ahead and helping work towards my big scary goal makes this planner super valuable and the woman hat created it, Regina, from byregina.com has so much amazing quality content for people starting their own business or blog. She gives a lot of content away for free.
The Day Designer – This daily planner helps me track my day to days tasks that need to be completed. It love how pretty this planner is and it really helps me stay on track during the week when the Epic Blog planner is great when used on a monthly basis. The day designers smaller size makes it more desirable to have on me at all times.
Awesome Note App – I am a Chalene Johnson addict. If you don't know her and your are trying to make your business/blog online a success, she is your gal! She gives away so much free content across so many platforms. She has 2 podcasts, she is all over Periscope everyday, and every other social media platform. She recommended this app to help keep her to do list on her at all times. She has an awesome free 30 day program called 30 Day Push to help challenge you to planning your days and week a habit and in alignment with your PUSH goal aka your ultimate goal! Did I mention this challenge is free to participate? Do. It.
2. PINTEREST: I am pretty amazed at the power of Pinterest. I have been on this platform since 2010 when it began, but didn't really leverage it to gain more traffic over at the blog when I started Arts in Classy back in early 2012.
What I discovered, was once I pinned some of the images directly from my site to my pinterest boards I would see a spike in traffic. After about 6 months of playing with it, I realized that pinning regularly from my site was a good method.
The GAME CHANGER was group boards. Once I was invited to a couple and I was pinning some of my pins I saw a huge spike in my traffic.
I discovered a site called pingroupie.com  that helps you sort through all the group boards on Pinterest based on the niche you are researching. Once I joined some larger group boards with hundreds of thousands of followers, I experienced a post going viral!
Back in February, I wrote a post called How To Make Your Home Look More Expensive On A Dime. I didn't realize that this post would be so exciting for readers! This post when viral on pinterest and has helped me bring in about 100k page views within a month alone.
Also, I really made it a priority to make my images more alluring and my descriptions for my pins more exciting to make people want to click. I have made all my images myself with the help of Photoshop and Canva.com.
3. TAILWIND: 
This is a service that allows you to automate your pins to your boards and group board on a schedule that you set. Words can not express my love for this service. One of my goals was to spend less time on my social media.
Since Pinterest brings over 60% of my traffic to my site, investing in their service was a no-brainer.
You can spend $15/mth to schedule 400 pins a month or you can spend $120 for the year and schedule as many pins as your heart desires.
I currently have about 2500 pins scheduled in my Tailwind account. This carries me through December!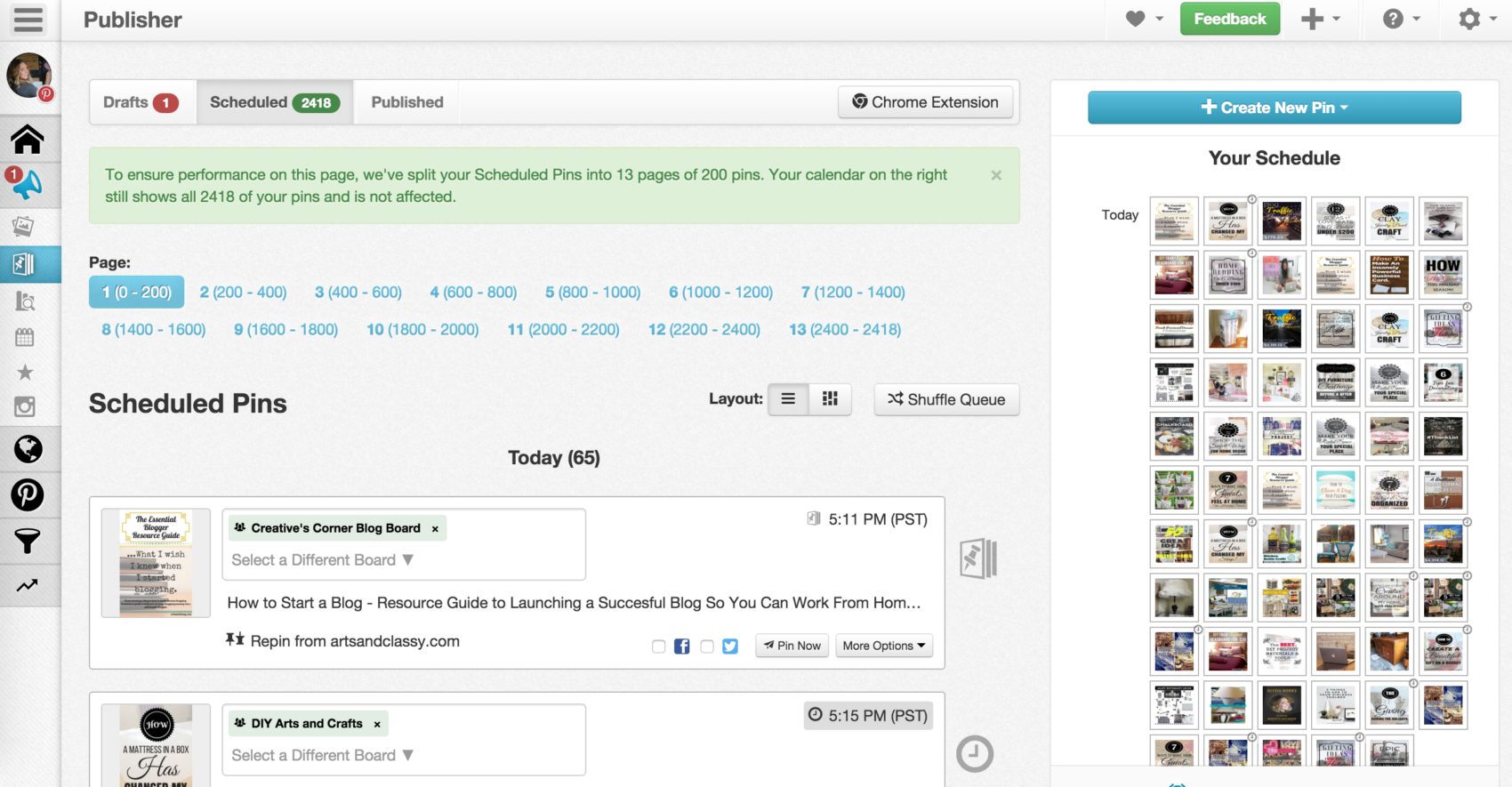 I hardly have to look at my Pinterest anymore for work. I must say I am on it a lot for research and inspiration for future projects.
Did I also mention that it allows you to pin from your own Instagram? This is awesome.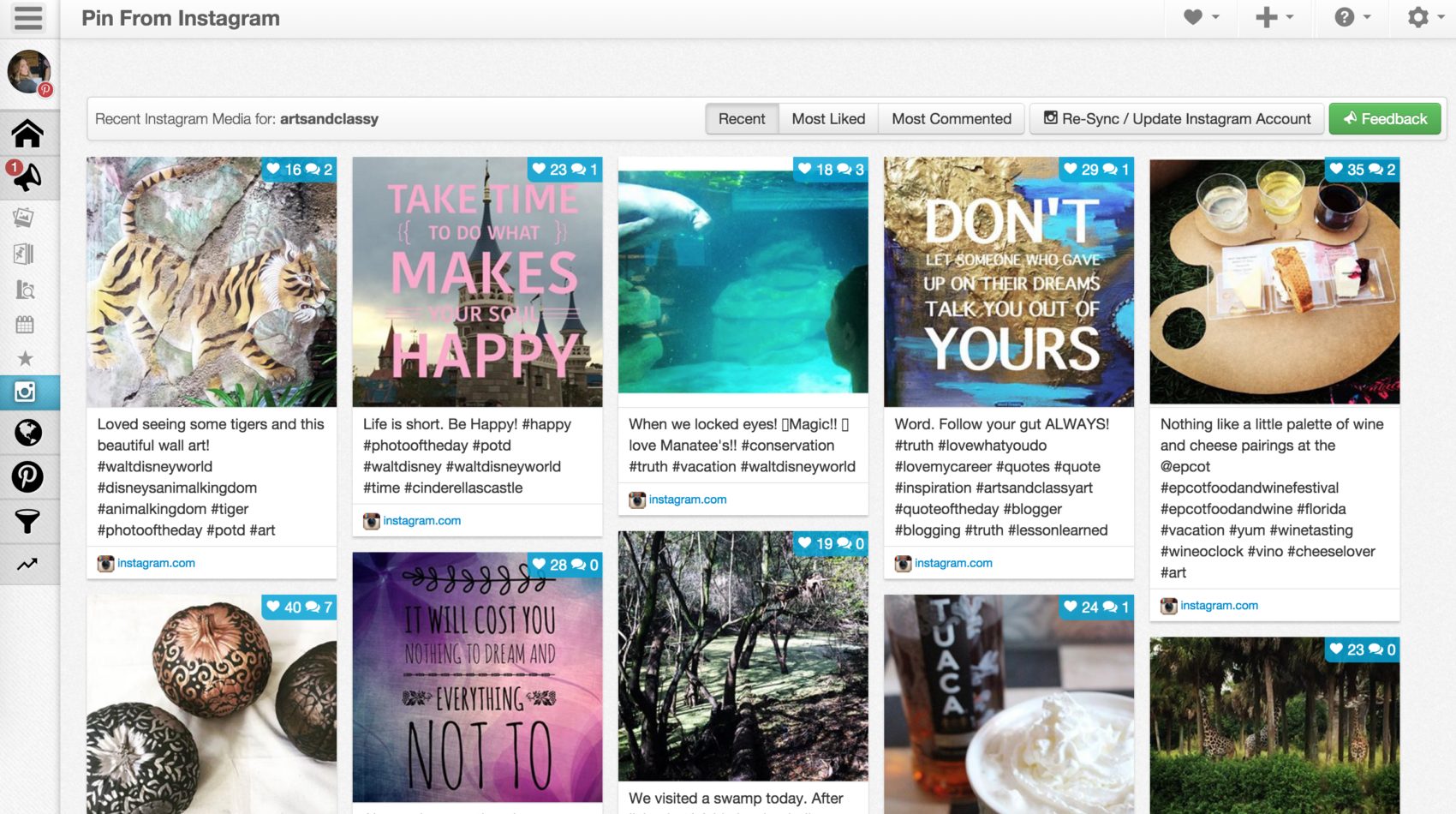 You can try Tailwind for free and schedule 100 pins. I highly recommend at least trying the free 100 pin trial.
4. SWITCHING MY WEB HOSTING: I began my year with GoDaddy for my web hosting. Once I began getting about 5k page views a day, my site began crashing constantly. It was sooooooo annoying having to call GoDaddy repeatedly (wait on hold for about 18-20 min) to only have them tell me they don't know why my site is crashing. Or I would get this… "We are doing maintenance on our end which is why your site might be crashing."
I don't know about you but I think if they are actually doing maintenance, they should give their customers a heads up before they do it. Thats just me.
I ended up switching my web hosting after dealing with that frustration for about 2 weeks. I switched to BLUEHOST!
What I wish I would have done was paid for BlueHost to switch over my hosting for me. I didn't realize how much work it was. I felt so lost and confused. But the silver lining is that I learned a lot and the BlueHost reps were so kind to walk me through everything.
Even with all my silly questions. They were awesome.
NOW I never have a problem with my site crashing and it doesn't take as long to get to a person when I need assistance.


5. LISTENING TO PODCASTS: I am not sure if you are aware how valuable Podcasts are and Periscope Broadcasts are! I began listening to some awesome ones on my commutes to and from work.
Don't let that valuable time get away from you from learning something new each day. I also like to listen to these when I am getting ready in the morning or in the shower.  Also, don't forget to set aside time each week to implement what you learn. 
My 13 recommendation Podcasts:
6. MEET EDGAR: As I said above, one of my goals was to free up my time from social media. For this one you have to apply for an invitation. Mine came within about a week. But I started with this program was still young.
This social media automation tool works with Facebook (profile and page) + Twitter + LinkedIn. Since I keep a regular posting schedule every day throughout the day, it has helped me grow my traffic, social media following, and social shares.
Here is an example of what my daily social media schedule looks like!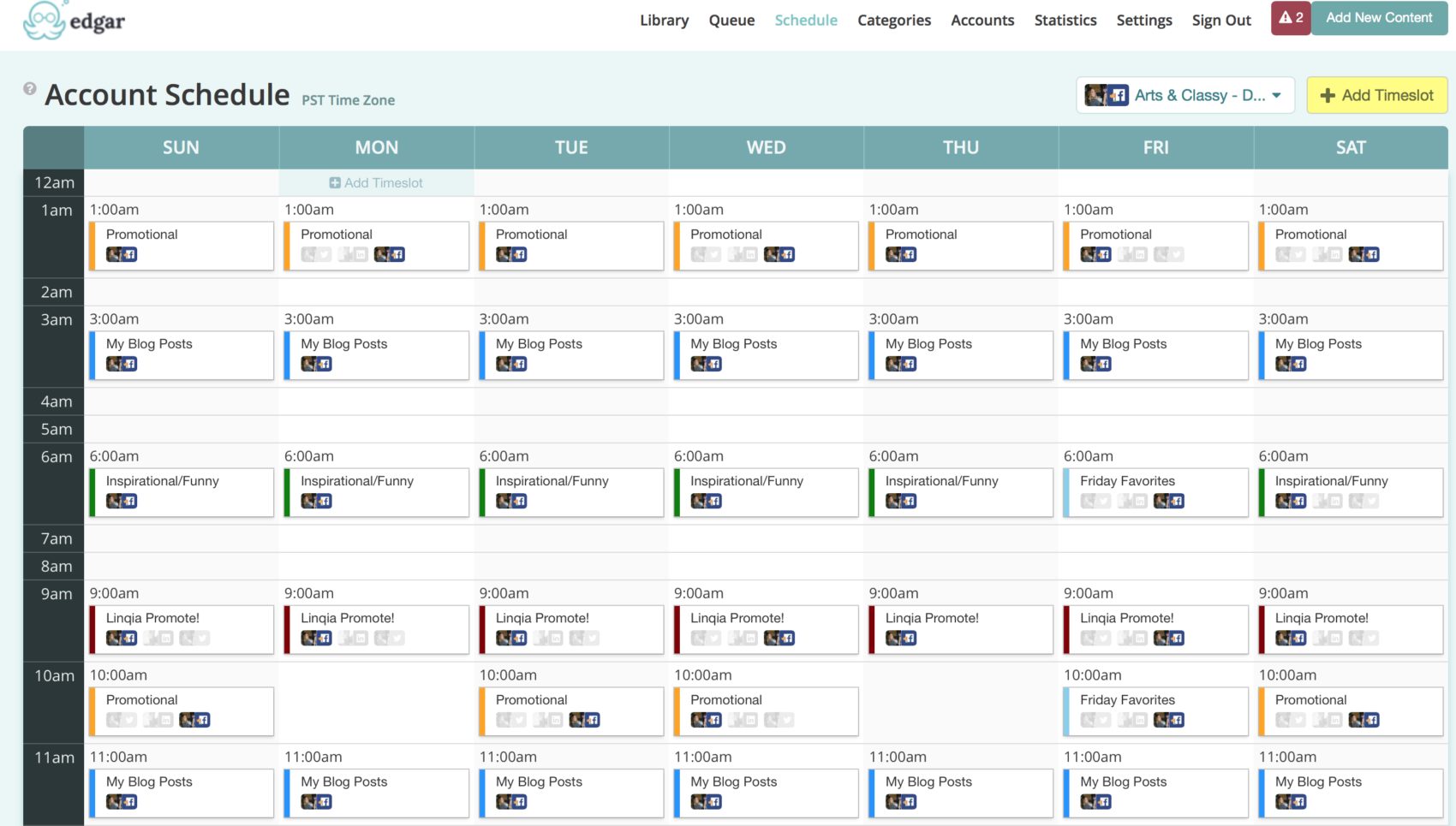 I also have a library of content that gets recycled via my schedule shown above.
The content is broken down in to categories. All I have to do is continue to add content to my library and the recycling will happen less frequently.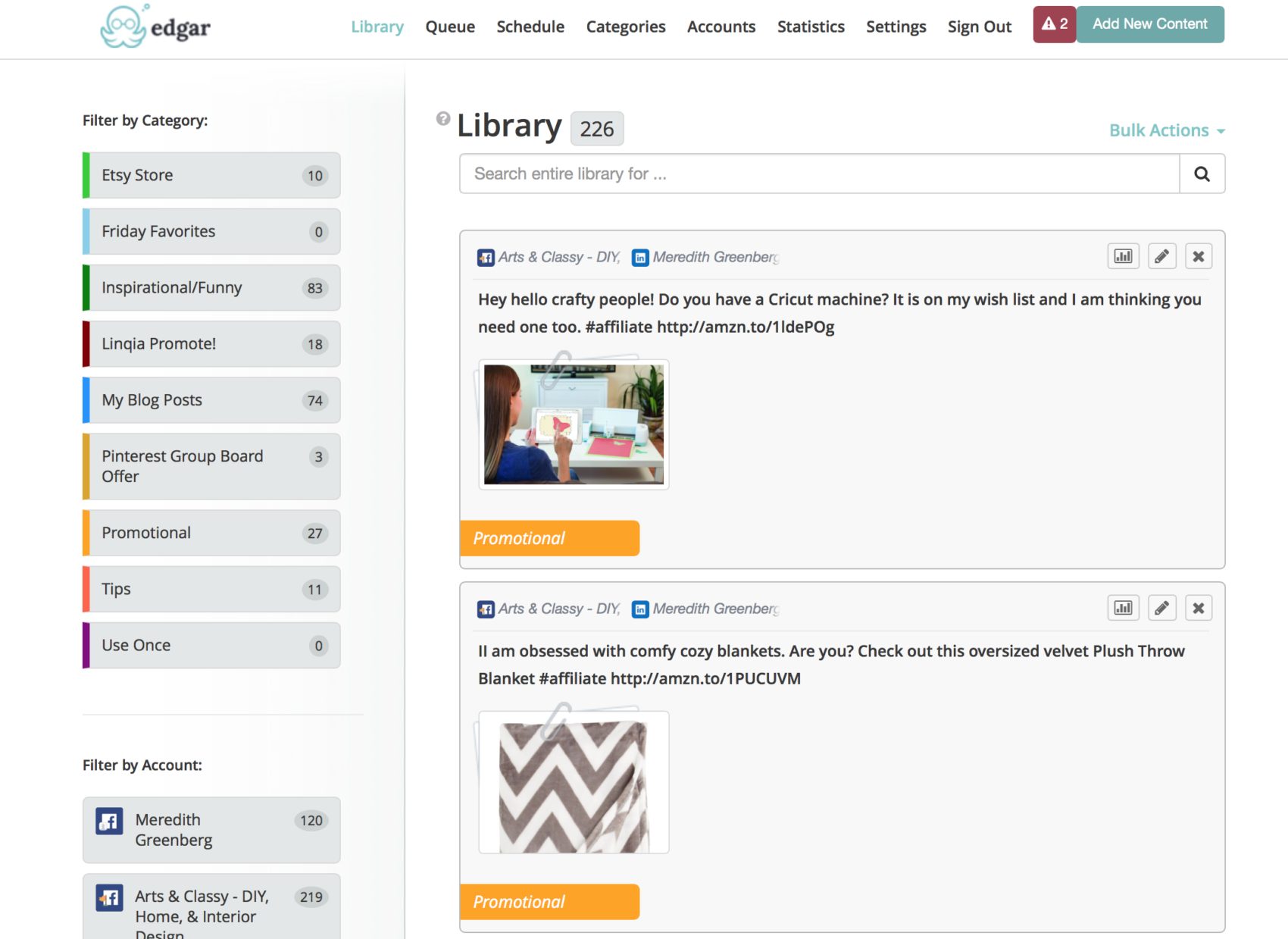 This investment comes out to $49 a month to connect up to 10 accounts. Perfect if you manage multiple Facebook professional pages.
I hope you found this content to be helpful. Please let me know in the comments below. 

Also, I am now offering services to help you grow your blog. Blogging is my favorite thing to talk about… after all!
---
If you are interested in learning more information about blogging and marketing strategies, I am currently booking sessions to discuss anything you want blogging and business related.
I would love to work with you! If you want to learn more about me, I would love for you to check out my About Me Page. Email me with any questions.