Social media is a crucial part of the blogging game now. To be able to have any sort of life outside of being glued to your screen all the time requires help. Some like to hire virtual assistants to help them or social media scheduling.
If you want to work with brands or gain recognition in your field, a reputable social media following is also part of the game.
If you have seen any of my blog traffic and income reports, then you are familiar with the tools I am about to share.
I am taking a more in-depth look at each social media tool and the features that I love about them.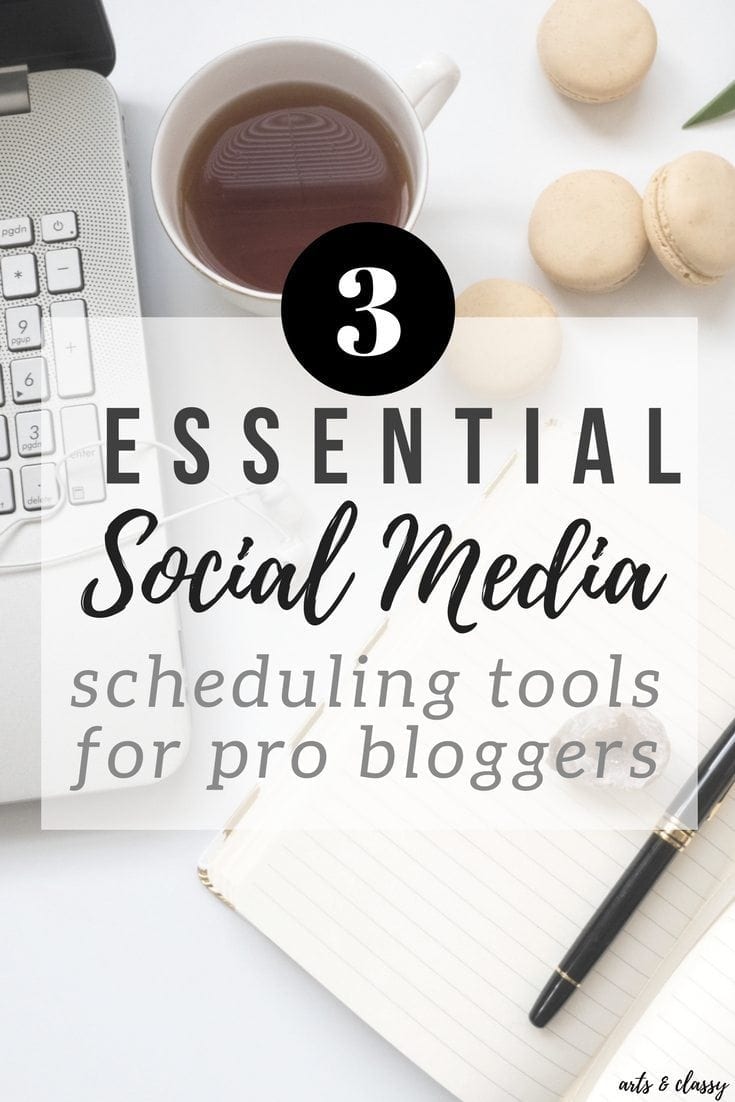 *This post contains affiliate links. These are all products I use and completely stand behind. They have helped me grow my own business. At no additional cost to you. I may earn a small commission for any purchases made. This all gets funneled back into Arts & Classy. 

I don't know what I would do without this program. I started implementing it back in early 2015 when they first launched and I instantly loved it. They have also added some features since then that make scheduling my pins on Pinterest super quick, easy, and effective!
I started on Pinterest shortly after it launched back in 2010. I was pretty much only on there during downtime at my job. It was the creative inspiration I needed at the time. Before Pinterest, I had to scour Google, HGTV, and Better Homes and Gardens to get inspiration. This took so much time!
I was looking desperately to find interiors I loved so I could design my own space to my liking on my budget. I love Pinterest… don't get me wrong, But staying on my phone or computer 24/7 to make sure my pins are showing up in the feed.
Social media is about consistency. Pinterest is so popular now that you often have to pay to play (much like Facebook).
How it works…
After syncing your Pinterest account to Tailwind, you receive a default schedule – days + times Tailwind suggests that you pin to your boards.
You edit your schedule, adding as many posting times as you want for each day of the week.
Start adding content.
There is a mobile app and a Chrome extension that allows you to schedule to Tailwind or save as a draft from any website! So you can literally work from your phone. 
Other features
In the Publisher tab, you see your queue on the right and a list of your scheduled pins.
You can lock specific pins into their time slot.
Shuffle all of your pins to avoid having several of the same pin hit Pinterest back to back and add or change boards.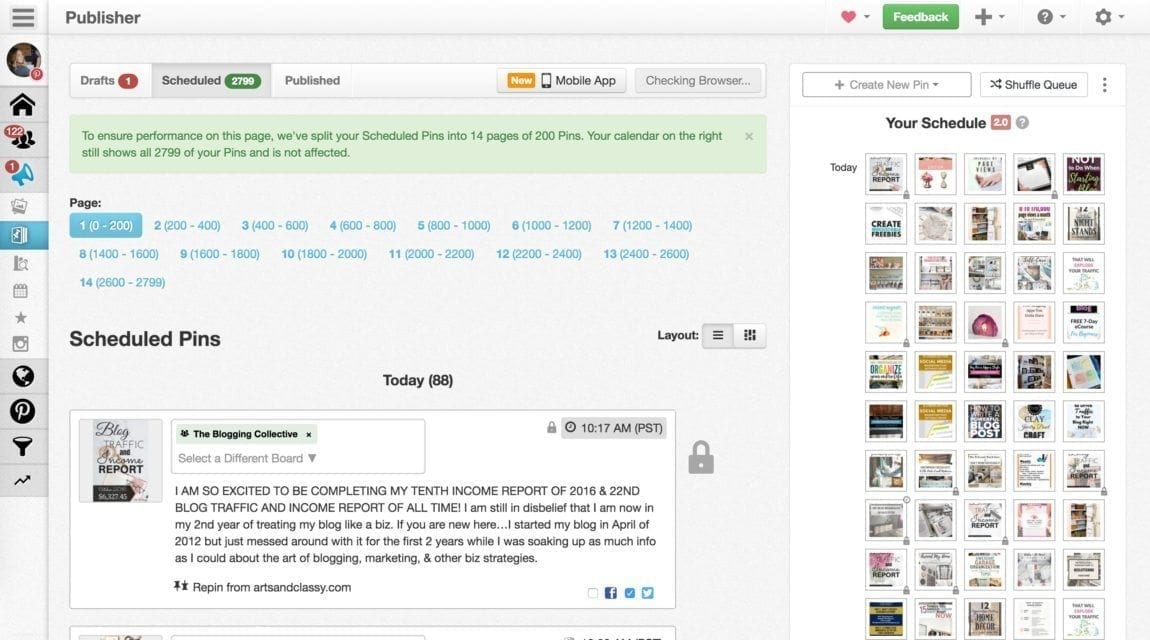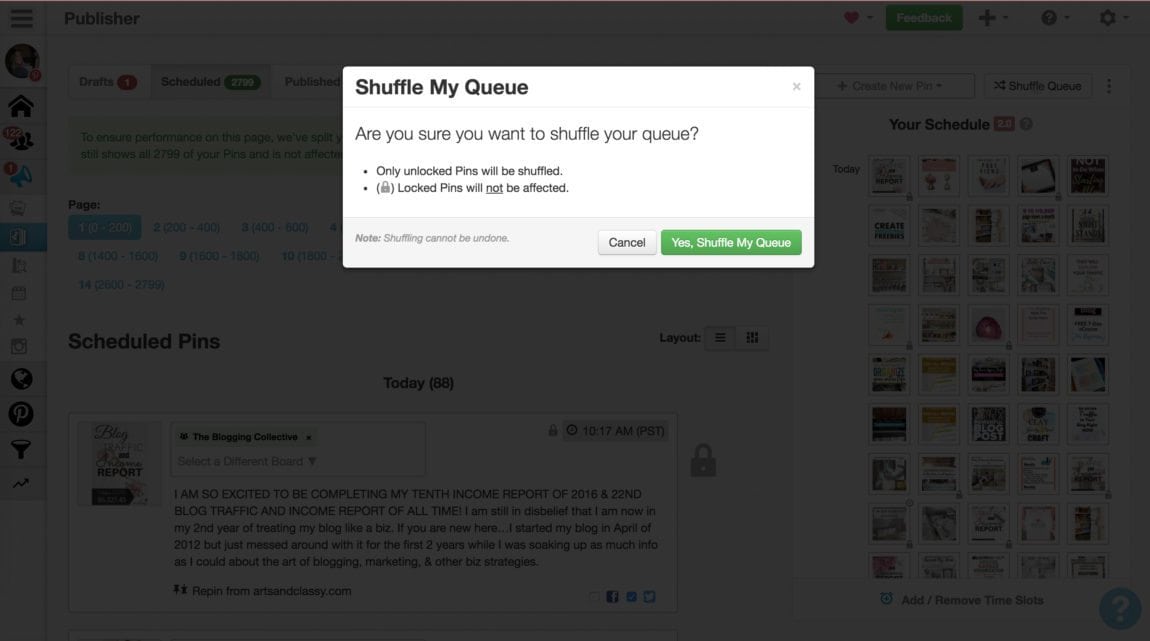 Board Lists allow you to schedule pins to multiple related boards quicker.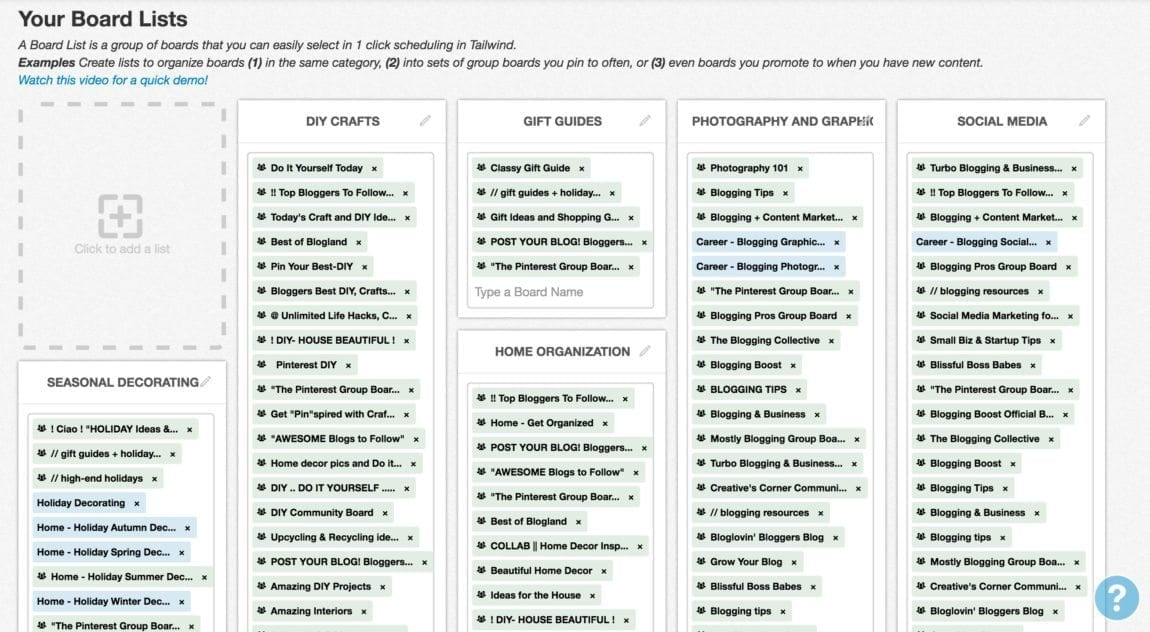 For example, if you have a DIY craft post and several boards related to DIY crafts…
Select your DIY crafts board list (rather than several individual boards). HUGE TIME SAVER!!
You have the option of setting an interval pin which I like to do for some of my longer board lists. It helps spread out the pinning schedule so that your pin keeps its integrity. You can set whatever interval you want. I typically will choose 12 hrs-2 days. 
Hit Publish.
Shuffle pinning schedule.
Tribes are groups of people who write about similar or niche-related content. You build your tribe, share your pins, and other members of your tribe easily grab & repin them while you repin their content.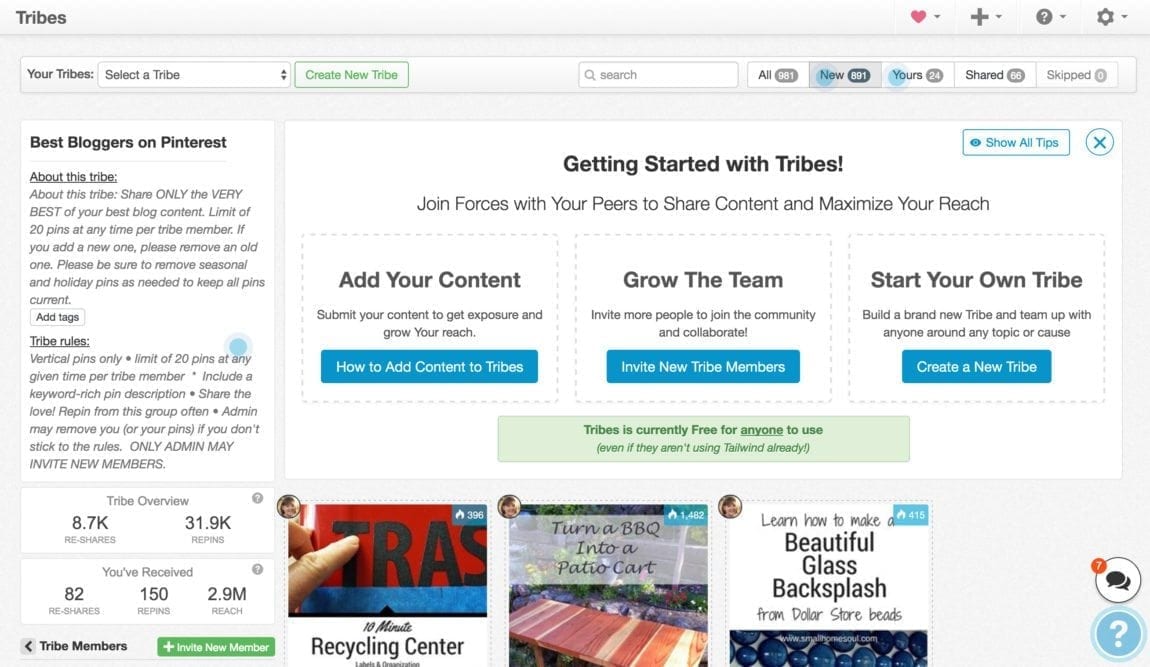 The Pin from Instagram tool is one of my favorite tools on Tailwind. This tool allows you to connect your Instagram account. Your posts show up and allow you to schedule them to share on your Pinterest boards. This is helping me grow my Instagram following via my strongest social media tool… PINTEREST!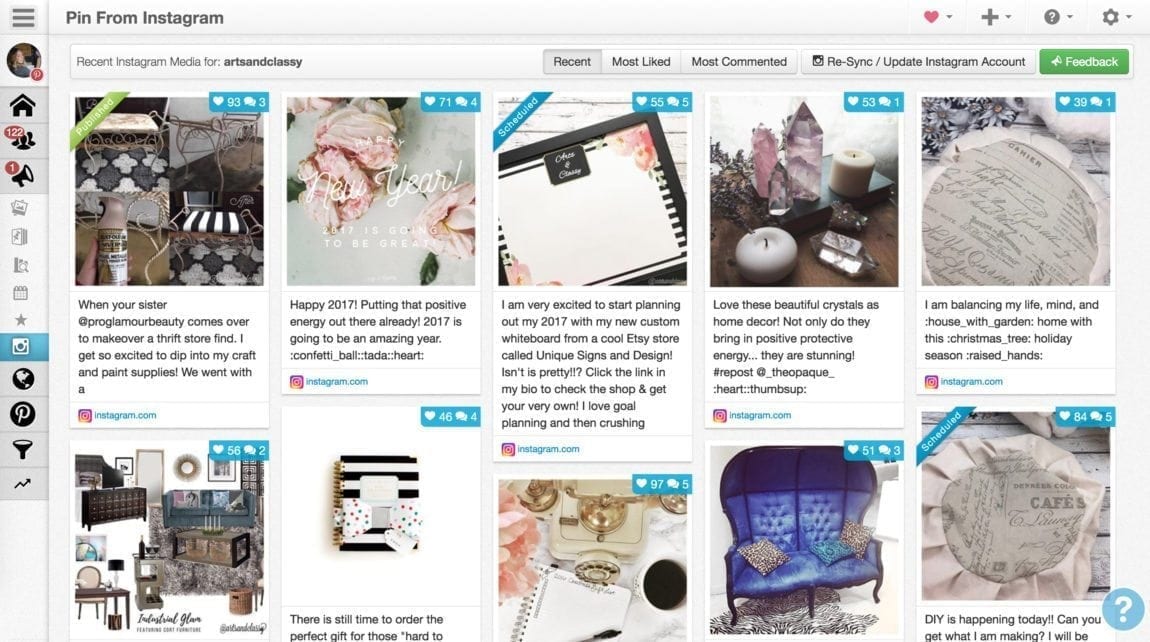 COST:  Monthly & annual plans starting at $9.99/month.
THEY OFFER A FREE TRIAL: Schedule up to 100 pins free before choosing a paid plan.
MeetEdgar is the answer for Facebook, Twitter, & LinkedIn.
The cool thing about MeetEdgar is that it automatically recycles content.
I'm a team of one for now. I am changing this in 2017.  I don't have a virtual assistant yet or a team of people behind the screen supporting me. It's all me so when I hire a service or a software tool, I need them to be willing to put in most of the work. MeetEdgar does that and then some.
All I have to do is add content and set a schedule, then MeetEdgar takes it from there.
MeetEdgar then posts content to your social media channels (Facebook, Twitter, and LinkedIn) whenever you tell it to; and when all of your content has been posted, the software recycles the content and posts it again.
How does MeetEdgar work?
Like a CHAMP and broken down into two easy steps…
1. Create a categorized library
You choose how to label your content and then you just upload it into the MeetEdgar library. You can import your blog posts via an RSS feed and you can bulk upload if you have graphics or quotes to store.
MeetEdgar starts off with a standard group of categories like My Blog Posts, Tips, Inspiration/Funny, which you can keep, edit, or delete. You can also add your own categories (like I did with Other People's Content) to build a full library of content to use and reuse on your social media channels.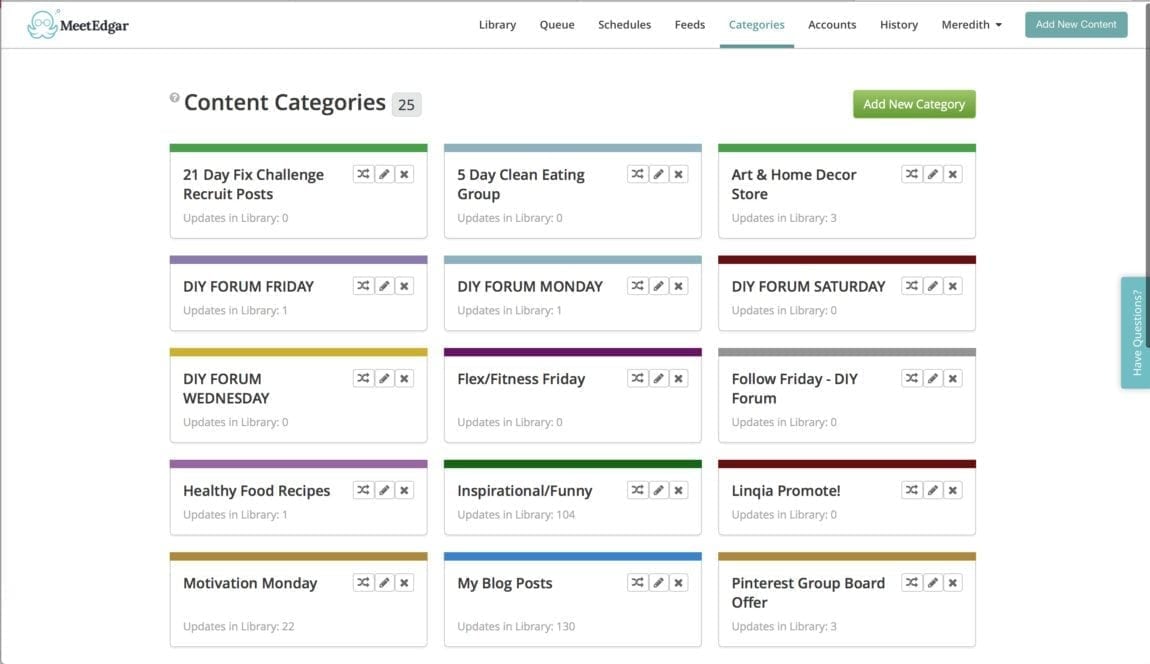 2. Schedule content by category
Just select a social media channel like Twitter and tell MeetEdgar what kind of content to share and when to share it.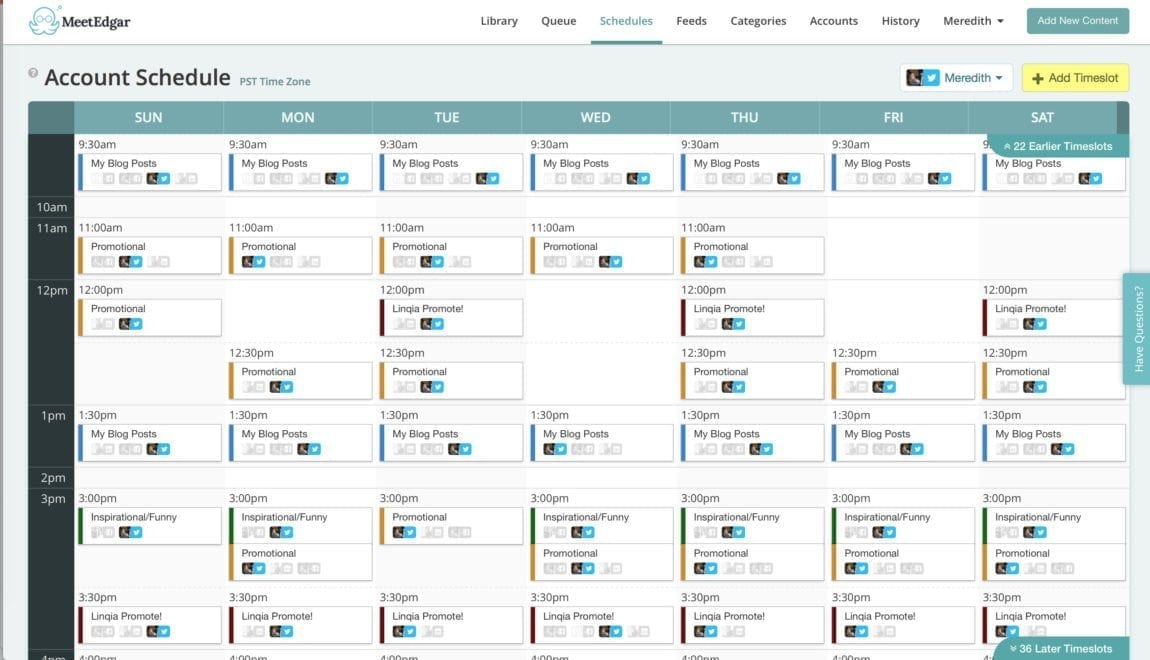 You also have the option of adding content to be a category designed for one share only so MeetEdgar will not recycle it after it's shared.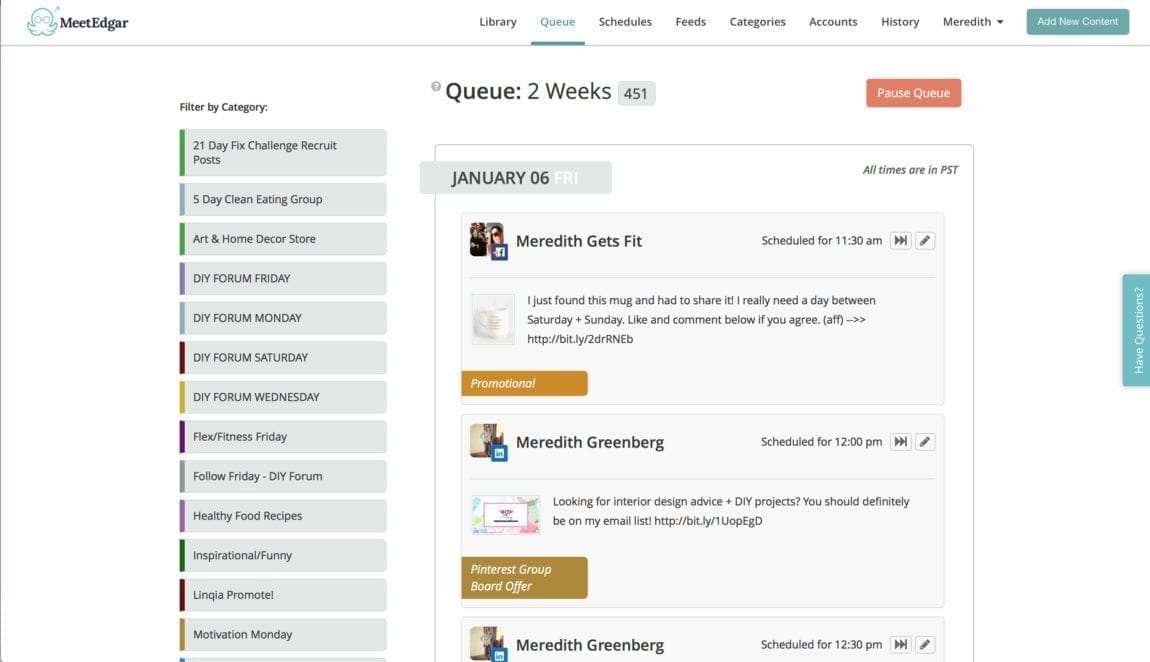 I use that category Promotional for limited time promotions, limited affiliate sales, and holiday posts.
MeetEdgar automatically does the rest.
That is it. MeetEdgar continually posts updates to your Twitter account, Facebook profile, pages, and groups, and LinkedIn profile and company page for as long as you maintain a schedule. You can add up to 10 social media accounts to your Edgar account.
All I have to do is add new content as I discover it so if I find an amazing blog post from another blogger that I feel is relevant to my readers I just go and add it to my MeetEdgar library.
If I write an evergreen post that I want to continually share I'll add it too. I'll add inspirational images, quotes, questions, tips, etc and let them hang out in there until Edgar decides it's time to share it. It's pretty amazing and it's a huge timesaver.
COST: Plans are $49.00 per month

Planning my feed
I tried Planoly because I wanted to visually plan out my Instagram profile and have a more defined theme. I also have Iconosquare, but there is an aesthetic and functionality that I enjoy more with Planoly. I really wanted to see how my next photo was going to look with the rest of my feed.
Before Planoly, I was posting photos to see if they 'fitted in' with my account and then would furiously delete them a minute later when I realized they looked awful.
With Planoly, I'm able to upload photos to my 'unscheduled' feed and see how they looked alongside my past posts. BUT I'm also able to plan my future posts and arrange them in a way that keeps my theme consistent and creative!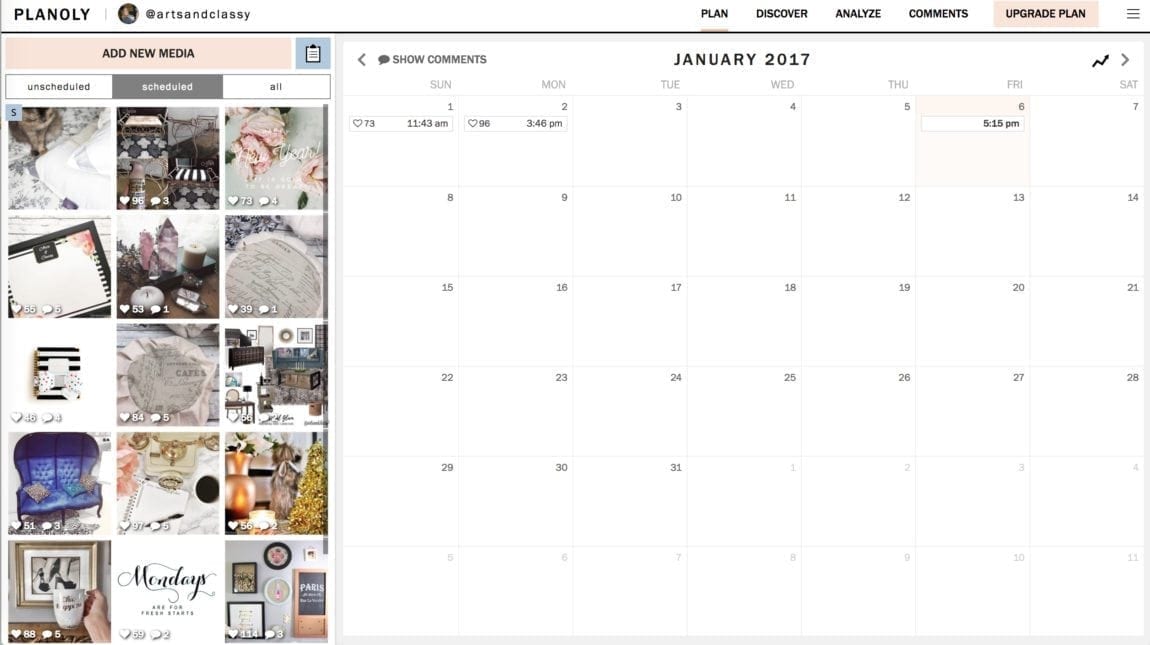 Above is a screengrab of my Planoly account on a desktop.
The sidebar on the left is where I plan out my feed and can simply drag and drop photos, and move them around to make sure it all looks on-point.
I love the calendar feature so I can see when I've been active (and when I've neglected my Instagram!) but it also shows me how many likes and comments each post received.
Schedule upcoming posts
I know what you're thinking. Instagram scheduling is a pain in the ass – usually.
Planoly makes it crazy easy to schedule new posts to Instagram.
No, it doesn't post it automatically to Instagram. BUT it's still really simple. Here's what happens when you schedule a post using Planoly:
You insert your caption (and credit the original poster if you're sharing the photo from someone else).
You select when you want to post the photo onto Instagram.
Hit 'save' and Planoly adds it to your scheduled queue.
When the designated time comes around, Planoly sends you a push notification on your phone. You hop onto Planoly and hit 'Post Now' – Planoly sends the photo (and you) to Instagram and copies the caption.
You paste the caption into IG and post the photo! Done!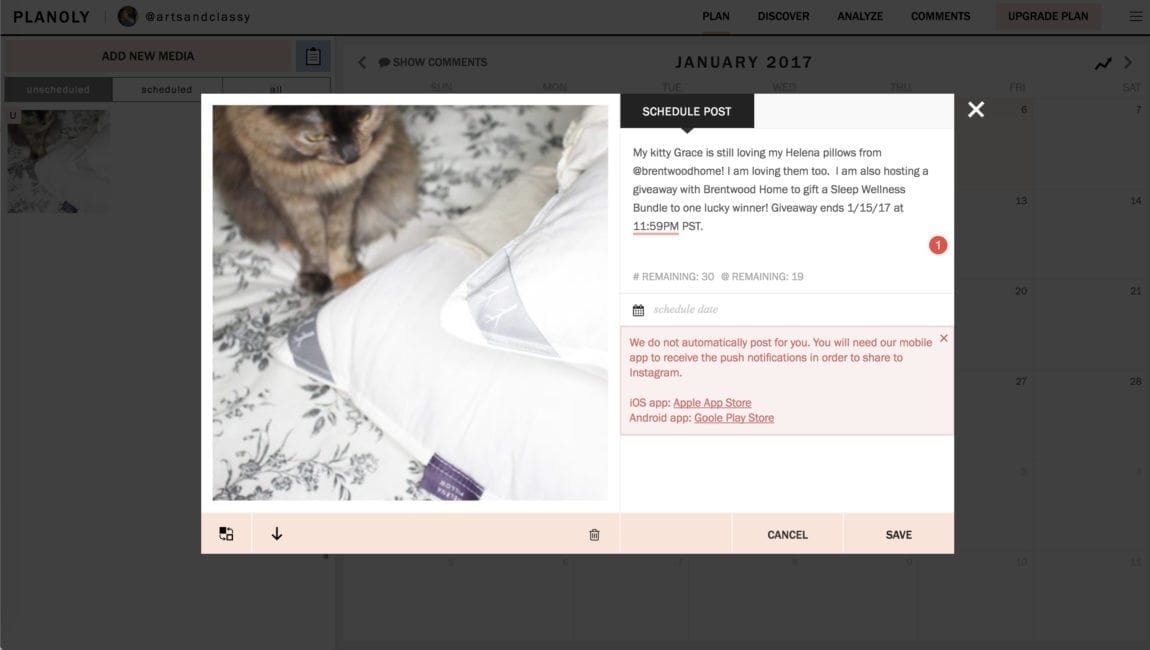 Discover posts to share
Like I said, I've started to spend less time creating original content to post and spend more time sharing other people's photos.
Planoly's 'discover' tab has been a godsend for this. With this feature, I can easily browse photos through my favorite hashtags (or search for a specific user), select photos that suit my branding/theme, and save them to my draft feed!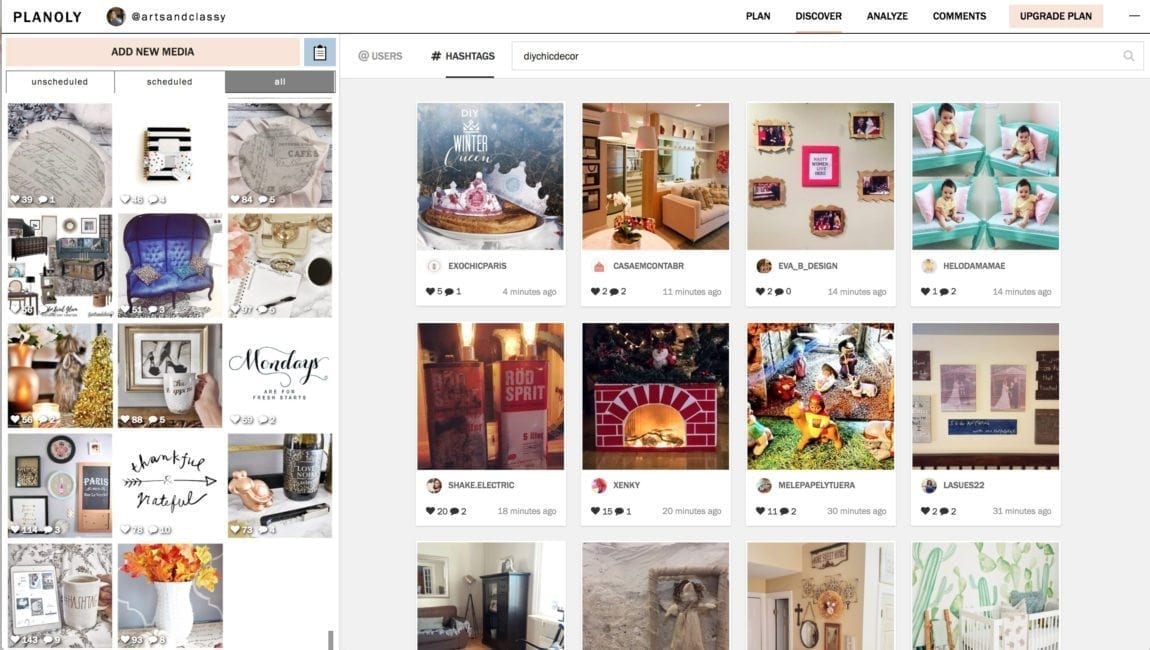 See how incredibly easy it is?! I like to batch this task and spend a good hour or so discovering new feeds and new content to share then write captions for those photos to post throughout the week. Of course, I ALWAYS credit the original poster – and you should too!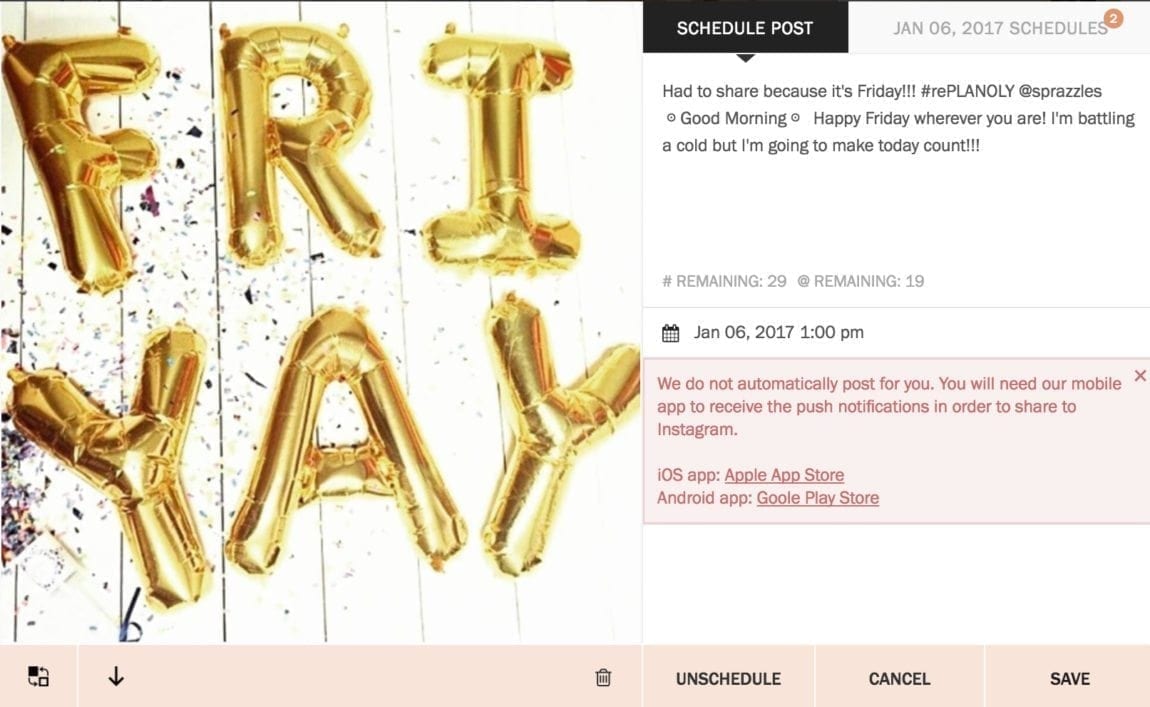 COST: Plans start at $7 a month. 
THEY OFFER A FREE PLAN: You can start a plan for free. There are certain upgrades that you won't have access to but you can still use the account as I have shown you above. 
I hope this helps you when picking a social media scheduler. Let me know if you use any of these tools in the comments below! If you don't use any of these, what do YOU use? Please share.  I would love to know. 🙂
You may also be interested in these posts on blogging:
If you found this post helpful, would love it if you would share on Pinterest!
Subscribe to gain access!
Gain access to my FREE 7 day email mini E-course to help you start making money $$ with your blog!