Make A Fitness Gift Basket You And Your Fit Friend Will Love
I know so many health and fitness lovers. I feel like there has been a resurgence in living a healthy and fit life in our country, especially because of platforms like Instagram. As a professional that has worked in the health and fitness field for years now, there are a couple of things that always kept me motivated to keep up my momentum.
New gadgets
Supplements

Workout gear

Accessories that I could use daily to stay on track.
Need help finding the perfect fitness gifts for the fit friend in your life? Here you'll find some great gift ideas for health and fitness lovers that they will be so excited to receive.
This post contains some affiliate links. I may earn a small commission if you make a purchase through one of these links. See more information in my disclosure policy.
With a gift basket, you can do a majority of your gift shopping online and check out local stores to find other filler items to make your gift complete.
1. FINDING THE PERFECT BASKET
I like the idea of using a small cooler as a basket for this gift because a lot of health and fitness gurus are big on meal prep. That way the basket you use as a base can be a gift too! Especially if they have a job that takes them away from home they can continue the cooler daily. You can also find baskets and other different things to put your items in at local thrift stores or places like Ross or TJMaxx. Another idea would be to put all the personal items in the type of bag that isn't too big but would be useful to that person's activity of choice.
2. CREATE A THEME FOR YOUR BASKET
Create a theme for your basket. Make sure you curate your fitness gift basket list for whomever you are gifting to. Since they are a fitness lover friend or loved ones you probably already know what types of workouts they are into. Make sure you get clear on the type of fitness guru you are shopping for.
Some ideas that might resonate are hikers, outdoor workouts enthusiast, gym rats, Yogis, Barre, Crossfit, Kickboxing, Swimmers, runners, Personal trainers, Rock climbers, and the list goes on. There are so many types of workouts out there that people gravitate to. Make a list of what would work perfectly for their workout of choice. Make sure you are catering to their interests to make this gift really special.
For example, if your friend runs marathons, 10ks, and 5ks, you will probably focus on certain types of good quality gifts that cater to running. A high-quality running belt or an armband are great examples for marathon runner.
3. PLAN & FIND A VARIETY OF ITEMS
Planning is a big helper in this gift basket creation process. Think in terms of who the person is that you are gifting to. What does their active lifestyle entail? Are they a close friend, a coworker, a family member or more of a casual friend? If they are really into yoga, try to find items that compliment that. If they are into rock climbing, then getting them a yoga mat probably isn't the best plan. Gym lovers would want something completely different than let's say someone who prefers to hike! Keep this in mind when browsing for items to add to your fitness gift basket.
Whether you are looking online for gifts or going to a physical store, here are some great items that you could include in a health and fitness lover's basket. This article will be helpful this holiday season as a Christmas gift or for any occasion really. With any gift basket, you really only need 2-3 larger "key" items and you can fill the rest of the basket with smaller items.
Great item ideas…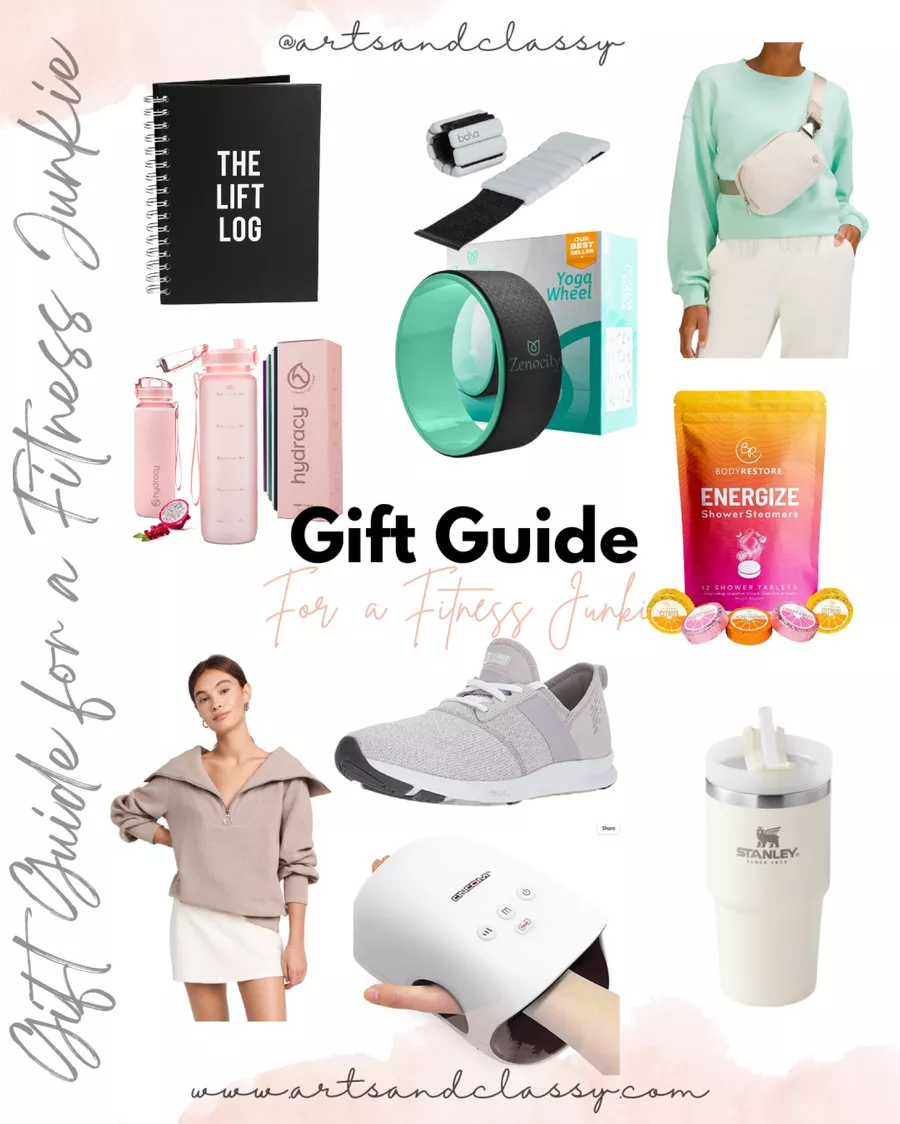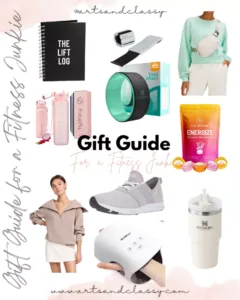 Small home blender | Yoga Therapy Balls | BioFreeze | Resistance Bands | Water bottle | Yoga Pants | Gym Bag | Protein Powder or protein shakes | Healthy Snacks | Joggers | Sweat Pants | Tank Tops | Jogger Pants | Sneaker Balls | Natural Deodorant | Blender Bottle | Sliding Discs | New Towel | Flip Flops | Big Bulky Fanny Pack | Cell Phone Sanitizer | Gym Chalk | Gift Certificates or a Workout or equipment gift card| Yoga Mat | New Me fitness tracker | Exercise Dice | Dumbbell water bottle | Savvy Infusion water bottle | Makeup Bag | Microfiber travel sports towels | Dry Shampoo | Speed Rope | Meal prep containers | Daily workout flashcards | Healthy treats | Local Spa or other relevant gift cards | Ear buds | Pedometer
4. ARRANGE YOUR ITEMS
The last thing you want is for a gift basket to look empty and sad. If your container is fairly deep, use foam to lift your items to give the illusion that it is fuller. Crumpled paper or a towel as a riser works well so your items don't sink to the bottom. Make sure to mask the items you use as a riser with shredded filler paper if needed.
You don't have to break the bank to fill up your basket. That's why I love them so much. You can set whatever price point you can afford. Then build it around your budget even in smaller dollar amounts.
5. WRAP THE BASKET
You can arrange the most appealing and eye-catching gift basket, but if everything shifts as soon as it's picked up to travel with… what was the point? Ya know?
A great key material to use in this process is cellophane. You can wrap it around and gather it at the top is a classic way to secure a gift basket. I like adding a bow or ribbon to the top to make it pretty. Another great material to use is a shrink-wrapped bag. You can find these online or at your local craft stores.
I love gift baskets and I already curated 2 others for a Boho Beauty and a Dog Lover so make sure you check those posts out.
Get creative with this gift basket-making process and try to plan it out ahead of time. I can not stress that enough. You don't want to be scrambling around packed parking lots trying to shop with everyone else that waited until the last minute to do their holiday shopping.
Would you make a gift basket to give a fitness lover in your life? Let me know in the comments below. I would love to know what kinds you will be making for your friends and family! Gift baskets are really great for all occasions.