Makeover Edition: Vintage Bedroom Dresser Makeover
I purchased a beautiful french provincial dresser from a man on the side of the road back in 2012 for $60. It had great bones and was in great condition for being an antique.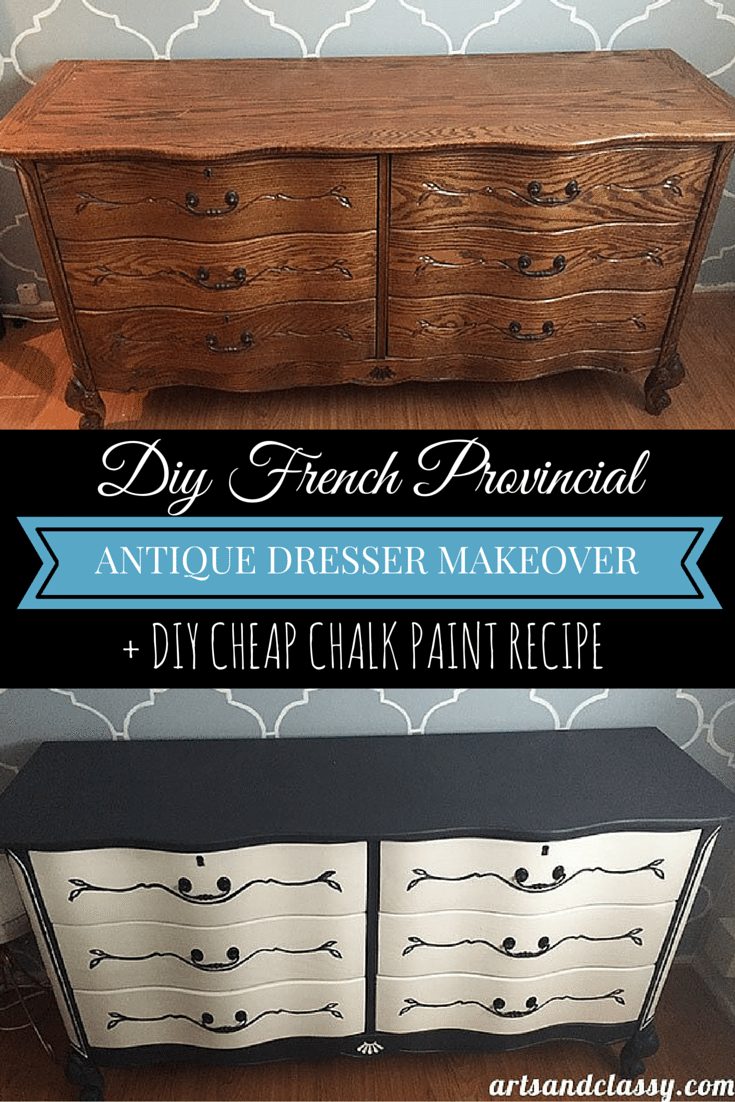 I have been pondering what to do with it ever since I purchased it. At one point I thought… I will paint it a high gloss electric blue with metallic gold pulls! That's will look chic! That's the plan. But I never acted on it.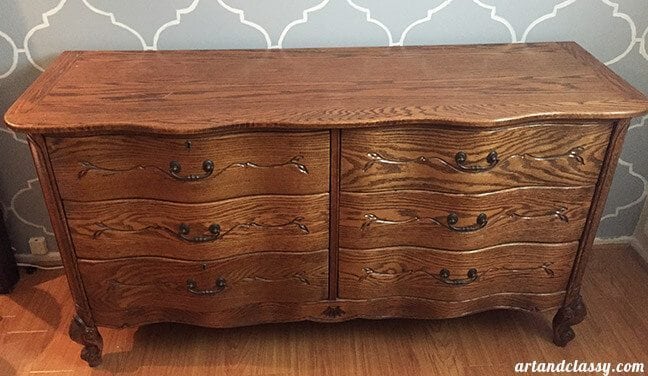 I am not sure if it is because I was not 100% on board with it (mentally), or if I was on a super tight budget for a couple years (to the point of not having the extra money to buy the paint.) Regardless, I never acted on my first impulse. I am glad I didn't.
In my process of transforming a piece of furniture, I always do a ton of research to have a plan of attack. This is one of the reasons why I love Pinterest so much! The creatives on this site constantly inspire me.
Now in 2015, there is another source of inspiration for me and that is a show on HGTV called Flea Market Flip. There was one particular episode where 2 girls transformed a smaller version similar to my dresser and they made it look beautiful. This episode really helped me hone in on my vision for this dresser.
I know I know… there are people out there that HATE painted furniture, but the way I see it is that you can always sand a painted piece down and re-stain if I ever change my mind. I realize that at one time having natural wood furniture was super trendy and the height of sophistication.
However, this dresser in its original state was not working with my room decor.
Plus, there are beautiful hand carved details in this dresser that were lost in the original state. My goal was to breathe new vintage glam life into this beauty for my vintage bedroom.
Another reason why I wanted to paint this piece was to try a new DIY Chalk Paint recipe I found on Pinterest.
Last year I had the glorious opportunity to work with the company Annie Sloan Unfolded. They sent me their clear and dark waxes and a paint color of my choice. I love this product! I was amazed at how long their quart of paint lasted me, but at the price of $35-45 per quart is not in my budget.
The point of my January challenge bedroom makeover is to prove that I don't have to spend that much to achieve the look I want.
I hope to inspire my readers to get creative an work with what they have!
The Recipe
My journey began at Home Depot to purchase Plaster of Paris* and a quart of Behr paint in the color "Night Club." I LOVE the name!
I spent a total of $21.91 on this project for both items.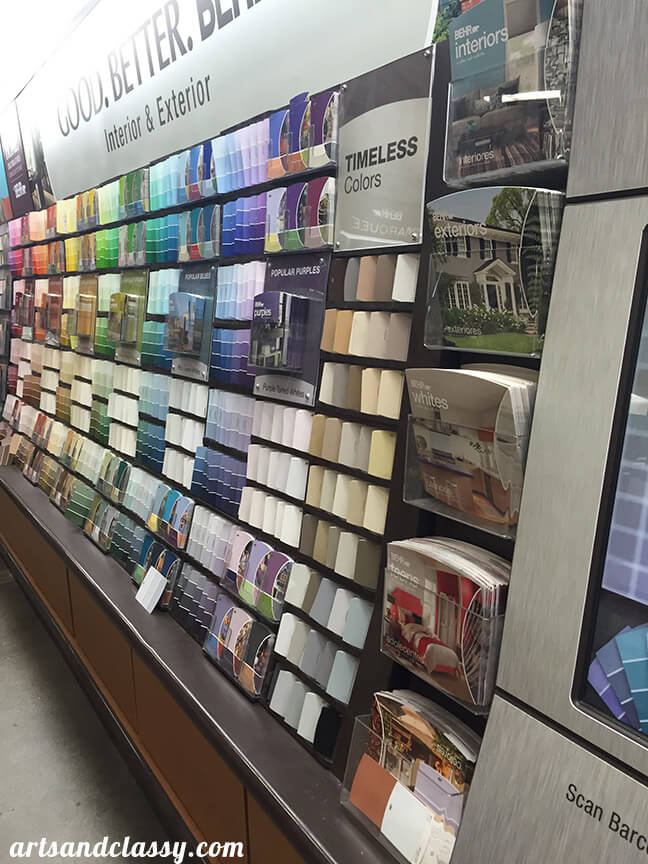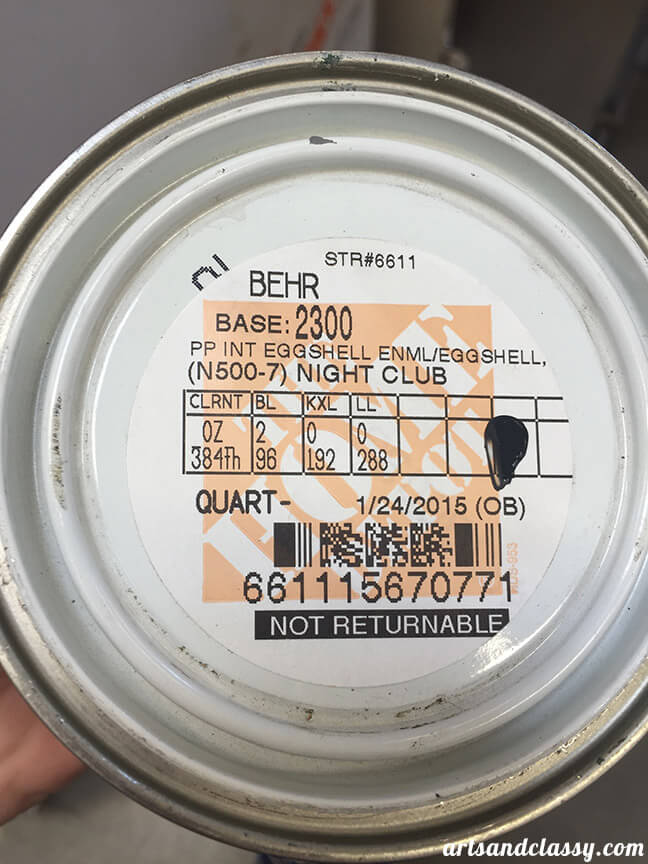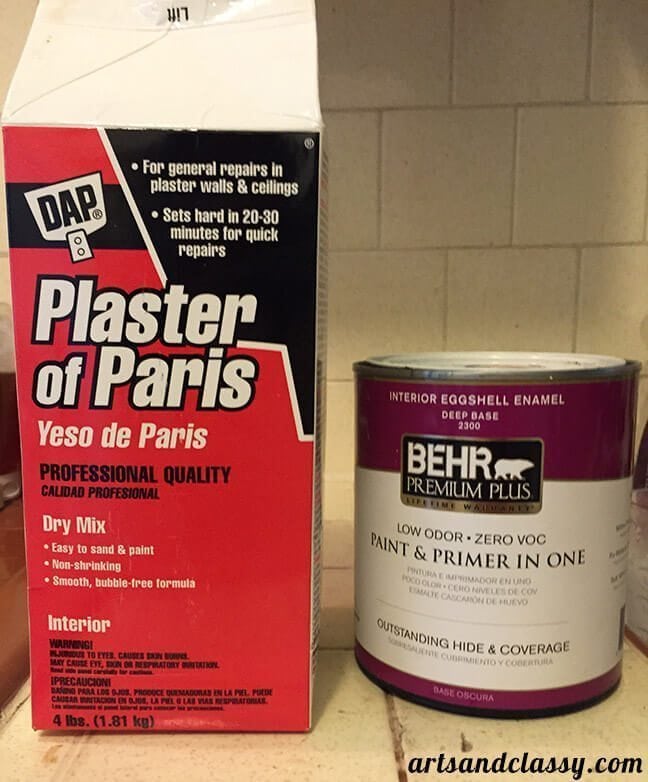 The great news is that this recipe works like a charm and I have barely made a dent in the quart of paint I purchased after the dresser makeover!
The recipe is really easy and inexpensive to make. As you can see the container of Plaster of Paris is 4lbs, so it will last a long time and at $6.78 it is very economical for many projects to come.
Chalk paint has spoiled me. I HATE sanding furniture and since chalk paint adheres so well to pretty much any surface… I am hooked.
The process of making over this dresser is simple. I mixed my 2 colors with my Plaster of Paris and put them each in separate containers.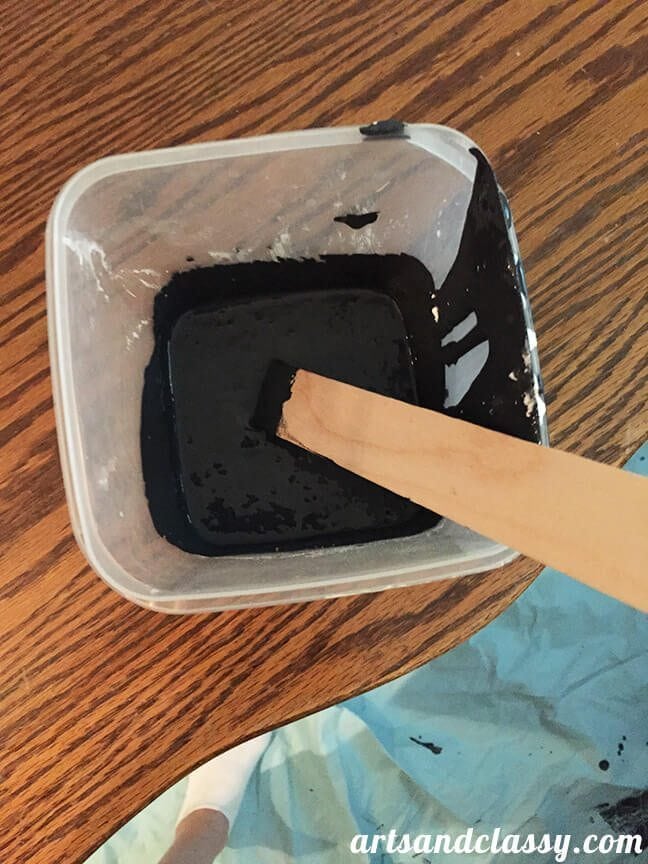 I removed the dresser hardware and drawers. This part made my kitties very happy. A new place to explore!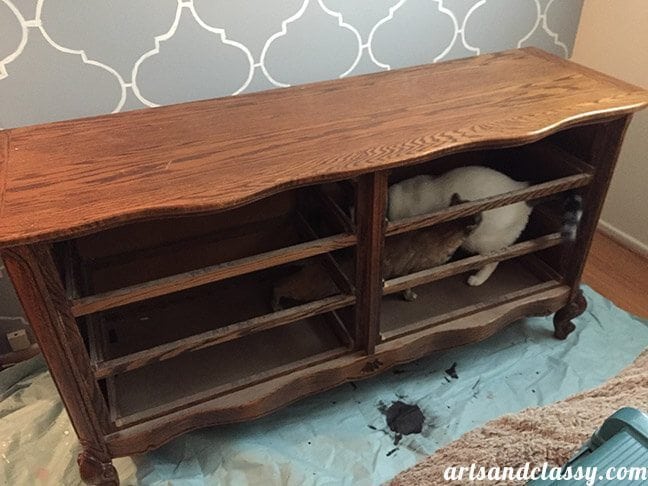 I painted the dresser with my "Night Club" paint. A couple coats worked great.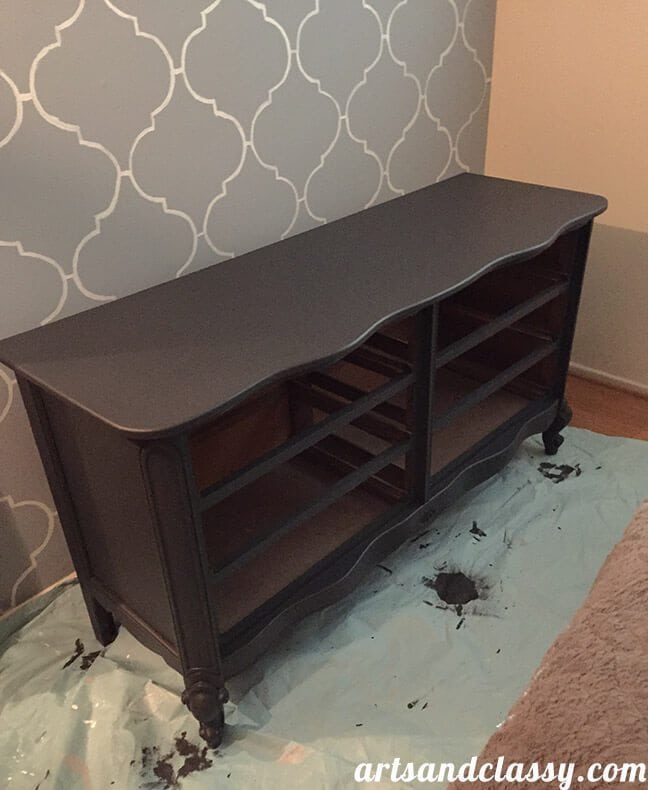 I painted each drawer with the cottage white color that I used on my hutch makeover back in 2013! Before I knew about chalk paint… Blast!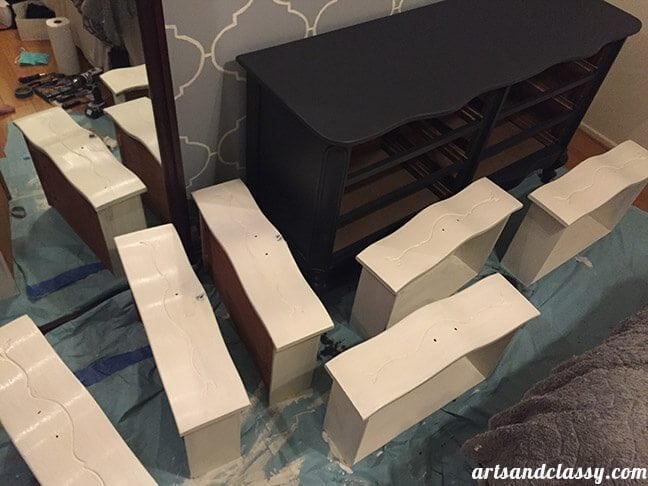 Once all was dry, I went back with a small artist brush and hand painted the carved details that I wanted to showcase with the opposite color. I will admit, this was harder than I thought it would be. It is probably what took me the longest. My inner perfectionist was trying to make as perfect as I could.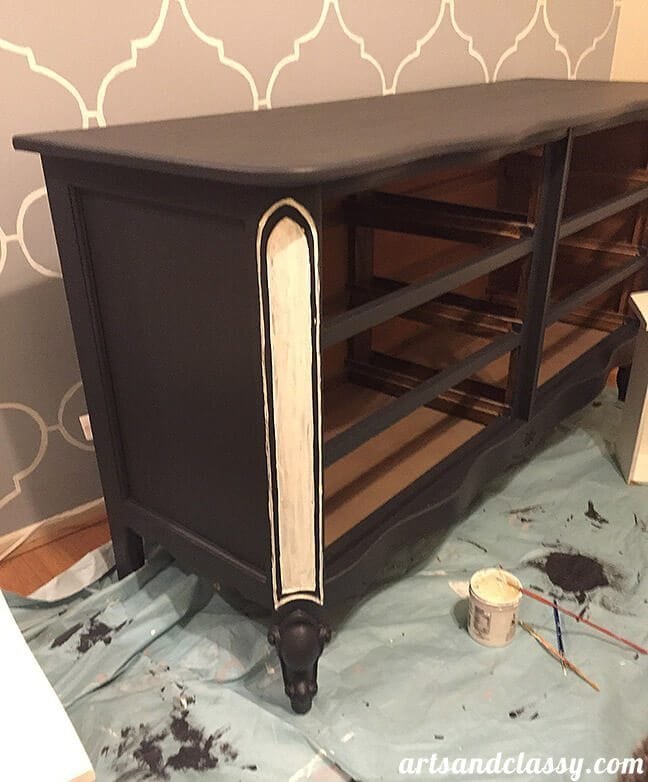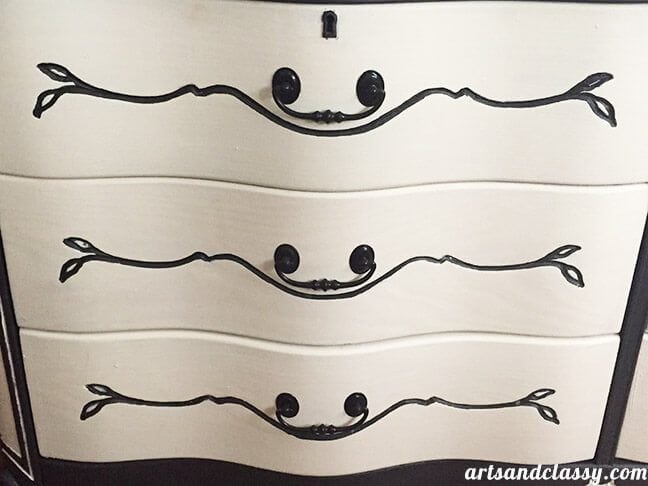 When I removed the hardware, I decided to spray paint it all with a glossy black spray paint.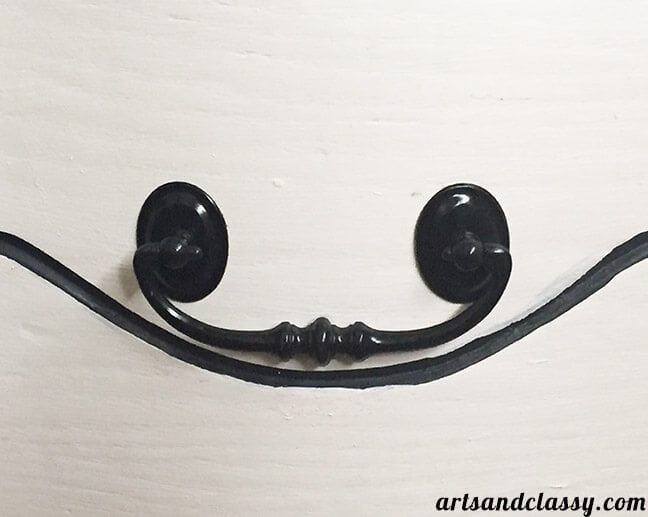 Yup…kitties still exploring… while I was putting it back together.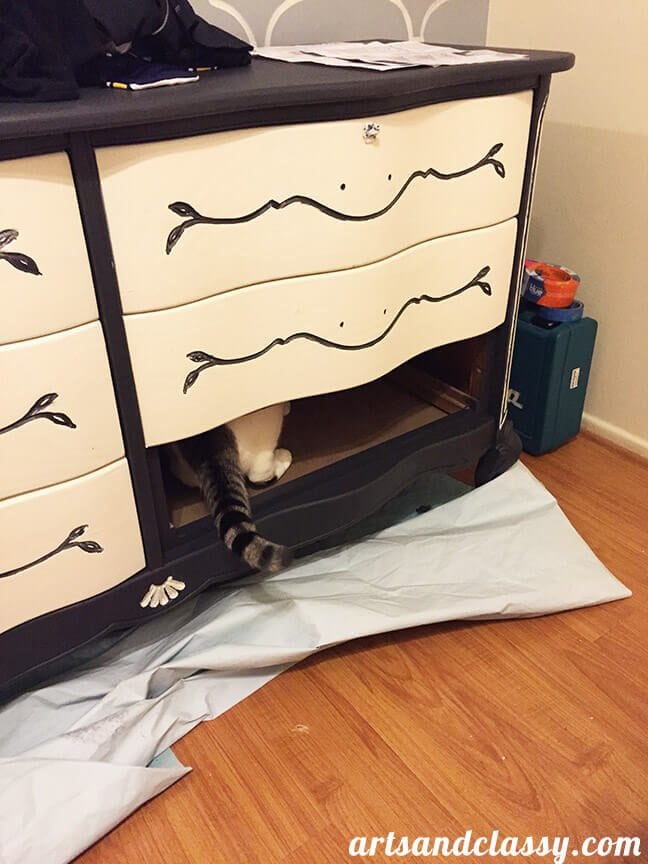 I am really happy with how it turned out. I definitely heightens the sophistication in my room with the vintage glam feel I wanted.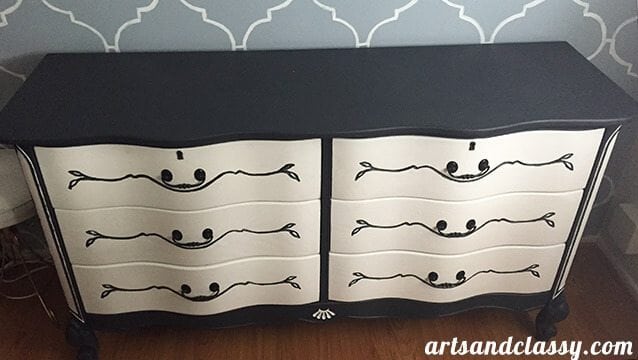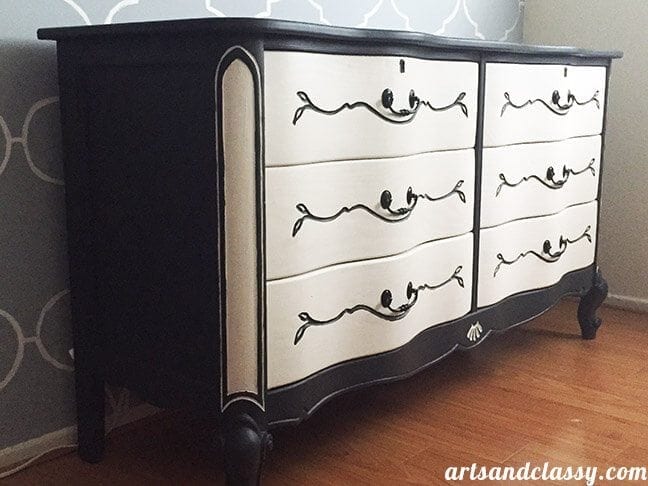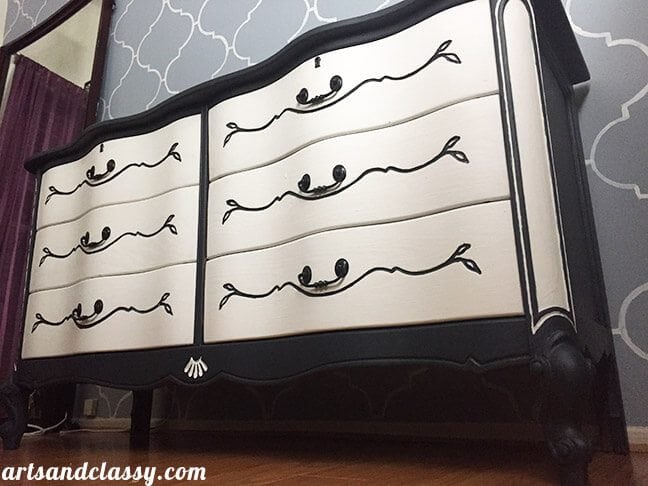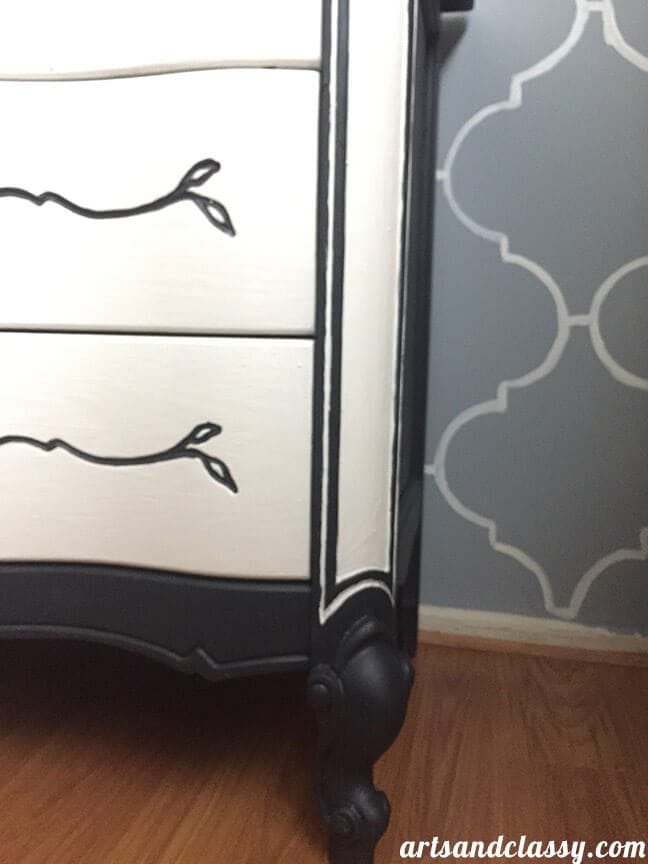 Let me know what you think? Do you like it?
This piece really makes me smile when I walk into my room now. If you like this project you will love the other projects in this bedroom makeover challenge! I cannot wait to show you the whole bedroom makeover reveal!