Astonishingly Transform Your Home With This $15 DIY Round Table Tutorial!
I am excited to be sharing this DIY accent table tutorial with you today! It's a perfect quick and easy DIY project anyone can do. It'll only cost you $15 and less than 30 minutes to build (NO TOOLS REQUIRED). These are my favorite types of DIY projects. They take little to no effort to create and compliment a space beautifully on a BUDGET!
The Story Behind this Side Table
My goal here is to turn these supplies into a chic and minimalist side table for my living room. My living room isn't huge and I wanted to make sure there are enough tables for anyone visiting. We only have a coffee table in our living room and because of the size of our sectional couch, we don't have any end tables. I researched so many types of end tables online and even ventured out to local stores to find the perfect fit.
One thing I realized during all of this shopping and research… SIDE TABLES ARE SO OVERPRICED!
I didn't want to spend upwards of $70+ to get an accent table for my space. It's challenges like these that always flip my creativity switch! I went into full-blown DIY accent table research mode. How could I make my own, make it look chic, and fit into a tiny budget without sacrificing quality?
I ended up stumbling onto some cute Dollar Tree bowl diy side tables on TikTok and really liked that idea. I fully thought I would be making that idea into a reality. That is until I went to Walmart for something I found the most perfect plastic ribbed planters to make my project an even greater reality! This would be a simple design, but would make a BIG impact and fits into my farmhouse-style decor and brings a Nordic vibe to the space.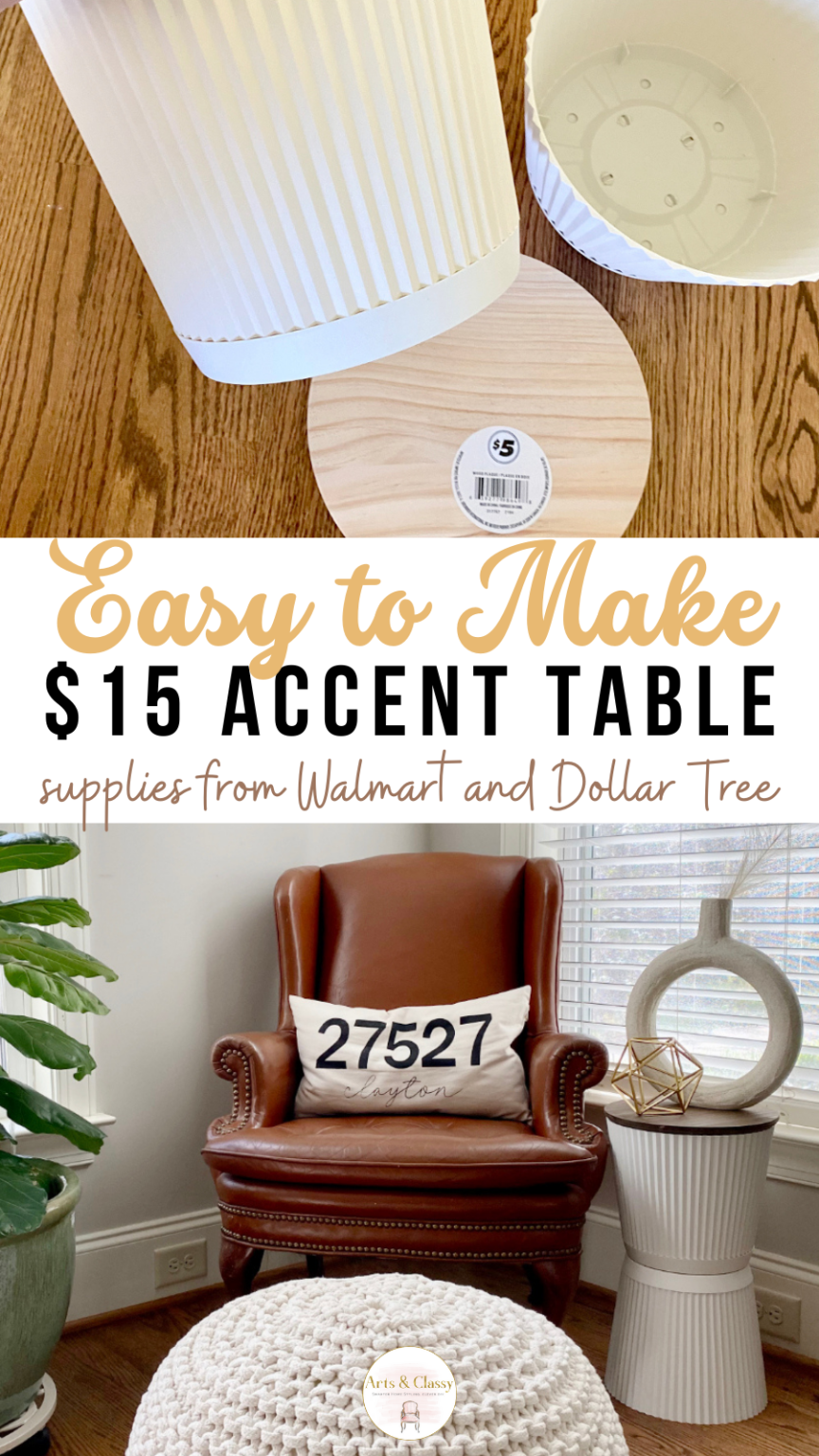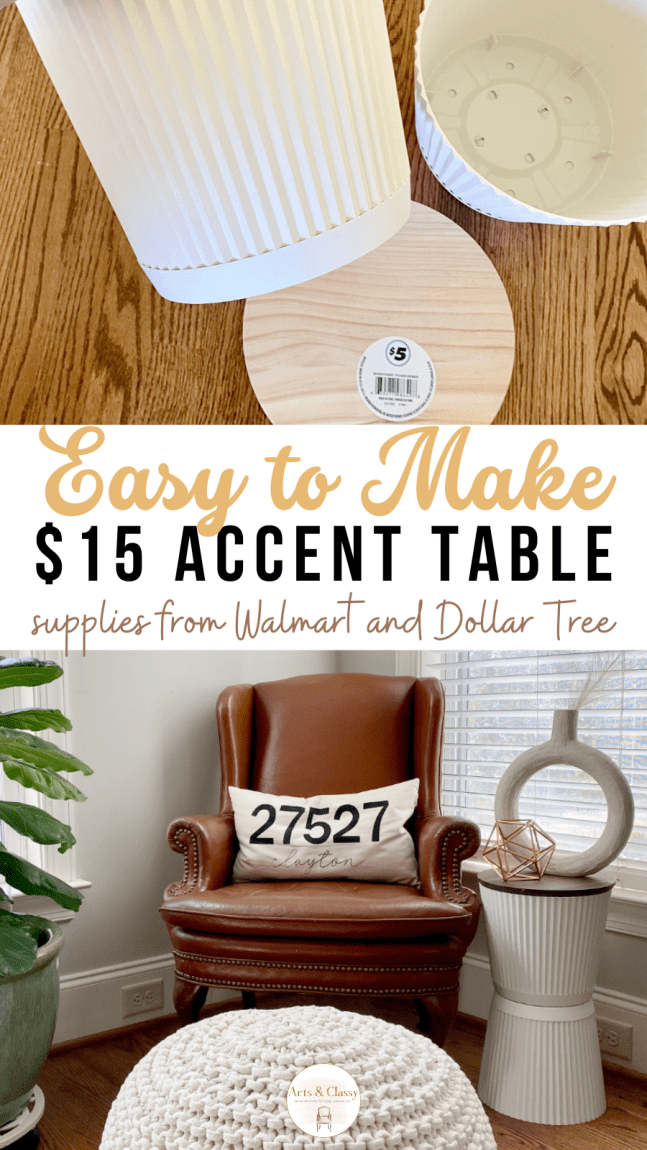 This post contains some affiliate links. I may earn a small affiliate commission if you make a purchase through one of these links. See more information in my disclosure policy.
What You Need – Materials List
2 – 10" white/cream ribbed $5 planters from Walmart (I found them in store and not online) – If you can't find these exact planters that I found, you can find something similar or of a different color and use spray paint to achieve whatever color you are looking for.
1 Wood plaque from Dollar Tree (In the $5 section)
Behr water-based wood stain rustic effects "Rustic Brown" – I got mine from Home Depot. Here is a similar stain from Rustoleum.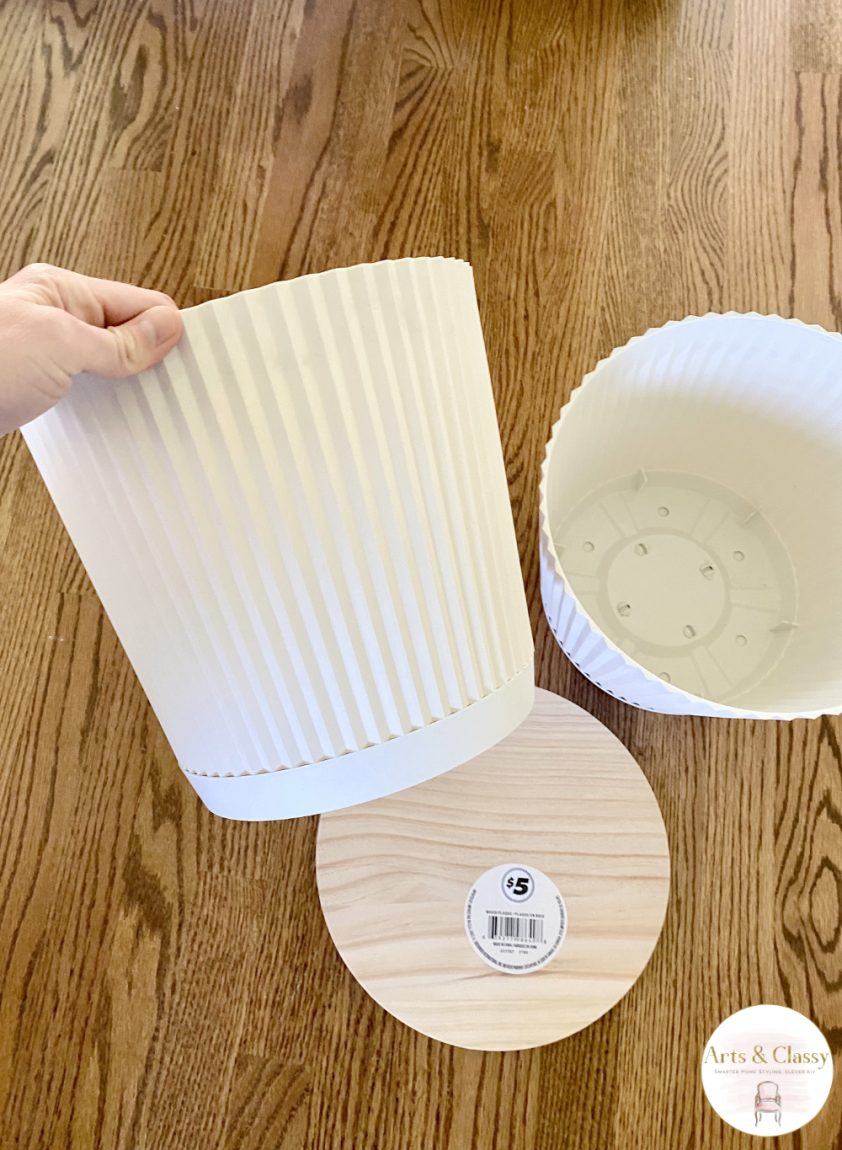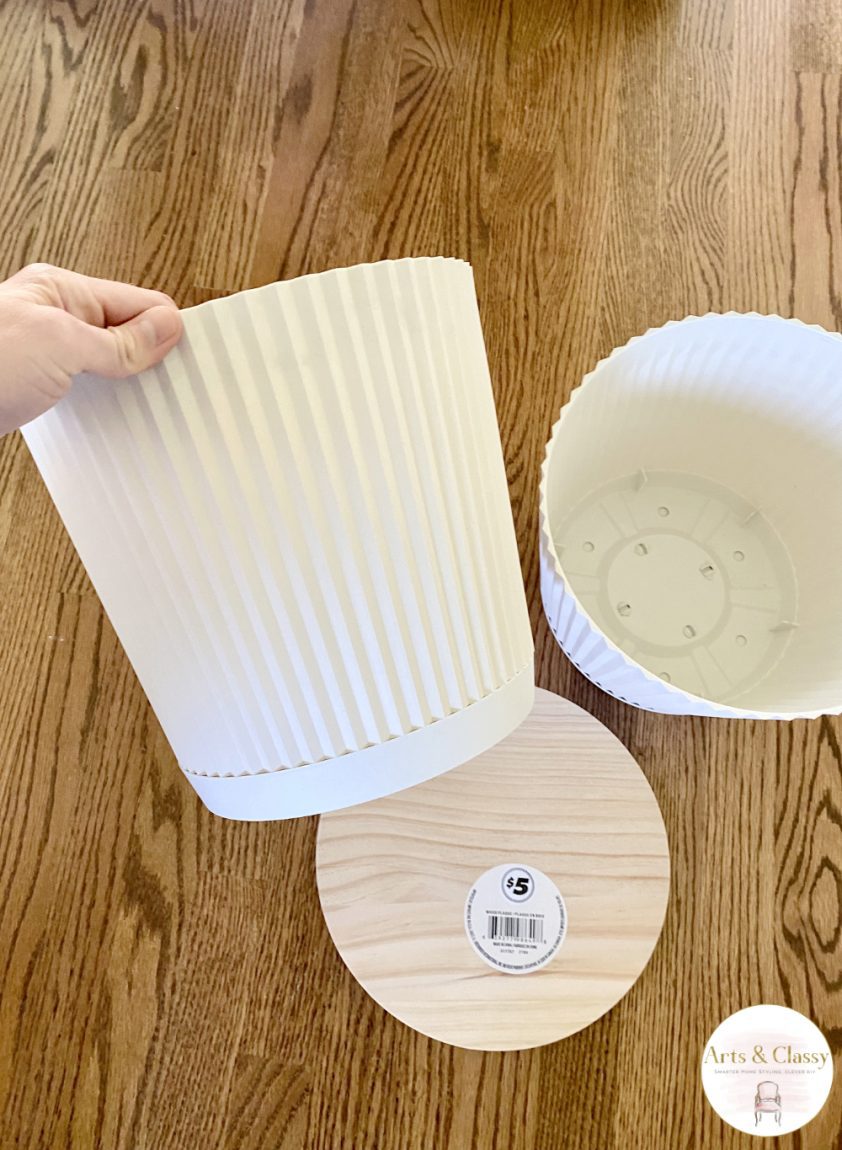 RELATED: HOW TO MAKE ARTWORK WITH AN EASY-TO-MAKE GALLERY SIGN
Now onto the full step-by-step instructions…
Step 1 – Attach the Planter Pots
During this step, you will first take the stickers off the bottoms of the planters and make sure your hot glue gun is ready to use. I swear by this Gorilla Glue sticks they have an amazing grip to them.
Put enough glue on the base of one planter to be able to press the other base to hold it in place. Keep in mind, you don't want any glue to spill out on the sides. Since this is a heavy-duty glue stick, it's a lot harder to remove if you have an overflow. Once the bottoms of each planter are firmly attached, allow it time to cure and dry. Shouldn't take longer than 5 minutes or so.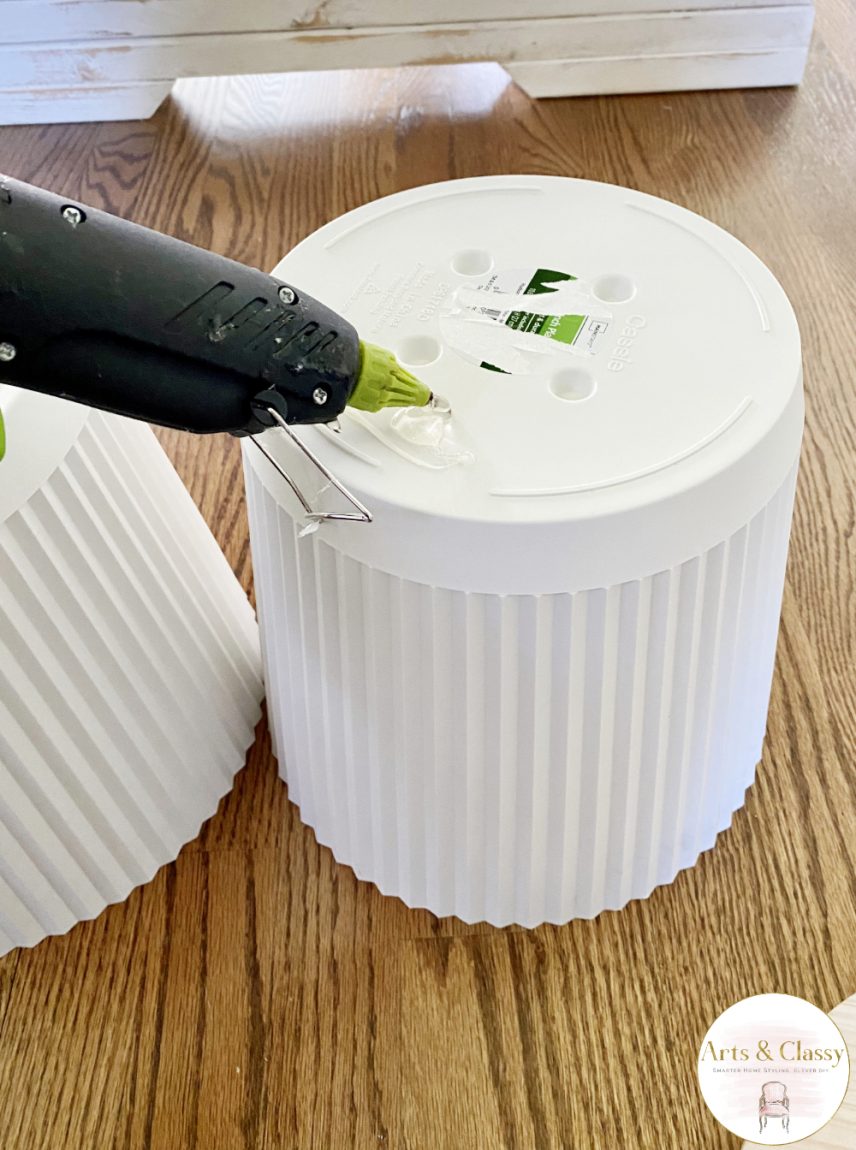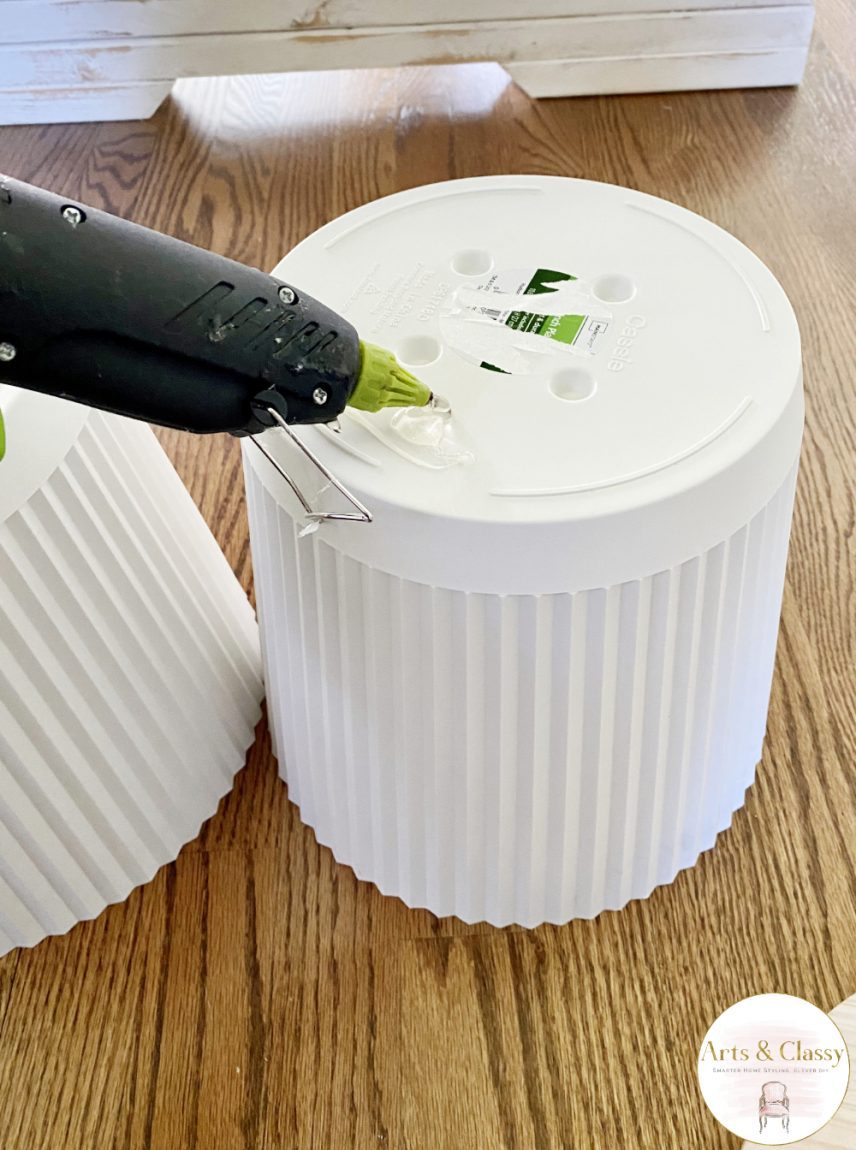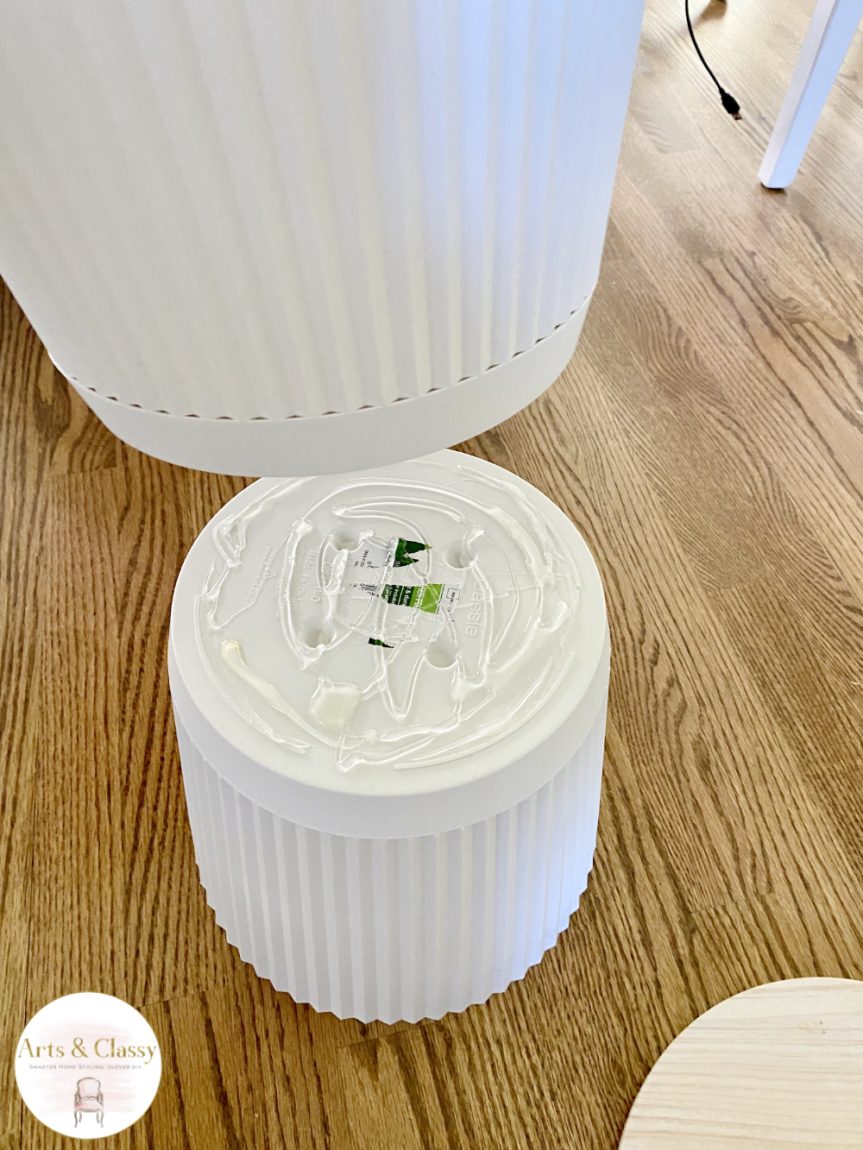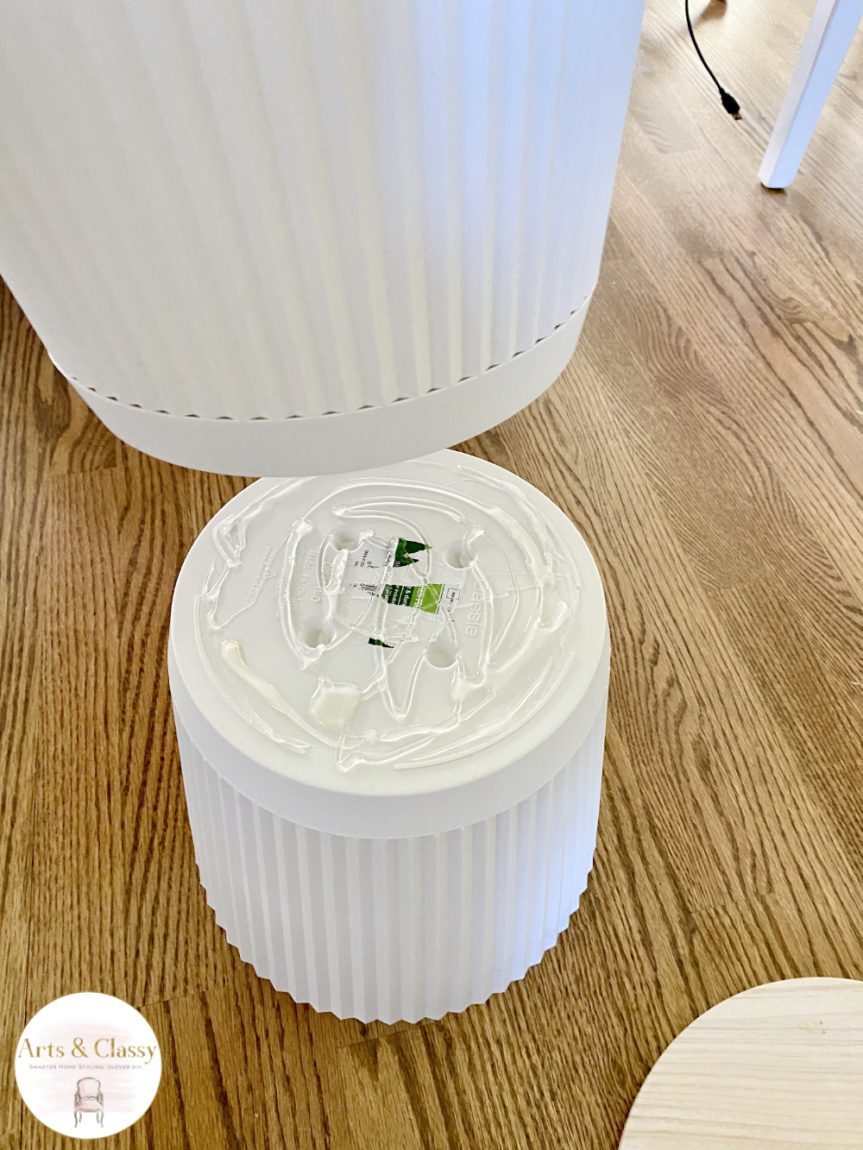 Step 2 – Stain the Wood Top
I love water-based wood stains and Behr has a great one in the color Rustic Brown that I thought would be perfect for this project in my living room. Of course, you can choose to not stain it or go a different direction.
What I love most about water-based stains is that it takes little to no time to dry and it is way less messy. No gloves are required as you would with an oil-based stain. PLUS, no overwhelming smell either.
The directions on the stain I used were to apply the stain with the grain of the wood round top, allow it to sit for 5 minutes, and then wipe the excess away.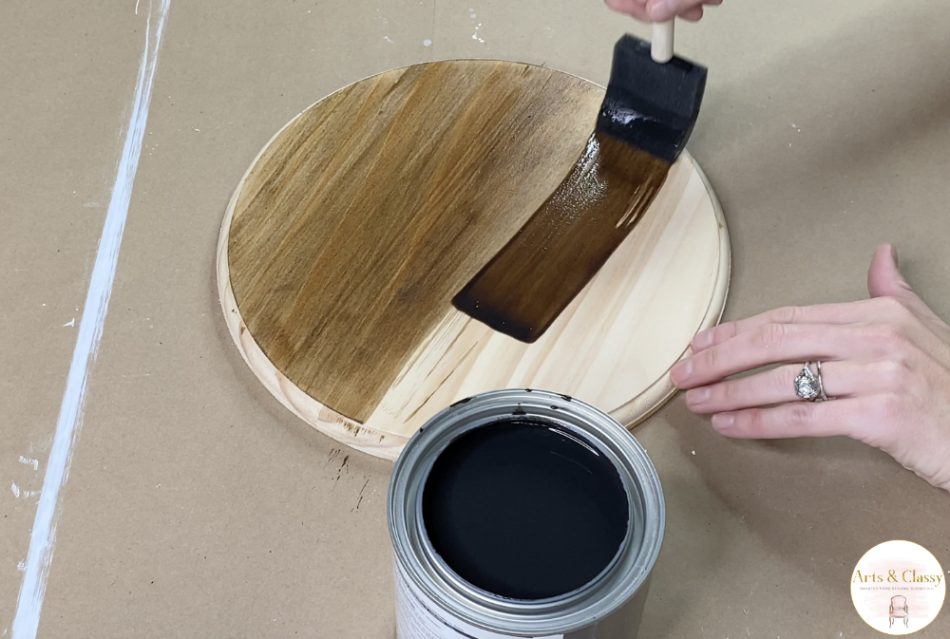 I did this a couple of times to achieve the level of rustic brown that I wanted for this diy end table. I let this sit for about 5 minutes once I was happy with the unique look and level of stain achieved.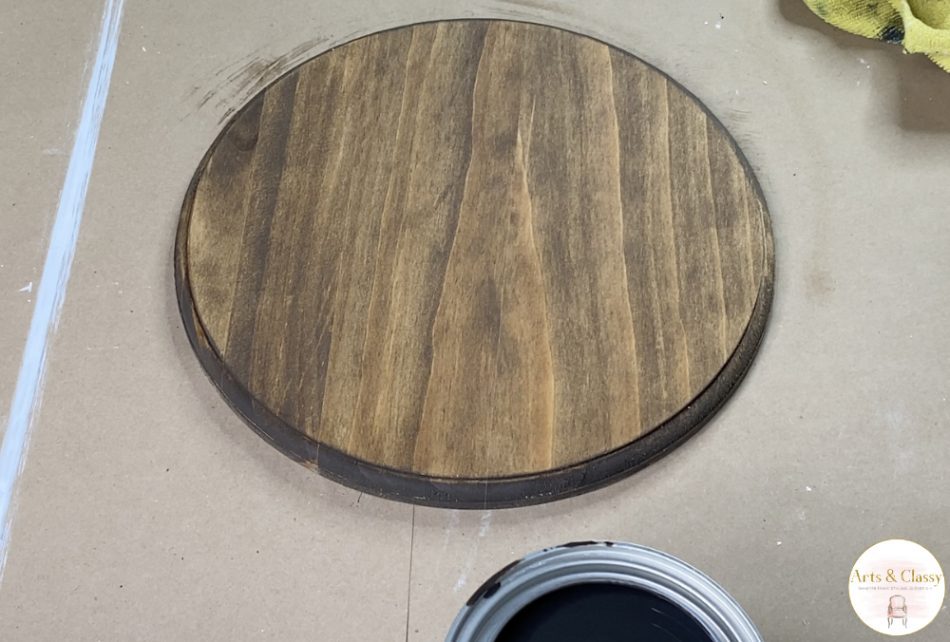 If you wanted to, use sandpaper to go back and age down this top. This could be an option to give it a more rustic look.
RELATED: LOOK-FOR-LESS HOME OFFICE MAKEOVER
Step 3 – Attach the Top to the Table Base
Once I was ready, I used a little bit of my Gorilla glue on the bottom of the round wood top. I did this when I attached it to the upside of my planter DIY accent table. The glue set pretty quickly. I had to make this step quick and make sure it was evenly spaced all the way around.
If this table was going to live outside on my screened-in patio or deck, I would have added an additional step. I would want to make sure the top was covered with a clear top coat to protect the wood. But indoors we have no weather (duh) and coasters to protect the table surface.
Once the top was secure, I was ready to enjoy this new accent table in my living room!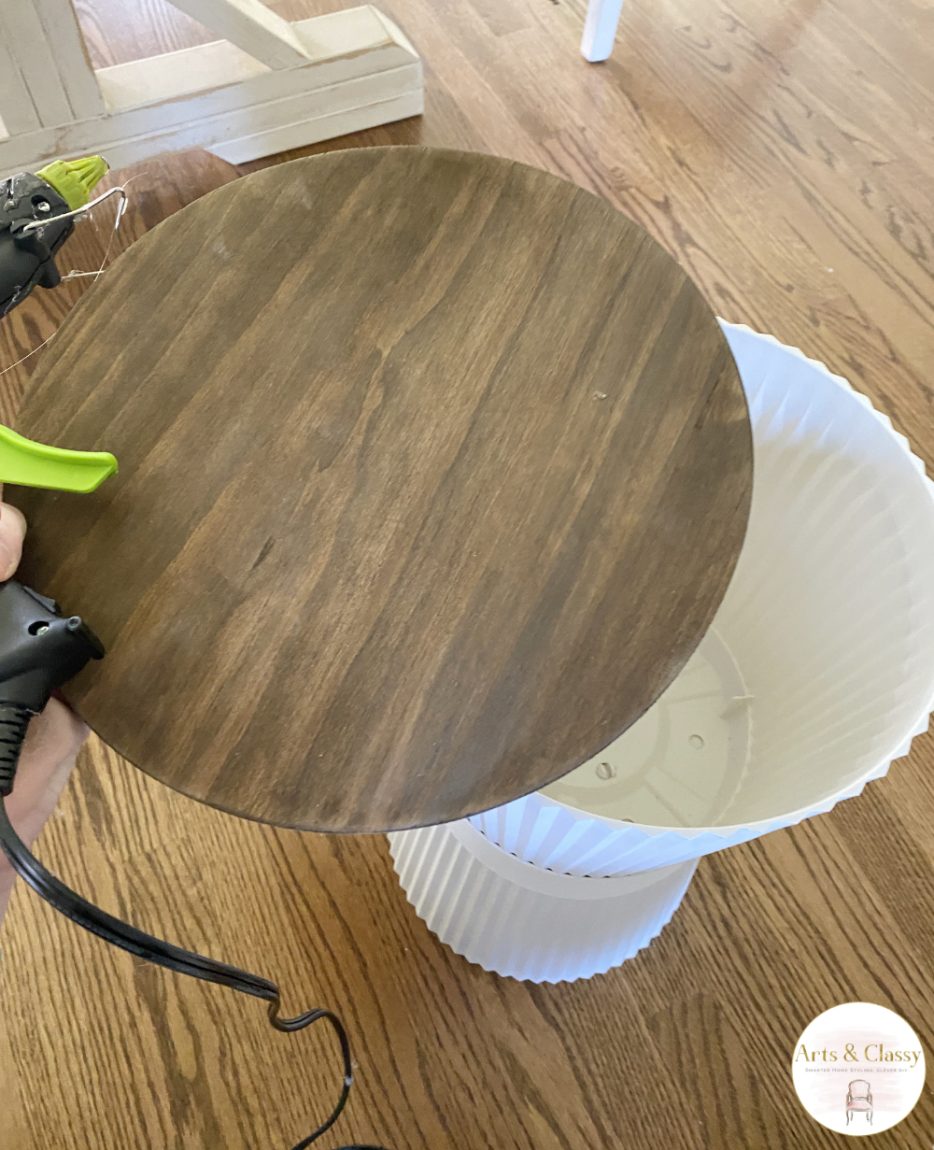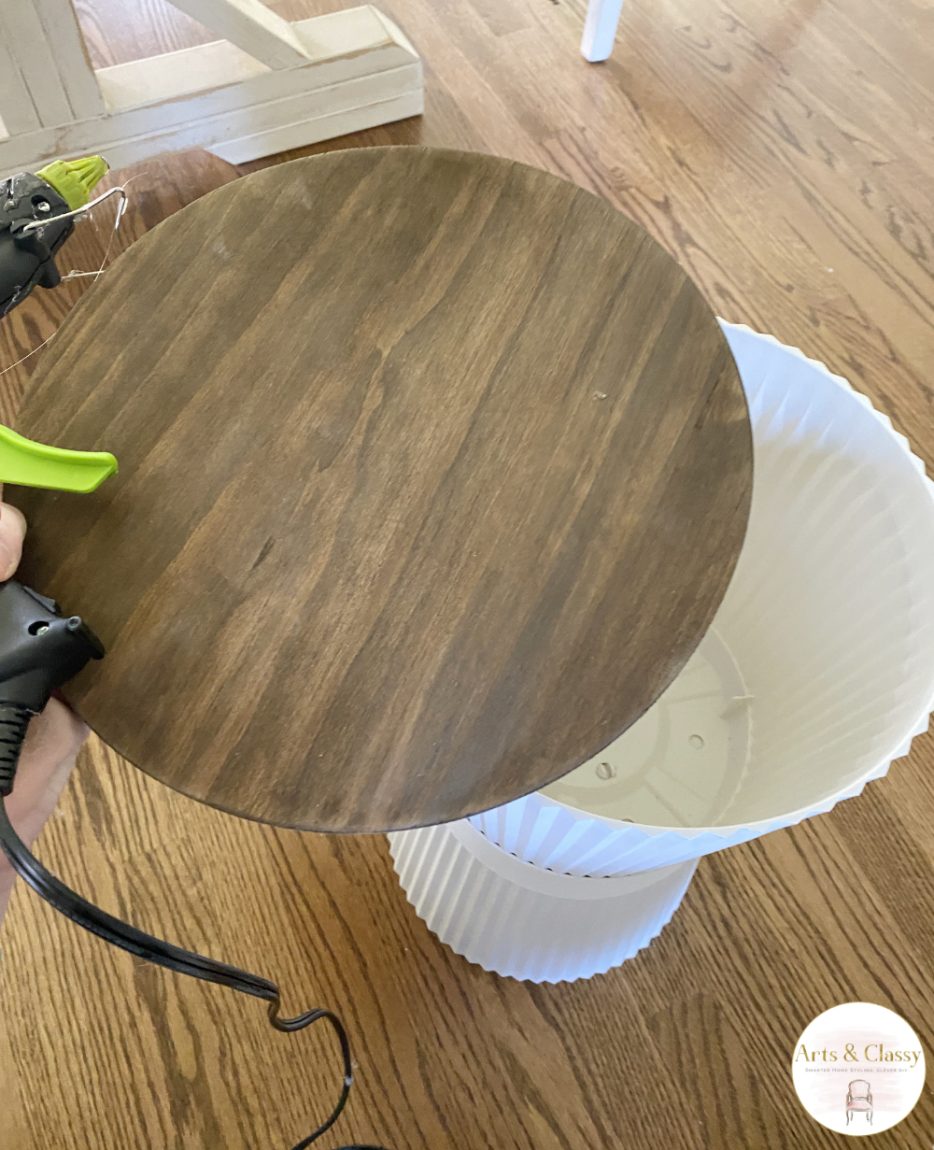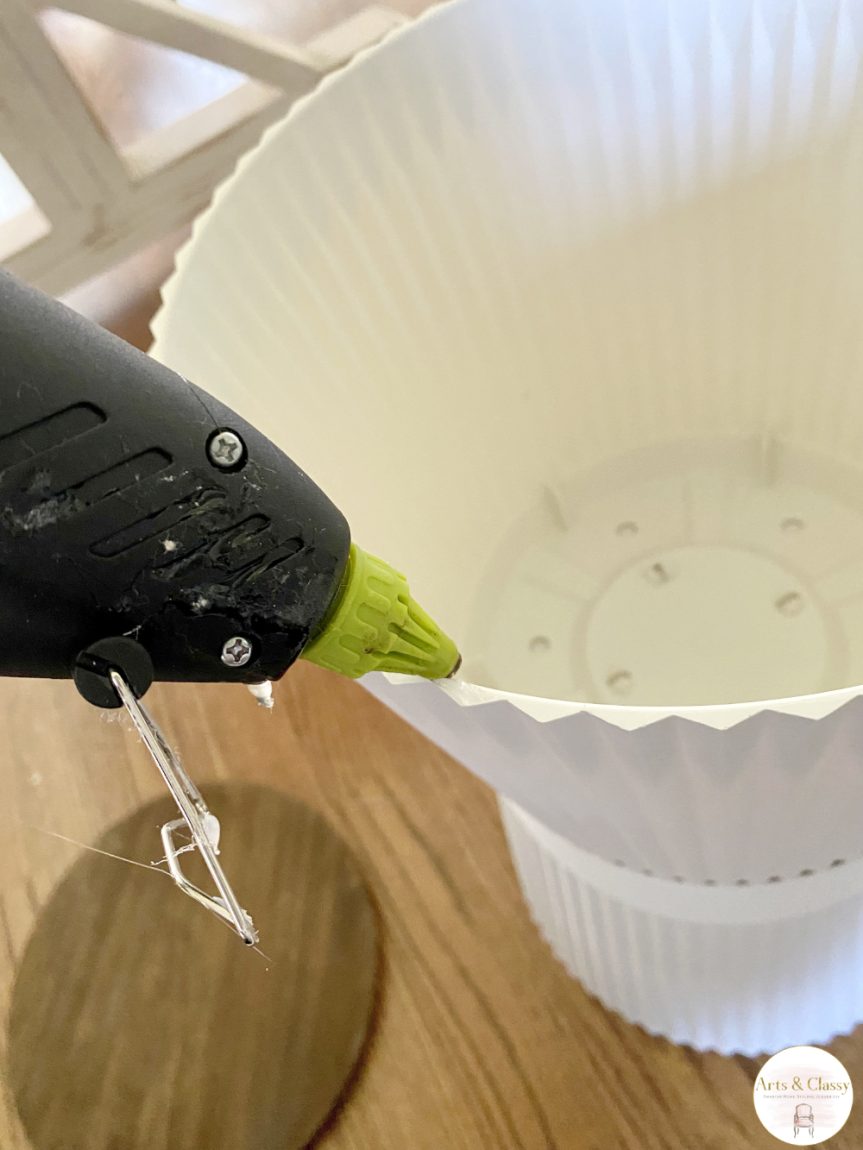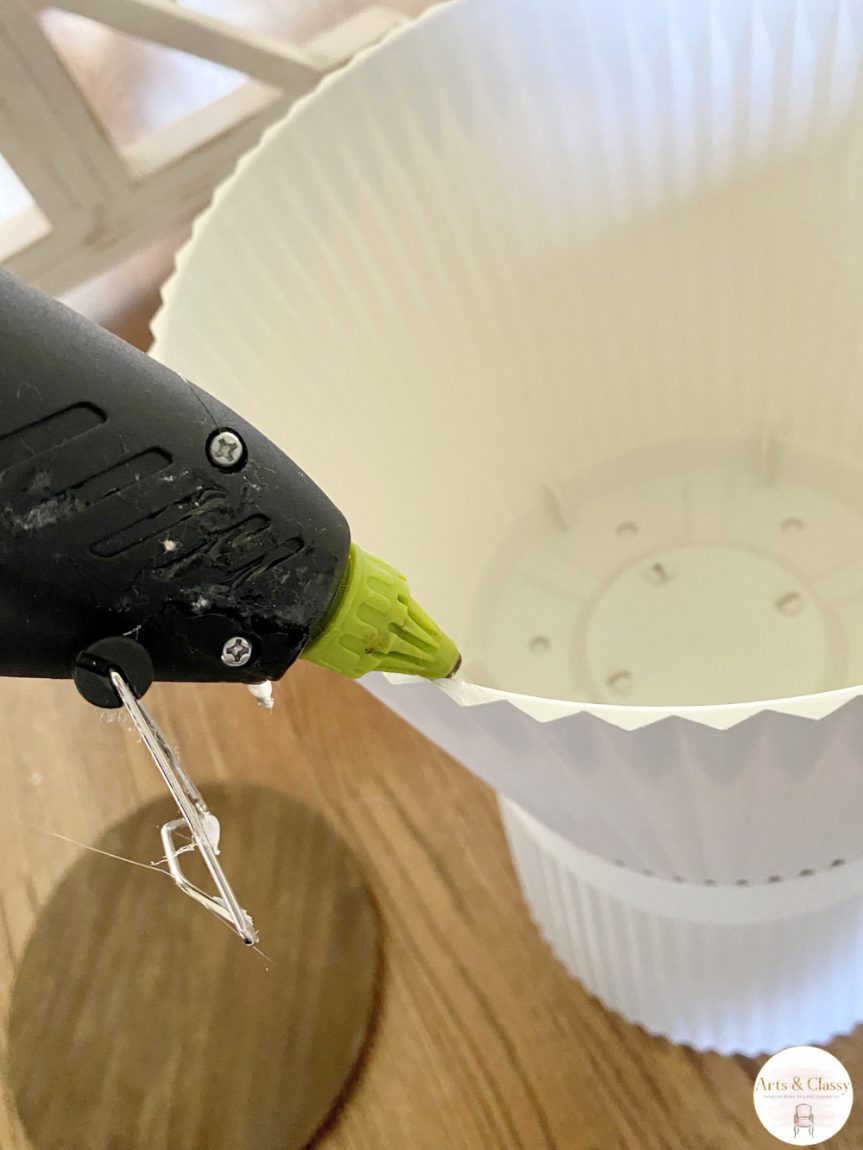 Step 4 – Enjoy This Easy DIY Accent Table
This table is a perfect size and complements this little nook perfectly! The leather chair was handed down to me by my grandparents, and I love that by adding this table and a cable knit pouf I am more drawn to this space.
I can see myself enjoying having company over, or simply reading a book or working on my laptop. The best part about this small furniture piece is that it was easy to make, budget-friendly, and had a high-end look to it.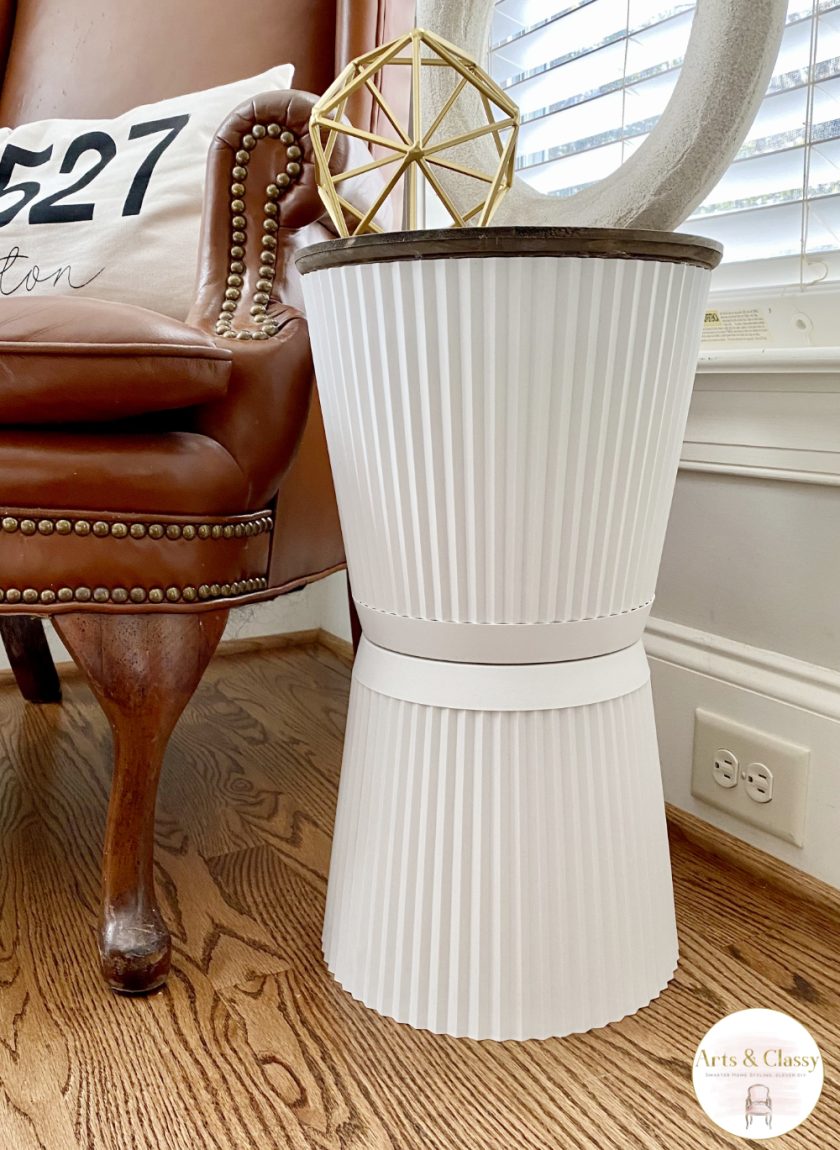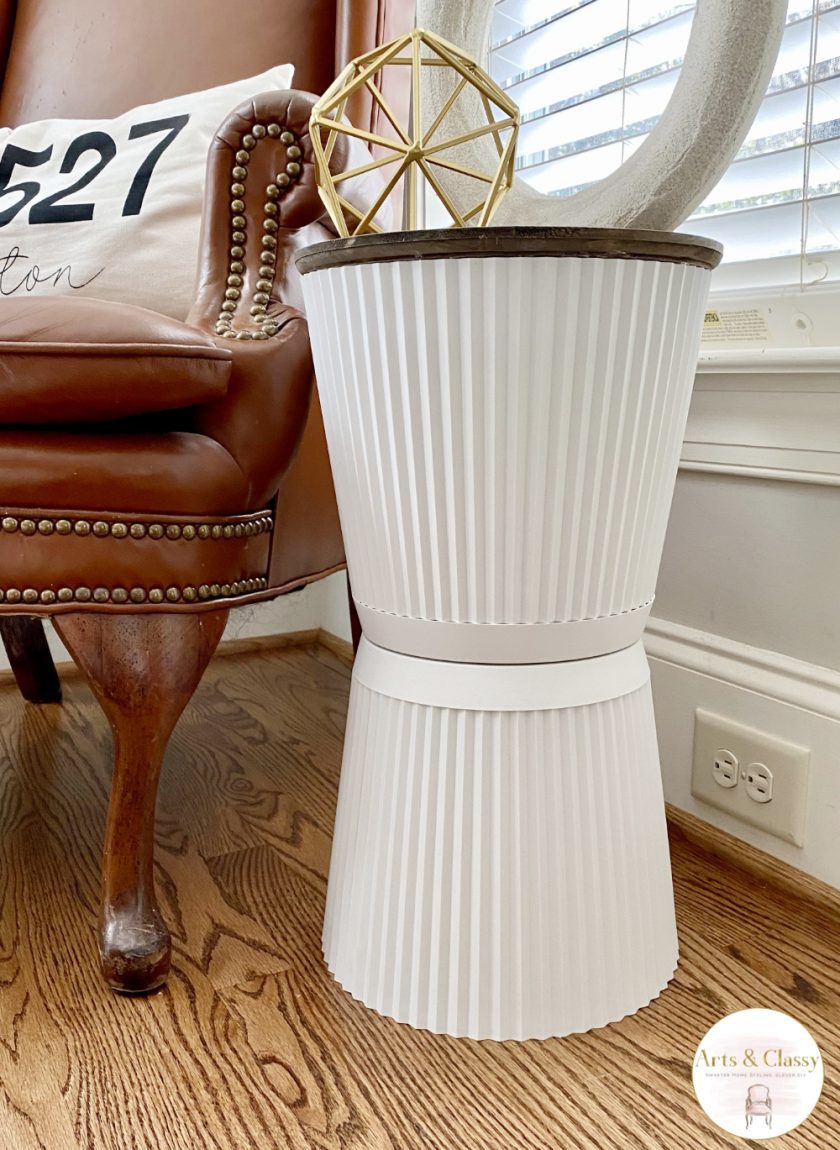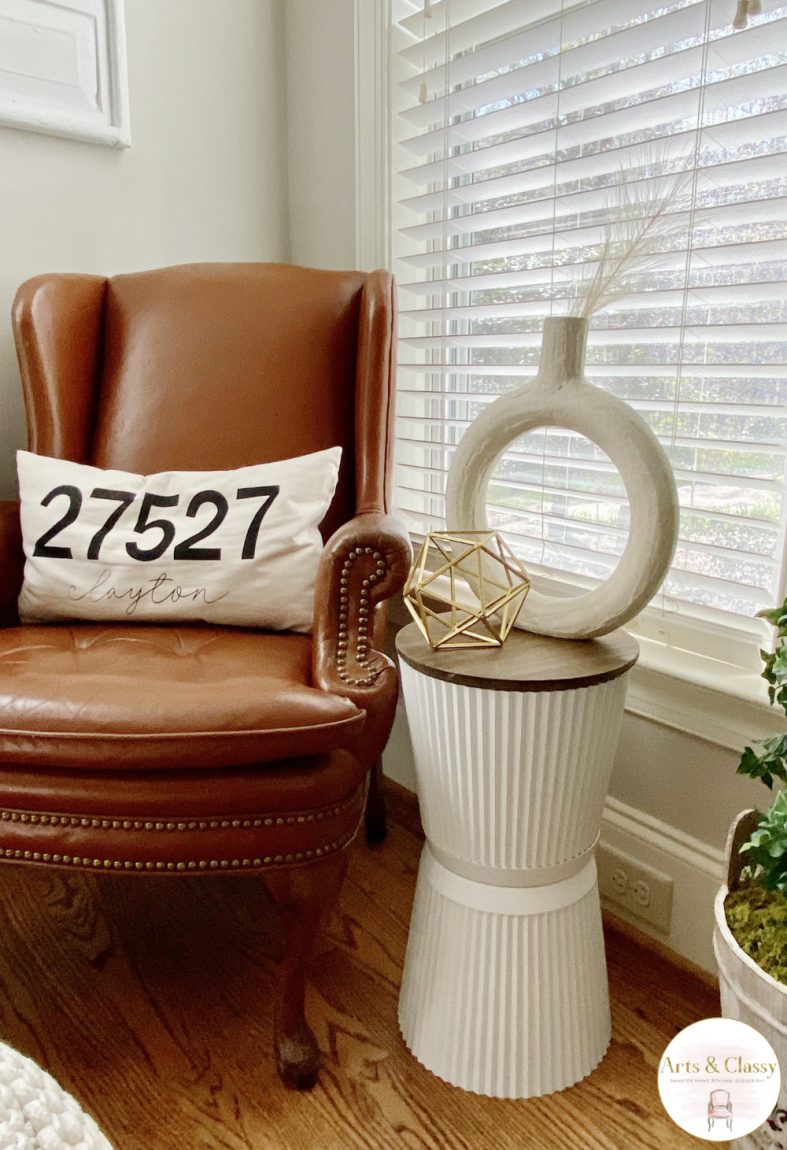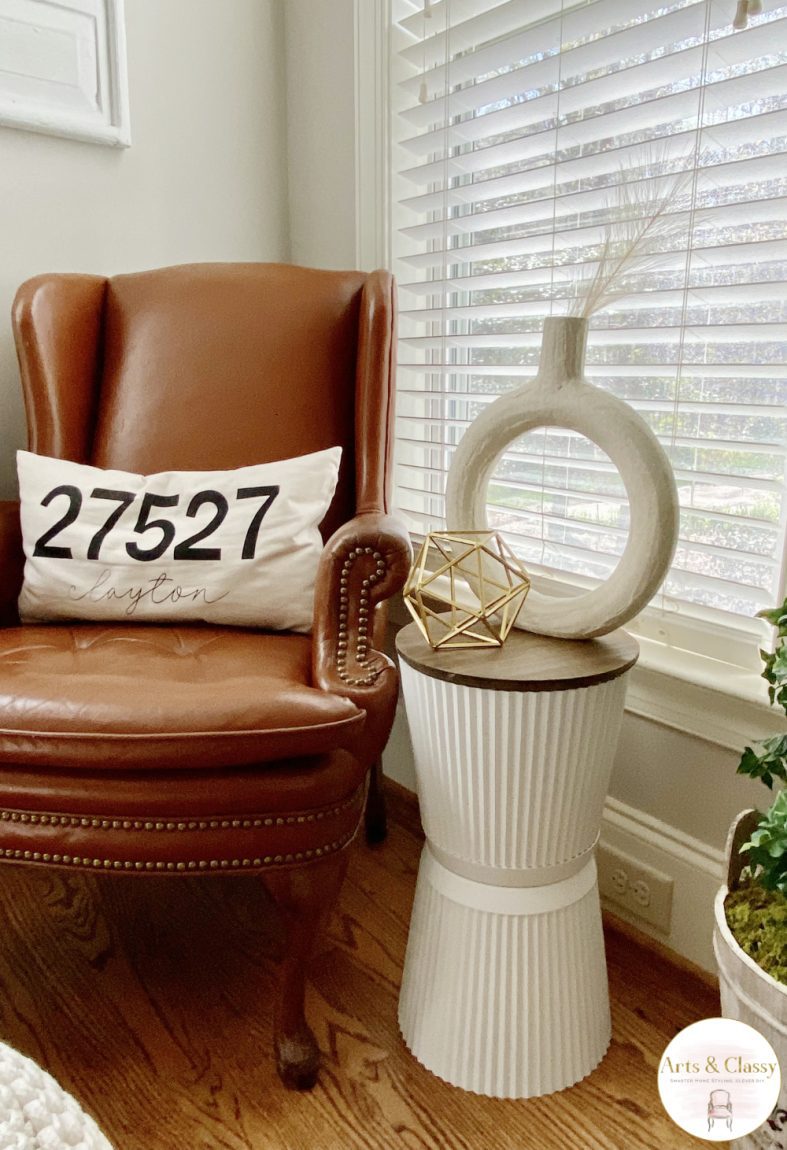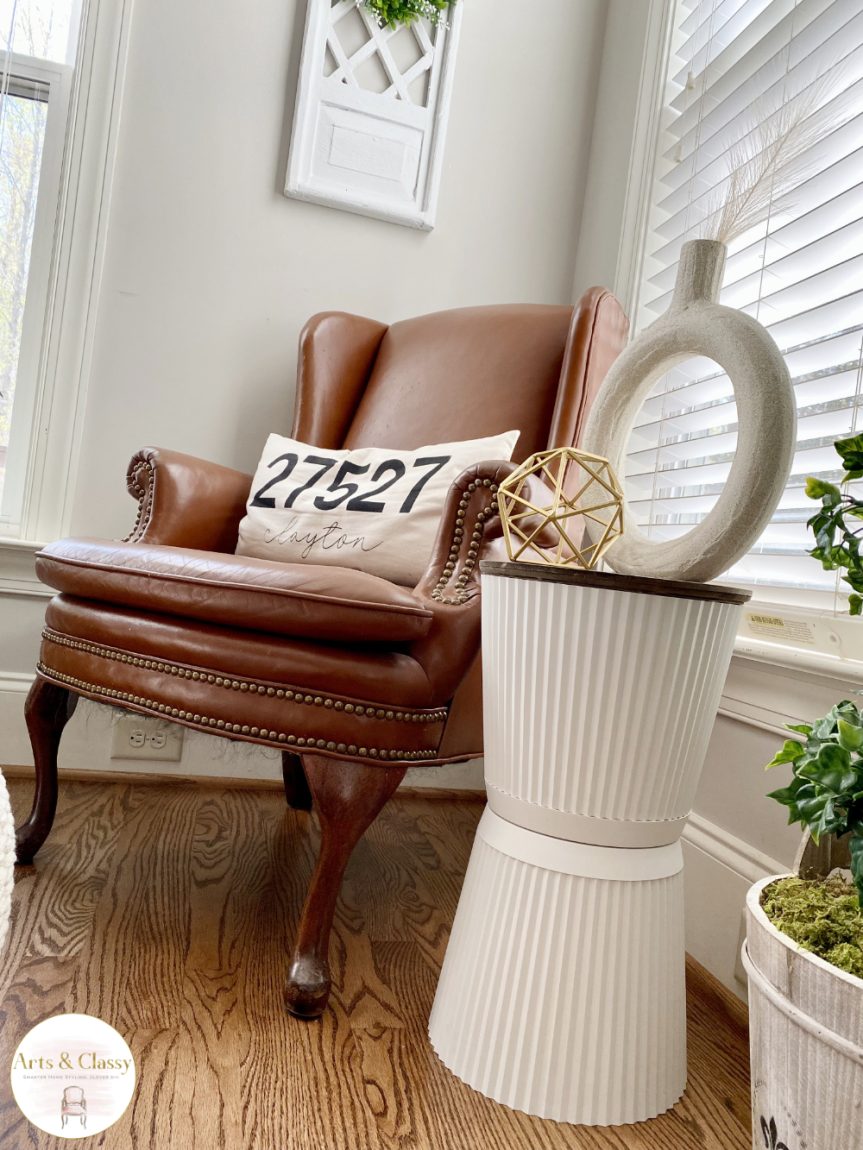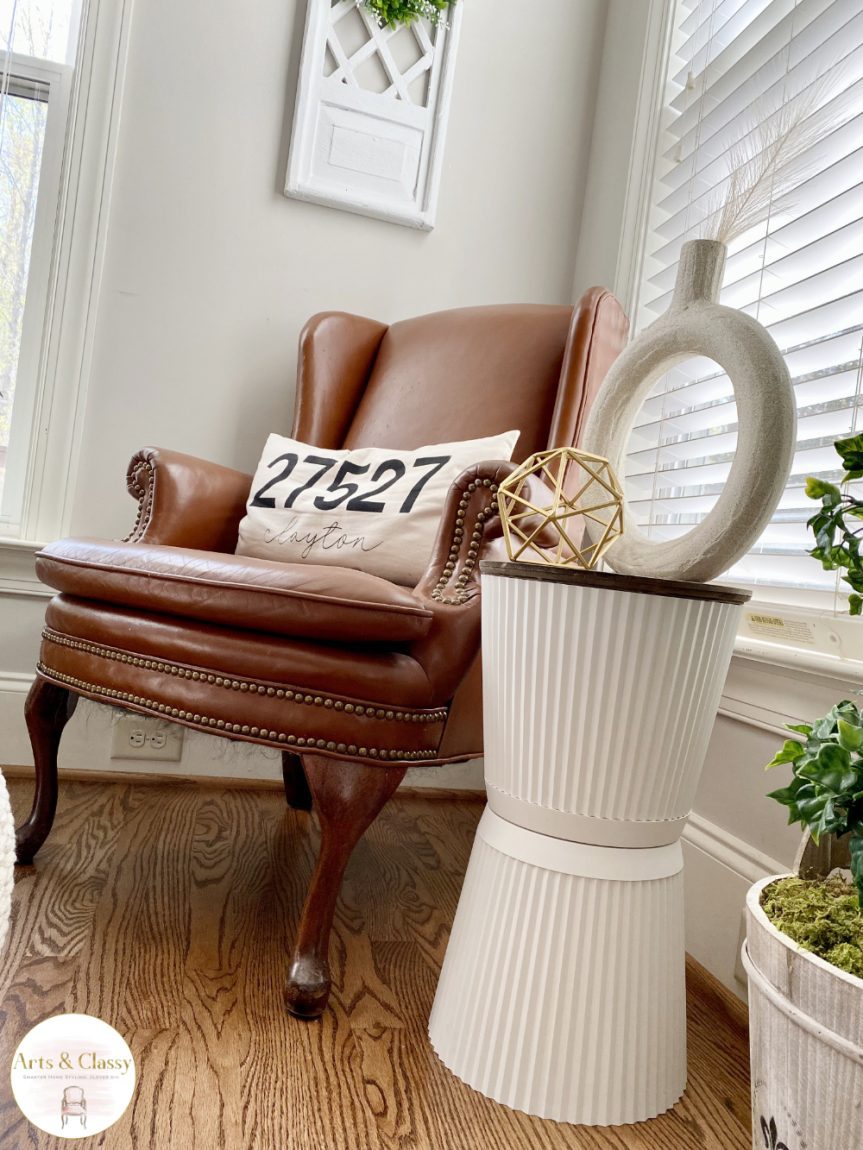 I could also see this project being used as diy nightstands for a small space or as matching side tables. What it loses in the way of storage it makes up for with the style it creates!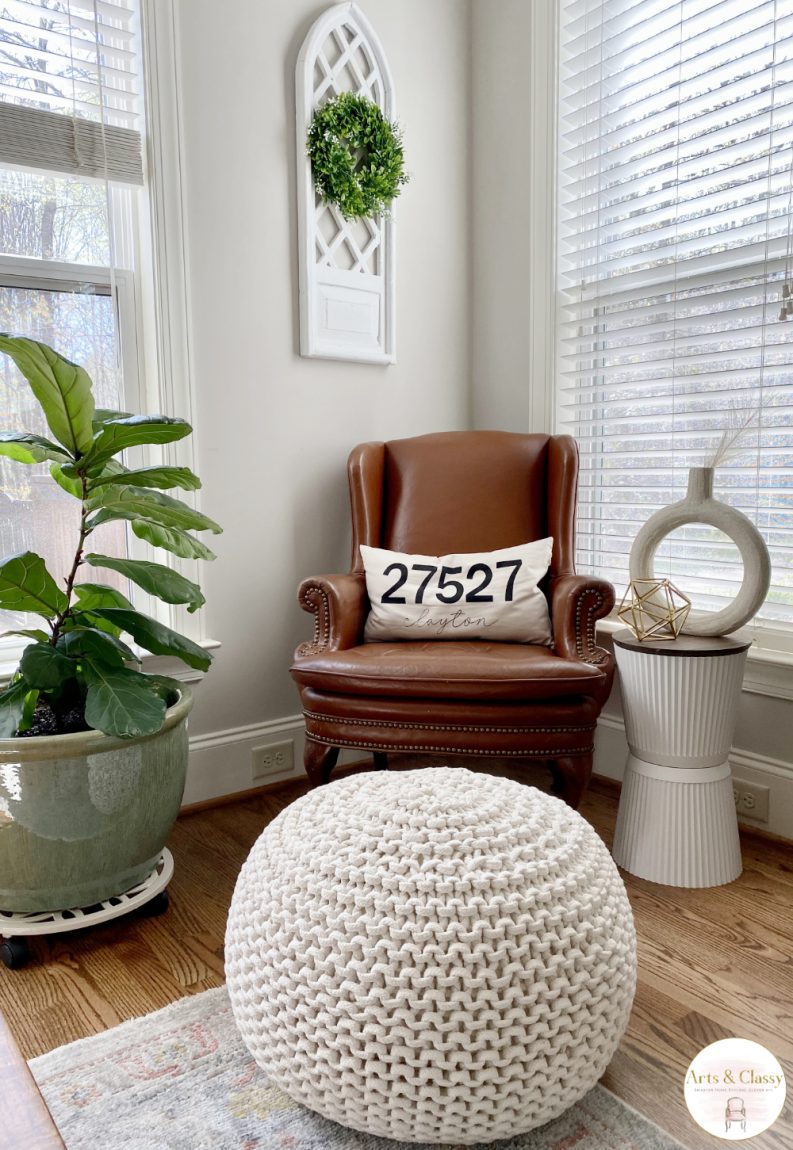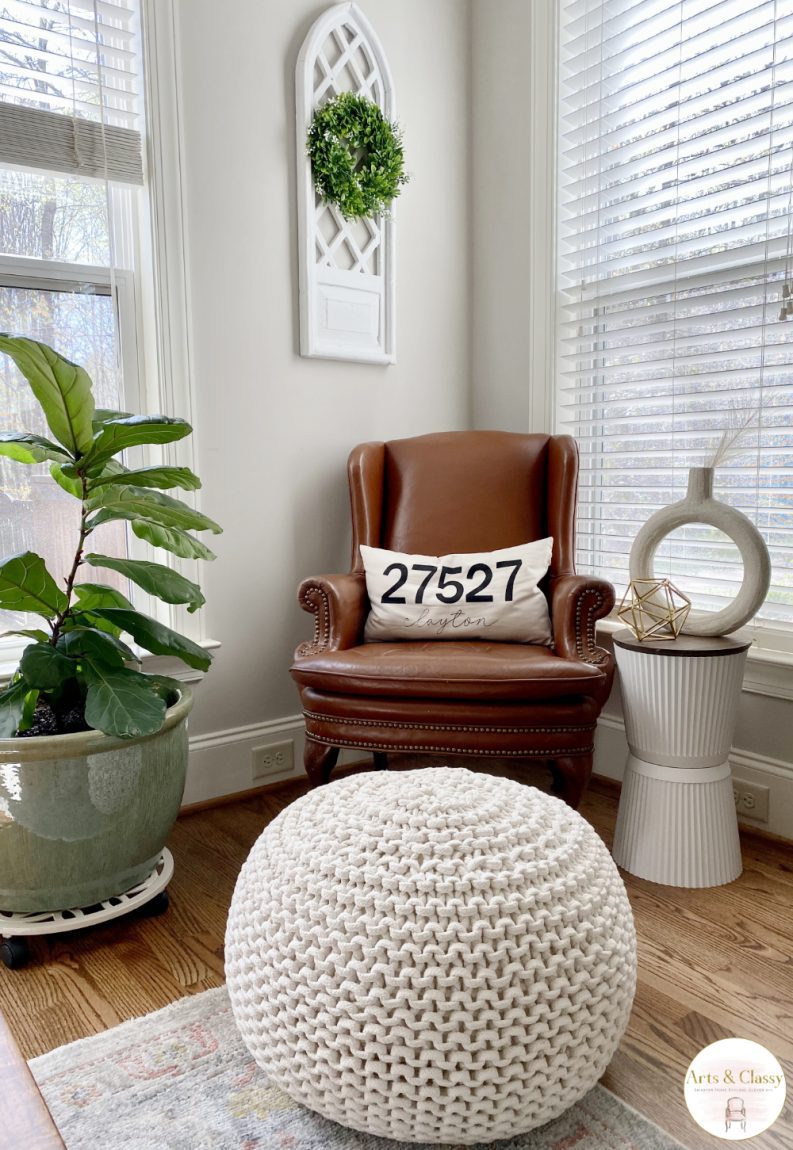 RELATED: DIY FARMHOUSE WALL ART LOOK-FOR-LESS
By completing this $15 DIY round table tutorial, you can add a stylish and functional piece of furniture to your home.
Not only is it budget-friendly and straightforward, but it can be a fantastic conversation starter and an essential element to your décor. With this project, you can have a unique piece of furniture that will undoubtedly leave a lasting impression on you and your family and friends. So, while a table can be a centerpiece of beauty and functionality, it can also be a fun and creative outlet. Go ahead and take the chance to make your space unique with this DIY round table!
With this simple DIY project, you can transform your home with the right attitude. So, make the choice today to invest in your home with this round table tutorial and enjoy the results for many years to come!