I am sharing cute large macrame wall hanging decor ideas that will give your home a boho look. This design is an eco-friendly alternative to boring wall decor.
It's a perfect piece to add a fun accent for any room! I am excited to be writing this post today because I get to share a bunch of textile art finds.
Is macrame still popular?
If you aren't familiar… Macramè is a centuries-old knotting style. It was pretty popular in the 70s as the decor of choice. It has re-emerged as the textile of choice for a modern home.
It's cotton texture and interesting patterns within each design allow them to blend into any room while also adding some softness to it.
Believe it or not this is still a popular decor piece for bohemian or eclectic sustainable interior design. For some people this is a hobby that helps them express their creativity and keep their hands busy. For others, it's the perfect accent to their gallery wall or to add a bit of texture to their home decor.
Below I'm sharing recommendations and 7 different types of macrame design you can bring into your home.
I am pretty stoked to share these beautiful macrame hanging and textile art gems with you. They fit a ton of different price points also no matter what your budget is.
This post contains some affiliate links for your convenience. Click here to read my full disclosure policy.
1. Natural Color Large Macrame Hanging Wall Decor
Large Macrame Boho Wall Decor – This large macrame hanging decoration can be used for your wall in your living room, bedroom, or hallway! You can make your room look unique with some cotton rope and a wooden dowel that looks like driftwood.
Macrame Curtain – This beautiful large macrame wall hanging tapestry features a modern geometric design, and is designed and handmade by Rianne Aarts in The Netherlands, Europe. This lovely wall hanging is made with 100% natural high quality braided cotton and is hanging on an oak-wooden dowel.


Cotton Modern Macrame Hanging Wall Art – This is made with 100% unbleached natural cotton rope 3mm and hung on a forest branch (photos) or on a wooden stick. This will add such a tasteful and stylish element to your home. Imagine how unique your space will look with this hanging in it. It looks great over chests, sideboards, TV benches, sofas, beds, nearly anywhere!
Bohemian Macrame Wall Hanging – This macrame wall hanging is made from cotton rope. I love that it is absolutely organic, and not dyed. The use of a decorative wooden dowel, (instead of just a plain wood dowel) is custom made by a carpenter.
2. Macramé Wall Planters 
Modern Macrame Pot Hanger – This handmade macrame plant hanger is made with 100% natural cotton cord 3mm and hung on a wooden stick (photo) or on a forest branch.
Macrame Wall Hanging Shelf + Macrame Plant Hangers of 2 – This whole set of hanging plant holders are versatile. The are such as space saver and and double as home decor. If you are a plant mom, displaying your plants that will highlight your greenery and bring a boho element to your home decor.
3. Dip-Dyed Macramé Hanger
Blue Dip-dyed Wall Hanging Tapestry – This unique and stunning piece is perfect to add both texture and color to your space. This lush wall hanging reminds me of a setting sun just dipping behind the horizon, hovering above a deep-blue ocean.
Dip Dye Macrame Wall Hanging – Large Wall Tapestry for Boho Decor – This colorful macrame wall hanging is one of a kind is dip dyed fiber art decor tapestry. This large wall decor statement piece gives a striking and inspiring addition to any wall. The best thing about this color combination is that it perfectly goes along with pretty much every other color in your decor
Neptune Blue Circle Macrame Wall Hanging Tapestry – This modern contemporary circular tapestry is called "Neptune". Graphic and striking, navy-blue is a timeless pick for both modern and traditional homes. This navy-blue circular tapestry is smooth and sophisticated and the blue hue ranges in shade from mid-tone to a nearly black gradient. The best thing about navy blue, is that it goes with pretty much every other color in your decor.
Macrame Wall Geometric Art – From deepened textures to remarkable gradients, the Dutch Fiber Artist Rianne Aarts combines bohemian simplicity with polished elegance. The stunning "ISA" large macrame tapestry features a lovely modern geometric design. Using a specialized technique, Rianne adds a gorgeous gradient dye to the fringes of the tapestry.
4. Layered Wall Hanging Decor
Frostbite Woven Wall Hanging Tapestry – This wall hanging is a perfect way to work vintage pieces into a modern home decor, just adding this Tapestry brings an instant Tribal, Aztec and Bohemian vibe to any room.
Boho Macrame Wall Hanging & Wall Decor – This amazing piece of bohemian macrame wall hanging can give any space a dash of boho-chic charm; boasting a sophisticated design. This elegant piece of decor welcomes uniqueness as it greets comfort and style into your home.
Macrame Black and White Wall Art – Macrame wall hanging features black and white wall art. Tassel decorations makes this small woven wall hanging elegant and cute. Matches any boho, modern, minimalist decor or gothic home decor.
Bohemian Beige Geometric Wave Art Decor with Wool Ball and Tassel-Elegant – This simple and elegant macrame hanging is perfect for boho lovers to decorate their rooms, dorms, etc. It creates a relaxed feeling in the room.
Macrame Wall Decor Layered Panel with Tassels – Natural cotton macrame cord 4mm, and the macrame distance between each one can be easily adjusted.
5. Macrame Door or Window Curtain
Crochet Door Curtain – This handmade macrame wedding arch is a beautiful piece to incorporate into a bohemian wedding. You'll be able to use it at your wedding, but also as a beautiful decoration or curtain in your house.
Boho Door Window Curtain – Macrame cord curtain is a beautiful decoration in your house. You can use it for the entrance to your bedroom closet/yoga/meditation room or as a doorway to lounge area in your office space. This is a perfect backdrop for your party or bohemian wedding. Also, you can use this as headboard, window curtain, or large wall hanging!
Macrame Door Hanging Room Divider – These types of boho decor are perfect for wedding arches for a bohemian wedding. Excellent for outdoor ceremonies. Also looks amazing in the loft, industrial places.
6. Wall Decor and Storage Macrame Pieces
Bohemian Macrame Wall Hanging Shelf – Bohemian floating plant shelves with beautiful handmade macrame weaving. Highlight and display your pictures, frames, ceramics, books. Show your flowers and plants some love with this modern, vintage-inspired macrame plant hanger. This indoor plant hanger is perfect for bringing the comfort of sunshine and spring into your home.
2 Tiers Bohemian Macrame Wall Hanging Shelves – Macrame plant hanger is handmade of 100% pure natural cord (4mm) and strong pine wooden shelf, 2 tiers Handmade Plant Shelves design. Beautiful craftsmanship, stylish and durable, simple and modern style. It is very easy to hang on the wall to make your life become cozy and elegant.
Macrame with Bamboo Ring – The macrame wall hanging can decorate your wall, and can also be used as a storage bag. You can hang this wall pouch as decorative storage in your interiors or use the holder to store artificial flowers.
Boho Wall Shelf Macrame Plant Large Shelves – Perfect addition to any wall in your home! Suitable for Scandinavian, rustic and Boho. This bohemian tapestry perfect wall decorations in living room, bedroom, or apartment.
3 Tier Macrame Shelf Wall Hanging – All our macrame shelves are handmade to ensure excellent quality. Works perfect as a bookshelf, plant shelf, decor shelf, kitchen shelf, or bathroom decor. These shelves can hold up to 35 lbs so they are sturdier than many other macrame shelves I have seen.
7. Dreamcatcher Macrame Decor
Custom Macrame Hanging Decor – Personalized macrame wall hanging made of wood and cotton rope.
Macrame Woven Wall Hanging Moon Dream Catcher – Macrame Wall Hanging is made of 100% Pure cotton cord, without artificial ingredients or chemicals. This cute and chunky macrame can make a big difference in any space.
Angel wings Macrame Wall Hanging – his macrame wall hanging is made of 100% pure cotton cord, without artificial ingredients or chemicals. We believes using natural materials will bring a feeling of safety and a feeling of connection to Earth. It is fused with modern style, showing both unique exotic style and the random personality of wall art.
Tree of Life Dream Catcher – This large macrame wall hanging dreamcatcher is made of soft off-white 3 mm luxe cotton rope. It is skillfully knotted and twisted. All cotton yarn adds the finishing touch. The macrame feather with wooden beads can compliments your boho décor.
Large Wall Macrame Hanging Dreamcatcher – Boho wall hanging decor unique piece will be sure to be the center of attention wherever you choose to hang it.

Now I have to ask which one of these macrame hanging do you loved the most?? Share with me your favorite in the comments below.
Taking more of a DIY approach to making macrame means learning how to macrame! Here are some tutorials to learn how. This makes a great new hobby and a wonderful way to manage anxiety.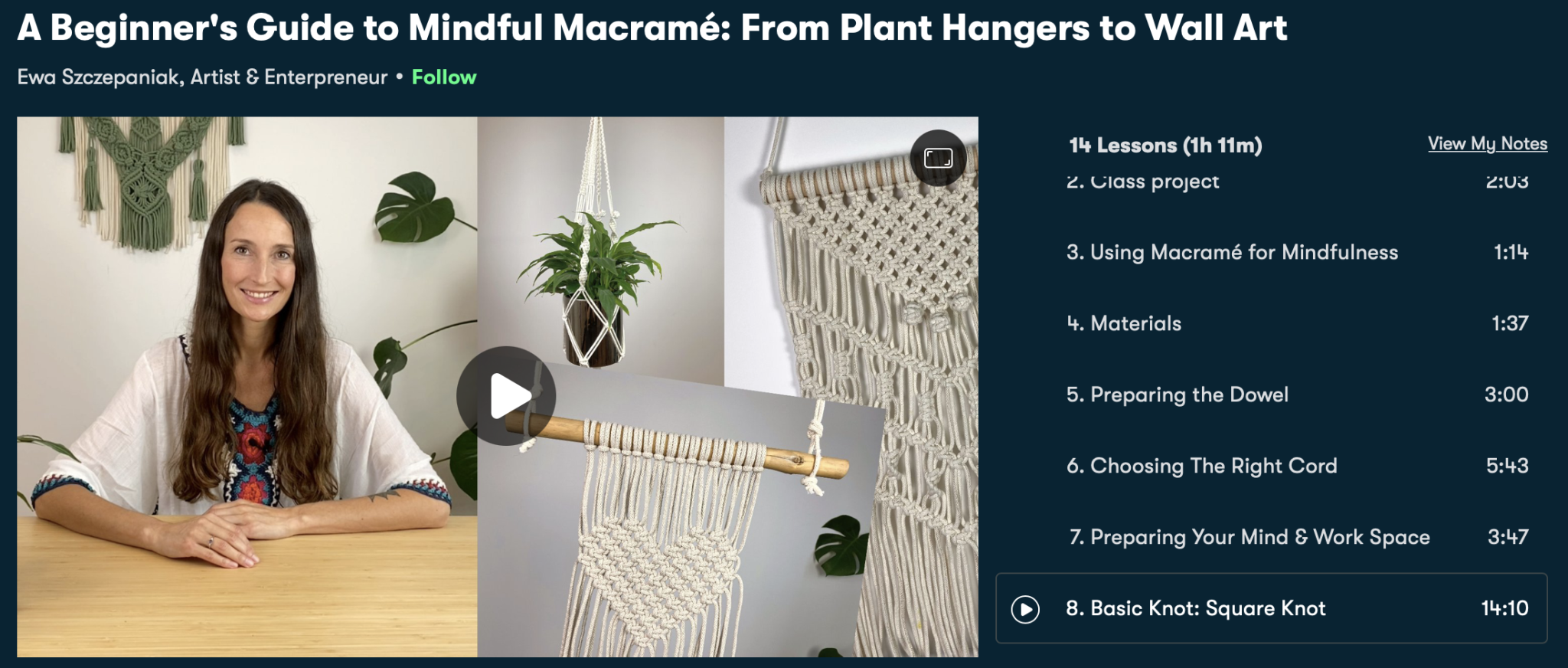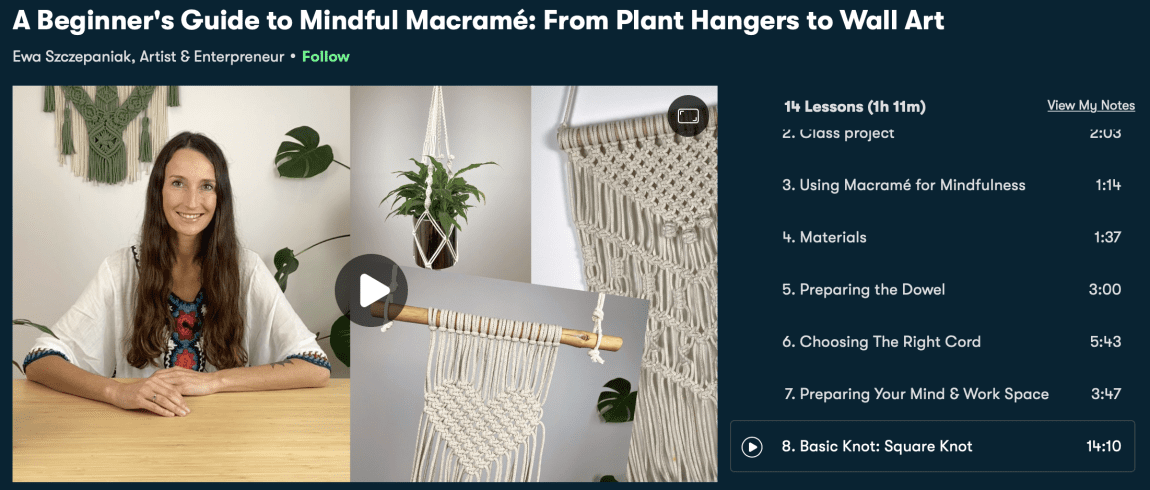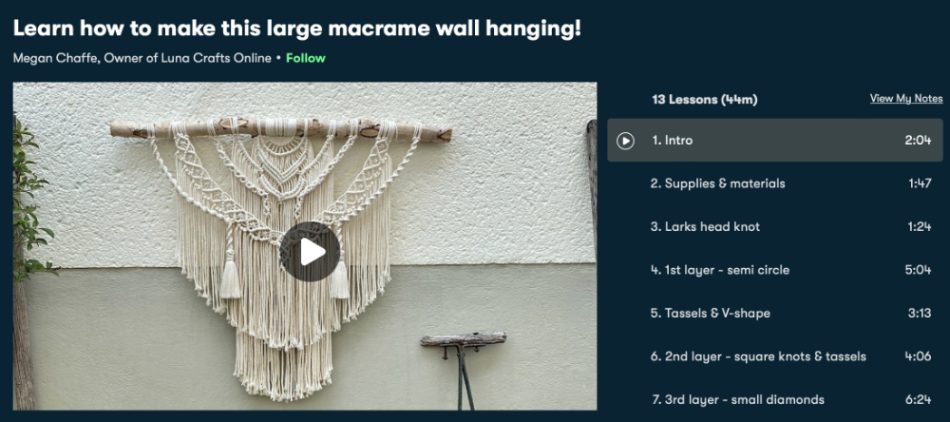 I am obsessed with this decor not only to purchase but also to make on my own. Their is a coziness vibe that macrame wall hanging decor adds to a room.
Another popular design trend I have been following is mustard yellow decor! It's so warm and vibrant and adds so much to a room. I am always on a quest to make my home look more expensive on a dime and I love sharing tips on this subject.
If you are more interested in DIYing a macrame wall hanging piece then here are the supplies to make it below…
If this is your first time here, hi… I am Meredith and I have been blogging for over 10 years. I am the creator if Arts & Classy. This site began with the hope that I could document my experience decorating my home. As a renter with little to no budget, I had to flex my creative muscles and learn how to decorate my home with things and furniture I already had or could get for free.
10 years later, I have I build a brand and helped many people do the same with their homes. Blogging + Social Media marketing have become passions of mine and helped me make a complete career change from working in film and tv to doing what I love in my home.
If you have been wanting to start a side hustle that you can do from home I recommend learning how to start a blog. If you want to see what resources I recommend, check out my blogging resources. Also, I had share my blog traffic and income reports from the past few years.