Since Summer is pretty much here, I thought it would be appropriate to share my recent DIY project. I decided to clean up and reconfigure my space to give me more peace of mind. I hate clutter! Not to mention, it will look much nicer when I have guests over. Check out the whole journey + supplies I used for my patio makeover to see the details.
Here is the BEFORE of my small apartment patio.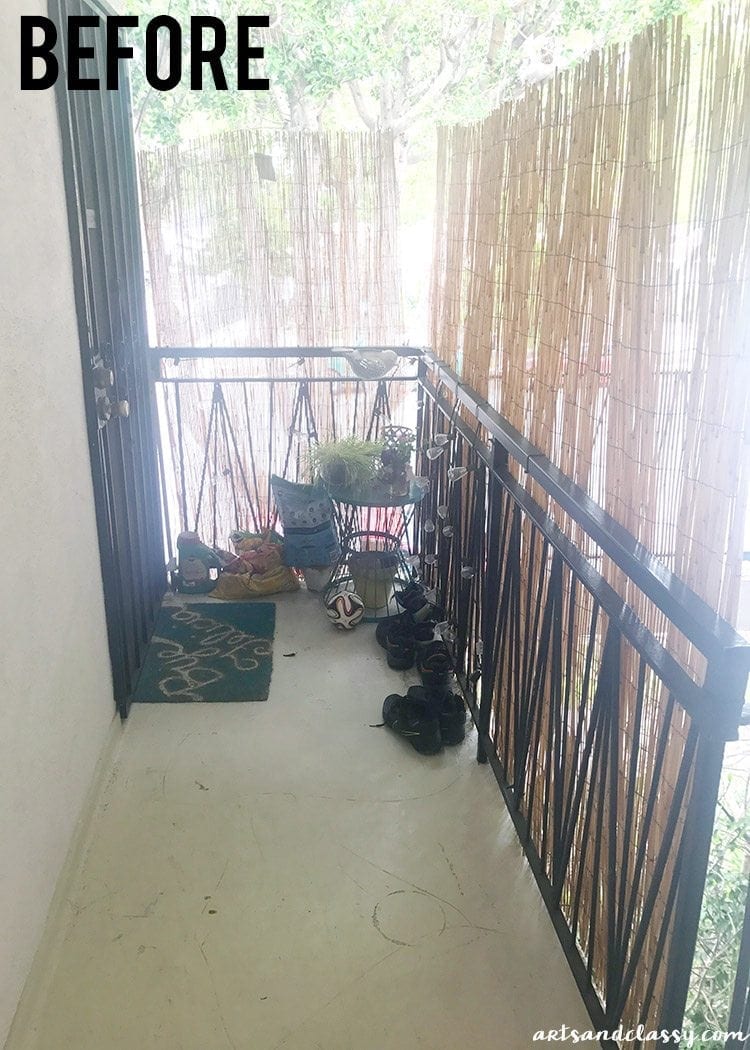 I also decided to record my process! Check out the video below to see everything I did during this MAKEOVER.
Supplies I used for this makeover:
A myTouchSmart Outdoor Timer
Painters tape
Gold metallic spray paint
Chalk paint in 3 colors
3 Paint brushes
Blue spray paint
Scissors
Zip ties
After I cleared out my patio of all the stuff and swept, I decided to tackle the bamboo screen first. I originally put this screen up to give myself more privacy when I leave my front door open for a nice breeze. I have Air BnB people staying across from me at my apartment complex.
Having strangers coming in and out every week, not my favorite thing in the world. Not having the screen made me a little more uncomfortable.
After a couple of months, the bamboo screen was beginning to look a little raggedy. I thought it was time to modify it. I measured 10″ down from the top and trimmed the screen with scissors. Once the screen was trimmed, I measured 8″ down from the top, marked it, and then added painter's tape to mask off the screen.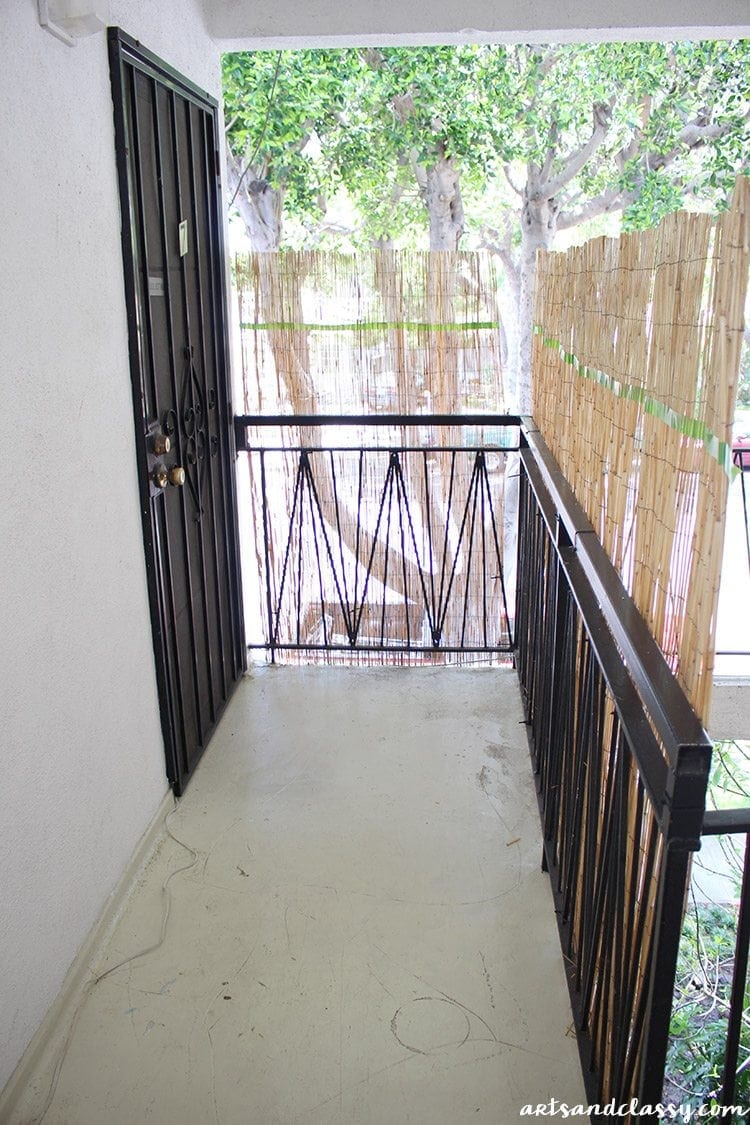 I had a couple smaller projects within this patio makeover that included upcycling some old flower pots. I decided I wanted to make them into a cute little fairy garden.
I used my chalk paint to paint these pots. It took a couple coats, but they turned out great!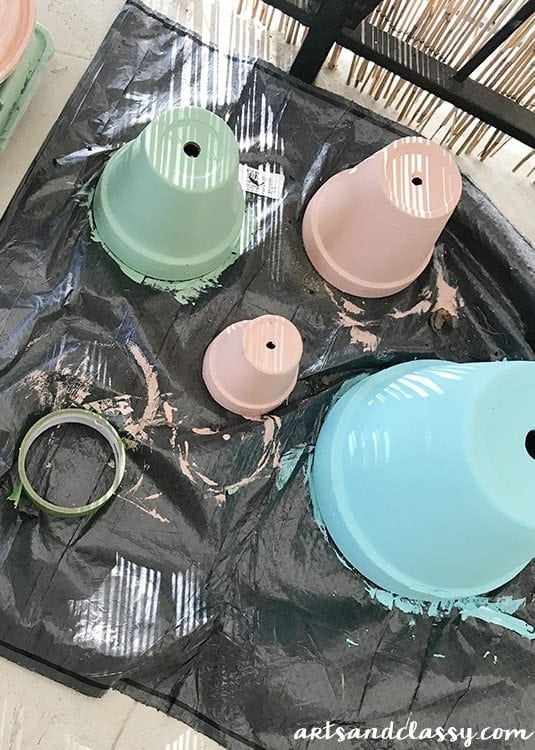 Once I had that project started, it was time to break out the amazing lights I decided to use for this patio makeover. Check out Enbrighten Seasons Color Changing Café Lights.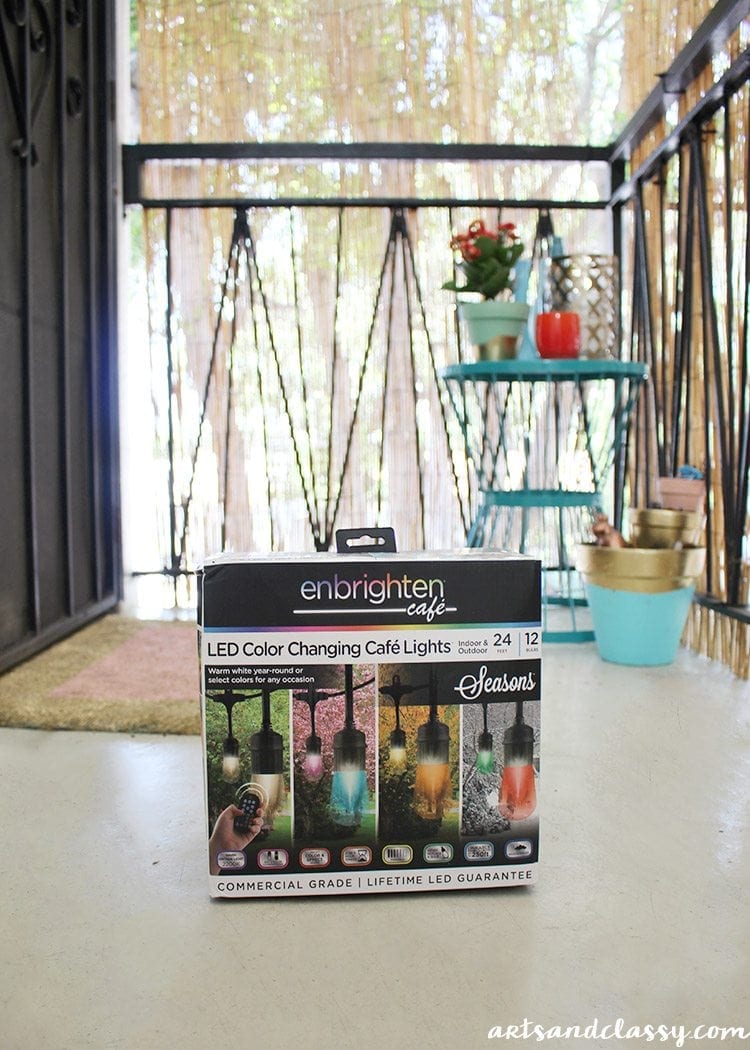 First, a couple cool features about this lights…
These lights are remote controlled and change to various colors.
They are impact resistant so you don't worry about breaking them.
They save energy, therefore save money.
You can use them year-round, matching them with every season!
They have a built-in timer that you can set via remote.
The strings are linkable up to 750 feet.
Change one light at a time or 2 colors simultaneously.
They are dimmable.
After I unboxed, I unraveled the string of lights. They were a little bit larger than I expected but were not very heavy.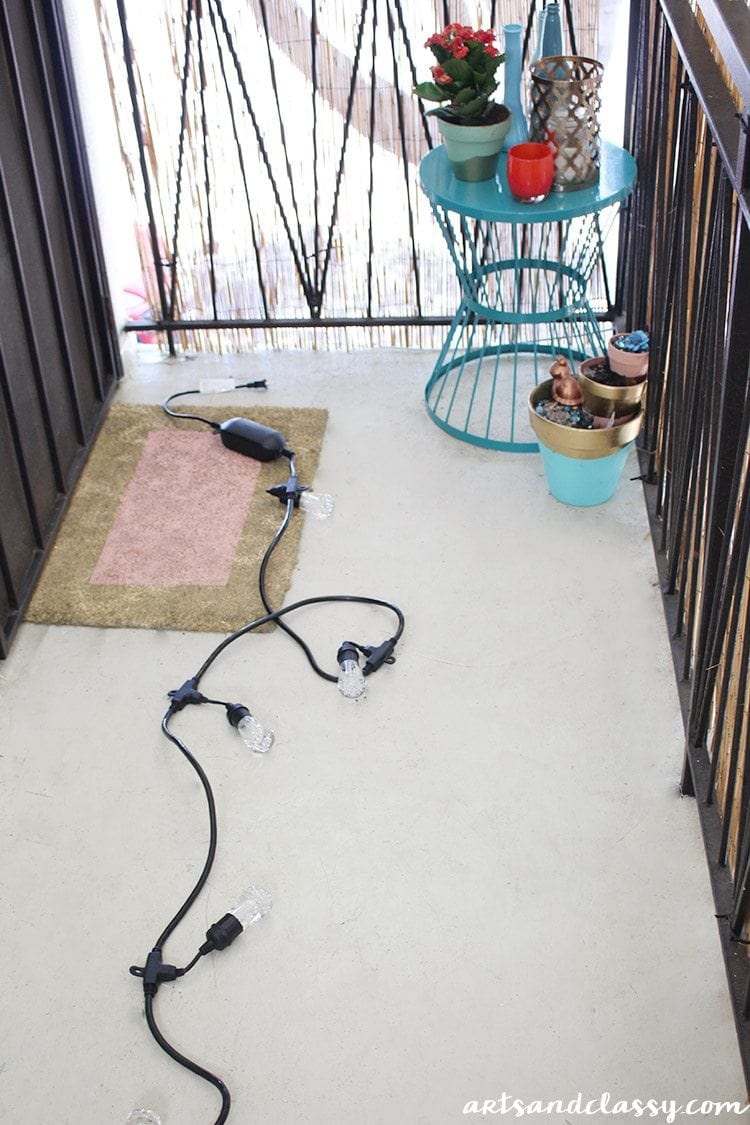 Since I am a renter, zip ties were my best friend with this project!
Zip ties made this project easy! I used them to secure the bamboo screen and the Enbrighten Seasons Color Changing Café Lights to my balcony railing.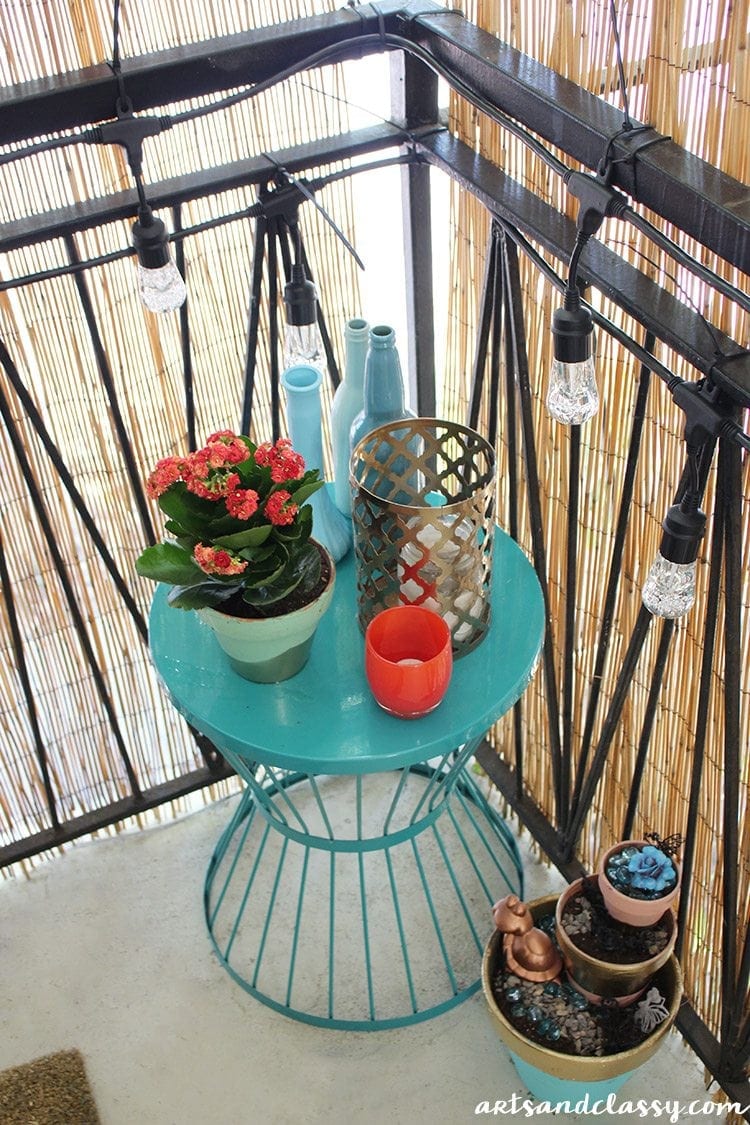 I was very surprised with I checked out the remote for these lights! So many options!!!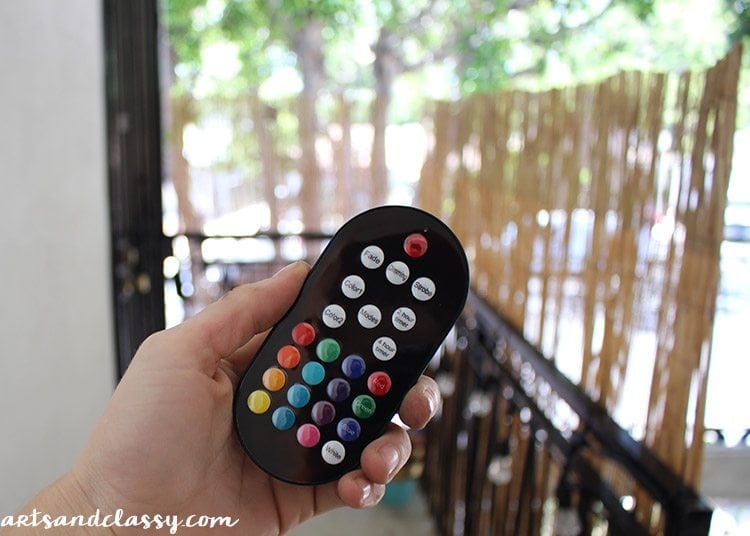 Here are just a couple of examples of the different color options.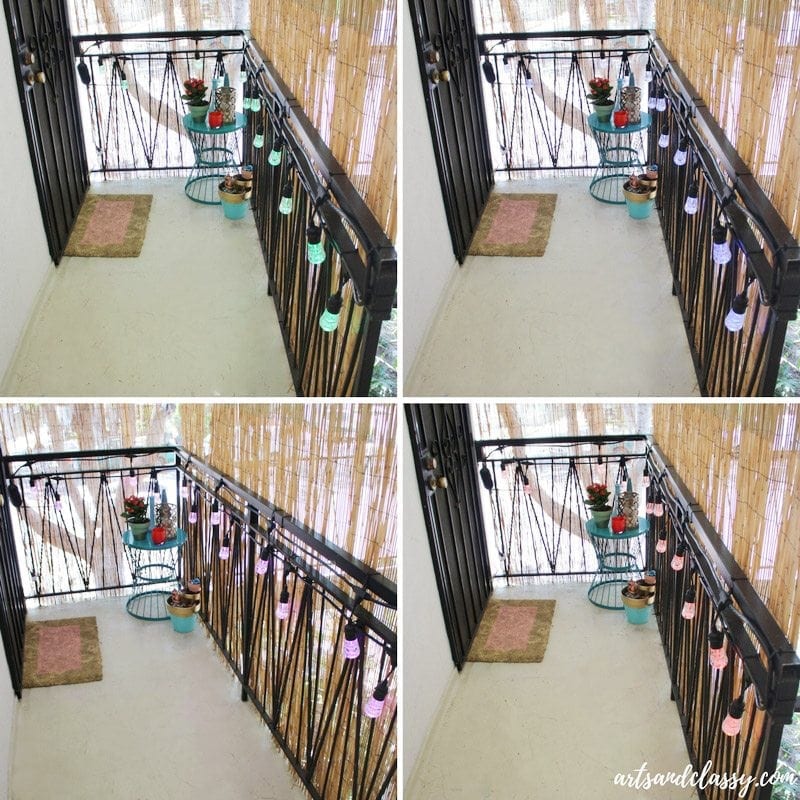 I decided to upcycle a ceramic sunflower baby that I had handpainted as a tween! (I used to paint ceramics weekly when I was in 7th and 8th grade.) I have been keeping this just because of nostalgia… but it really doesn't match my decor anymore.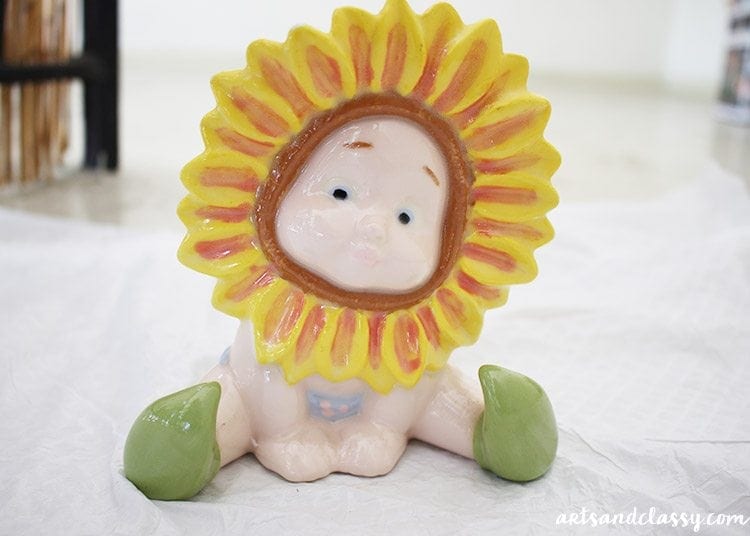 I decided if I was going to keep it, I needed to keep it relevant by spray painting it to match. I hoped this would make it look a little more high end.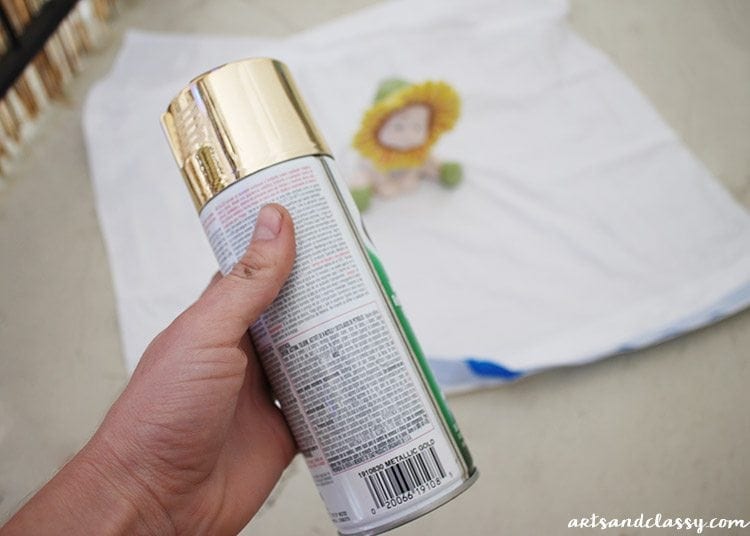 I think it worked out looking more high end! I am so happy with how nicely it complements my patio decor now.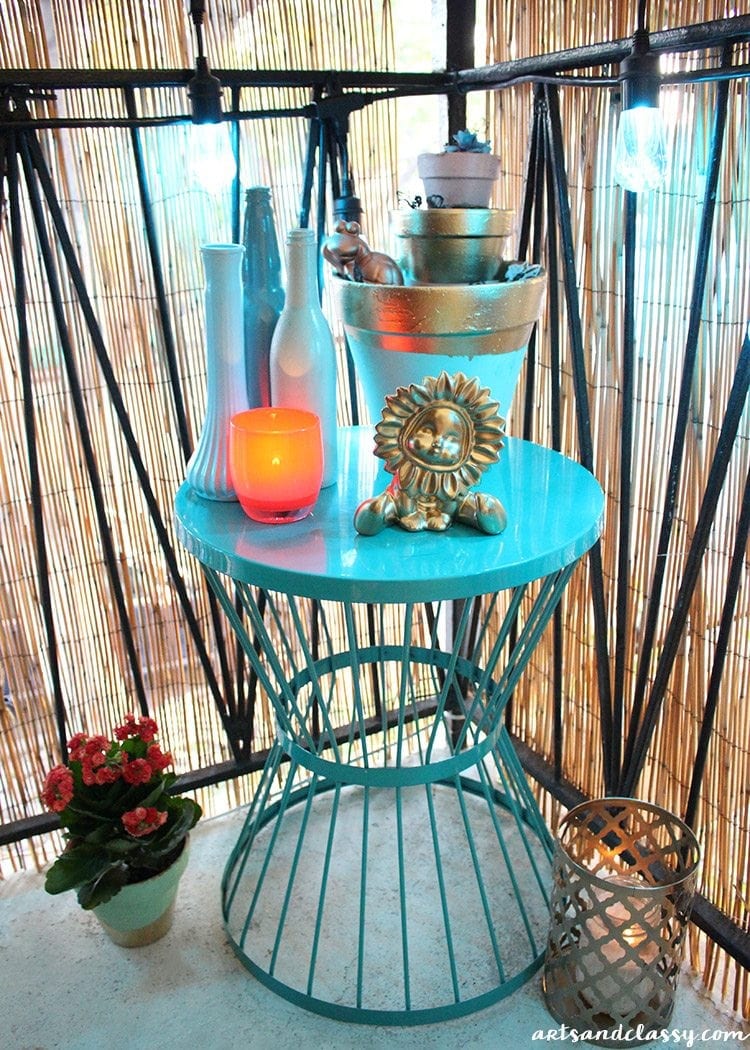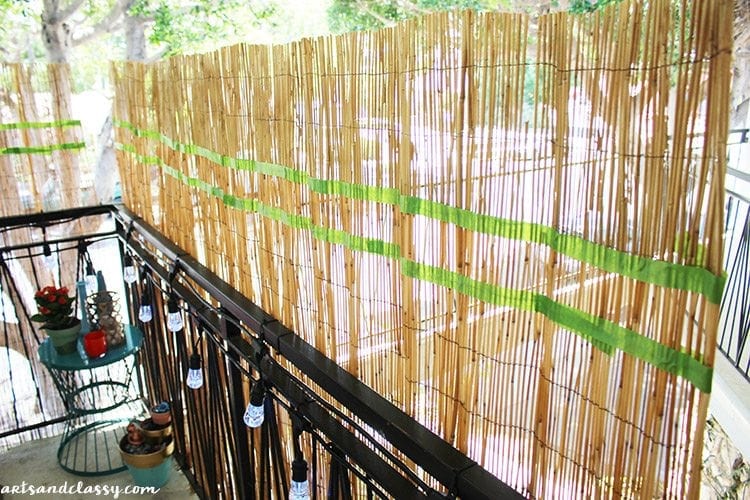 Once I had everything set up and redesigned, I hooked up my string lights to a myTouchSmart Timer which makes a great "add on" accessory when being used in an outdoor application. It allows me to set a daily timer to turn these lights on so I don't have to be home to do it.
Here is the AFTER of this patio!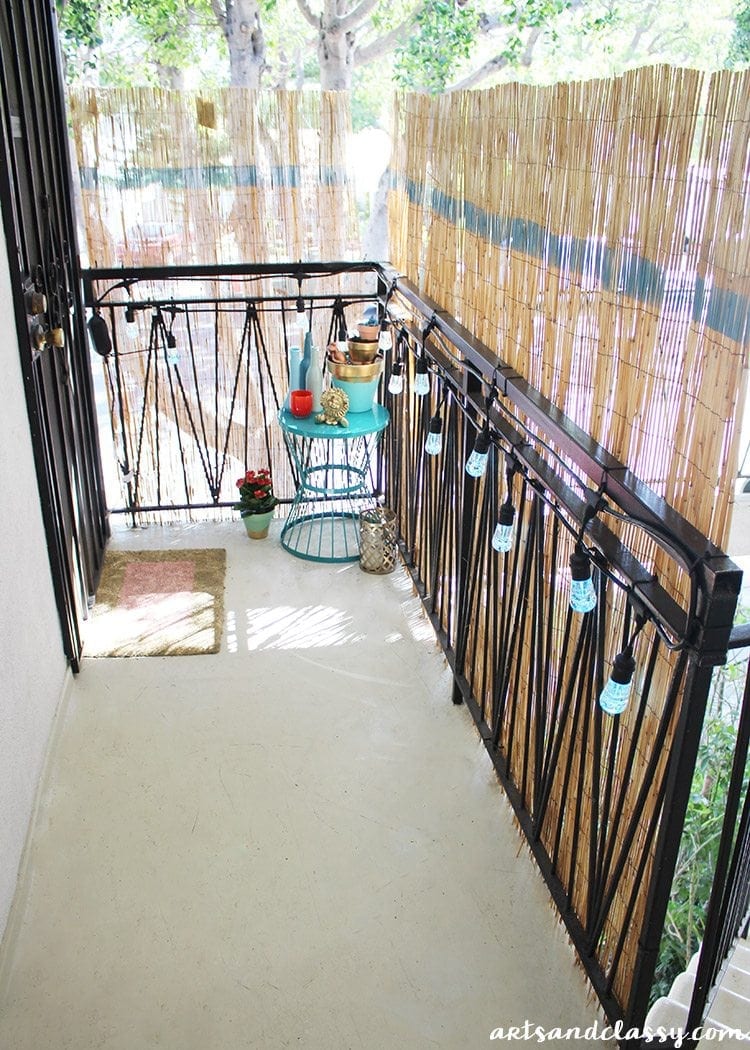 Doesn't it look decluttered and clean?!?!!?
I think the screen looks much better now that it's a little shorter and has a little pop of color on it. I also love that I can really set any mood I want with the variety of color options I have. Since I kind of have a blue theme happening on the patio, the 3-4 shades of blue I have to choose from are amazing!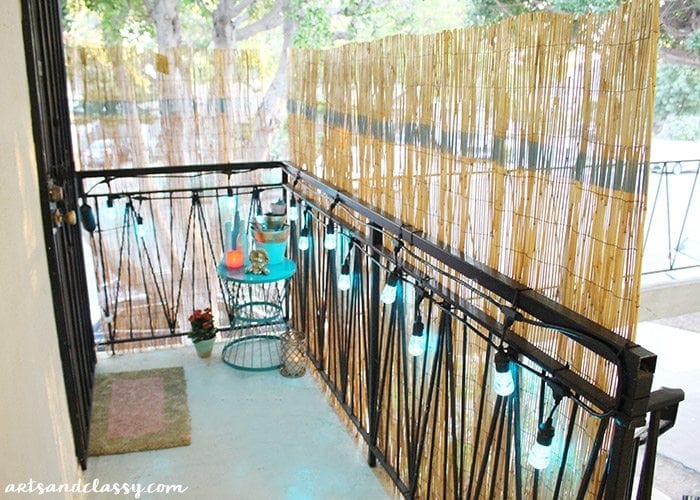 What do you think of my little patio makeover? Get your Enbrighten Seasons Color Changing Café Lights for your outdoor space! Hang them once, and you are set for the year and every holiday and season!
For more inspiration, make sure you also check out the DIY Spaces Pinterest board!
*This post was sponsored by Jasco Enbrighten Seasonal Color Changing Cafe' Lights and Acorn Influence. However, all thoughts and opinions expressed are entirely my own and authentic to Arts & Classy.