9 Simple Apartment Balcony Decor Tips To Make a Cozy Space
Living in an apartment can be a challenge because there is typically limited space. As a renter of 15+ years, learning how to work with what you have is second nature. So you may be asking, How can I make my apartment balcony decor look good?
Well I am glad you asked because my goal with this article is to help you make your small balcony feel cozy, welcoming, and an ideal spot for lounging. Thanks to awesome sites like Pinterest, there are dozens of great ideas out there for transforming apartment balcony decor. Turn this small outdoor space into a desirable hangout for relaxing and entertaining guests.
With the following 9 tips, you can create a cozy and entertainment friendly outdoor living space. Take these tips to implement an inspiring transformation to your outdoor apartment balcony or patio.
This post contains some affiliate links. I may earn a small commission if you make a purchase through one of these links. See more information in my disclosure policy.
1. Add Lighting
Illuminate your outdoor space for night time lounging by adding some ambient lighting. This can be in the form of string lights, candles, or lanterns. Have fun with this and give your balcony a whole new vibe by simply using this tip! Making your balcony more welcoming will help to draw you and guests to hangout outside.
SHOP THIS PHOTO: Side Table | Lantern | Throw Blanket | String Lights | Serving Tray | Candle Sticks Holders
2. Maximize The Impact Of Plants
Adding greenery can really make a BIG impact to any space in your home. This includes the outdoors areas too! Add some planters to create a garden to add a touch of nature to create harmony. You can create a little herb garden to save money at the grocery store, or plant some ivy or flowers to bring your balcony to life. Using vertical space is key, so your balcony railing is valuable real estate.
I recently created an article which is a step-by-step guide to build a garden for your balcony that you might find useful.
SHOP THIS PHOTO: Folding Table Set | Balcony Railing Planter | Pink Pillows | Pink Throw Blanket
3. Add a Seating Space.
Creating a cozy welcoming space that relaxes you is key. If you don't like the space currently have, there is a good chance you won't spend time there. Use these small balcony ideas to make your tiny balcony an extension of your living room space. That way entertaining outdoors is effortless. Use décor like throw pillows, cushions, lounge chairs, floor pillows, and even a small sofa if you can to accommodate it in your space.
SHOP THIS PHOTO: Bench | Wicker Ottoman | Area Rug | Circle Railing Planter
SHOP THIS PHOTO: Flameless Candles | Faux Fur Throw | Bamboo Decorative Stand | String Lights | Area Rug
SHOP THIS PHOTO: Circle Area Rug | White Bowl | Floating Candles | Wicker Wall Baskets | White Floor Lanterns | Striped Throw Blankets | Boho Pillow Set | Black Boho Mod Table | Gold Candle Holder | Similar Wood Stool Table
SHOP THIS PHOTO: Black Chairs | Gold Base Cafe Table | Area Rug | Topiary | Striped Curtains | Arched Mirror
4. Hang Curtains
Curtains can add elegance and privacy to outdoor spaces! Especially neutral tones like white linen. Pair this by hanging string lights and will have set up some high-end ambience. Having privacy screens in the form of drapery is great for adding shade during the hot days, and privacy on the warm summer evenings. This small space can be seasonal by adding a source of hear during the cooler days and nights outdoors.
SHOP THIS PHOTO: White Linen Curtains | Lantern String Lights | White Chair
SHOP THIS PHOTO: Area Rug | Small Round Tables | String Lights | Similar Style Candle Holders | Similar Style Candle Holders | Similar Style Wood Lantern Candle Holder | Fake Olive Tree | Faux Fur Throw | Similar – Corner White Outdoor Sofa
SHOP THIS PHOTO: Urban Knit Pouf | Wood Table | Storage Bench | Seagrass Basket | Coastal Lantern | Lantern String Lights | Fairy Lights | Fake Ivy | Round Paper Lanterns | Natural Reed | Side Table
5. Hang a Hammock
Hammocks are the most relaxing form of seating you can add to your balcony space. What better place to curl up with a good book and a glass of wine than in a cozy hammock? This is also a form of lounging that can be taken down when you aren't using it so it gives the small space multiple functions.
SHOP THIS PHOTO: Hammock | White Oversized Pillows | Tiki Torch | Foldable Table | Sheer Curtains
SHOP THIS PHOTO: Boho Hammock | Round Area Rug | Dreamcatcher | Wood Chair
6. Add a Table
Small apartment balconies can be made into a multifunctional space by adding something as simple as a small table. After implementing the other tips shared above, this will enhance your small balcony even more. If you can to create a communal place to have coffee, work at, or have a meal at then you will be more likely to use it. You can also think in terms of dual purpose tables in the form of storage ottomans that can double as a table space.
SHOP THIS PHOTO: Folding Drop Leaf Table | Teak Lounge Chairs | Wood Storage Bench | Striped Throw Pillow | Alternative Stripe Throw Pillow | Pink Lumbar Pillows | Wood Flooring | Grey Cushions
SHOP THIS PHOTO: Round Area Rug | Rectangle Area Rug | Hammock Chair | Bamboo Lanterns |
Rattan Lantern | Rattan Table | Bamboo Day Bed | Wood Bench (instead of bed) | String Lights | Basket with Tassels | Tassel Ottoman | Pattern Pillow
7. Accent Throw Pillows
Textiles and textures add personality to a space. Why not incorporate them in your balcony set up?
SHOP THIS PHOTO: Bamboo Settee | Palm Tree Pillow | Cheetah Pillow | Brown Throw Blanket | Striped Curtains | White Garden Stool | Hanging House Planter
SHOP THIS PHOTO: Grey Wicker Chair | Coffee Table | Bench Settee | Lanterns | Jute Area Rugs | Embroidery Wall Art | String Lights | Flameless Candles | Ivory Throw Blanket | Faux Fur Rug | Boho Throw Pillows
8. Consider Carpet or Outdoor Area Rug
Add some texture with something like an area rug to make your apartment balcony decor more cozy. Rugs will assist in making this balcony feel more like apart of your indoor living area. Plus, you can really neutralize or add vibrance to your color scheme with this addition.
SHOP THIS PHOTO: Chair Set with Side Table | Area Rug | Boho Ottoman | Circular Shelves | Cactus | Cafe String Lights | Orange Pillows
SHOP THIS PHOTO: Natural Reed | Area Rug | Chair | Cactus Art | Cafe String Lights | Lantern String Lights | Starburst Mirror | Bamboo Wind Chimes | Black Accent Pillow | Pom Pom Pillow | Boho Pillow | Table Top Fire Pit

9. Create A Vision Board
Now it is time to make your vision a reality with a vision board or a mood board to help you put the look you want together for your small apartment balcony decor. If you are visual or tactile person like I am this is vital to help your experiment with your design ideas before making them a reality. I like to use a program like CANVA for this step, but you can also use other design software or turn it into a collage art project.
Once you have all of your thoughts laid out in your vision mood board form, you can take the step of executing your design by sourcing your ideas for your small apartment balcony decor. Here is an example of a mood board for an outdoor space based on the collection I curated here in this article.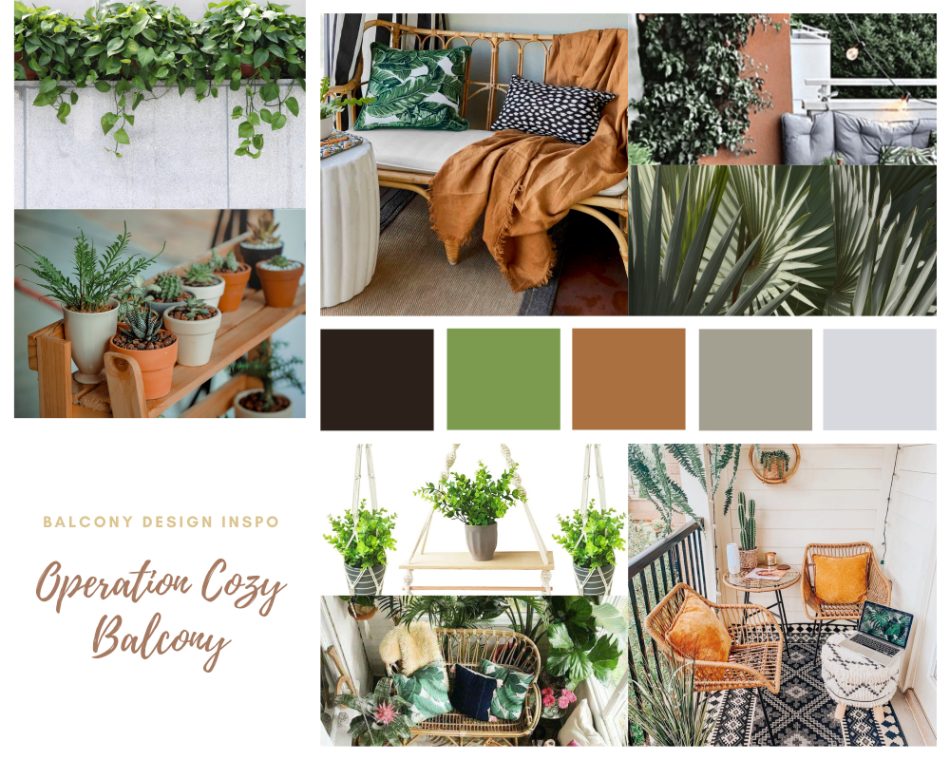 ---
If you need guidance with this part, my FREE Ebook 7 Days To Home is a great asset to the design process in short 7 day spurts.
---
I hope you found these 9 tips helpful for creating a cozy small apartment balcony decor! Let me know which tip your favorite? Let me know in the comments below.
If you liked this article, you may also like: