Are you looking for a quick, easy, and affordable way to turn a boring wall in your rented apartment into a stylish and trendy focal point? With stenciling, you can create an eye-catching accent wall in your kitchen that is sure to draw admiration. This blog article will discuss the basics of how to paint a stencil on your wall, starting with the materials you'll need, tips and tricks to help you achieve perfect, professional-looking results, and advice on cleaning up afterward. In as little as a weekend, you can transform your rental kitchen into a room that you can be proud to show off.
So get ready to give your walls an impressive makeover – using just a few simple steps, you can paint a stunning stencil masterpiece!
I heard from so many people that I must have the patience of a saint for staying devoted to wall stenciling. I am not going to lie to you…it takes a significant amount of time. But the results are so worth it! Check out the step-by-step tutorial beginner's guide below.
I decided my old rental kitchen was in need of some TLC. It is an awkward space but I wanted to make the most of it. Unfortunately part of being a DIY-er is that some of your "fabulous" ideas that look amazing in your head… don't turn out to be as amazing in person. This was one of those examples. Kind of a hot mess but I was playing around with designs that inspired me. I just think I tried to put too many together at once. It clashed.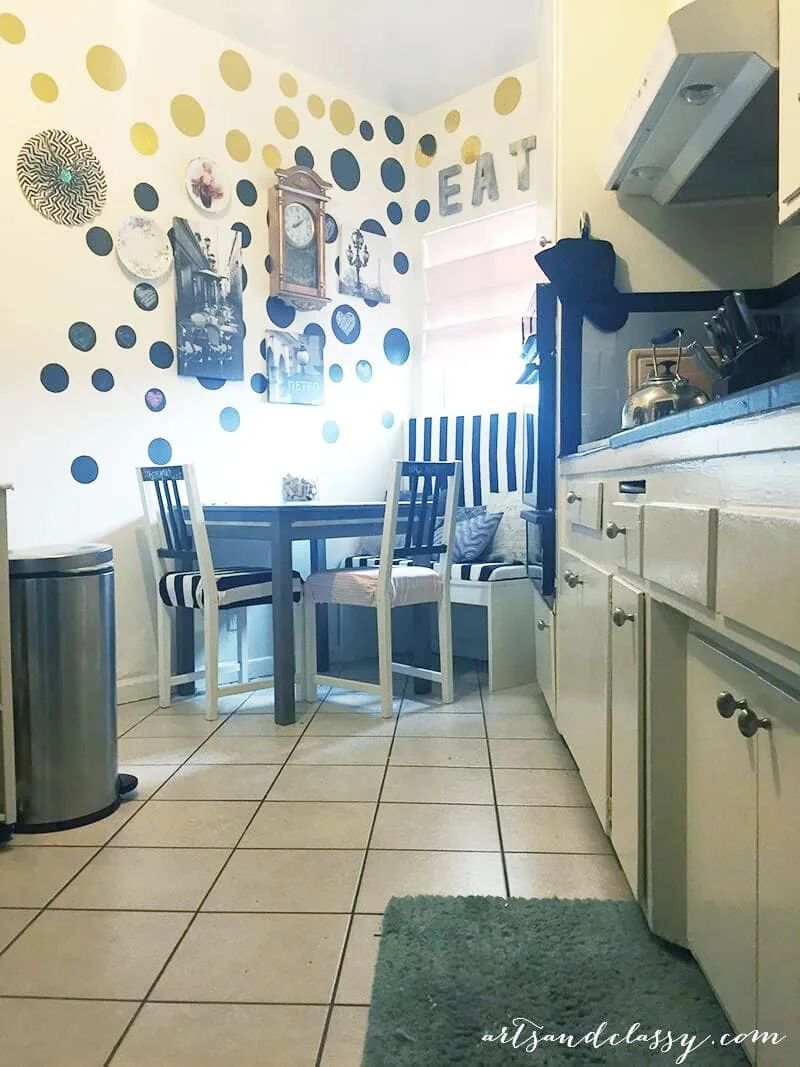 This is how my kitchen looked at my stencil accent wall makeover. The Gold and Chalkboard painted polka dots just didn't really work. I have been looking at it for the past few weeks thinking… this was a mistake. But thank goodness I could fix it!
I chose carefully and decided that "Roses All Over" stencil pattern was the right choice. I wanted to keep in with the theme of my kitchen which I want to have a Parisian cafe vibe.
How do you stencil a wall for beginners?
If you're looking to spice up your home decor, stenciling is a great way to give your walls a personalized touch. But if you're a beginner, you may be wondering: how do you even get started?
Stenciling is a skill that takes time and practice to perfect, but even with a few basic supplies and some simple instructions, you can be well on your way to creating a stunning statement wall!
Of all the stencil designs..this is the photo I fell in love with on the "Roses All Over Stencil" on Cutting Edge Stencils site!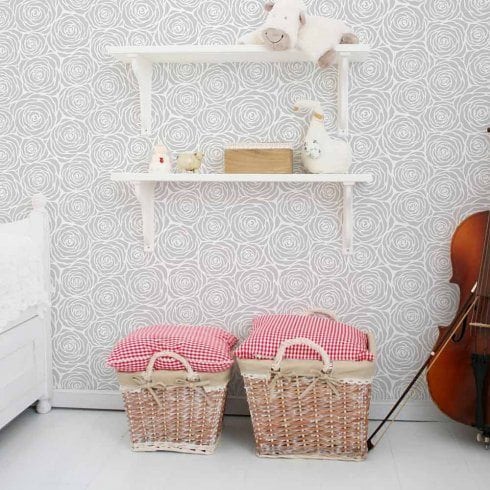 Here are the tools and supplies that are needed to accomplish this mini makeover:
Roses All Over Stencil– Large Wall Stencil – I got the small Stencil so that my roses would be larger Dimensions: sheet 17.7″ x 20.5″, design 14.6″ x 16.5″
Grey Acrylic Paint (Flat) – This was a mixture I did and doesn't have an official color.
White Acrylic Paint (Flat) as my stencil paint – This was left over from my Moroccan Stencil wall that I did in my bedroom.
Wall Painting Kit– a large and small paint tray, large angled paint brush, and small paintbrush.
Rags
Step 1
To give my kitchen an instant facelift, I moved furniture and kitchenware out of the way, laid down a drop cloth, and used painter's tape to mask the molding, ceiling, and nearby walls. Then, with a couple of coats of grey paint, I successfully covered the polka-dot wall – all in just one night. In no time, my kitchen was transformed.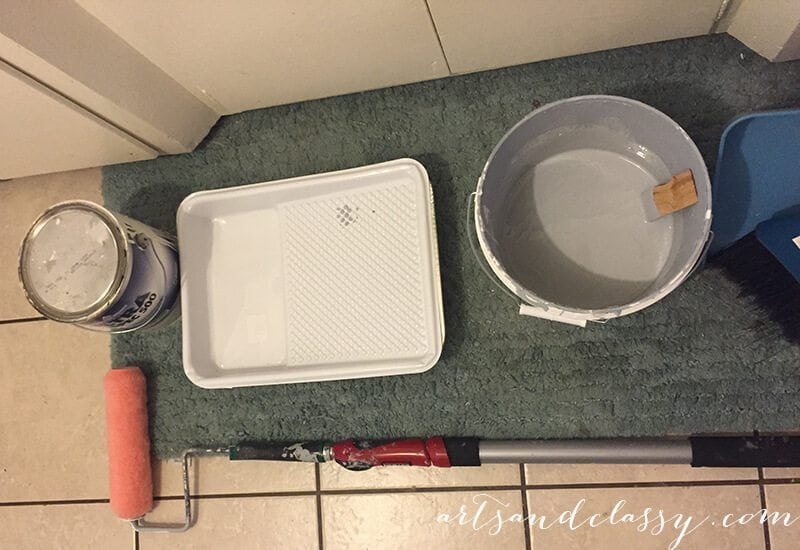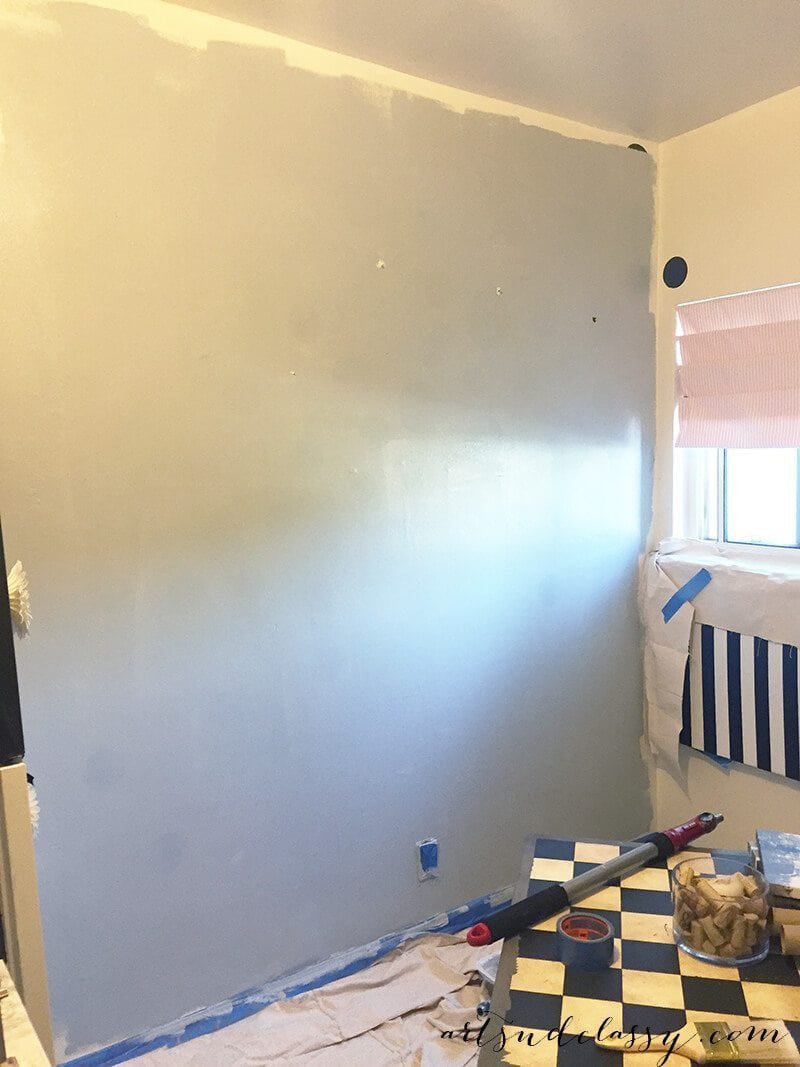 Step 2

– Gather stenciling supplies

I pulled out my stencil and read the detailed instructions and tips! There was a lot of great information that made tackling this project much less intimidating. Make sure to read everything first before diving into this project. I also took out my stencil painting supplies.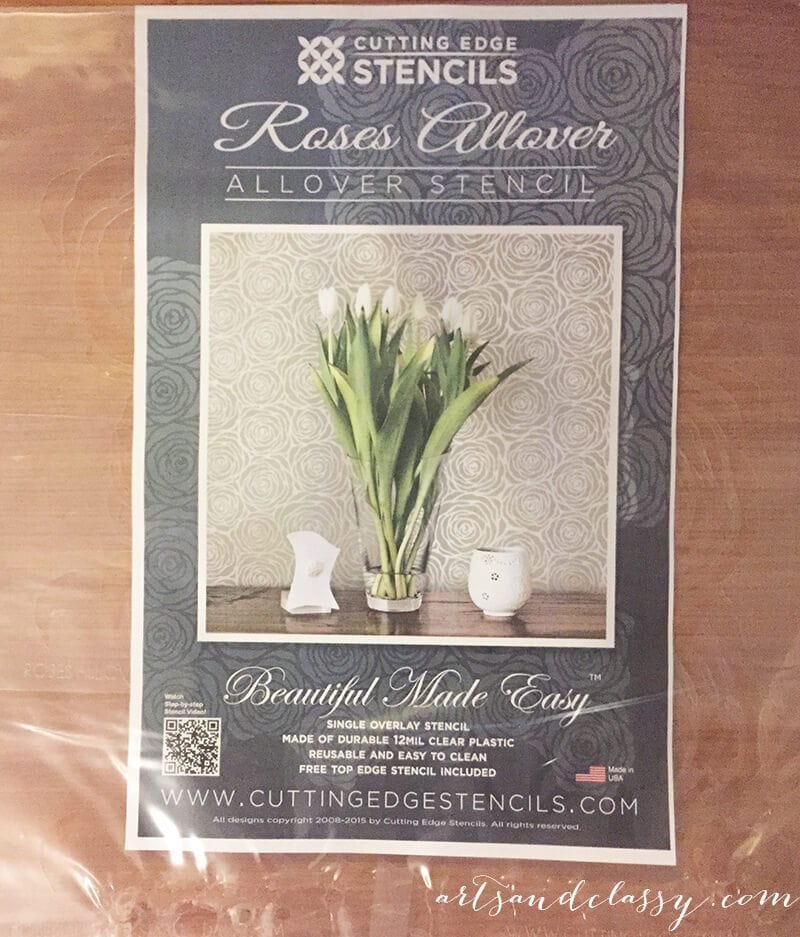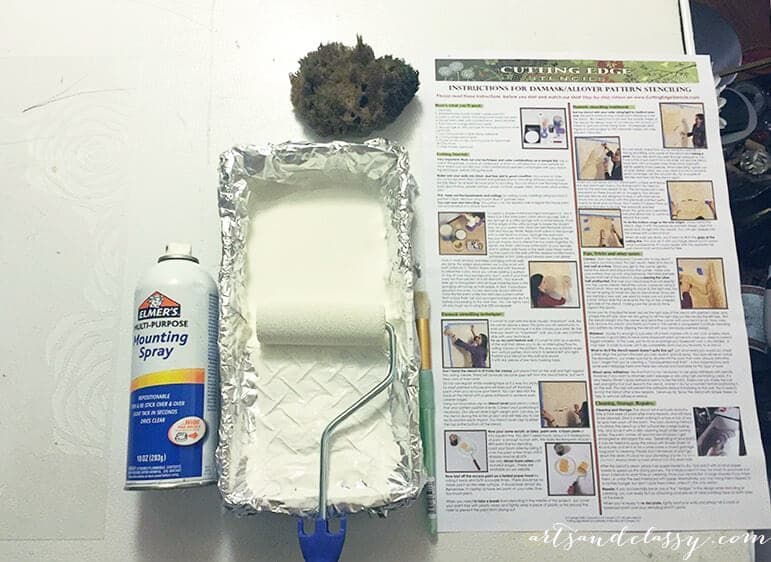 Step 3

– Begin stenciling on the wall

When it comes to painting a rental, stencils are an easy way to make a big impact. This stencil makes the process more straightforward than ever. The kit includes the main stencil, a topper stencil for those tricky spots, and a clip-on level for vaulted ceilings. With the help of the included spray adhesive, which prevents the paint from pooling beneath, any renter can confidently stencil with ease.

A bit of advice, don't use too much paint when you apply it to your stencil. It will bleed under the stencil. Thin coats of paint are the best approach to prevent that from happening. Once you apply, repeat steps over and over until the whole wall is covered.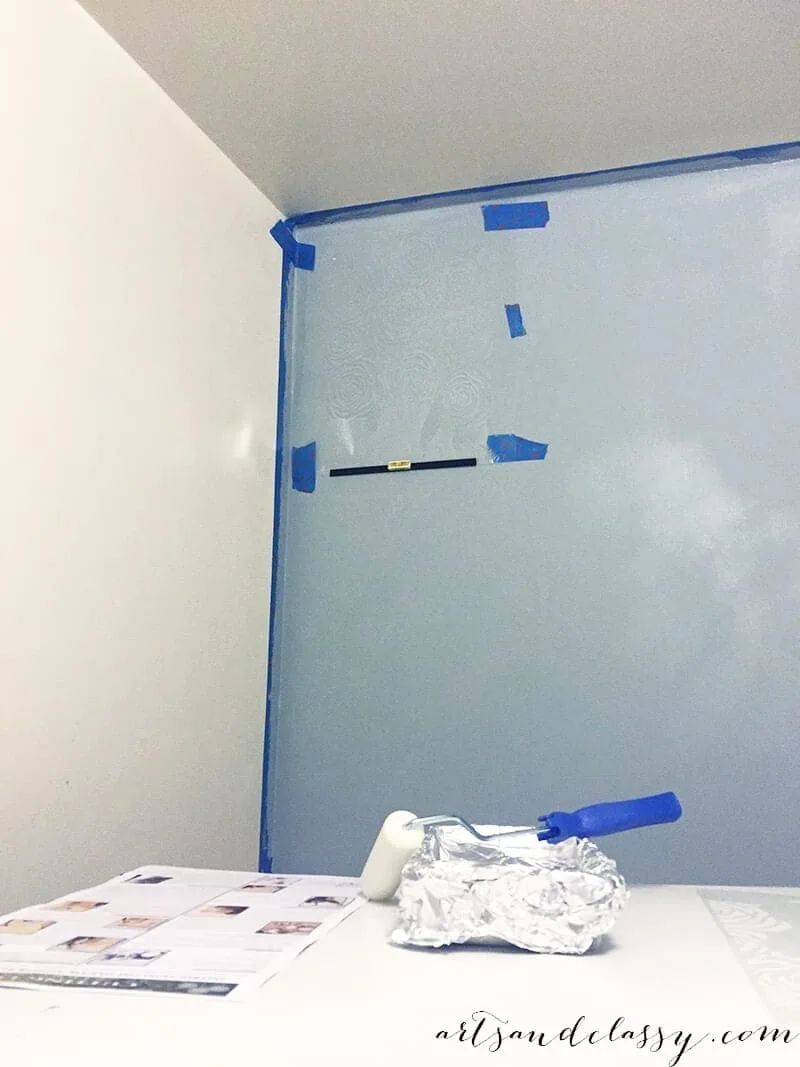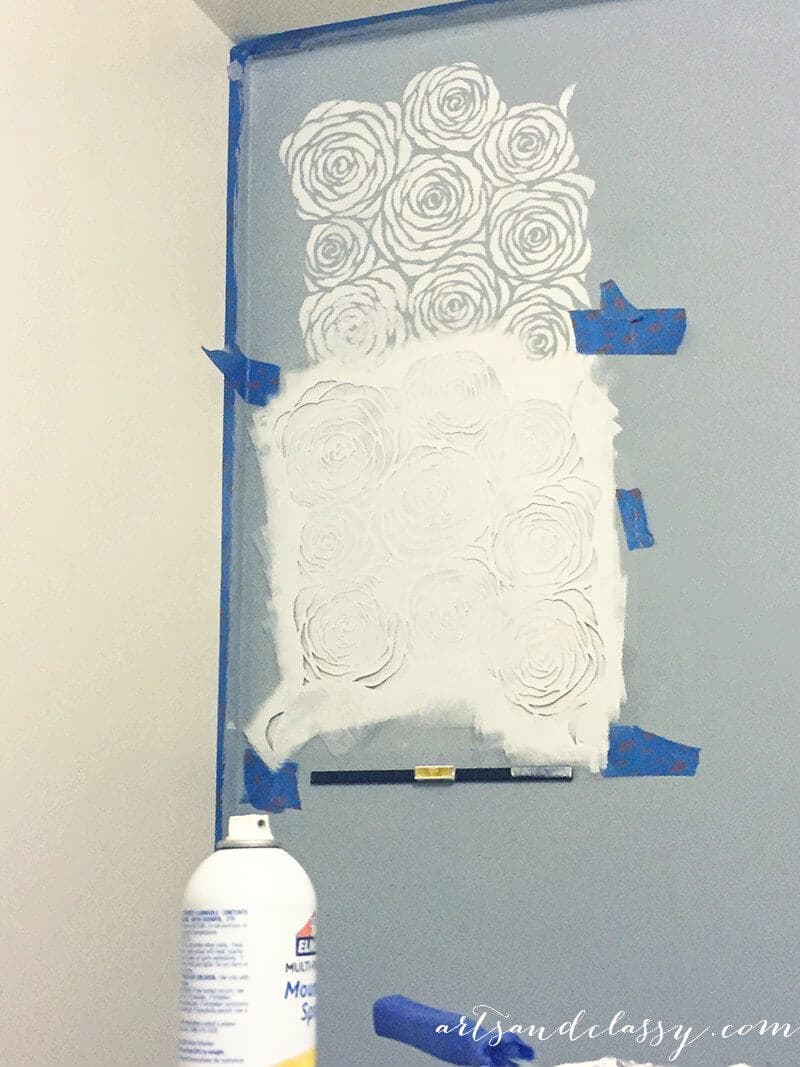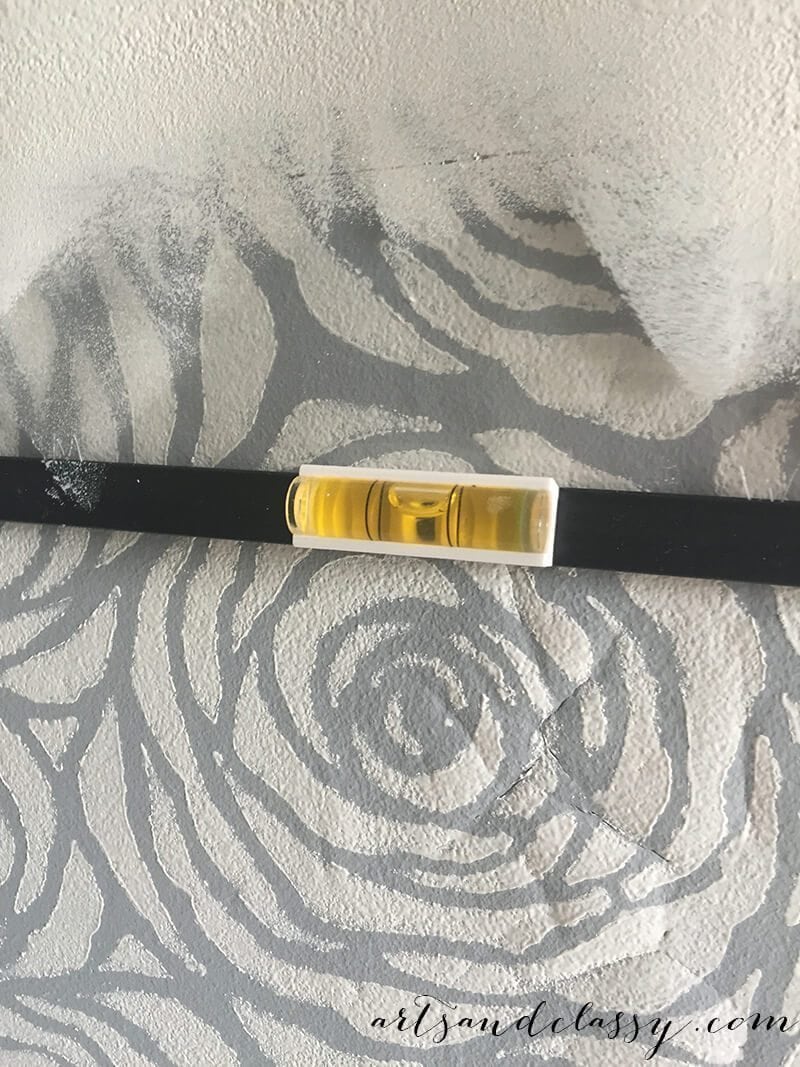 I continued this process vertically in columns going across the wall. Here is a short video mini tutorial on how to roll the paint on the stencil to get the look you want. Don't put too much pressure on the roller when you are painting and use the right amount of paint because it will make the paint leak to the back of the stencil. Make sure to subscribe to my channel!
Step 4

– Use the topper stencil for the gaps in the wall

Use the topper stencil to level out the top and fill in the gaps. Create a showstopping look with wall stencils and painting – it's simple and stylish.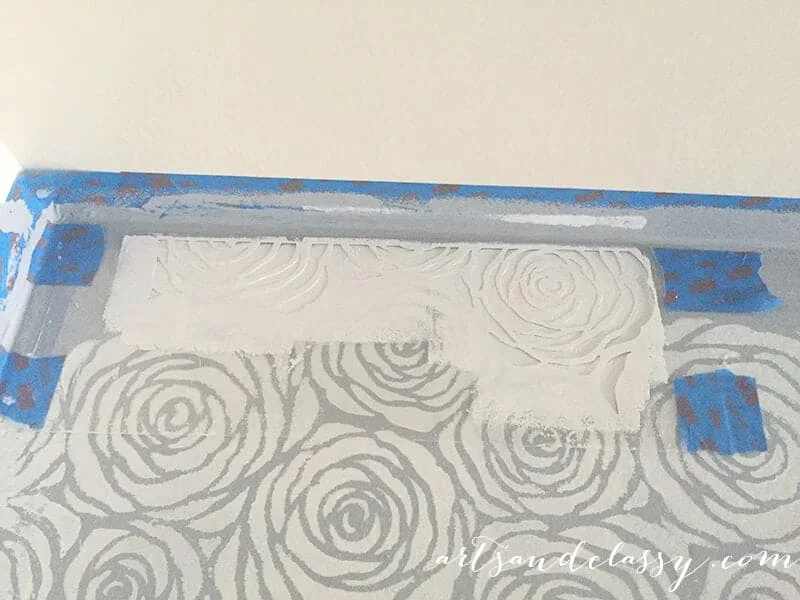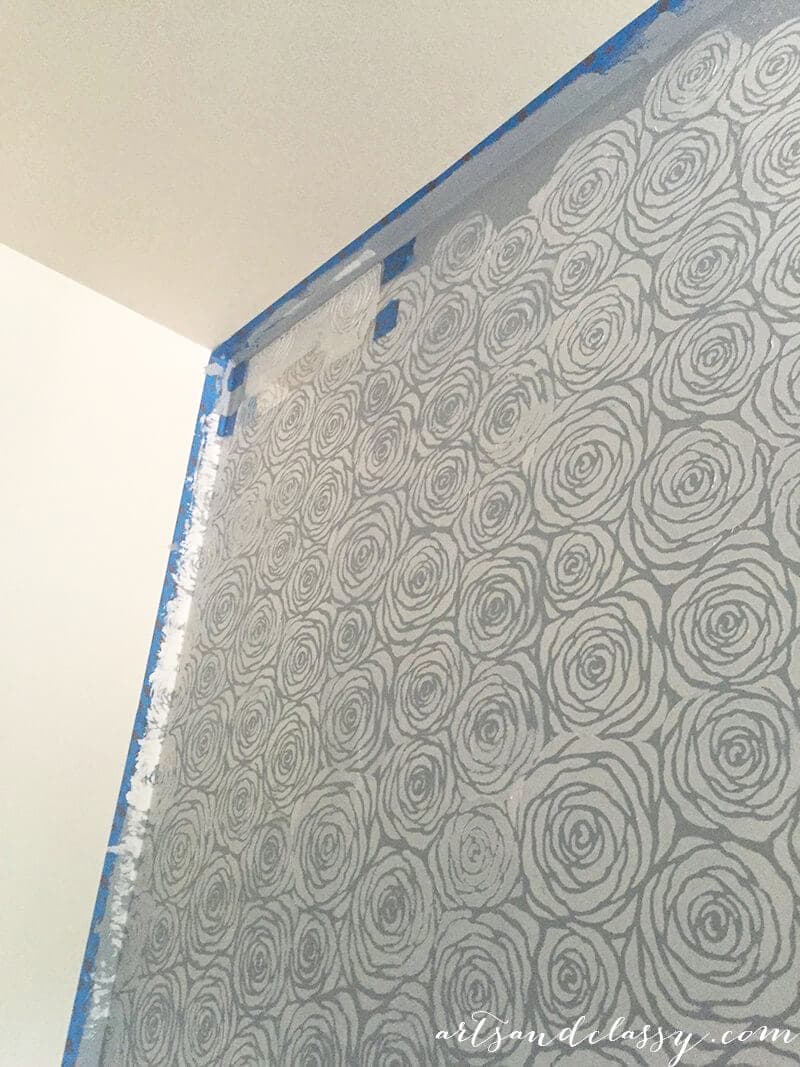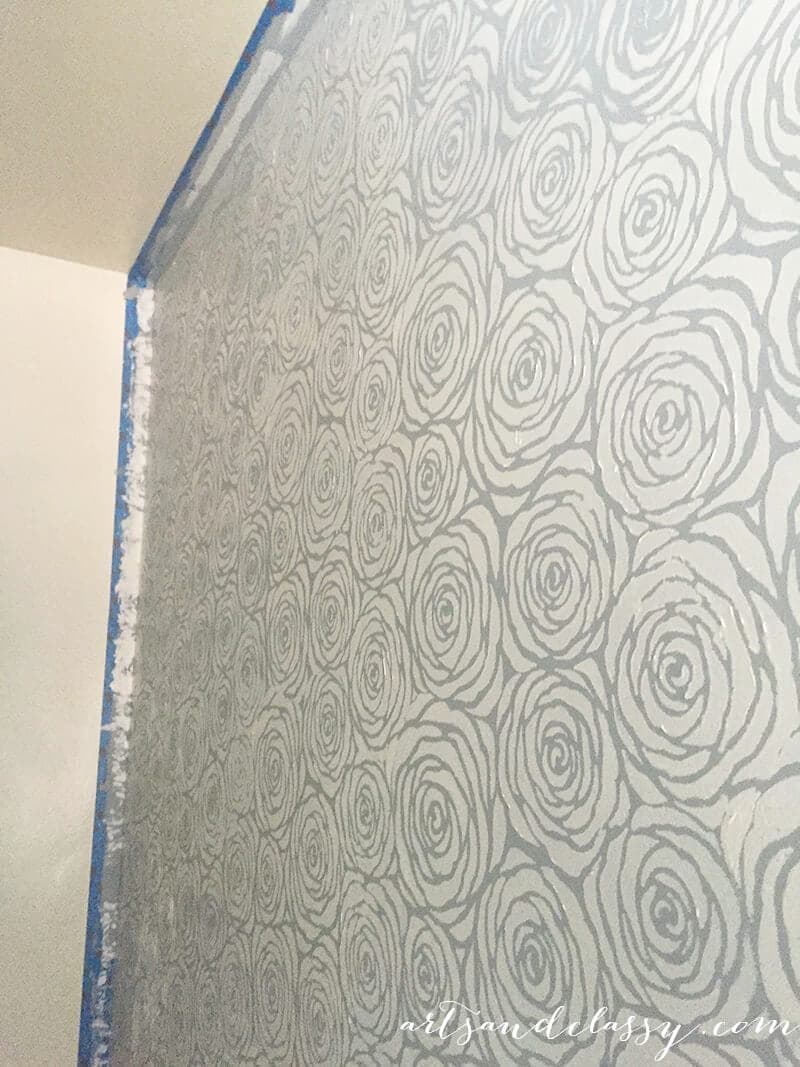 Step 5

– Restore space and hang up your art or decor of choice

Transform your rental space into something truly special – hang up your art or décor of choice! Refresh any room in a snap with an accent wall in no time! This was an easy wall stencil for painting to create a stylish look that won't hurt my deposit when I move. I know it can be hard to make a space truly your own when you're renting. However, with a few simple touches, you can create a unique and inviting atmosphere in no time.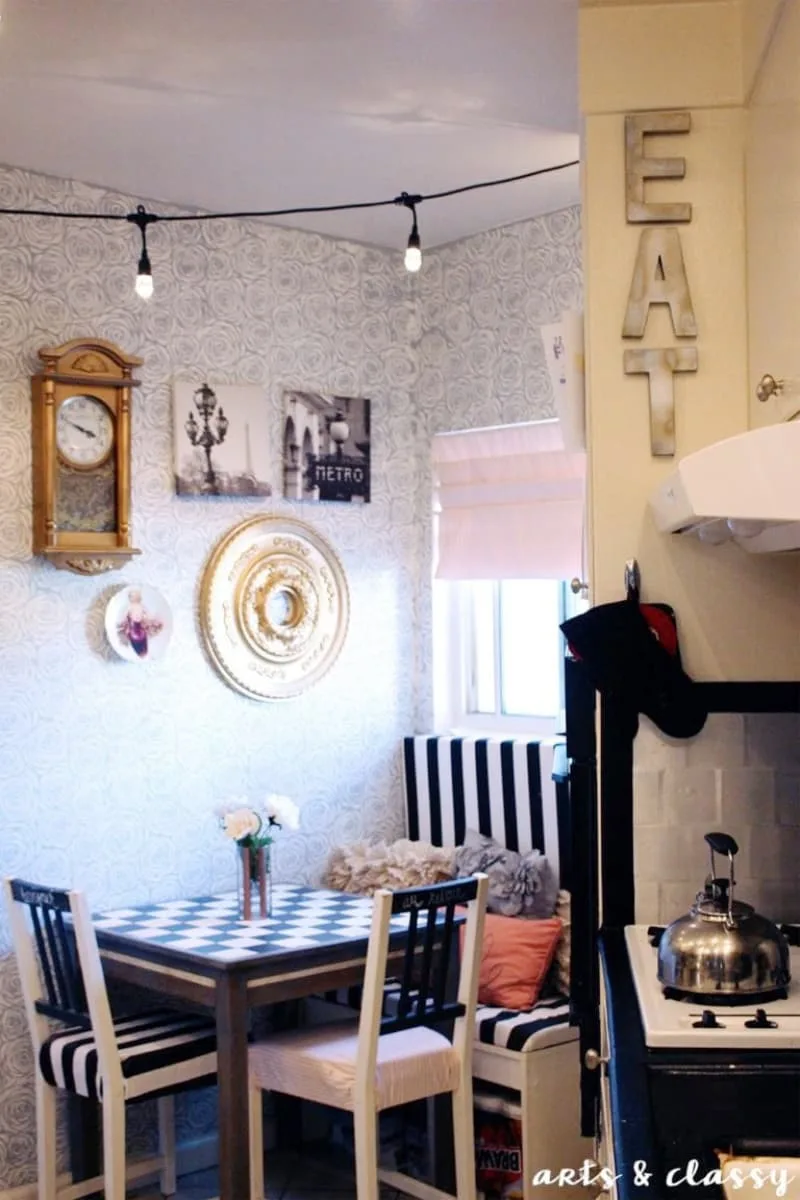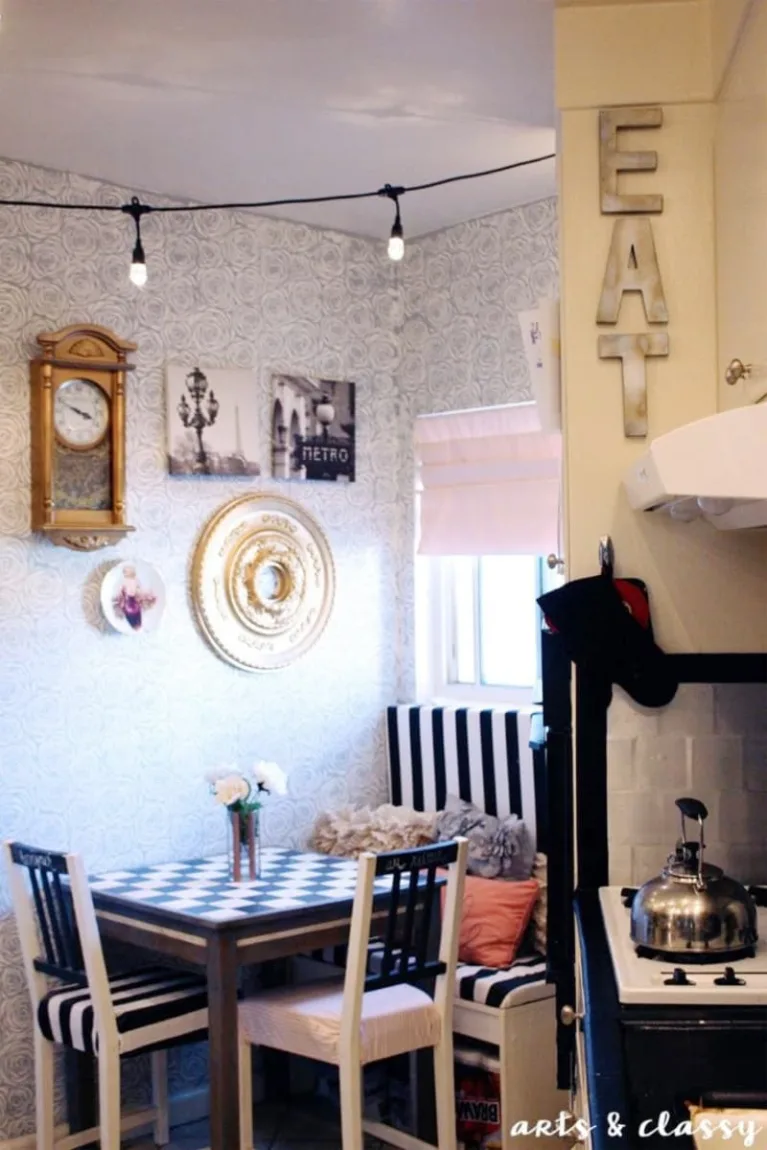 Painting a stencil on a wall is a relatively easy way to transform any rental kitchen into a beautiful accent wall.
From choosing a design to painting them with precision, you can achieve stunning results without much difficulty. It is a creative and budget-friendly way to increase the charm and beauty of your rental kitchen.
So, the next time you are looking for ways to customize your rental kitchen without breaking the bank, remember that the simplest and most affordable option! Painting a stencil on the wall can make all the difference. With a little effort, you can make your kitchen look as vibrant and unique as you imagined it.
To sum it up, adding a stencil to your wall is one of the most cost-effective and visually-appealing ways to transform your rental kitchen. Bring your rental kitchen to life and make it truly your own. Make sure you are following me on Instagram, Pinterest, YouTube, Hometalk, and TikTok for more ideas on how to decorate your home!
If you enjoyed learning how to paint a stencil on the wall, you might also enjoy it!
Here are some other wall stencil patterns you might enjoy!